Peace and beauty fill our minds as we walk along the wooden pier to the stilted over water villas that are home to Meera Spa. Encircled by aquamarine waters, the luxury spa reflects its Sanskrit meaning, ocean. We can't help but be inspirited by the glorious natural surrounds and enter with our hearts already lightened.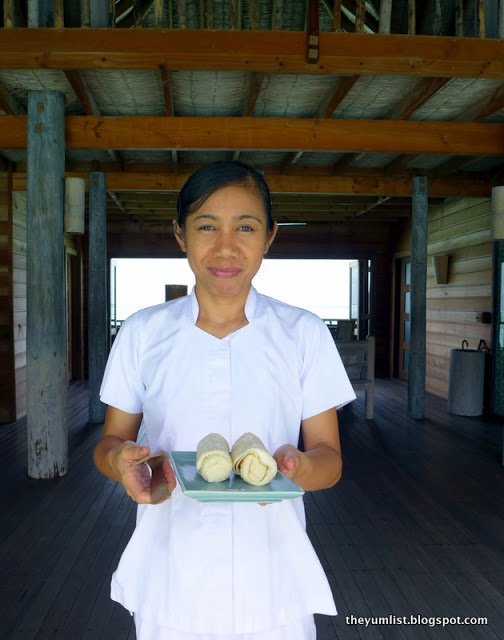 Welcomed with a Scented Moist Towel
Greeted with a smile and a cool moist scented towel, we're directed to a lounge where we're served a choice of water infused with herbs or fruits. A brief consultation follows ensuring any area of concern or focus, and personal preferences are determined. A selection of aromatherapy oils is offered and we both choose Breeze for its calming properties.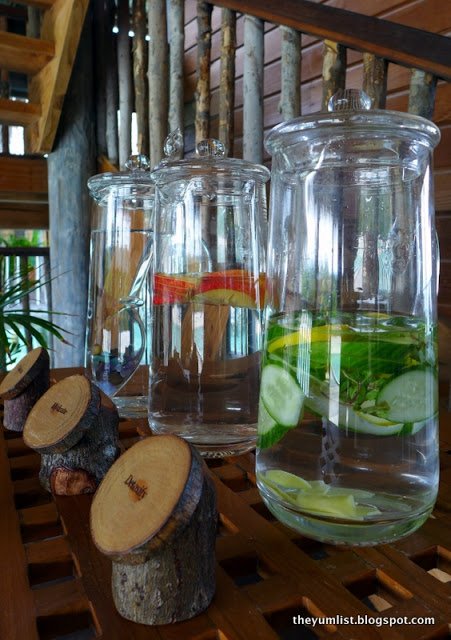 Detox Waters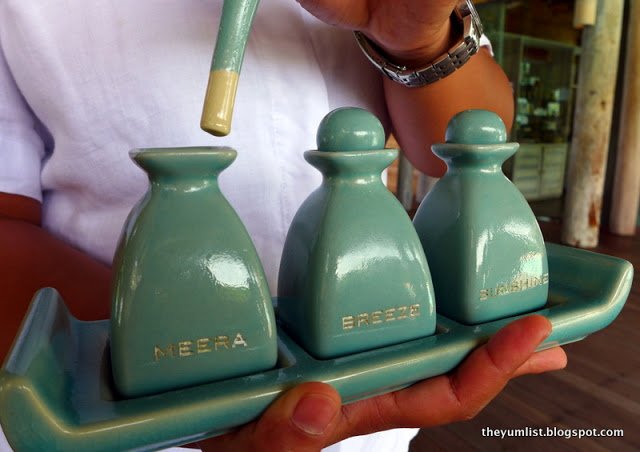 Choice of Massage Oils
Led to our couple's treatment area, we begin with a foot bathing ritual. Tea tree oil is dropped in the water for its antiseptic properties. A scrub of salt with rosemary and mint exfoliates, and a lavender soap removes the last grains.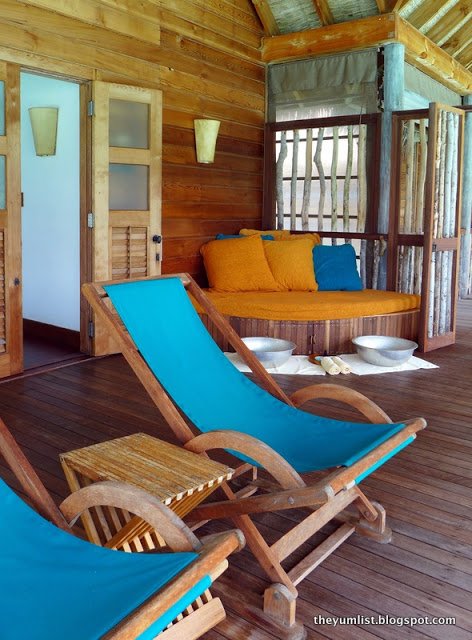 Entry to Couple's Room and Location for Foot Bath Ritual
The treatment room is spacious and boasts glass floor panels allowing us to peer into the crystal clear waters below and observe the goings on of the underwater world. We amaze at a wealth of colourful fish, small and large, and even spot an eagle ray glide by. A balcony opens up with cushioned recliners – a consummate spot for after treatment contemplation of life, love and Mother Nature's extraordinary gifts.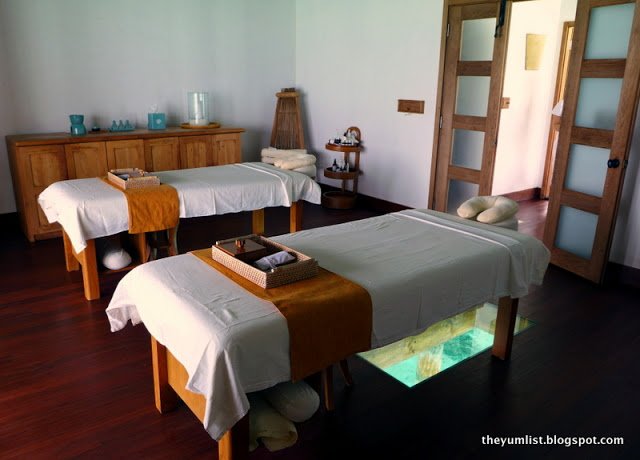 Couple's Treatment Room – Note the Glass Panels in the Floor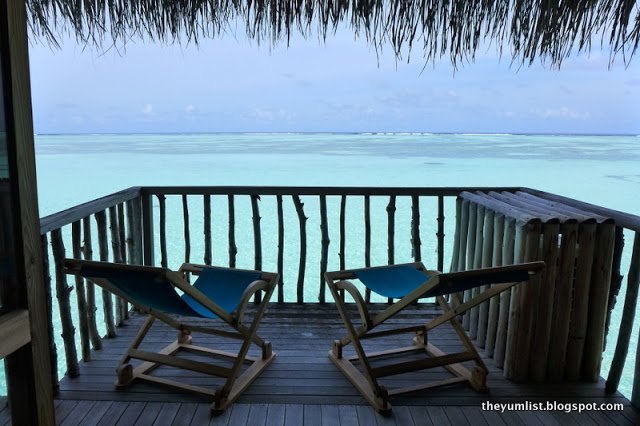 Couple's Treatment Room Patio
In conjunction with an incredible location, it's the details that take a spa to luxury levels. Supple mesh spa underwear, none of those puffy baby-diaper-resembling panties, are provided along with organic cotton robes and slippers. Support is placed under ankles or knees, depending on whether you're supine or prone, relieving pressure on the back. The massage bed is soft, long and the hole for the head is comfortable – something we've found challenging to get just right.
The specifics of the rituals too have been expertly composed. Once temperature, music and comfort levels are assured, the session continues with deep breathing of our chosen scent and the wiping of feet with a warm wet towel.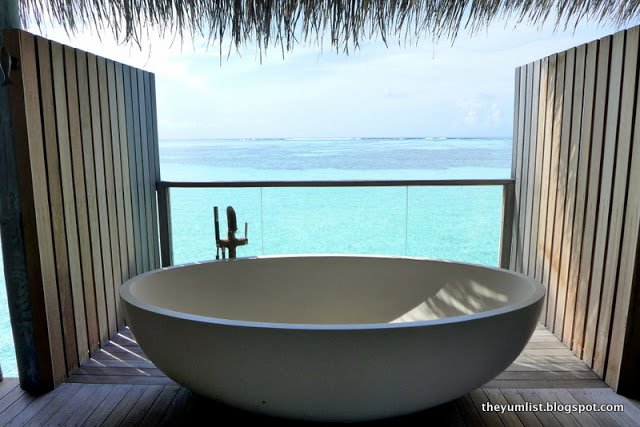 Bathtub in Couple's Room
Our Traditional Balinese Massage (90 minutes, $180US) involves long deep strokes using the palms and thumbs. Pressure is checked on to achieve optimum levels, and tension is quickly released from our bodies. Our therapists are experts: reading our muscles and working extra time on tightness and knots. We both find ourselves in a conflict over whether to remain conscious and continue gazing at the marine life below, or to give in and drift off into a semi-conscious state of bliss. The rhythmic ripple of the water's surface and calming effect of the massage lead to the latter.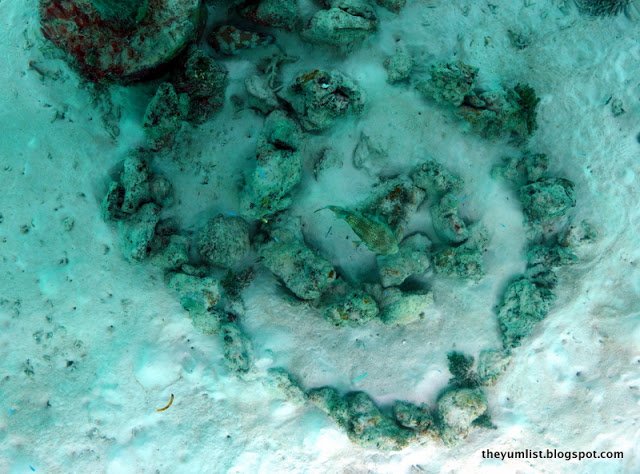 No Need for a Flower Bowl When You Have a Glass Floor Over a Natural Aquarium
Encouraged to reawaken with the gentle touch of the therapist and a mist of scented water, our eye masks are slowly removed. This too sees upmost care in detail with hands shielding our eyes until we readjust to the light.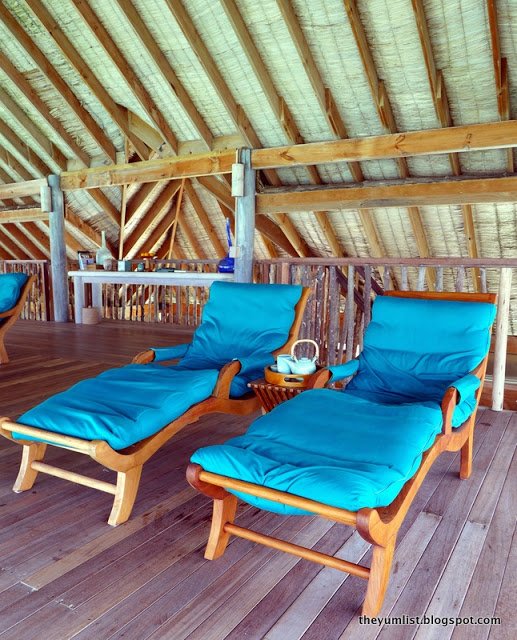 Relaxation Lounge
Hot ginger tea and chilled water are served with slices of fresh green apple and a bowl of raw almonds completing the experience. And, we're left to relax on the deck, soaking up the magnificent views until ready to move on.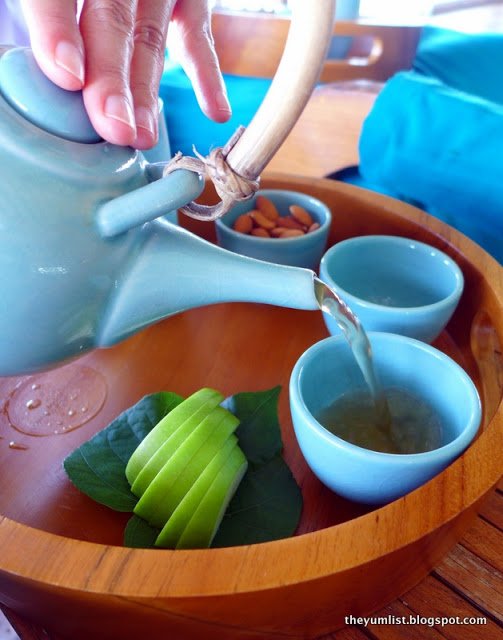 Ginger Tea, Apple Slices and Almonds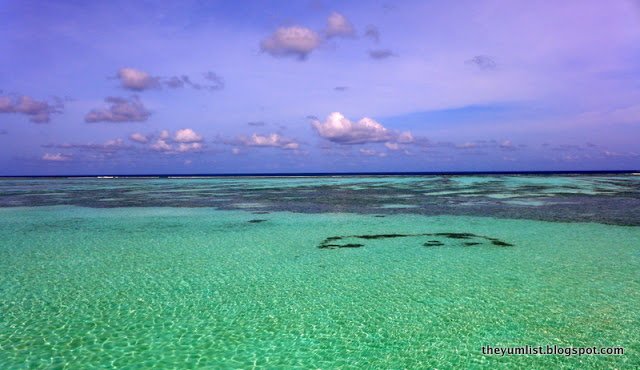 View from Our Spa Patio
Reasons to visit: incredible location; professional attention to detail; skilled therapists.
Meera Spa
Gili Lankanfushi
Lankanfushi Island
North Male Atoll
Republic of Maldives
+960 664 0304