Kirsten Durward and Monica Tindall
We came to Mercat right after it opened and fell in love with this tiny corner of Barcelona parked on the sidewalk location just opposite Bangsar Shopping Centre. Co-owners Jorge and David are so committed to authenticity of atmosphere and flavour, absolute passion and dedication runs through everything they do. We love the tapas here, and are so happy that they are now serving wines: fantastic Spanish wines (
see separate tapas and wine post
). But it appears that Jorge also has a deep rooted passion for gin and tonic. Seeing the sign board displaying the legend 'The best Gin Tonic in Town!', I am keen to discover what all the fuss is about. I used to drink a lot of this particular colonial tipple in East Africa days, though I've become more of a winophile (or as Monica says 'winey') these days. First introduced by the British in the East Indies, the quinine in the tonic is said to be helpful against malaria, well that's the excuse I used when I tippled it in Uganda, anyway!
A 'Gin Tonic' experience at Mercat is a performance to linger over. Around 30 different gins brought out and lined up while you are quizzed on your taste preferences. 'How do you like it?' we are asked, 'on the fruity side, or do you prefer your gin dry?' Honestly, I'm impressed with the range and spy a number of contenders that I've never heard of. Every gin has a particular taste, being made with different botanical components. In Spain, gin bars are becoming more popular, and the drink is served in an elegant, open, balloon style glass, so that the bouquet can be enjoyed by the drinker. The Spanish style innovation that Jorge introduces us to, is dressing the drink to match the gin 'personality.'  Intrigued?  We were, as evidenced by the amount of sampling we had to do!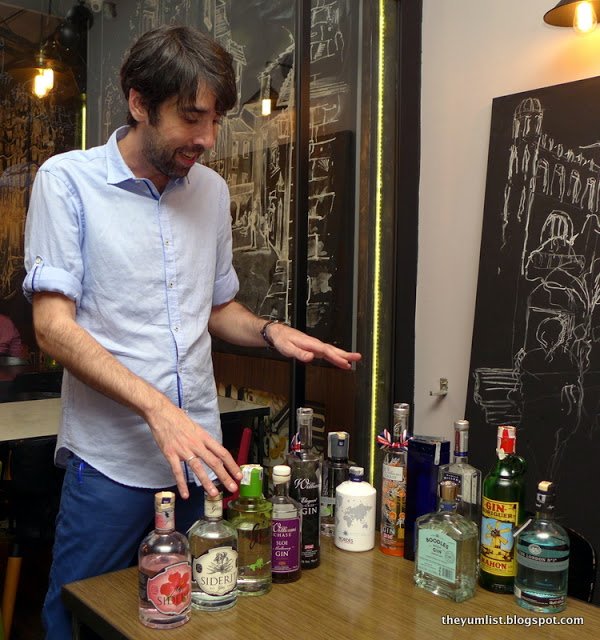 Jorge Explaining the Options
Jorge first tempts us with gold label tonic water. At RM8, Fever Tree is a costly upgrade from the regular tonic, but this is sold at cost price and Jorge insists it has to be available for connoisseurs and purists. It is certainly very light and effervescent with a strong flavour delivery, should we say the 'Champagne' of tonics?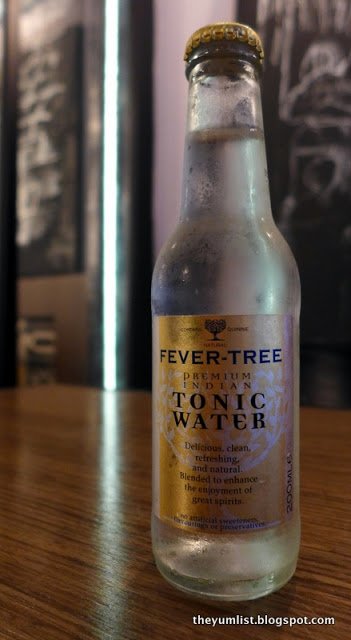 Fever Tree Tonic Water
Our first blended tipple is the unusual pairing of Sherry with Gin. London Number One is spiced up with a splash of Tio Pepe before being adorned with a slice of grapefruit. Naturally this tastes sweeter than a regular gin drink. Very aromatic, a delightful long sipping drink for a hot day or a heavy evening.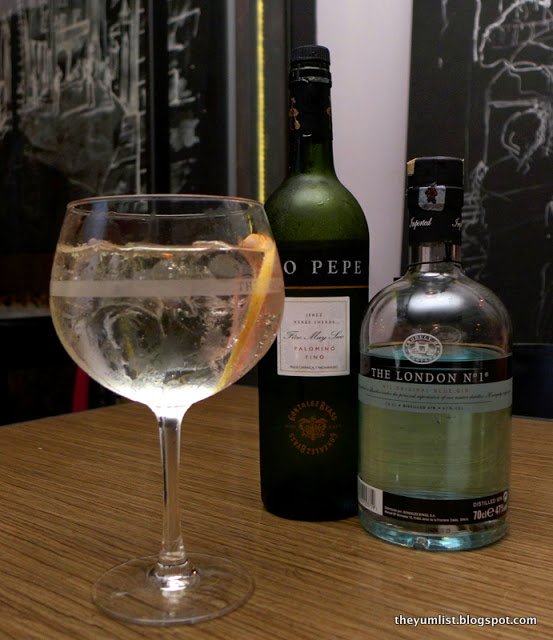 Something Special with Tio Pepe Sherry and London Gin
They are lining them up. I have never seen any thing like this each glass is infused with a fruit or flower that carefully matches the bottle and design and obvious as we are to find out the flavour of the gin inside. A very special experience for sure and now we understand why the 'Gin Tonic' visit was heralded of such great importance. The array of bottles paired up with their matching glasses appears masculine and feminine as though students ready to step out to a formal dance. Everyone in their matching outfits; boys a little stiff, tall and formal, girls in colourfully swinging dresses, bubbling over with excitement.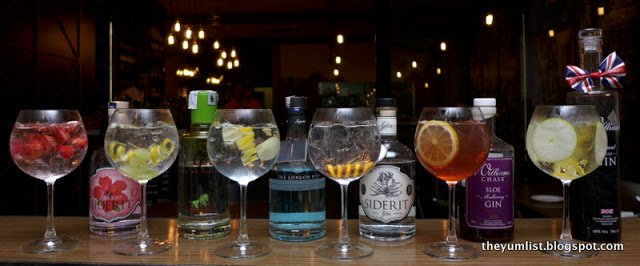 Just a few of the Gin and Tonic Choices!
Our first Gin and Tonic, is archetypically English, appearing stiff and upper lipped but with a hint of cheeky chappie in the Union Jack bow tie. His adornment is a sharp slice of apple, of course it is, that is 'Just William!' Strong, classic and clear in taste, you can rely on William to give you that kick you're looking for when you want to know that you are drinking a good strong gin!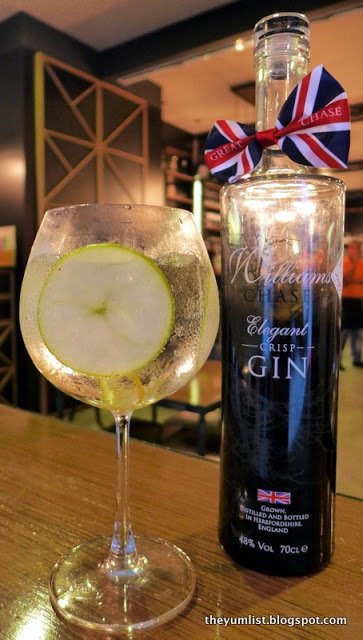 Gin and Tonic
In counterpoint, our next glassful is on the aromatic side, with shades of Middle Eastern promise. A little hint of Turkish belly dancer in the mix here, with the Siderit Gin and Tonic. A cinnamon stick wound round by orange peel parodies an elongated bumble bee in the bottom of the glass, I pass this one to Caning, knowing he is going to love the sweet and spicy flavours.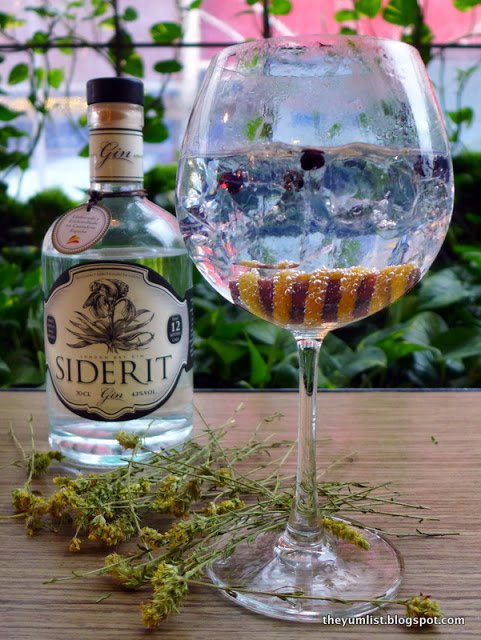 Siderit Gin & Tonic
Who would have thought of enhancing a classic London Number One with cardamom, lemon and ginger? It almost seems irreverent, I fear to taste! The soft spices round out the drink and leave a slightly smoky and mysterious taste in the mouth. A clever combination.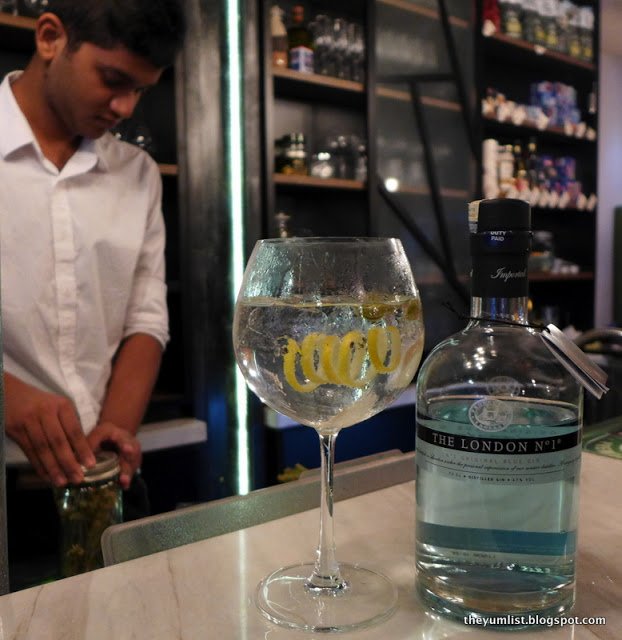 London Number One
I taste the grape notes in the French style G'vine Gin and Tonic before I even sip. There is a feeling of 'Je ne sais quoi…' in the tone of this drink, a playful Continental style that is very appealing, and I could play with this one a little more.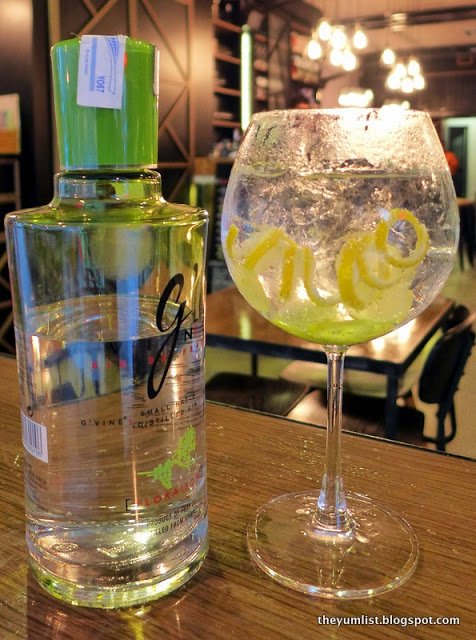 G'vine Gin and Tonic
The strawberry rose adornment of the Hibiscus Siderit Gin and Tonic could fool you into thinking this was a sweet drink, but be warned, the pink peppercorns infusing into the drink give it quite a bite. I love the warm notes of this drink and feel it would be great in the bath or on a slightly cooler evening.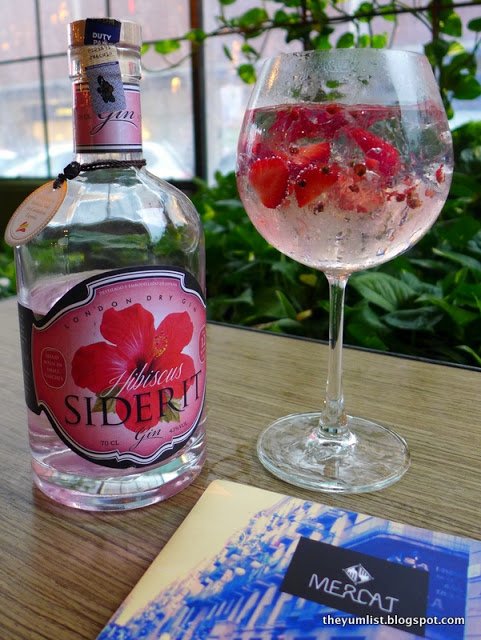 Hibiscus Siderit Gin and Tonic
For those who'd like to join in the fun but aren't sure if they will enjoy the gin taste, then the Williams Chase Sloe Gin and Tonic is the drink for you to try. The sweetness of the sloe gin balances out the acidity. In taste it is a little reminiscent of an Aperol spritz, definitely on the lighter side, pink and perky.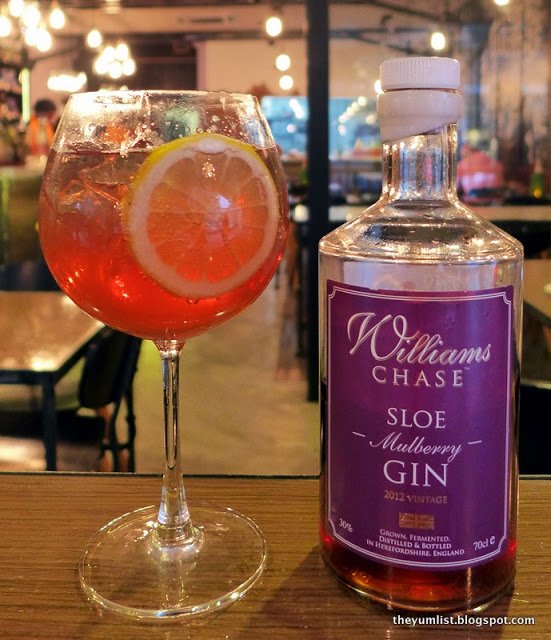 Williams Chase Sloe Gin and Tonic
Each of Mercat's custom Gin Tonics has a distinct personality and style. The concept is unique, original and you won't find anything else like it in the country. I wonder what your 'gin style' will be?
All the drinks are served with a double shot as standard, though you can request a half price single if you want to. The consensus amongst gin drinkers is that the gin needs to be tasted, so double it is!  Mercat's Gin Tonics range from RM51++ to RM64++. But there is a bonus: although some of the drinks we tasted are off menu, menu drinks are served at 3 for 2 until midnight. That's a few happy hours in anyone's book!
Reasons to visit: Gin, fabulous tapas, Barcelonic ambience, did I mention gin?
Mercat
51, Jalan Telawi 3,
Bangsar Baru, 59100
Kuala Lumpur
+6 032 201 5288