Joni Kerr and Monica Tindall
Monica sums up our visit to 
[email protected]
as "pleasantly unexpected. It's rare to be surprised in the KL dining scene these days, but, wow, this spot has turned out to be an undiscovered gem!"
Just a short distance from the heart of KLCC, on the ground floor of Fraser Place many can walk here from their offices. There's a car park downstairs too, but once you've tasted the cocktails here, you might decide that grabbing a taxi is a better option.
When entering this establishment one would think it to be a friendly casual eatery, which it is, but once the dishes start to appear it turns into a platform for Chef Raymond Tham to display a delectable line-up of inventive and beautifully plated creations. Chef infuses modern European cuisine with touches of Asian inspiration to fashion his culinary masterpieces. The portion sizes are substantial, and paired with quality ingredients and masterful technique, are good value for money.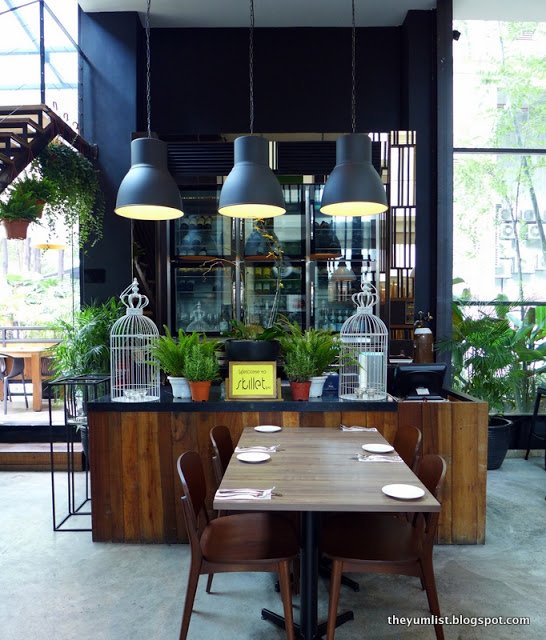 Skillet @ 163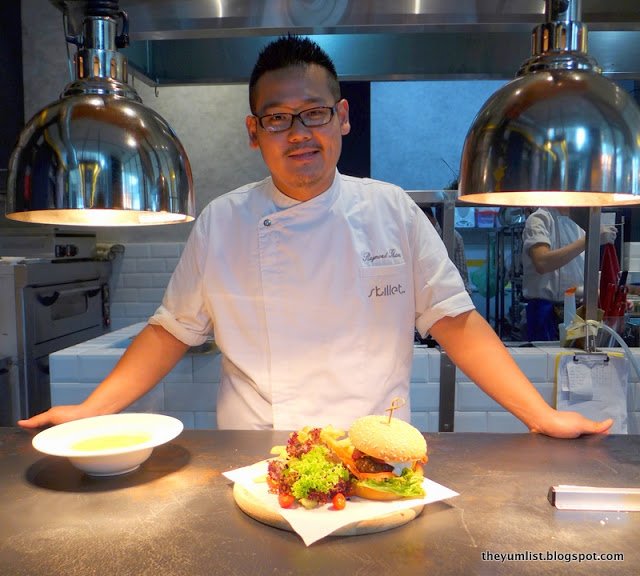 Chef Raymond Tham
The ambiance is relaxing, assisted by high ceilings, large windows to let in the natural light, and plenty of greenery gifting a fresh feel of the tropics. The sound system is of good quality and hums away at a comfortable volume with contemporary tunes. There is a cozy nook upstairs with lounge seating and a dining table: it would be a great place for a private party. In addition, a small outside area awaits patrons who may like to enjoy their happy hour cocktails al fresco style.
Relaxed Area Upstairs
We thought we were coming for food, but were surprised by an excellent drinks menu to launch. The restaurant manager, Shaun Ong, also doubles as the barman and has constructed a beverage list that even the most seasoned of imbibers are sure to appreciate.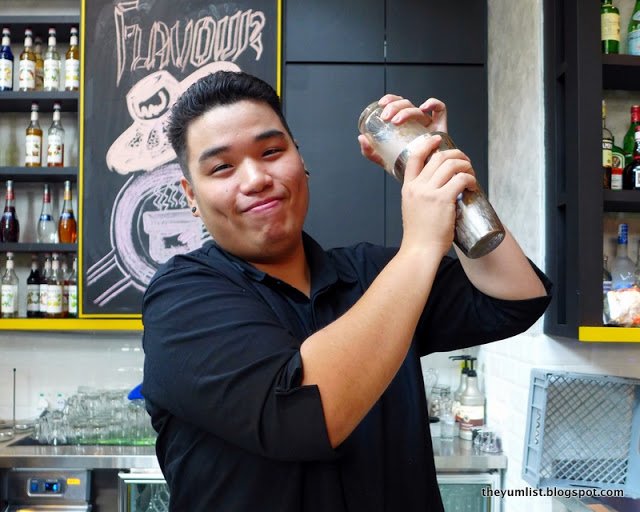 Barman and Restaurant Manager, Shaun Ong
From the Bar
A light start was had with the Virgin Mango Margarita (RM16), which proved a refreshing portion of frozen mango with salt on the rim. Made with fresh fruit, and a decent squeeze of lime this one takes the edge off the warm outside temperatures.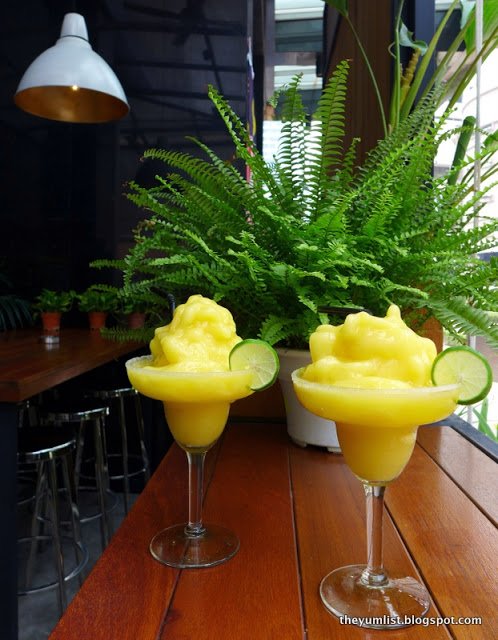 Virgin Mango Margaritas
A new concoction, Chamomile Dream, is another invigorating mix. It's vibrant and tart in the mouth, with chamomile smoothing the edges. Tiny pieces of cucumber make a great crunch! This is the perfect after work thirst quencher: reviving and calming at the same time.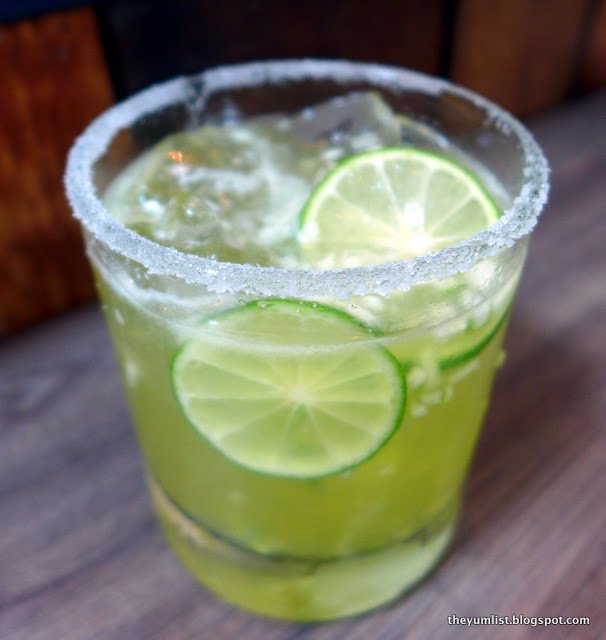 Chamomile Dream
Now, we are fussy drinkers and have been disappointed on too many occasions by overly-sweet, not-enough-alcohol beverages in this city, so when the Signature Mojito (RM28, or RM18 Happy Hour) was presented it would be an understatement to say we were doubtful that it would impress. But… we were oh so happy to be proven wrong! 
[email protected]
's version is up there with the best of the classics. Mint, lime, sugar rum – splendid.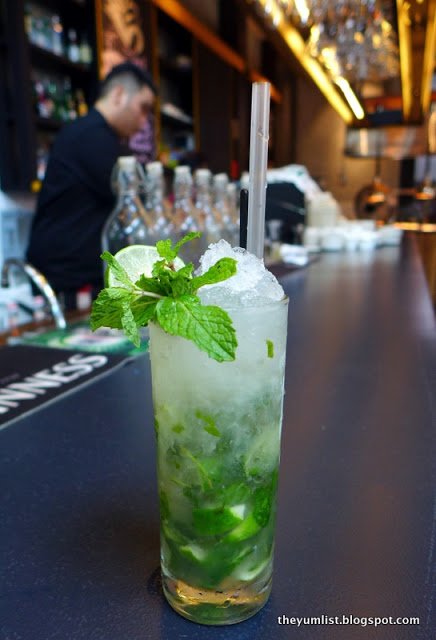 Mojito
The Lychee-tini (RM28, or RM18 Happy Hour) is another tipple we often avoid in KL, and again 
[email protected]
had given us renewed hope. This vodka based cocktail with lychee syrup and fruit, is not too sweet and has just a hint of mint to add a finishing touch.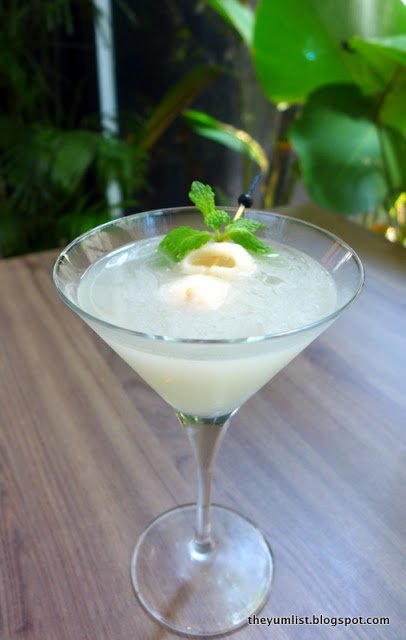 Lychee Martini
Bringing a taste of local to the bar is the Green Apple Assam Boi (RM30). Sour plum and lime are revved up with a good dose of vodka and a pretty garnish of apple.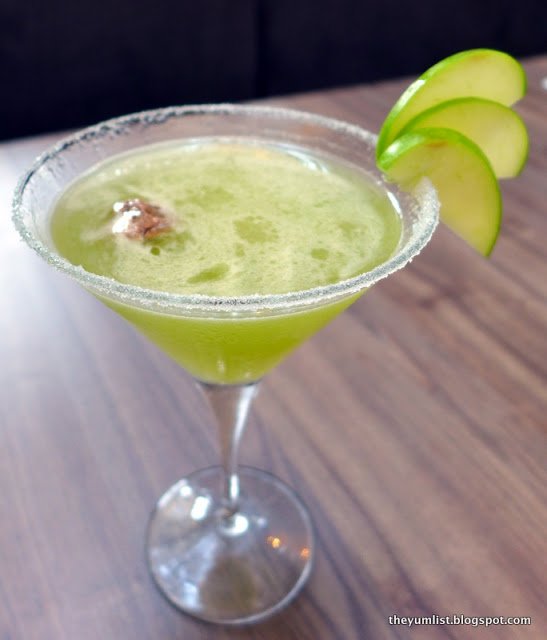 Green Apple Assam Boi Cocktail
Just as we think we've got a good handle on the range of mixed drinks
[email protected]
offers, a tray of shots takes centre stage in the Sea of Citrus. Glasses of Grand Marnier and Tequila nestle amongst a bed of chopped citrus. As a jug of liquid nitrogen is poured over the base, the scent of the citrus is released and wafts to our nostrils. Eyes and noses appealed, our taste buds are next and we find the shot a flawless palate cleanser with a delicious kick.
Lunch and Dinner
The food menu is casual and quick during the day, and morphs into more of an elegant dining theme in the evenings. The Nasi Lemak Inspired Sandwich (RM28) is an open-faced sandwich version of the Malaysian favourite. Thick slices of toasted bread replace the rice, and the sauce on the chicken is rich and viscous. All the usual suspects of anchovies, peanuts and soft-boiled eggs are included, and added to with some crisp spicy paprika fries. Full of flavour and punch, this dish pays a fine tribute to the classic.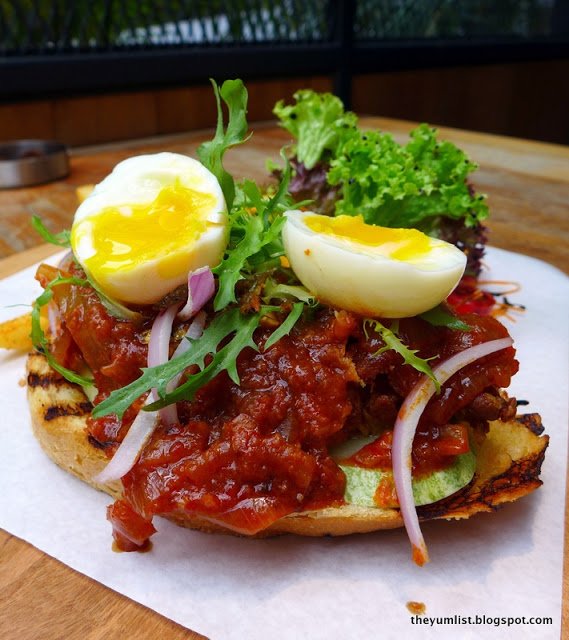 Nasi Lemak Open Sandwich
Asian
Herb and Tempeh Salad (RM22) got the stamp of approval from us ladies. A tasty vegetarian option is found seasoned with ginger flower, mint leaves, tempeh and chef's signature vinaigrette.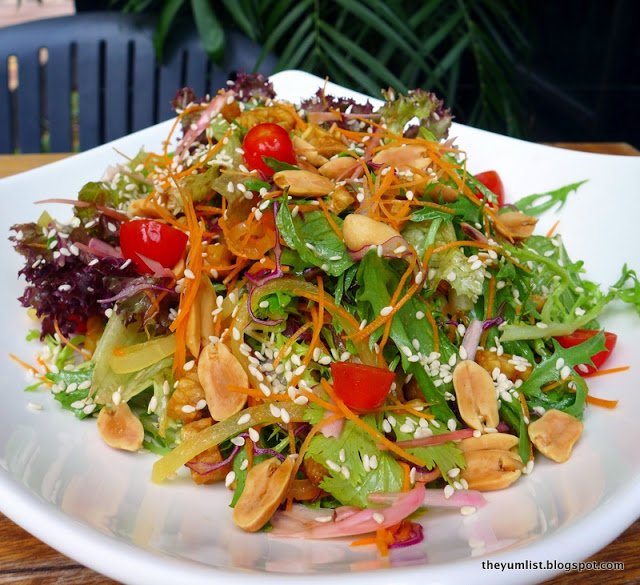 Asian Herb and Tempeh Salad
The next plate pleased Caning to no end. To say the Chicken Schnitzel with Potato Wedges is an enormous portion is not an exaggeration. The moistness of the chicken was well kept in its crispy crust, and a sumptuous spicy tomato sauce contributed further oomph in flavour. A robust cushion of herbed potato wedges were not wasted either.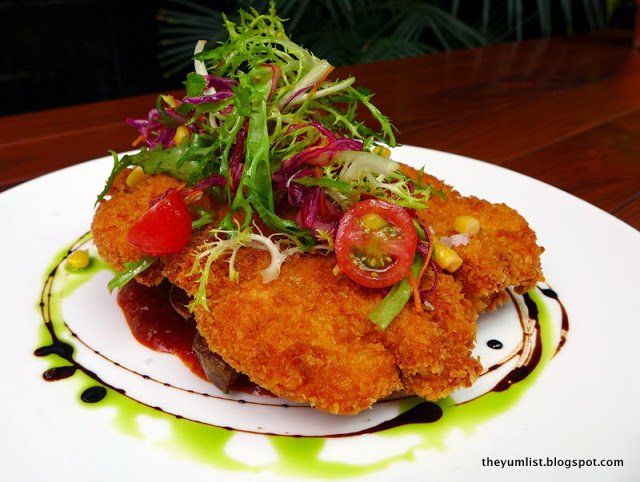 Chicken Schnitzel
The Pan-Seared Salmon (RM55) showcased a perfectly baked piece of salmon gently placed on a bed of potato mash along with a side of chili peppers, edamame, carrots and finely shaved radishes. This lovely combination was pleasing to both the eye and the palate.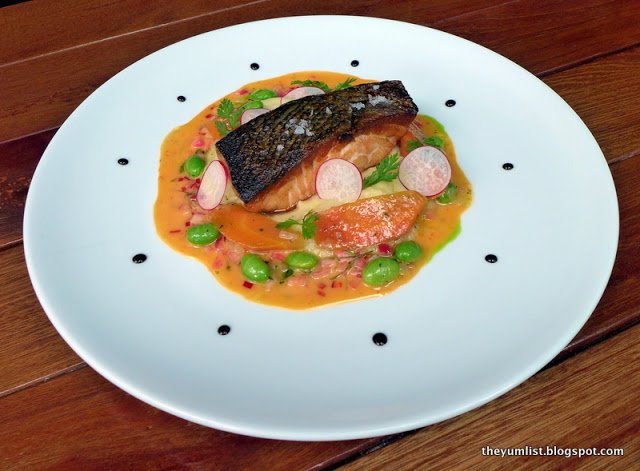 Pan-Seared Salmon
French, Italian and Malaysian greatness merges in the Chicken Mille-Feuille (RM39). Chicken has a similar texture to that of Malaysian otak otak (grilled fish cake) and is layered between paper-thin wafers of pastry. Arancini, firm spears of asparagus, pickled vegetables, a toothsome percik sauce and an incredibly appetizing risotto of crushed cashew nuts paint the side a gorgeous landscape of succulent flavors, colors and textures.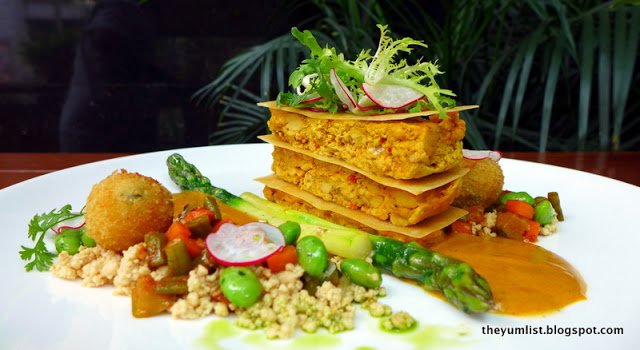 Chicken Mille-Feuille
Caning was again excited when the Braised Australian Beef Brisket (RM39) arrived. Meat coated with an inviting, Mexican inspired mole style sauce had us all deeply contemplating the unanticipated seasoning in our mouths. The tender beef cubes are accompanied with balsamic onions, potato mash and glazed vegetables.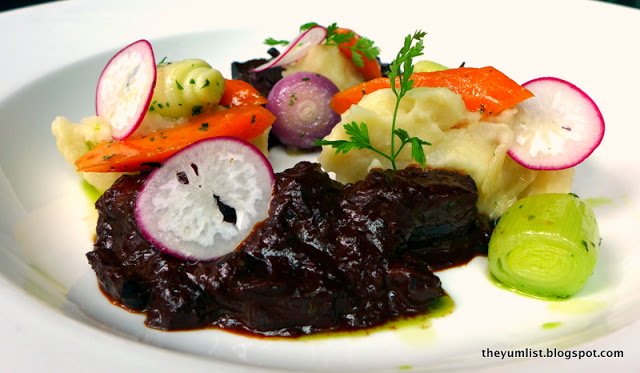 Braised Australian Beef Brisket
Dessert
Peanut, Banana and Black Sesame (RM35) is one for peanut butter lovers. The mousse is whippy and light, yet sticks to the roof of the mouth just like the nut spread. Caramelized banana slices, black sesame soil, dehydrated sponge and a drizzle of caramel sauce complete the ensemble. Yum!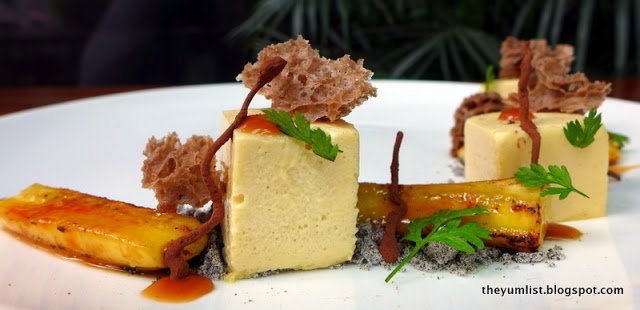 Peanut, Banana and Black Sesame
The Black Sesame Pancakes are much more than dessert: they're more of a size suitable for brunch (and we soon learn it will be on the brunch menu when it launches shortly). Fat dense inky pancakes are stacked with vanilla Chantilly cream, topped with fresh pieces of jackfruit, dribbled with gula melaka (a decadently sweet syrup), and sided with dobs of kaya (coconut jam). This makes for an immensely satisfying sweet.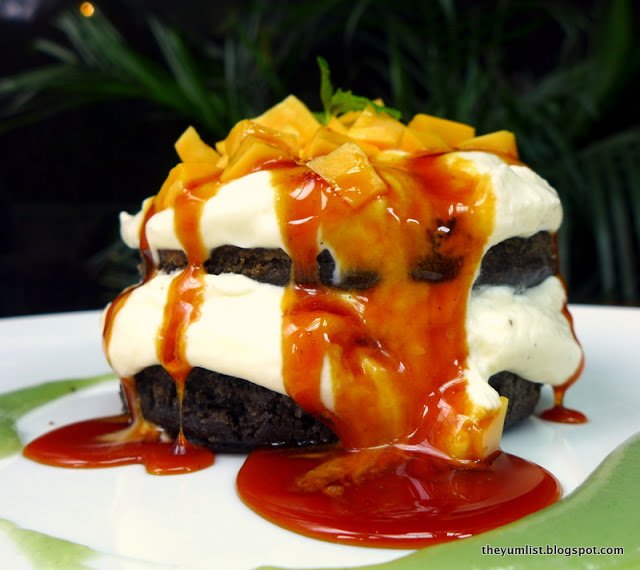 Black Sesame Pancakes
Liquid nitrogen makes a return in the preparation of a Lychee Watermelon Sorbet. Grand theatrics see tableside service whip up this frozen treat for our 'eatertainment' delight. It's smooth and gently flavoured, a wonderful finisher… or palate refresher as it turns out… there's one last dessert to come!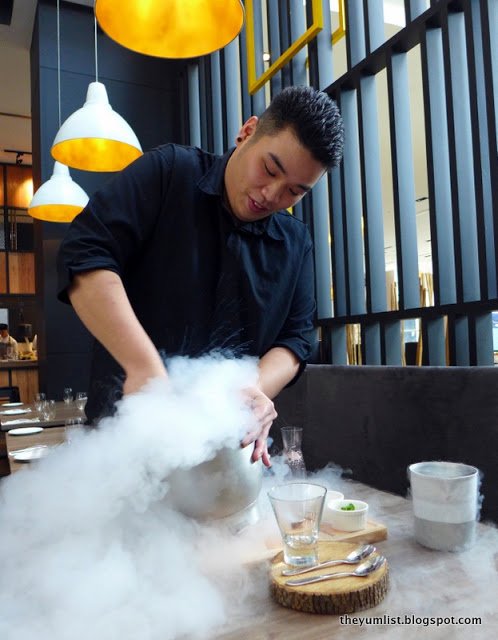 Preparing the Sorbet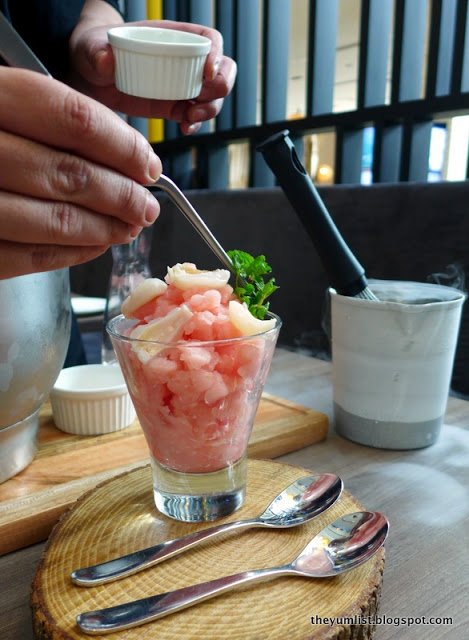 Lychee Watermelon Sorbet
The five senses of sight, hearing, taste, smell and touch are used to fully appreciate the Textures of Chocolate (RM45). A chocolate sphere (Chef Raymond has specialty training in chocolate, so anything with this ingredient is a must!) centres the round platter, and guests are invited to crack it open with a small hammer revealing a white chocolate 'popcorn' interior which is frozen with a crackling buzz with liquid nitrogen. Hot dark chocolate sauce, chocolate soil, raspberries and mint burst with vibrancy: this is a truly spectacular finale!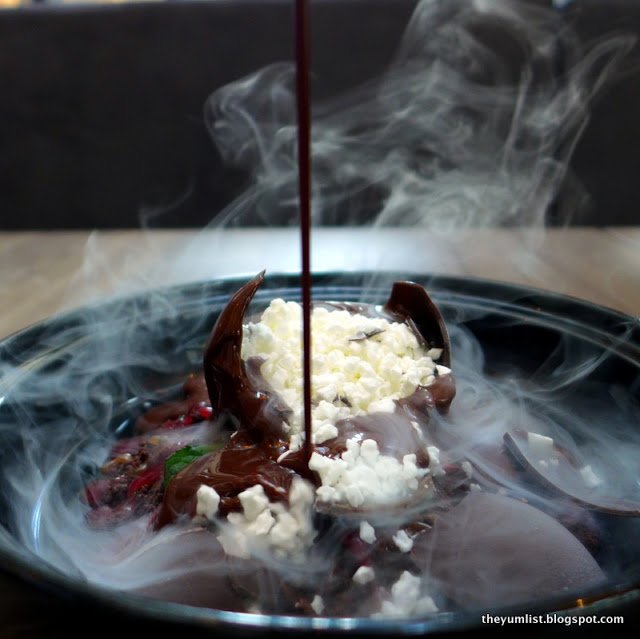 Textures of Chocolate
Reasons to visit: refreshing light bright ambiance with plenty of greenery in the city centre; modern European cuisine with a Malaysian twist; excellent cocktails; it's impossible to narrow down a list of our top three – all dishes here are meticulously prepared and an adventure for the tongue – try everything!
Fraser Place
Jalan Perak
Kuala Lumpur, Malaysia
+60 3-2181 2426
Operating Hours: 11:30am -10:00pm