Kristin Cosgrove and Monica Tindall
You've heard of blind dating, computer dating and speed dating, but what about wine dating? Wine Dating, a new wine tasting event at Villa Danieli, is all about getting together with friends to try new wines. It's the perfect (proverbial) one-night stand for those looking to learn more about wine and who knows – you might even find a new true love for your taste buds!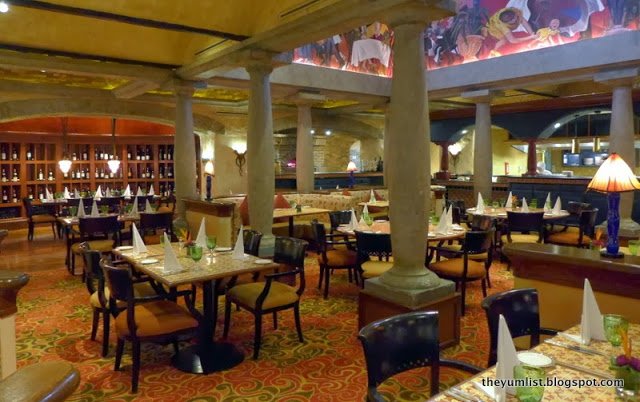 Villa Danieli, Sheraton Imperial Kuala Lumpur
Taking place on the last Thursday of each month through December, Wine Dating is a more social affair than the traditional wine pairing dinners. It encourages mingling and features four tasting stations, each with a selection of premium wines and elegant appetizers prepared by the Sheraton's fine culinary team.  Adding another twist, Villa Danieli's Wine Dating features a sommelier who socializes with the guests, introduces the wines and gives a short mini-lesson at each station.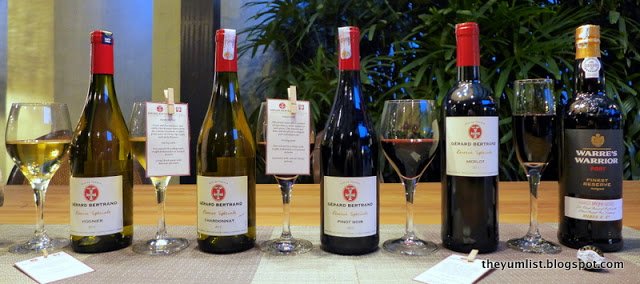 Wines To Be Tasted
The Wine Dating menu changes each month, enticing participants to return for a new "wine lover's journey."
Three Yum Listers, Monica, Caning and I, were among the approximately 30 folks gathered for the launch of Wine Dating on August 27.  Each session is capped at 30 pax to keep the event intimate and this proved a good number – enough to feel convivial, but not too cramped.
Located at the pool level of the Sheraton Imperial, the freestanding trattoria's entrance is accessed via a walkway lined with beautiful twisted wrought iron.  Upon entering we are instantly transported to a grand villa in Italy.  The interior is beautifully designed with stone columns, arched ceilings, cobbled brick floor, and tastefully painted murals.  Flickering flames from inside the wood-fired oven catch my eye from across the room.
We are greeted warmly by a waiter with a tray of Aperol Spritzers, a zesty aperitif made with Prosecco, Aperol and seltzer.  This flirty orange concoction is a refreshing antidote to the evening's humidity and the tensions of the day – a great starter cocktail to liven any mood.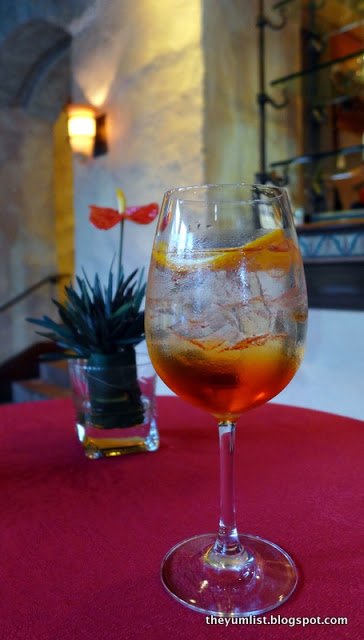 Aperol Spritzer
We happily sip and mingle, chatting with David Stephan from the popular wine delivery service, Wine Talk Malaysia. He's our friendly "sommelier-in-residence" for the evening's session.
Wines featured this evening are from the south of France, Gérard Bertrand's Réserve Spéciale, as well as Warre's Warrior Port, the oldest brand of port in the world.
As our group gathers at the first station, "Cold Canapés", we are treated to two different glasses of wine, Gérard Bertrand Réserve Spéciale Viogner and Pinot Noir. Clipped to each glass is a small note card about the wine, perfect for slipping into my purse for later reference. David introduces each wine, following an explanation of by the chef of the beautiful canapés awaiting us: duck breast smoked under a glass dome with chancaca glazed apple and orange fruit, bacon-wrapped chicken terrine topped with avocado, and chicken liver pate with sable and organic cinnamon orange jam.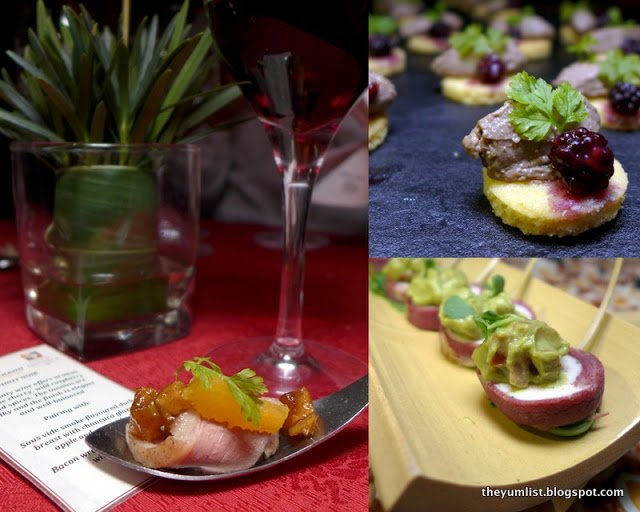 Appetisers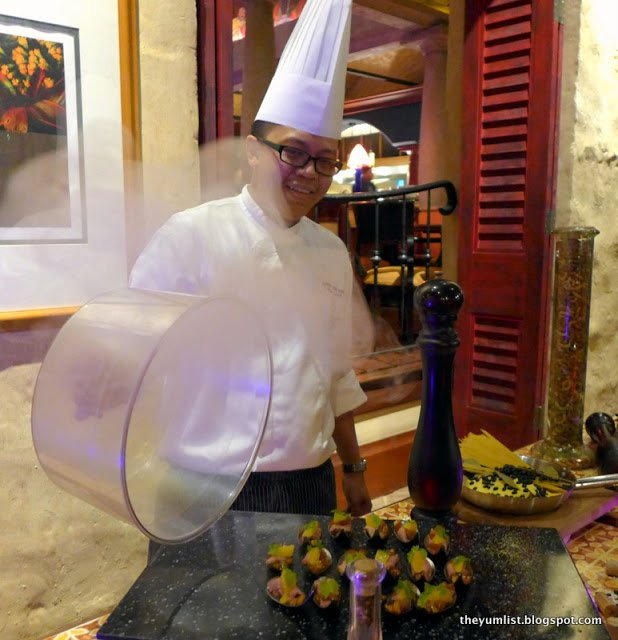 Chef Unveiling the Smoked Duck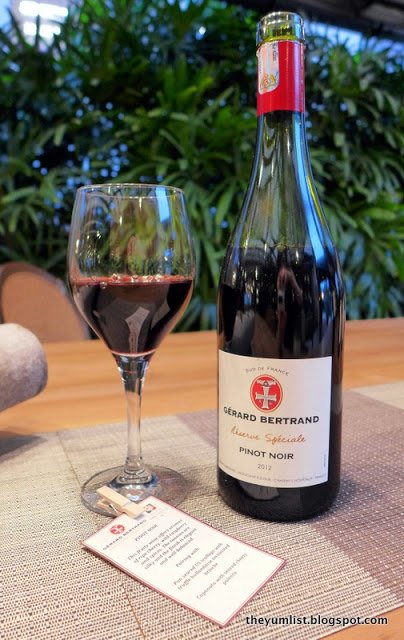 Pinot Noir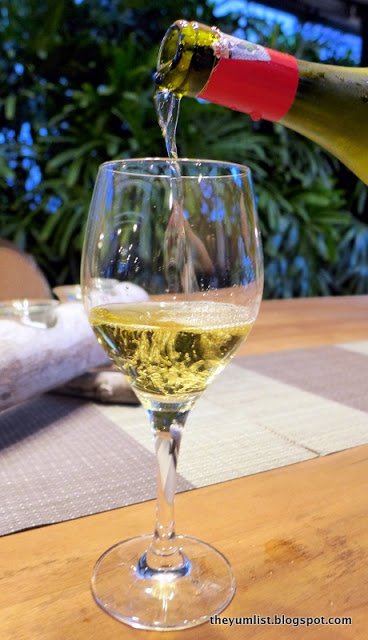 Voigner
Happily loosened up and now in full tasting mode, we enthusiastically arrive at our next station, "Flying Liquid".  Small shooters of vegetable gazpacho are passed around, paired with Gérard Bertrand Chardonnay.  David explains that the Chardonnay is good for tomato based Italian fare as it is not as crisp as the first white, the Voigner, but dry enough to handle the acidity of the tomatoes. Cups of hot chickpea soup with olive tapenade and a drizzle of sour cream come next, creamy and soothing, pairing well with another glass of the Voigner, which has quickly become my new favorite wine.
Soups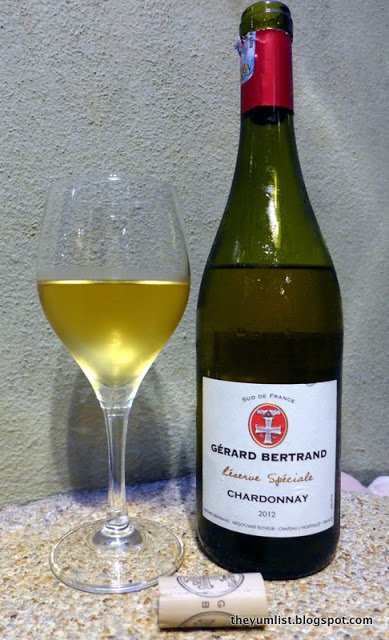 Chardonnay
The main-course station, "Make it Hot" is impressively laid out featuring a pan- seared US scallop and truffle hollandaise on brioche. Three wines are featured at this station: Pinot Noir, Chardonnay and Merlot. Cuban Lamb and potato vol au vent was also a favorite, the sweet and spicy lamb tucked into a tiny puff pastry basket.  The sweet-smokiness of the lamb was enhanced by merlot, its fruitiness caressing the palate with a lingering finish.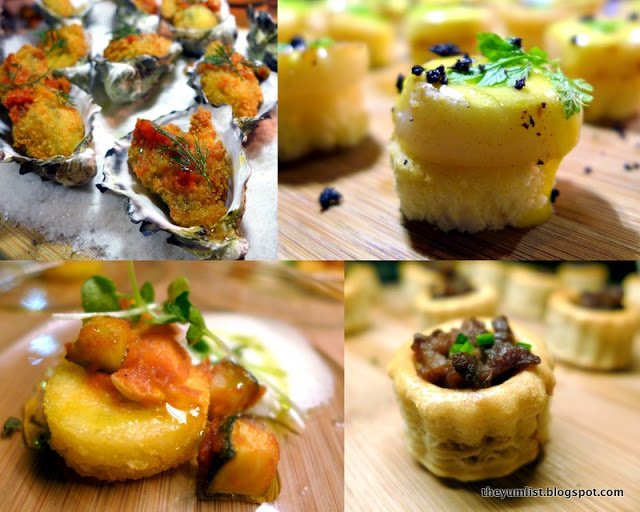 Mains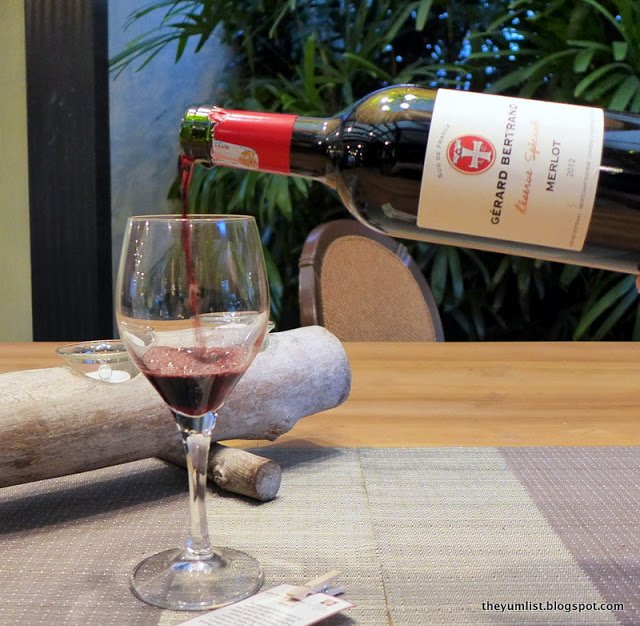 Merlot
Finished with the main course and now surrounded by a cloud of cheery cacophony, we meander over to a comfortable booth in the main dining area where we are relieved to rest our feet.  A three-tiered dessert tray arrives comprised of bite-sized desserts, including caramelized plantain with sweet cream cheese and pecan crumble. But my immediate favorite are the chocolate truffles rolled in pistachios, which are completely divine next to the final pour of Warre's Warrior Port. This is it – my true love realized at last!
Dessert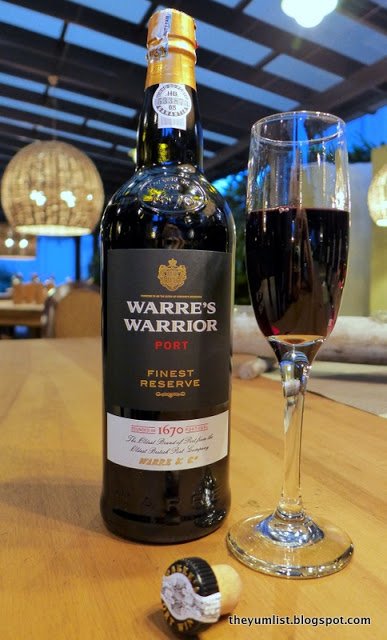 Port
Wine Dating sessions are priced at RM220 (nett) per person, a good value considering the liberal amount of wine poured and the quality of the appetizers.  That being said, I did find my wine-to-food ratio a bit wine heavy. This is not to complain by any means, but only to say that I could have used a little more food to absorb my top-ups of alcohol.
On the plus side, this gave the perfect excuse to explore the regular Villa Danieli menu a bit and we opted to share a thin-crust pizza from the welcoming wood-fired oven. It was a wise choice, to be sure, and a definite reason to visit Villa Danieli even when Wine Dating isn't in session!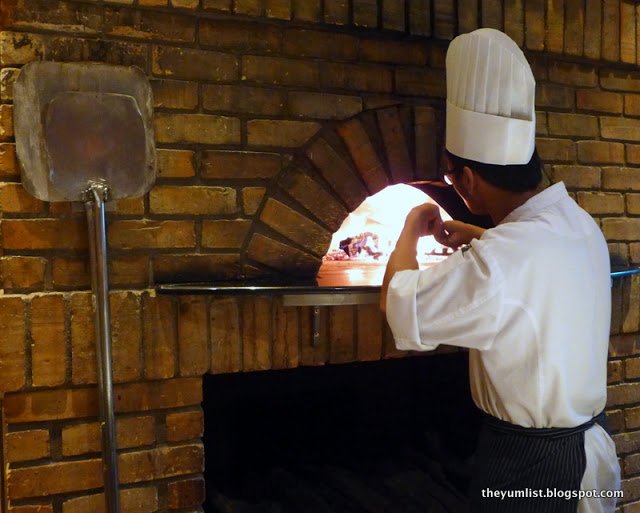 Wood-Fired Oven – something to return for
Reasons to visit: A new wine tasting experience with a social twist, complete with expert advice in a beautiful, authentically Italian atmosphere.
Wine Dating takes place on the last Thursday of the month through December from 7pm-10pm.  Cost is RM220 (nett) and reservations are strongly recommended due to limited space.
Villa Danieli
5th Floor
Sheraton Imperial Kuala Lumpur
Jalan Sultan Ismail
Kuala Lumpur, 50250
Malaysia
+6 03 2717 9900