Kirsten Durward and Monica Tindall
Loving wine by the glass as we do, it's always a challenge to find places that serve good quality and different varieties. So what a pleasure to be invited back to Stoked to taste some wines from their new enomatic machines. The flashing lights on their displays indicate the prices: anything from RM6 for a taste up to RM35 to RM56 for a full glass, depending naturally on your choice of wine. I'm excited to see the selection as usually one would have to buy a full bottle to taste wine of this caliber. As we know that owner Yin How Wong is a wine aficionado who personally sources all his wines from boutique vineyards around the world, I can barely wait to slap my lips around a glass or half.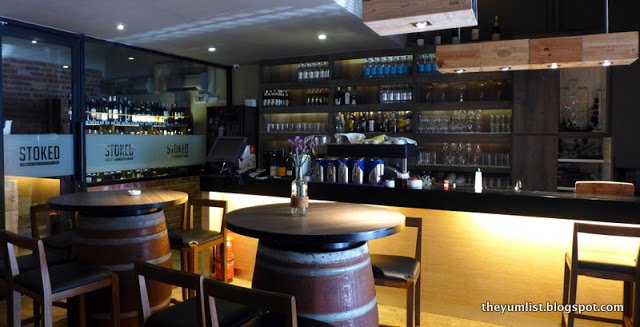 Stoked Wine Bar
Because half glasses, three to be precise are what is on offer during happy hour, every night of the week. For RM 50 + you can taste three quality wines, decide which you like best and order a full glass if you want more. What a way to learn! The wines on offer will change on a fortnightly basis so there is always something new to tempt tastebuds. The idea is to showcase more boutique wines and encourage people to step a little outside comfort zones. Believe you me these are not wines that you're going to find on your regular supermarket shelf. It is a delightful opportunity to drink quality in a friendly ambience. As an added bonus, Happy Hour will be accompanied by delicious bitings from the belly of 'Bertha,' – Stoked's iconic charcoal wood stove oven, currently the only one of her kind in Malaysia. As these are still in the conception stage we did not taste them but having eaten from the regular menu here I can vouch for the consistently high quality of the food served. Believe me, the bitings will be good.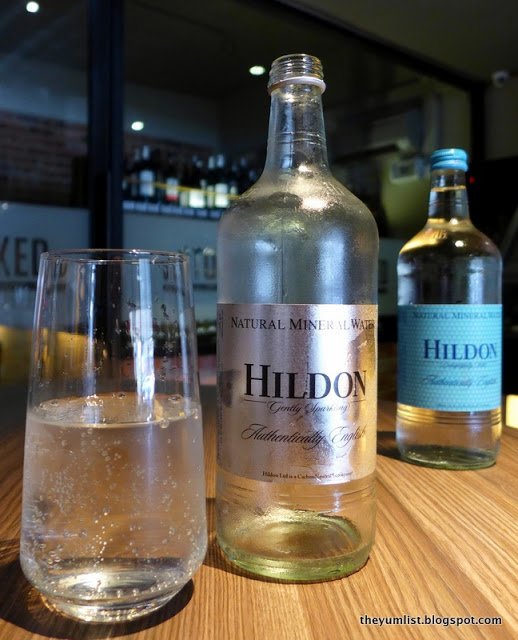 Hildon Sparkling and Mineral Water – a good palate cleanser
We start with the white wine flight, Monica and I opting to share but allowing Caning to guzzle his own full flight, which brings a bright smile to his lips. The first tasting, the Lapola Ribeira Sacra 2011 proves to be full resonant wine with instant deep aromas of late autumn fruit falling lush from the trees. On tasting though it is still very fresh, pleasing all the senses, from the initial full deep mouthful, to a slight minerality that lingers gracefully on the back of the tongue. It is a clever wine as the flavour builds in structure as we continue to drink. It's a great start to our evening.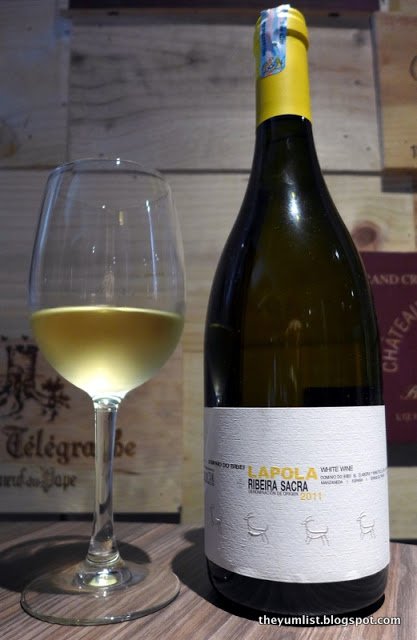 Lapola Ribeira Sacra 2011
I do love a well chilled rosé, unfashionable as it may have been in the past to admit that (things are changing now though it turns out I was ahead of my time with this latest trend). But it does have to be very, very cold, which, fortunately this one is. The Rhone Valley is world renowned for red wine but it is actually first-rate soil for creating rosé too. An eye pleasing deep pink colour, the nose emanates strawberries with a tinge of citrus. On tasting I swirl vanilla and rosemary notes around my tongue finishing with just a hint of spice.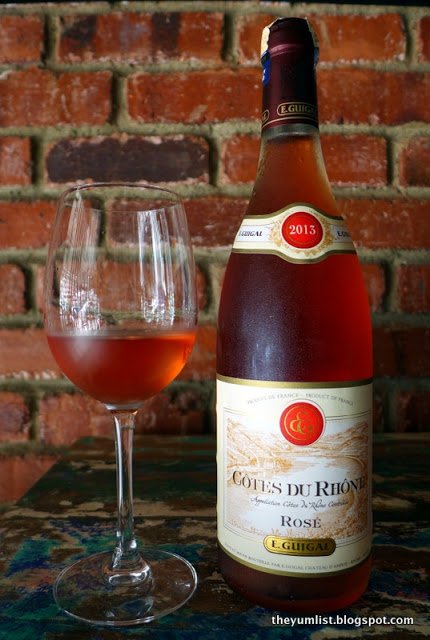 Côtes du Rhône Rosé
The amount of thought that goes into the wine care at Stoked is extreme. Transportation is completely temperature controlled and bottles are unloaded early in the morning. Whites are then stored at 12 degrees Celsius and reds at 16:  all to ensure they reach your glass in the best tasting condition possible. Owner Yin How Wong is nothing, if not passionate on his favourite subjects of wine and food. As usual, he is treating us impeccably with a few snippets from the menu, some of which he knows are our favourites, and others which are new to the menu since our last tasting. The salads are as delightfully fresh and a stunningly simple combination of flavours.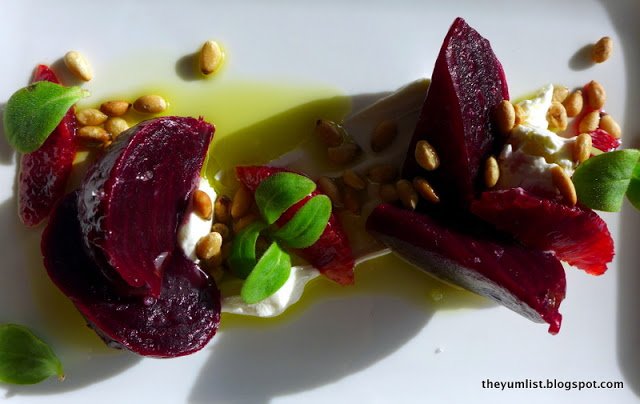 Beetroot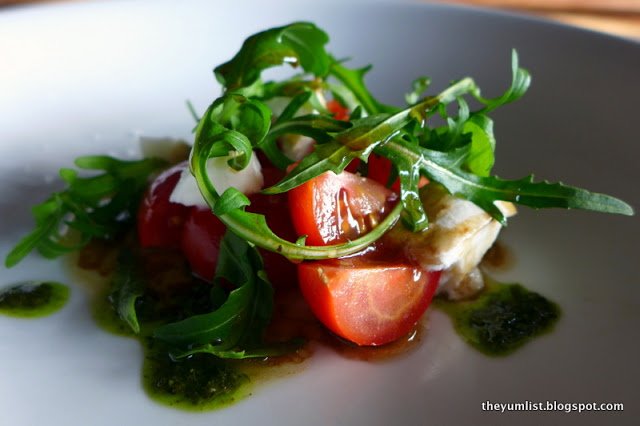 Italian Salad
On our last visit, Yin How waxed lyrical about preparing whole fish in Bertha. Now the testing is complete, we're able to try an impressive flounder from Perak. In keeping with Stoked's commitment to source local ingredients wherever possible without compromising food quality, they have been working their way through Malaysia's fresh water fish and settled on this beauty. I wish that Monica would hurry up the photography because the herbilicous fishy smell is tempting me right out of my seat. Yin How jokes that he is not much of a fish person but this is a must have that has become a personal favourite. The skin is smoky and crisped to perfection, sealing all the delectable flavours into the firm flesh in that unique oven. The slightly sweet flavour has been deepened by the cooking process as lemon, fennel and onion have seeped into the juices. Caning and I are tangling forks over the last vestiges clinging to the central bones, while Monica just shakes her head and smiles.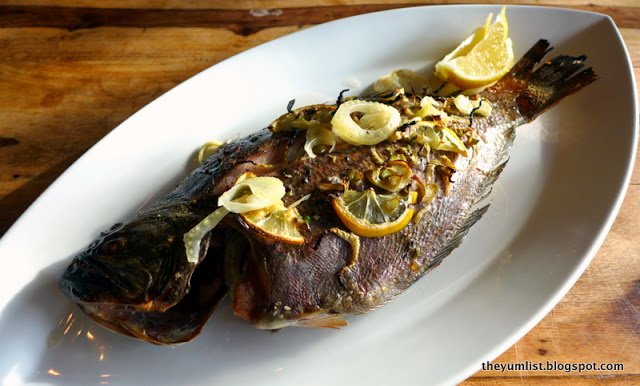 Flounder
We have a fun reminiscence of early teenage experiences with Riesling, a wine with a very poor reputation in the UK. Currently I think that Riesling is one of the more underrated wine varieties as the new developments in wine raise so far above the poor supermarket types of my youth as to be in a completely different dimension. This Zeltinger Himmelreich Kabinett Halbtrocken 2011 (now there is a mouthful for you) is a light drinking wine, and a toothsome one for a garden barbecue with friends, in my humble opinion. Himmelreich means heaven region and halbtrocken, half dry. This one would cut through rich spicy curries without a threat and is pretty perfect for the Asian market.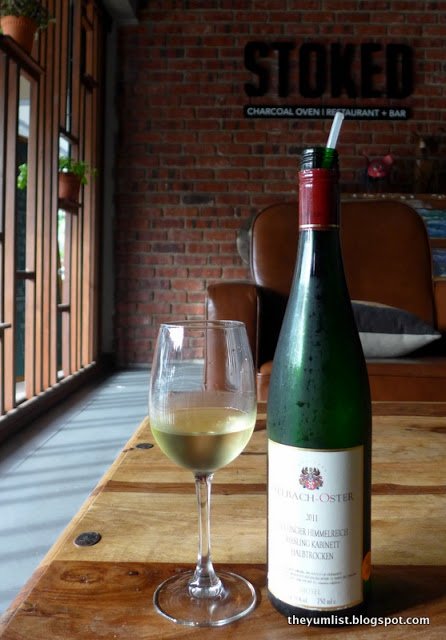 Riesling
What I love is that each wine is from a different region of the world and we're savouring different grapes too. Sandrone Luciano Dolcetto d'Alba is a Piedmontese wine offering remarkable flavour for it's price point. This medium bodied red is usually drunk young, and has a full fruit taste with low tannins. It's easy drinking and one I wouldn't mind topping up on later.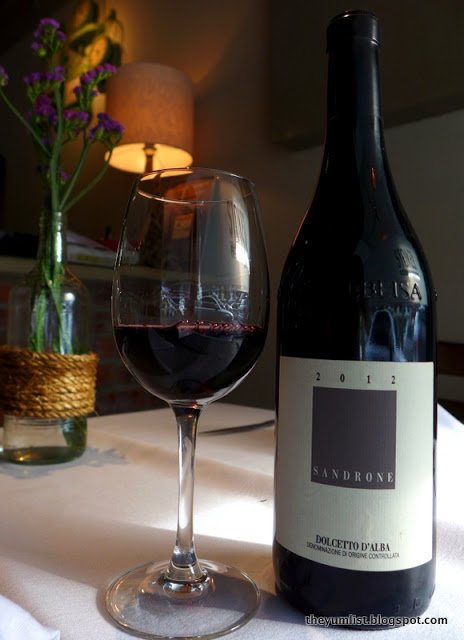 Sandrone Luciano Dolcetto d'Alba
Rioja is arguably Spain's top wine region, with the medium body and high acidity of the variety making them superb pairings for a wide range of foods, while the reasonable pricing leaves them within the range of the average drinker. The Faustino that we try is something rather special though. It was honoured as top brand Reserve wine of the year from Spectator last year. It is opening up beautifully in the warm air with the meaty notes of the tri-tip of beef we have been invited to try. The tri-tip is a cut just under the sirloin at the very end of the tenderloin, having the flavour of the loin but the fatty marbling of a sirloin. This one is Wagyu so it is full flavoured and we are loving the sensation of the engaging fatty bursts in our mouths cut through by the delicious volcanic salt. Definitely moreish, and bringing out the black cherry and chocolate notes in the Rioja, now holding a very resonant and deep flavour. If all of this wasn't enough already, we're pressed to taste Stoked's inhouse Yuzu mustard, which has Monica raving and demanding take out! Yuzu seems to be a flavour that is popping up all over the place these days, but this is not a combination I have tried before.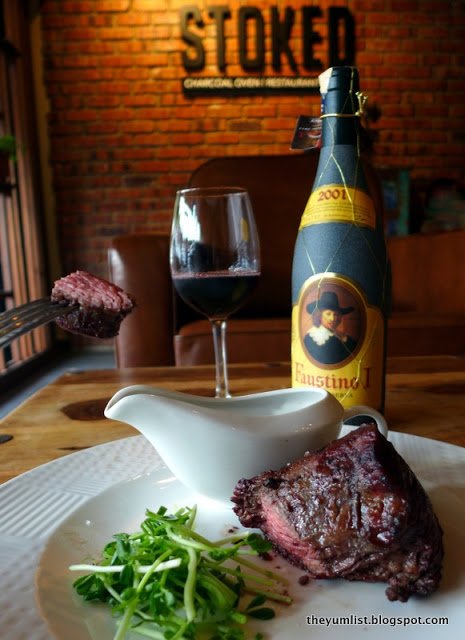 Tri-Tip Beef and Rioja Faustino Red Wine
Finally we reach the  Malbec Terazzas 2012 Reserva. A very popular wine in my friendship group, we love this medium bodied dry red with its dark fruit overtones and mellow tannins. A great finish for the tasting, and I'm looking forward to the next time I get to taste a set.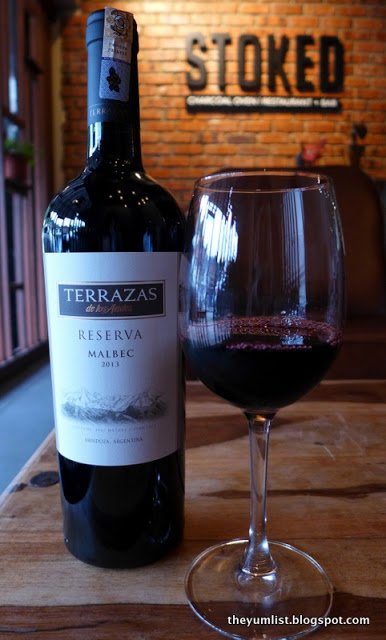 Terrazas Reserva Malbec
Outside of Happy Hour, 18 wines are available for tasting through the Enomatic, why not just branch out and see what you like. A quarter glass can tempt us to try something we might not usually opt for. Customers can elect to fill up an Enomatic card for the evening or just continue to order by the glass.
We actually think we might be finished. But Yin How has a surprise in store for us. 'I know you guys love this,' he says, 'You can't leave Stoked without indulging in a sticky date pudding.' What a great line! I'm sold. Not one but two of this stomach warming, taste tingling, richly dense but light concoctions, are placed in front of us. One of our readers, who knows who he is, also loves this pud and must be illuminated green with envy. That toffee smell wafting towards us is just too tempting!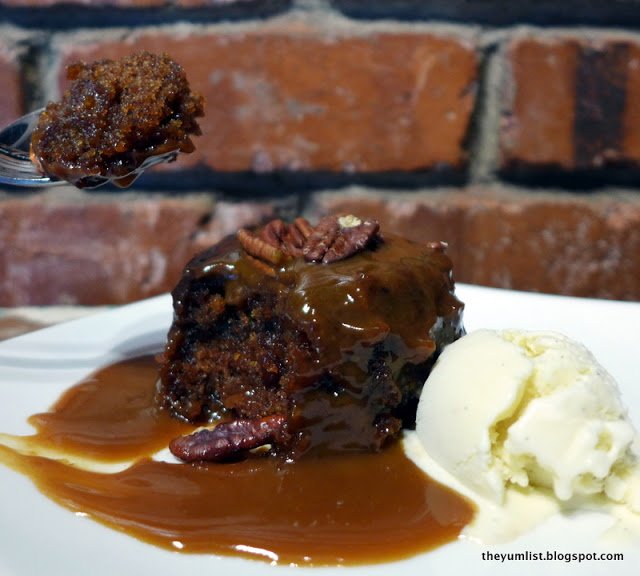 Sticky Date Pudding
The RM 50 ++ Happy Hour will be launched early October. But in the meantime why not roll along and try a glass or half from the Enomatic. You never know, you might find the wine love of your life!
Reasons to visit:  18 personally sourced boutique wines to taste by the glass! Need I say more?
Stoked Restaurant and Bar
120-122 Jalan Kasah
Bukit Damansara
Kuala Lumpur
Malaysia
+ 603 2094 8262
Happy hour will run 5pm' til 7pm Tuesday through Sunday