In our search for specialty bars and interesting happy hours around the city (that strictly do not involve buckets of Carlsberg, or pails of anything for that matter), we were recommended to try a cocktail or two at the Mandarin Oriental Kuala Lumpur. Turns out, until the end of October, that there's no such thing as an ordinary cocktail or bar bite here. The entire bar and restaurant have been taken over by Aziamendi 88, the pop-up brainchild of a 3 Michelin Star chef, Chef Eneko Atxa.
The youngest ever 3 Michelin Star Chef has entrusted his protégé chef de cuisine, Alex Burger, in charge of the operation, and besides gastronomical journeys at lunch and dinner, the bar menu has been given the same starry treatment too.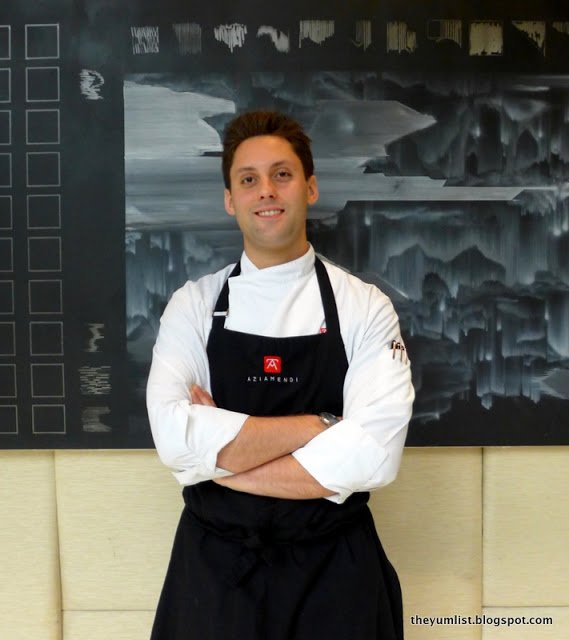 Chef Alexander Burger
Chef Eneko hales from Bilbao, Spain where the concept of pinchos is deeply rooted in the rich culinary culture of the Basque people living in this region. Chef Alex describes pinchos as the gourmet version of tapas. Bars are full of food in this territory and the small bites are taken just as seriously as the drinks. With the bar menu created for Aziamendi 88, they wanted to give people a little taste of that lifestyle and delicious tradition.
Pinchos Menu
Pinchos are served at the bar from 12 noon to midnight, so if you miss the lunch and dinner timing, or just want to grab a taste of stardom (without breaking the budget), it's good to know that you can always opt to take a seat at the bar.
We make a good dent in the pinchos menu, beginning with Salmon Rolls (RM58). The pink soft flesh contrasts against the black slate platter on which it's served. Inside the rolls, only detectable if you're paying close attention, is a thin layer of apple compote with Parmesan cheese. The pine nut and torn lettuce garnish zhoosh up the texture, and an apple and white wine sauce provides a little intrigue on the side.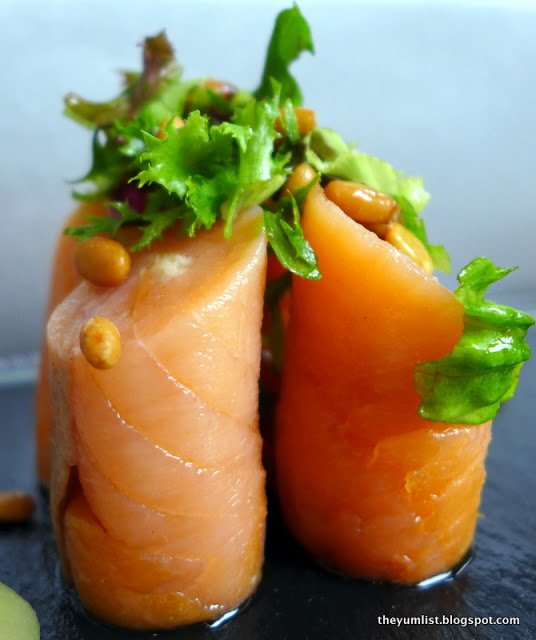 Salmon Rolls
At first bite we can't decide if the Foie Gras Mille Feuille (RM68) should be classified as a bar snack or dessert. A crispy square of toast supports a moist spread of apple that has been baked in butter and sugar. The luminary foie gras is held in place with a brittle blanket of what is reported as nougatine, but to me resembles more a sheet of hard caramel toffee. Whatever the terminology, let's keep it simple: " you must order this."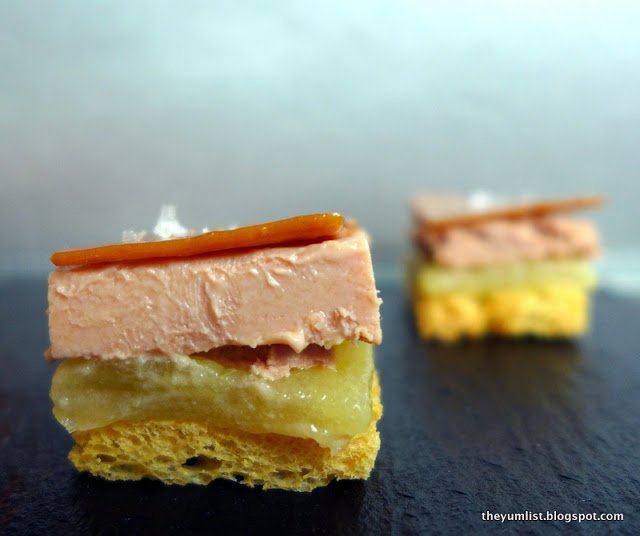 Foie Gras Mille Feuille
In Spain croquettes are usually made with Iberico ham. Malaysia gets the halal version of these traditional balls however in the Mushroom Croquettes (RM48). These, crisp on the outside and wet within, nuggets are part of many a fond memory and good times spent in Spanish bars. I appreciate the vegetarian version made with porcini mushrooms in a béchamel sauce, and the presentation in a mini deep-fry basket adds to the delight as well.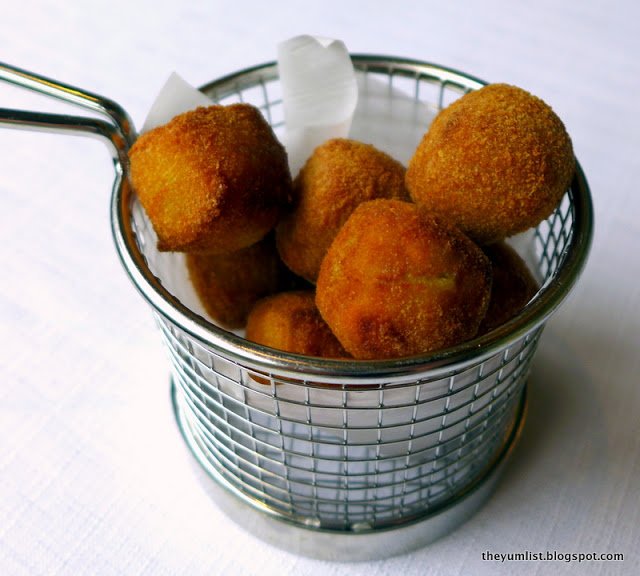 Mushroom Croquettes
Prawn Brochettes (RM58) are simply king prawns in a tempura batter. The plating however is anything but ordinary. Protruding on skewers from what appears to be a washed up piece of beach wood, two hands are needed to deliver this creation. Best eaten immediately while they're hot, dip them in a smidgeon of the chive aioli for a gentle boost in flavour.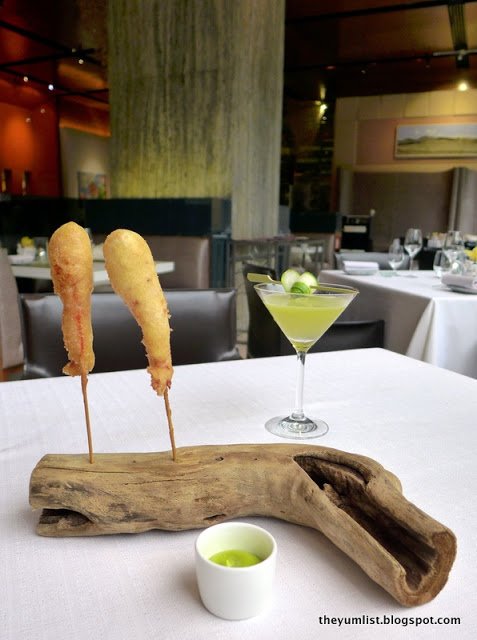 Prawn Brochettes
Australian rib eye is freshly ground to make the patties in the Mini Burgers (RM58). Still pink in the middle, the flavour is complemented by mushroom duxelles, Parmesan cheese, and caramelized onion. A micro salad and balsamic vinaigrette top it off, and it's all held together by a steamed milk-bread bun. While the vegetarian croquettes rocked my boat, these mini-meat monsters took hubby's taste buds on a luxury cruise.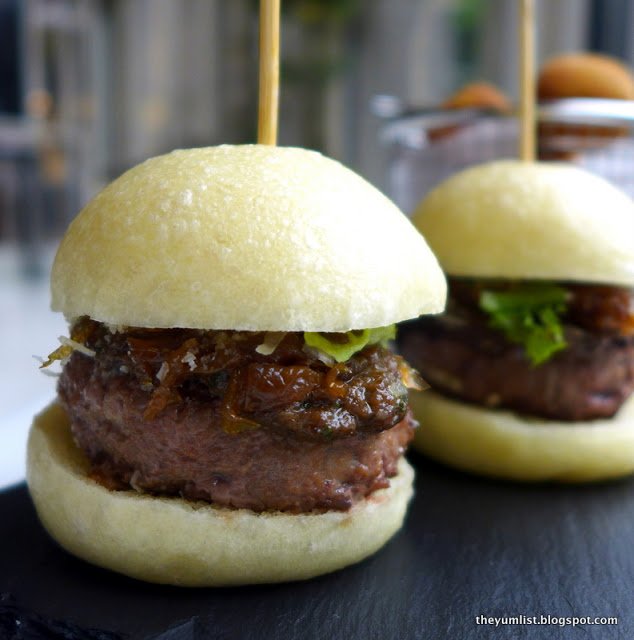 Mini Burgers
Cocktails and a Mocktail
In my mind, bar food must be washed down with a quality beverage or two, and Aziamendi's sommelier has fashioned a number of handiworks for the occasion. Foam Head (RM68), served in a martini glass, features a conical spumy top in line with its name. This blend of Tanqueray gin, grapefruit juice and vanilla syrup is garnished with thyme, and the scent of vanilla teases the nostrils with every sip. Fingers fight for the stem of the glass to finish the last sip: it's going to be a hard drop to top.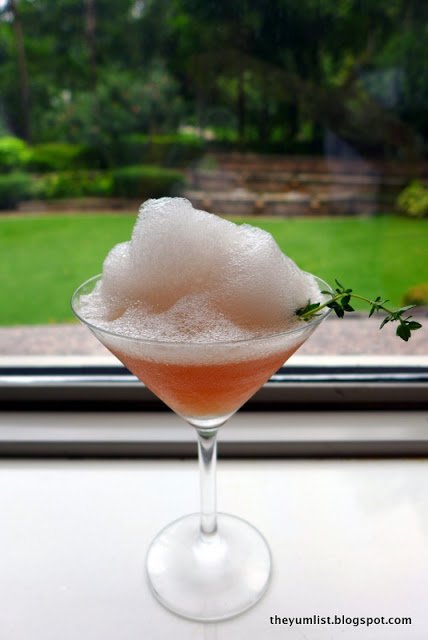 Foam Head
But then, along comes the Moonshiner Apple Pie (RM68). Do we eat it or do we drink it? Turns out a little of both. Jim Beam bourbon, apple juice, cinnamon syrup and lime juice form the liquid, and a thin slice of green apple crowned with toasted meringue covers the top. A roughly torn cinnamon stick acts as a swizzle stick imparting a hint of its flavour with every stir. It's another elegant concoction, of which we'd be happy to reorder.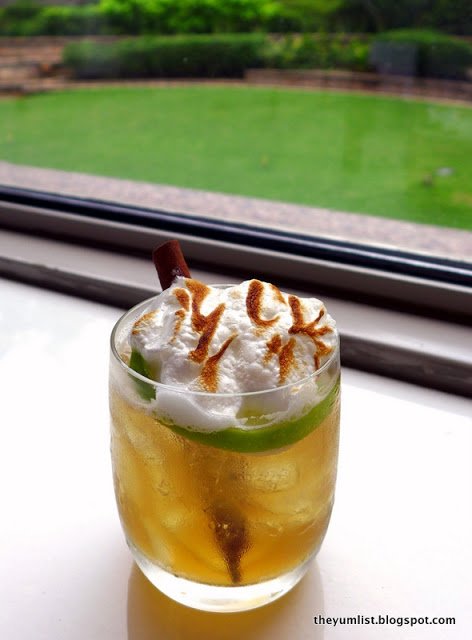 Moonshiner Apple Pie
I can see the attraction in the Summer Spritz (RM68) with its Aperol, sweet Vermouth and watermelon syrup dominance. A gentle effervescence, basil leaf garnish and watermelon aroma, are definitely inviting. But, even though balance is attempted with fresh lime juice and ginger ale, it's still a tad on the sweet side to win me over. I do recognize though, that it's this nectarous nature that will prove popular with a lets say, less-seasoned tippler.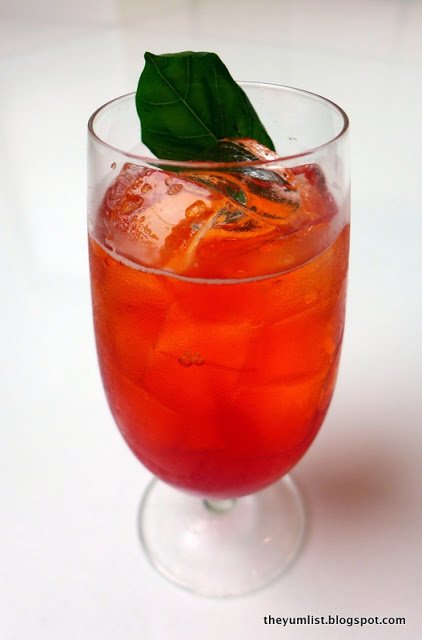 Summer Spritz
The mocktail, Cumbersome (RM48), doesn't quite do it for me either. Apart from the fact that there's no alcohol in it, I find the cucumber overpowering. Apple juice, elderflower syrup and lime juice barely get noticed with the strength of the gourd. But again, it does have its market and is sure to make someone with better virtues than myself, a happy taster.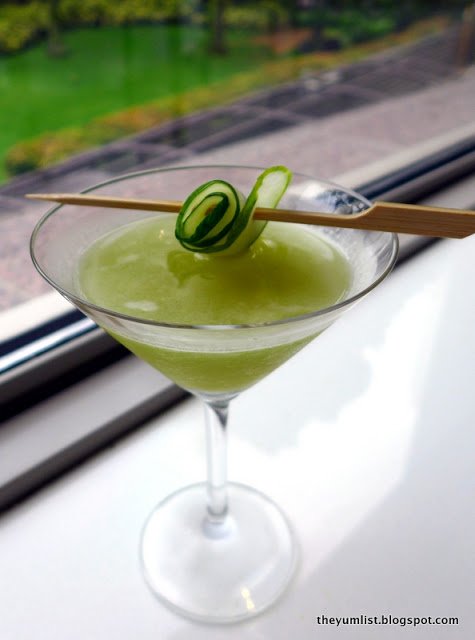 Cumbersome
Grey Matter (RM68) has us back on track though and concludes our bar session on a deliciously high note. Tanqueray gin infused with Earl Grey is mixed with apple juice and fresh lime juice. Served over crushed ice in a whisky glass and garnished with a dried slice of lemon, it's a beauty for the tropics.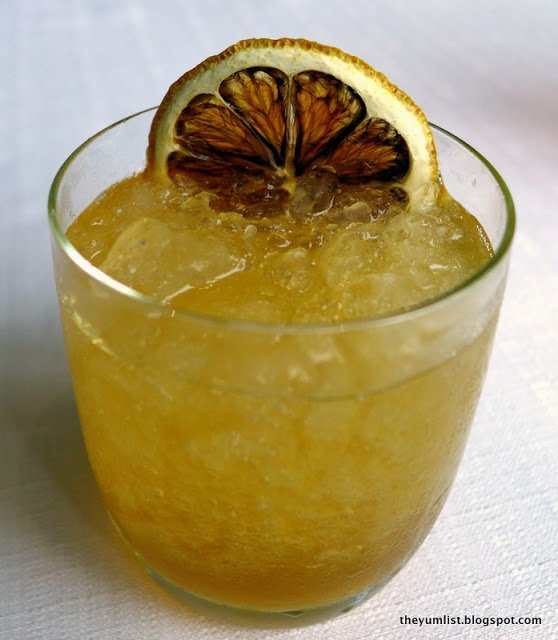 Grey Matter
Reasons to visit:  a fabulous chance to try creations from a 3 Michelin-starred team right here in Malaysia!; Foie Gras Mille Feuille; Mushroom Croquettes; Mini Burgers; Foam Head; Moonshiner Apple Pie; Grey Matter.
Aziamendi 88
(where the MO Grill usually is)
Ground Floor
Mandarin Oriental, Kuala Lumpur
Kuala Lumpur City Centre
50088 Kuala Lumpur
Malaysia
+6 03 2380 8888
+6 03 2179 8818
Aziamendi
88 will be at the Mandarin Oriental until October 31st, 2015.