Linnea Welker and Monica Tindall
The word Becco comes from the Italian verb for beccare, which means to peck, nibble, or savor something in a discriminating way. Pizzolo's chefs have chosen a delicious array of appetizers for this special menu, almost all of which are offered during the free-flow Becco Happy Hours available Monday through Friday from 5-7pm.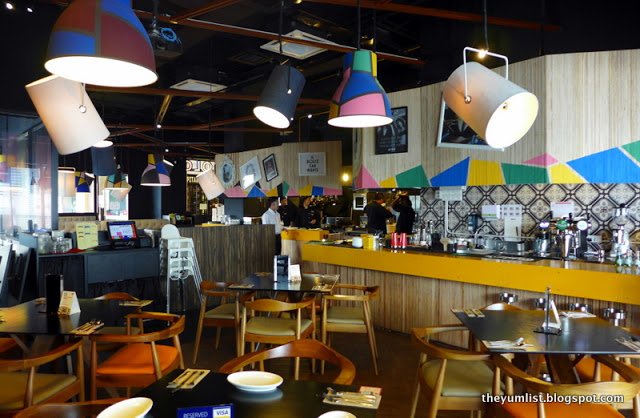 Pizzolo, Atria Shopping Gallery
The Becco includes two glasses of wine, red or white, to accompany your choice of small bites, many of which are toasted or baked in Pizzolo's very own brick oven. The wines for this special are from the Luis Felipe Edwards vineyard in Chile, and both wines are versatile complements for the range of flavours found in the Becco selection.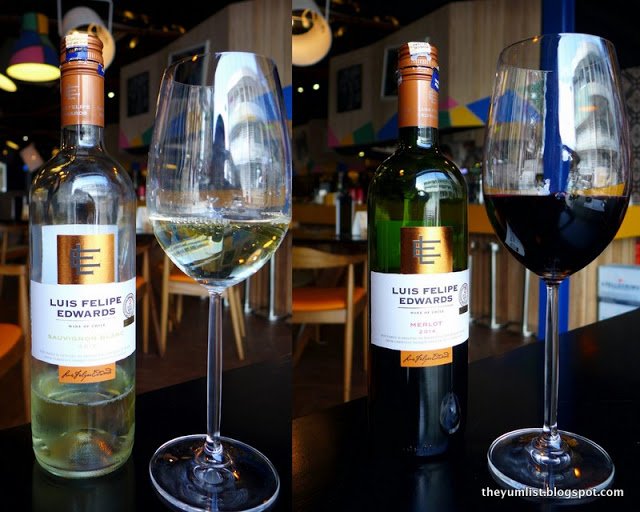 Happy Hour Wines
Five different bites are available from which to choose, and guests are invited to mix and match from the quintuplet of options. For example, you could choose a plate consisting of one type of appetizer, or a plate with all of the alternatives – just like the free-flow servings, the configurations of delicious treats are endless.
The first plate to arrive for our tasting was absolutely stunning.  The Trout Ceviche on Kataifi (RM19.90) came on a beautiful black slate platter. The tangy and fresh ceviche was delicately placed atop a bird's nest style arrangement of crispy kataifi pastry.  Topped off with colorful caviar and a sprig of parsley, this dish is a delight to the eye and to the palate. To finish off this colorful arrangement of delights, a border of garlic aioli is piped along the side of the unique serving dish, with drops of caviar playfully dotting the landscape.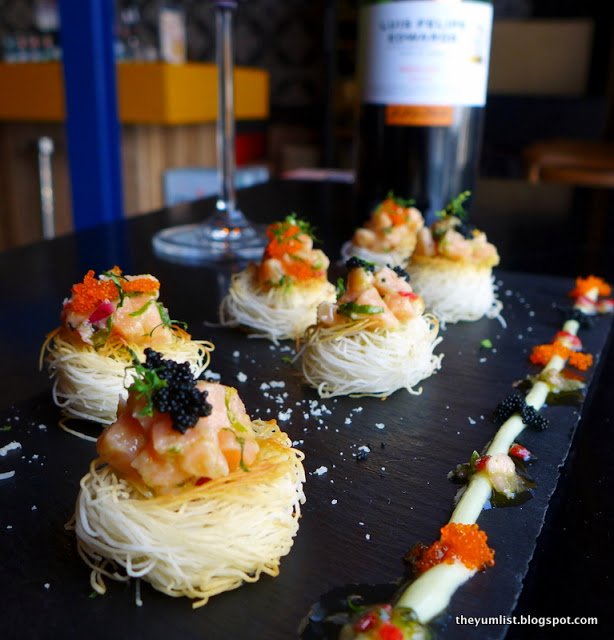 Trout Ceviche on Kaitifi
At first glance, the Crostini with Mango, Cheese, and Honey (RM15.90) looks like a colorful plate of delicately layered tea sandwiches. This vegetarian delight features a luscious goat and cheddar cheese spread on top of squares of soft toasted bread. Finished with a cheery mango salsa, this plate offers a mélange of both savory and sweet flavors.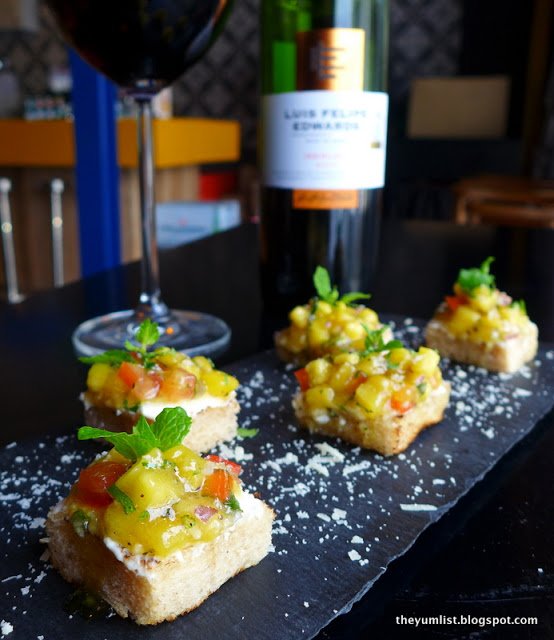 Crostini with Mango, Cheese, and Honey
The Trio of Bruschetta (RM13.90) was another delight to behold. Each slice of the thick, toasted Italian bread hosted one of three different spreads: mushroom, tomato, and salmon.  The mushroom paté was a sautéed blend of mushrooms, garlic, Parmesan cheese, and truffle oil. The truffle oil was accommodated by the other deep flavors and the combination was fantastic. The tomato bruschetta offered a delicate balance of garlic and vinegar, which tasted light and fresh. Lastly, the salmon was succulently cooked and the flavors further enhanced by a light cream sauce and wasabi aioli.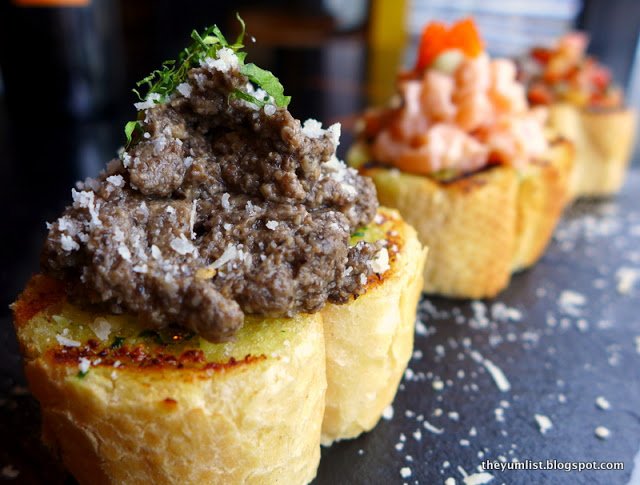 Trio of Bruschetta
The Portuguese peri-peri sauce is a perennial favorite of crushed chilies, citrus, onion, tarragon, and an array of other herbs. Chef has fine-tuned his recipe, which comes as an accompaniment to the Spicy Chicken Balls with Peri-Peri (RM16.90) dish. The spheres of minced chicken are breaded and lightly fried and served with a generous dipping bowl of the delicious and complex dressing.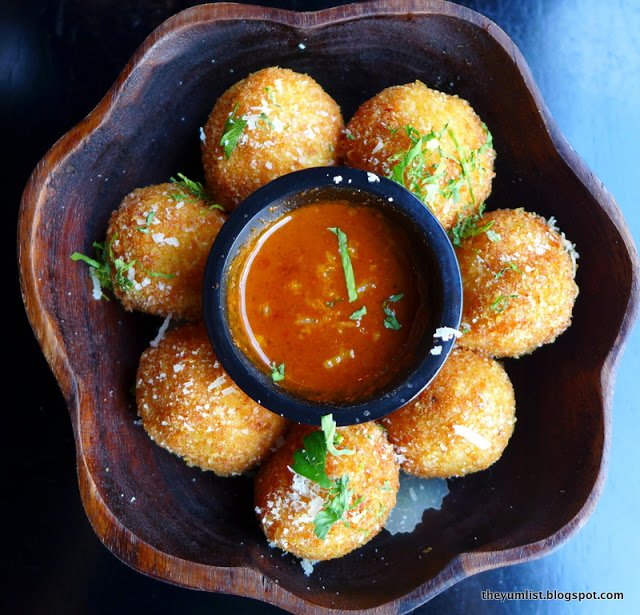 Spicy Chicken Balls with Peri-Peri
Crispy Deep Fried Calamari (RM17.90) offered thick shavings of Parmesan cheese to harmonize with the warm savory centerpiece. The dipping sauce was a tomato reduction prepared with caramelized onions and garlic shavings, which gave texture and rusticity to the sauce. Because of the beautiful rich red sauce, sharing this calamari with a glass of merlot is highly recommended.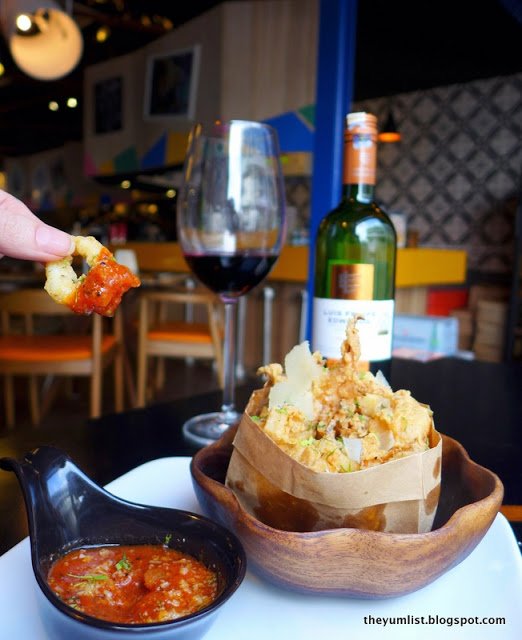 Crispy Deep Fried Calamari
Once again a creative use of kataifi pastry is used the Melty Meatballs with Robust Tomato Sauce (RM16.90). Tender beef meatballs are covered in a rich tomato marinade and sit atop a light bed of the thread-like noodles. The texture of the soft meatball, the tangy flavor of the tomato sauce, and the brittle pastry coalesce in a celebration of Italian goodness.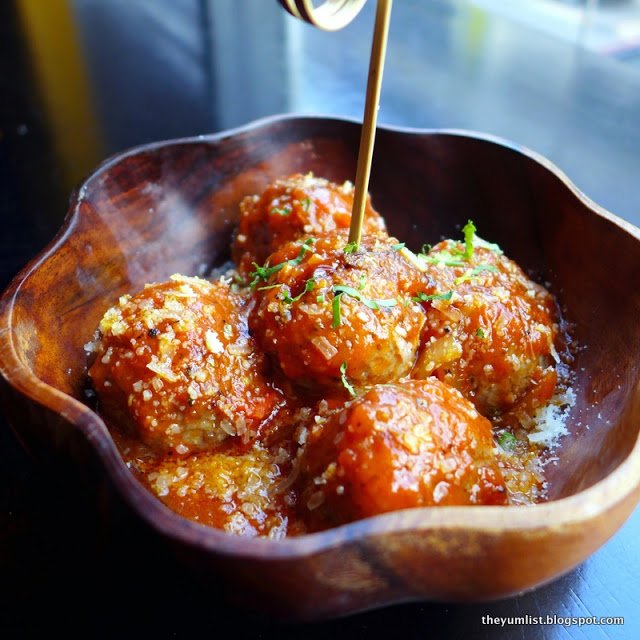 Melty Meatballs with Robust Tomato Sauce
Crab cakes can be a real challenge to make well, but here much investigation has gone into achieving a first-rate version. One bite into Pizzolo's Americana Crab Cakes with Lemon Garlic Aioli (RM19.90) and there is no denying that it is 99% crabmeat with minimal other ingredients helping them stick together. Served with a pretty garlic garnish, this is one dish not to miss.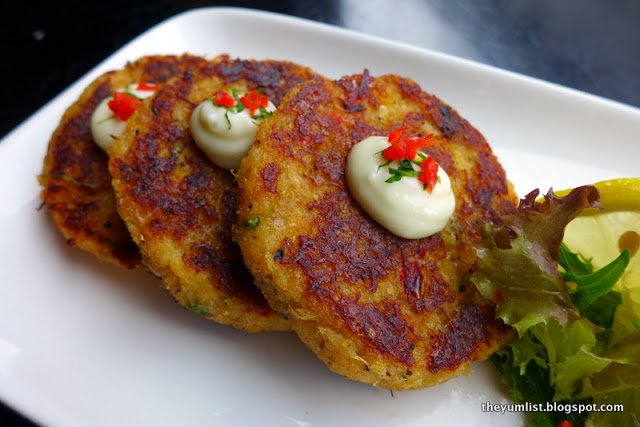 Americana Crab Cakes with Lemon Garlic Aioli
From the cheese menu:
The cheese menu is not a part of the Becco specials, but is too delicious to miss. The first plate, Cream Cheese Log with Crushed Pistachios and Honey (RM15.90) was a genius combination. Chunky cylinders of cream cheese were rolled in crushed pistachios and honey. A slice of strawberry and mint on the top supplied freshness to the bite. Next visit, this will be our first order.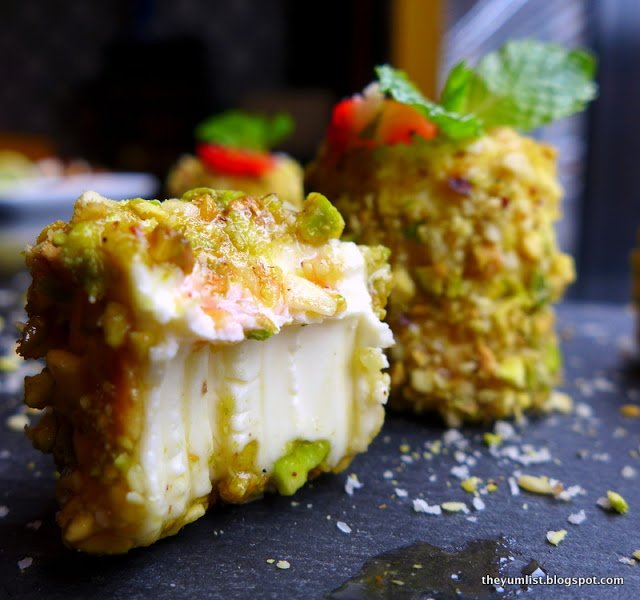 Cream Cheese Log with Crushed Pistachios and Honey
Yet another visual and gustatory treat is found in the Whipped Goat Cheese with Dried Cranberry (RM19.90). A small flaky puff pastry, filled with light and fluffy goat cheese with the sweet burst of cranberry, was a welcomed palate cleanser and the perfect blend of savory and sweet.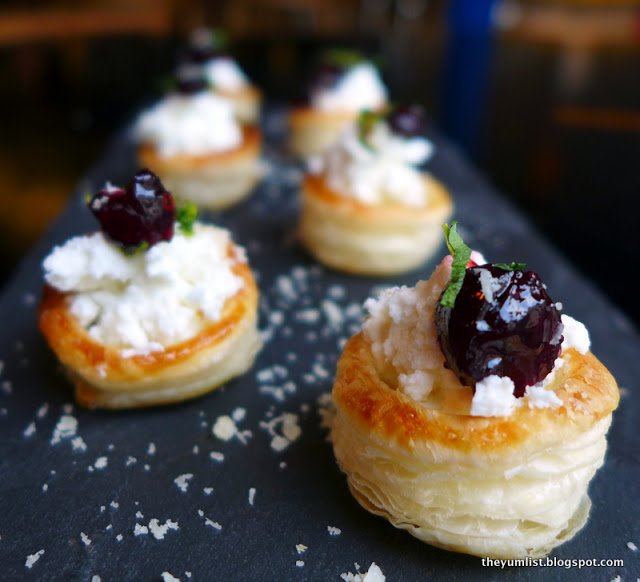 Whipped Goat Cheese with Dried Cranberry
Last, but certainly not least, on the Contemporáneo Formaggio menu is the Oven-Baked Brie with Orange Glaze (RM17.90). A baked and incredibly light and flaky pastry shell enveloped a decadent treat of melted Brie, which oozed out upon slicing. It's garnished with the unlikely companions of strawberry slices, a sweet and tart orange sauce and a lavish dollop of whipped cream. Words can't describe the scrumptiousness – just look at the picture.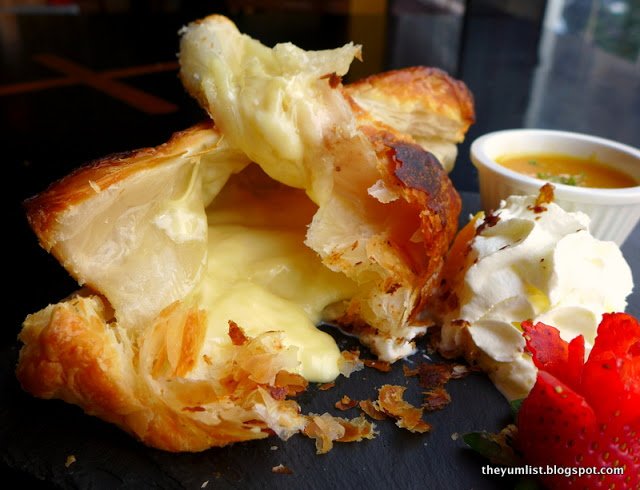 Oven-Baked Brie with Orange Glaze
Come for the incredible Becco and wine deal and stay on for cheese and more delicious recipes in this friendly and creative Italian restaurant.
Reasons to visit: excellent value happy hour and small bites deal (2 glass of wine and free-flow becco for RM39); don't miss trying the Cream Cheese Log with Crushed Pistachios and Honey, and the Oven-Baked Brie with Orange Glaze.
Pizzolo
Ground Floor, Atria Shopping Gallery
Damansara Jaya, Selangor
Malaysia
+6 03 7731 9810