Tired of cookie cutter menus and mirror concepts, the philosophy of EIGHT, Johor Bahru's premier dining and events venue, "innovate, never imitate," filled me with hope from the onset. Once the state's most highly regarded restaurant, recent renovations in 2015 have since lifted its status even further to also be considered the city's most prestigious entertainment and event space.
Established in a grand colonial building with views over the Straits of Johor, the restaurant serves Mediterranean and modernist cuisine. Sourcing ingredients from land and sea, quality is valued as an essential base in presenting the finest of dishes. The facelift is nearing completion and with a garden in the making out the back, soon a true "garden to table" concept will be in place with all the fresh produce coming from Eight's own backyard.
The finishing touches are being put on the lounge when we visit, which promises to stock an extensive collection of wines, Champagnes and whiskies from an affordably priced tipple enjoyed in quantity with friends to exclusive vintages brought out for special occasions. Boutique selections are imported directly, and so guests are able to find wines that are not available on the retail shelves. And… oenophiles will be pleased to know that wine is taken very seriously here. The house wine at RM28++ is a 92 pointer from Bordeaux! It's not just the classic old world and new world wines on the list however, expect to be surprised by good quality drops from unexpected locations such as India, Lebanon, Japan and Croatia.
As an event venue EIGHT at Lido Hill has entertained the elite – from celebs, to heads of state and royalty. Charity dinners, wedding receptions, corporate events and themed parties are all crafted with bespoke design, creating something unique for every client. The range is extensive including an arts area supporting local artists and a unique octagonal (8 sides… EIGHT) stage where musicians and performers can showcase their talents.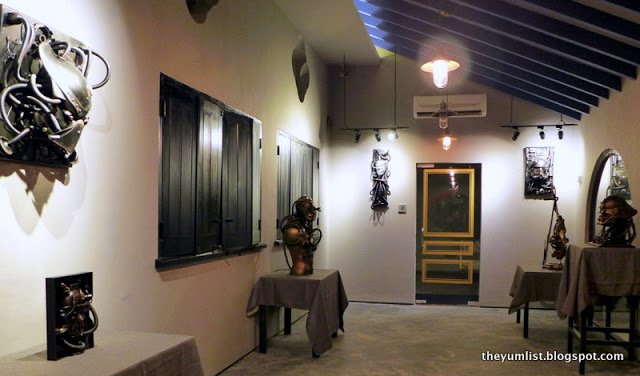 Arts Space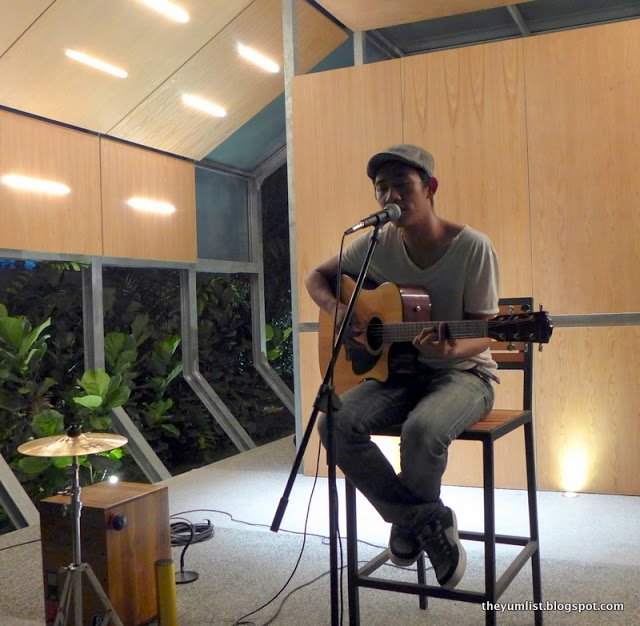 Live Music
Combining all the elements, a pleasurable dining experience is had outdoors. Tables are set on a large rectangle of AstroTurf, flanked by trees and gardens, with the stage at the bow and the bar at the stern. The temperature, that's a few degrees cooler than KL, is enhanced by a gentle breeze supplied by fans. An excellent quality sound system hums with the sounds of tonight's entertainment, an acoustic guitar and deep gravelly vocals. I'm yet to find an equaled location anywhere else in Malaysia, and it's what owner, Allan Fernandez, describes as his motivation for creating the space, "wanting something better for Johor."
We sip on a glass of bubbly, taking in the surrounds, tapping our toes to the live music and admiring how quickly the place fills. EIGHT at Lido Hill is not yet fully launched nevertheless every seat is warmed by a bottom with a good mix of locals and expats, families, couples and friends making up the crowd. The mood is positive: partly due to the attractive space, but also owed to the friendly service.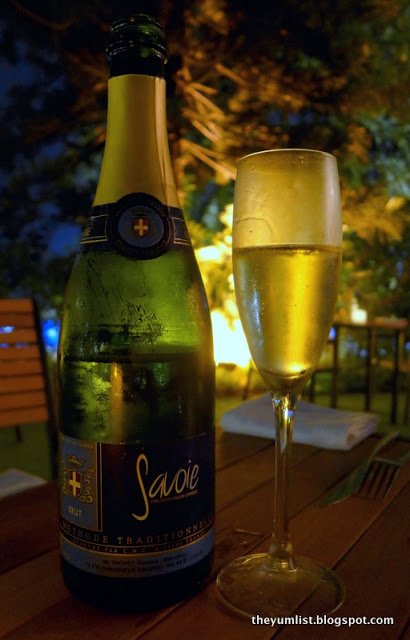 Bubbly
Dinesh Kumar, the all-in-one chef, sommelier and maître d is the reason we're here. We were first charmed by Dinesh's innovations at a beverage-paired dinner a few years back when he introduced us to the fine art of drinking absinthe. We've since followed, salivating at his call, when he shared with us experimental pairings, and an underground food scene, the Guerilla Kitchen. All concepts were brushed with a reckless disregard for the rules, and a passion for risk taking. Fortunately the daring matchings have mostly worked out (if we leave caviar injected strawberries and copious amounts of liquor out of the equation… but that's another story), and so like teenage schoolgirls drawn to the bad boy, we continue to succumb to temptation.
Edible garden with couscous is distinctively "Dinesh." Halved baby capsicum is stuffed with couscous, and sits atop a "soil" of rosemary, olives, breadcrumbs and salt seasoning. Fennel and bok choy have been cooked ever so lightly maintaining their crispness and rim the plate. Edible flowers complete the garnish. Paired with an English cider from Suffolk, the cru has a nice bubbliness to it that lifts the garden and keeps the feeling light. The soil sticks to teeth and inside of cheeks. A sip of our effervescent accompaniment acts like a bubbling brook clearing the crumbs and washing them away.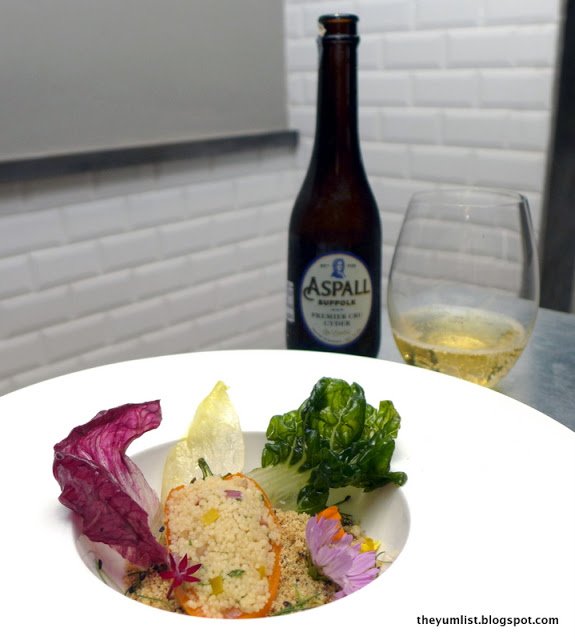 Edible Garden with Couscous
We move from vegetarian, to land and sea in the next dish. Gravlax made with the traditional Nordic seasoning of sugar, salt and dill is served at room temperature allowing the flavour of the fat to come to the surface. Smoked over apple wood chips the aroma of the chicken teases my nostrils as it's delivered. Marinated with raspberry yoghurt, it's moist and the globs of mustard and bitter rocket leaves contrast the smoothness. Chosen for its body, the Cote Mas 2013 Rosé Aurore from the Sud de France, is the mate for this dish. It's drier in style for a rosé cutting through the fat of the salmon. In turn the salmon brings out the crispness in the wine, while the smokiness of the chicken is intensified with every sip.
Gravlax and Chicken
A single plump voluptuous scallop centres the third course. The crown is contrasted with a black dob of caviar, and a vibrant ribbon of beetroot puree has been splattered artistically across the plate. Olive oil snow and some sharp frisée accessorize. The bivalve has been seared perfectly – seasoned with a sprinkle of salt, caramelized 'til golden around the edges and is succulent within. Hokkaido molluscs come with a liquid compatriot from Japan. Grace Koshu 2013 from Toriibira Vineyard is elegant and light, complementing but not overpowering the delicate scallop.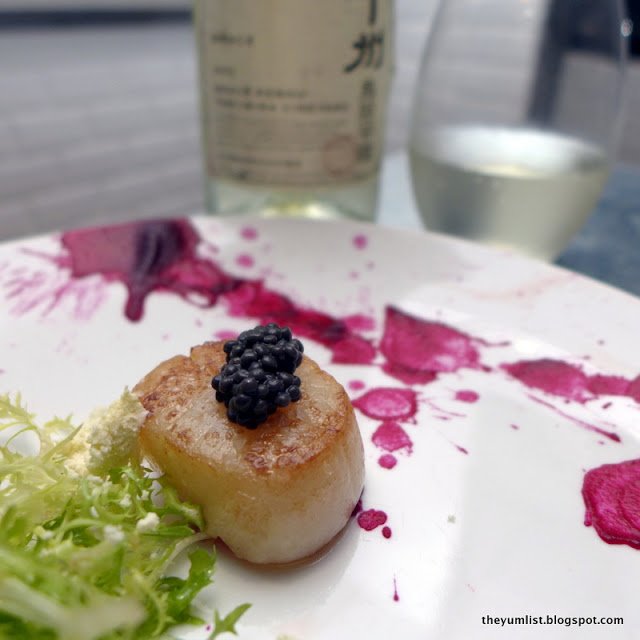 Scallop
The upcoming dish, we're warned, can be a "bit shocking." Fisherman's Jelly is made with Fisherman's Friend (the lozenger) topped with mango puree. It's a bit "experimental" – a palate cleanser like no other we've ever tried. Sparkling water, Tau, is the pairing for this course. Menthol and mango work together to completely refresh the palate, and we're ready to continue.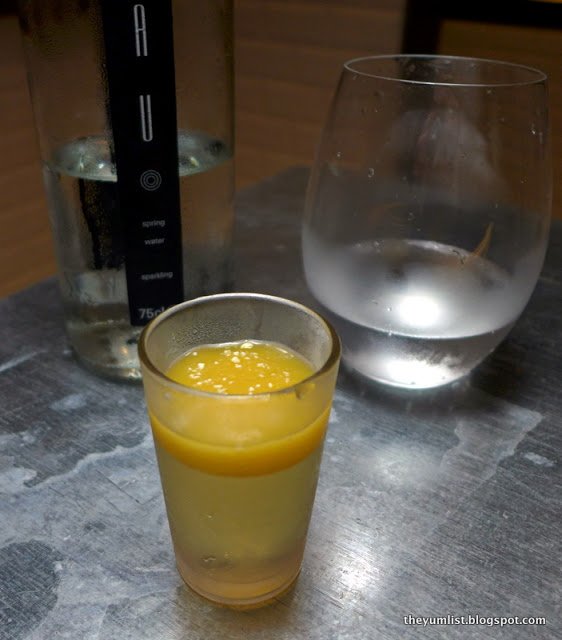 Palate Cleanser
Codfish is sous vide for 20 minutes in the first main course. The skin is sealed in the pan and then finished in the oven. The protein is broken to a precise level, making the flesh flaky but leaving the oil inside. A cauliflower puree and chopped black olives side the fish and play an integral part in overall flavour. Val de Rance, Cidre Bouché Brut Cru Breton, a boutique French apple cider, balances out the oil of the deep-sea fish. Cloudy and rustic, I imagine it with apple pie, but is too a satisfying adjunct to this main. It's a bit of a risk, but we think it works – clearly so, as we've ordered another bottle of cider to go with the last forkfuls of fish.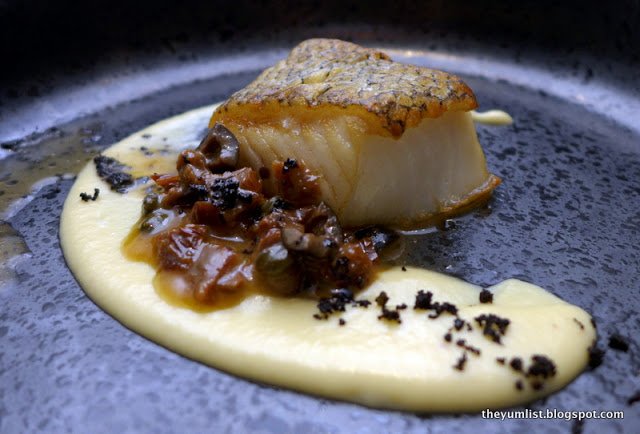 Cod
Pyrenees lamb rack is our meaty main. It's sous vide, then grilled producing an even shade of pink throughout. It melts in the mouth without being overly fatty. Even the veggies are treated to the sous vide treatment, before being pan-fried in butter. They retain their firmness and leave with a delicious whisper of butter. We're excited to pair the lamb with a Cabernet Shiraz from Grover Vineyards, Bangalore, India! It's structured in the mouth and enters with a powerful launch. It lasts long enough to cleanse the fat of the lamb from the palate and provide a few moments of delight, but doesn't hang around for long.
Lamb
Cabernet Shiraz, Grover Vineyards, India
Broken down tiramisu arrives on a plate and in a petite glass cup. Coffee 'soil,' ladies fingers, and whipped mascarpone are topped with powdered coffee on the plate, while chilled and spiked espresso is found on the side. It's recommended to alternate between sips and bites. The contrast in temperatures and textures is simply delightful.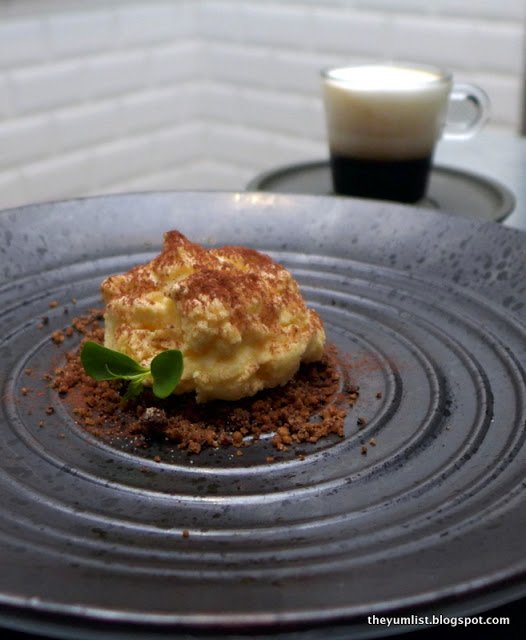 Broken Down Tiramisu
The final dessert has no name and I'm not too sure what I'd name it myself if given the chance. Chocolate ganache, sirap bandung (that sweet pink drink often seen around the time of Hari Raya) made into cake form, rose jelly, vanilla ice cream, chocolate, chocolate dipped banana and micro greens jumble together in organized chaos on the plate. I attempt to taste each part separately and then all together. Meanwhile hubby has just woofed the whole thing down and is beaming from ear to ear. No further comment needed from me.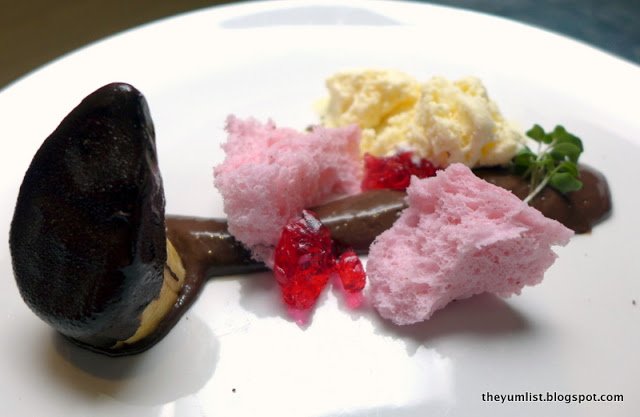 The Unnamed Dessert
And… it just wouldn't be a dinner with Dinesh if there were no further encouragement to conclude the evening with a nightcap (or four!). Mulberry gin, a saffron infused digestive, amaretto and a calvados all get some sipping.
Lots of exciting happenings are planned for Eight. Dinesh' resume includes a long list of outstanding restaurants from around the globe. He is a man with contacts and plans on using them. One such event is with five of the top sommeliers from around the world (just so happens that out of the top 50, over two handfuls come from Johor!): each will take a course and design food and beverage to match. Arts, food, quality beverage, friendly service, an attractive setting and a team with big ideas – if there's one place you must visit in JB, it's EIGHT at Lido Hill.
Reasons to visit: versatile and unique location combining garden, stage, bar, lounge and restaurant; makes an excellent event space; view work of local artists while enjoying a meal or drink; creative cuisine with daring pairings.
Eight at Lido Hill
8 Jalan Skudai
Pantai Lido
80200 Johor Bahru
Malaysia
+6 012 317 5188
+6 07 222 7808