Craft Beer and Carnivores ' Bliss
The charming beach side community of Changi Village Singapore provides a relaxed backdrop for a leisurely afternoon, peaceful lunch, or fun filled evening, and its in this sleepy fringe town that Little Island Brewing Co., has set up shop. With a swiftly earned reputation for decadently mouth-watering chunks of meat cooked to succulent sublimity, and craft beer on tap (their own brew soon to be pumped from the pipes), this casual eatery has found booming success.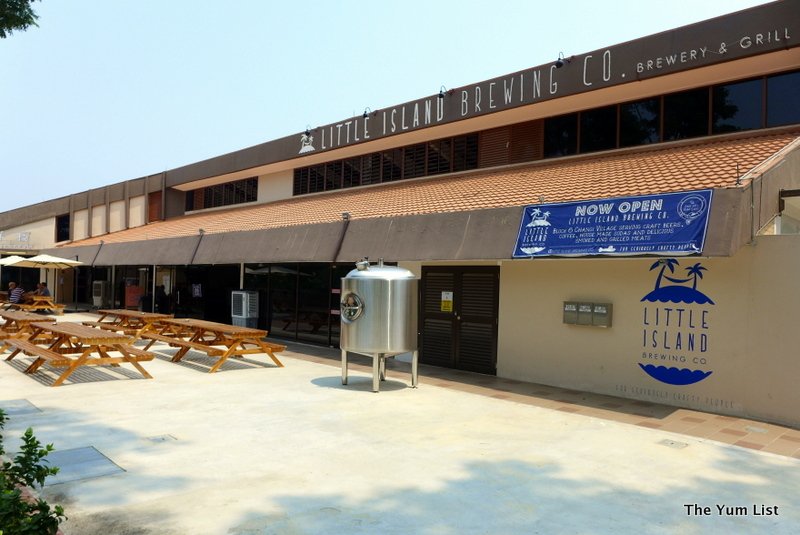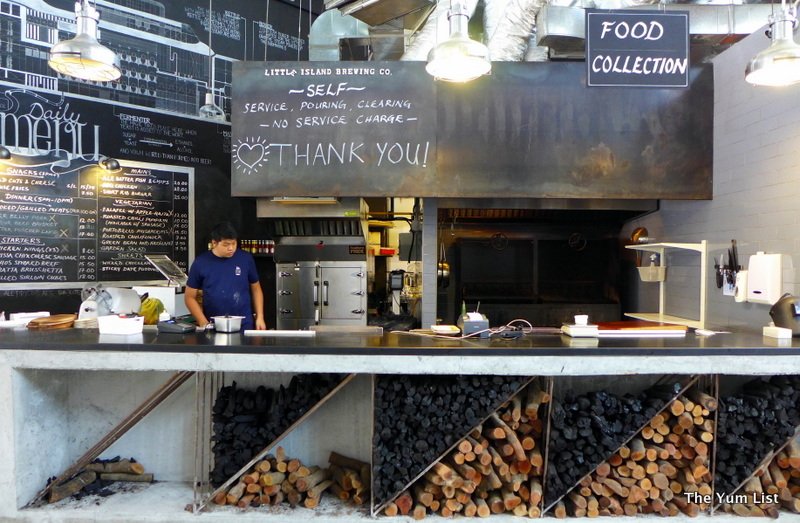 Location
Perhaps part of the attraction is the location itself: physically removed from the bustling city, it too is free of stuffy constraints. Looking much like dad's dream shed with glass walled brewing tanks, a long self-serve bar, kitchen with enormous smoker and Argentinian grill, and rustic wooden communal tables, it seems every big boys' fantasy.
Drinks
Or, maybe it's the beer, or promise of beer to come that has seen its rapid rise in fame. Currently some respectable boutique brews are on tap, and home-crafted soft drinks too. But it's what's in the pipeline that is causing even more of an excited rumble. Award-winning brew master Steve, has been engaged to develop Little Island Brewing Co.'s very own labels. With plans of a Pale Ale, Golden Ale, Dry Irish Stout and Whisky Ale to be flowing from the taps by mid November, beer enthusiasts have already begun to hang around, sipping on the overseas selection, and eagerly awaiting a taste of the first drops of a locally conceived liquid.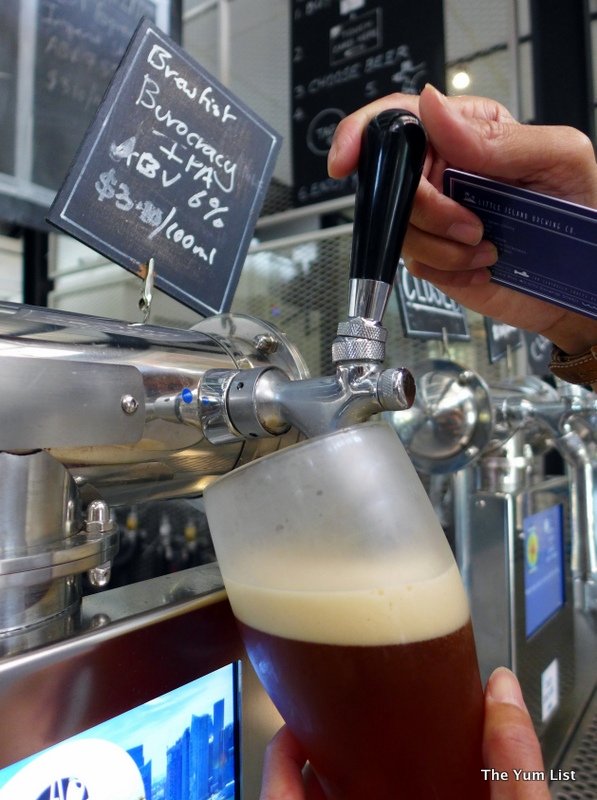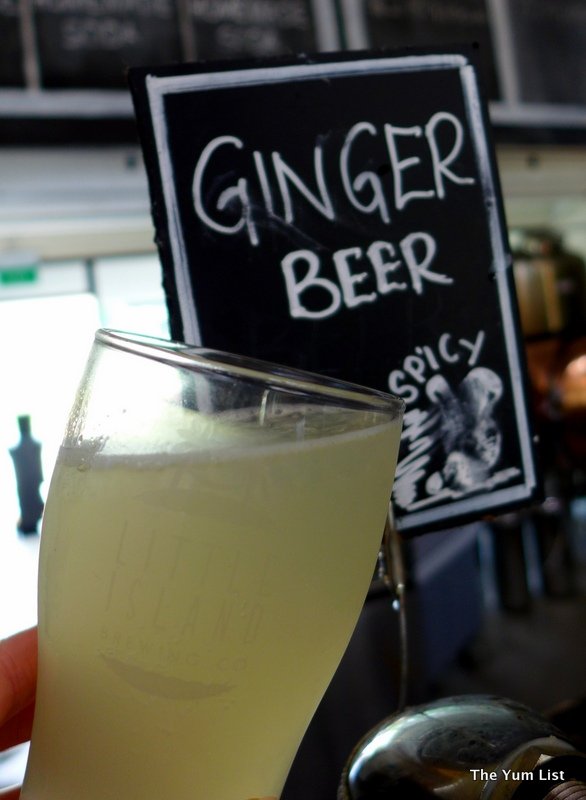 But for now we suspect it's the meat-roasting king, Chef John Edwards, and his blaze of finger-licking flesh, that are causing Singaporeans to cross the island in a salivating trail of carnivorous pursuit.
You've heard of artisan bakeries, artisan brews and now Little Island Brewing Co. introduces artisan meats. A silver monster-sized smoker is the pride of the kitchen, fueled by lychee wood from Vietnam and jarrah from Australia. Chef John is a believer in slow food, insisting that everything is done from scratch, and as such most of the meat dishes take up to two days to prepare!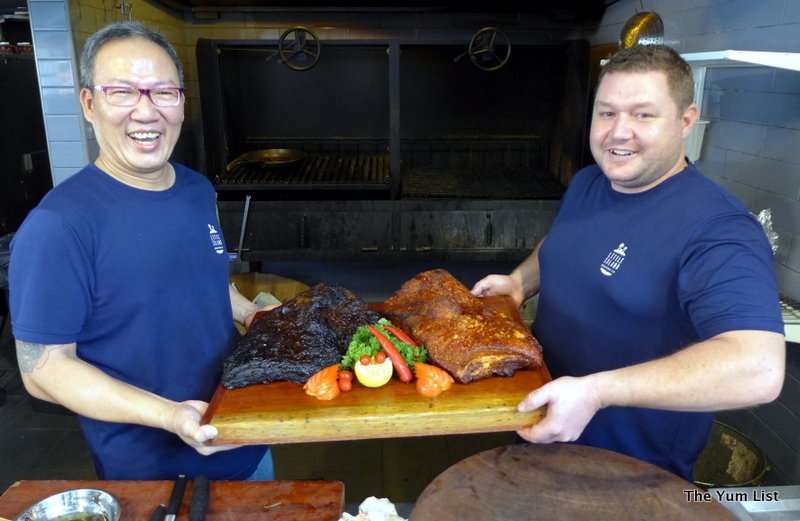 Meat
Our introduction to the menu sees two enormous slabs of meat on an even larger chunk of a chopping board. Drool pools around hubby's lips as two men transfer the mammoth meat feast from kitchen to table. The slabs are bestowed all sorts of oohs, aahs and envious oglings of desire on its journey, and we almost feel like lions warning off the scavengers.
Berkshire pork is injected with brine and left overnight to marinate with cumin, coffee and chili before being steamed for two hours in the starting preparations for the Beer Belly Pork (SGD12). The finishing off roast at a high temperature produces some of the crispiest crackling, and softest pieces of juicy flesh that we've ever had. All senses are treated as the tissue is sliced into: the sweet and savoury aroma teases the nose; the crackle furnishes an enticing crack and crunch; and the juices trickle down the sides of the knife before the luscious nosh pleasurably dissolves in the mouth.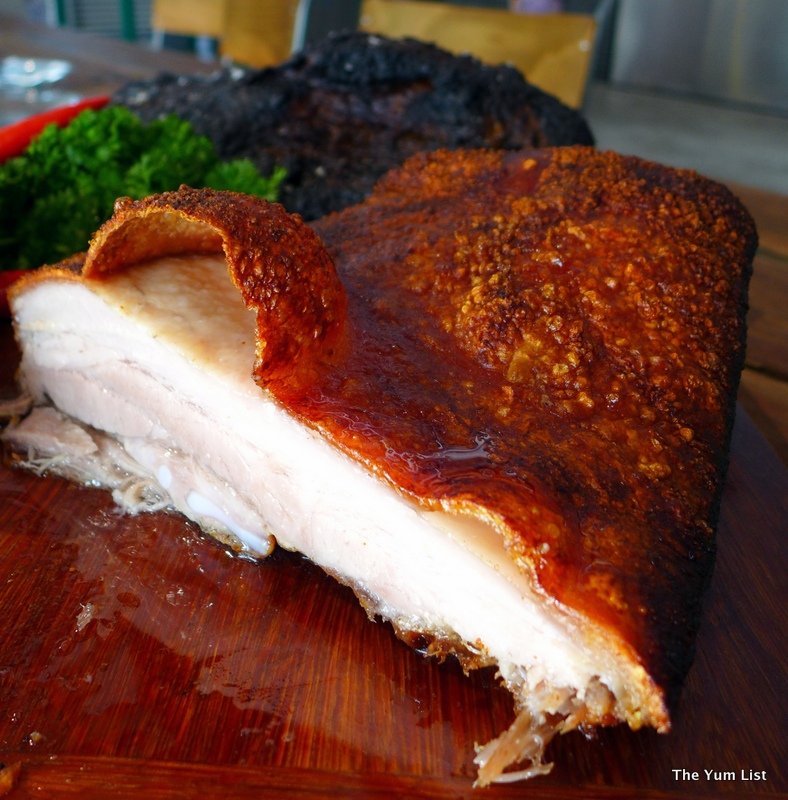 The 15 Hour Smoked Beef Brisket (SGD13.80) is equally enticing and we've heard draws Singaporeans from the furthest reaches of the island for a plate. Chilled Australian wagyu is marinated overnight with a dry rub (onion powder, garlic powder, salt, smoked paprika, coconut sugar, ground white pepper and chili flakes) then smoked for 15 hours. This slow-cooking method gifts an incredibly supple and juicy finish, and we soon understand the urge to drive across the country for a slice. A side of Memphis slaw, perked up with horseradish and lemon, slices through the fattiness of the cut, balancing out the richness, and enables us to pack away far more than we previously thought humanly possible.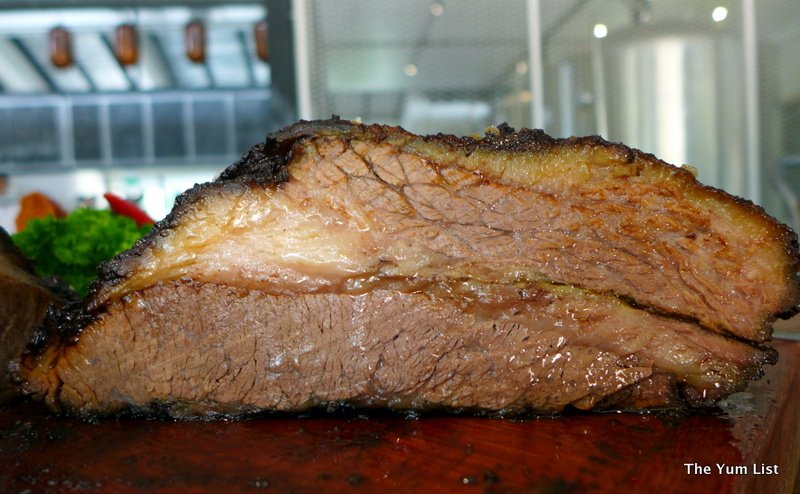 But, the pièce de résistance is yet to come in the pure black Angus Short Rib (SGD45 for 1 rib, around 400gm). Marinated overnight with salt and pepper, the meat is then braised in beef and vegetable stock for around 4 ½ hours. After cooking it's left to cool completely in the same stock. As the temperature lowers the muscle relaxes and reabsorbs the liquid, yielding resemblance to a living organism, as it appears to pulsate as it's knifed into and the juices are released. A knife however is not necessary to penetrate the tender hunk, a little prodding with your little finger would do. For unapologetically carnivorous hubby, this is a no-brainer contender for food of the year. For my veggie-loving self however to be on the edge of foodgasm… the commendation could not be higher.
Made with beef short rib and sirloin, the patties are rich and tasty in the Short Rib Burger (SGD25), which brings a goofy smile to hubby's face as he munches in. Fitting the entire tower between his happy lips, it's clear to see (and hear) that he has found meat-lover utopia at Little Island Brewing Co. Thinly sliced Monterey Jack cheese and air-dried Spanish ham complete the burger with a wallop of decadence, while house made barbecue sauce and curry mayonnaise lubricate the whole thing, adding to without taking away from the natural flavour of the beef.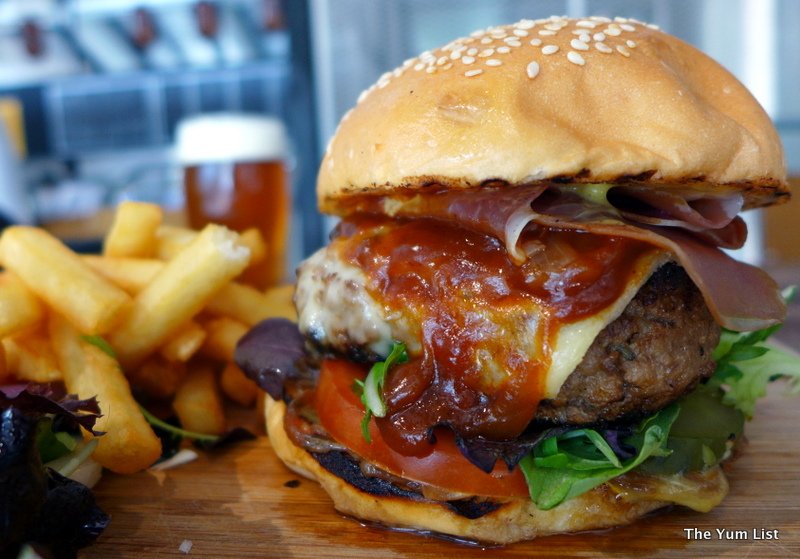 Non-meat eaters can be relieved that there are fish and vegetarian choices that are made with equal care and attention to quality. A fish farmer just a few minutes from Little Island Brewery Co., provides the sea bass for the Ale Battered Fish (SGD20). A crisp casing contains the moist flesh and tartare sauce made in house supplies a delicious dipping. A light sprinkling of citrus salt is used in the batter, which makes it worthwhile trying the fish on its own first to appreciate the subtle flavours before pairing with the mayonnaise.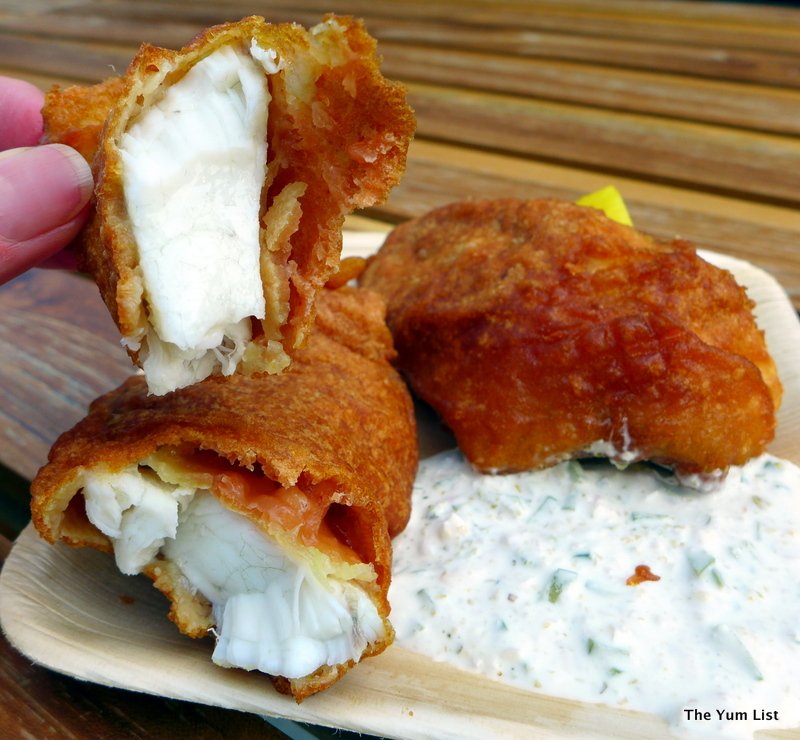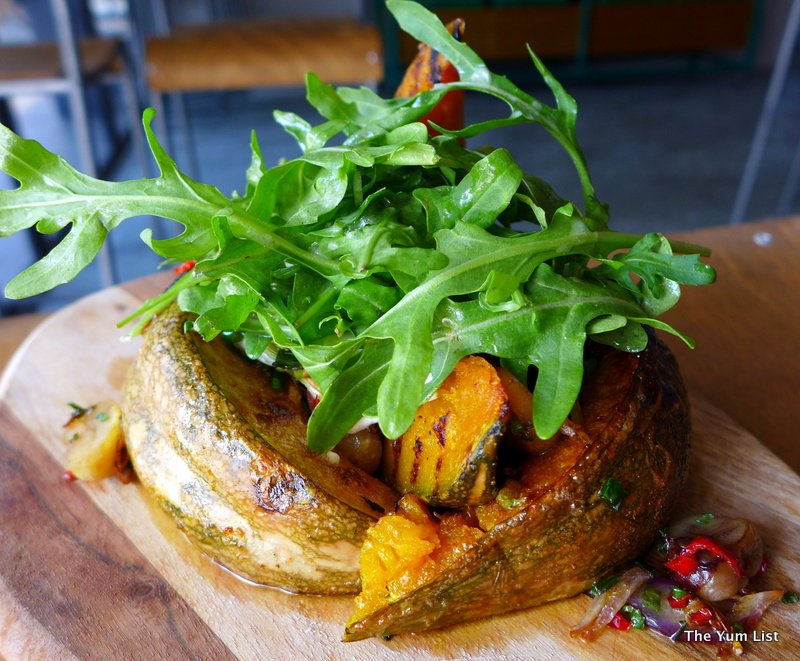 From the vegetarian section, Roasted Chili Pumpkin with Chestnuts and Chili Yoghurt Dressing (SG10) is often ordered as a side dish. Three giant wedges of Japanese pumpkin are roasted in garlic, chili oil, salt, pepper and paprika. Cooked to be soft but not mushy, the sweet flesh is contrasted with bitter rocket and rich chestnuts. It's easily a meal in itself, and well deserved of a 'yums' up.
Sweets
There really should be no more thought of food after this Herculean banquet, but mention the words, "Sticky Date Pudding" and instantaneously a hidden empty corner of the stomach is uncovered.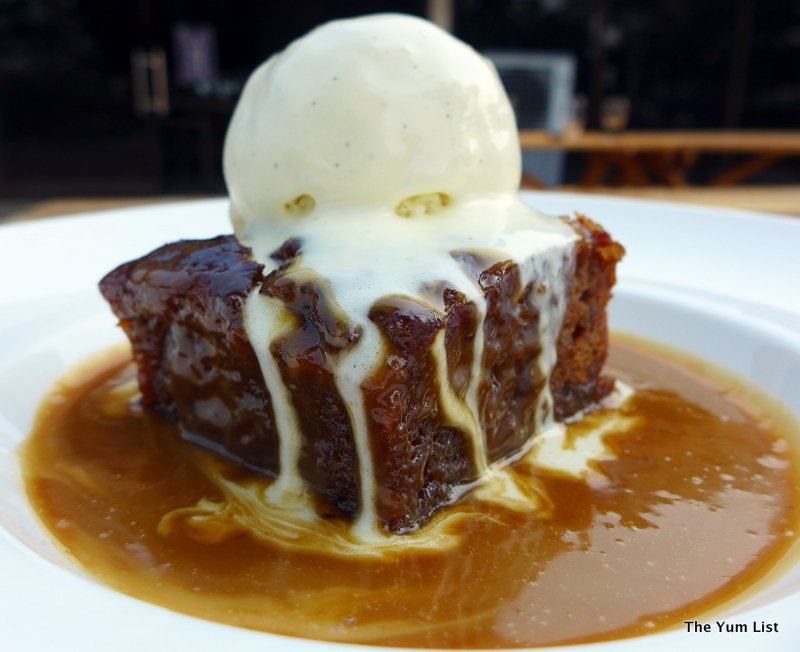 I'm rather fussy with this long term favourite as I think my mum has marked the bar high with her recipe. Chef John however must have exchanged tips with my mother, as he has doubled the dates (as does my mum) and only blended half of them in with the mixture, leaving the other half roughly chopped granting a change in texture. Warm butterscotch pools the bottom and creamy vanilla bean ice cream melts down from above. Divine! And soon… it's all gone.
Reasons to visit: MEAT – come running for the Short Rib, Beer Belly Pork and Brisket!; Sticky Date Pudding; house brewed soft drinks (and soon their own beer); imported craft brews on tap; casual fun and relaxed atmosphere.
Little Island Brewing Co.
Block 6 Changi Village #01-01, #01-02
Singapore
509907
+65 6543 9100
[email protected]
www.facebook.com/Little-Island-Brewing-Co