Aisling Cullen and Monica Tindall
Strolling down Changkat Bukit Bintang, its hard not to notice The Whiskey Bar which has been a firm favourite over the years to both expats and locals alike. Comfortable tub leather chairs and a huge selection of bottles displayed on the walls are enough to entice any whisky lover in.  In fact, The Whisky Bar has close to 500 labels of whisky in this bar, the majority of which are available by the glass. That's easily the biggest collection in Malaysia and one of the largest in South East Asia.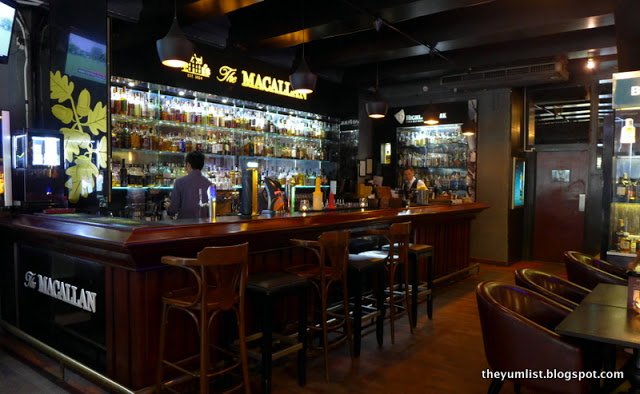 The Bar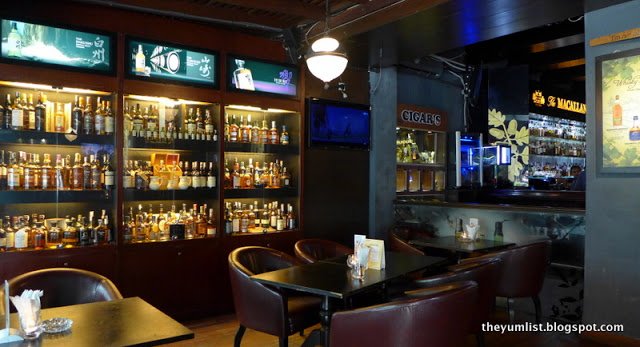 Seating by the Bar
I'm here with Monica and Caning to enjoy some 'whisky flights' which consist of carefully selected tastings, thoughtfully grouped together by category.  Andy, the bar manager, is at hand to take us through the drinking process.  A round golf ball of ice and water is supplied as part of the tasting experience, and we're told that the whisky opens up when a few drops are added.
Firstly we start with the Scottish Malt Whisky flight (RM89.90) which is made up of labels from six different regions in Scotland.  From the Lowlands to the Highlands, Speyside to the Moor Isles, the variety of whiskies in this range will give any budding enthusiast a good overview of what Scotland has to offer.  Monica picks out the Glenkinchie Whisky from the Lowlands as her favourite.  This whisky is light and fragrant with a soothing honey warmth.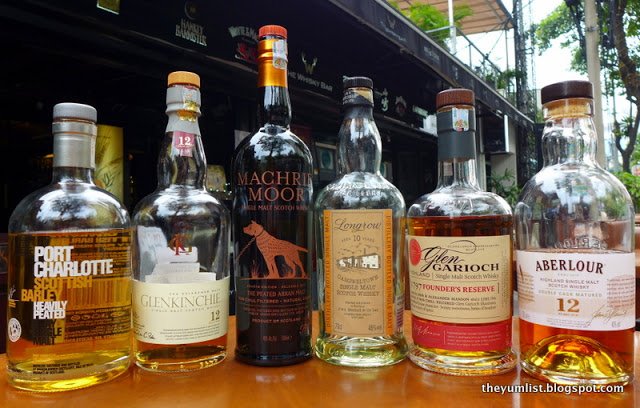 Scottish Malt Whisky Flight
Next up we go on a Whisky Journey (RM99.80) all around the world. This flight has an exciting line up from Taiwan,  France, USA, Ireland, Japan and India to name but a few. There is a total of eight different drops to taste in this flight. Caning enjoys the Canadian whiskey the most, and with a volume of 60% alcohol content, we can understand why! This one has a definite kick to it and we all enjoy the sweet flavour of grapes in the finish.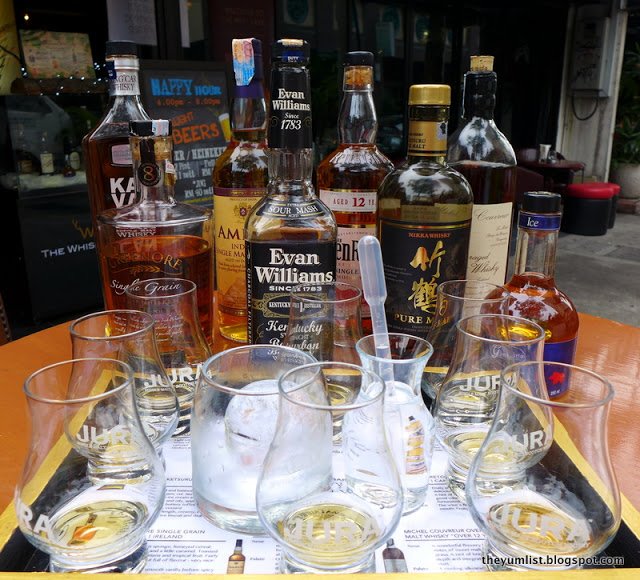 Whisky Journey
Moving on to the next flight – 21, Harmony of Creations (RM139.80), we are ready to enjoy five premium whiskies. This range is definitely the fuel that topples us over the edge of exuberance! This flight consists of Scottish whiskies at their finest. If you are worried that after the first two flights, we'll miss out on some of the subtleties of these elegant spirits, then don't – beneath each glass are tasting notes on a printed mat which allows us to brush up on our taste description skills – and as you might imagine by this time, we're in full ramblings.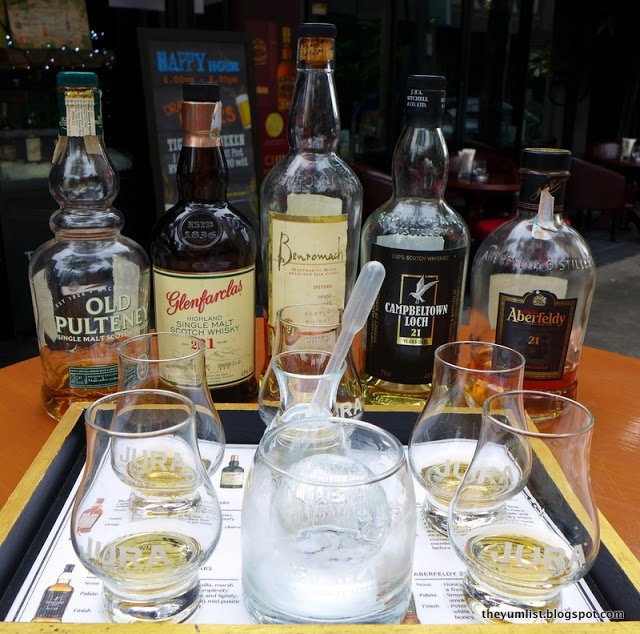 21 – Harmony of Creations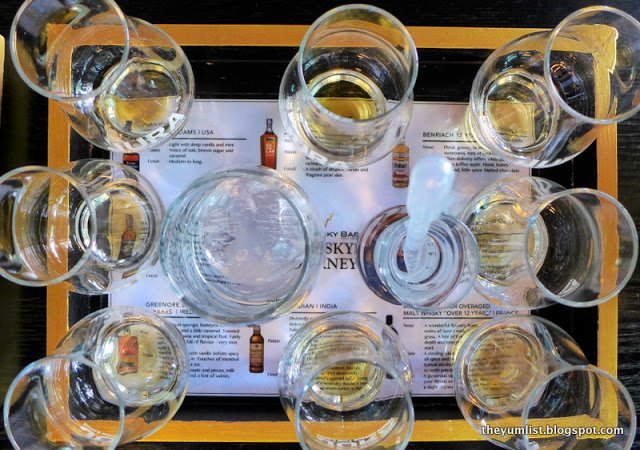 Tasting Notes Below a Whisky Flight
Taking a break from our flights, Andy, our expert guide, pulls out what has been voted the best whisky in the world by the World Whiskies Awards – Kavalan Soloist, a single malt from Taiwan (RM60 per shot). This is a treat that we joyfully relish – the scent is like milk chocolate and it has a long aftertaste. It has a complexity and elegance that our taste buds should remember for quite some time to come.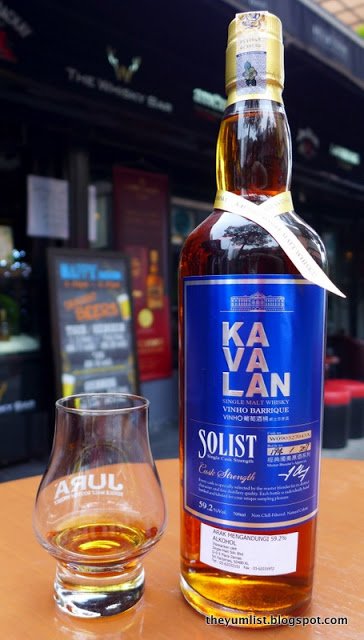 Ka Va Lan Solist – Number One Whisky in the World
If whisky isn't your thing, you are probably in the wrong bar. But for those who enjoy the delicate taste of whisky in a cocktail, there are some good ones to choose from. 2 Souls (RM41.90) was my favourite. A delicate drink in a martini glass with citrus flavours and a good kick of both gin and whisky combined. Interestingly, both whisky and gin come from the same distillery called Bruichladdich.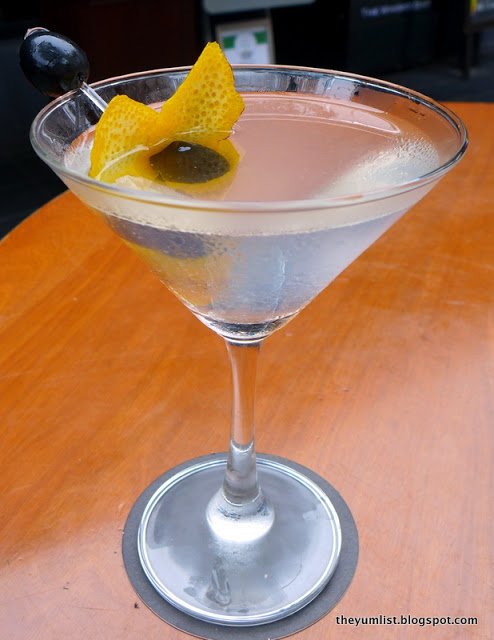 2 Souls
The Hakashu Hills (RM39.90) is an infusion of whisky with mint leaves, soda water and a pear puree. This cocktail was light, refreshing and not overly sweet.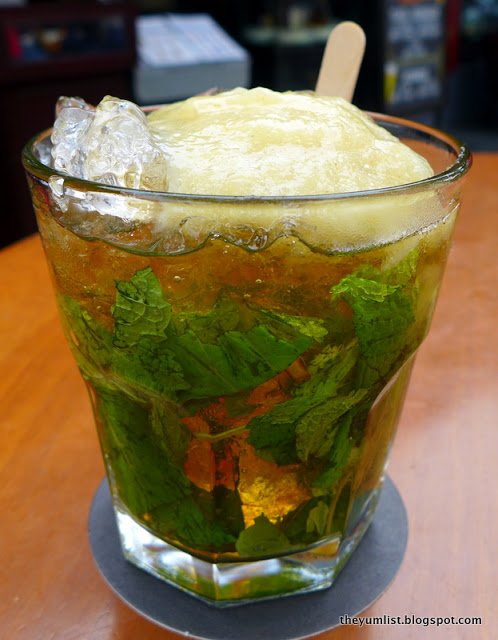 Hakashu Hills
The Whisky Bar also has a selection of nibbles to choose from. We have the Calamari with Aioli Sauce (RM20), Cajun Prawn Skewers (RM24), French Fries with Black Pepper Gravy (RM13), Sauteed Mushrooms with Garlic (RM20), Charcoal Grilled Prawns rolled with Beef Bacon (RM26) and Breaded Beef Strips with Minted Cucumber Dip (RM26). All of these nibbles were very tasty and good to share among friends.  But to me, the standout is the Seafood Pizza (RM45) with it's light biscuity base and loaded topping of prawns, squid and crab meat.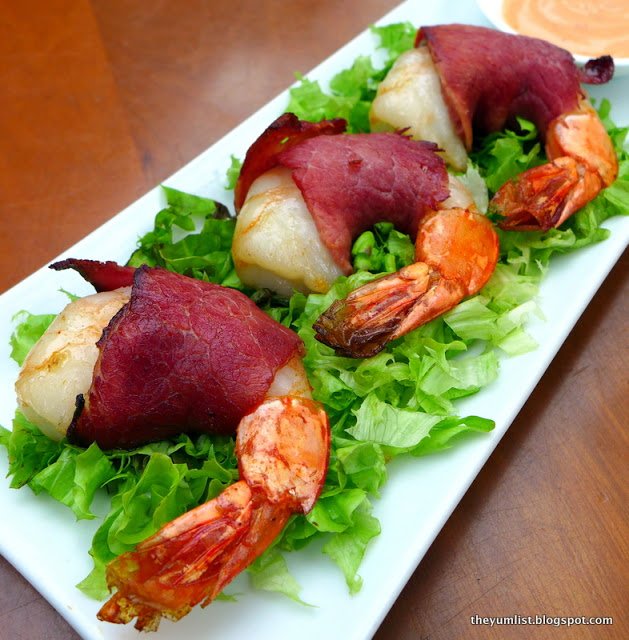 Charcoal Grilled Prawns rolled with Beef Bacon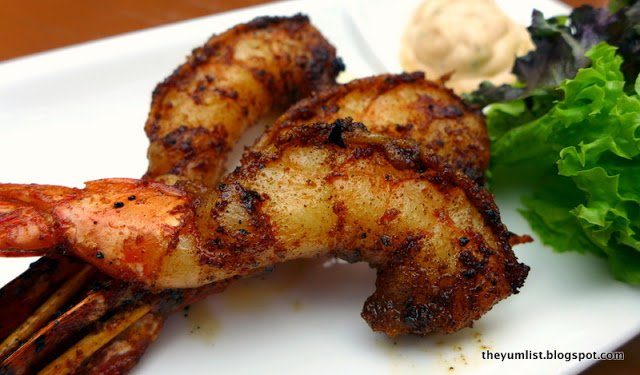 Cajun Prawn Skewers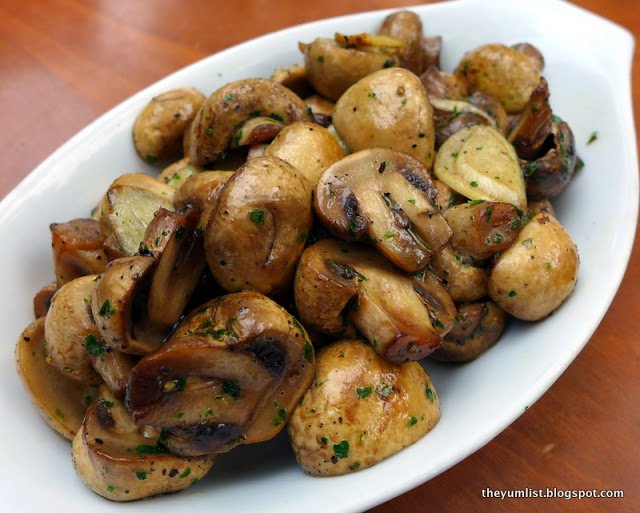 Sauteed Mushrooms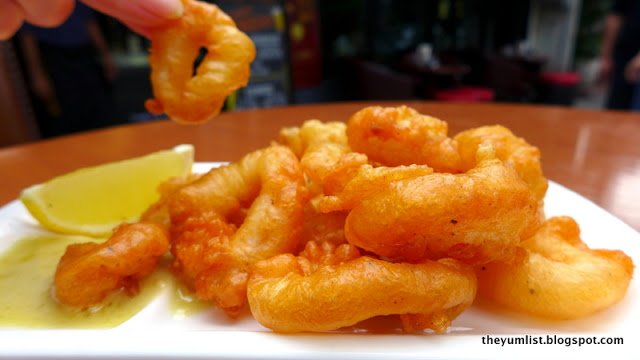 Calamari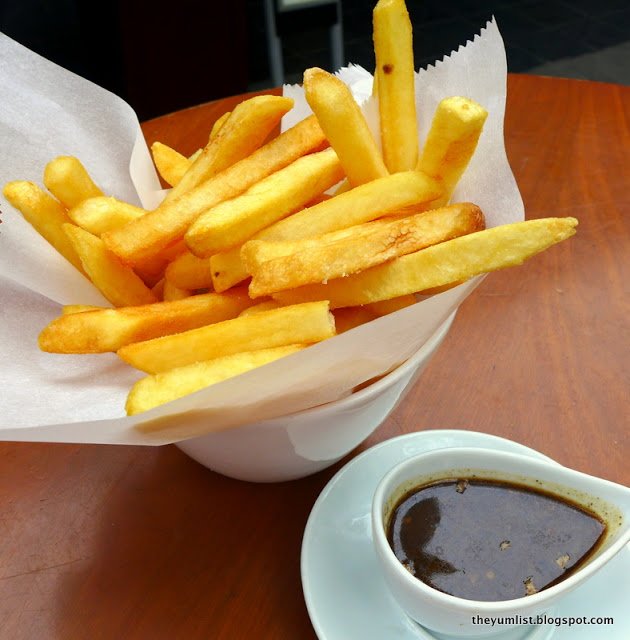 French Fries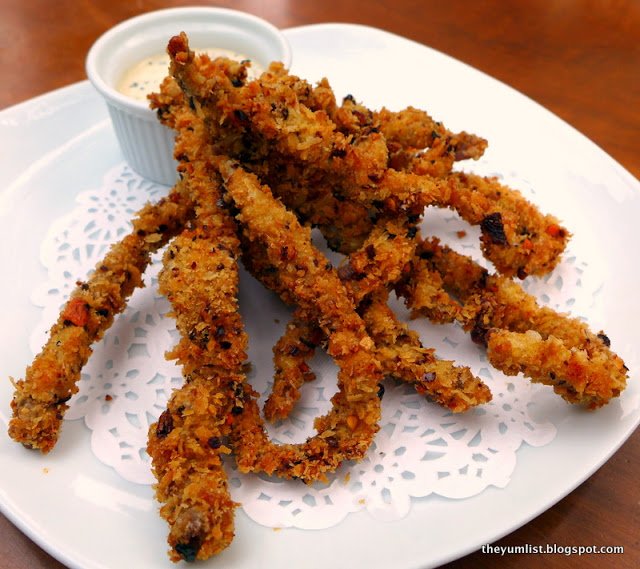 Breaded Beef Strips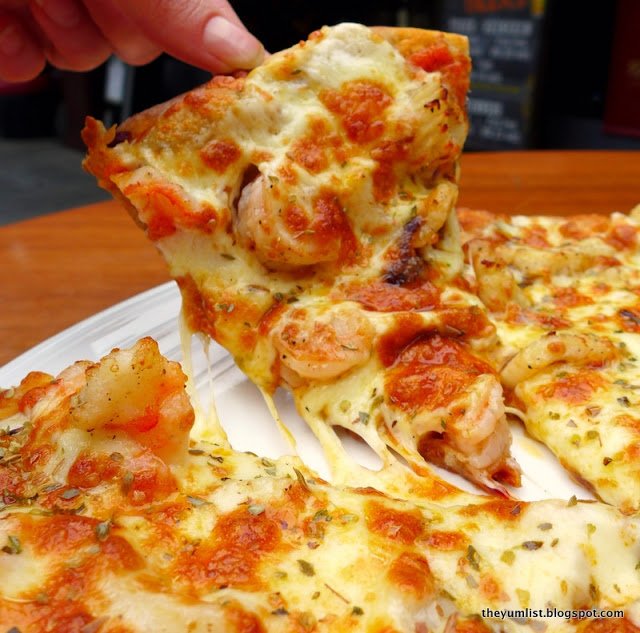 Seafood Pizza
Mark Twain once said that 'Too much of anything is bad, but too much good whisky is barely enough.' After trying 20 whiskies, I'm beginning to understand what he meant by this!
Reasons to visit: huge selection of whiskies, well thought out tasting flights, cosy and stylish décor, a chance to try the number one whisky in the world, a good place to have fun with friends.
The Whisky Bar
46 Changkat Bukit Bintang
50200 Kuala Lumpur
+603 2143 2268
Open Sun – Thurs : 4pm – 1am
Fri – Sat: 4pm – 3am