Kristin Cosgrove and Monica Tindall
You probably know the story Cloudy with a Chance of Meatballs, where food falls from the sky like rain. Well, this story came to mind at Prego's Bubbalicious Brunch this past weekend, though ours would more aptly have been named  "Hazy with a Flood of Champagne".
Regardless of the hazy conditions outside, Prego Bubbalicious brunch manages a fun, party atmosphere (still keeping it classy), due in no small part to a fun and eager staff, a never-ending flow of booze, and even live music provided during our visit by a male and female vocal duo.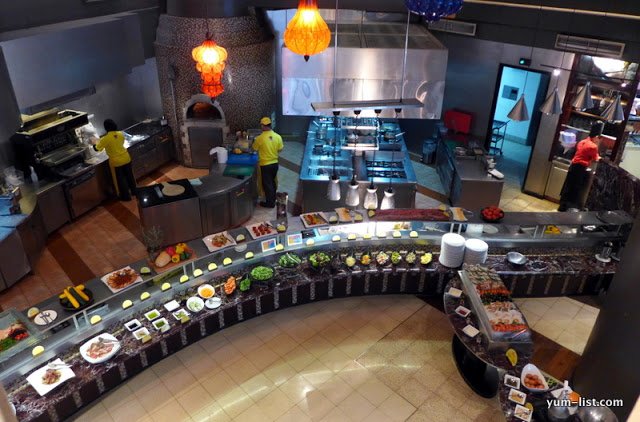 The Calm Before the Storm
From the moment we arrive, we are surrounded by food, it beckons us from the huge antipasti buffet, it shows up table-side as chefs emerge from the kitchen, serving us personally from hot pans of risotto and pasta and pans of piping hot pizza. It even appears outside, as a grill on the patio is fired up for cuts of meat like chicken, lamb and steak, as well as grilled veggies.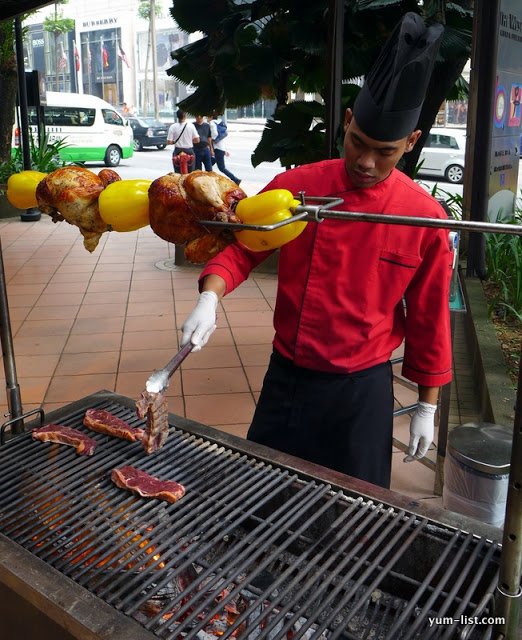 Barbecue
Our experience begins before we even enter the restaurant, as sparkling soda in champagne glasses welcomes us at the hostess stand.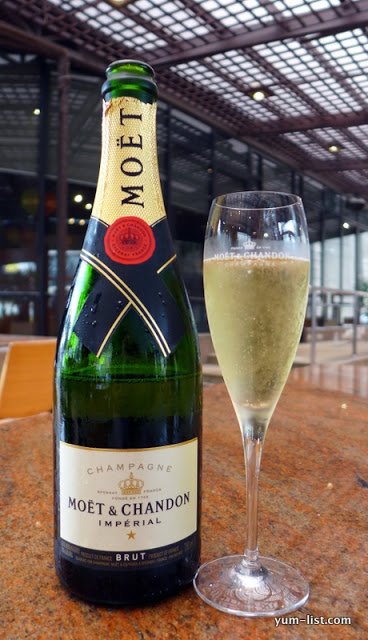 Moet Chandon
In the bar area a colorful table of freshly cut fruit and melon catches my eye, but an impressive range of desserts quickly steals my attention. The real showcase is the long spread of authentic Italian antipasti dishes along the buffet counter lining the open kitchen. Handpicked cheeses and a tantalizing range of charcuterie are served with thin shavings of melon – my favorite!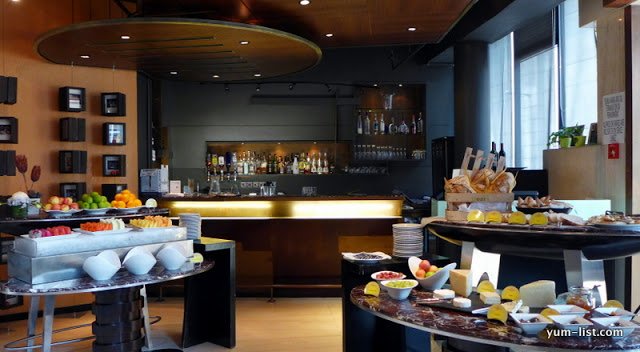 Bar, Fruit and Cheese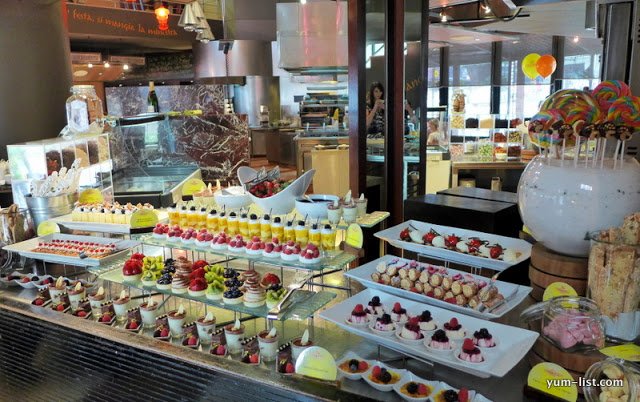 Dessert Buffet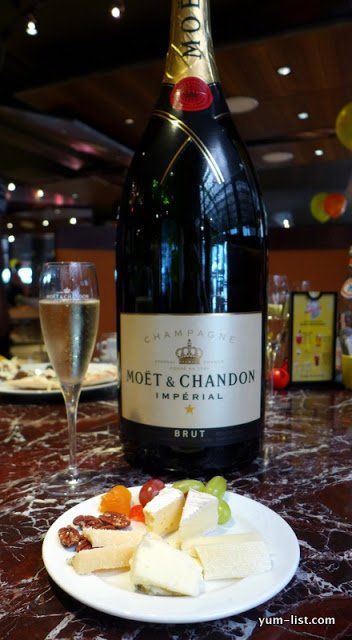 Champagne and Cheese
A large array of fresh seafood makes a visual splash on a mound of ice. Oysters on the half shell, scallops, bright red crab claws and huge prawns are ready for the taking.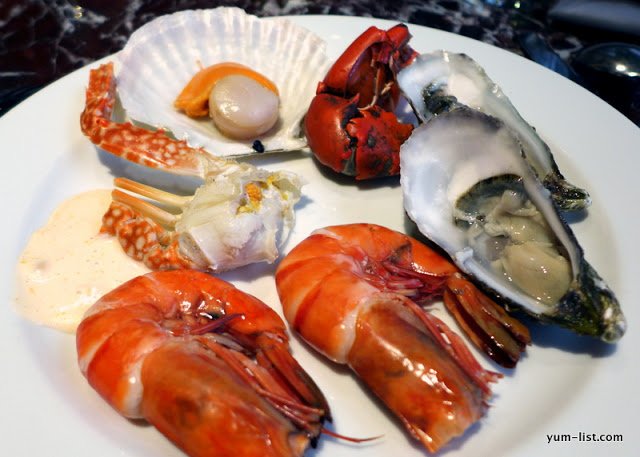 Fresh Seafood
The Italian chef from Sicily, has added his stamp to the menu with several specialties from his home region, including Grandmother's Style Meatballs in Sweet and Sour Sauce – a huge hit at our table.
Vegetarians have plenty of options too, some of my favorites being the Beet Root Carpaccio with Hazelnuts and Goat Cheese and the divine Eggplant bites layered with cheese.
A special feature of the buffet includes the Prego Caesar Live Station, where my Caesar salad is freshly prepared to my liking, with a surprise. The flavor proportion is perfect, with a soft poached egg elegantly situated on the greens, alongside a small helping of whipped potatoes with just a hint of truffle oil. I don't think I'll ever be able to eat another Caesar again without it!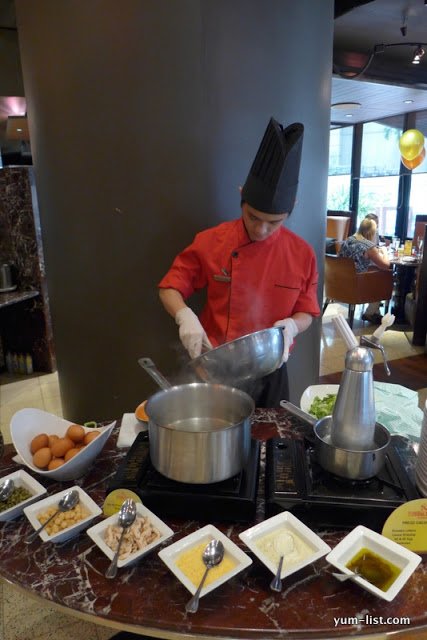 Caesar Salad Station
In the midst of enjoying our antipasti, Chef Vincenzo appears at our table with a pizza hot out of the oven, tempting us with the crispy, chewy crust and melty cheese. I indulged in a slice of pepperoni and have to stop myself from taking a second helping.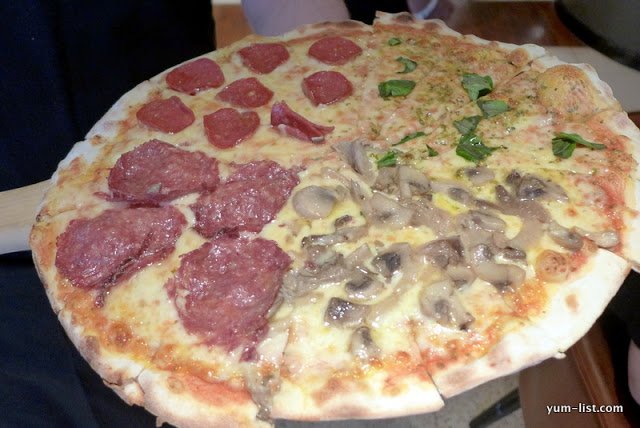 Pizza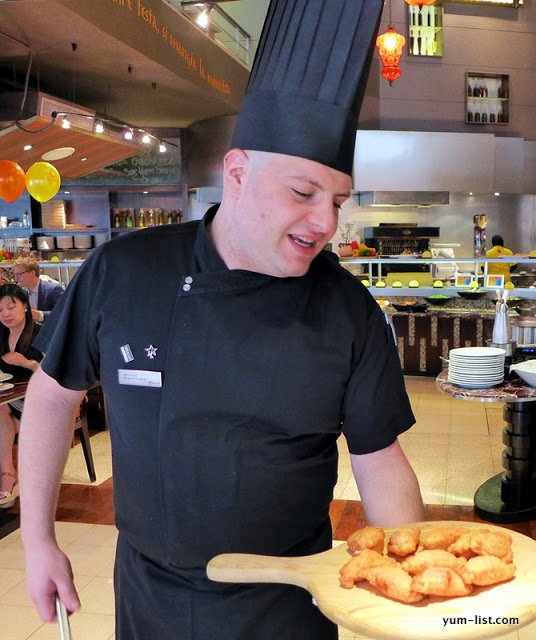 Chef Handing Around Hot Items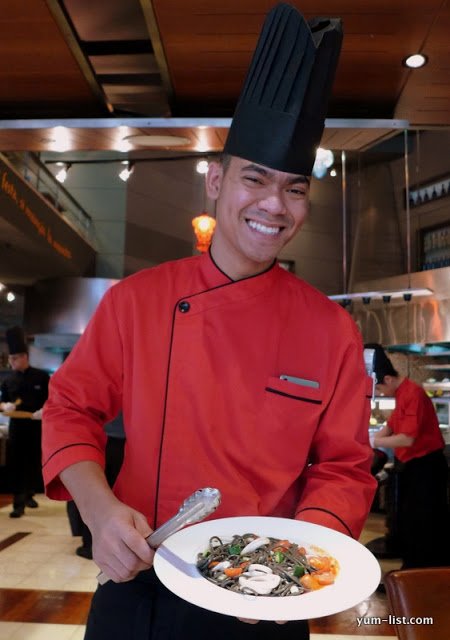 Table Service
Several chefs make the rounds with delectable fare, hot pans with steaming risotto and freshly prepared pasta. Of particular note is the homemade Squid Ink Pasta, with a pleasant mild tang, and the Truffle Scented Risotto with Wild Mushrooms and Parmesan.
Just a few of the Mains
Not to be neglectful of our duty to try everything, I dutifully make my way to the dessert bar, where candies await their fate as gelato toppings (at least six flavors were in the freezer case) and where the chocolates, panna cotta, cheesecake, cannoli and more call to me.  A generous helping of samples later, I realize I needn't have bothered to get up at all, at our table is Chef Vincenzo offering up ramekins of Molten Lava Cake, hot out of the oven. Groans of pleasure and gorged stomachs emanate from around the room.
Molten Lava Cake
By this time, patrons have grown more and more boisterous, perhaps signalling the perfect time to pull out the piece d' resistance – the magnum bottle of Moet and a giant champagne glass with which to toast guests celebrating a birthday (Happy Birthday, Monica!).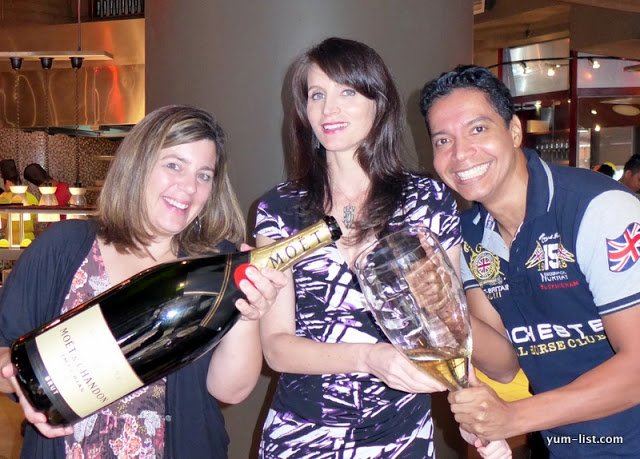 The Take Over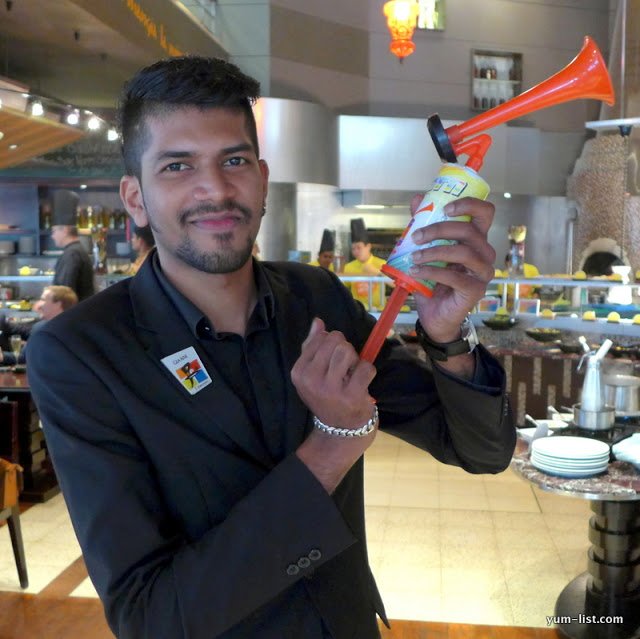 Last Call
Reason to visit: Elegant Sunday brunch with a party atmosphere, great for celebrating a special occasion, authentic Italian staples with Sicilian flare.
BUBBALICIOUS PACKAGES:
Food & Champagne package RM365 nett/person
Includes free flow of Moët and Chandon champagne, red wine, white wine, draught beer, soft drinks, chilled juices
Food & Beverage packageRM265 nett/person
Includes free flow of sparkling, red and white wine, draught beer, soft drinks and chilled juices
Food only packageRM165 nett/person
DISCOUNTS:
50% off for kids under 12
15% discount for SPG members on Food Package only.
20% discount  for  Beyond members on Food Package only.
Prego
The Westin Kuala Lumpur
199 Jalan Bukit Bintang
55100 Kuala Lumpur
+603 2731 8333