As Puteri Harbour comes to full flourish, it's set to bloom into a happening location for restaurants, bars, entertainment and shopping. Legoland is just up the road, and a number of residential projects are sprouting in the nearby vicinity. Currently a popular destination for weekend leisure seekers, the commercial strip is beginning to fill with quality tenants further increasing the attraction. A retail fine wines and spirits shop, Rouge, is one of the latest incumbents.
Still in the early stages, Rouge has only just begun to fill its shelves with bottles but has ambitious plans for the future. Wine education, bespoke events, tastings, and a lounge with gourmet bites are all in the blueprint. Positioned on the ground floor with views to the harbour and a few steps down to the boardwalk, there's certainly much to look forward to. We're here now though, and now is a very good place to start.
Royal Dragon Imperial Superior Vodka – one of the specialty spirits available at Rouge
The store's reception acts as a pre-portal to the cellar. Fine glassware, decanters and other tools of the trade for sale make pretty décor. Crossing the threshold sees a distinct change in temperature – 17 degrees Celsius to be exact. It's here, behind the glass dividers, that we discover varietals from around the world. Not just your regular old world/ new world division, but out of the ordinary regions such as Japan, Lebanon and India have a place in this collection as well. Finer wines can be requested, but the team here aims to get good wine into the hands of regular people – you know the likes of who don't think that spending the equivalent of a down payment on a house on a bottle of wine as a good idea? Taking a quick browse around we note the majority of wines here are priced somewhere between RM100 to RM220.
A long narrow table draws a line down the middle of the cellar. Swivel bar stools frame the table and we grab a seat salivating at the thought of trying something we might not have tasted before at an affordable price.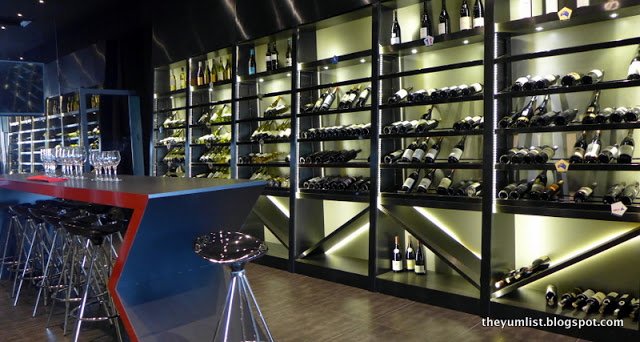 Rouge, Fine Wines and Spirits
Ferrari Brut fills flutes. The fine bubbles are produced with the traditional method of production used to make Champagne and we appreciate the savoury edge. Is there a cinema nearby or do I get buttered popcorn on the nose? Yes, the aroma is buttery and this pleasurable drink goes down all too easily.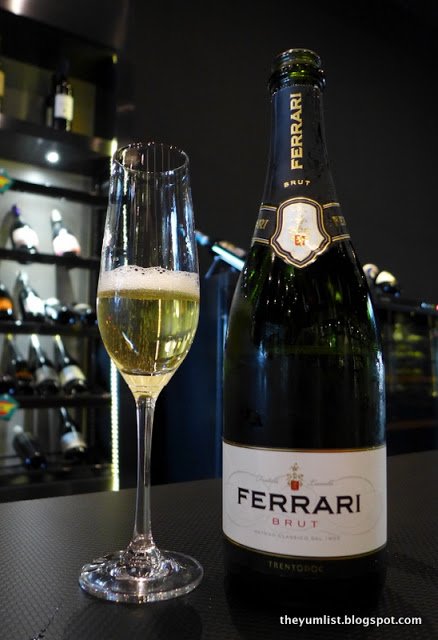 Ferrari Brut
The Gavi from Italy, Pio Cesare, we've had before. It's rare to find an Italian white wine of this price in Malaysia that holds its structure, so it makes sense that sommeliers have grabbed it as a noble wine for their menus. We pass a good time finishing off these two bottles, which arouse travel, food and wine stories.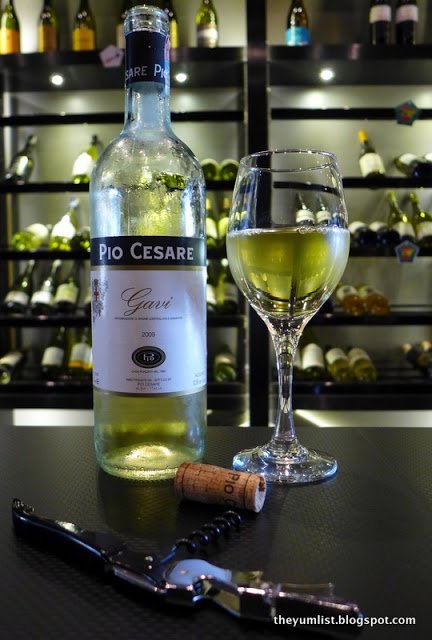 Pio Cesare Gavi 2009
Premonitions of the future of Rouge, when it's fully up and running, are looking bright. We imagine lingering even longer, with wine and cold cuts, and moving out onto the patio and lounge with our bottle as the evening envelopes…
At present however, tummies are rumbling and we make plans to head next door to Magnum Sports Café to assuage hunger pangs, and benefit from their patio tables with views of the harbour. Knowing that beer and spirits dominate the menu of our neighbour, we pick three bottles of red to carry across with us (before you say 'shock, horror,' it's not just hubby and I – we are with friends so we're sharing the alcohol intake).
The range of wines in the 'affordable' bracket again stands out as we're presented with seven bottles from which to choose that fit our requirements (reasonable price and pairs well with food). All of us are lightly lubricated from the bubbles and the gavi so a lively discussion ensues over the choosing. In my mind however, we're picking three from seven – chances are pretty good we'll get something we like! An Italian Nero D'Avola, a Napa Valley Zinfandel from Wente Vineyards and a Lebanese red win the vote.
Baglio Del Sole, Nero D'Avola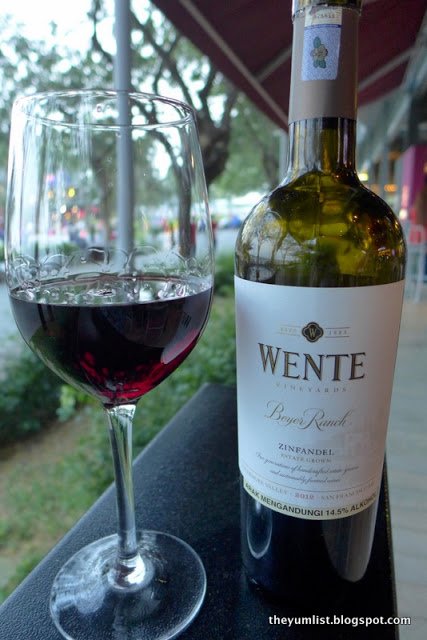 Wente Beyer Ranch Zinfandel 20012
Lebanese Red Wine
Wallets are not injured too badly, taste buds are gladdened, a heartfelt time has been had with friends chewing over passions, and we all leave feeling merry. The team at Rouge seems to be off to a fine start, and we anticipate more tasty developments in the not too distant future.
Reasons to visit:
good selection of wines in an affordable price bracket; interesting varietals from around the world; promising location on Puteri Harbour.
Rouge Fine Wines and
Spirits
Puteri Harbour
Johor Bahru, 79000
Malaysia
+6 012 702 5155