Haze has had its hold on Kuala Lumpur for nearly a month now, and we're in dire need of an escape. Work calls. Currency is not faring well. A quick jaunt away is just not convenient. We turn to The Suajana Hotel Kuala Lumpur in hope of some respite.
A comprehensive connection of excellent highways has us in the hotel in a half hour drive from the city centre. As high rises turn to low rises, traffic lessens and soon we're approaching the grand garden-lined driveway of the resort. Complimentary parking and a swift check-in see us in our room within minutes of arrival.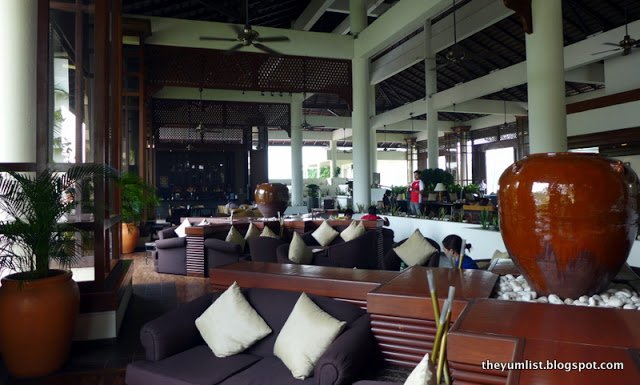 The Lobby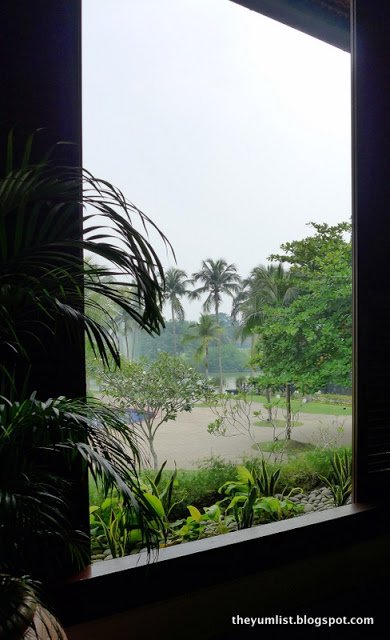 Green Views from the Lobby Framed by Giant Open Windows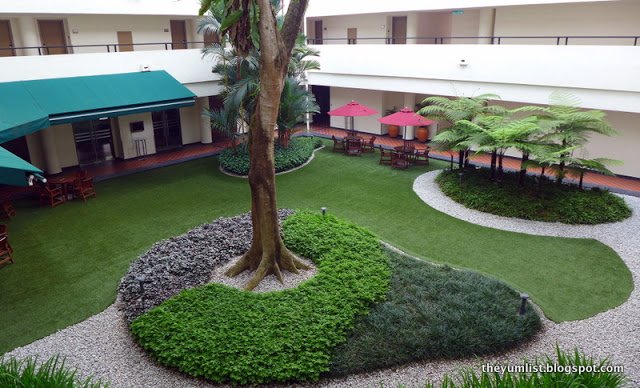 Verdant Courtyard
Recent refurbishments have furnished all rooms with a clean contemporary update. Neutral colours are broken with splashes of orange giving an overall warm comforting feel. Large windows look out over the gardens and pool, and with curtains agape, many give the illusion of framing a pretty landscape painting.
It's not long before we're in the shower and truly appreciate the high-pressured hot stream cleansing our bodies of the muck of the haze, which seems to magically work on our minds as well. There's a bathtub that looks promising for a soak with a book tomorrow, and we note the separate toilet cubicle, allowing us both to ready in the bathroom at the same time while still maintaining some privacy. In fact, the solid wooden door closes off this space entirely, so I'm pretty sure my early morning rise is not going to disturb hubby in the least.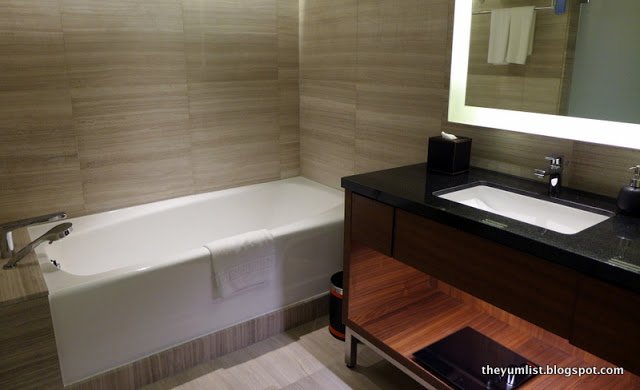 Bathroom
A wardrobe and set of drawers gift plenty of space to hang and store our belongings while keeping them neatly out of sight. The mini-bar and hot beverage making facilities include an espresso machine, which I'm bound to make good use of. As we're settling in too, we note a good number of power and charging outlets so soon have all of our devices plugged in and juiced up. An ergonomic desk chair, black out curtains, and supportive bed with fresh cottons all make for a very comfortable stay.

Charging Points for Multiple Devices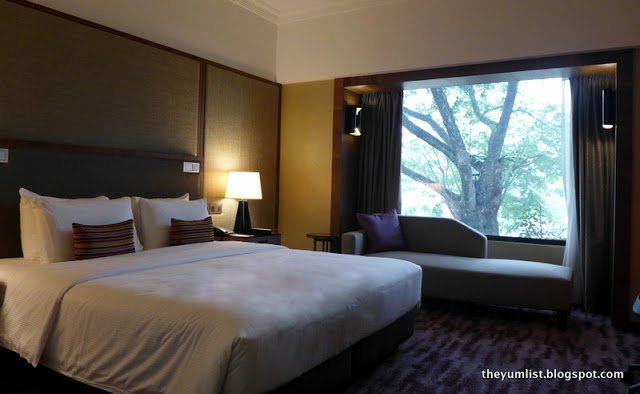 Executive Deluxe Room
A light in the bathroom is not working, and the Internet is unstable. I call to report both, and without delay a handyman is sent to repair the light, and I'm put immediately on the line to an Internet technician. Service if efficient and friendly. Problems are fixed. This is a sign of a quality hotel: things are always going to go wrong, what matters most is that systems and people are in place to handle them. I later find that service
extends beyond solely responding to requests, but is also presented in proactive assistance. I happen to be in the room when the cleaners arrive. One notices that the coffee and tea making facilities have not been used and offers a demo on how the machine functions. It's the little things that add up to an overall positive experience.
Cleansed, unpacked and settled in, it's time to assuage hunger pangs and we have some well-reputed dining options to choose from. There's a guest chef in town and a wine paired dinner is happening at
Senja,the hotel's Italian Restaurant
. We could stroll next door to
The Restaurant
at The Club and make a light meal out of
chef Ryan's Asian inspired tapas menu
, or dine on authentic cuisine prepared by specialty chefs at
Ti Chen Chinese
or 
Kogetsu Japanese restaurants
. If we don't want to wait, we could head straight to the grill buffet, Charcoal. We visit them all during our stay so click on the restaurant names to find photos, prices and further details of each location.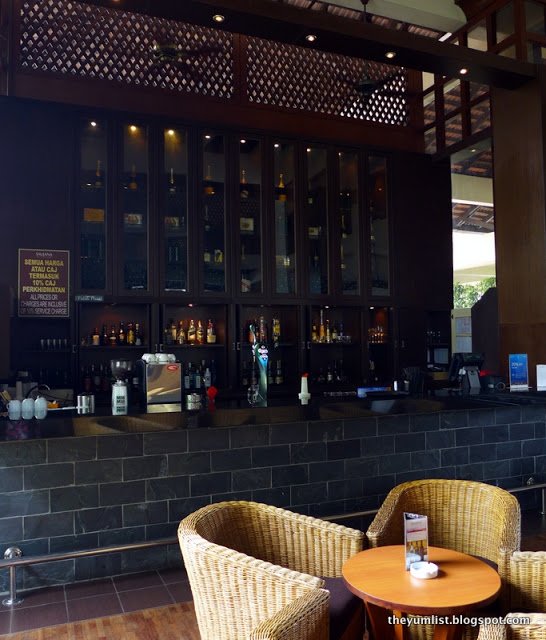 The Lobby Bar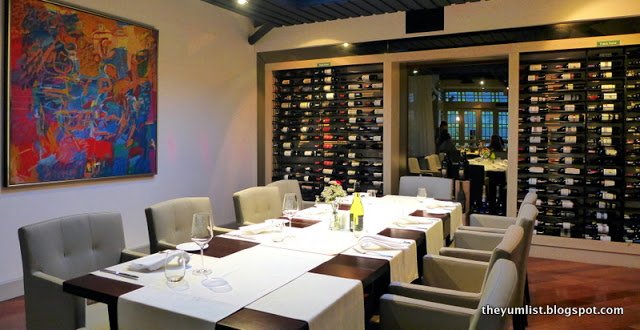 Senja Italian Restaurant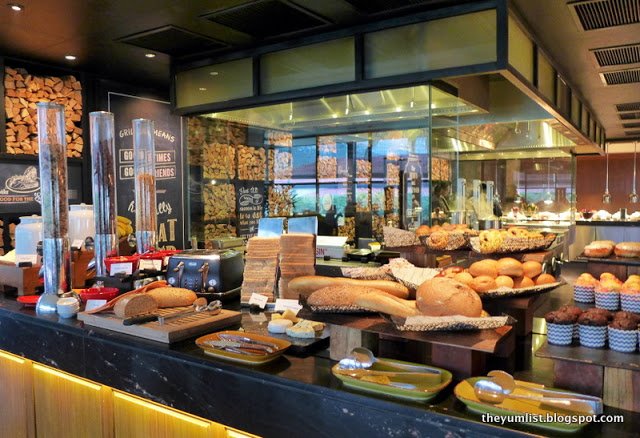 Charcoal Breakfast Buffet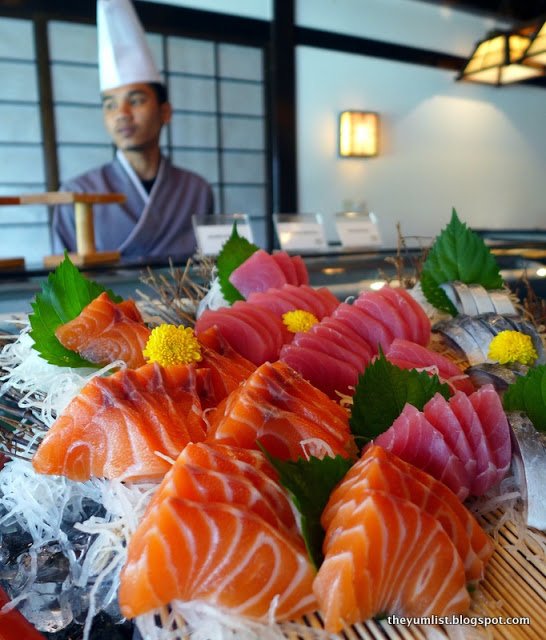 Kogestu Japanese Restaurant
In between meals there's a gym with quality cardio machines and strength training equipment to work our way out to the next tasting. A lagoon shaped pool with a swim-up bar, and sun recliners shaded by large umbrellas, also looks inviting. A children's slide section and separate garden playground are assured fun for the young ones. The famous Saujana Golf Club is right next-door and a beautiful man-made lake glistens with fountains rippling the water's surface and lush green lawns rolling down to its edge. One of the best spas in the capital is also a few minutes stroll away. Guests at the hotel are privileged with special rates making the individual spa villas an incredible deal. Read about some of their latest packages here.
Corporate Social Responsibility of high interest to The Yum List. We know many of our readers are well educated, concerned about being responsible travellers and look for ways to reduce their impact on the environment. When asked about the CSR practices of Saujana, Michelle Gregory, Marketing and Communications Manager said this. "Corporate responsibility is central to the way Saujana Hotels & Resorts do business. We are committed to social responsibility and playing our part in the community. Our commitment begins with our employees, extends to our guests and includes activities within the community. We have been supporting various charities ie. orphanages and homes in our Annual Festive CSR from the "Buka Puasa" or Break Fast with various orphanages during the holy month of Ramadhan to the year-end fundraising efforts with the "Santa for a Cause" charity to help raise monies for various homes to assist in the new school year."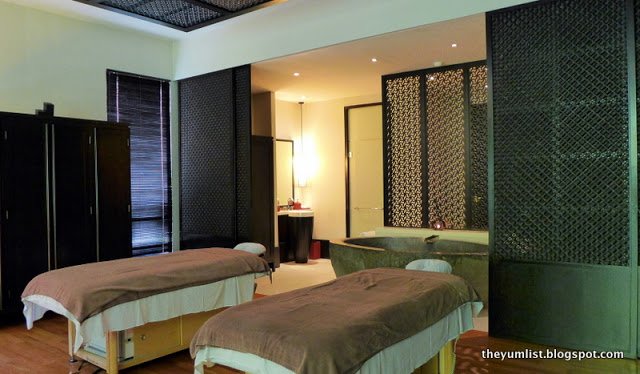 The Spa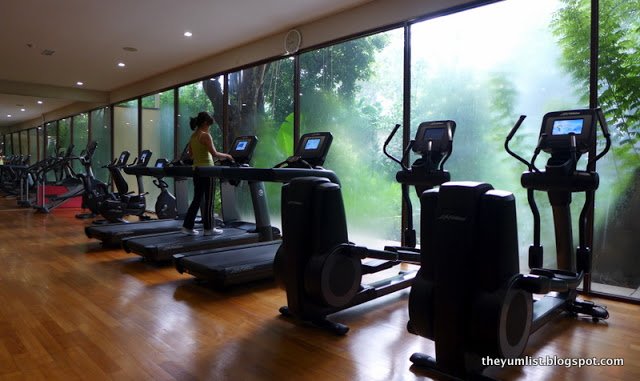 Gymnasium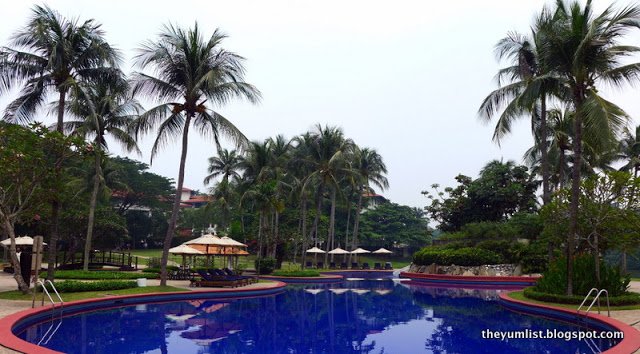 Pool
The Saujana Hotel Kuala Lumpur sits on a grand block filled with tropical landscaped gardens and is gifted with the quickly disappearing luxury of open space. It surprises me every time I visit how close this property is to the heart of the city, yet how far away it appears with its extensive grounds and relaxed holiday feel. It's an excellent choice for a few days' break and it's right here, not very far from home at all.
Reasons to visit:
a quick green escape only 30 minutes from the city centre; newly renovated rooms; high quality multiple dining options; beautiful green grounds and the luxury of open space; excellent spa.
The Saujana Hotel Kuala Lumpur
Jalan Lapangan Terbang SAAS
40150 Shah Alam
Selangor Darul Ehsan, Malaysia
+ 603 7843 1234