Kirsten Durward and Monica Tindall
There is a surfeit of Japanese restaurants in Kuala Lumpur. But this one is unique.  Offering tranquil lake and garden views, Kogetsu really embodies a traditional Japanese ambience. Built on stilts in the style of a traditional "ryokan" the shape of the building evokes Japanese style from the first glimpse in the distance. The very name offers a peaceful stillness, with its meaning of "reflection of the moon on the water."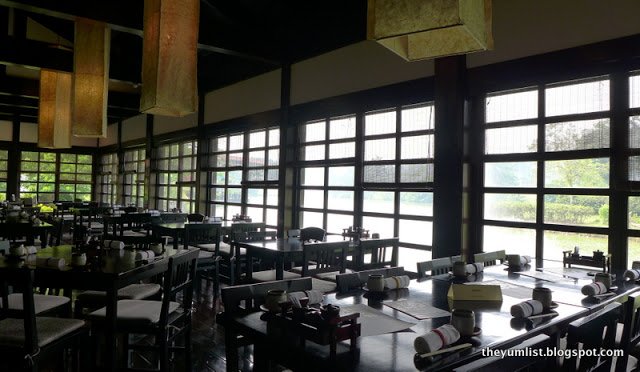 Kogetsu Dining Area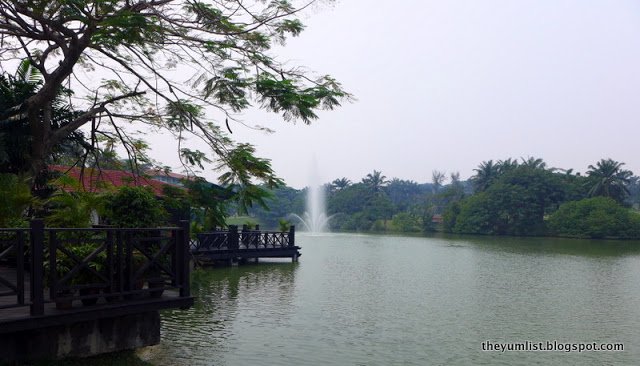 Lake Views
Chef Taketoshi Minami and his team are offering a delicious weekend brunch experience for a very reasonable price. The newly launched Japanese Buffet Brunch is an unbelievable RM145 nett, and two children under 12 can eat for free. Set in the grounds of the spacious Saujana Hotel, this is an idea location for a family lunch as there is expansive outdoor area for the juveniles to run their energy off in.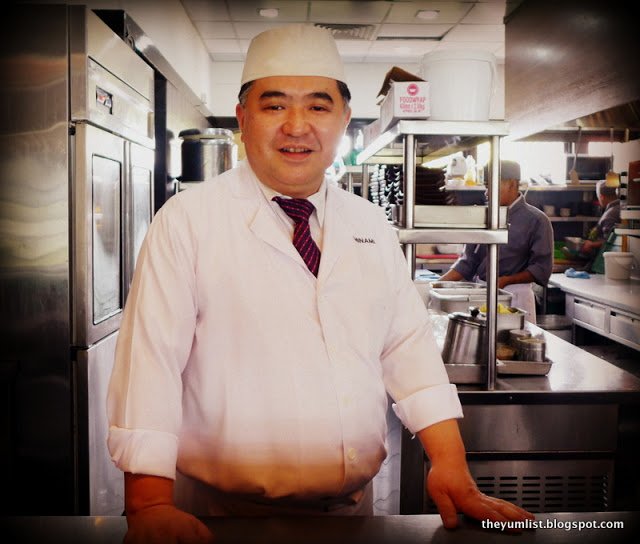 Chef Taketoshi Minami
Monica is oohing with pleasure over a fresh seaweed salad while I am enjoying the clean lines of the plentiful sushi bar. Loving the abundant tuna sashimi and the hand rolls. Even with no hot dishes at all, the value of this all you can eat sushi is incredible in its own right. But soon we are moving on to order a plethora of tiny dishes from the quite extensive a la carte menu. Meanwhile a constant pouring of green tea keeps us wonderfully refreshed.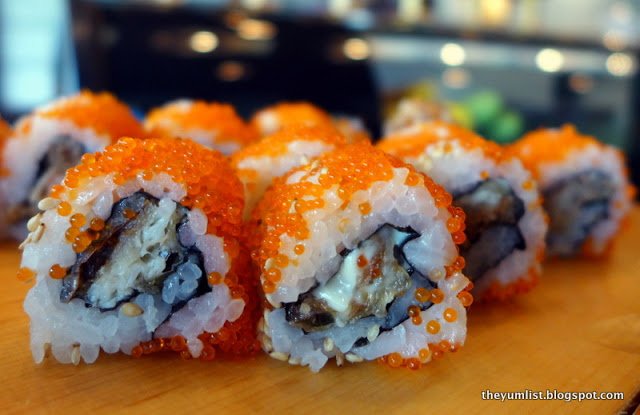 Sushi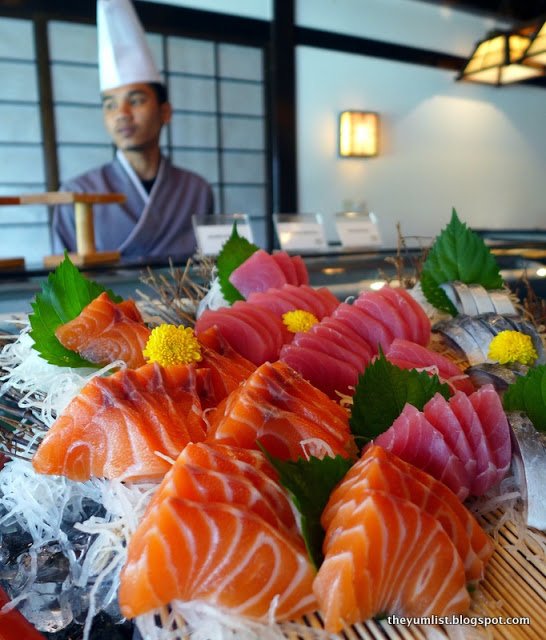 Sashimi
Chawanmushi, the typical Japanese egg custard, is a favourite of Monica's and she reckons that no Japanese meal is complete with out it. This one is typically smooth and savoury with a filling of crabstick and soft vegetables.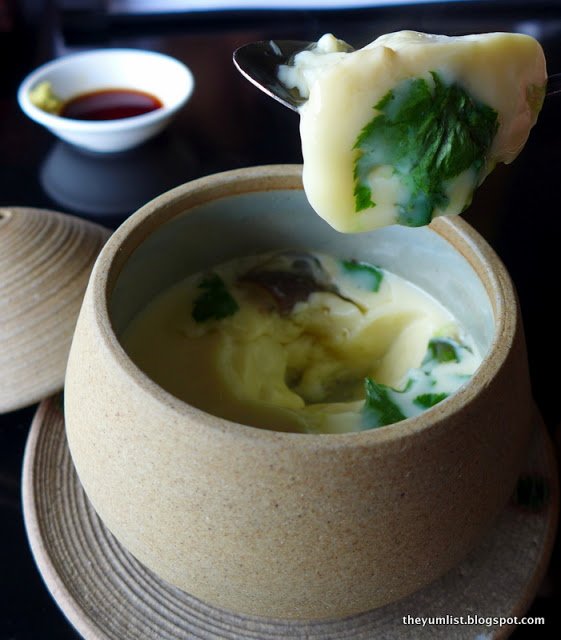 Chawanmushi
There is a great selection of soups on offer. I select a few to try. I'm intrigued by the idea of Ume Chazuke (sour plum rice soup), which proves to be tasty but very carbolicious – only for the hungry… Need to keep some tummy space for more meaty dishes. Tai Sumashijiru (snapper soup,) is very light and fresh, in comparison with the darker depths of the Nameko Jiru (pearl mushroom broth) that is thick and tasty and fun with its teeny tiny whole mushrooms.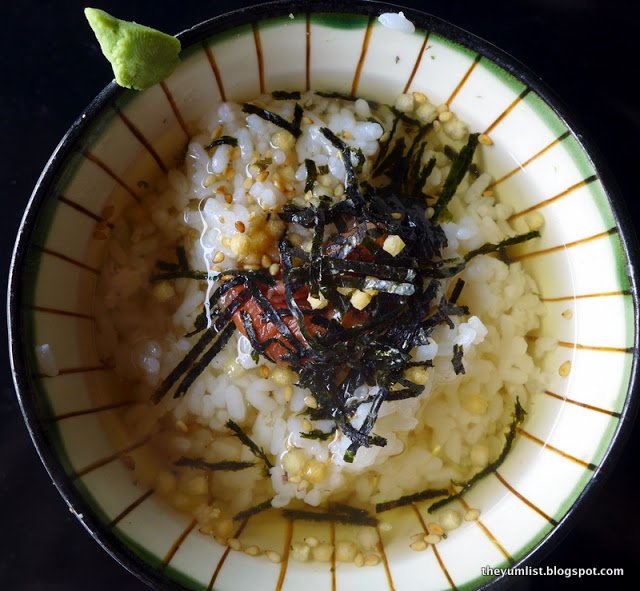 Sour Plum Rice Soup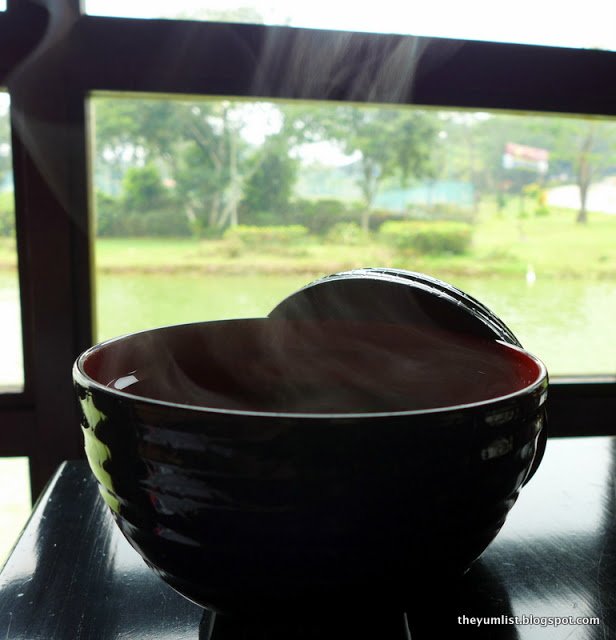 Steaming Soup
We all love a little Tori (sliced chicken) Teriyaki and this one definitely merits a repeat order. Gyu Hire (beef tenderloin) Teppanyaki is a choice of Caning's and it's patently a popular dish on the menu for a reason. Very juicy indeed, warm and fresh from the teppanyaki grill.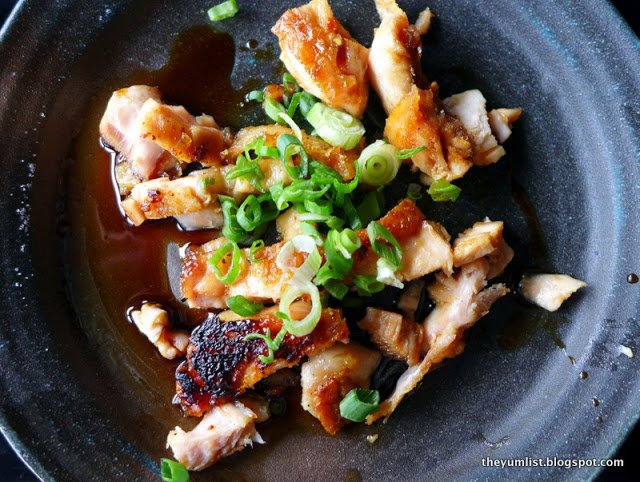 Chicken Teriyaki
Fish and shellfish alike are well represented on the menu. The golden shiny skin of the Saba (mackerel) Teriyaki glints with a particular appeal and I'm quite fond of this strong flavoured fish so I delve in with happiness. Soft Shell Tempura is sure to be popular amongst tourists and local residents alike. Ika Gesi Shioyaki are grilled squid tentacles pink and crispy, while Hotate (scallop) is another plating from the teppanyaki that has us calling for seconds.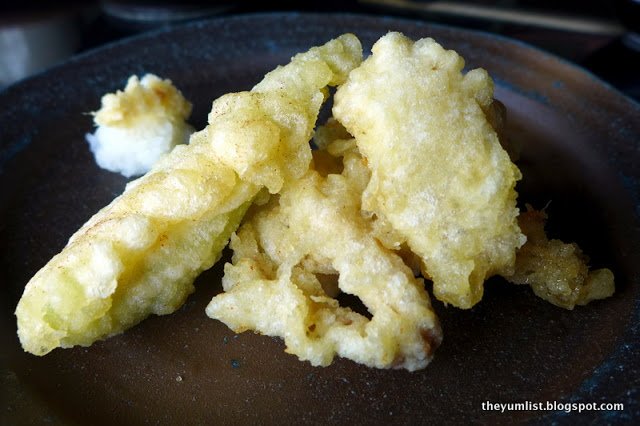 Soft Shell Tempura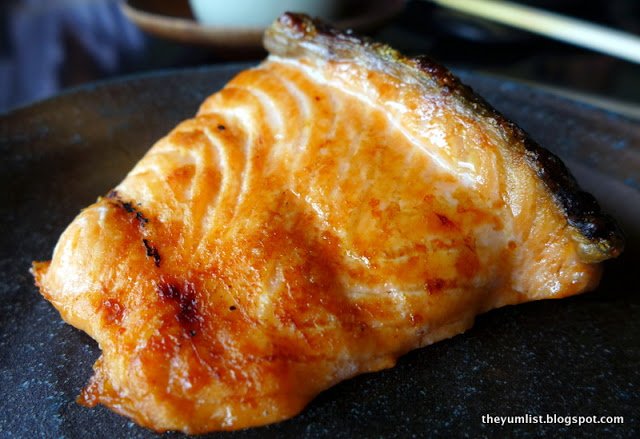 Salmon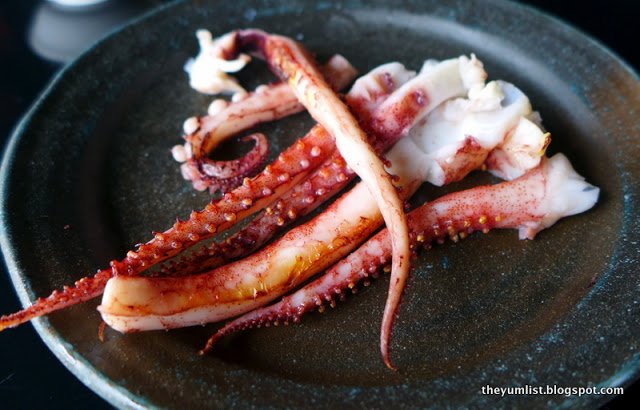 Squid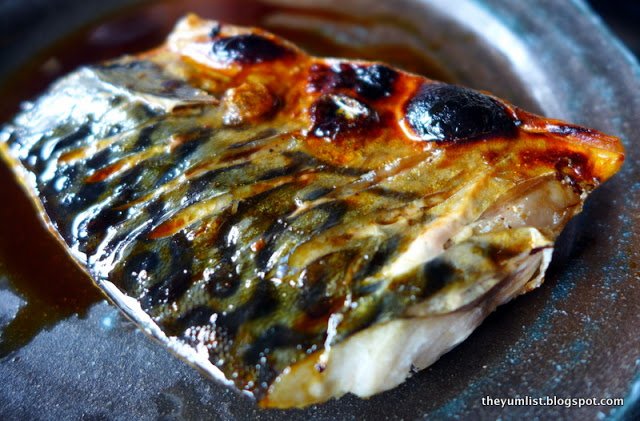 Mackerel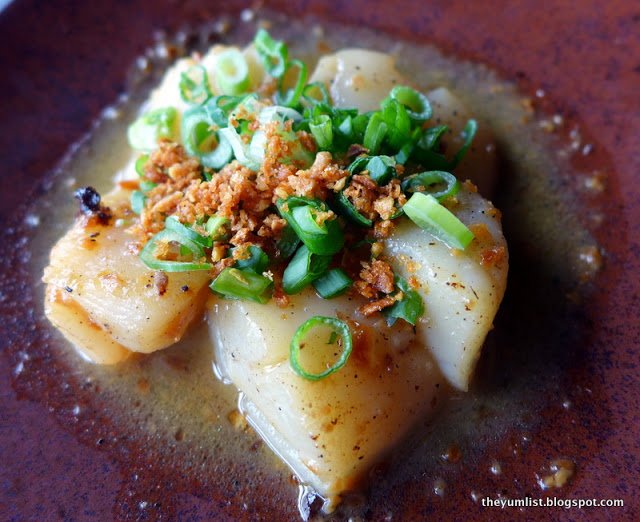 Scallops
Kitsune Udon gains delighted ooohs from Mon for their fat slipperiness, but my favourite part of that dish is the surprising hint of sweetness on biting into the bean curd pieces. Dish after dish keeps on a coming with no apparent end in sight. Gyu Shogayaki, (beef with ginger) and Shimeji (clustered mushrooms) were two of my favourites. If you are a mushroom lover though, there are also Enoki (delicious little straw mushrooms) and Shitake (the better known black mushroom).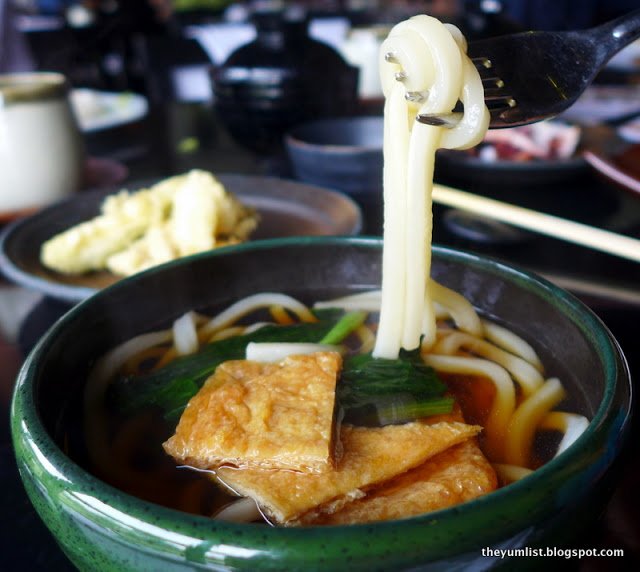 Kitsune Udon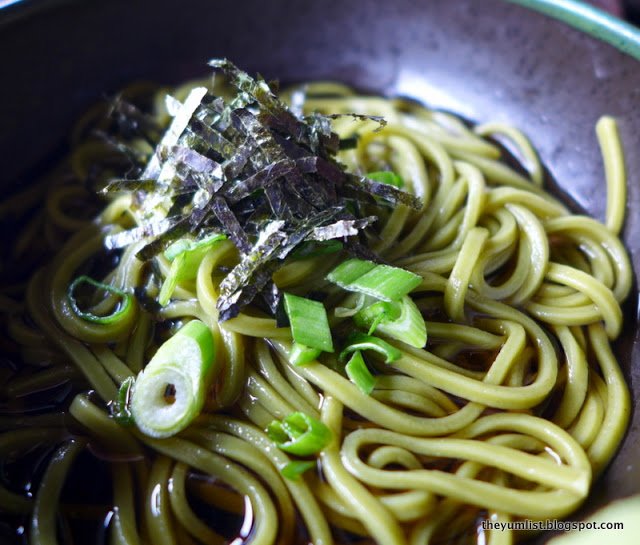 Green Tea Soba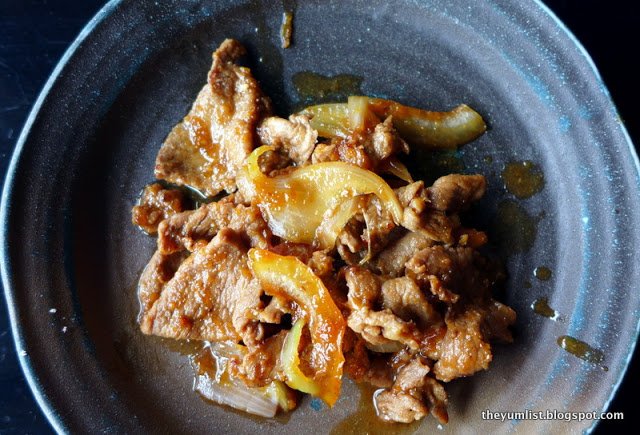 Beef with Ginger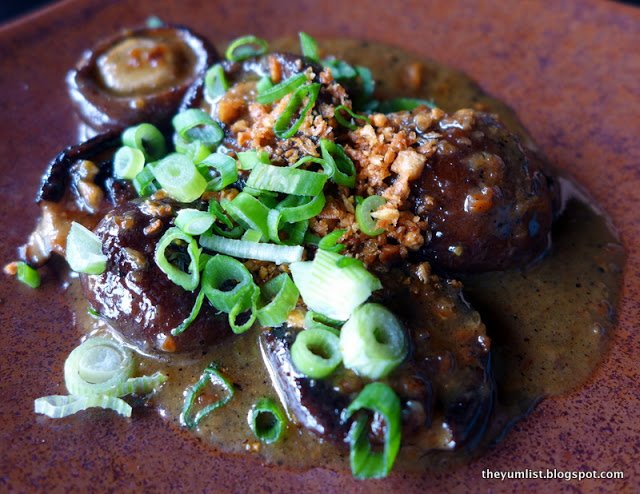 Mushrooms
Enoki Mushrooms
Seriously you can literally stuff yourself with glorious tastes for over three hours at Kogetsu. What's not to like? But I'd advise just holding a little room in reserve for dessert. I'm not usually a fan of dessert in a Japanese restaurant but Monica and I agree that they have done a great job here, with a super selection of mini light tastings. The caramel walnut cheesecake is heavenly and becomes an instant favourite. Meanwhile with my custard proclivities, I'm extremely taken with the smooth lemongrass brulee, enhanced with a slip of sour plum and a pop of lychee – tiny, but immeasurably delectable. A green tea panna cotta with white chocolate and raspberries raises a well earned 'delicious' from Caning. You can top off your eating extravaganza with a cone of house made ice cream, very light and refreshing. Sure to be a hit with the kids too.

Green Tea Panna Cotta, Lemongrass Creme Brulee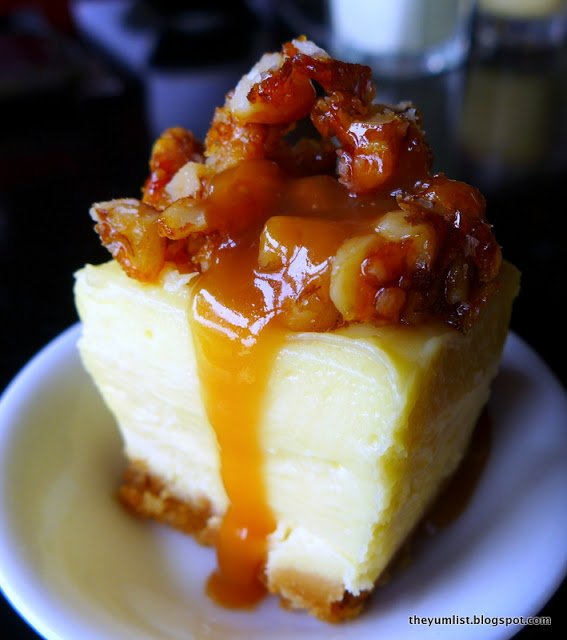 Caramel Cheesecake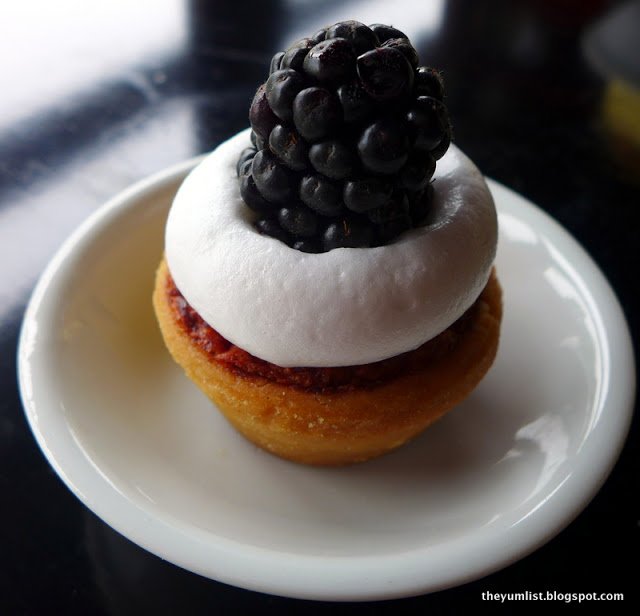 Bite Sized Desserts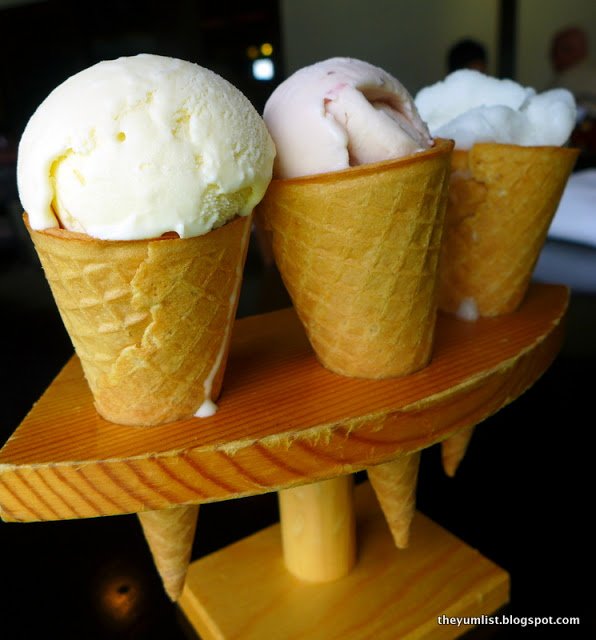 Ice Cream Cones
I eat a lot of Japanese but I am impressed by the range and quality for the inclusive price of RM145 nett at Kogetsu. Many so called Japanese buffets actually deviate from the cuisine but every dish on this menu is authentic and we think it must be one of the best value deals in town. On the way out we stick our head into the separate private rooms where groups of happy eaters sit around the teppanyaki grill enjoying their selections – good to remember for next time.
Reasons to visit: authentic Japanese ambience, exceptional value, delicious freshly prepared dishes,
peaceful lakeside location.
Kogetsu
The Saujana Hotel Kuala Lumpur
Jalan Lapangan Terbang SAAS
40150 Shah Alam
Selangor Darul Ehsan
Malaysia
 + 6 03 7843 1234 ext 6122
www.shr.my/the-saujana-hotel/dining