Kirsten Durward and Monica Tindall
As I walk into Senja I immediately relax. The ambient lighting and soft grey tones, the spaciousness and the romantic positioning on the lake amidst tropical foliage, conspire to allow the whole body and mind to heave a great sigh of relief. 'Aaah!' Let it all go. We can leave the cares of the week and the bustle of the city behind us, and step into a different world for a while. And what a magical world it is tonight. The tall, structured windows allow in the darkening light, the design evoking a sensation of an old 1930's mansion. I comment that I feel as though I have entered the Great Gatsby and everyone nods and hums agreement.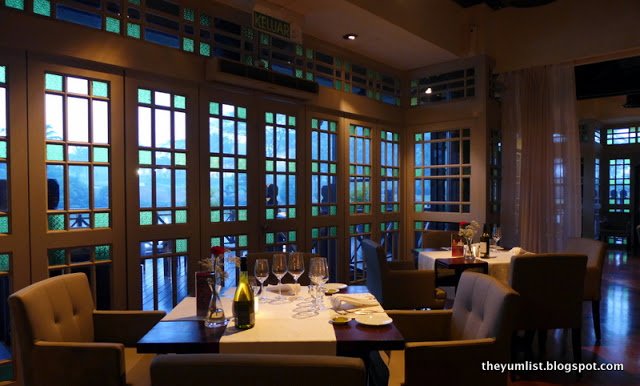 Dining Table
While Senja's regular cuisine is classically Italian in flavour, we are here tonight to enjoy a very special event: an innovative wine paired dinner, created and instrumented by Chef Dany Angove from the famed Leeuwin Estate.  Leeuwin Estate is somewhat special. Like many Australian wineries it is family owned. But their passions do not stop at impeccable wine and innovative food. The art collection at Leeuwin rivals many regional galleries, focusing strictly on Australian artists. The clever wine makers combine their interests, drawing further attention to both wine and art with the use of iconic art pieces on the label of their distinctive 'Art Series' wines.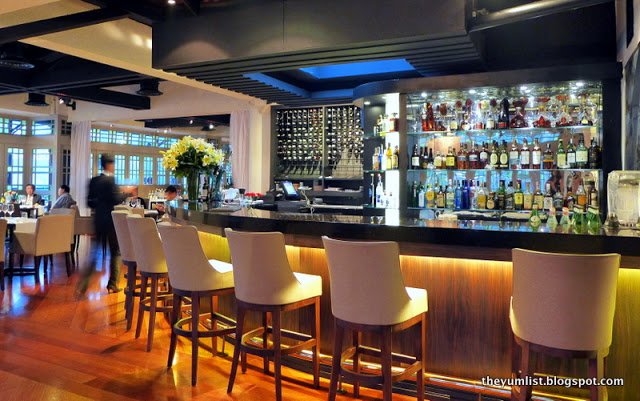 The Bar
This evening's Wine and Cuisine Trail is the second in what is planned to be an annual event, Chef Dany assures us that the sky is the limit in terms of future collaboration with Senja. We are happy to hear this as our minds have been salivating since viewing the menu, and we are eager to get on with tasting the centerpieces of the evening. Those who missed out on this great taste experience, keep an eye on the
Saujana website
for future events such as the upcoming Culinary Odyssey with award winning Chef Yuichi Kamimura from 21st – 24th October 2015. Promising creative fusion in a 'Easts meets West' combination of Japanese flavours with a French twist, we hear that Chef Yuichi is back by popular demand.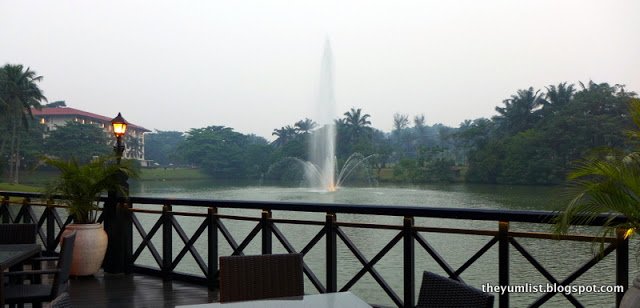 Lake View from the Outdoor Patio
The sparkling and surprisingly light glasses offer the perfect clarity and resonance with which to enjoy a special wine. Somehow we feel there is nothing between us and the first wine we taste; the lovely, light Leeuwin Estate Siblings Semillon Sauvignon Blanc 2013 with its soft citrusy undertones. The whole setting permeates with an understated elegance that is only enhanced with the placing of the first dish.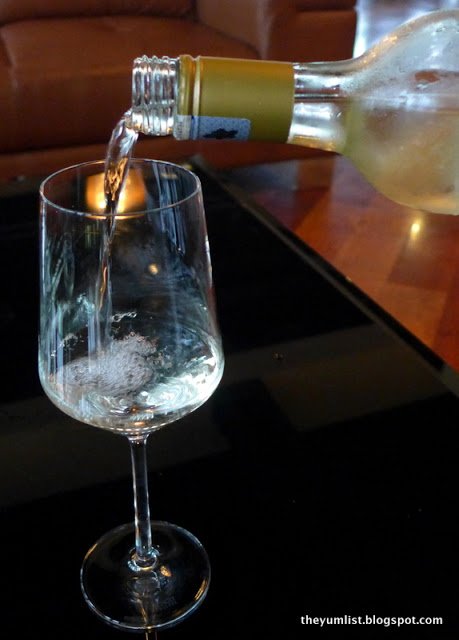 Leeuwin Estate Siblings Semillon Sauvignon Blanc 2013
The large swirled plate gives a shell like protection to the delicate Abalone. Sourced from Flinders Bay, this green lip variety resonates with an exquisite fresh taste of the sea, bringing out a mineral depth to the wine that brings more enjoyment into our mouths. Chef twinkles when we comment on the aptness of the pairing, and promises us we will be hearing more about this particular sea creature in the future, as it is relatively new on the international food scene.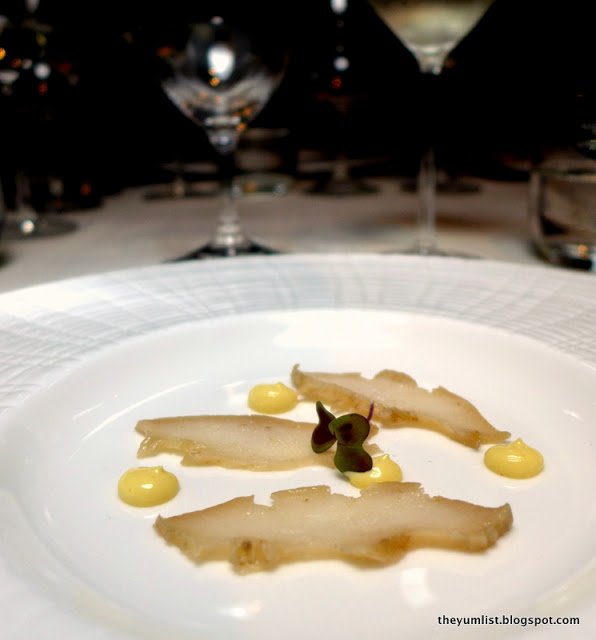 Abalone
The lightness of touch with seafood is echoed in the Scallop entrée, which for me becomes an archetypal representation of the word 'freshness.' Fresh in the delicate hanged gazpacho, fresh in the slender strips of scallops, fresh in the clear cold soup that is poured over like spring water refreshing a landscape, and fresh in attitude, daring you to take a bite and disturb the artistry. The Leeuwin Estate Art Series Sauvignon Blanc 2013 opens beautifully after tasting this dish, revealing a depth of body and lingering palate enriching flavours. We ask about the lack of spoon for the clear soup and Chef gurgles – 'yes, we thought about that, but me I'd just pick up the dish!' So Australian!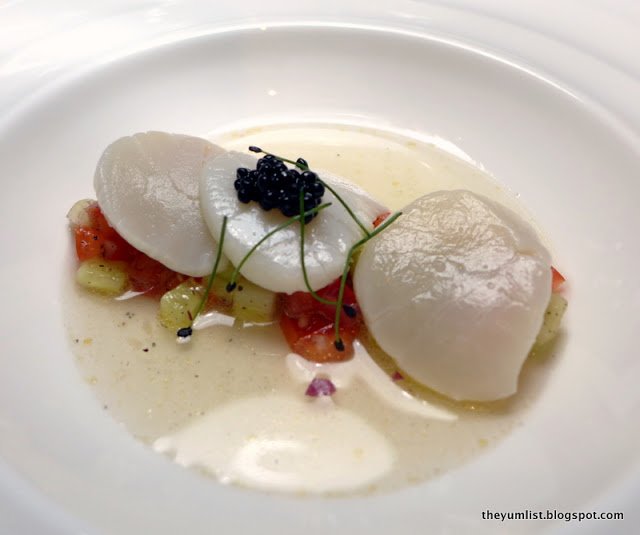 Scallops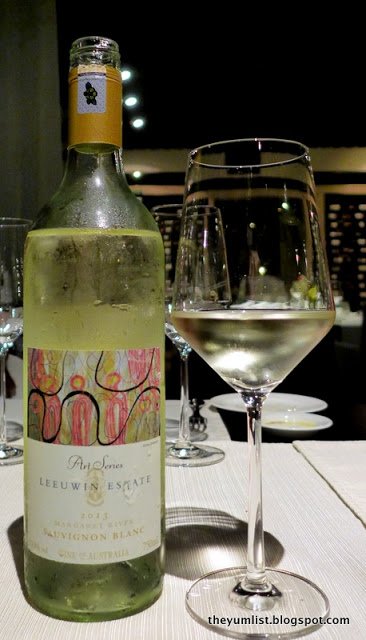 Leeuwin Estate Art Series Sauvignon Blanc 2013
A fellow guests comments, 'I forget how beautiful it is down here.' And it is. A spacious experience, I think. Space outside. Space inside. Body space. Mind space. We find this feeling to be luxurious and expansive, as we are not used to in our regular city lives. With the soft sounds of a singer acoustically accompanied, the live music adds to the ambience without being intrusive. Everything is carefully calculated to feel 'just so' and conversation flows across the table very naturally.
Both main choices sound so tempting it is hard to make a choice, but both Monica and I cannot get past the thought of fresh Sea Trout, so beg just a taste of Caning's Lamb Rump. The plating with freekeh (a type of green wheat) is something new and we debate the merits of 'healthy' sides, which go beyond traditional carbohydrates. Chef agrees that he is always on the look and listen out for both locally sourced and healthier options, as they can develop the flavours and innovate in a sustainable way. I'm in ecstasies over the Middle Eastern flavours in the beautifully cooked medium rare beef, a light spicing, reminiscent of Morocco and complemented delightfully by smooth tahini yoghurt and the freshness of pomegranate.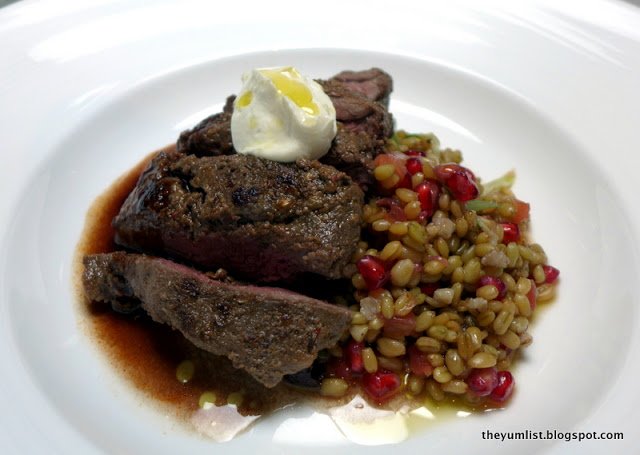 Lamp Rump
I do love Sea Trout, both for its robust flavours and its signal memories of childhood. My grandfather lived on the ocean and he loved to fish. We ate a lot of sea and river trout in those days and it remains a family favourite. This one is super deep pink and dense, a wild fish that has been clearly swimming free. The crispy skin is divine, provoking moans of flavour as the little fatty burst underneath drips through onto the tongue. Delicious. I love the teeny detail of crushed almond on top, enhancing the almond puree with lemon oil notes underneath. A robust in flavour but delicately structured carrot purée completes this juicy and mouth filling dish.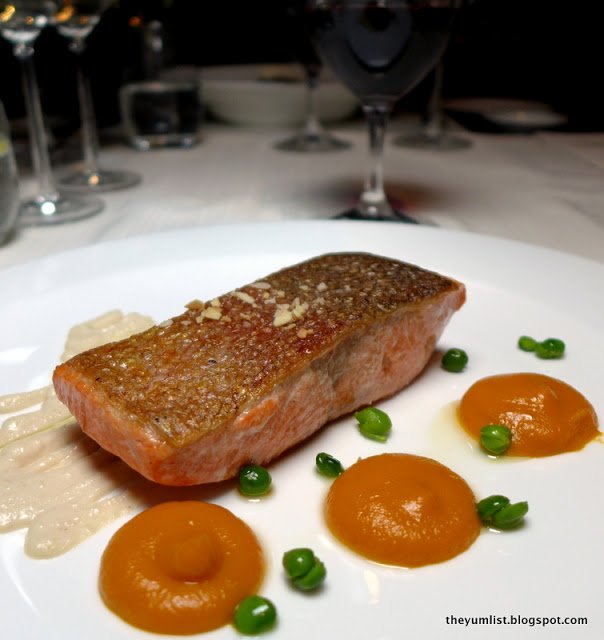 Sea Trout
Our mains are paired with another of Leeuwin Estate's signature Art Series wines, this one being a Shiraz 2011 that has us all nodding with pleasure at its round full texture. Australian Shiraz can be known for being rather bold and peppery but this one is more subtle. The pepper notes are there but it is a distinctly softer sensation with light tannins and I taste some dark chocolate and cinnamon traces.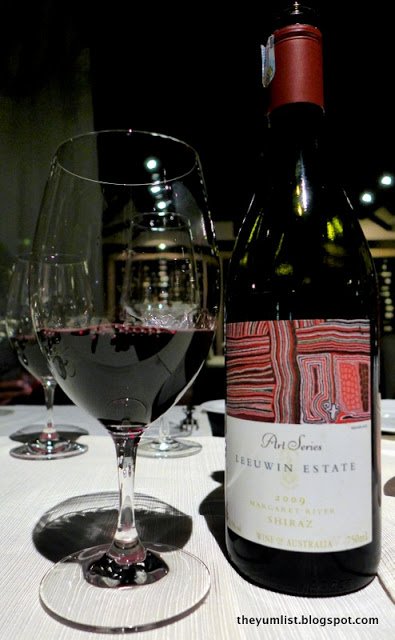 Leeuwin Estate Art Series Shiraz 2011
An impeccable finish for an impeccable meal is found in our dessert. With crisped coconut on top of naturally compressed pineapple, this is a tropical dessert that echoes the interests of the region without being overly sweet and thick. A little sago for that Malaysian hint takes on the relish of the beautifully delicate kaffir lime cream.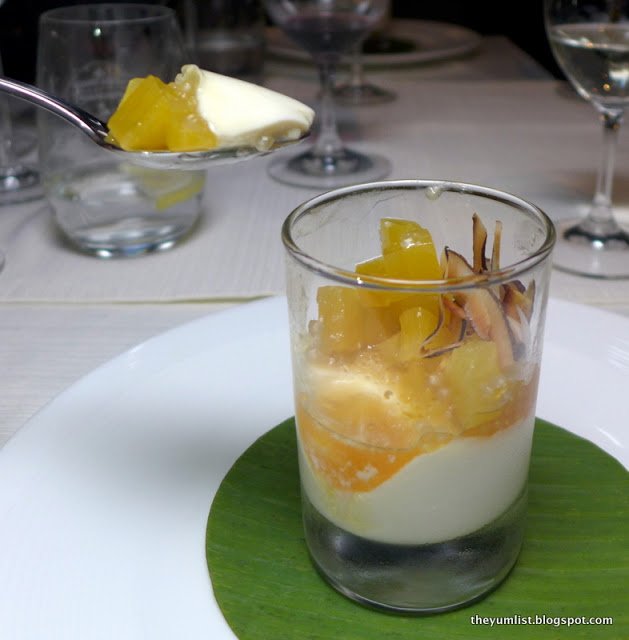 Dessert
An unusually dry dessert wine completes this evenings wine trail. The Leeuwin Estate Art Series Riesling 2013 has citrus notes and tinges of green apple that sits well with the fruity nature of the final dish.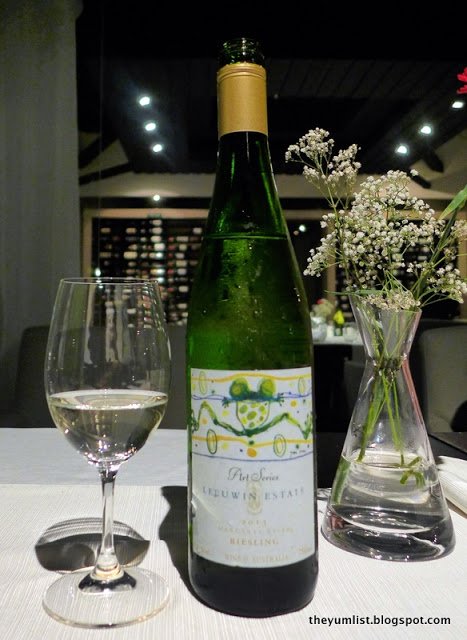 Leeuwin Estate Art Series Riesling 2013
Everything has been perfect from start to finish and we glide off into the night pleasantly satiated and ready for bed. What a pleasure to have a weekend away so close to the city like this.
Reasons to visit: peaceful, spacious, elegant ambience; fine dining at exceptionally reasonable prices; look out for the upcoming Culinary Odyssey with award winning Chef Yuichi Kamimura from 21st – 24th October 2015.
Senja
The Saujana Hotel Kuala Lumpur
Jalan Lapangan Terbang SAAS
40150 Shah Alam
Selangor Darul Ehsan, Malaysia
+ 603 7843 1234 ext 6122