Kirsten Durward and Monica Tindall
Featuring a differently themed buffet with a focus on authentic Malaysian tastes and locally sourced ingredients, make sure you are hungry if heading to Charcoal at The Saujana Hotel Kuala Lumpur of an evening. Enjoy the fresh spacious ambience and smiling friendly service in this refurbished peaceful location on the outskirts of the city.
Charcoal Restaurant
Start with some fresh seafood – I adore the huge tiger prawns. Load up on fresh salads; we were particularly fond of a unique pomelo, pineapple, yam concoction on the night we visited. Then take a meander through a whole range of flavour combinations. I heap different curries on my plate, enjoying the chicken jalfrezi, but loving the dry lamb curry, something I wish my dad could taste, for he always says lamb is the best meat for curry.
Salad and Seafood Section
Indian Spread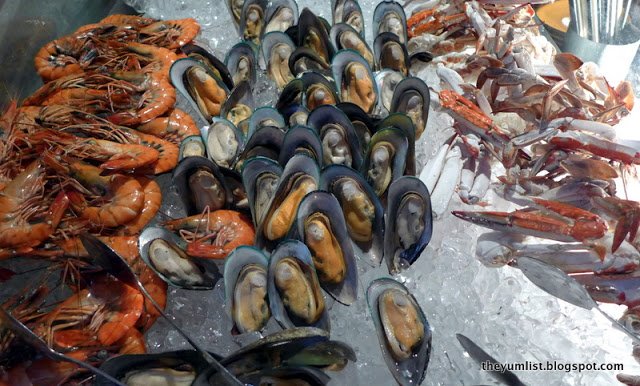 Seafood
Monica is hovering over the fresh pasta station, putting together a tomato veggie concoction with plenty of cheese. It is always a pleasure to have pasta sauce cooked directly to your tastes in front of your eyes.
Pasta and Sauce Section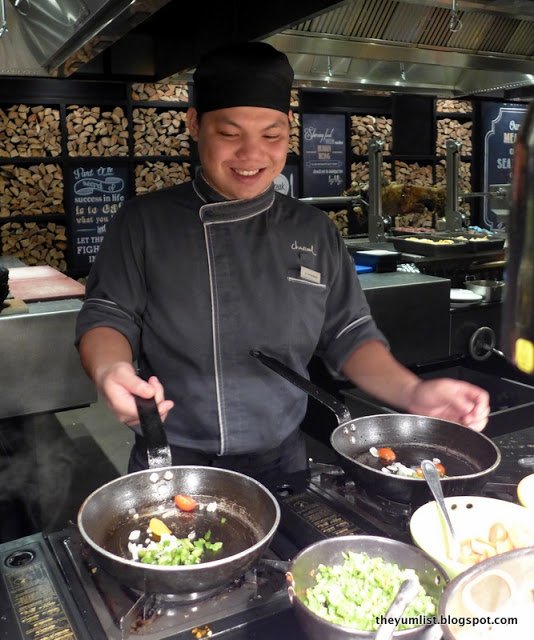 Live Cooking Station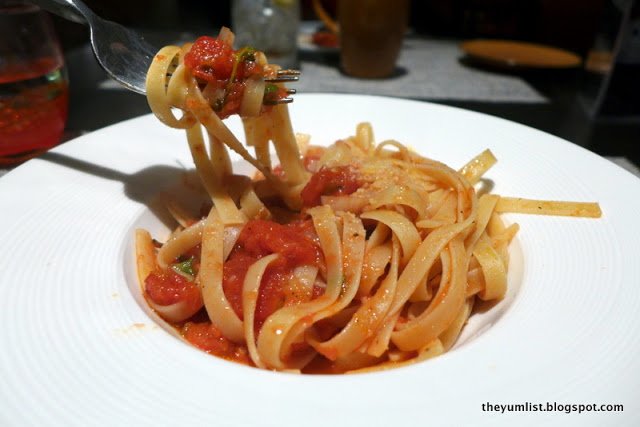 Vegetarian Pasta
I hover over some duck with sweet sauce and some baby squid before heading to the centrepiece of the buffet, the barbecue station. This is what lifts the dining experience at Charcoal out of being just another buffet – the impressive central charcoal fire grill. There's nothing quite like seeing a whole lamb on the rotisserie being turned as soft slices of meat are carved off ready to fill your waiting plate.
As piece after piece sizzles on the grill, a little sensuous steam rises in the air. It adds a little vibrancy and movement. Select from the pre-cooked, I'm particularly fond of satay myself and the peanut sauce here is yummy, or choose a cut to enjoy grilled for you. There is every choice from fat chicken pieces, thick white fish, sliced beef, lamb pieces and more – all marinaded in signature flavours, too much to eat or even list! Make your selection of sauce on the side and chow down to your heart's content.
Chefs, and Lamb on Spit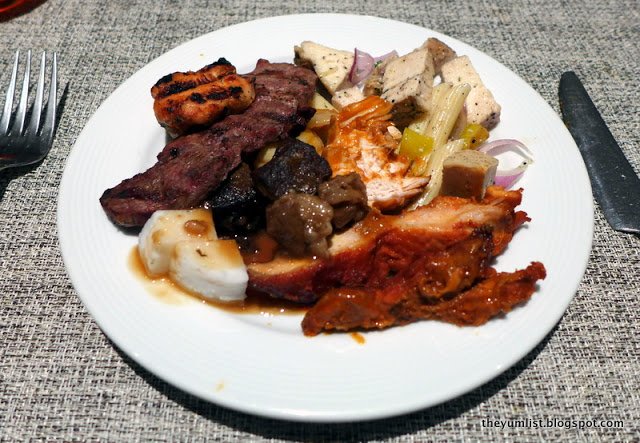 Plate of Grilled Meats
But leave some space for dessert for there is plenty to choose from. In a previous post Monica has raved about the ice kacang and I find the pretty turquoise ice grinder to be oh so cute. Create your own dish from the plethora of colourful choices offered for this local favourite. Lots of pretty little dishes tempt us to taste: a pandan fudge cake, a coffee cheese cake, a mango mousse and more.  All would please the sweet toothed diner, and not many can pass up the opportunity to dip in the chocolate fountain either. But for Monica and I the dessert delight of the night is the massive tub of fruity bread and butter pudding with delicious vanilla sauce. We sigh over how sometimes simple food is just the best. I could spoon up the sauce all night long.
Dessert Spread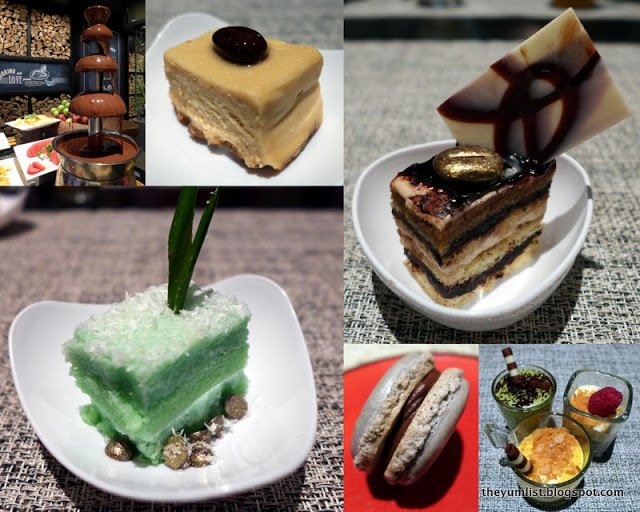 Desserts
You may find different choices when you visit, but you wont be disappointed with the range on offer or the value for money. Take your time and eat till you can barely stagger back to your car or room. Because it is all there to be enjoyed.
Reasons to visit: Fresh barbecue from the charcoal grill, peaceful out of town location
Charcoal
The Saujana Hotel Kuala Lumpur
Jalan Lapangan Terbang SAAS,
40150 Shah Alam,
Selangor Darul Ehsan
Malaysia
www.shr.my/the-saujana-hotel/dining
+6 03 7843 1234 ext 6122
Charcoal is open daily from 6.00 am – 11.00 pm
ALA CARTE 
Prices range from RM35 – RM350
THEMATIC BUFFETS
Thursday – Peranakan (dinner)
Friday – Seafood (dinner)
Saturday – BBQ (dinner)
RM116 per person
*Oysters Buffet Add-On at RM88 per person
Saturday & Sunday Brunch
RM116 per person
*Oysters Buffet Add-On at RM88 per person
Eat All You Can  Oyster Bar 
RM118 per person
*shucked or baked
*Selection of oysters may vary dependent to the seasons.
Oysters Flight 
(per portion of 5 pieces)
Galagher, Creuses, Fine de Claire,Tasmanian Prime, Pacific Prime
RM80 per flight
*shucked or baked
*Selection of oysters may vary dependent to the seasons.
* Free flow SHR wines available daily at RM 100 (7pm – 9pm) *