Han Sen Hau and Monica Tindall
It was a hazy afternoon. In fact, one of the worst days since Malaysia was shrouded in an asphyxiating smog, so imagine my alarm when I arrive at the Saujana Gold and Country Club looking at numerous men clad in pastel-coloured polo tees and sunglasses being completely oblivious to the deadly miasma around them, taking a stroll with their golf clubs like sentries with rifles at the Changing of the Guard. Without masks. The SGCC Carlsberg Golf Classic Tournament was live and like the rapture, couldn't be delayed come rain or deadly haze, but as much as I admire the golfers for their chutzpah and nonchalance to the weather, I was glad to be seated within the columned dining area of Ti Chen where I was excited to experience my first official Oriental review.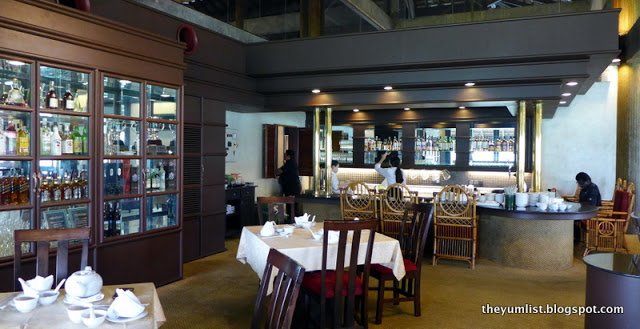 The Bar Area of Ti Chen
I have to admit, it's refreshing, and a little odd, to be conducting a review at a fine Cantonese restaurant, as I've grown up visiting similar establishments with my family. So while the setting may be a familiar one, the context is a little foreign to me, though I did relax a little the instant they dished out the usual braised peanuts for starters along with pickled papaya and pumpkin. The two chefs who served us were Chef Sam Lu and Chef Yau Kim Yew, both a little surprised at The Yum List's arrival as they weren't expecting us. But like true professionals, they were quick on their feet and whipped up a simple yet titillating carte du jour, beginning with three items off their Dim Sum menu—the "Ti Chen" Steamed Prawn Dumplings "Har Kao", Steamed Signature Chicken Dumplings "Siew Mai", and Steamed Beancurd Rolls with Oyster Sauce.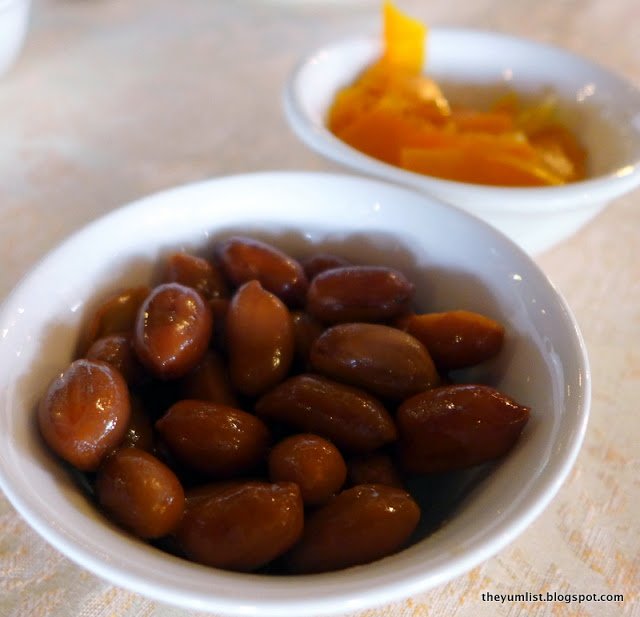 Braised Peanuts and Pickled Papaya and Pumpkin
The dim sum we had were prepared specifically for the review, as these would usually arrive in threes. Nitpicking three delicate dim sums would be trivial and unnecessary, lest I make a comment on how the Har Kao came with whole prawns and the Siu Mai was loaded with meat, which is to be expected when dining at a fine place like Ti Chen. I will say, however, that the dim sums were all great on their own without the sauces, which goes to show how many of the Siu Mais I've had in other locations are lacking in the flavour department that I have to pair them with sweet sauce. My parents, ever the health-conscious duo, would also approve of the bite-sized treats as they don't leave a grease slick on your tongue, urging you to douse the Har Kao in chilli just to balance out the flavour.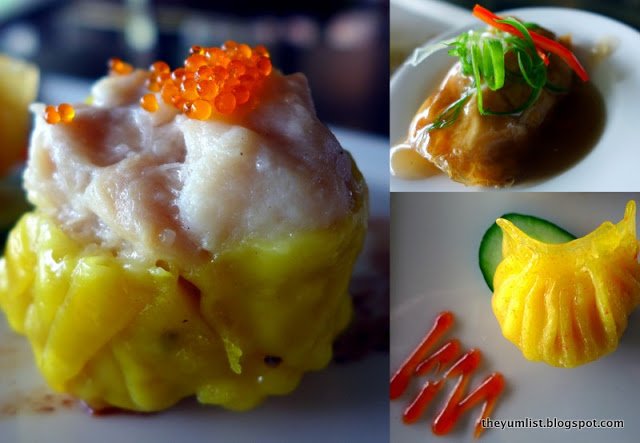 Assorted Dim Sum
The next item to arrive at the table was a sagacious bowl of Chicken Ginseng Soup (not available on the menu; this was served as the Soup of the Day) that made us feel healthier simply by looking at its ingredients. It works as a great palate cleanser with its bitter flavour notes from the ginseng roots; an acquired taste, but they improve with each sip, opening up your taste buds for more. You'll also find glutinous rice bits floating around in the soup that are great for texture, and I'm dying to learn how they've made the chicken pieces so soft and tender. It's a common recipe every Chinese family knows how to recreate, but few perfect it the way the chefs at Ti Chen do.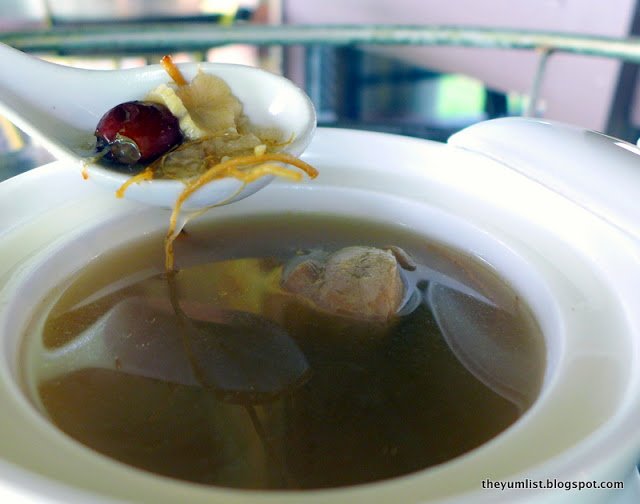 Chicken Ginseng Soup
On the mains, we started strong with an impressive Homemade Roasted Smoked Duck (Half Portion) that came with the most amazing spicy green chilli sauce with hits of sour lime mixed in it. I've never been the biggest fan of waterfowl but I am partial to the one served at Ti Chen because it doesn't have that strong gamy flavour I associate with duck. The meat has a fabulous bite to it, and it separates beautifully in your mouth. Decadent is how I would describe the roasted duck as you have to eat it with the fatty skin; or in my father's words, it is the only way to enjoy roasted duck meat—with the fat.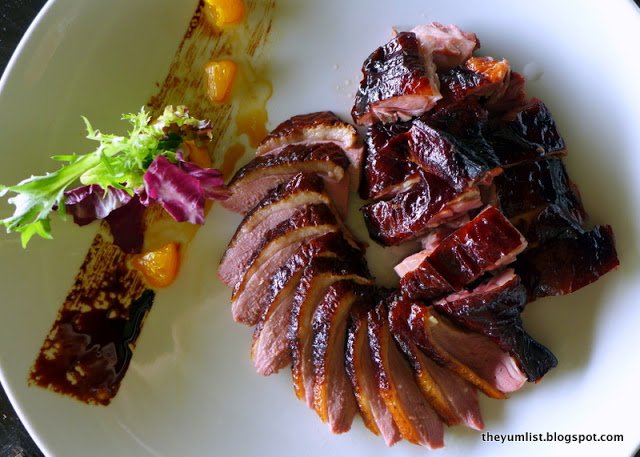 Homemade Roasted Smoked Duck
The Stir-fried Hong Kong Kai Lan with Crispy Enoki Mushrooms that arrived after had a wonderful presentation. At first, we were marvelling over the crispy strands that look like deep-fried anchovies blanketing the vegetarian dish, but we couldn't figure out what it was until the chefs informed us they were Enoki mushrooms. The dish was an upgrade from the usual fare diners would enjoy, as the chefs had thrown in other ingredients into the verdant mix such as black fungus to complement the crunchy kai lan.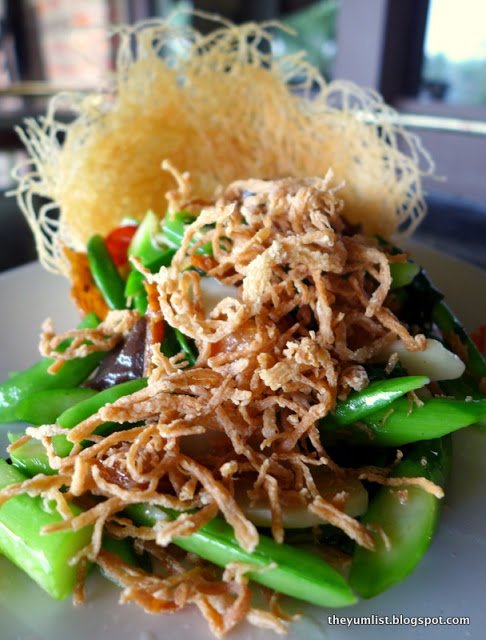 Stir-fried Hong Kong Kai Lan with Crispy Enoki Mushrooms
Finally, we had what the chefs proudly call their pièce de résistance and a specialty of the restaurant, the Braised Hong Kong Yi Fu Noodles with Sea Prawns. I have to admit, I didn't have high expectations for what I thought was a common meal served in countless Cantonese restaurants, but the dish was a pleasant surprise as it was the first time I've ever eaten yi fu noodles prepared al dente. If you're familiar with yi fu noodles, you'd know they're always either served pre-fried (before you pour the sauce on them to soften the noodles) or hopelessly soggy: the chefs at Ti Chen have achieved a miracle by managing to prepare the noodles firm to the bite! Toss in some julienned spring onions along with prodigious sea prawns and you have a meal here you wish your neighbourhood Chinese hawker would be capable of dishing out of their flaming woks.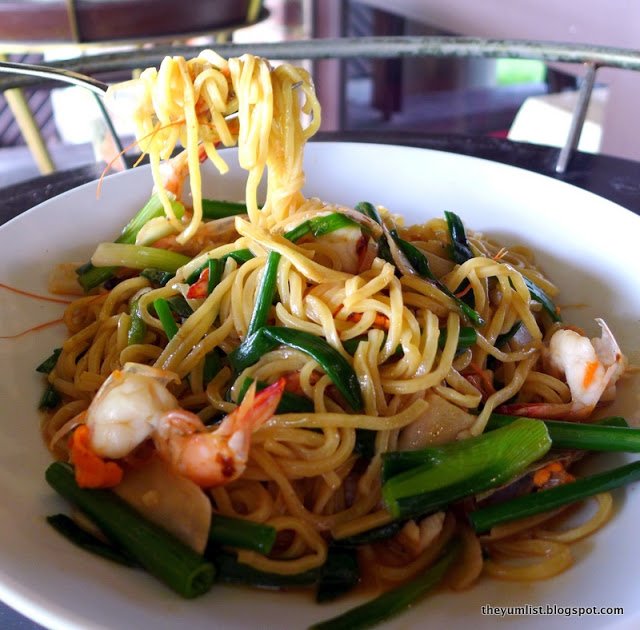 Braised Hong Kong Yi Fu Noodles with Sea Prawns
To conclude our visit at Ti Chen, we had three unique offerings for desserts that, for once, aren't the usual chocolate lava cakes or "premium" ice cream. Instead, we've had the Chilled Bitter Gourd Pudding, the Osmanthus Sweet Olive Lemongrass Jelly, and the Avocado Mousse with Chocolate. The Chilled Bitter Gourd Pudding was a shock. Yes, you read that right—a shock. I could imagine having bitter gourd as a dish or being a main component in a bowl of soup, but I never would've imagined it served as pudding… and what an innovatively bitter-sweet dessert this is. Literally. Like the earlier Chicken Ginseng Soup, the pudding grows on you and its flavour improves with each spoonful. Over time, you learn to appreciate its bitter notes and cooling properties, though I understand this isn't a dessert for everyone. It is actually my favourite of the three because I value the daring choice the chefs have made with it.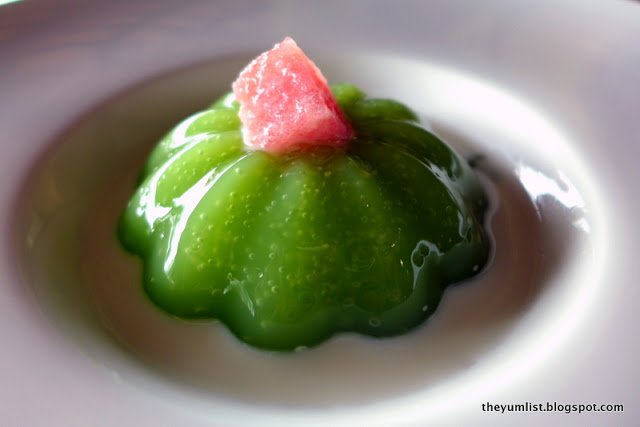 Chilled Bitter Gourd Pudding
The Osmanthus Sweet Olive Lemongrass Jelly is commendable, but it wasn't as impactful as the Bitter Gourd Pudding. The Avocado Mousse with Chocolate, however, was a tough contender with its fluffy texture and great balance in flavour. The mousse isn't something on the menu yet, though we urge the chefs to really consider a spot for it in there. Unlike the pudding, the mousse was an obvious showstopper, reminding me of the wonderful avocado and chocolate smoothies that are all the rage in Indonesia; incidentally, Monica and Caning's top choice for desserts that day.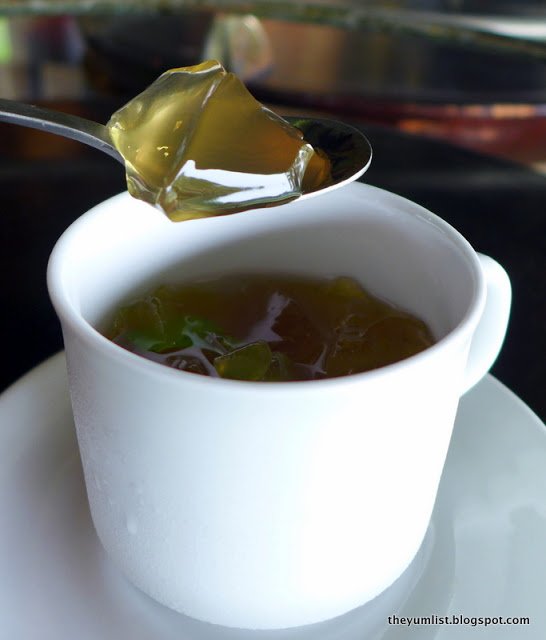 Osmanthus Sweet Olive Lemongrass Jelly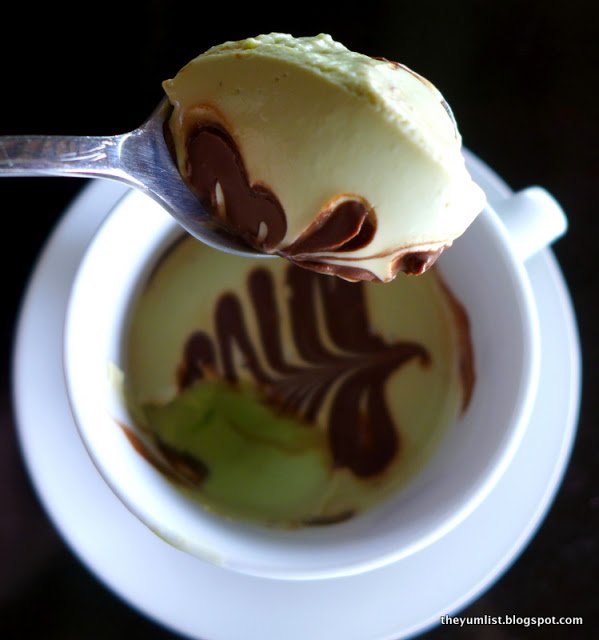 Avocado Mousse with Chocolate
We were a little hesitant to leave the cool, air-conditioned atmosphere of Ti Chen for the blinding haze outside, having enjoyed our time there despite the short notice (for the chefs). Though it was a shame I couldn't completely enjoy the scenic views Saujana was famous for, it simply means that I'll just have to pay another visit to Ti Chen in the future for some of the more memorable fares we've had that afternoon.
Reasons to visit: right off the bat, the Chilled Bitter Gourd Pudding—there isn't anything like it; Homemade Roasted Smoked Duck; great space for large functions; I really wish I could talk more about view, but the golf course disappeared under the haze, which is why I have to return once everything clears up.
Ti Chen
The Saujana Golf & Country Club 
Jalan Lapangan Terbang SAAS
40150 Shah Alam
Selangor, Malaysia.
+603 7843 1234