Louise Miller and Monica Tindall
The stylish aesthetics of Starhill Gallery are certainly reflected in its watering hole. A myriad of glimmering multi-coloured glass lanterns are suspended from the ceiling, overhanging the glossy bar top and bar stools upholstered in mix and matched fabrics. There is glass everywhere! The lanterns above us, the inviting sparkling wine goblets in the rack overhead, the colonic pillars of serried brown and clear glass bottles and of course, the plethora of spirit and wine bottles ready to make The Village Bar's happy hour crowd very happy indeed.
We're here because we've heard about the excellent happy hour deals. Everyday from 5pm – 9pm, house wine, selected spirits and beer are priced at two for one. That means, a glass of wine goes by for RM13, and a gin and tonic sells for only RM11. They're certainly not the prices we expected to find in this high-end location and so couldn't wait to taste the deal for ourselves.
Our host and mixologist, Vin greets us with a Blue Lagoon (RM38) an aquamarine concoction made with Bacardi, Blue Curacao and sugar syrup, shortly followed by a Cape Cod (RM38) comprised of vodka and cranberry juice and the Tequila, orange juice and grenadine staple, Tequila Sunrise (RM38). All three were presented as beautifully as their surroundings and made just right for those with a sweet tooth. The Mojito (RM38) on the other hand was refreshing and packed full of lemony zing. On Wednesdays ladies pay for one, but get two.
Daily happy hours see Chateau Los Boldos providing the house red and white wines (two for RM26), but The Village Bar boasts an extensive wine collection for those wanting to branch out from the offer. From the wine list, the Allan Scott Marlborough Sauvignon Blanc 2013 (RM42, RM68 and RM210 for a small glass, large glass and bottle) took our fancy with its, crisp liveliness on the palate and tropical passionfruit and pineapple underpinned with zesty citrus.
We were also tempted by the Gerard Bertrand Reserve Speciale Viognier 2013 (RM38, RM63, RM190): a fresh and fruity wine, it released notes of honeysuckle, ripe pear, peach, orange blossom and citrus fruits and would make a perfect partner to spicy food in one of the neighbouring restaurants, such as the Indian favourite Khushi Spice.
In addition to the great choice of beverages and chic ambience, The Village Bar's current promotions would take some beating! On top of the normal Happy Hour which runs from 5:00pm to 9:00pm Monday to Sunday, patrons can enjoy special extras on certain days of the week…
Wine Down Wednesday is one for the ladies as female clientele will enjoy a two for one offer on cocktails and selected wines. Thursday is Thirstday (see what they did there?) running from 1:00pm to 9:30pm, the timings of the offer have been used to fix the price of RM19.30 on selected spirits, beers and wines. The end of the week sees the staggeringly wallet friendly Ultimate Friday when between 6:00pm to 10:00pm a meer RM88 will entitle guests to a free flow alcohol buffet including selected wines, cocktails and beer. If you don't fancy propping up the bar for all four hours, you can use this and all other Village Bar promotions in the surrounding restaurants which would make for a very cost effective way of pairing your meal with delicious beverages.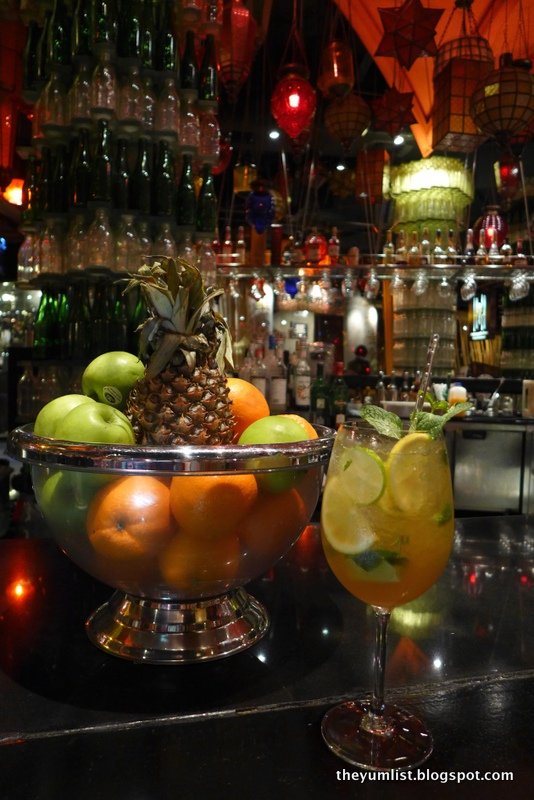 The Top Drop Saturday deal is equally kind to the purse strings: selected spirits such as Gordon's Gin are significantly reduced in price as the name suggests. One bottle, the normal price of which is RM350 will set you back as little at RM280 and two will cost only RM480. So take advantage of a Saturday visit to make make your spirit purchase and have your bottle(s) saved behind the bar for subsequent return trips.
Reasons to visit: a very cool vibe, knowledgeable and friendly service, an extensive wine list  and unbeatable Happy Hour deals.
Village Bar
Feast Village
Starhill Gallery
181, Jalan Bukit Bintang
55100 Kuala Lumpur
Malaysia
+60 3-2782 3852
The Village Bar is open every day from 12:00pm to 1:00am