Words by Kristin Cosgrove, Photos by The Yum List (Monica Tindall)
"Buona Sera!"  Happy calls from Favola's wait staff welcome us from all corners of the dining room, as if encouraging us to leave Malaysia at the door and jump headlong into their storybook.  Favola means "Fable," after all, and upon walking toward the dining room, one can read on the yellow wall above the story of Strega Nona, the old woman with the magical pot that makes pasta on command.  One day she leaves the pot in the hands of her assistant, who takes it upon himself to say the magic words putting the pot to work.  What he didn't know however was how to make it stop!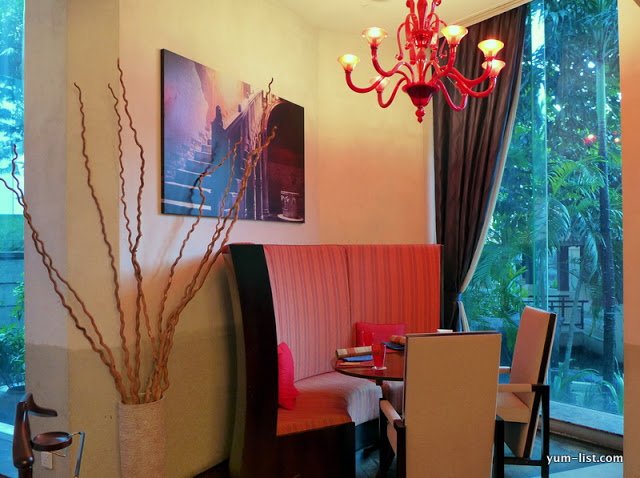 Corner Table
Our main reason for revisiting Favola this Monday evening is to taste some regional Sardinian specialties by the new Chef de Cuisine, Domenico Piras. Originally from Sardinia, Chef Domenico brings 30 years of culinary experience to Favola, along with an impressively long international resume.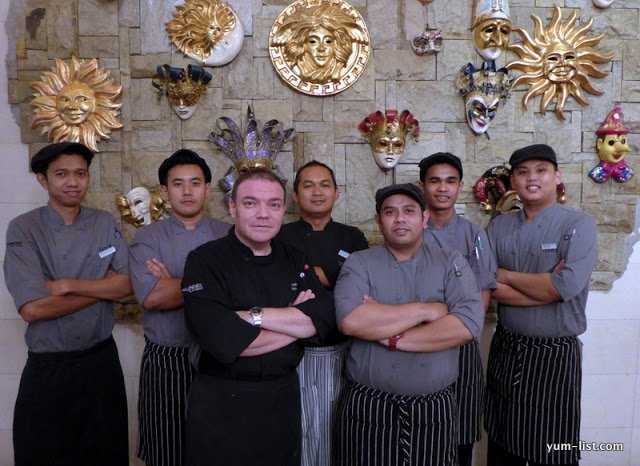 Chef Domenico Piras and the Kitchen Team
Whimsical Venetian design sets the stage for an elegant yet lighthearted meal at Favola. Black and white floor tiles are offset by punches of red chairs, and beautiful high ceilings are combed with whitewashed wood beams and a light blue background.  A renaissance-style village scene is painted across an entire wall. It serves as the backdrop for the antipasti bar, which is complimentary for anyone who orders an entrée!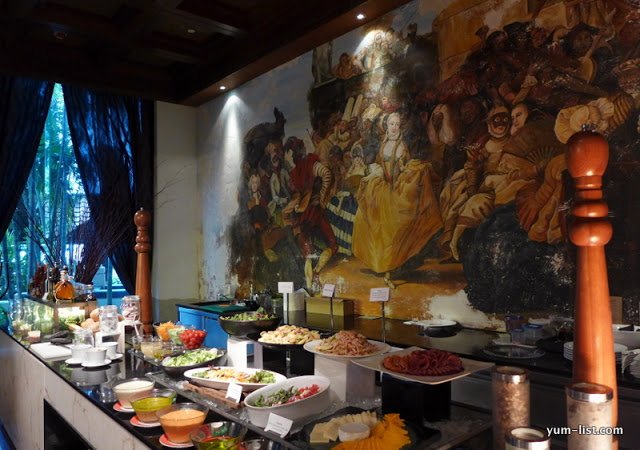 Antipasto Buffet
One of Favola's best selling dishes, Salmon and Sea Bass Carpaccio (RM56++), is a beautiful sight to behold and is presented to us by Chef Domenico himself. Sweet, bitter and sour combine in this artful dish, clumps of salmon roe and micro-greens are scattered across the top along with a touch of vinegar and parsley, adding some welcome acidity.  Pine nuts add just a touch of smokiness and salty crunch.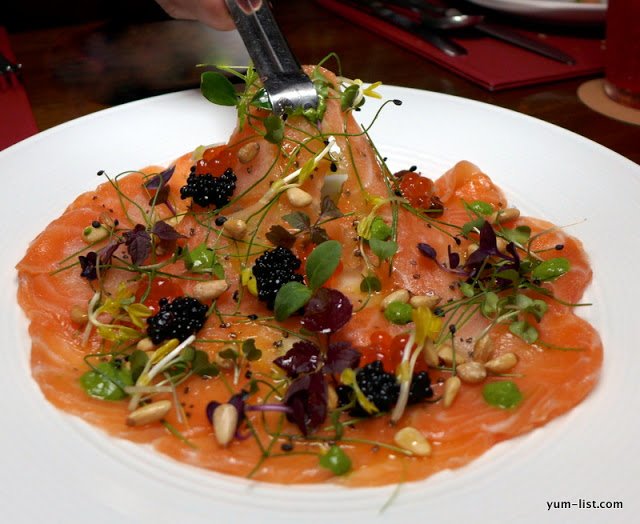 Salmon and Sea Bass Carpaccio
Reading the menu, my eye was drawn to the Tuna Tartare (RM52++) with cantaloupe, watermelon and mint salad. We were not disappointed. Stacked neatly in a cylindrical tower I almost hated to topple it. Juicy watermelon and the soft tuna mixed beautifully with imported Italian Taggiasca olives, whose firm texture and brininess created a lovely balance between salty and sweet. Hints of mint pierced through every so often, creating an herby cleanse.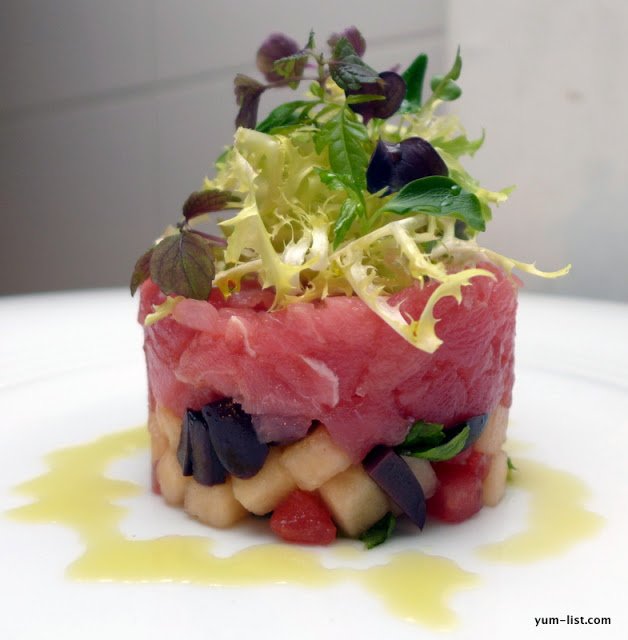 Tuna Tartare
If cured meats are your pleasure, Air-Dried Beef Bresaola (RM68++) is not to be missed! This ample dish is beautifully plated, with tall slices of cantaloupe elegantly wrapped in salty dried beef. On the side is a dollop of sweet and pasty fig compote and creamy burrata drizzled with olive oil. I could eat the compote and cheese alone, but sample a bit of everything on the fork at once and… perfetto!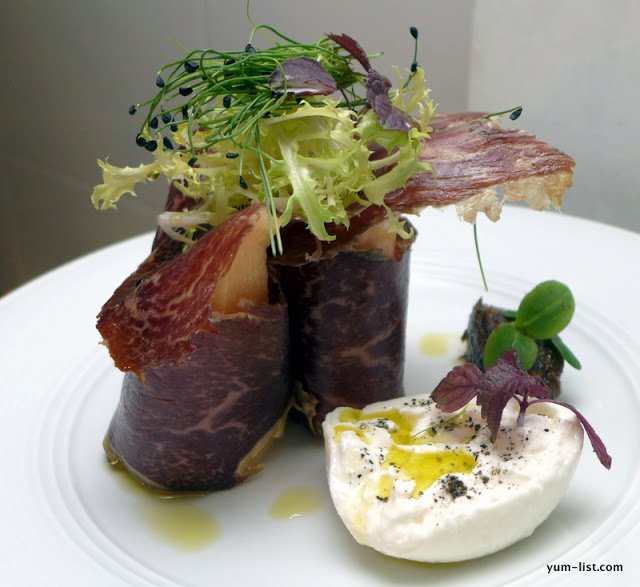 Air-Dried Beef Bresaola
Pasta at Favola is mostly homemade, and once you taste it, you'll wish you had Strega Nona's pot to make it appear on demand too. We start with the Trofie (RM58++), a type of pasta from the north of Italy, a short, twisted noodle with tapered ends. Though traditionally served with pesto, Chef Domenico tosses it with a rich tomato sauce exuding a flavorful blend of herbs and spices. He mixes in prawns, scallop and squid, all diced into smallish pieces, "Because it is easier to get a bit of everything into one bite," he says. The result is a menu item I'd be thrilled to order again.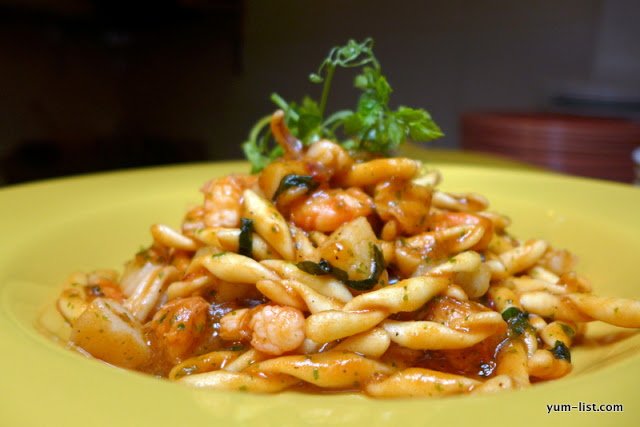 Trofie
Classic Gragnano Oreccietti (RM44++) from the south of Italy is a pleasing vegetarian offering, and one of my favorites of the evening.  The chewy al dente discs are perfect for a vegetarian dish, presumably because the pasta itself is quite hardy and chewable. In this dish, the pasta is topped with thick shavings of aged pecorino, with bits of broccoli scattered throughout.  Pesto decorates the edges of the plate, and when we slide the pasta through, gives the basil flavor a satisfying nudge.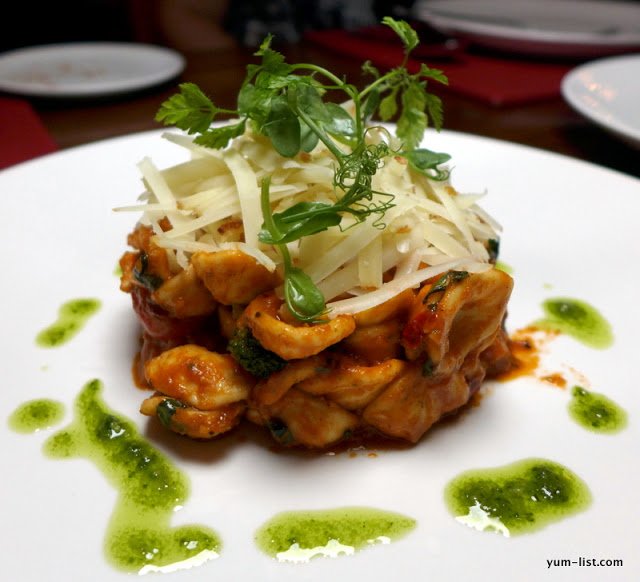 Classic Gragnano Oreccietti
Chef Domenico's specialty (and favorite dish to cook) is risotto, and we eagerly anticipate his Porcini Mushroom version (RM87), featuring a pan-seared escalope of duck foie gras, drizzled lightly with veal juice.  Cooked perfectly all'onda, the risotto heaped blessings on the tongue, it is almost as if the joy Chef Domenico derived from preparing the dish was cooked right in.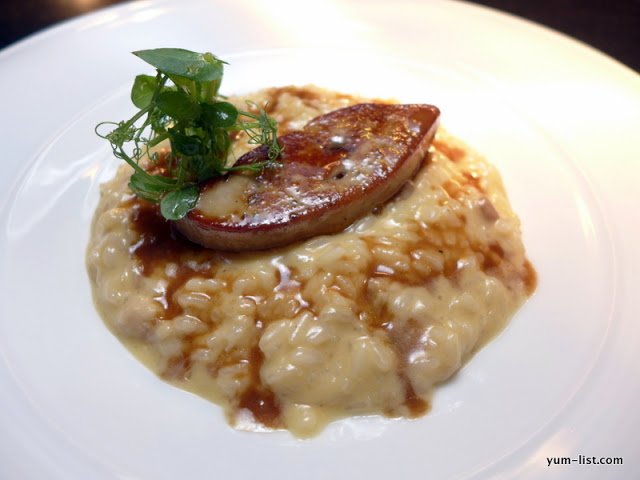 Porcini Mushroom Risotto
By this time, we are in a happy pasta daze, and so full that when the beautiful lime palate cleanser arrives, I think we must be in the clear and ready for dessert.  But Chef Domenico has other ideas (I imagine him as Strega Nona's assistant in disguise at this point, creating dishes in the kitchen by magic and never stopping!).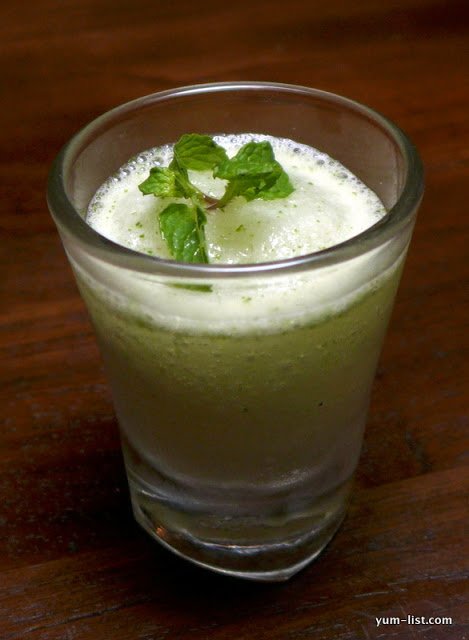 Palate Cleanser
Our satiated stomachs notwithstanding, we press on and are perpetually in awe of Chef Domenico's culinary talents. Monica makes it no secret that the staple Sardinian dish, Mixed Seafood with Fregula (RM140++) is her favorite of the evening. From the moment she took a bite she was raving, "So fresh, so flavorful, DIVINE!" Fregula, a tiny pasta originating in Sardinia and similar to couscous, gives body to the fresh and simple tomato and thyme infused broth, which delightfully delivers the clean finish of a very fresh seafood stock.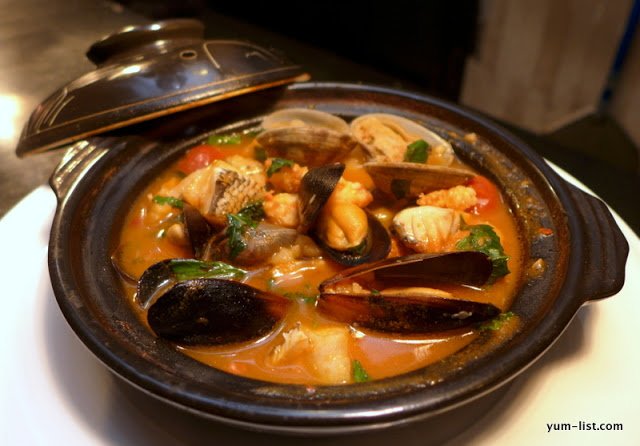 Mixed Seafood with Fregula
Braised Lamb Shank (RM78++) is jauntily presented, with a baby carrot waving like a flag from the top of the bone, the shank surrounded by steamed fennel and mashed potatoes. We dive in to the tender meat which was slow cooked for 4 hours at low temperature.  Upon biting we are immediately reminded of large family dinners at big wooden tables, laughter between bites. This, my friends, is comfort food.
Braised Lamb Shank
Just as we think it's not possible to eat another bite, two beautiful desserts are served. The Tiramasu (RM 38++) is so light and fluffy, it hardly registers on the stomach, yet dances on the palate. Classic "Bianco Mangiare" (RM30++) is a bit heavier, but just as tasty, much like panna cotta but made with almond milk.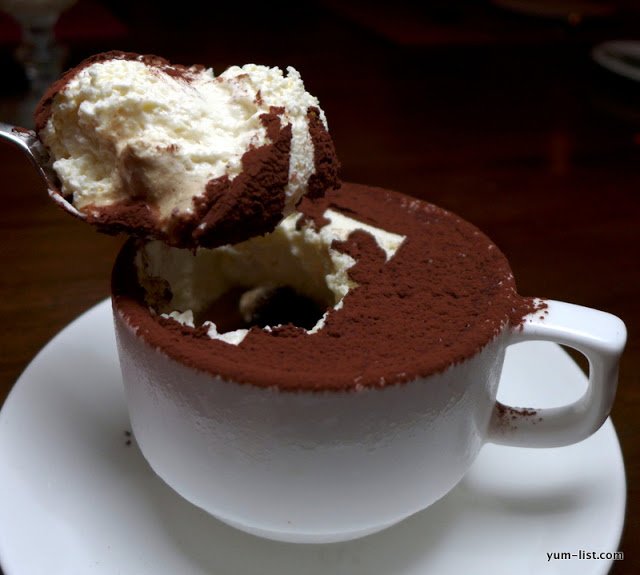 Tiramisu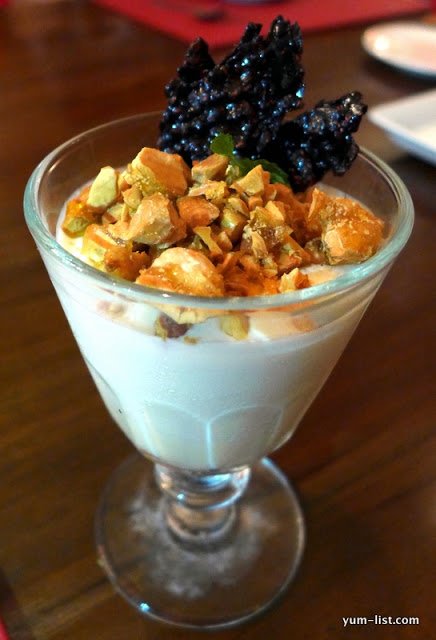 Bianco Mangiare
As if the food wasn't pleasurable enough, we are honored to finish off our meal with a short visit from Chef Domenico himself, along with a glass of Limoncello. The digestive, along with some great stories from Chef, leave us with warm, satisfied hearts and stomachs.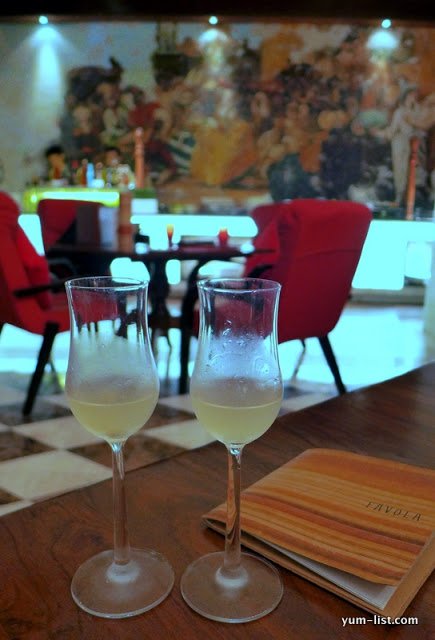 House Made Limoncello
Reasons to visit:  Authentic Italian food from Sardinian Chef Domenico, an artful and whimsical atmosphere, good vegetarian options, complimentary antipasti bar for main dish orders make for a good value.*
*SPG members receive 15% off food, and various credit cards also benefit from savings.
Favola
Le Meridien Kuala Lumpur
21 Jalan Stesen Sentral
Kuala Lumpur Sentral
50470 Kuala Lumpur
Malaysia
+6 03 2263 7434