Patricia Podorsek and Monica Tindall
After digging around on the net a bit, I learned that "fusion" is a word that has become passe in the food world. Apparently, it is a word of the nineties, not a word of the new millennium. This does not mean, however, that the blending of international foods and flavors in no longer in vogue. Indeed, foodies are more savvy than ever thanks to cable hosts like Anthony Bourdain who scour the markets and kitchens of remote villages for new spices, seasonings, and textures. In response, gourmet "mashups" are pushing new limits around the world with restaurants and food trucks serving the likes of Bulgogi tacos and furikake burgers.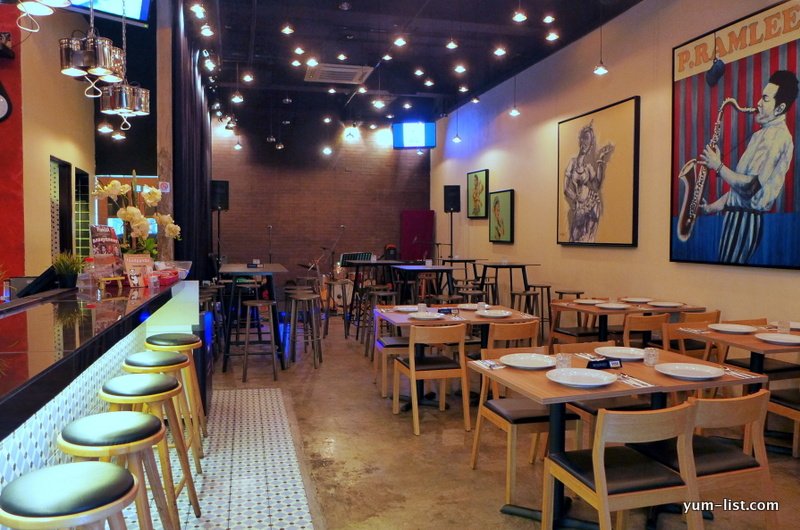 The new tapas menu at Fiercer at Publika mall has embraced this very spirit. Do you see what I mean? A TAPAS menu at an Indian restaurant! Like alchemists, the heads at Fiercer have many new concepts and ideas bubbling away in their cauldrons, not limiting themselves to palak paneer and butter chicken.
A thirsty afternoon as it was, we began with drinks. Standards like Kingfisher, lime soda, and gin with bitter lemon helped to soothe the hazy dust in our throats. House wines include the respectable De Bortoli 2013 Sauvignon Blanc and Cabernet Sauvignon, both drinkable wines at drinkable prices, RM18 per glass and RM98 per bottle.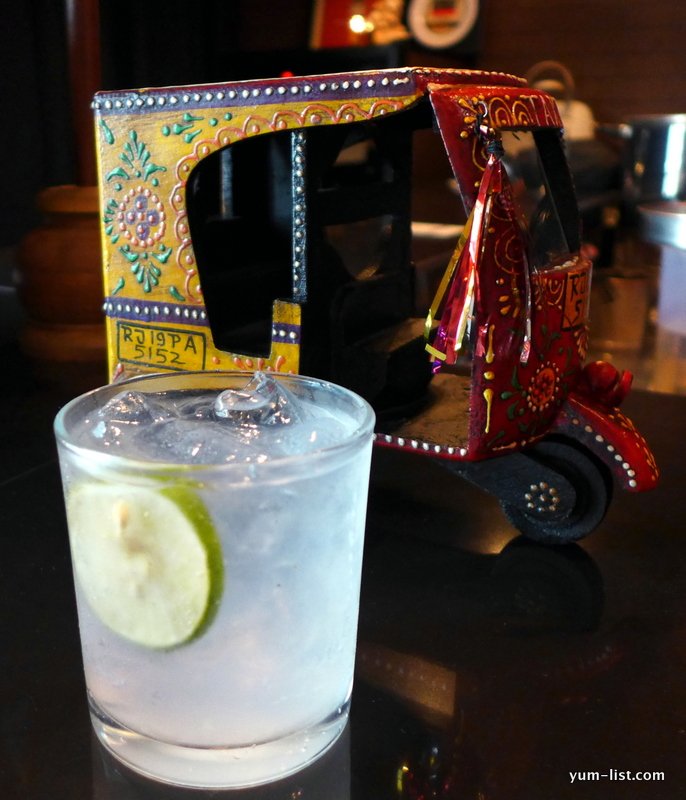 The dazzler off the drinks menu, however, is the Malibu Lassi, served in flavors like mango and watermelon. This delightful cocktail dresses up that humble staple of Indian health drinks with Malibu rum (from Barbados!). The silky result blends fruit pulp with house-made yogurt for a blissful combination of cream and coconut with a tart edge that is an excellent reprieve from the overly sugary cocktails often served at happy hours in KL. The watermelon was delicious, but the mango knocked my socks off. Yogurt never tasted so good!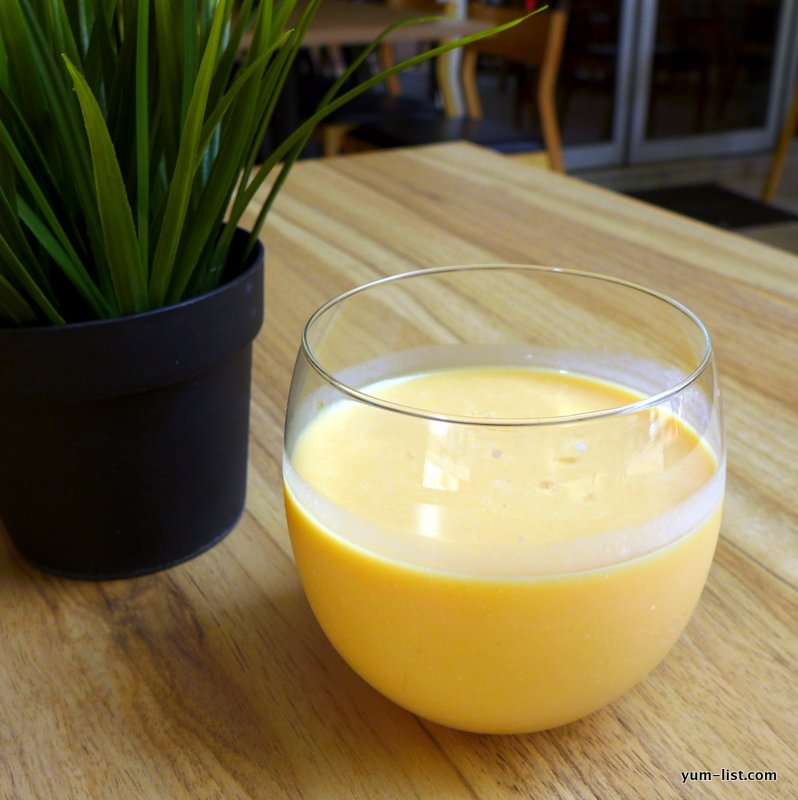 Fiercer brings a simple concept to their tapas menu: Indian standards served in bite-sized portions on baguette. Yes, baguette. Although we raised an eyebrow at the omission of heart-warming naans and roti, we ultimately tipped our hats to the chefs for their culinary welding. The French bread slices lent a sturdier foundation to the saucy curries atop.
Not to be missed off the tapas menu is the Mutton Qeema Masala (RM32), minced mutton slow-cooked with garlic, red onions, and methi leaves. Offset by the tang of mint chutney, this soulful curry packs just a little heat at the end.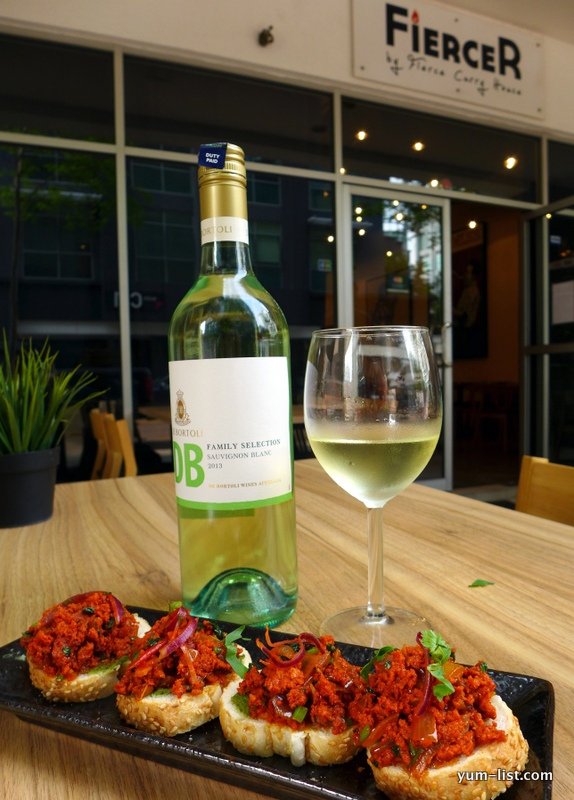 The Chennai stand-by Chicken 65 Masala (RM25) makes a tasty biting as well. A chunk of deep-fried dark meat is seasoned and served similarly on toast with chutney.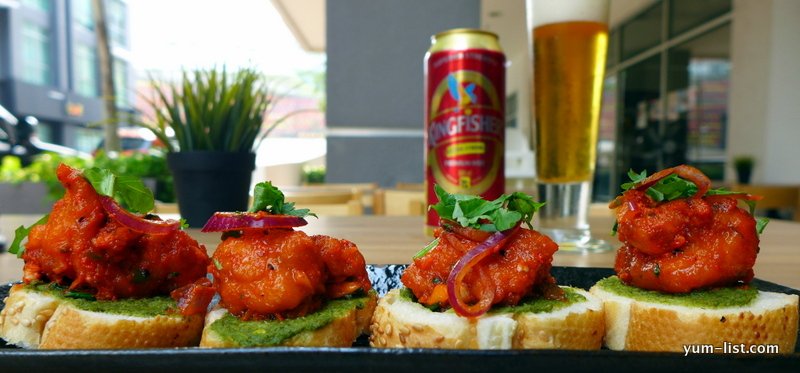 In addition to a dozen or so other items available on the current tapas menu, we were able to sample some upcoming items, still in the development phase. The Orange Double-Braised Prawns are not a traditional Indian dish, but a hat-tip to Bangles, the formerly popular restaurant in Ampang owned by our host's father. Here, a creamy orange sauce with a tiny bit of curry envelops tender prawns, also served on baguette.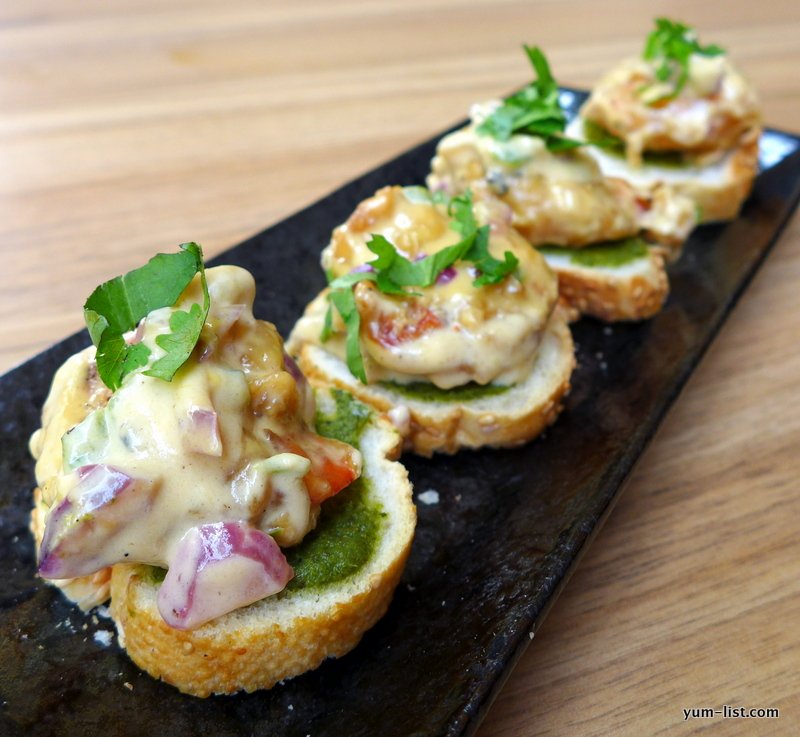 Although much of the tapas menu is for carnivores, vegetable lovers will relish the upcoming Eggplant Masala, fresh and complex with flavors of coriander and ginger.
Traditional Indian cuisine lovers will find additional snacks on Fiercer's menu, including the northern Indian street staple, Papri Chaat. Crispy puri wafers are served with potatoes, onions, and chick peas, and covered with sweetened yogurt and tangy tamarind chutney. This cold dish is a refreshing accompaniment to an icy beer on a steamy day.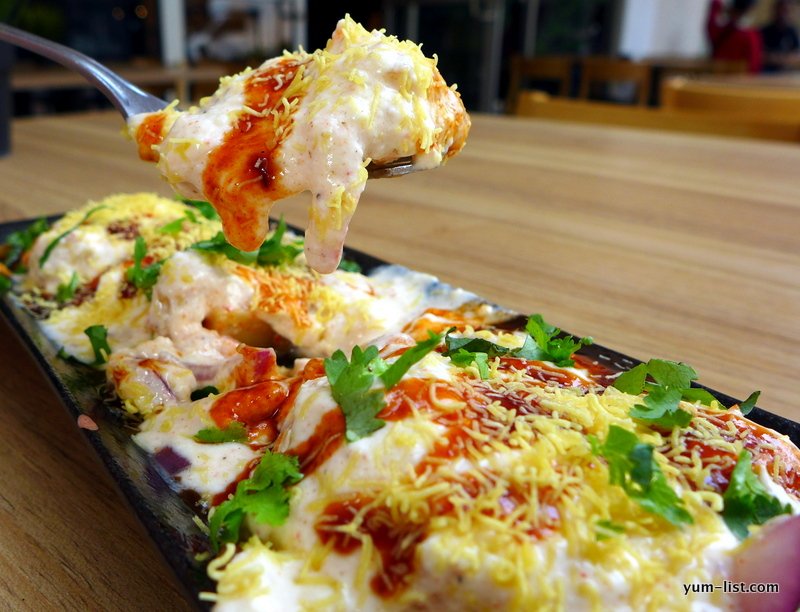 Well-known for their northern Indian fare, Fiercer's dinner menu features highlights like the comforting Rogan Josh (RM28), a hearty lamb stew flavored with onion, ginger, and bursts of cardamom.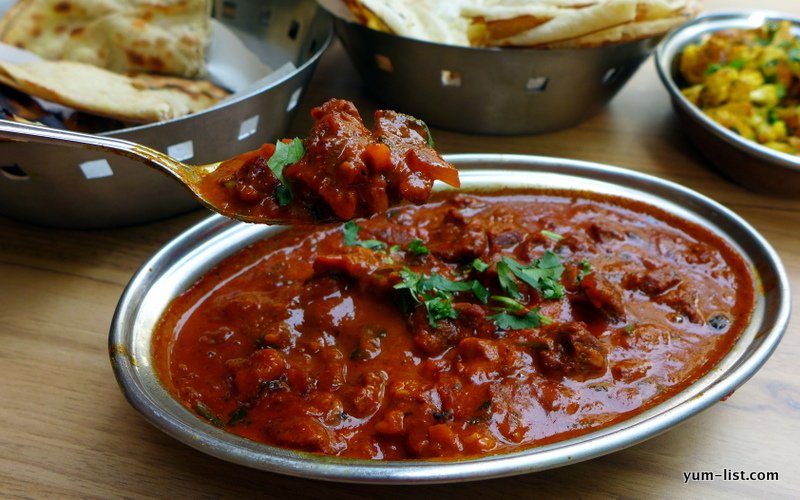 The humble Gobi Aloo (RM17) delivers smoky cauliflower and potatoes rustic-style, with chunky bits of ginger, garlic and whole spices.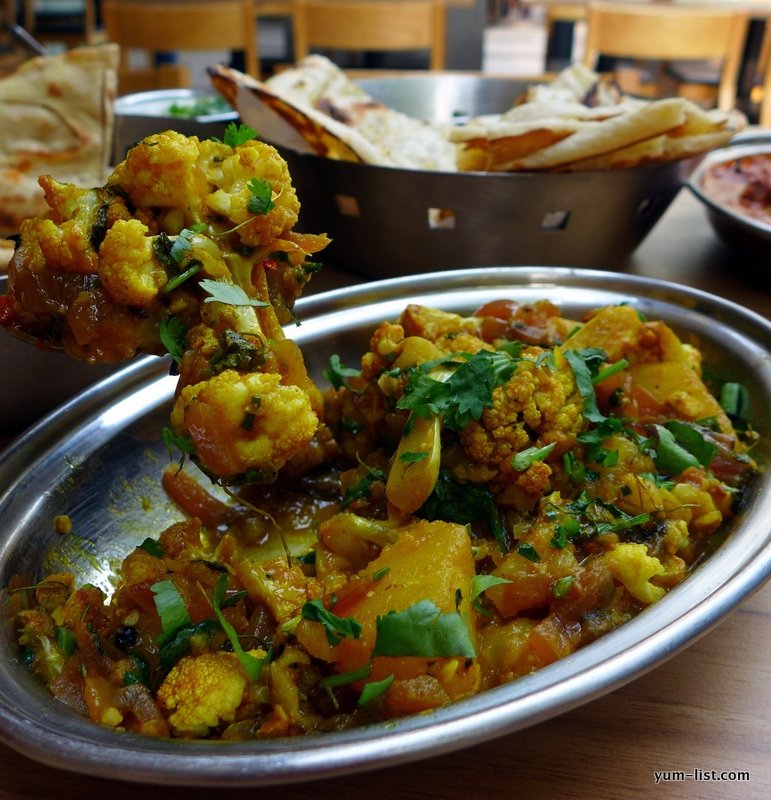 The Fish Methi Masala (RM24) blends spinach and methi leaves with tender onions and a little chile for a delicious creamy sauce that is wonderfully sopped up with naan straight from the tandoor.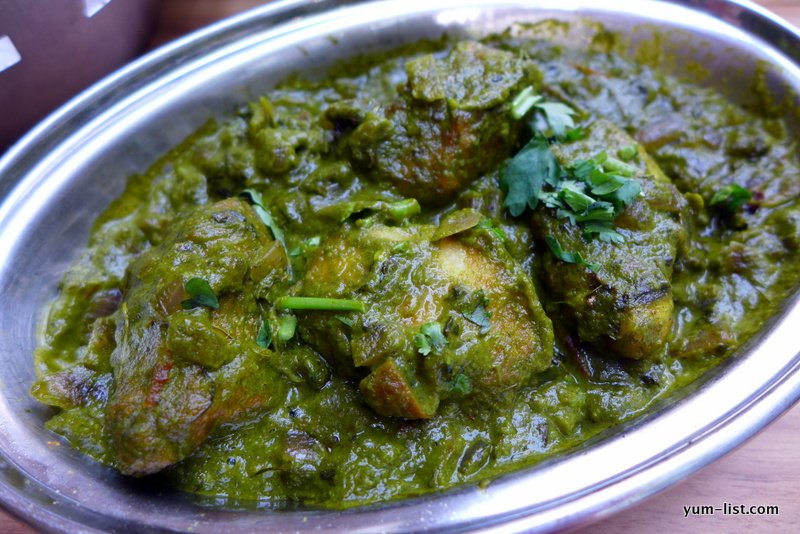 After stuffing ourselves with our Indian favorites, we headed back into Mashup Land with dessert. Monica nearly did a backflip when she saw Nutella Samosas among the options. Nutella Samosas! Imagine a pain au chocolat on steroids! Melty, buttery, nutty nutella wrapped in fried pastry – what could be better than that? I've got to hand it to Fiercer for the creativity here. I never would have thought of it myself.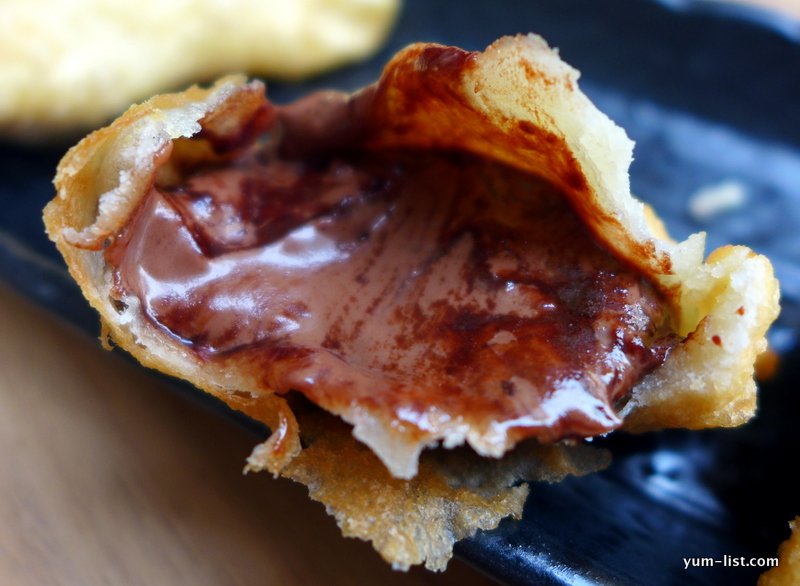 Global collisions continue with the ambiance at Fiercer. Beginning this month, they will host live music on Friday nights, a four-piece band performing Western covers among the curries and the tapas.
Join the spirit of the century by trying some of the new creative combinations inspired by Fiercer Indian Restaurant at Publika Mall. East meets West in the tapas, the drinks, the desserts, even the music.
Reasons to visit: Bite-sized Indian favorites on the new tapas menu, including Mutton Qeema Masala, the Malibu Mango Lassi, and some of the best northern Indian fare in town, (Monica adds in Nutella Samosa!).
Fiercer, North Indian Restaurant
D1-G3-5, Publika Mall
Jalan Solaris Dutamas
Kuala Lumpur, Malaysia
+60 19-383 0945
www.facebook.com/FiercerMalaysia