Shaun Humphries and Monica Tindall
With so many delicious Italian food options in Kuala Lumpur, it can be tough to stand out. However, it's a challenge that motivates and excites Portofino's owners Keli and Luca everyday.
"Our goal is to make great, homemade and reasonably priced pastas," said head chef Keli, who began cooking at age 14 and perfected his craft at five-star Italian hotels over the past decade. "And I'm always looking for new ways to do that."
Arriving in KL two years ago, both Keli and Luca left their lives behind in Northern Italy armed with one big idea – to start a restaurant in a country that didn't have winter.
"It was my dream to live and own a restaurant in a tropical country. So, when I came to Malaysia for a holiday, I thought, why not here?" said Keli.
 
"And it only took two hours to convince me to come along," admitted Luca, whose life working in a cubicle as an HR professional was becoming a bit mundane.
Sitting down for a meal with these adventurous guys on a sunny Saturday afternoon, Monica and I got a first-hand look (and taste) of Portofino's classic Italian pasta and desserts. Situated in the heart of Bangsar (Lucky Garden), Portofino offers an inviting atmosphere for both family and business gatherings as well as date night. (Walking in, you'd never guess the location was a Pizza Hut for 15 years! Great job on the renovations, boys.)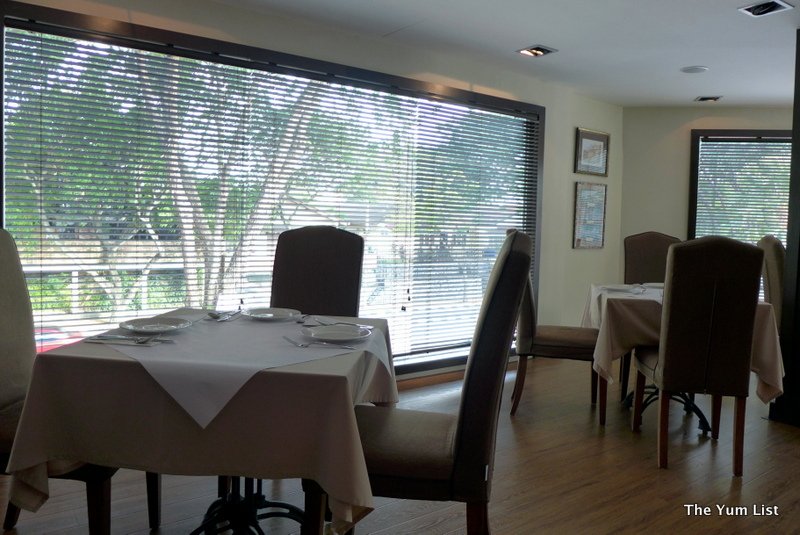 Starting with a freshly brewed Coffee (RM7.90) and San Pellegrino Sparkling Mineral Water (RM19.80 for 1,000 ml), I made sure to stay well hydrated throughout the meal and conversation. While we didn't partake, the House Red and White (RM19.90 per glass or RM90 per bottle) is reasonably priced – if you need more than coffee and mineral water to keep your table banter going.
Our feast began with the Bruschetta (RM20), which features four pieces of Norwegian smoked salmon on lightly toasted pieces of homemade bread. (In fact, all the bread at Portofino is made in-house.)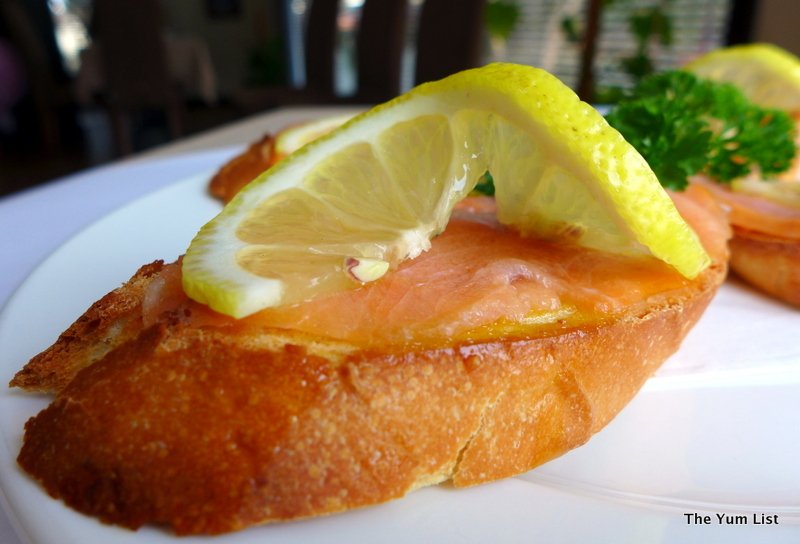 We quickly followed up the salmon with a generous portion of Fresh Prawns (RM26), which are sautéed with garlic, chili flakes, basil, cherry tomatoes and extra virgin olive oil served with toasted bread. Like all the seafood on the menu (besides the salmon), it's local and very fresh.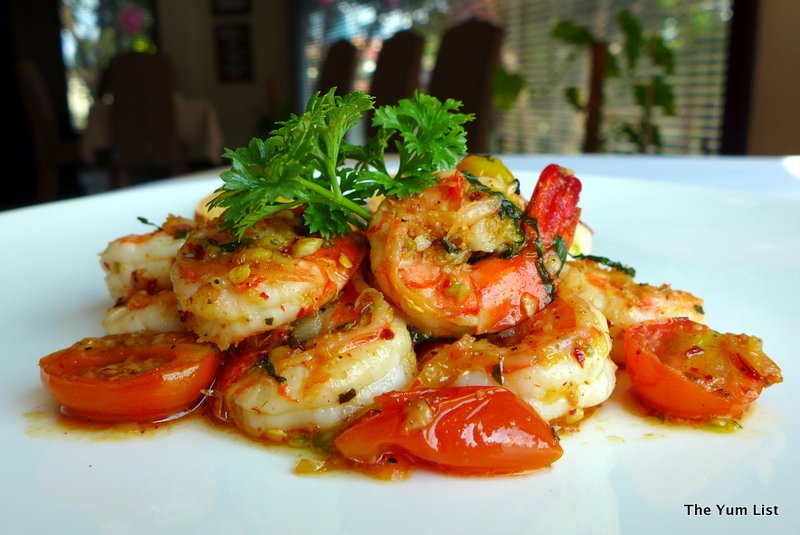 After the starters disappeared, we dug into the mains. The first dish to arrive was the Seafood Spaghetti (RM38) – are you noticing the seafood trend? The plate was stacked with homemade spaghetti noodles sautéed in olive oil, garlic, chili, basil, prawns, squid, mussels, clams and scallops in a freshly made fish stock. (Whoa, that was a mouthful of delicious ocean creatures!)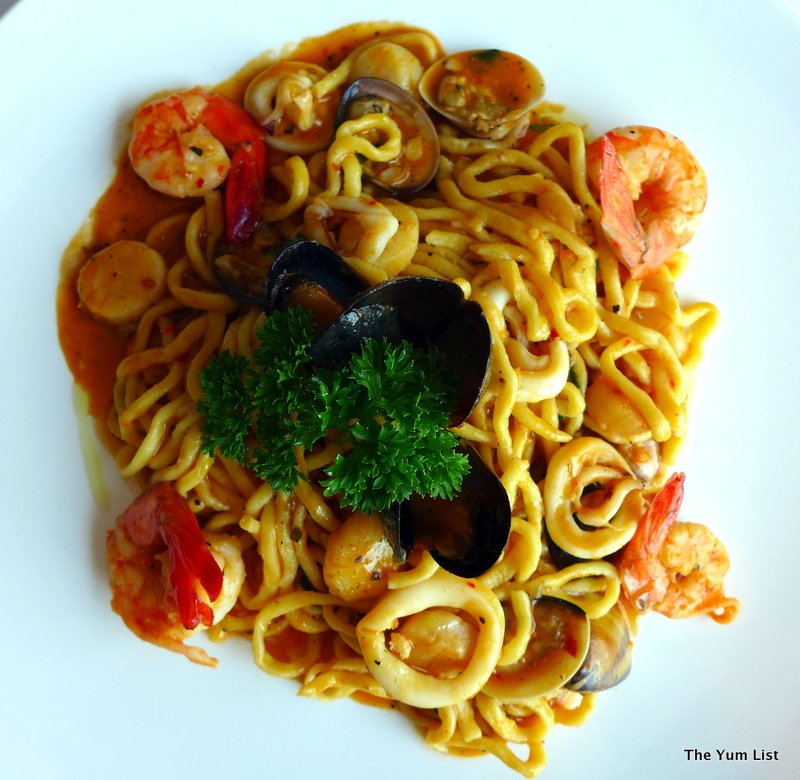 Next up was the homemade Seafood Ravioli (RM36) filled with fresh lobster and fish meat served in a rich lobster bisque sauce. Like all the menu items we devoured, the portions were plentiful and the seafood keeps on coming.
The Risotto with Prawns and Curry Spices (RM36) is a Malaysian/Italian fusion invented by Chef Keli. Incorporating fresh prawns, curry spices, apple pieces and cream over a bed of risotto, this dish is a pleasure to eat as it features so many different tastes and textures from two very different recipe books.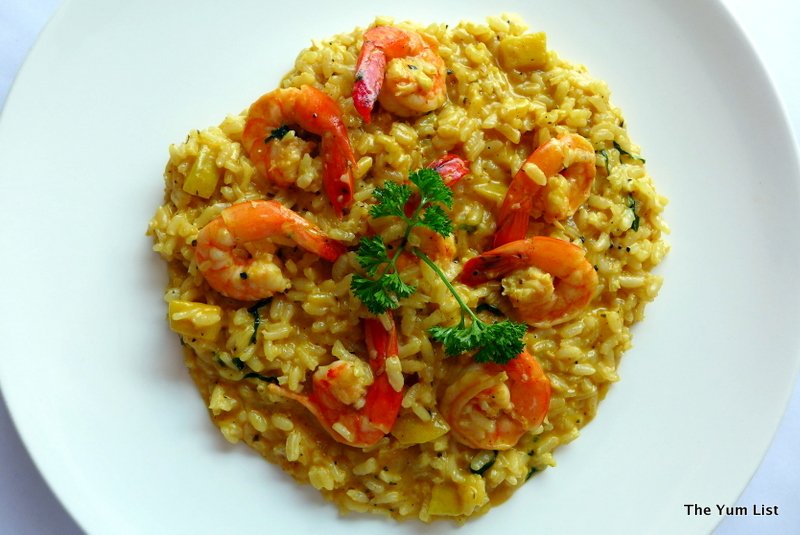 One of the 19 vegetarian options on the menu, the Gnocchi with Gorgonzola Cheese (RM36) consists of homemade potato dumplings served with a combination of cream, Gorgonzola cheese and mushrooms. Its rich taste and soft texture combine for a very satisfying experience for your taste buds.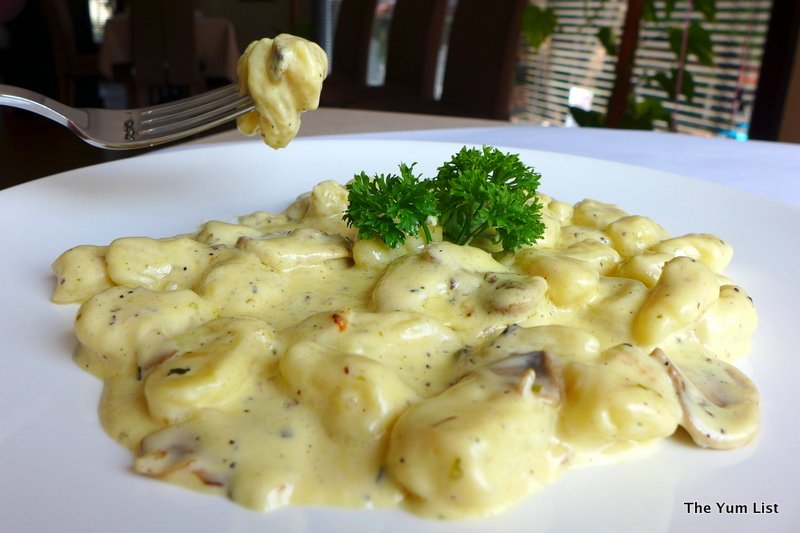 No visit to an Italian restaurant is complete without trying the pizza. Ordered off Portofino's monthly specials menu, The Pizza Boscaiola (RM36) is a thin crust pie made with slices of black olives, mushrooms, cherry tomatoes, rocked salad and Parmigiano Reggiano. It makes a perfect late afternoon snack – and I'm sure a late night one too.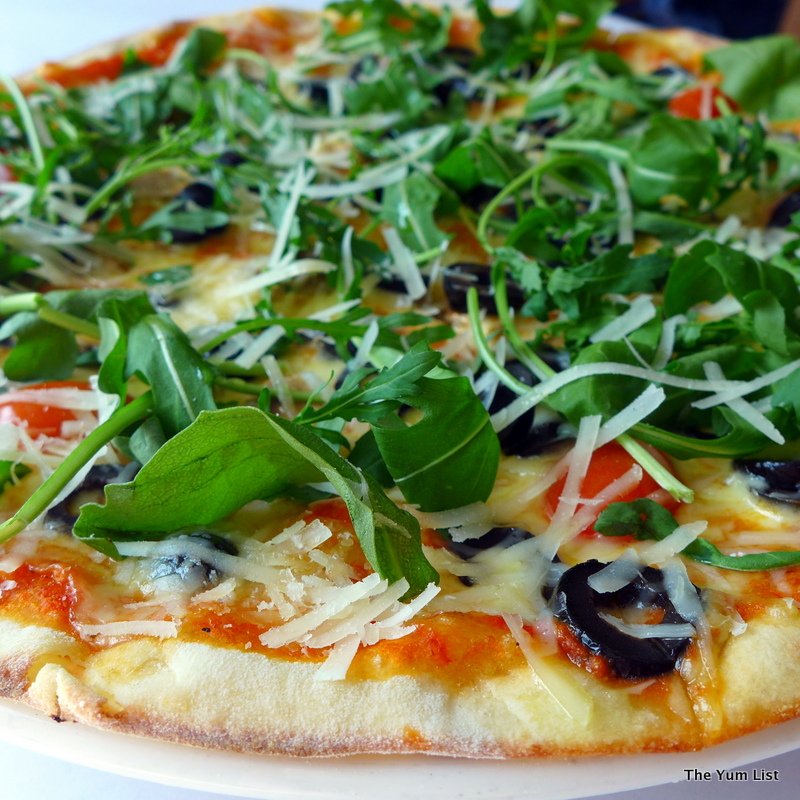 The mains (and seemingly endless parade of delicious seafood) concluded with the Spaghetti with Grilled Tiger Prawns (RM38). These gigantic and juicy prawns were expertly grilled, and when pared with the spaghetti, made for a very filling end to our main courses.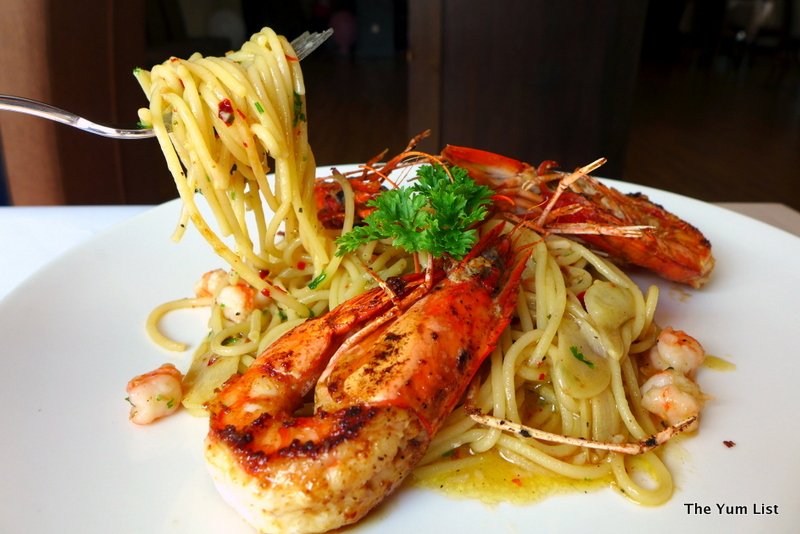 With bellies full of pasta and seafood, it was time to bring on the sweets.
The Chocolate Salami (RM12) is Luca's favourite – and because it's made with biscuits and cocoa powder and topped with Ingles cream – it could likely be your favourite too.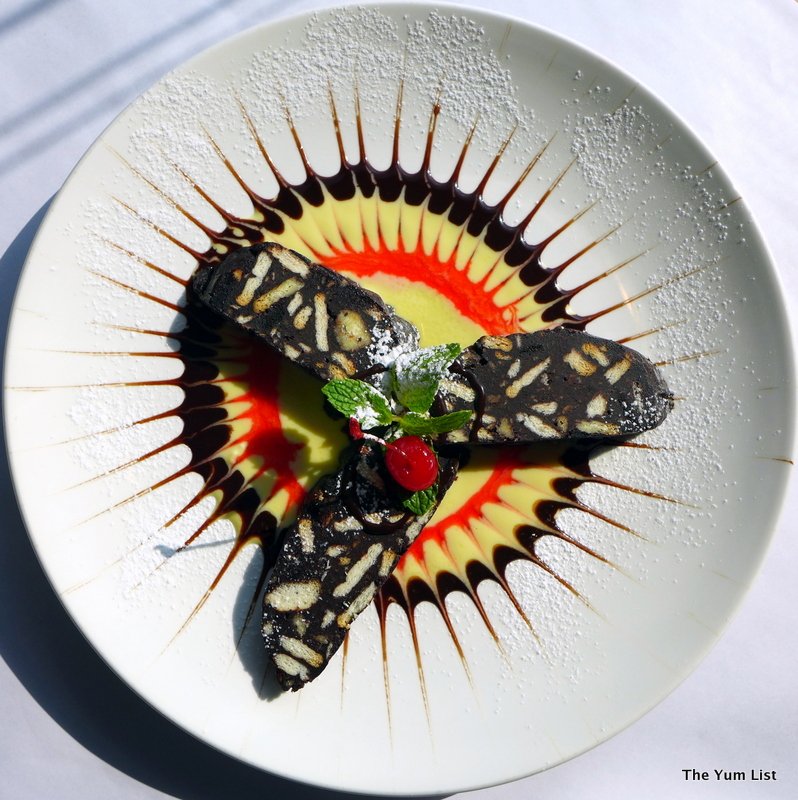 We also enjoyed the all time favourite Tiramisu (RM16), which is made with coffee and almond liqueur combined with cream and mascarpone cheese. It definitely holds the Portofino people's choice award for a reason – it's simple and delicious.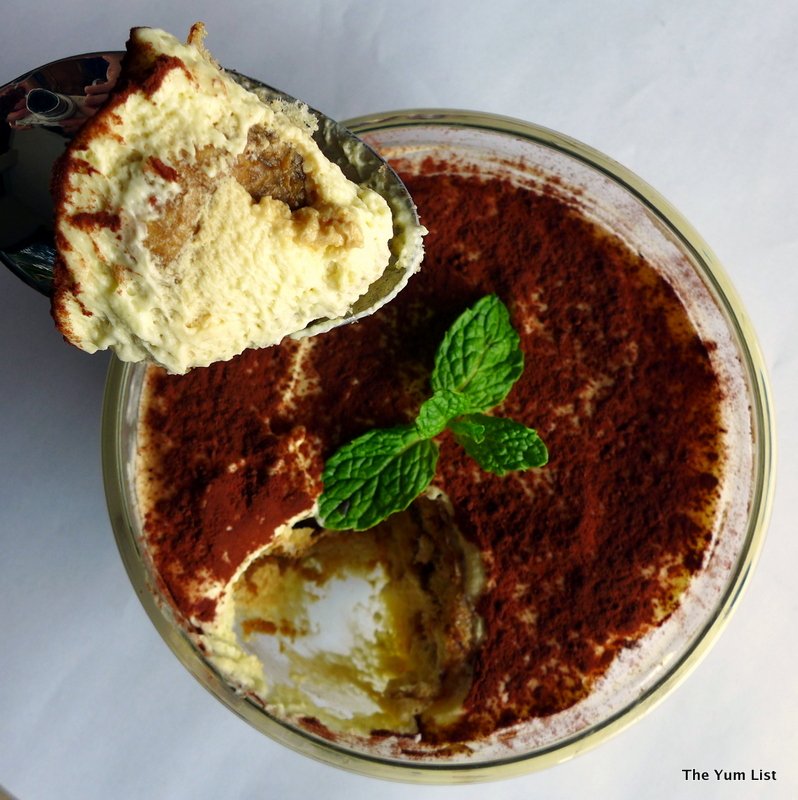 As I lapped up the last of the almond liqueur and we said our goodbyes, I couldn't help but think back to Keli's simple goal for Portofino – authentic, affordable and great tasting pasta. After just one visit, I'd say they've hit the mark on all fronts.
All listed prices are ++and all of their meats are halal slaughtered.
Reasons to visit: A comfortable and inviting atmosphere offering over 13 homemade pastas that are all reasonably priced and include an outstanding mix of seafood and vegetarian options. The expanding wine list (especially Italian) is also very tempting and affordable. And, you can't go wrong having a quick conversation with Keli or Luca either – the pride they take in their restaurant and their food is infectious.
Portofino – Ristorante Italiano
No. 1 Persiaran Ara Kiri
Lucky Garden, Bangsar
59100 Kuala Lumpur
Malaysia
+6 03 2094 8490
Facebook
Open daily from 11 a.m. to 11 p.m.