The triangle roofed pavilion by the sea of Thundi Thai Fusion, on Loama Resort Maldives at Maamigili is an adept location for a romantic evening as a couple or tasteful night with family or friends. Open-walled with the sea breeze providing natural cooling, the ocean introduces backdrop beats to the chill electronic tunes humming from the quality sound system. A long slender bar is backed by a wall mural of Thai carvings, and soft down lighting creates subtle illumination of the white wash walls contrasted by dark wooden chairs and bar stools. Golden yellow cloths the tables, and runners of woven gold and brown thread divide the centres.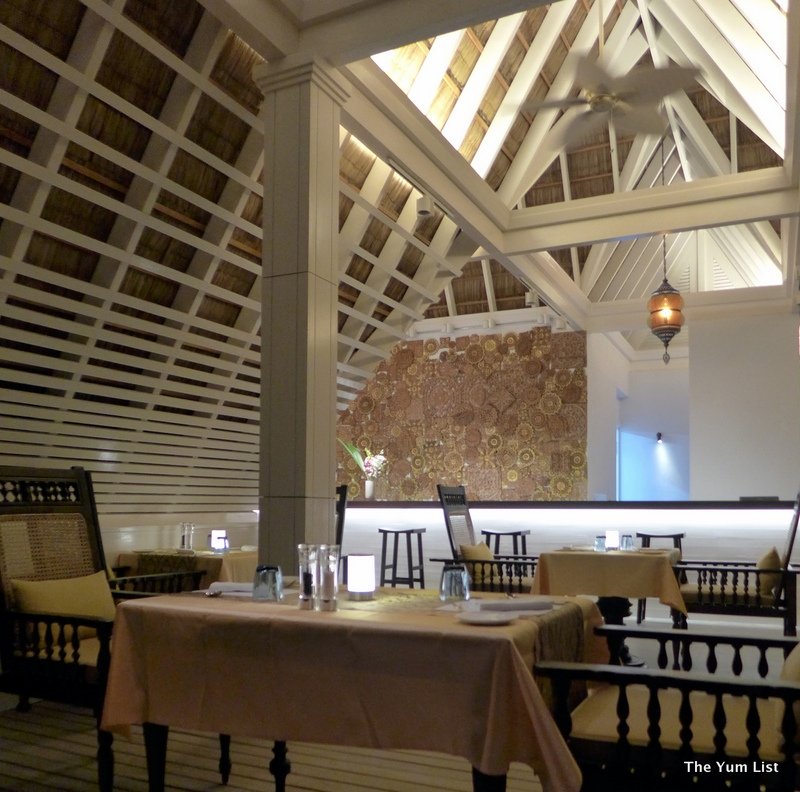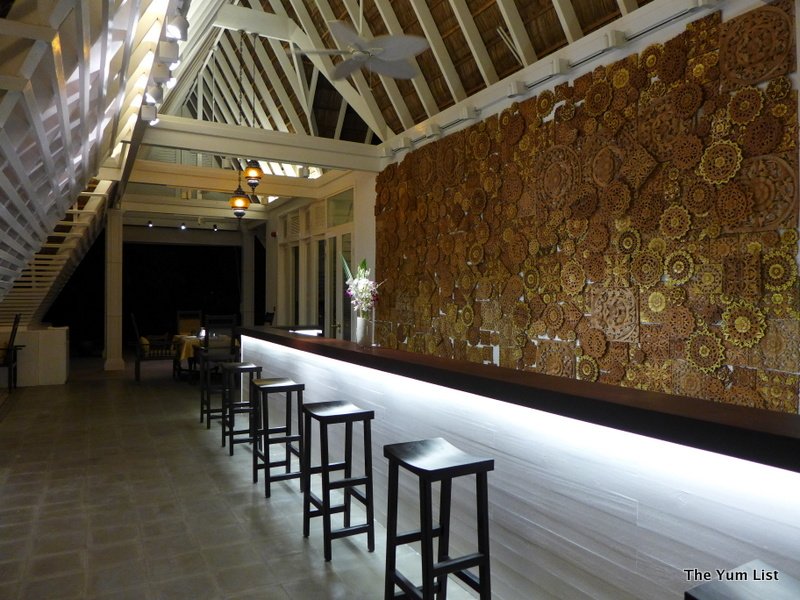 While elegance is maintained in fine cuisine and service, the overall atmosphere is one of relaxed sophistication. It's perfectly okay to wear your cocktail dress with no shoes here as you might just want to cool your feet off in between courses in the sea – a sea that persistently reminds you it's just metres away with its demure lapping of the shore. Authentic Thai cuisine is whipped up in the kitchen, but chef is all too happy to cater to individual tastes. Noting my desire for nothing deep-fried, and hubby's request for little or no spice, a menu is designed to complement our tastes.
Starter
Som Tam Goong Yang highlights the prettiness of classic Thai presentation. The green papaya salad is served with a huge petal from the banana flower acting as a bowl. Two large prawns crown the top, and a flower carved from pumpkin garnishes the side. We've asked for a mildly spicy menu, as hubby is not a fan of too much heat. This salad leans towards the sweeter side of the see-saw with a natural tang from tamarind.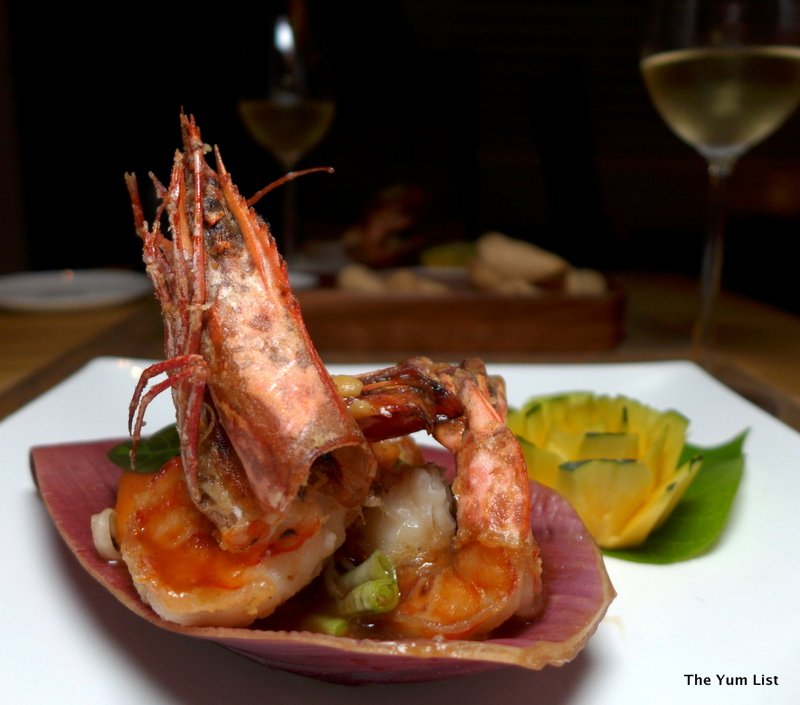 Soup
Tom Yam Talay is a refreshing broth of Thai style seafood soup with mushrooms and fresh herbs. A large prawn, mussel and pieces of squid provide the protein in this gently sour soup. It's a lovely light balance and flawless bridge from starter to main.
Main
Our main course tonight is Pla Nung Chi Xiw, steamed fish marinated in Chinese wine with sesame oil, oyster sauce, soy, coriander, ginger, garlic and spring onions. It's cleverly presented with head and tail, but has been conveniently filleted and replated so that the moist pieces of fish are easily removed from the middle making it very easy eating. Needless to say, the snapper used for the meal, caught just hours before dinner, couldn't be fresher.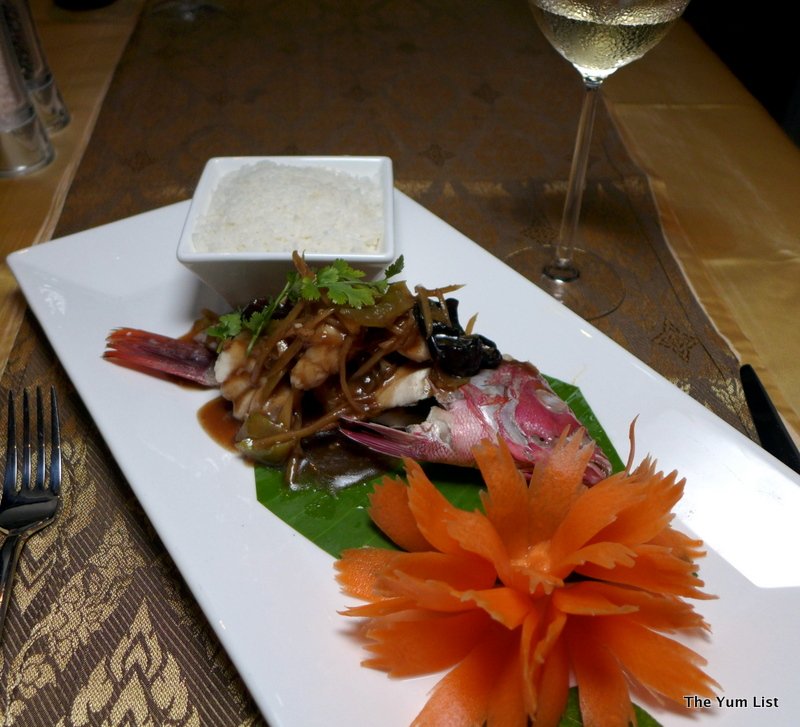 Dessert
My favourite Thai dessert, Mango Sticky Rice is our finale. A petite column of rice is joined to tangy slices of fresh mango with a flat oblong of coconut tuile. Coconut sauce glistens atop the rice and the fruit balances out its creaminess.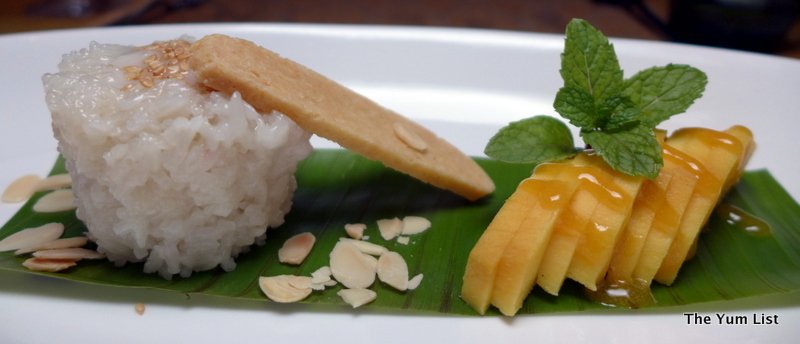 Reasons to visit: elegant yet relaxed setting; seaside dining with a stroke of sophistication; menu that is adaptable to guests' preferences for spice and cooking method.
Thundi Thai Fusion
Loama Resort Maldives at Maamigili
Raa Atoll
Republic of Maldives
+960 658 8100
[email protected]
http://loamahotelsandresorts.com