Kirsten Durward & Monica Tindall
If you love Christmas dinner with all the trimmings but really are not keen on the preparation, why not take advantage of a chef prepared, sumptuous dining experience in the comfort of your own home? Nothing is really better than relaxing at home over a groaning table for hours with friends and family, but it's so much better when you haven't had to sweat over a hot stove to get everything ready yourself.  From as little as RM100 for four people, the Grand Millennium offers a fabulous spread of meats and side dishes. You can relax with a grass of bubbly knowing everything is ready to go and simply needs to be served up! We were fortunate enough to get a pre-season taste at The Yum List casa earlier this week. Although there were only six of us, the food delivery was 14 servings so we all happily took carryout of left overs back home.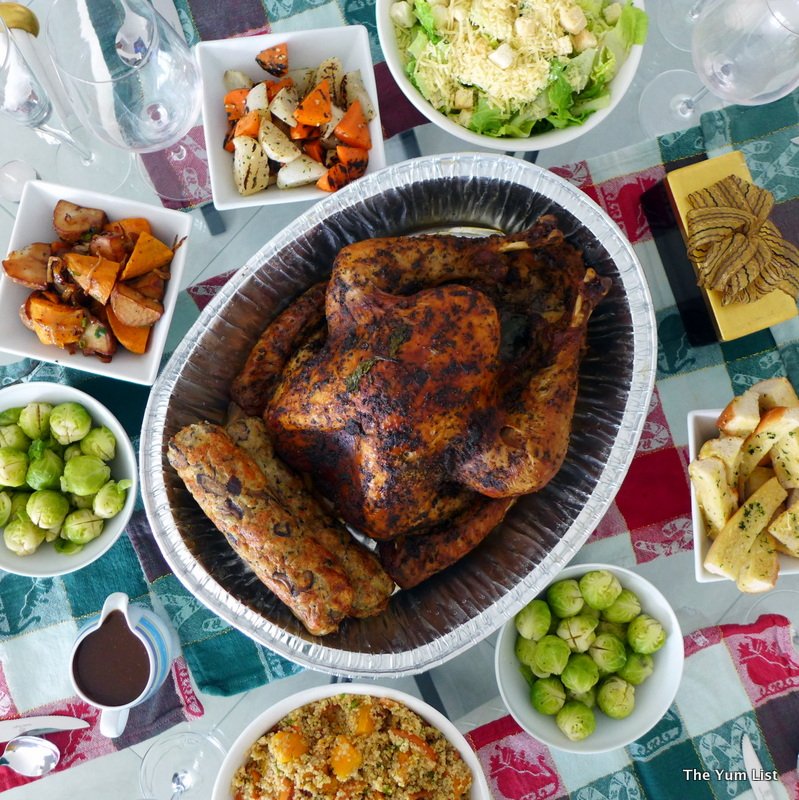 Chef Laurent at Grand Millennium has done us proud and our eyes are popping at the enormous glistening roast Turkey (RM 550.00 (4/5 KG)) which dominates the table, surrounded by dish after dish of enticing sides; so many there is barely room to park the wine glass! After resting in the oven, the meat falls softly off the carving knife as people heap their plates with colourful pumpkin quinoa, crispy Caesar salad and succulent roasted vegetables.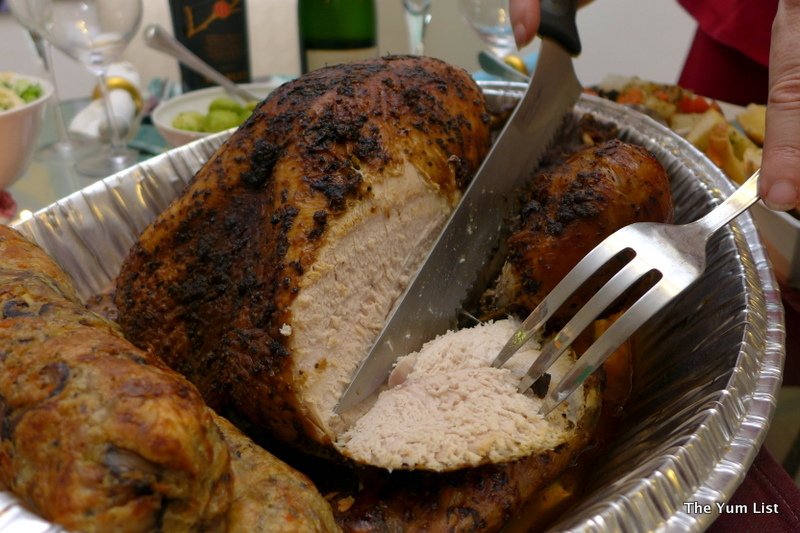 The first taste that springs out is an array of herby freshness. The chestnut and mushroom stuffing has been enhanced by sage, which has infused through the soft turkey meat and gives a wonderful full flavour in the mouth. Several guests commented that this was some of the most delicious stuffing they had tasted to date. And with two huge rolls there was plenty of it. But nothing can prepare you for the intense pop of the slightly tart cranberry compote – full of whole berries, darkly delicious, adding a whole other dimension to the mouthful. It's so good I threaten to take the leftover sauce home to serve over vanilla ice cream! Complementing all this richness nicely, a fresh Caesar salad with creamy dressing and grated Parmesan is prompting murmurs of appreciation from around the table.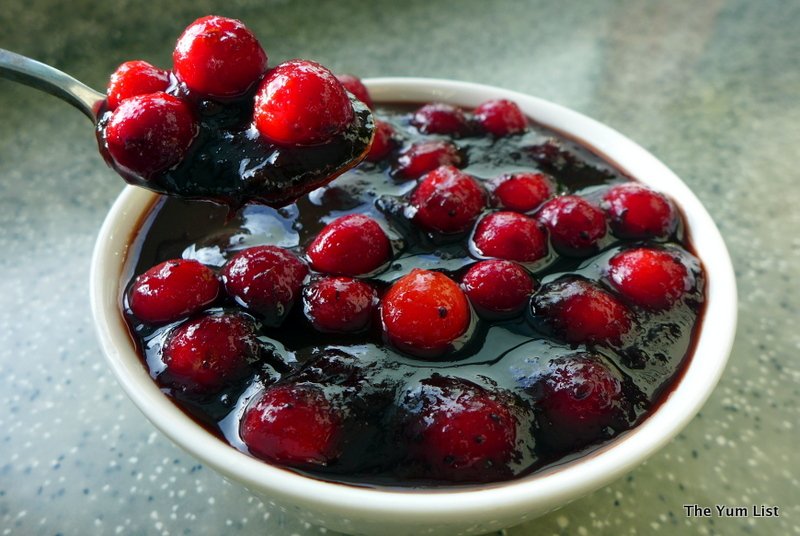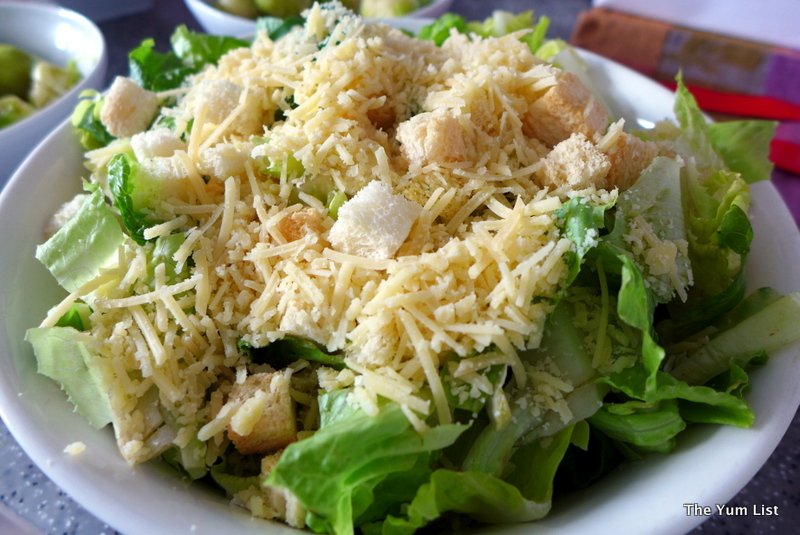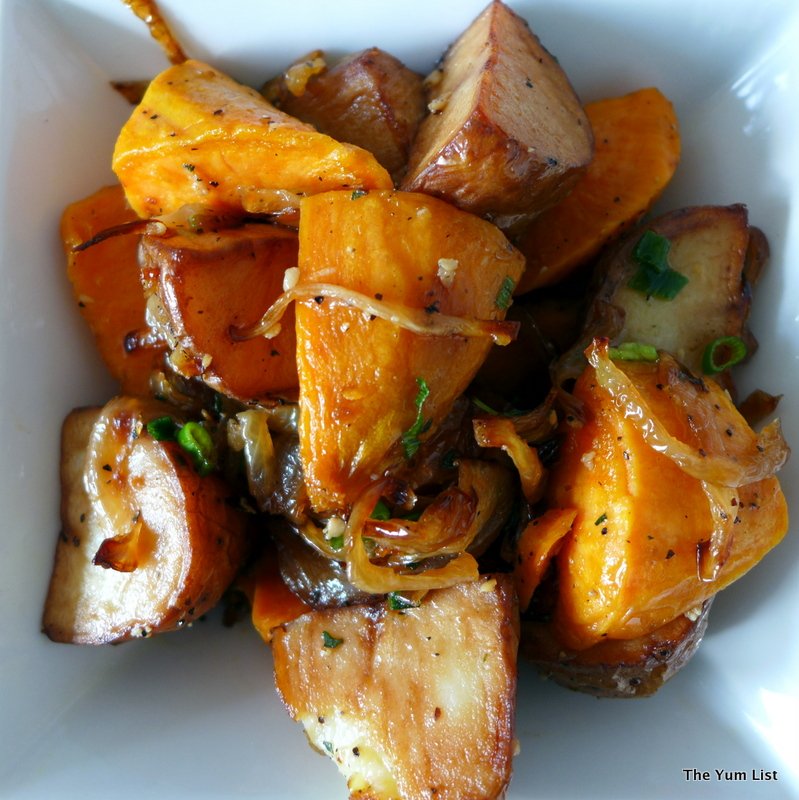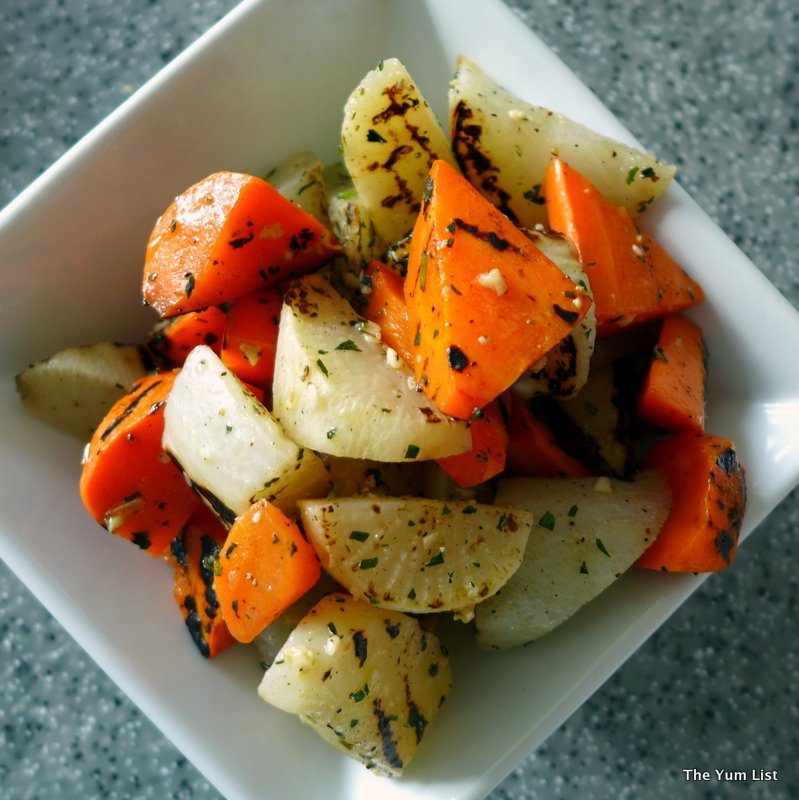 Although personally I am a fan of the traditional roast vegetables and am thoroughly enjoying the crisp carrot, soft pumpkin and savoury potatoes with oodles of warm thick gravy, others are in ecstasies at the quinoa, which is held up as an exemplary alternative light accompaniment for the season. The pumpkin in this dish is nicely firm and provides a colourful contrast to the fluffy quinoa.  But no Brit would be satisfied with a Christmas feast that did not include that most seasonal of vegetables, the Brussels Sprout. Brussels can be wonderful or truly disgusting if over cooked. Thankfully these ones have held their shape and texture and are nicely firm and crunchy, just exactly as they should be. It has been a superbly balanced meal and guests are happily refilling their plates with second helpings of their preferred sides with 'just a touch more…' of turkey meat.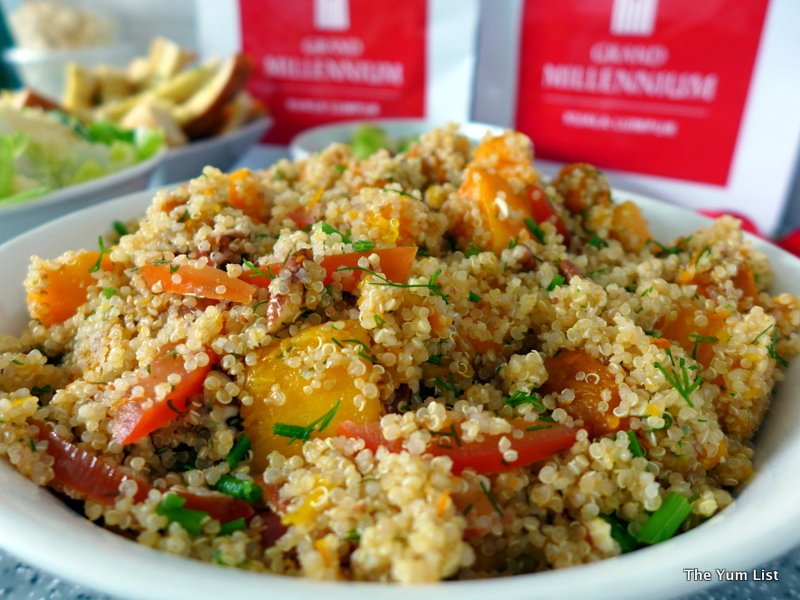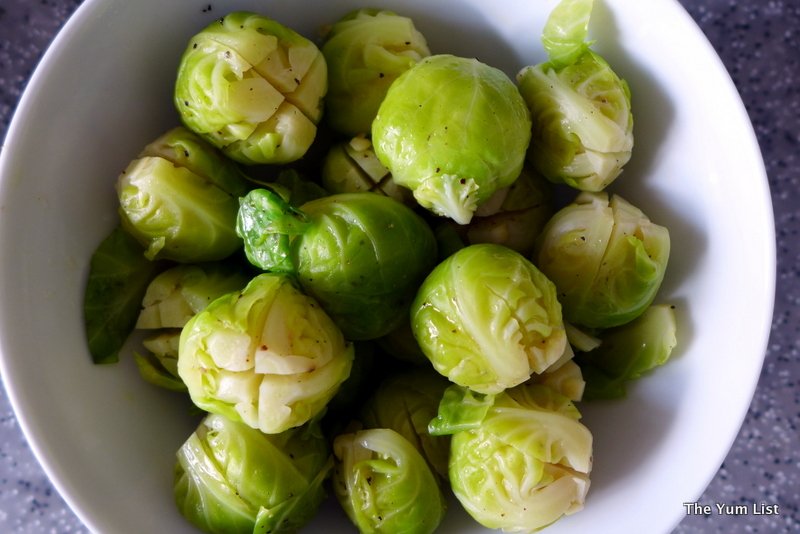 Although we highly recommend the traditional Turkey Feast, a seasonal bargain at less than RM50 per guest, you may have a smaller group of people or just want to try a different selection, in which case you can consider three other choices of menu.  Happily all prices are nett and inclusive of taxes.
Whole Roasted Chicken – RM 100.00 (1.5 KG) includes Gravy, Honey Grilled Pumpkin, Roasted Baby Potatoes, Garlic French Beans and Cranberry Compote (4 servings).
Roasted Lamb Leg New Zealand (Boneless) – RM 380.00 (2 KG) includes Mint Sauce, Coriander Salsa Verde, Sweet Potato Mash, Raisin Couscous, Chickpeas, Garlic Bread, Roasted Carrots and Spicy Tomato Gravy (10 servings).
Roast Beef Striploin Australia (Boneless) – RM 580.00 (3.5 KG) includes Roasted Baby Potatoes, Honey Roasted Root Vegetables, Sautéed Mushrooms with Feta Cheese, Garlic Bread, Pommery Mustard Sauce, Black Pepper Sauce and Green Pea with Truffle Oil Mash (15 servings)
Hosts can provide their own festive tipple or Grand Millennium is happy to provide wines on request. The Moet accompanying our tasting was delicious but hardly a snip at RM 462. And as well as all the deliciousness accompanying the main meal, additional sides can also be requested.  We were spoiled with the aforementioned Caesar Salad, but choices also include Garlic Mash and Creamy Potato as well as several appetizer options such as Foie Gras and hand Smoked Salmon, which we did not try.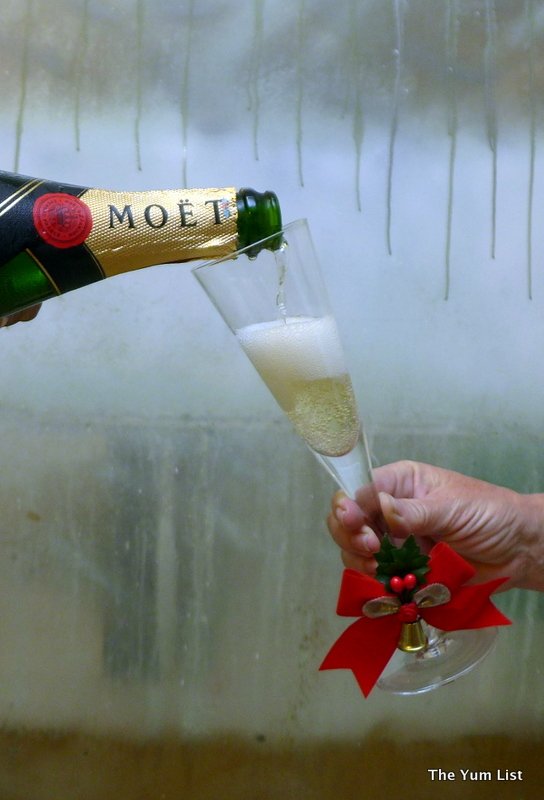 What we did try was a hugely impressive Yule Log! The decoration is delightful, with mini reindeers and Santas that are sure to delight your younger guests, and macaroons to tempt the tastes of the more mature. On biting in we find the sponge soft and moist with oodles of cream and dollops of fresh berries. The juicy blackberries are a big hit at our table, being a nice freshness in the light and creamy dessert.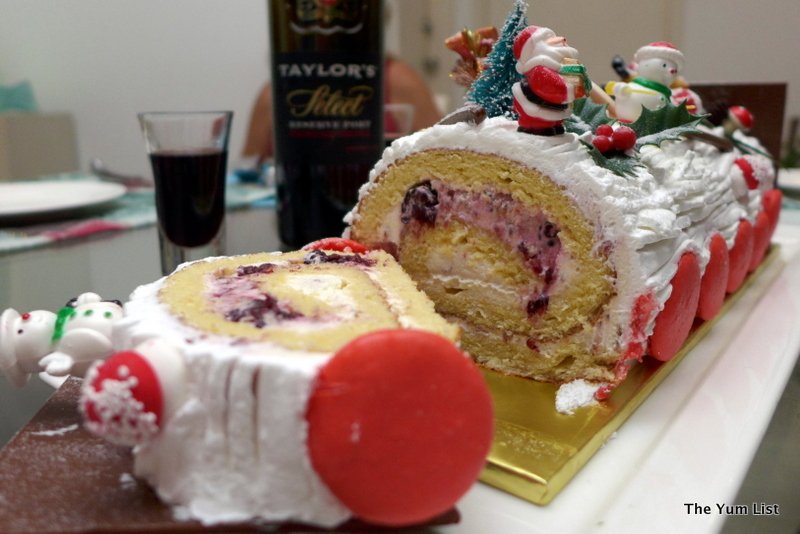 Groans of satisfaction are issuing from all around the table as the meal trundles to a very gentle and happy halt. If I had a large group to entertain, this would be top of my provisioning list, saving hours, nay days of shopping and preparation time. If it is top of yours too, be sure to order in advance as a minimum of 3 days are needed for the processing of the order.  Also be clear that the last day for orders is 23rd December 2015.  Pick up times are offered for 5th-23rd December from 2pm to 9pm and 24th-26thDecembe from 2pm to 5pm. Complimentary delivery to one (1) location within Kuala Lumpur only with minimum spend of RM800 per receipt
Reasons to order:  Why not?  Delicious food served effortlessly at your own table. Perfect for family occasions or to spoil a group of friends while keeping yourself fresh! Incredibly good value.
Grand Millennium Kuala Lumpur
160 Jalan Bukit Bintang
55100 Kuala Lumpur
Malaysia
+ 603 2117 2888 (general number)
+ 603 2117 4314 (catering)
[email protected]
www.grandmillenniumkl.com