Louise Miller & Monica Tindall
Having absolutely loved everything about this fabulous healthy haven when we first discovered it back in March this year, we were delighted to be invited back but also a little anxious to hear that the menu had changed. Hoping that founder, Shantini, had retained some of our favourites we prepared to glean the updated list of offerings on the spring inspired menu whose themes of beauty and freshness, Shantini told us were chosen to create a lighter, more alkalising range of dishes with greater aesthetic appeal.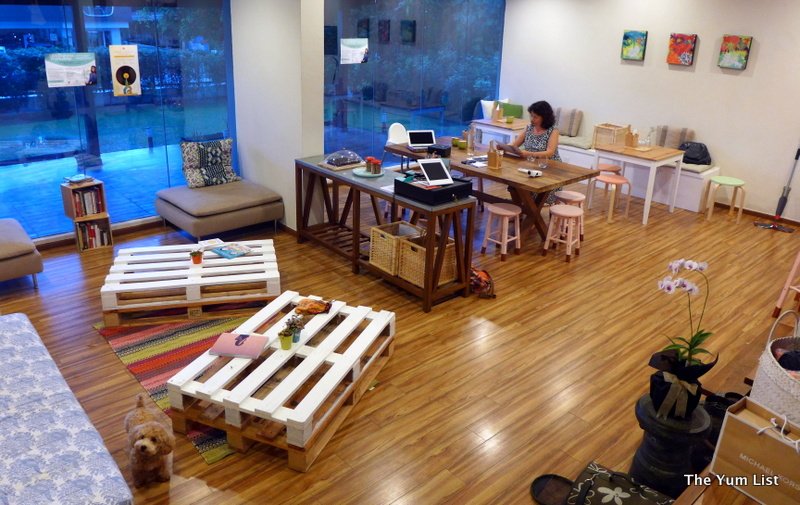 Before properly examining the menu though, we noticed that this wasn't the only part of Organica Lifestyle that had undergone a revamp. The dining area itself is far more expansive, no doubt due to the eatery's deserved popularity. We liked the relaxed, loungey feel crafted by the low seats and wooden pallet coffee tables, and the sense of openness in the dining area.
Organica Lifestyle has also added a new member to its team since we last visited. The resident poodle, Mr. Waffles, is not only a super cute delight to behold but extremely well-behaved and instrumental in creating that 'home away from home' ambience. If the food weren't so great here, a visit to this adorable puppy would be reason enough to return!
But I digress… On with the new menu and we began with a new entry in the drinks section. The Decadent Date Hot Chocolate (RM12.50) was truly delicious. The richness of the chocolate was offset by the freshness of mint and the warmth of cinnamon, and the creamy sweetness given texture by nuggets of sticky dates. This is an absolute must for chocolate lovers!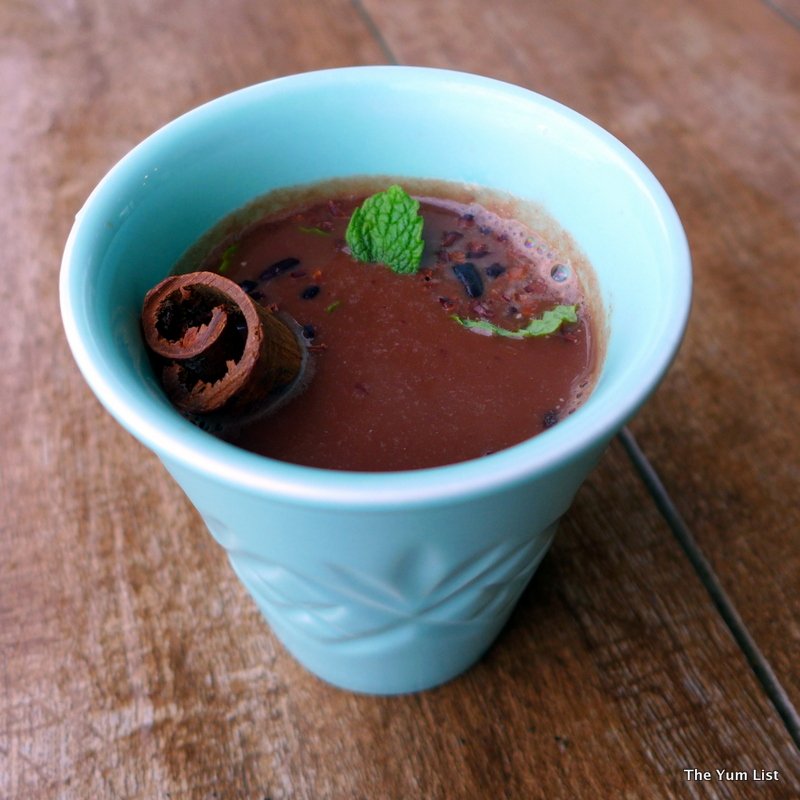 It was with a sense of great relief that we discovered that the incredible smashed avocado and feta, that I would happily purchase by the bucket load, is still available. On this new spring menu, it is one of many components that comprise the Breakfast Board (RM28.60). A great dish for hungry brekkie lovers who like to try a bit of everything, this smorgasbord features scrumptious zucchini and carrot fritters topped with smashed avocado and feta, gluten-free loaf with homemade berry jam, Amazin' Graze Muesli and a shot of orange juice.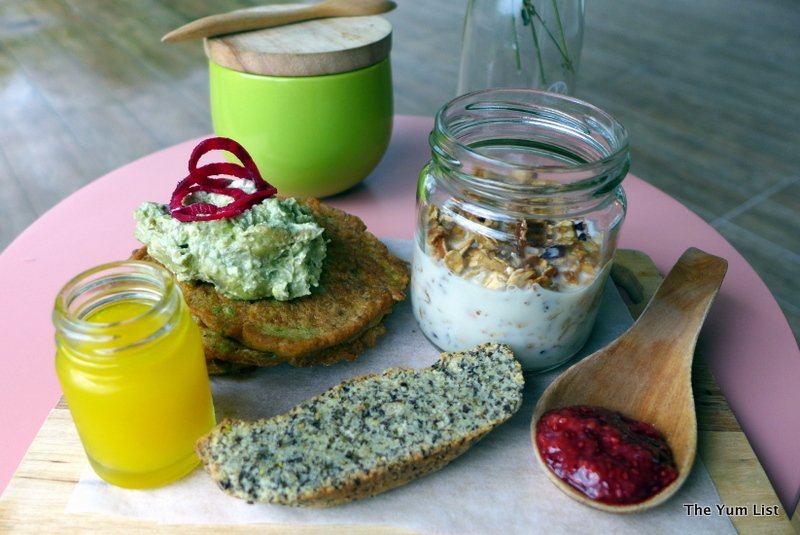 A new creation for the spring menu is the Zucchini & Lemon Fritters With Poached Egg (RM30.50). A gluten-free dish that embodies alkalising goodness, the fritters tasted fresh and herby, flavoured with basil, lemon zest, coriander and spinach. Topped with a perfectly poached egg and served with salad and tangy herb infused labneh, this was wholesome, tasty and very satisfying.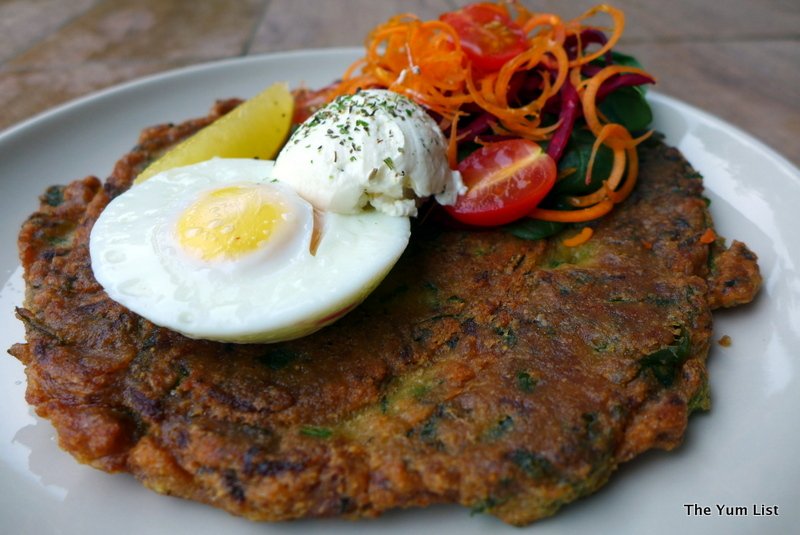 Next, in keeping with the aesthetic appeal of the new menu, was the Rainbow Salad With Asian Glazed Tofu & Green Tahini Dressing (RM25.00) whose visual vibrance was matched with fantastic flavours. Promising in the menu to be gentle on the gut and refreshing on the palate, this heap of spiralized coconut, beetroot and carrot was interspersed with sweet corn and chunks of red cabbage all amalgamated in the zesty dressing and perfectly partnered by the tofu wedges that had been marinated in miso, mirin, tamari and sesame oil and pan-fried to form a deliciously smoky crust.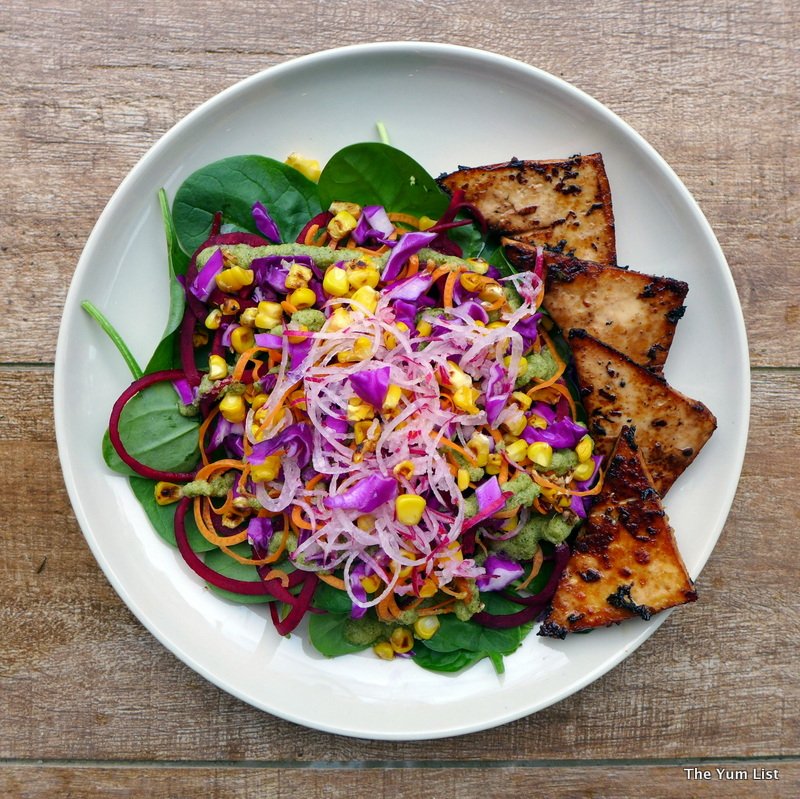 Our final savoury dish was the Wild Mushroom Barley Risotto (RM28.50) which had us in raptures at first bite! This was a hearty and rustic comfort eating type of dish, intensely flavoured with portobello mushrooms, fresh thyme, mushroom stock and generously sprinkled pecorino cheese. The pearl barley made an interesting change from the ubiquitous arborio rice and flavours were utterly delicious. Already planning when I could return to order a whole portion of this to myself, I was delighted when Shantini told me that this dish features amongst those available to order for delivery: only recently partnered with the online delivery company makansharing.com, Organica Lifestyle offers a different dish every day which, if ordered before 10am can be delivered and enjoyed for your dinner before 7pm.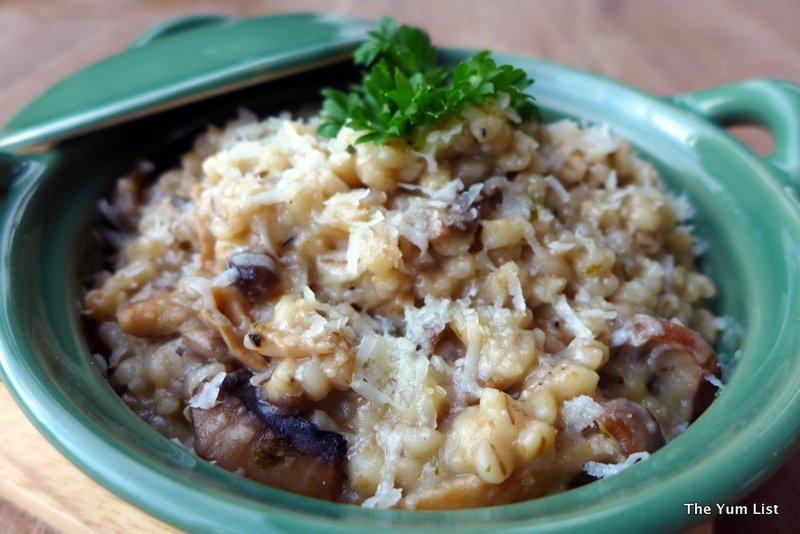 Saddened to learn of the disappearance of the Choc-Maca Pancakes, we were comforted to hear that they had been replaced by a 'feminine' counterpart, the Blueberry, Orange Ricotta Pancakes (RM28.50). These were light, fluffy, beautifully flavoured with orange zest, vanilla and coconut and topped with fresh orange, blueberries and acacia honey.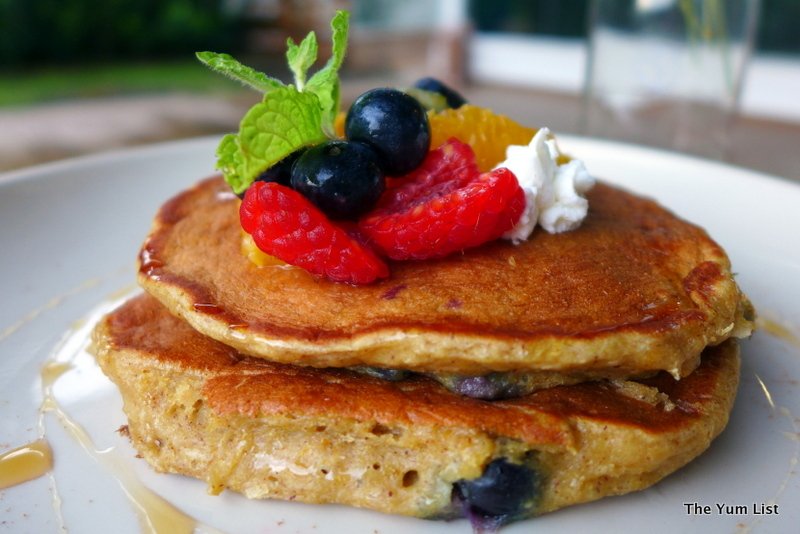 All in all, we were once again very impressed by Organica Lifestyle. Not just for the super tasty features of its new menu that Shantini informed us will now change every six months but also for the vision and passion of our host. Far more than a cafe, Organica Lifestyle is certainly living up to its claims of being a one-stop shop for health and well-being which in addition to serving wonderful nutritious food, sells a range of neutraceutical products, offers yoga classes in the studio above and, having added a 'little mouths' section to the menu and acquired a few more high chairs, is now more child friendly than ever!
With a range of home crafted Christmas cards and gifts including cooking kits, it's worth checking out Organica Liftestyle for some festive purchases. The new year is also set to be full of exciting times as the Organica Lifestyle team prepare to launch a range of projects all aiming to make change through food. To keep abreast of their latest news, check out the wesbite, www.organicalifestyle.com.
Reasons to visit: healthy and delicious food with loads of options for all kinds of dietary requirements, including vegan and gluten-free. We loved everything but our favourite dish was the Wild Mushroom Barley Risotto. Mr Sir Waffles.
Organica Lifestyle is currently open Tuesday to Sunday from 10:00am to 5:00pm but due to popular demand, is planning to open from 8:00am during the week and extend its opening hours at the weekend.
Organica Lifestyle
15 Jalan Tempinis 1
Bangsar, Kuala Lumpur
Malaysia
+012 704 8565
[email protected]
organicalifestyle.com