Linnea Welker and Monica Tindall
There are plenty of options for a meal on Changkat and, living nearby, I often feel overwhelmed by the possibilities. I'm thinking about aesthetics, type (and volume) of music, available seating inside (or outside), service, and, of course, the menu. I also find myself wondering if I want something light and quick? Comfort food? A healthy bite? Drinks? When I'm in the mood for something deliciously hearty though, in a friendly setting with a good drinks list to go with, then The Magnificent Fish & Chips Bar always fits the bill.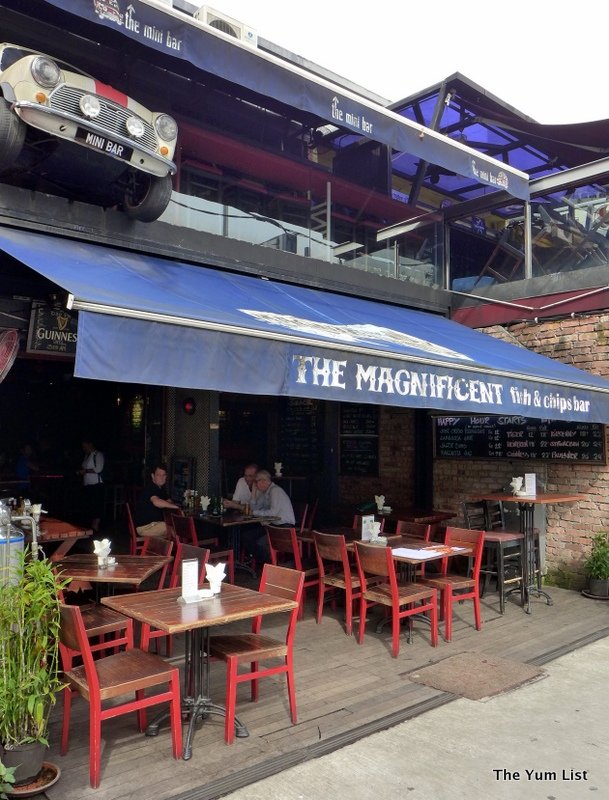 Nestled between Baan 26 and Never Mine, the British flag adorned Mini Cooper permanently driving out of the upstairs balcony is a sign that you've arrived to The Magnificent Fish & Chips Bar. Opened in 2006 by two British fellows, the business has evolved and grown in response to its popularity, but has stayed true to its original mission of serving up some of the best Fish and Chips in the city.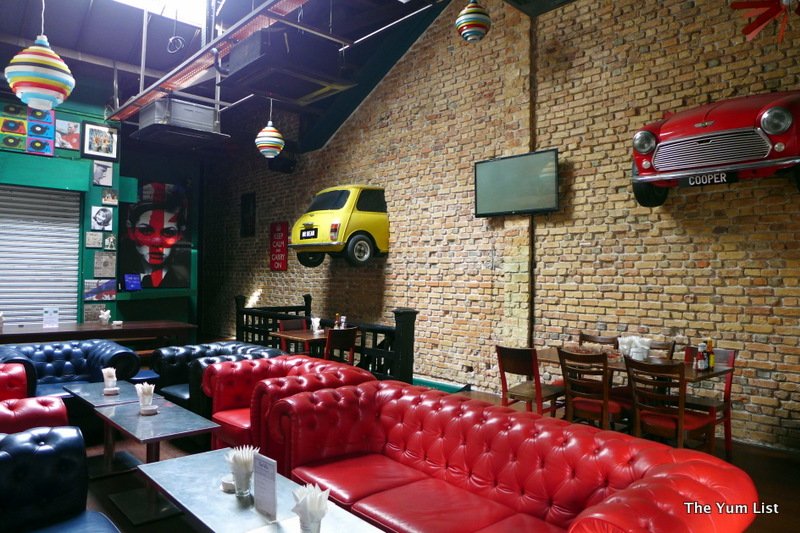 With seating both indoors and outdoors, as well as, upstairs and downstairs, you can certainly find an option to your liking. For our rainy afternoon review, we chose to be downstairs near the kitchen and bar, although the bright sunlit upstairs with an outdoor balcony was very appealing.
The Magnificent Fish and Chips Bar has a broad selection of spirits with over 20 single-malt whiskeys, supported by an extensive lineup of cocktails, wine, beer, mocktails, smoothies, and juices. We began with some well-made standard cocktails: a gin and tonic; mojito made with dark rum upon request; and a margarita. When the food arrived we continued with the house wines and found that both the red and white were pleasing on their own, and versatile enough to pair with the variety of dishes we ordered. Of note are the monthly wine specials, which this month is Lion Creek Cabernet Sauvignon or Sauvignon Blanc from South Africa (RM108/btl).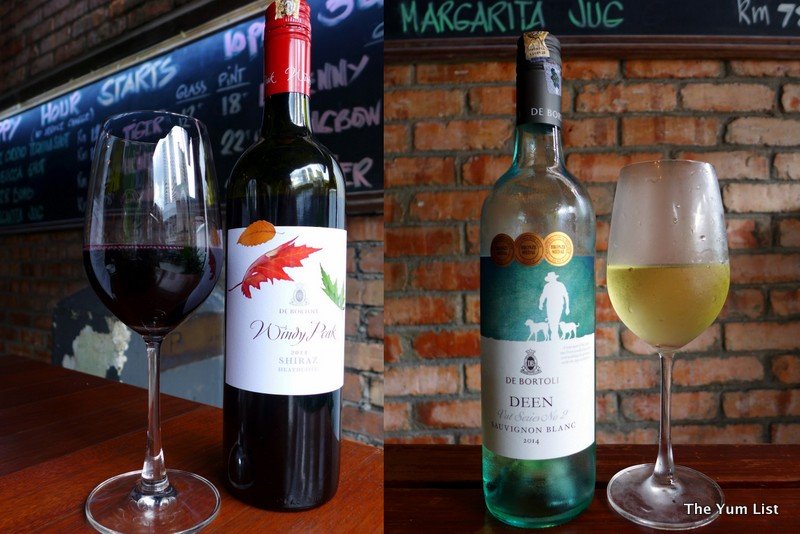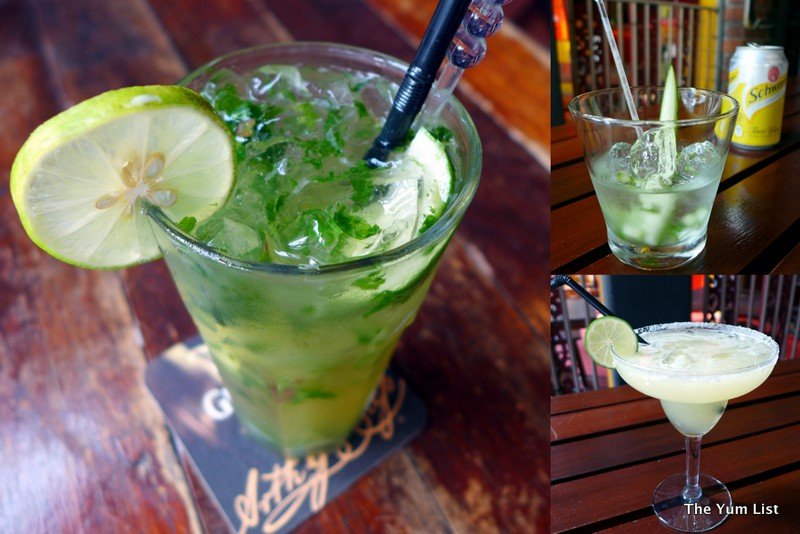 What to eat? What to eat? Fish and chips, of course! Knowing that the fish and chips were a sure thing, we looked over the varied menu (pork-free) to see what else we should try. The charming manager Gary was on-hand and happily recommended dishes based on our interests.
One of the first dishes to arrive at our table was the tasty Vegetarian Pie (RM34). Like all of Magnificent's pies, the vegetarian pie is made from scratch. The flaky filo dough enclosure was delightfully full of roasted vegetables and grilled peppers and laid stylishly upon a thick, slow roasted tomato sauce flavored with garlic and oregano.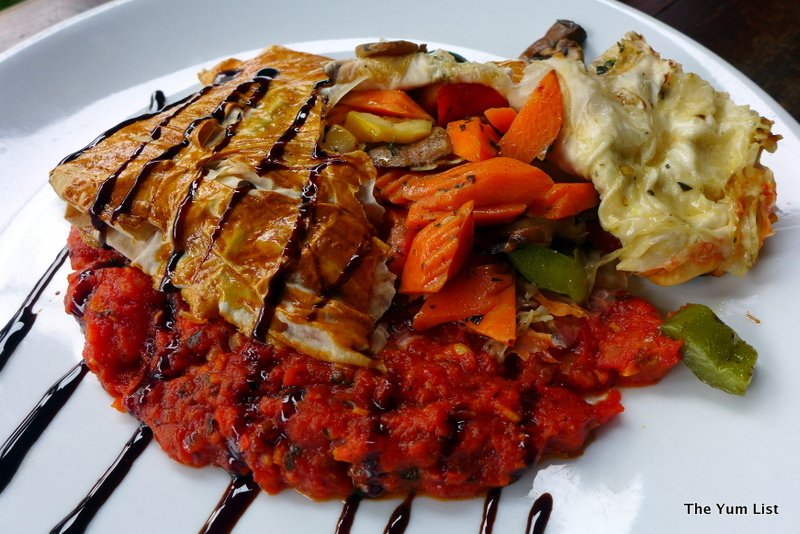 Our next order, the day's special, the Grilled Red Snapper (RM38), was a nice sized fillet atop a bed of lettuce, roasted potatoes, carrots, onions, and peas. Although a lighter dish, this was one that would not send you away hungry. The dish came with a green side salad complimented with a tangy balsamic vinaigrette.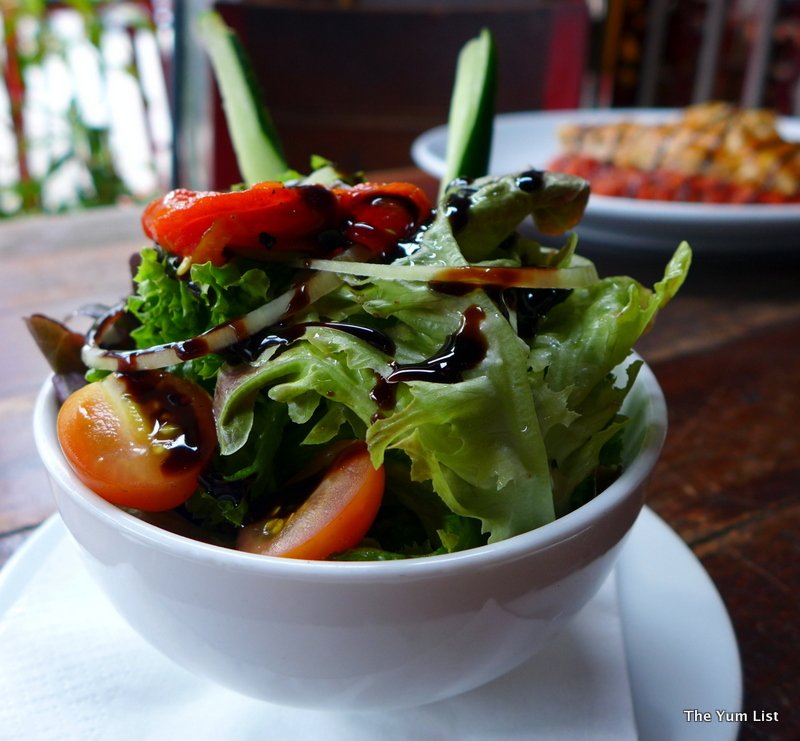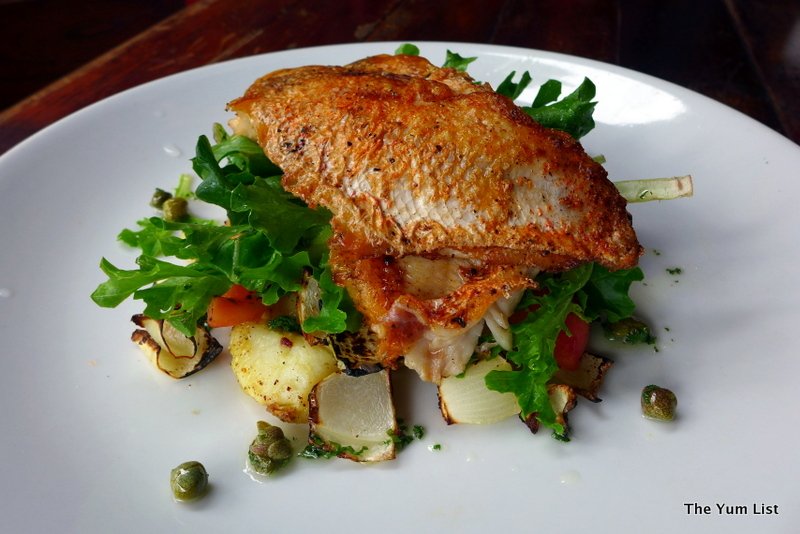 Magnificent offers delicious steamed mussels in either creamy white wine or chili sauce (RM36/52); we chose the former and it did not disappoint. The mussels would be a nice starter to share before moving on to a main course.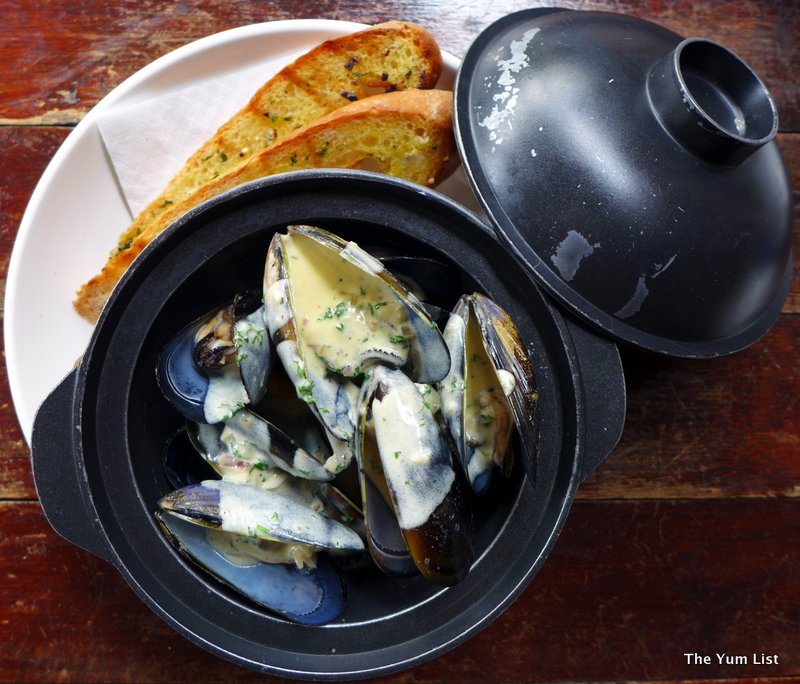 As a neophyte to British cuisine, it seemed as though the Mushy Peas (RM14) were a must-have.  This pretty green dish has a nice texture of both smooth and roughly mashed peas. They start with fresh peas then cook and mash them to the perfect consistency. It is a slightly sweet side that would be great accompaniment to Fish and Chips or Shepherd's Pie.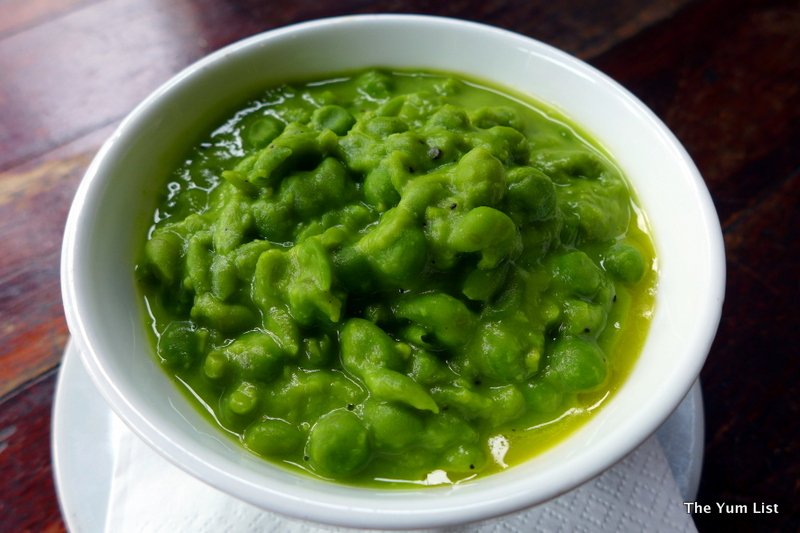 And the pièce de résistance? The Fish and Chips (RM44). I am not the kind of person who craves fried foods, but I have to admit that after having eaten the magnificent Fish and Chips twice now, I have found myself wanting to return again for another order. The top seller is made with fresh Australian barramundi, but one can also order butterfish or Icelandic cod. (The Barramundi outsells the other two 3-1!). The large, crispy fillet is served with tartar sauce and lemon wedges as well as classic hand cut and triple fried English chips. The portion is large enough to share or might be enough for one after a tough game of Gaelic football. In keeping with British style, the Fish and Chips are served atop a newspaper bed and malt vinegar is available on each table. For a healthier option, diners can ask for their fish to be grilled instead of battered and fried.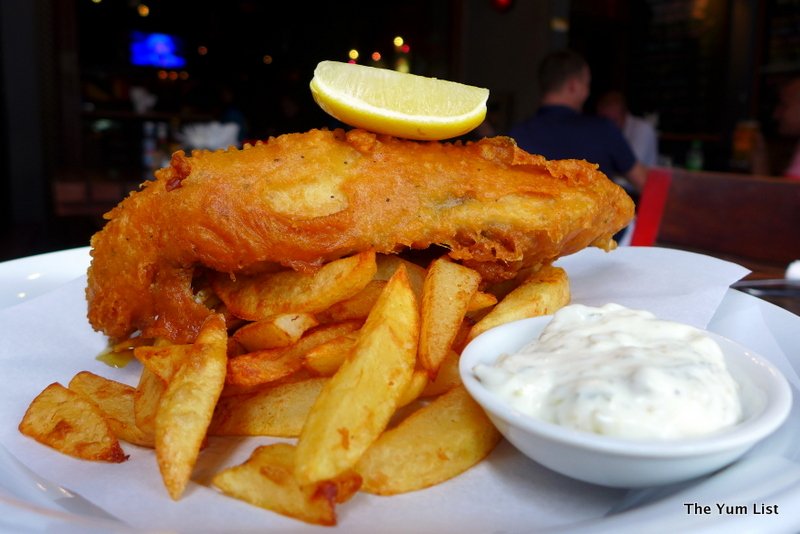 If you are in the mood for something more complex, the Lamb Shank would be an excellent choice (RM48). Served with a deep brown sauce, the generously-sized shank was perfectly paired with the dry and fruity Windy Peak Shiraz. This delicious entree evokes thoughts of wintry days inside near a crackling fire. The dish is full-flavoured and the rich gravy begged to be soaked up with a crusty piece of bread.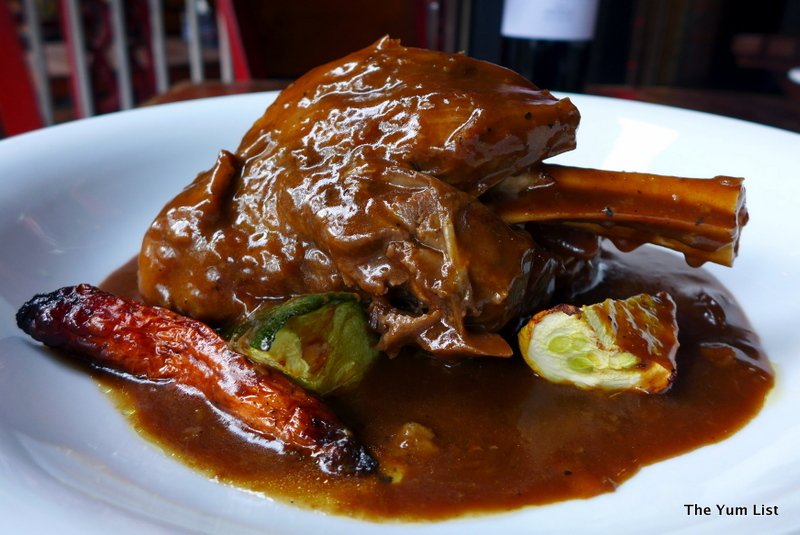 Although these dishes were quite filling, one of us had her eye on the delicious dessert menu, in particular the Bread and Butter Pudding (RM24). Served with an adorable pitcher of a rich and delicious vanilla sauce, this beautifully arranged pudding of bread, butter, eggs, sugar, and currants is not to be missed.
Lastly: The Sticky Date. This delightfully filling date cake was served with a sticky sauce and a Cameron Highlands strawberry garnish. It was great to share, although it felt a shame to put a spoon into such a beautifully presented dish.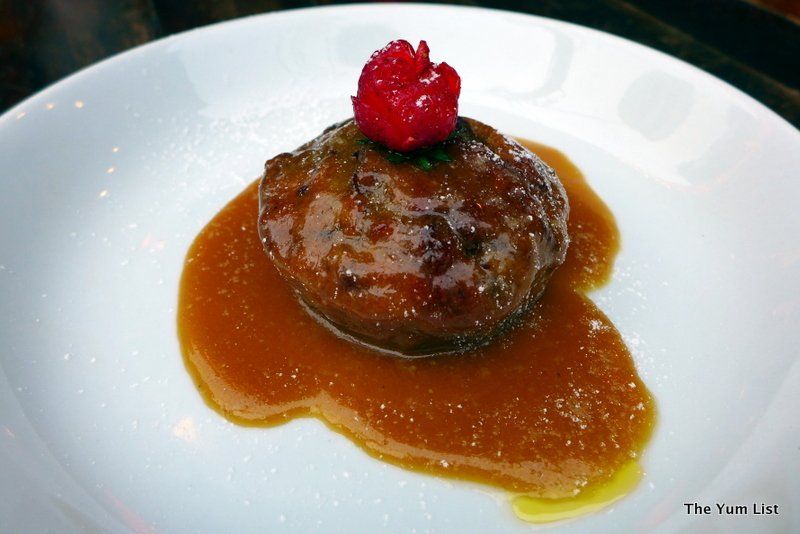 Finally, a round of aperitifs: L'aprhoaig, Frangelico, and Tawny port was the perfect way to end a delightfully wholesome meal.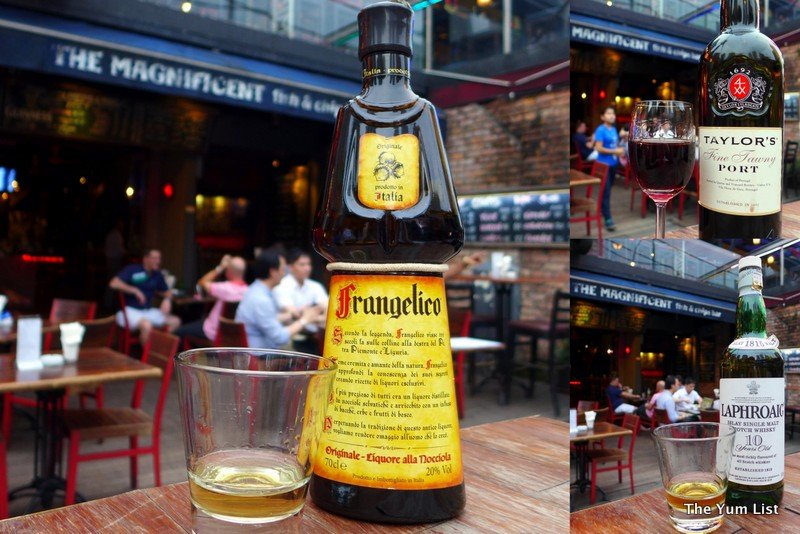 The Magnificent Fish and Chips Bar is a friendly environment that welcomes all ages and food interests. There are televisions and wi-fi available and the background music from the 80's and 90's was a fun addition. As we finished up our afternoon meal, the restaurant began to fill with patrons of all ages and nationalities. Being on Changkat makes this location a perfect place to start or end an evening out and the varied seating options let you choose how close you want to be to the intensity of the street activities. The Magnificent Fish and Chips Bar feels friendly and welcoming and will not send you away hungry!
Reasons to visit: friendly atmosphere; fish and chips, mushy peas, bread pudding.
The Magnificent Fish & Chips Bar
28 Changkat Bukit Bintang
50200 Kuala Lumpur
+6 03 2142 7021
www.thechippykl.com/
Open 9am-3am every day for breakfast, lunch, dinner and drinks