Words: Kirsten Durward     Photos: Monica Tindall
No secret to regular readers that Ashley's is one of Monica's favourite spots to grab a bite around town. But this is my first visit, and I'm keen to see what all the fuss is about. I'm already loving the light fresh Nordic inspired interior, with an overriding feeling of comfort, touches of living greenery and rougher wood textures used to soften the initial clean lines.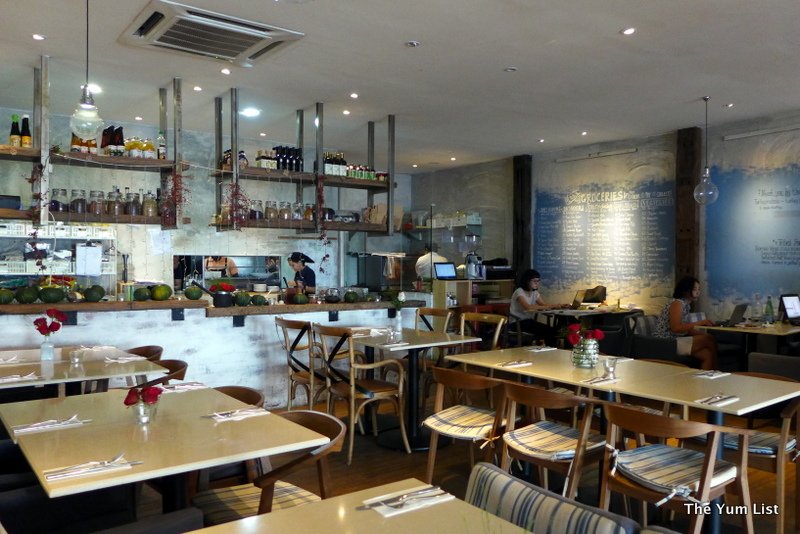 Monica is already sipping on an organic wine when I arrive, so I'm forced to taste a sip or too.  Nero D'Avola Organic Barone Montalto is a medium body delivering red cherry and raspberries to the palate. Actually designed to go with vegetarian food as well as beef dishes, it is a great complement to Ashley's creations.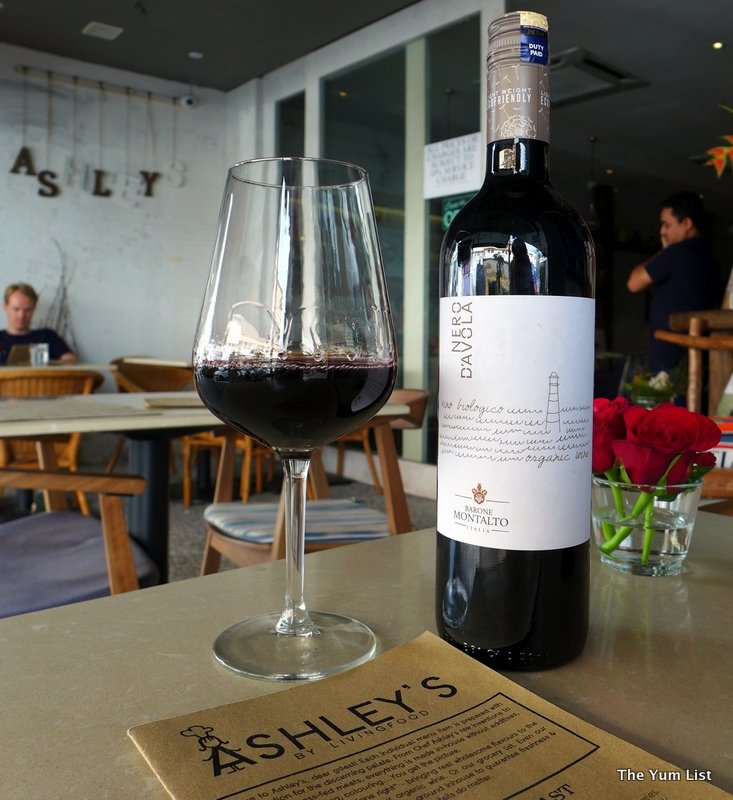 Our first plating, Sirih Joint (RM38) is from the innovative Tribal Forage section of the menu.  Inspired by Sarawak cuisine, I can promise you this is not something you will be seeing anywhere else in town. Acar Kampung with flavourful betel nut leaf, crisp house made flax cracker, light tofu cubes and plenty of local herbs offer a good mix of crispy, fresh and spicy flavours and textures. But we're not done as two leaf-fuls of smooth sago porridge arrives, for scooping the forage up with, and spicy sambal takes the taste notes up a level. Unique and perfect for sharing.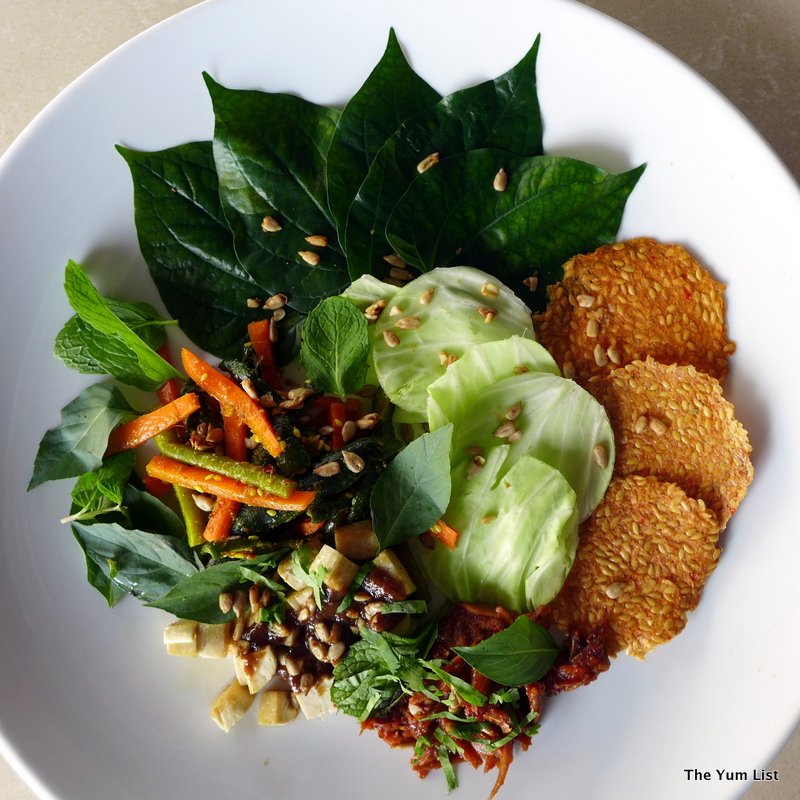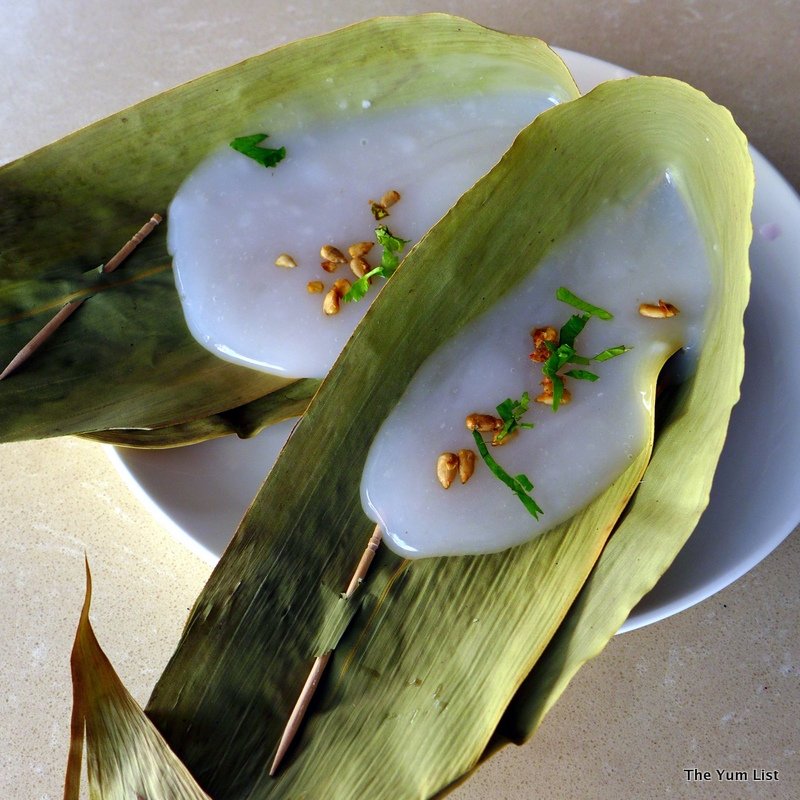 Ashley is never short of imagination, and Going Zen (RM48) has definitely sprung from a creative mind. Select two choices from the staples on the menu and the specials on the board, together with pickled vegetables and brown rice Chazuka for a more than satisfying experience. The Chazuka, (charcoal roasted brown rice tea broth) has Monica moaning and spooning eagerly while I cannot get enough of the Yuba Parcel; bean curd skin wrapped around chopped mixed Enoki, Black Moss and Wood Ear mushrooms, all enhanced with truffle oil. I cannot begin to express how unexpectedly scrummy these little bites are! The complementing Colour Purple is a special of the day, an innovative sweet potato roll with mango, olives, arugula and cashew nut cream, pretty and smooth. We are in ecstasies over the level of detail that goes into each tiny part of the dish.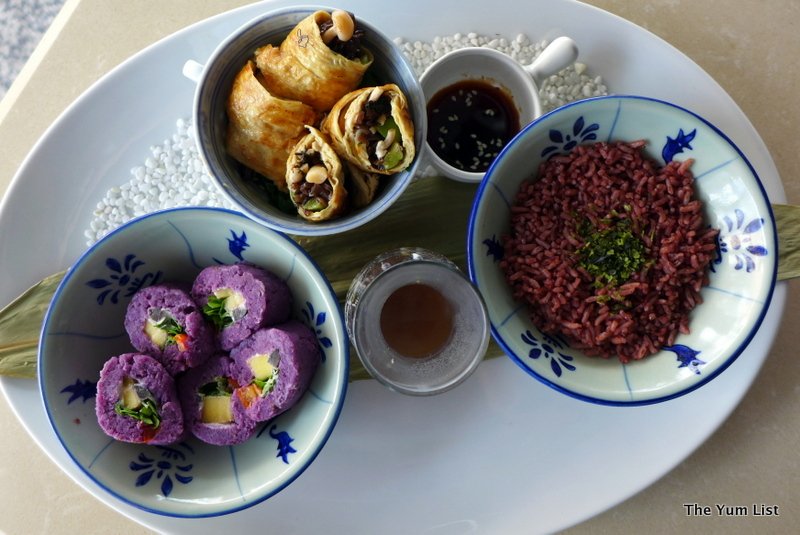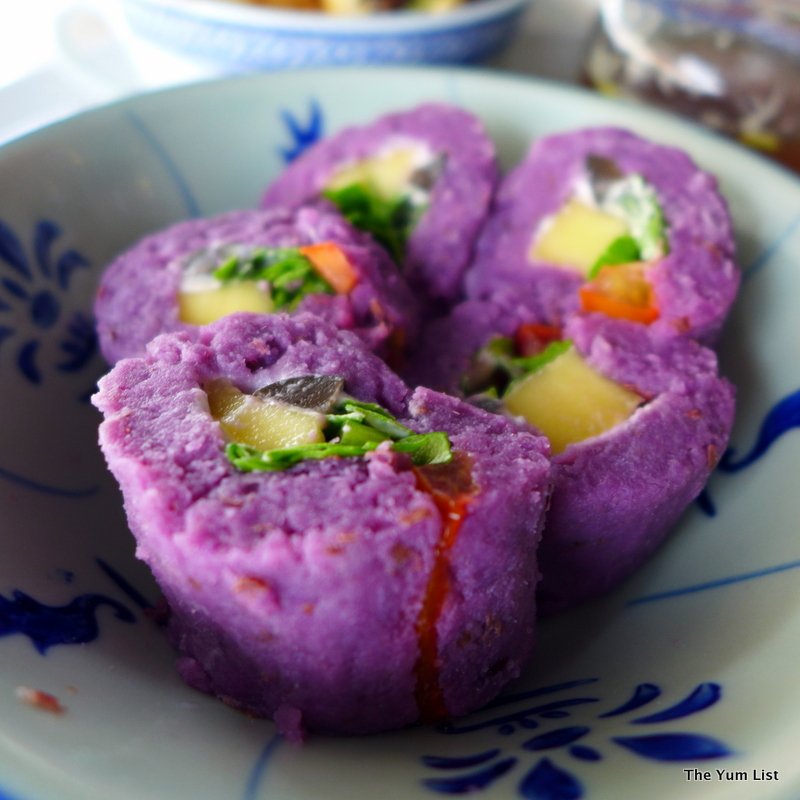 From the Gaia section comes the humourosly captioned Beauty and the Beet (RM48) which is a delightful mezze of roasted beet, zucchini, mushroom. hemp heart and nut cream on a potato waffle. The addition of potato to the buttermilk waffle gives a wonderful stretchy consistency and the whole plate comes together beautifully with a little crunch from the courgette and a smooth richness from the beet and cream.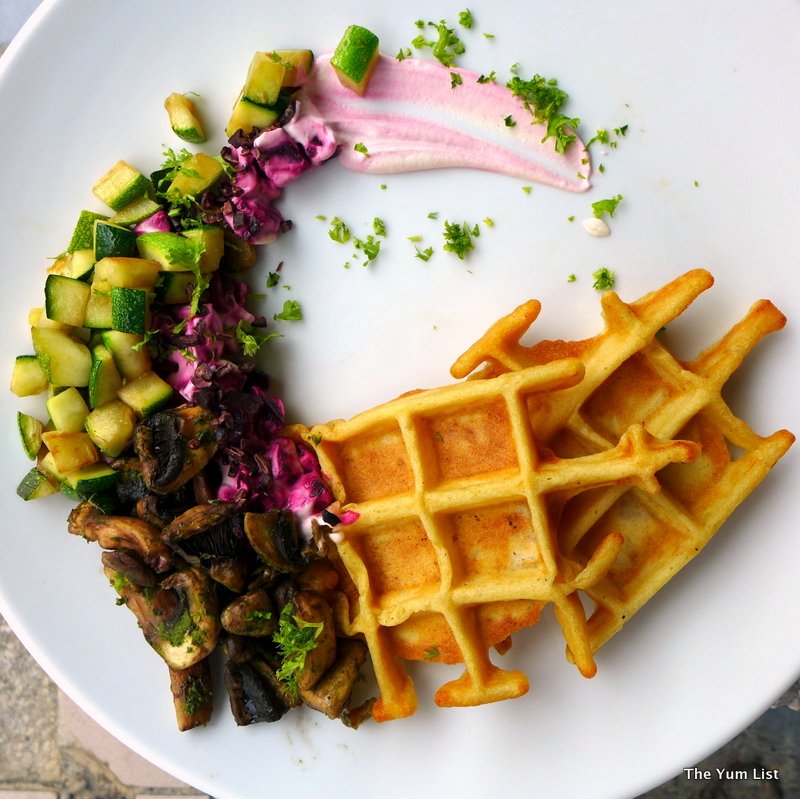 Raw Roulette (RM42) is another playfully entitled dish, this time on the Living Food raw menu, where two choices are plated up from the weekly specials. Today's plate features Veggie Loaf a colourful layering leafy greens tomato mushroom walnut and avocado atop a flax seed cracker. I love the freshness of this combination and go back for another bite. Wrap and Roll is as it sounds, a wrap of thin and crispy mango crepe with cucumber pineapple filling, and a jicama rice roll with mushroom ginger and sesame – both fresh and crunchy served with delicious house made jeju sauce. Definitely taste this one if you are able.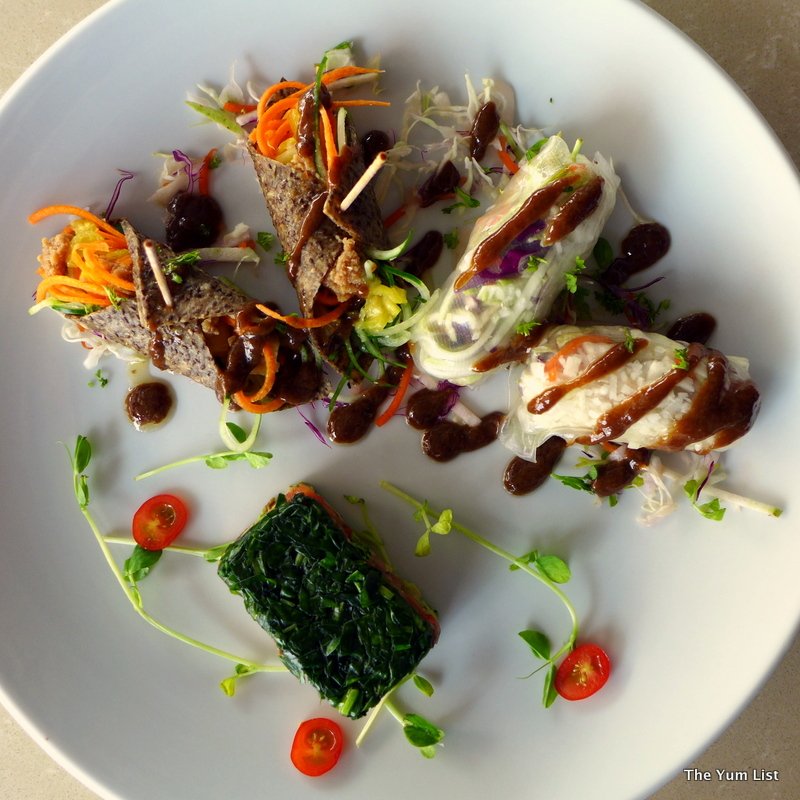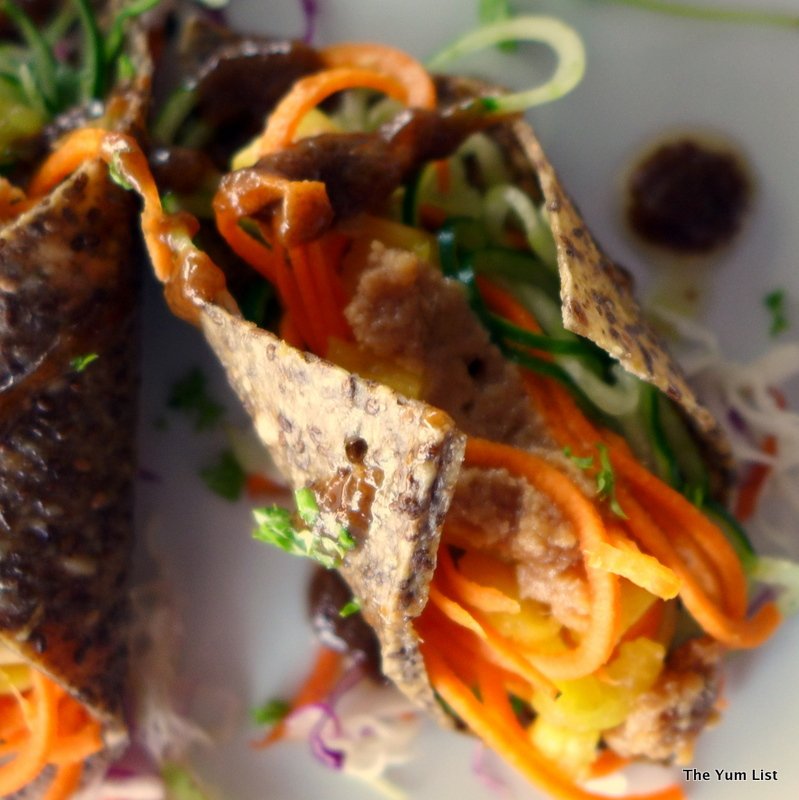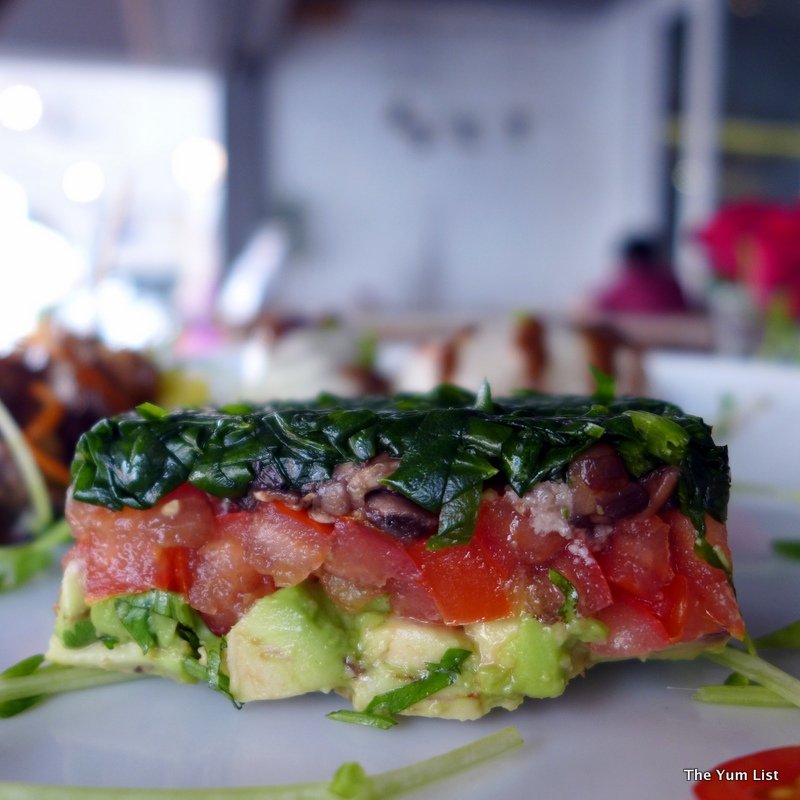 Everything at Ashley's is made fresh with absolutely no additives. Each dish is bursting with flavour and prettily presented with clever little touches. You feel as though a lot of care has been taken with your food, and that surely makes for happy eating. However, if you want a rest from being super, super healthy on the veggie side then just head for the Extracurricular Affairs section on the menu.
Meat You by the Sea (RM78) offers a meat and fish combination which changes weekly. We have a juicy, organic, free-range, halal turkey roulade which is literally stuffed with chopped veg and herbs. This is so very moist and flavourful that it barely needs the plum sauce with its sweet deep boost. A steak like piece of snapper grilled in lotus leaf with lemon juices is a sharp foil to the poultry.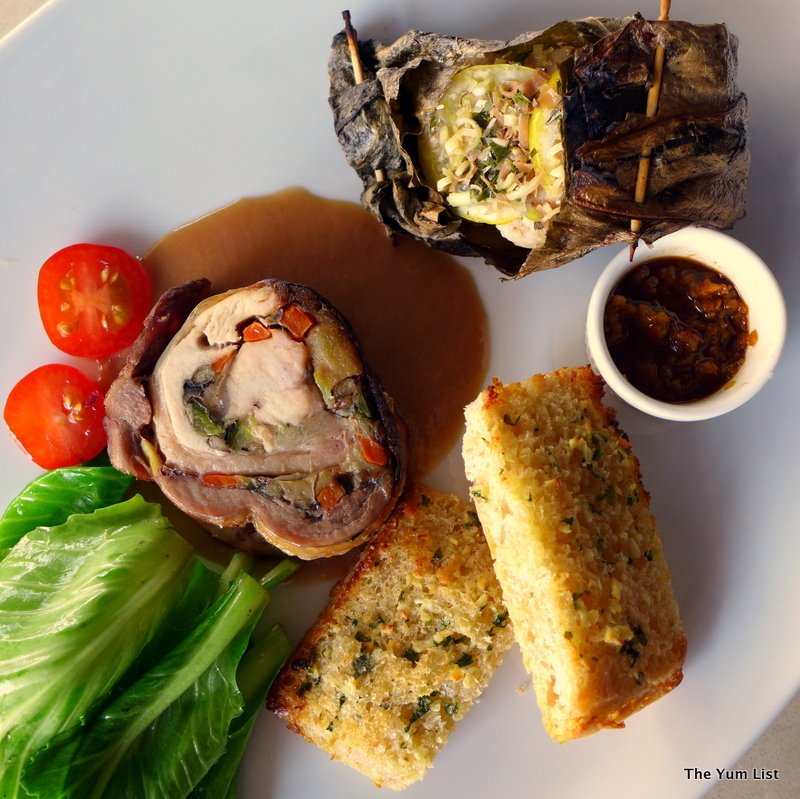 Davy Jones Delight (RM48) is a dark dish inspired by the film 'Pirates of the Caribbean.' A whole fresh squid is stuffed with prawn and mung bean laced through quinoa soaked in squid ink. Each mouthful should be taken with a bite of the zingy fresh salad as the onion, mint and coriander, really lift this dish out of the ocean's depths.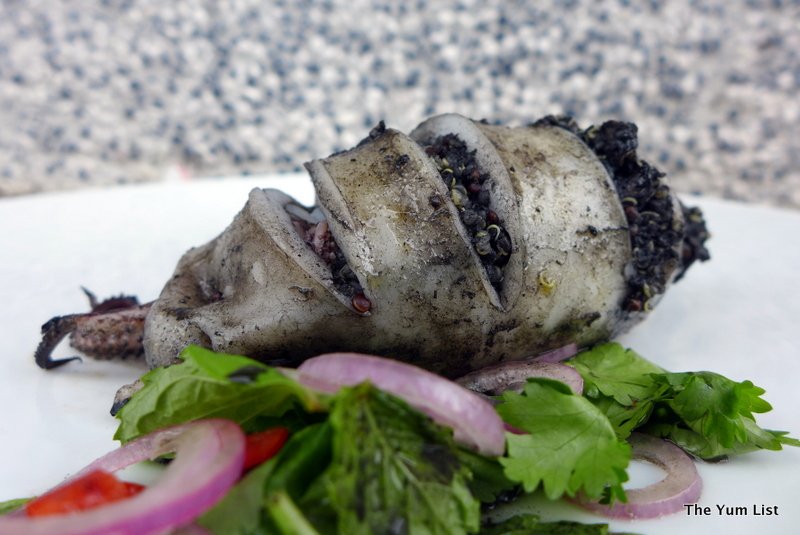 We agree to try a dessert we've not had before, though we are sorely tempted to head for one of our Living Food favourites. Glad I didn't! The Living Cream Pocket (RM25) is a revelation. A delicious chewy almond and banana crepe skin oozes with sweet nut cream and plenty of fresh fruit. There is just a hint of cocoa bite in the wrap and the whole experience is creamy fruity chewy perfection. Perhaps I might not have selected this from the menu just based on the name, but I would definitely order it again – one of the benefits of food blogging is that your tastes get challenged!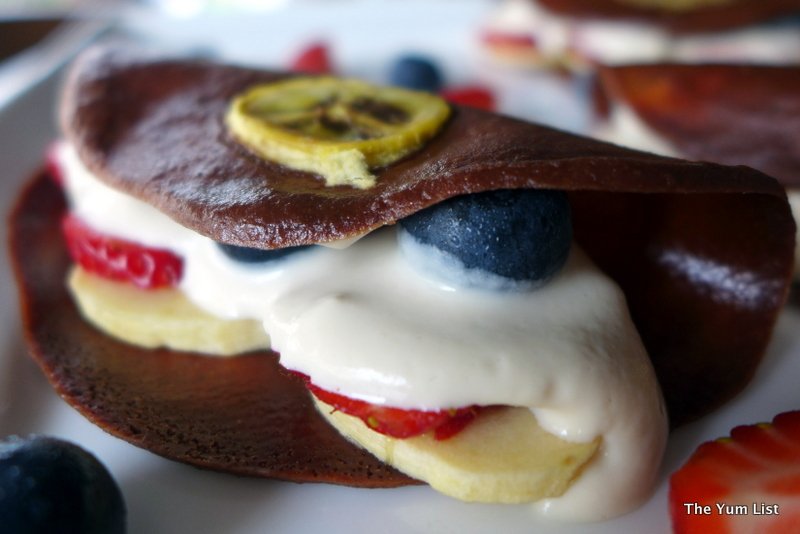 One of Ashley's slogans is 'It's all about real food done right.' And I would concur with that. Everything has been done absolutely right this afternoon – another big thumbs up for Ashley and her innovations. Readers should be aware that due to organic supply chains not all dishes are available all the time, but fortunately everything on the menu is delicious so even if something is not available you are sure to be delighted with whatever you choose! As a bonus, all prices quoted are inclusive of service charge
Reasons to visit: freshly prepared delicious food; unique dishes; many healthy, organic, vegan and gluten-free options.
Ashleys by Living Food
Jalan Telawi 2
Bangsar
+6 017 325 3663
[email protected]
www.facebook.com/ashleysbangsar<
Opening Hours
Monday to Thursday 11:00 am – 11:00 pm
Friday 11:00 am – Midnight
Saturday 9:00 am – Midnight
Sunday 11:00 am – 11:00 pm