Words: Hannah Staley    Photos: Monica Tindall
As a child my favorite chocolate bar was Bounty as I loved coconut and it was one of the few chocolate bars to come wrapped in two individual halves providing a sense that you were getting just that little bit more.
Just like my profound memory of the chocolate bar, the newly opened Bounty restaurant gives a bit extra with service and food, going above expectations to deliver an experience worthy of its namesake. Situated within The KL Journal boutique hotel in the heart of the city, the team here serves a western menu with local influences at reasonable prices in a unique setting.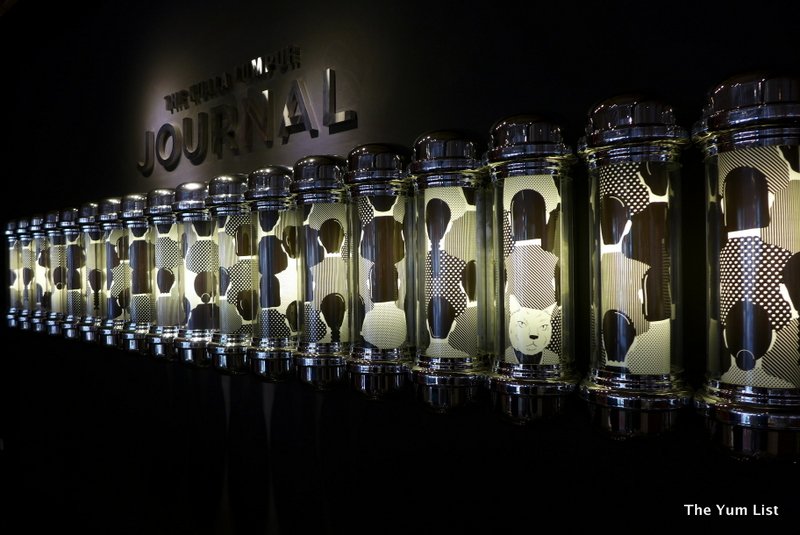 When I think 'boutique hotel' the words small and cramped tend to spring to mind. Bounty however has a spacious seating area and a huge open pastry kitchen where customers can sit and watch the pastry chefs in action. Executive Chef Logan Lopez informs us that the idea behind this concept is to 'break down the wall between the kitchen and the customer'.
Today we're sampling a number of chef's specialties from the a la carte menu, and are surprised right from the offset. Replacing the ordinary breadbasket, we tuck into a Cronut, a savoury croissant-donut pastry fresh from the pastry kitchen served with a generous helping of truffle butter and a sprinkling of sea-salt – a promising start.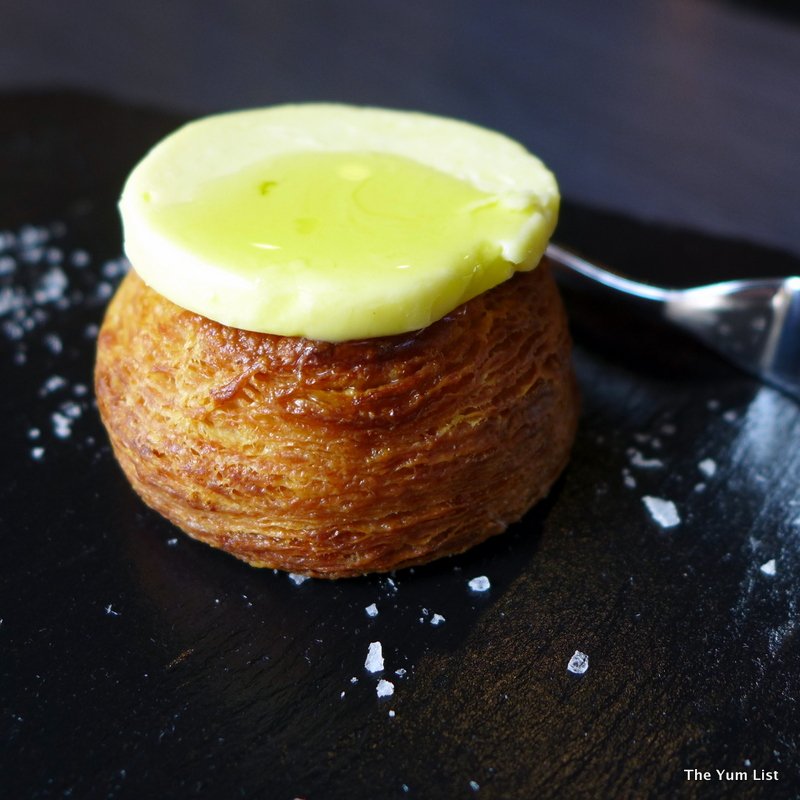 The French '5' Onion Soup (RM 18) that follows is a generous portion and the aroma from the caramelized onions seems to float like a pleasant cloud around our noses. Just like your traditional French onion soup, it's perfectly topped with cheesy toasted bread. A soft-poached egg Malaysianizes the dish and assures it a good value and filling lunch, or a starter to be shared.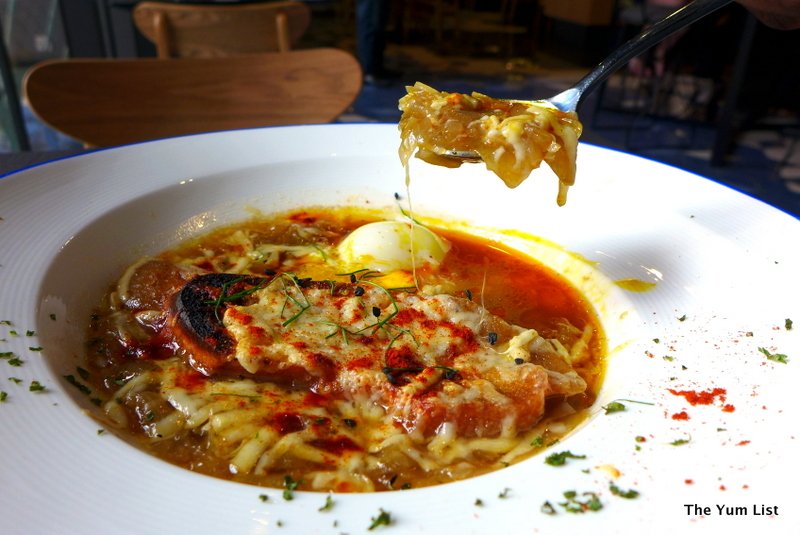 The Vitello Tonatto (RM 18) presents thin slices of veal atop creamy tuna mayo and grilled brioche. I admit to Monica that this is the first time I've tried this famous Italian classic and I'm not disappointed by its delicious. The tuna adds a subtle lift to the dressing and the cubes of buttery bread make perfect mops to clean the plate.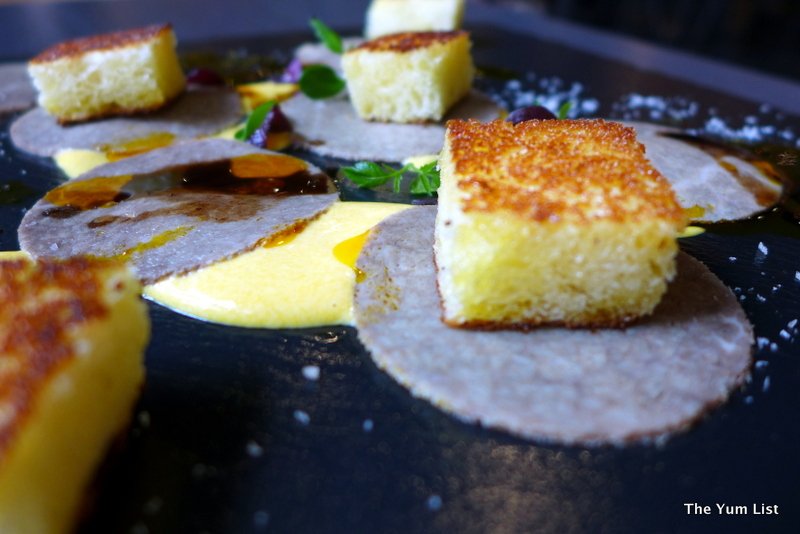 Sautéed Clams (RM 23) with chili, sun dried tomato and cuttlefish ragout appeals to both of us girls. The chili is not overpowering and I can really taste the sundried tomatoes and paprika. As I reload my spoon I can't help but think the only thing to make this dish better would be a chilled glass of sauvignon blanc and an ocean view.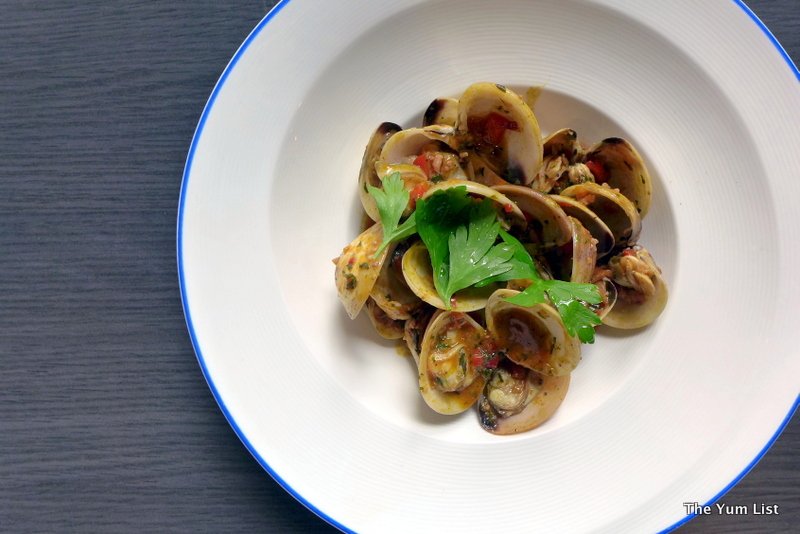 We move onto the mains but stick with seafood and my eyes light up as I discover it's my treat dish – risotto. This Grilled Tiger Prawn Risotto (RM 32) however is much more interesting than my beloved mushroom. The large prawns and rice are supported by tomato and kimchi paste that proves extraordinarily delicious. The prawns are fresh, thick and juicy. The kimchi paste provides a wonderful flavour and colour, while a rum marinade enhances the sweet tones of the dish.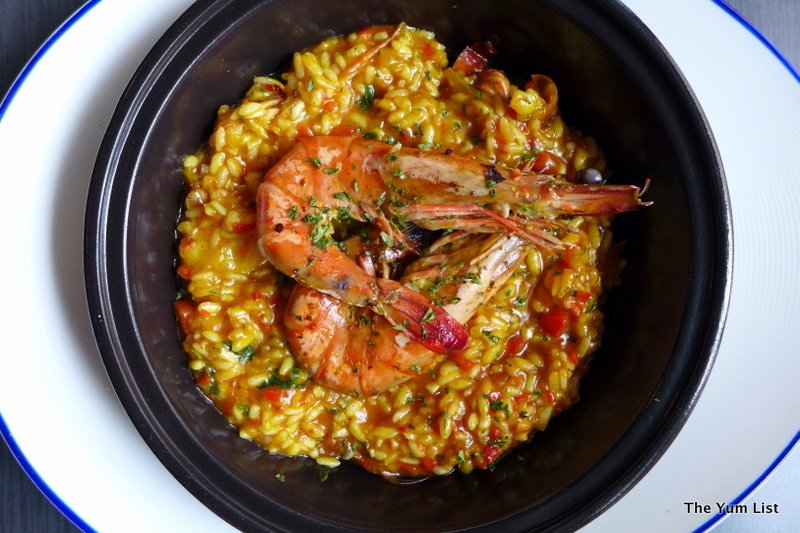 Another colorful dish on Bounty's extensive menu is the simple but delicious Tagliatelle Pomodoro (RM 26) with momataro tomatoes and burrata cheese.  The tagliatelle is cooked al dente, and what's not to love about the combination of pasta, tomatoes and cheese?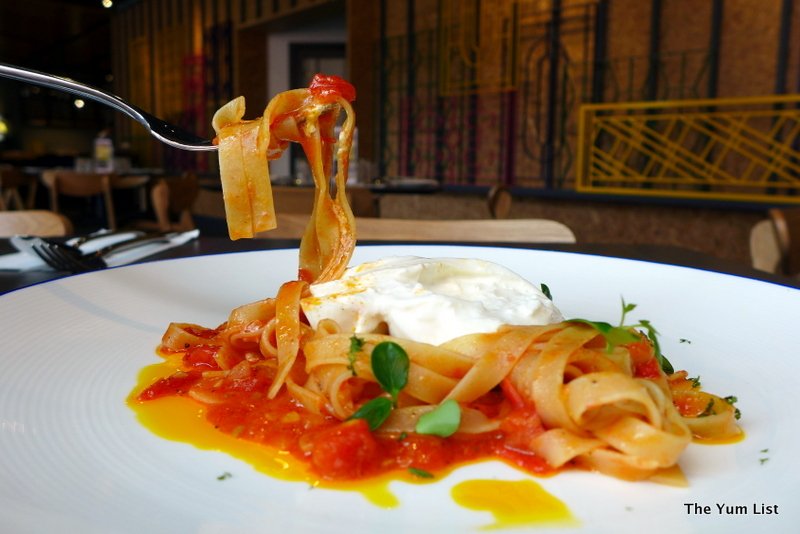 We finish off the mains with the decadently rich Oxtail Stew (RM 29).  The oxtail is succulent and I load my fork with the accompanying mashed potato soaking up the wonderfully fragrant curry sauce.  Chef Lopez explains that the dish is made with local carotene oil that provides the attractive yellow hue.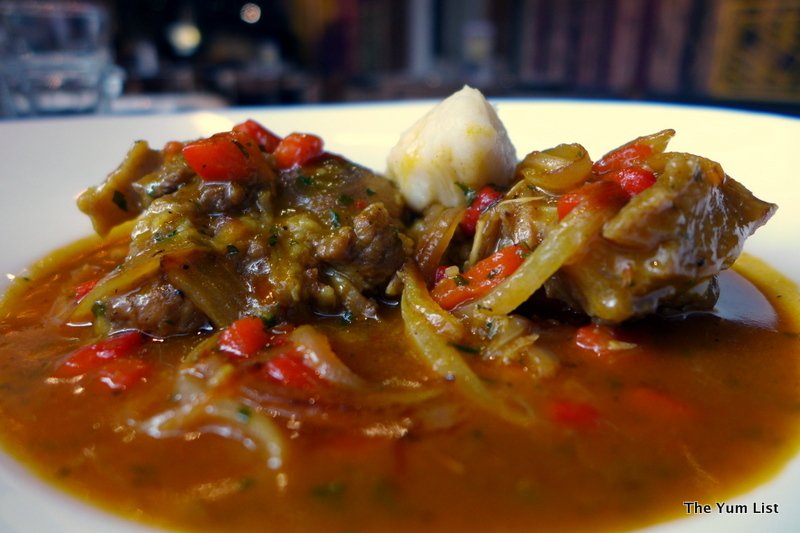 Bounty has a fun energetic team in its kitchen keen to experiment, and this is evident with the arrival of dessert. With a weakness for Italian sweets I delve into the Pandan Panna Cotta, interestingly topped with sweetened kidney beans. It has been given a pale green shade with the infusion of pandan leaf, and the coconut cream pond it sits in is decadently sweetened by a stream of gula Melaka spilling over from the top. The girls are lucky to get a spoonful of this one in as Caning discovers it early on, and before we know it, it's gone.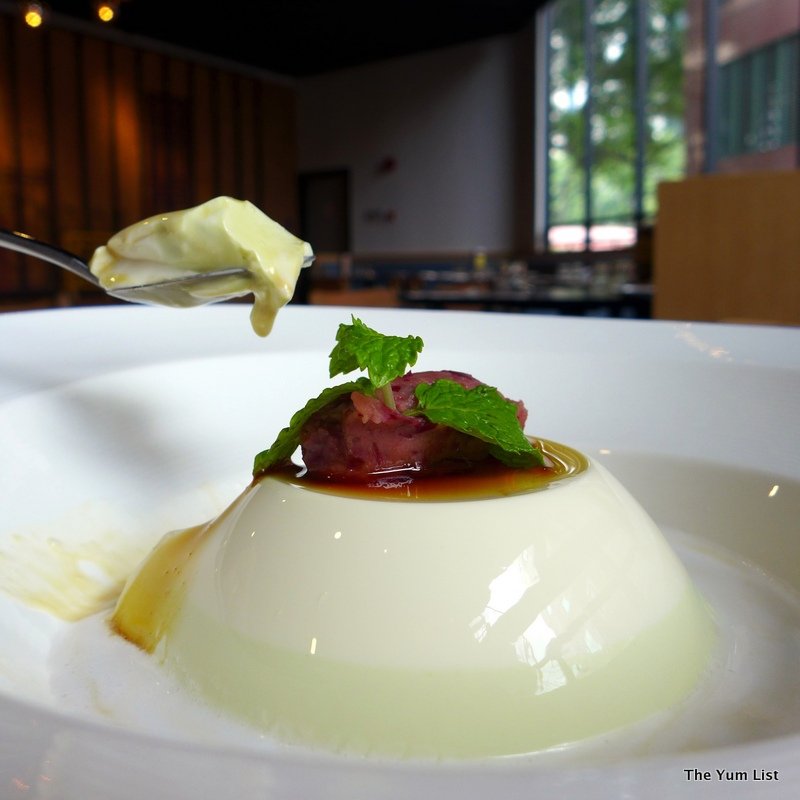 The Kaffir Lime Tart & Raspberry Sorbet (RM 23) is just on the edge of tart – quite tangy if you just eat the filling, but in perfect harmony when eaten together with the mildly sweet crust and a drop of sorbet.
Last but by no means least is the Chocolate Moulleux & White Chocolate Gelato (RM 29). The combo of melted chocolate and ice cream is superb. The accompanying crumble and fruits add a nice touch and we ironically end the evening with a tasty combo reflecting the brown and white tincture of a Bounty bar and a feeling that all the dishes sampled have provided just that little bit more.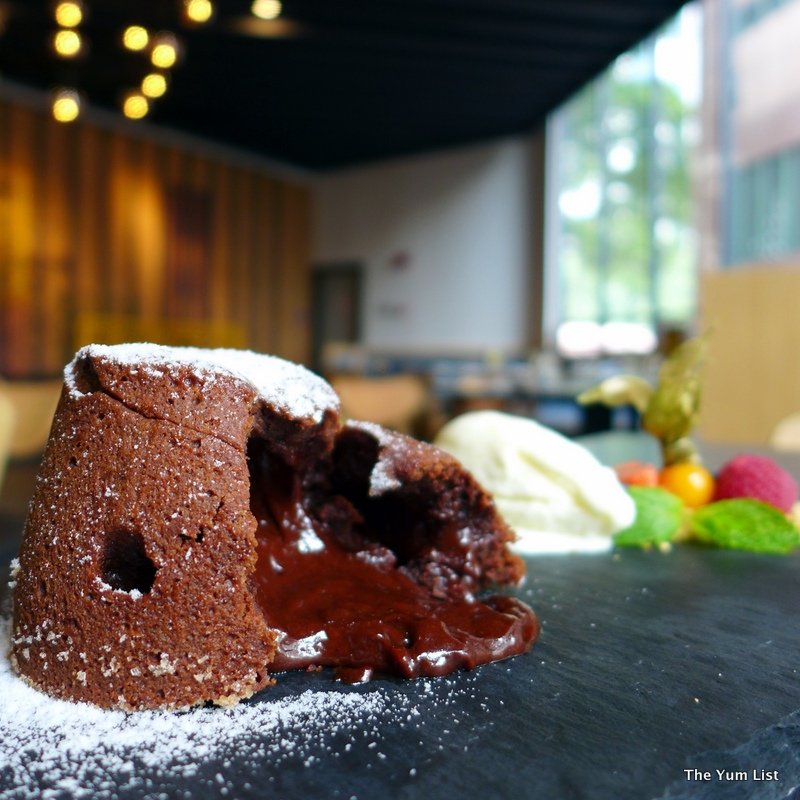 Reasons to visit:  Cronut beginning; French 5 Onion Soup; Tiger Prawn and Kimchi Risotto; Pandan Panna Cotta.
Bounty
Ground Floor The Kuala Lumpur Journal Hotel
30 Jalan Beremi
50200, Kuala Lumpur
www.kljournalhotel.com
+6 03 2110 2211