Words: Kirsten Durward   Photos: Monica Tindall
There's nothing quite like trying somewhere that has all the comfort of the familiar but offers you something new and fresh at the same time. And this is why I love Como at TREC KL. Created by the trio behind Pisco on Jalan Mesui and beloved by a loyal following for the past three years, Como offers a similar quirky charm to Pisco but is distinctly different in concept, design and menu. Finding the downstairs bar, slightly more elegant, we love the comfort and colour, which is very much on trend with exposed brickwork and mix of color tones, textures and seating levels. Upstairs features a more dramatic space for late night drinking and later night dancing. No doubt there will be many signature events here.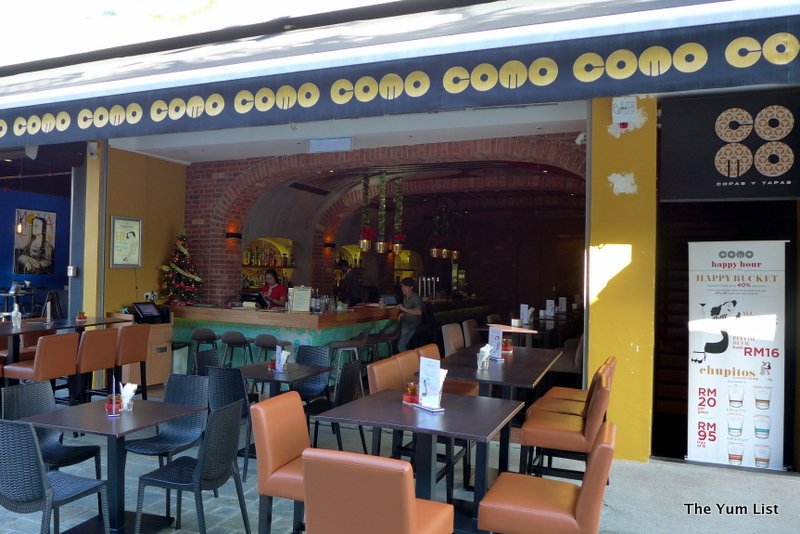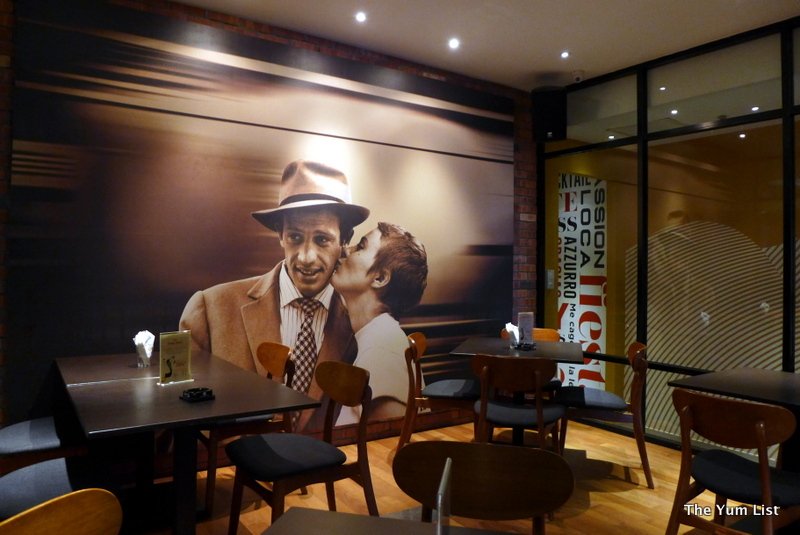 We feel definite Barcelonan street life influences as we sit outside and enjoy the chilled out vibe. New chef Daniel Carrilllo hails from Madrid, where he spent a year working at 2 Michelin Star establishment, Coque. We are happy to hear he is bringing his version of Sergi Rolla's Papas Bravas to Malaysian taste buds, and happily settle back into his expert guidance for our menu tasting. How better to spend a late afternoon than with some delicious light and frothy cocktails? We were intrigued and delighted with some of the fresh new tastes whetting our appetite for the food treats to come. My favourite is the Como Clover Club while Monica swooned over 'It's always 5 O'Clock'. Intrigued? You will be! Read our happy hour and Cocktail post for a full description of drinks and happy hour specials.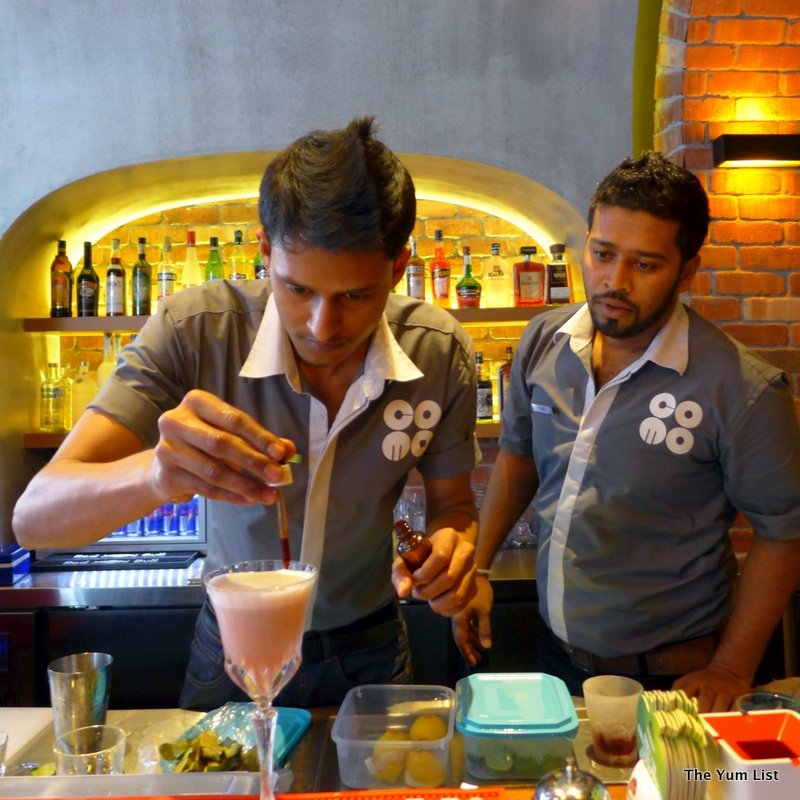 If you are not sure what to order off the traditional or Modern Spanish menu then why not try the mixed platter of assorted tapas? With the signature Patatas Bravas, a trio of creamy Croquettes (mushroom, cheese, cod), juicy Spanish pork skewers, a bowl of crispy shrimp, sardine bruschetta and long spring rolls stuffed with minced pork, served with lime aioli and sweet chili sauce this is great value for two at RM 60 + (our photos show a platter for three people – it's easily customized according to the group). Grab a couple of happy hour beers and you're done for just RM 100 +.  Monica is raving over the Patatas Bravas with their dib of spicy barbecue aioli.  Caning claims his favourite are the croquettes although I do notice his hand keeps sneaking back for more of the crispy shrimp.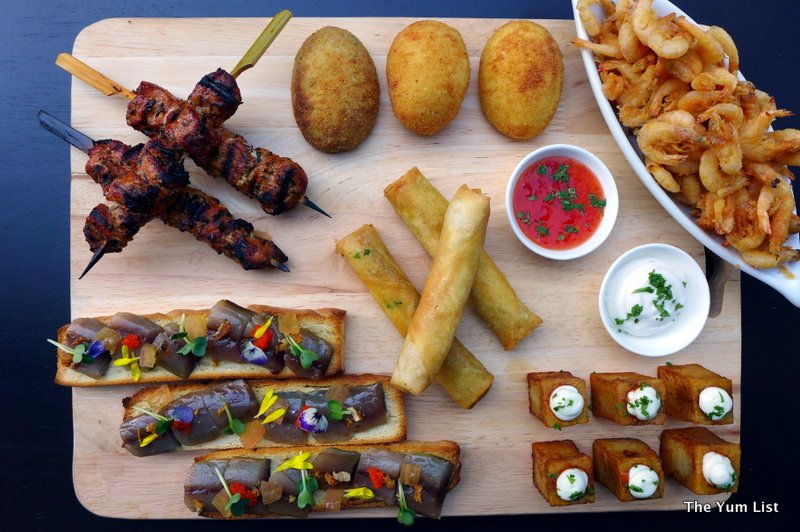 If you are looking for a fresh alternative to some of the fried and grilled offerings, we found Rollito con Escalibada (RM12) to be a truly delicious fusion tapas. A fresh Vietnamese style spring roll with a traditional Spanish filling of smoky grilled vegetables. Yum! We particularly like the prominence of the red pepper in this colourful dish, served with Pimiento Roja Mayonnaise.  Another fusion brain wave, Dados de Pollo Yakitori (RM16 +) slow cooked chicken with a yakitori sauce and tofu cream soft and flavourful with just a hit of miso – as Caning says 'this is lovely – simple but lovely.'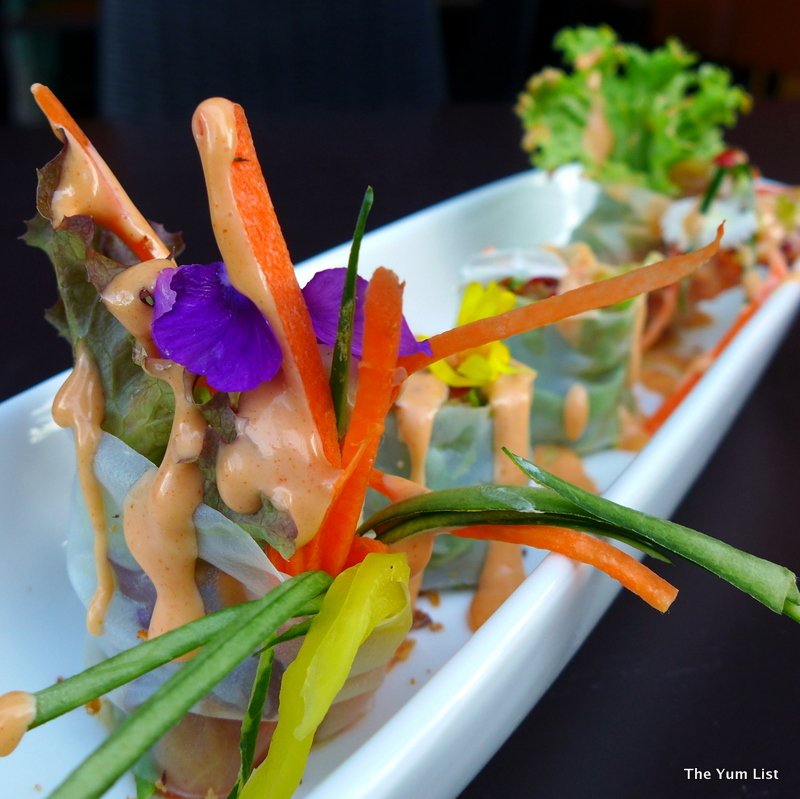 We try one dish from the small but charming selection of main courses, I have to admit I have a preference for restaurants with small menus. For a start there is less to tempt me and it's easier to make a choice, but also the tastes tend to be distinctive, and like here, everything is freshly sourced and prepared.
Costillar de Cordero con Trinchat de Patatas y Col (RM58) is a beautifully oven roasted rack of New Zealand lamb. On first bite I taste the delectable flavours of rosemary, garlic and salt, then something different; ground pistachio. There is plenty of soft juicy meat on these bones to satisfy any carnivoric urges. I find the accompanying Potato Rosti to be more of a mashed potato cake but it is deliciously flavoured with lots of herbs and certainly soaks up the dripping juices nicely.  It's a scrummy twist on a classic dish.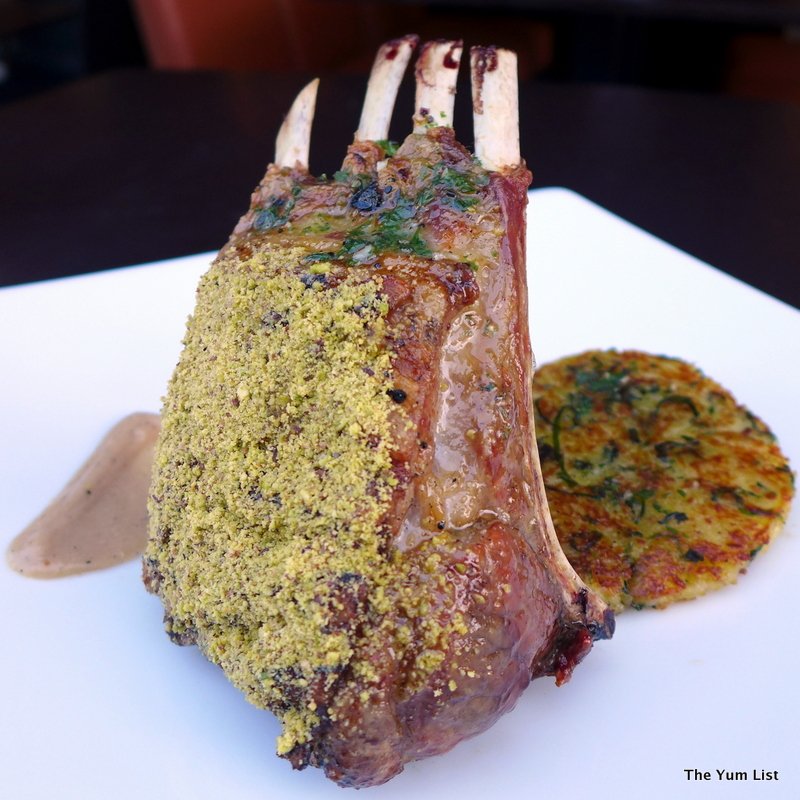 There is barely anything nicer than a splash of red wine with a juicy piece of lamb. Wine is available by the glass at Como, but why not splash out and take a bottle form the happy bucket where selected bottles are discounted to 40%.  We try a 2013 Italian Merlot that was pleasantly light and fruity. Perfect for sipping with or without food
For dessert we split the difference between healthy and sinful.Crema de Yogur con Compota de Fresas y Caviar de Naranja y Te (RM 22+). Yes that is right, orange and red tea caviar whoever heard of such a thing? Humorously served in a jam jar with a lid echoing a recent craze for serving cocktails in all things recycled. This filling dessert has an original flavour, slight smokiness from the tea, fresh citrus boost, creaminess and fruit.  We find the homemade yoghurt cream and strawberry compote to be very satisfying and also good for sharing.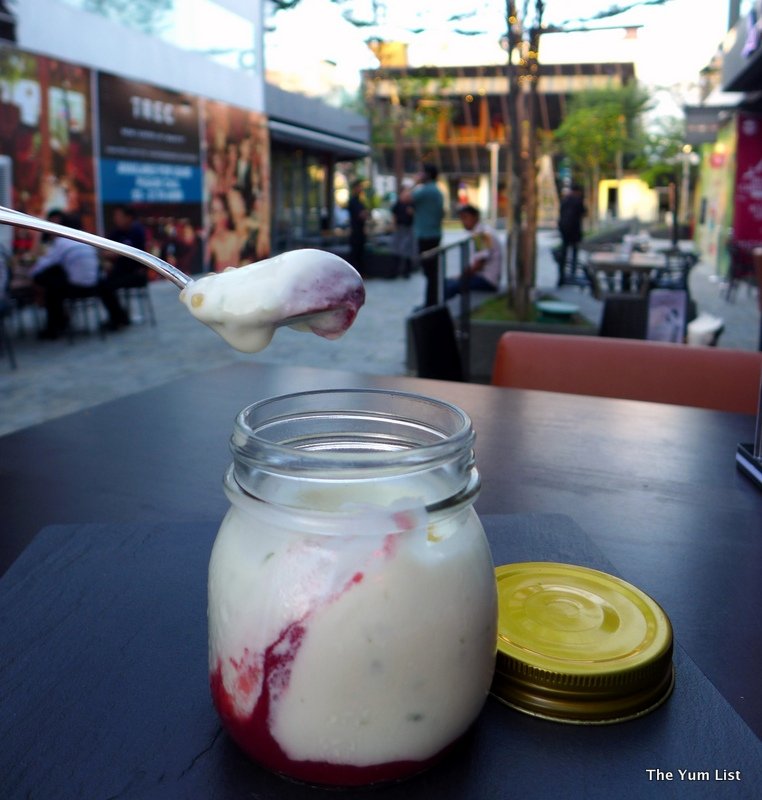 Monica is on the healthy side but Churros (RM 18), is one of her secret sinful treats These ones are crispier rather then fluffy, very much in the Spanish style, and the chocolate sauce is divine dark and luscious. More dipping please.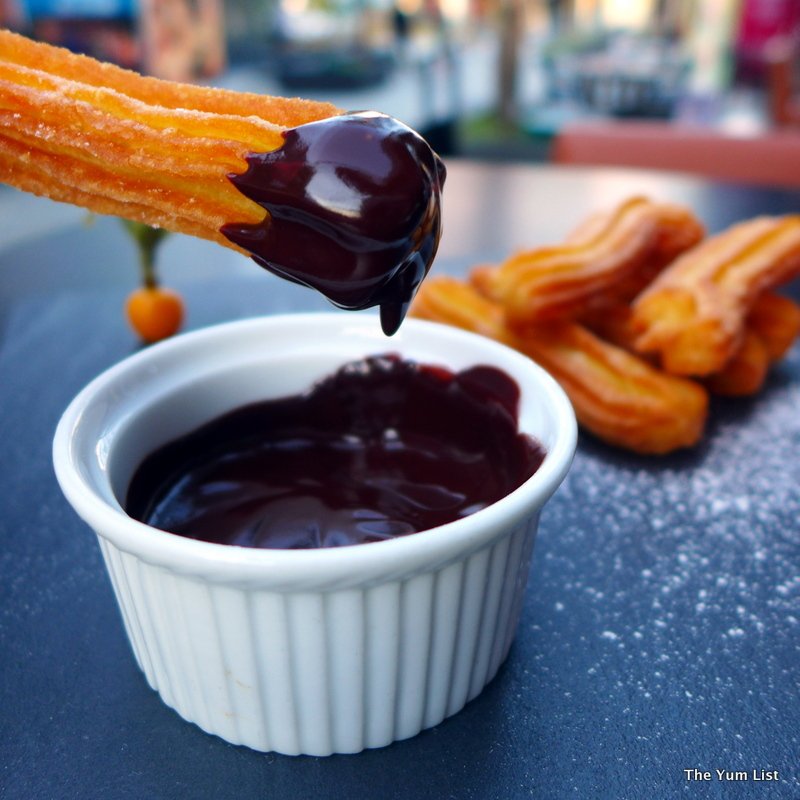 I've loved the time at Como and really think it could become a new regular haunt. All around us glasses are clinking and forks are lifting mouthfuls to happy mouths. This is a great location for meeting friends or waiting out the traffic, and whether you fancy a drink or a bite, or something more late night, Como has it all rolled out for you.
Reasons to visit:  fabulous atmosphere, delicious tapas, fresh new cocktails, and great Happy Hour deals
Como
E-G-04
Electric Boulevard
TREC
434 Jalan Tun Razak
Kuala Lumpur
Malaysia
+6 03 2110 2272
Como on Facebook
Pisco and Como events list