Words: Kristin Cosgrove    Photos: Monica Tindall
Juicing has really taken on off here in Kuala Lumpur as of late; it seems as if everywhere I look there are kiosks popping up offering nothing but elixirs of concentrated vitamins and minerals packed into a glass of freshly pressed juice.  But after using juicing as a jumping off point for healthier eating, it can be really hard not to land right back in a pile of nasi goreng or roti canai when dining out in KL.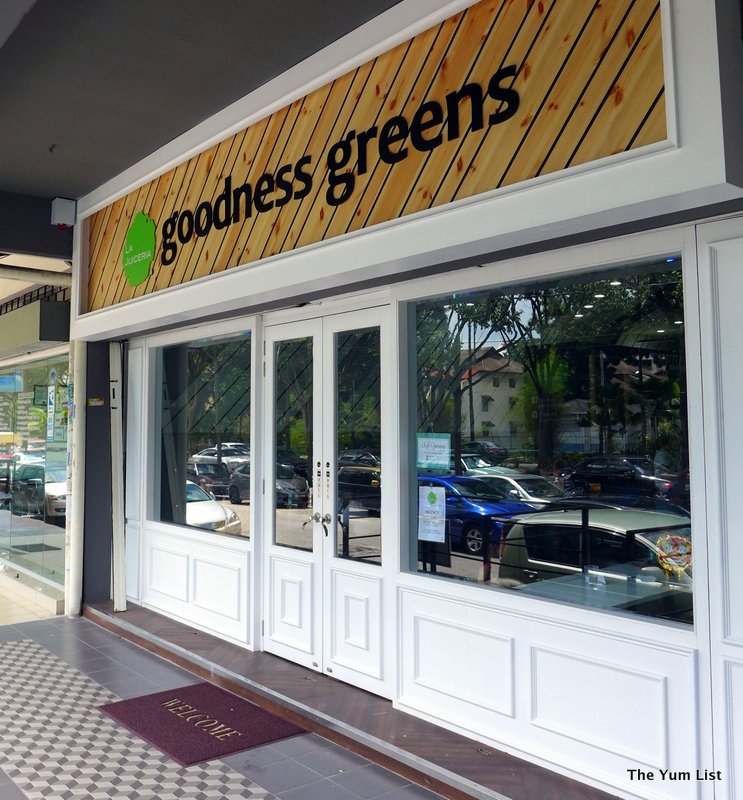 Enter Goodness Greens, a new café by one of KL's leading juicing establishments, La Juiceria. Located on a hip row of shop lots in TTDI, Goodness Greens is named after its best-selling green juice, and it aims to prove that eating clean can be extremely delicious and satisfying.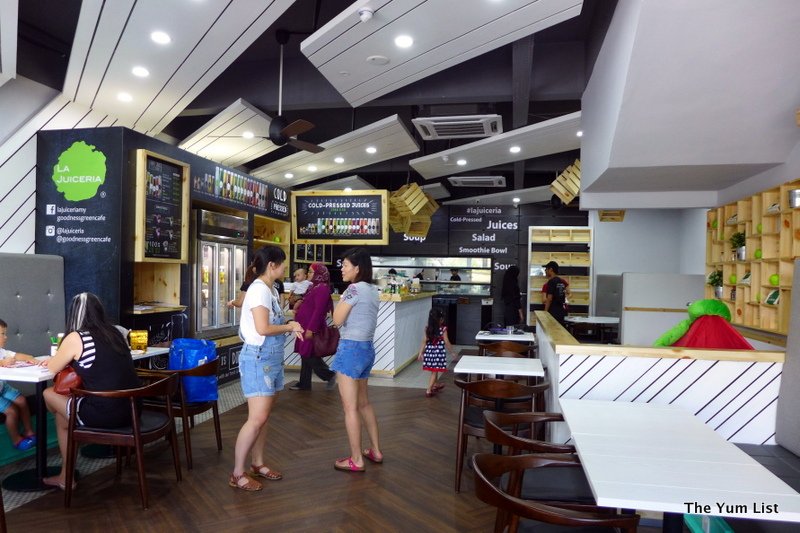 Goodness Greens is family friendly, bright and airy, with clean grey upholstered benches along the wall and heavy, comfortable chairs. Pallet-inspired wooden shelving adds interest to the focus wall, which is painted a pretty bright turquoise. We feel relaxed and welcome upon entering. Catching my eye right away is the ample kid area, bedecked with a kid-sized play kitchen, TV with recent movies playing, and even stuffed toys in the shape of – what else? – veggies.  Later I will see that even the bathroom is family friendly, as it features a good quality baby changing table, and even a mini toilet and sink for the toddlers!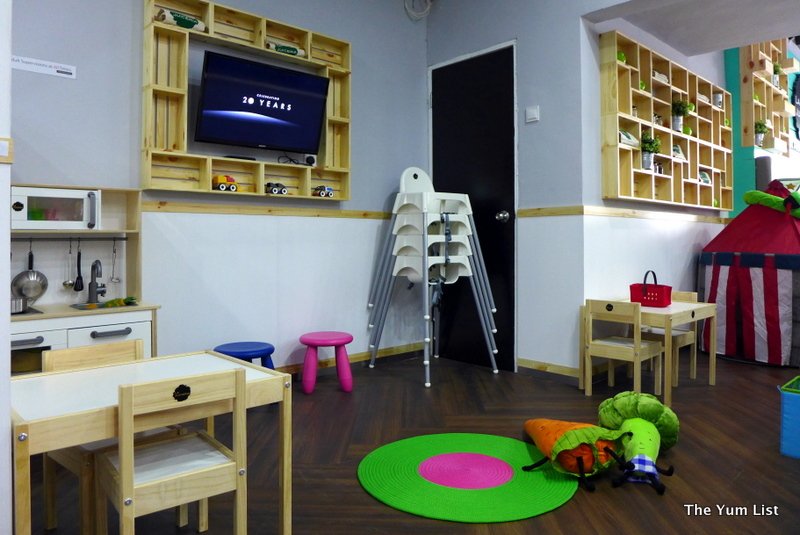 Being a Sunday morning, coffee is first and foremost on our minds. We order a Latte (RM 10) and decide to also sample the vegan version, the Vatte (RM11) which is made with almond milk, a refreshing alternative to soy in my opinion. With beans from Antipodean, we were well satisfied by the taste of the coffee, but having never found almond milk I love, I was initially skeptical about the Vatte. I needn't have been! Goodness Greens' Vatte is made with La Juiceria's own spectacular Almond Mylk, a creamy blend of almond milk, a dash of cinnamon, the sweetness of agave nectar, and a little Himalayan salt.  This milk brings a welcome punch to a hum-drum latte! Coffee here is served with a side of Chlorophyll water (to be consumed separately); chlorophyll is responsible for photosynthesis in plants and has multiple benefits, including cleansing and healing properties. It has no taste that I can discern, and I feel good drinking it.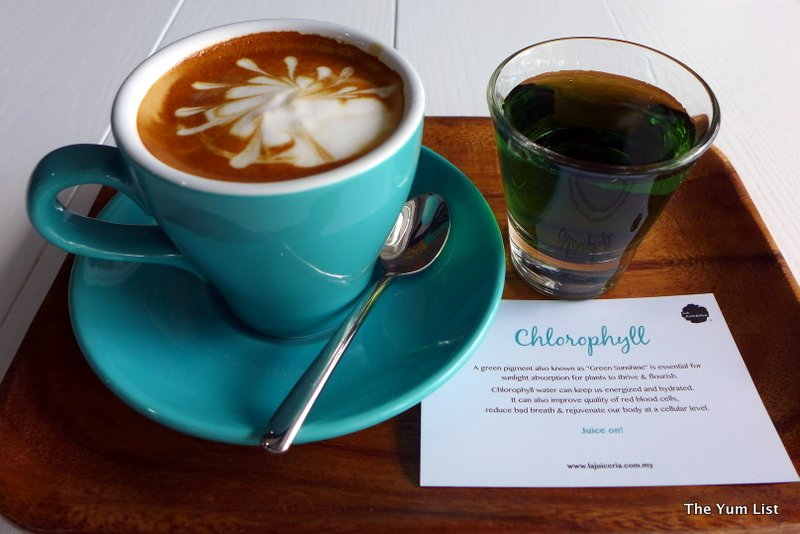 The menu at Goodness Greens is small but well done and holds plenty of appeal, separated into "Super Soups", "Salads", and "Smoothie Bowls and Super Foods".  Of course, their full range of juices and vegan milks are also available as a complement to a meal or even as a meal in and of themselves.
The Goodness Greens Spinach Dip (RM13.90) is so bright green that it can't be anything but healthy and it tastes exactly 50 times better than it looks. We battle over the remnants, the creamy blend of spinach and mozzarella lifted with a hint of Parmesan. I intend to try this at home, but have a feeling I'd fall woefully short.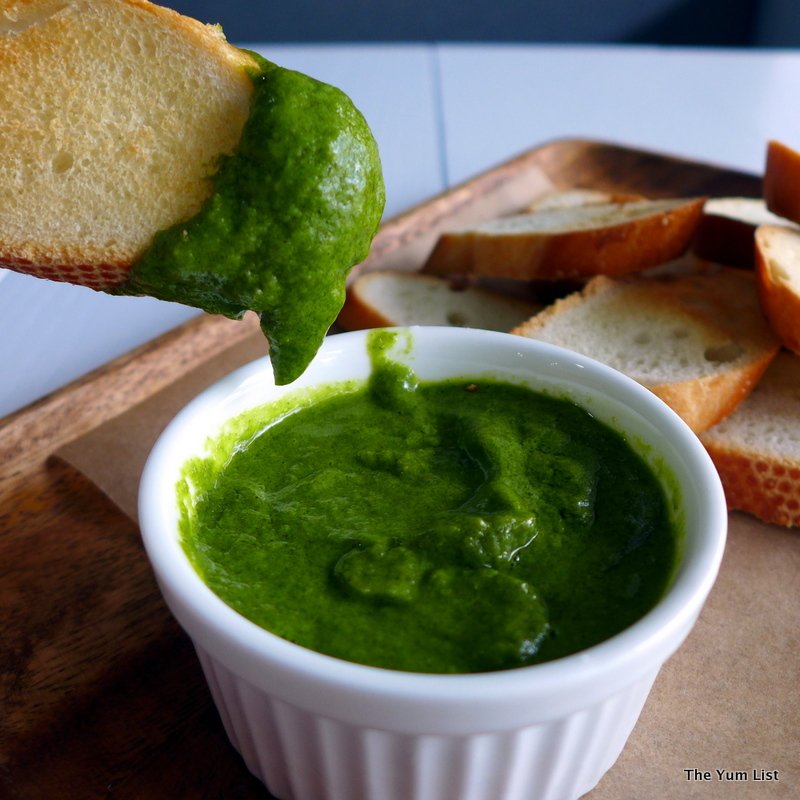 We try two "Super Soups" which live up to their promise: Pumpkin and Mushroom (RM9.90) Both are hearty and thickened with almond milk and enough to be lunches on their own, or even dips for the rounds of baguette provided. Delicious! The Rosemary and Carrot soup sounds tempting as well, but I'll have to save that for my next visit.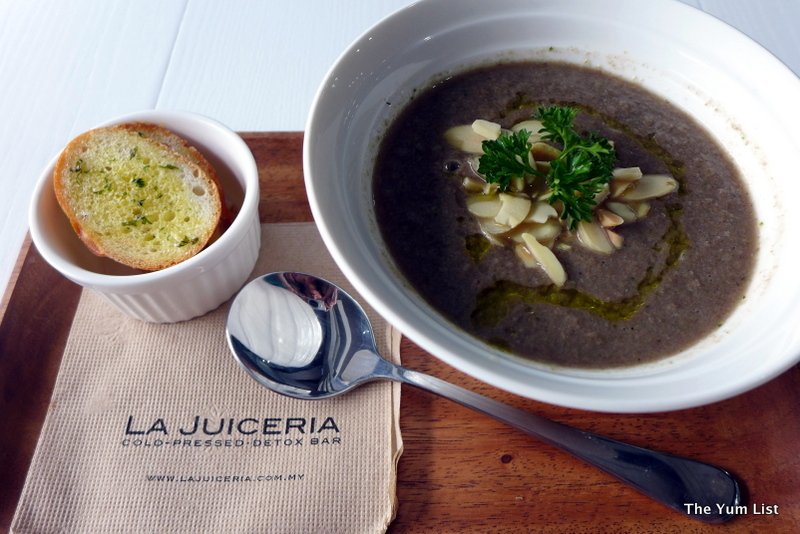 Superfood bowls are a great way to start the morning or for an afternoon pick-me up and we love Goodness Greens' Granola Bowl (RM15). House-made granola sweetened with agave is paired with Almond Mylk and topped with seasonal fruits. We also try the Acai Berry Bowl (RM24). Acai bowls have been popular in the US for some time, but I haven't come across many in Asia yet. The Acai berry, native to Central and South America, is packed with more antioxidants than other more common berry and tastes similar to a mix of cranberry and raspberry.  It's perfect as a frozen treat and Goodness Greens' is beautiful with sliced banana, coconut, chia seeds, and even cocoa nibs on top. Cheating on a diet never tasted this good, and this isn't even cheating!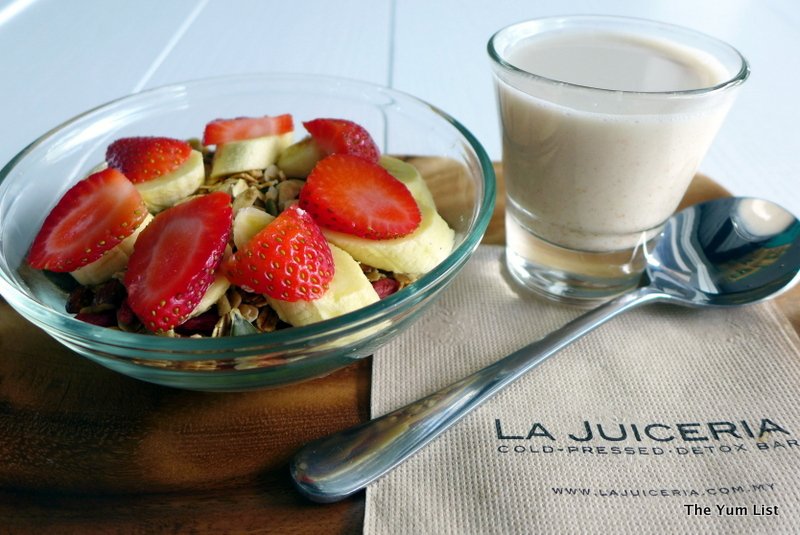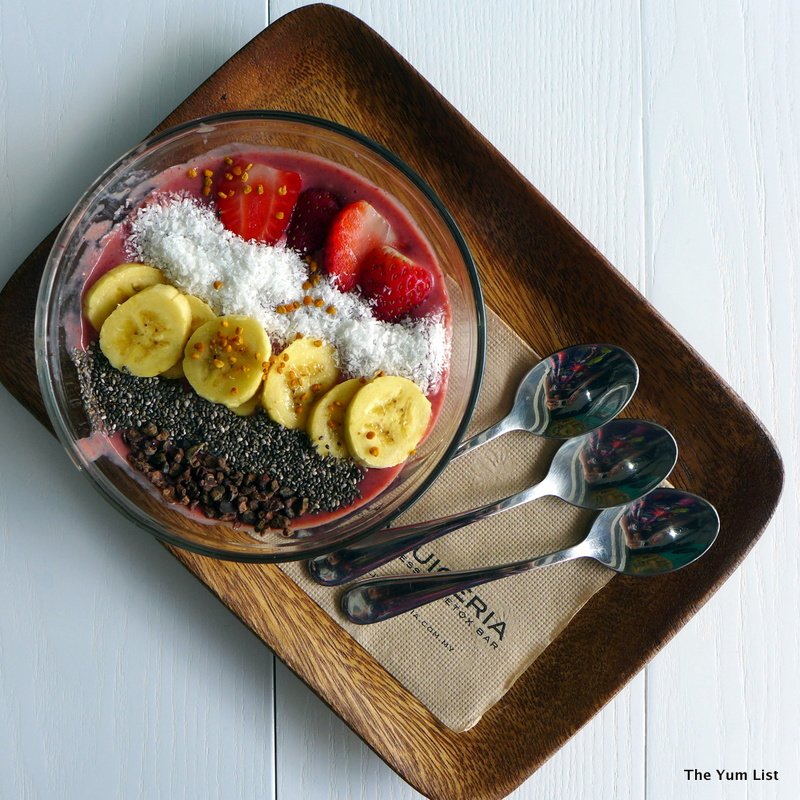 Of course, "eating your colors" is an important mantra in watching one's diet, and with a huge range of available salad ingredients, eating a rainbow is easy.  Salads are custom-built and available in Petit (RM14.90), Medium (RM18.90) and Grand (RM23.90) depending on ingredient choice.  We assemble an order for Medium and Grand Salads, but it's hard to choose with so many wonderfully fresh veggies, fruits and grains available. I particularly like that each ingredient's health benefits are featured on the menu. In the end, we pick as many colors as possible and select a tasty dressing to be provided on the side. We opt for a brown rice salad with lots of veggies, as well as a greens-based salad with chicken and lotus root on top – divine!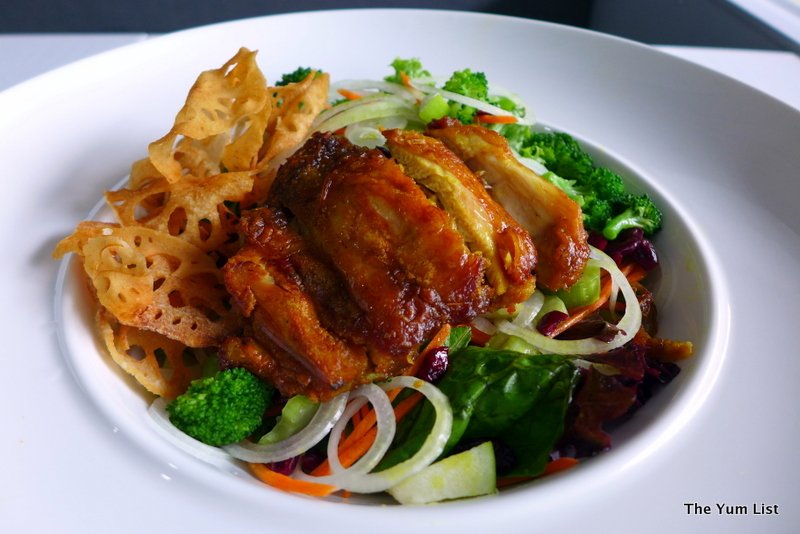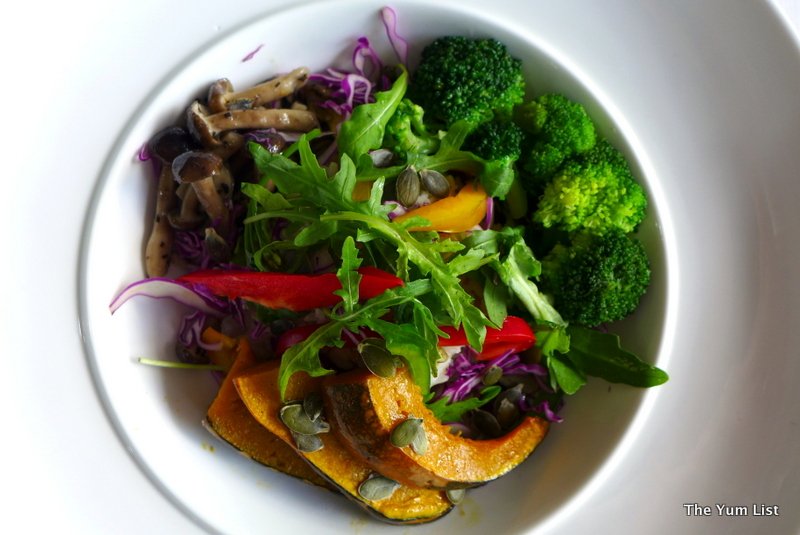 Along with our lunches we decide to include one of La Juiceria's tempting juices and opt for the Berry Bliss (RM12.99). Strawberry, apple, beetroot, capsicum and lemon is said to promote skin health and fighting infection, but this juice tastes so good I'd drink it regardless. Upon sipping, the sweetness of the berries hits the tongue first, and then is finished nicely with the earthiness of the capsicum. This is only one of many La Juiceria juices I've enjoyed over the last several months, all which have been good blends of flavors and benefits.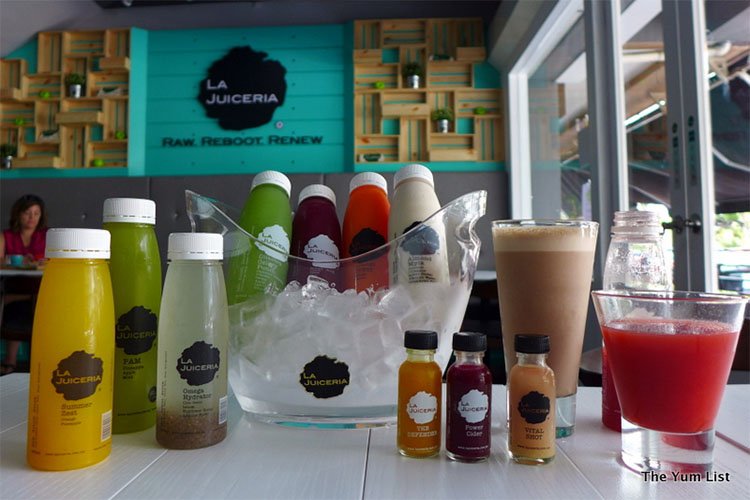 Finally, I'd be remiss if I didn't mention the attentive and friendly staff at Goodness Greens, who all seem equally knowledgeable about their products and excited to be working at this new café.  Well nourished, we leave satisfied, energized and happy. The only complaint I have is that I don't live closer so I could eat here every day, but you'll likely catch me there on a weekend with a Vatte and an order of Spinach Dip I'll keep all to myself. 
Reasons to visit: child-friendly; delicious and healthy menu; don't miss the spinach dip; pumpkin soup; granola bowl; and acai berry bowl.
Goodness Greens Café
No 32, Jalan Datuk Sulaiman
Taman Tun Dr Ismail
6000 Kuala Lumpur, Malaysia
+6018 3683320
www.facebook.com/goodnessgreenscafe
http://lajuiceria.com.my/wp/