Revisiting Decadent Oriental Exoticism at Kom-Ba-Wa
Words: Han Sen Hau   Photos: Monica Tindall
Marked only by its large glass windows concealed behind trees that filter the amount of sunlight illuminating its ostentatious interior, Kom-Ba-Wa is easily missed when travelling along the busy Soi Suan Phlu unless you're perspicacious and quick enough to spot a large sculpture of a red fugu (if my knowledge on marine biology holds any water) mounted on a wall. Yes, that happened as my taxi driver drove up and down the street several times before I jumped at my seat, grabbed him by the shoulder, and yelled "FISH!" as if the exclamation made perfect, rational sense to an already frantic driver who thought his passenger viewed him poorly simply because he had difficulty locating a restaurant.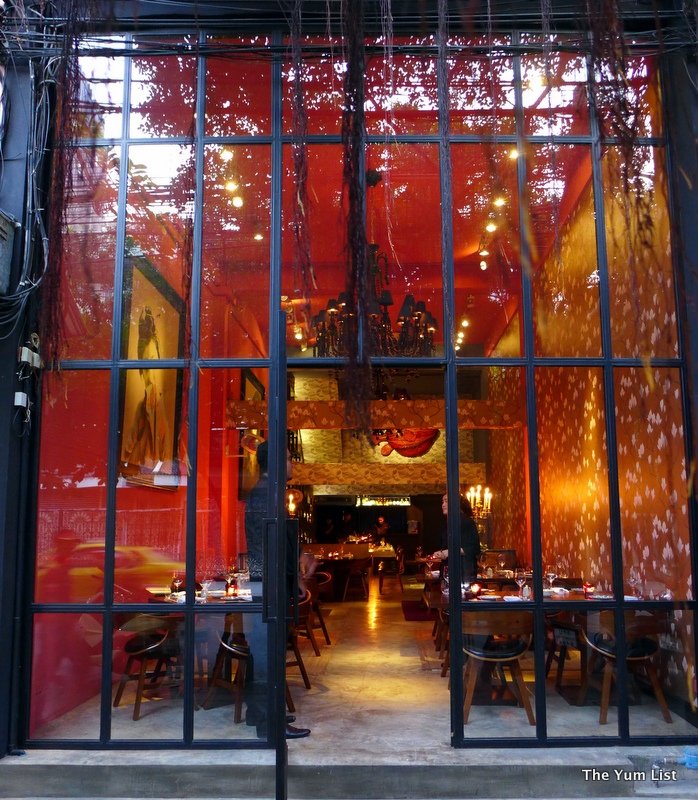 Only Alice who went through a looking glass could understand the amazement I felt as I pushed the glass doors into Kom-Ba-Wa—its interior was a modern interpretation of how a neo-Romantic would decorate his home at the zenith of the Decadent movement in 19th century Paris. I've already mentioned the fugu sculpture, but I didn't bring up the impressions of Hokusai's masterpiece, The Great Wave off Kanagawa, on the wall where the fish is mounted on. Antique Japanese furniture are a highlight of their own in the restaurant and I was greeted by a couple of beautiful Meiji-era chests of drawers, each with an ornate Baroque-Rococo candelabrum on top of them, and wax was being licked by a flame each candle held, so don't go tipping them over. Needless to say, this is a great spot for romantic dinners, what with vintage hand-painted images of Japanese women demurely looking down upon you and your partner from the wall.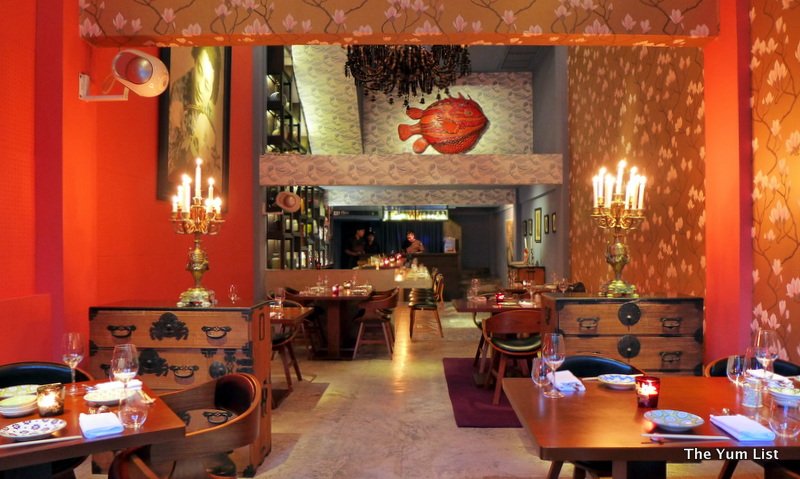 The visual appeal continues upstairs on the second floor where you have a private dining area that's perfect for little gatherings. Two antique Japanese iceboxes are positioned against a wall with fantastic metallic octopus sculptures crawling along it. This is juxtaposed against the opposing side featuring a fishy wallpaper, and what I believe is an original electronic order telegraph. There are so many things happening in Kom-Ba-Wa's design, it's amazing how everything falls into place like a completed jigsaw puzzle. The contrast from the various items creates an incredibly sensual and gorgeous interior that always looks a little different depending on your point of view.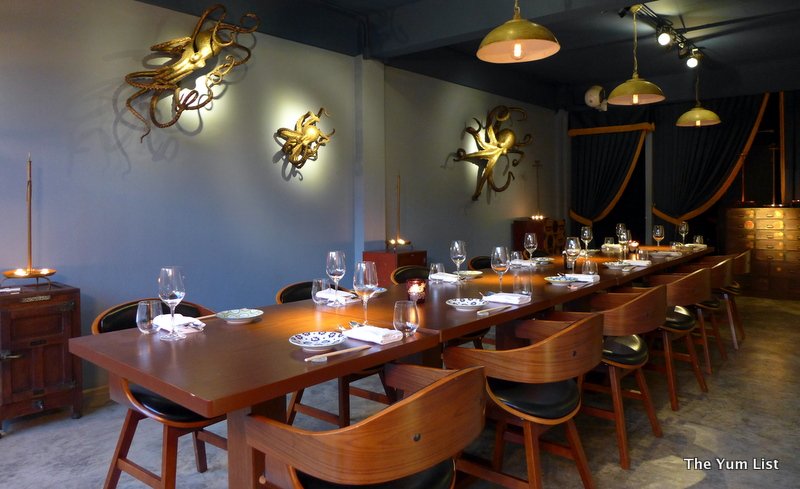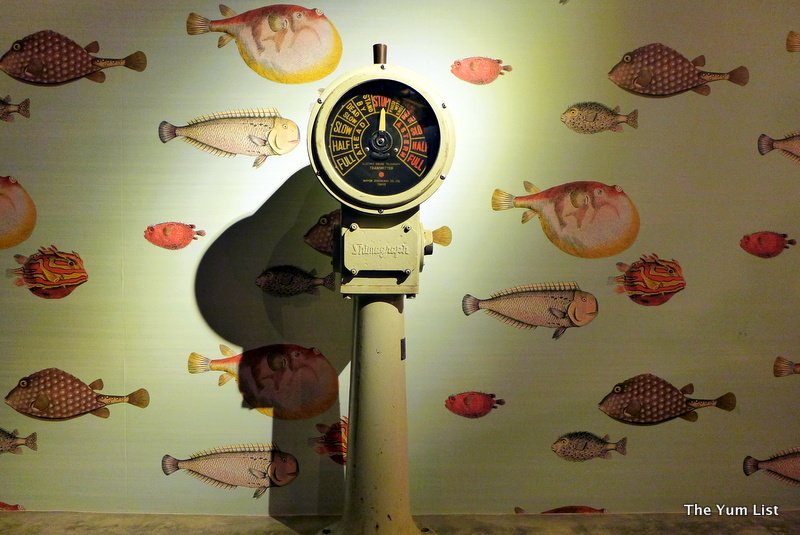 And we haven't even gotten to the food yet!
Once I've had my fair share of going absolutely gaga over the design of the place, we settled down for dinner, beginning with a most delightful plate of Salmon Salad. Every chunk of item on this plate is an experience of its own, from the crisp cucumbers to the creamy avocado to the organic salmon that's as smooth as the music played in the restaurant. Great individually or as a threesome in your mouth, all three ingredients also go beautifully with the accompanying wasabi ginger vinaigrette that stimulates the palate with its zesty profile.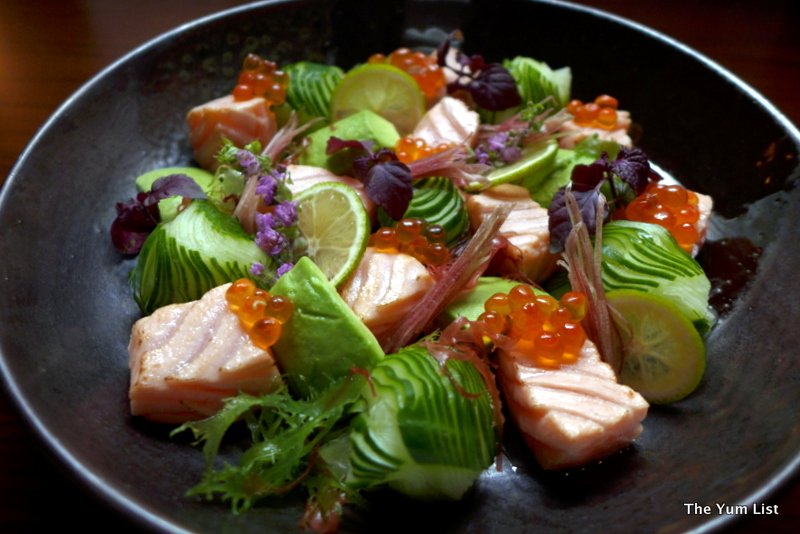 The following Chicken Skewers Glazed with Yakitori Truffle Oil made our stomachs howl simply by its presentation. Whoever came up with the phrase "we eat with our eyes first" certainly didn't endure the torment we had to put up with as our waitress lightly grilled the fat and juicy skewers on the shichirin (charcoal grill) while we listened to it sizzle. With the nimbleness of a masseuse, she then had the audacity to brush the meat gently with truffle oil right in front of us. Medieval torture methods seem rather tame compared to this, because we were screaming in agony (or was it pleasure? It's so difficult to differentiate the two sometimes…) when she dipped the skewers in egg yolk. By the time the skewers were ready, we devoured them like contestants on Survivor who just won a feast. The chicken skewers were really soft, but benefited greatly from the crunchy water chestnuts embedded in the meat. The truffle oil and egg yolk were the deal breakers though, and made the dish incredibly decadent. This is something I'd definitely return to and would order by the dozen.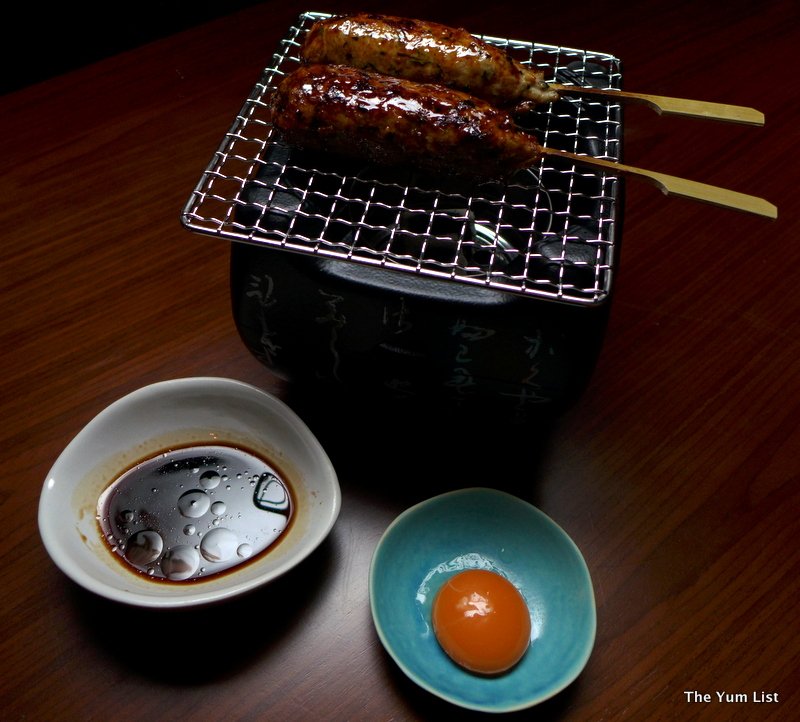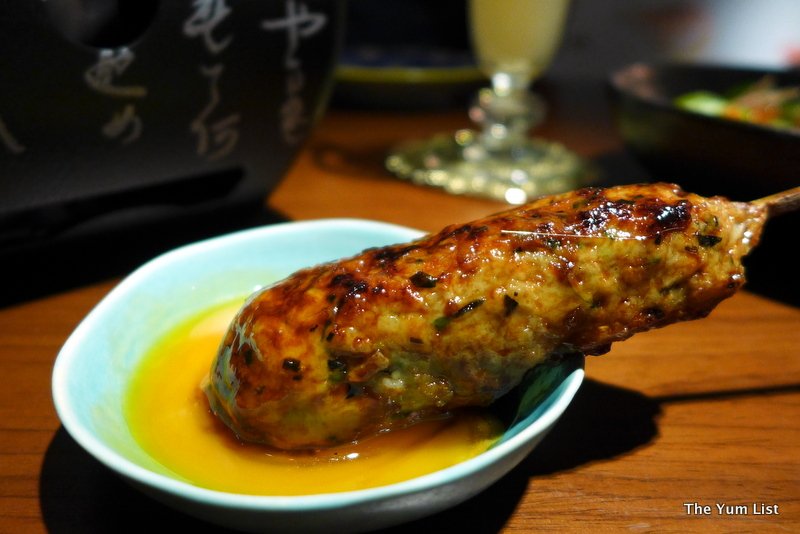 With all that excitement so early into dinner, we decided a couple of the restaurant's cocktails would do us some good, so we ordered the Hokkaido Bellini and the Kyoto Shiroku. The Hokkaido Bellini came with a hit of lime that was greatly welcomed considering the very rich flavours bombarding our palate, and its fragrance reminds me of hawthorn flakes characteristic of a Chinese childhood and upbringing. The Kyoto Shiroku, on the other hand, came with the funkiest polka dot straw which, of all polka-dot-related things for some reason, reminded me of a dress worn by Princess Di during her visit to Japan in 1986. The sweeter sister of the pair, the Kyoto Shiroku is gentler to the tongue compared to the lime-infused Bellini.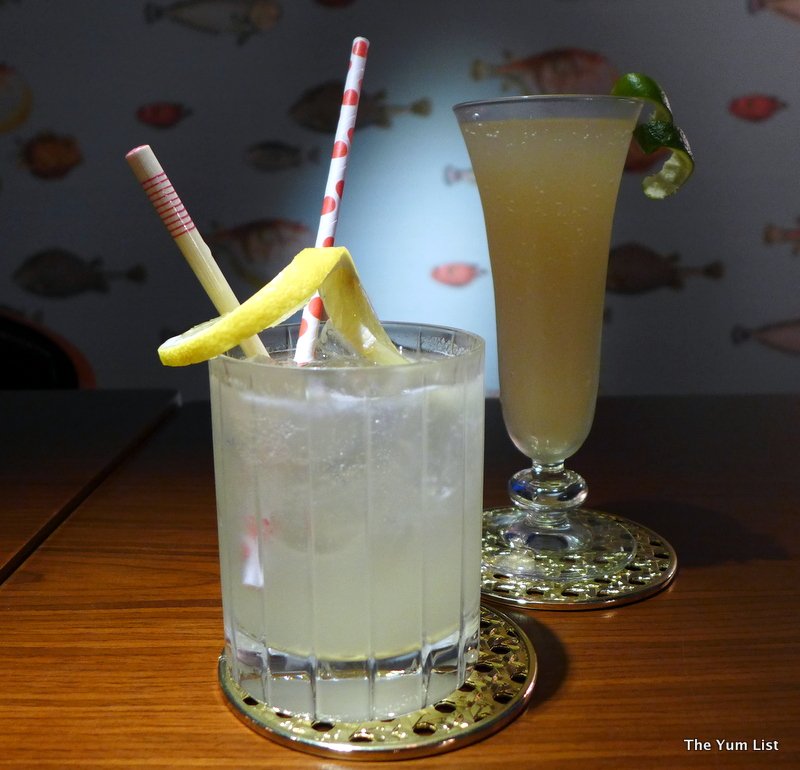 Once we've cooled off a little, we jumped straight into mains beginning with a glistening Iwate Beef with Foie Gras Roll. The beef slices crowned with pickled wasabi had a melt-in-your-mouth consistency, and the roll had just the right amount of chewiness, crunchiness, and richness to make your eyes roll to the back as you moan profanities that would make Joan Rivers blush. I'm alright with the accompanying caramelised balsamic reduction drizzled on the plate, but knowing how the rolls are placed on top of it and that it would most likely be the first thing to touch tongue, the balsamic reduction may be overwhelming for some.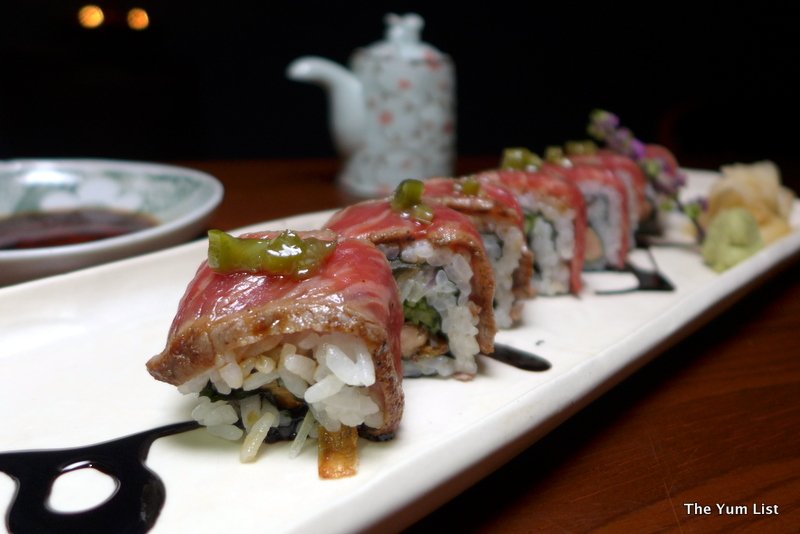 Our second main, the Fresh Maine Lobster with Homemade Squid Ink Ramen in Japanese Uni (Sea Urchin sauce), was a whopper. Even before it arrived at our table, the dish's aroma teased our noses and bore a striking resemblance to the Hokkien Char Mee commonly found in Kuala Lumpur. Granted that it's called ramen on the menu, what we had were closer to udon and it's amazing to have them al dente, which I never thought possible with this noodle since they're usually soaked in broth. The lobster was fresh as it should be, and I love it that they didn't hold back with the amount of garlic they've tossed in this. The smell of the sea urchin sauce served on the side might be a turn off for some, but it complements the shellfish and the noodles wonderfully and I wouldn't have them without it.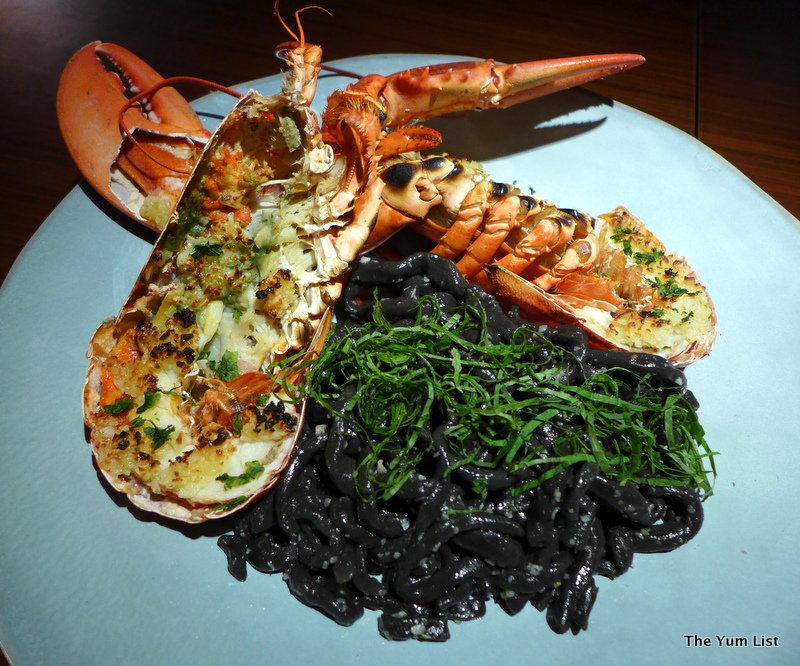 Dinner at a Japanese restaurant like Kom-Ba-Wa wouldn't be complete without sake and so our waitress served us a brilliantly fruity Ura Gasanryu Honjozo "Koka" from Yamagata. While I would've enjoyed this in a traditional ochoko, we savoured the sake chilled in a wine glass, which, I suppose, in a way reflects the harmonious French and Japanese approach to dining found at Kom-Ba-Wa.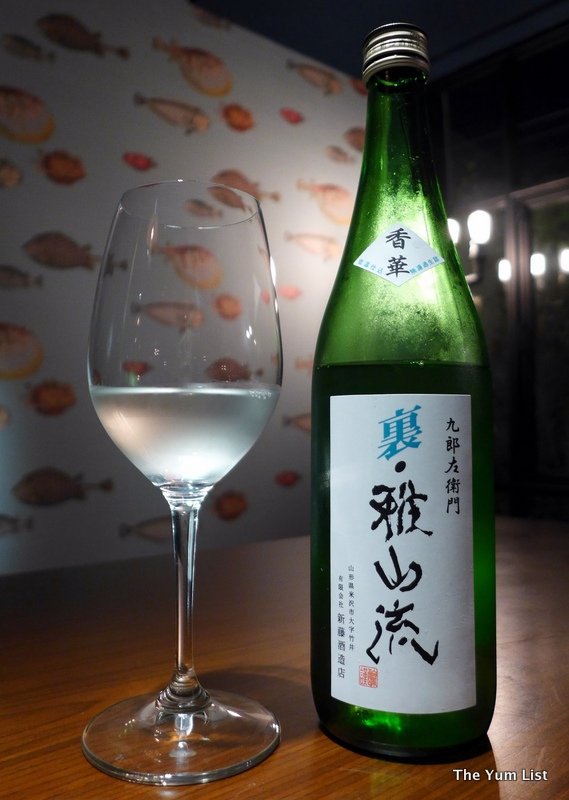 For dessert, we were presented with an attractive Yuzu Cheesecake shaped like the fruit itself. Fragrant, light, and über-creamy, cutting into this cheesecake was obscene. The whole thing sank to the touch and was intensely pleasurable on the tongue, especially with the crumbs at the bottom. If these were sold en masse from a display chiller, they would be gone in seconds; half of them would've been bought by me, for me.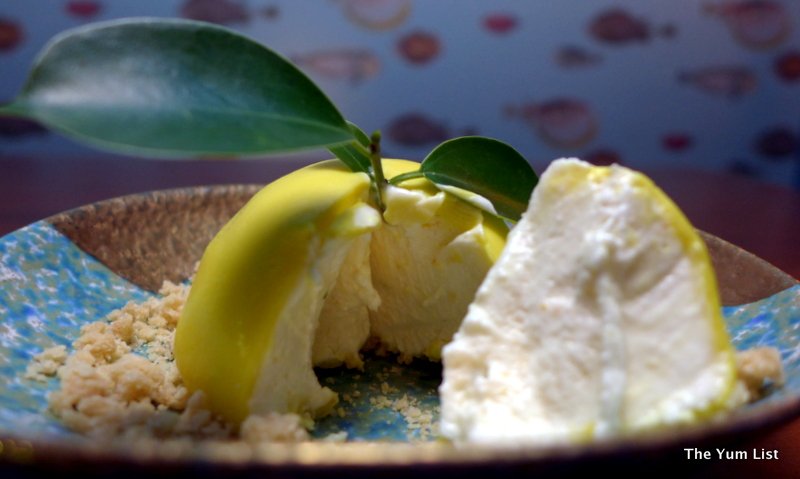 At the end of it all, if there was one word I could use to describe Kom-Ba-Wa it would be decadent. With reference to both its food and décor, it's refreshing to visit an establishment like Kom-Ba-Wa where its flamboyance is tinged with elegance and doesn't pass as kitschy. A hidden gem that thrives as one of Bangkok's best-kept secrets, Kom-Ba-Wa astounds with its exciting offerings, and only those who are privy to its location have been endowed with a richness that cannot be found elsewhere.
Reasons to visit: Incredibly photogenic and gorgeous atmosphere; great for romantic dinners; Salmon Salad; Chicken Skewers Glazed with Yakitori Truffle Oil; Iwate Beef with Foie Gras Roll; Yuzu Cheesecake (notice I've listed almost every food item we've had here); I don't think I've ever mentioned this in any of my other reviews, but visit Kom-Ba-Wa to be inspired.
Kom-Ba-Wa
(not far from Somerset Park Suanplu and SCB Bank)
39/19 Soi Suanplu, Sathorn Road
Thungmahamek, Sathorn,
Bangkok 10120, Thailand
+66 (0)2 679 3775-6
http://www.kombawa.com