"get your mojo workin'"
Mojo KL is one of the only restaurants to survive the rise, fall and rise again of the famous, then infamous and hopefully soon to be recognized once anew, Jalan Doraisamy. Located in what was previously known as Heritage Row, and now cleaned up and rebranded simply as The Row, Mojo KL intrigued us with their resilience. They must have something special to last the tumultuous tales of one of KL's most talked about streets.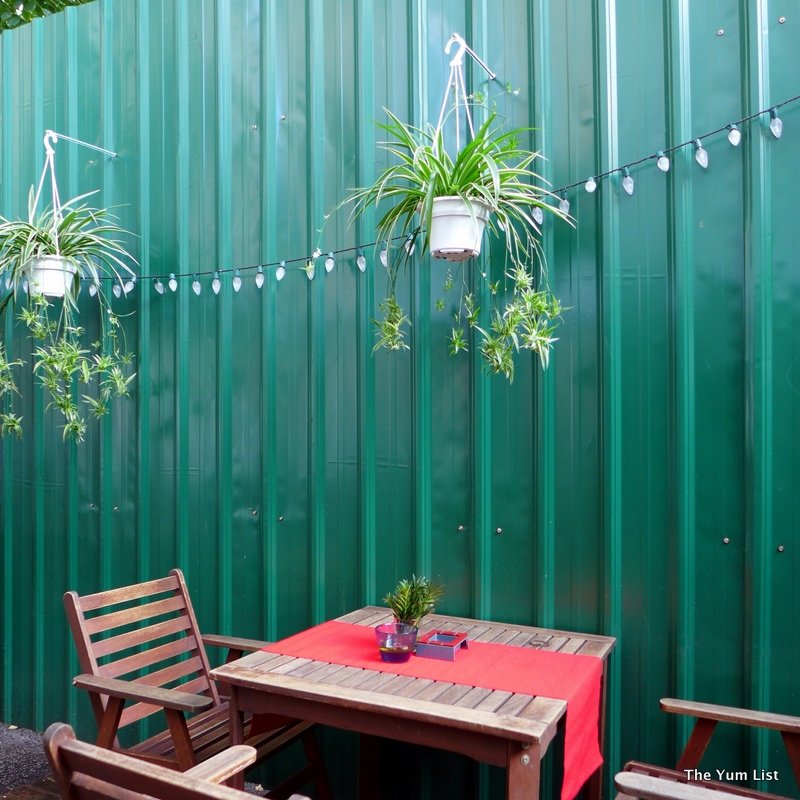 Abigail, our bubbly host, tells that they've been open for over 10 years now and that their secret to success is adaptation. Initially launching as a club in line with the other businesses along the street, they have gradually morphed over time into the current casual dining setup at the end of the first phase of The Row. She notes that many expats appreciate the al fresco environment (and please note in the photos how they've cleverly taken advantage of the construction wall that is bordering their premises). Hanging plant pots, leafy table decorations, and red table runners complement the exposed red brick and outdoor café vibe of The Row.
Following in the footsteps of the "dentally challenged British gentleman spy Austin Powers," we begin to find our own 'mojo' with some liquid refreshment.
The bartender warns us with a knowing smile that the AK47 (RM25) is a deceptively innocent drink with its top up of orange juice, but covertly deadly with its base of brandy, whisky, rum, gin, vodka and tequila!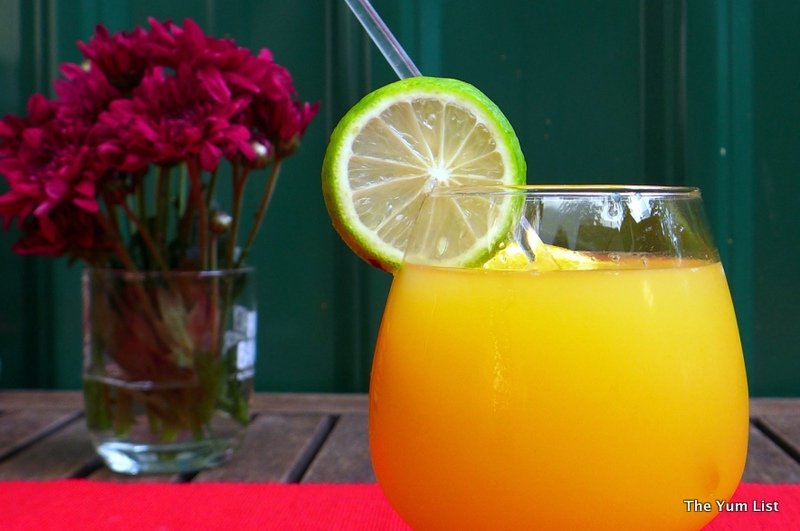 The outlet's signature Mojorita (RM21) has to be tried and we find it a pleasant twist on tradition with Tequila, lime, mint leaves, and passionfruit. A rim of salt finishes it off and balances out its fruitiness.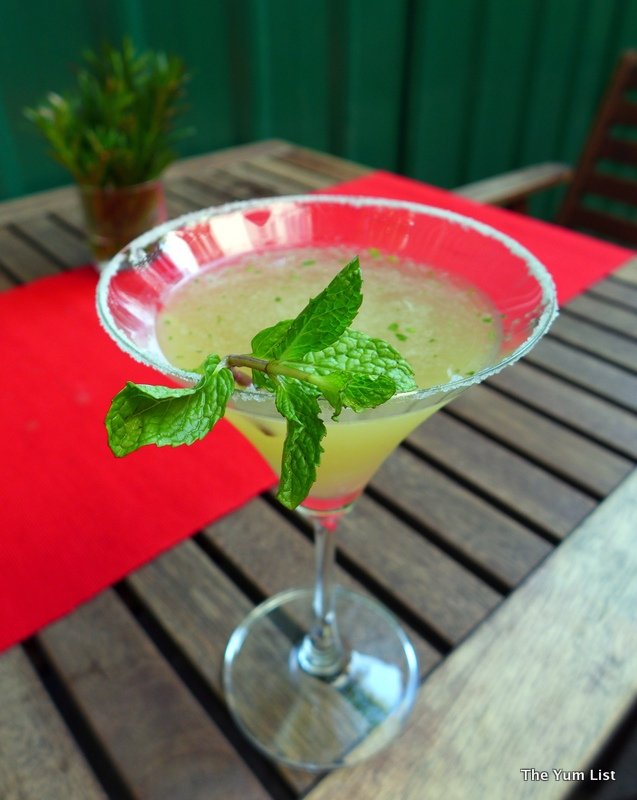 Nicely timed for Valentine's celebrations, we sample the Love Bite (RM22). Displayed in rainbow layers of banana liqueur, Midori, orange juice and red wine, and garnished with a slice of orange, it serves as a fine tropical-inspired version of sangria.
The cocktail list is backed up with a fitting range of spirits, bottled beers, and a very affordable wine list. Starting at RM21 a glass and RM88 a bottle, both new world and old world wines are in the collection. Wine by the glass is currently a 2014 Bilyara Chardonnay by Wolf Blass (and there's also a red by the same vineyard). Its rich ripe fruitiness makes it a suitable partner to many of the spicy dishes on the menu.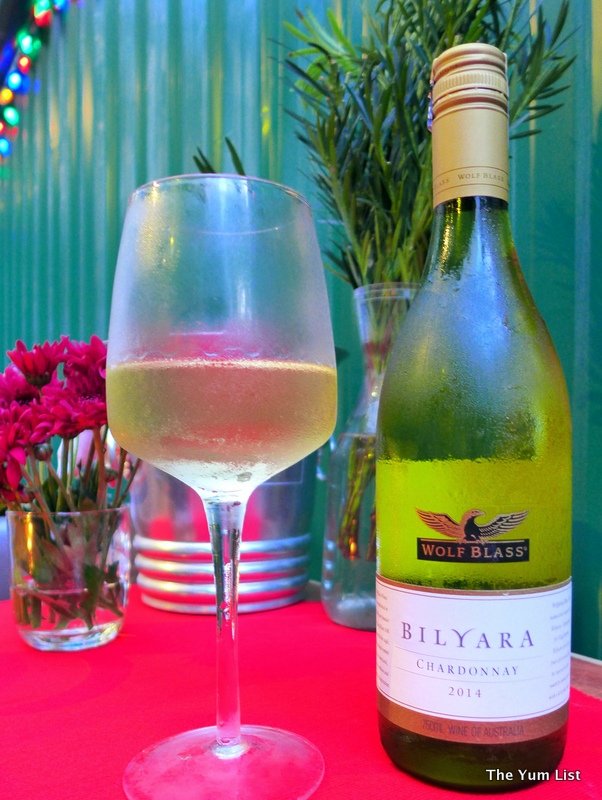 The food menu presents a mix of western and local flavours. In general we find the food full-flavoured, filling and reasonably priced.
Mojo Crispy Duck (RM29) has stirred up a bit of fame in KL (according to some respected local bloggers) recently for its tasty meat in plum sauce and chili oil wrapped in thin homemade pancakes. We first spread the sauces across the wrapper (go easy on the chili sauce), add shredded fried duck, and top off with a sprinkling of julienned veggies. It's a recipe the original owners brought directly from England and has been on the menu since opening.
Ikan Bilis Terengganu and Sausage (RM15) is a robust dish made of anchovies from the coastal state, a salsa of onion, red and green chillies, garlic and slices of chicken sausage. It's not something that I'd usually order, but turns out to be surprisingly more-ish. It goes very well with the Mojorita, and I imagine an icy cold glass of beer would do equally well.
A vibrant fillet of Teriyaki Salmon (RM36) is pan fried and partnered with a house made teriyaki sauce, sautéed potatoes and tempura vegetables. It's cooked well done so slightly on the dry side, but I've heard this is the preference (cooked through) by many guests. The chaperoning sides make it a substantial plate.
Linguini Anatra Aglio Olio Duck (RM28) is described as having quite a punch. Hubby however has a low spice tolerance so they've adjusted it to his tastes. Pasta strings are cooked al dente with roasted cloves of garlic, mushrooms and tasty pieces of duck heartying up the dish.
Pilaf Rice with Mutton Curry (RM19+) is another dish that seems to be of incredibly good value. A smoky curry with a medium kick is well accompanied by the rice that is brimming with egg, chili, onion and a heavy infusion of black pepper.
Desserts are clearly not an afterthought at Mojo KL, and the duo that we try are put together very capably. A generous portion of Banana Fritters (RM9+) come in a thick batter drizzled with honey, white sesame and sided with a bowl of vanilla ice cream. This is one of hubby's comfort dishes and his grin couldn't be wider as he devours the batter I just picked off my banana, and the second banana fritter in its entirety.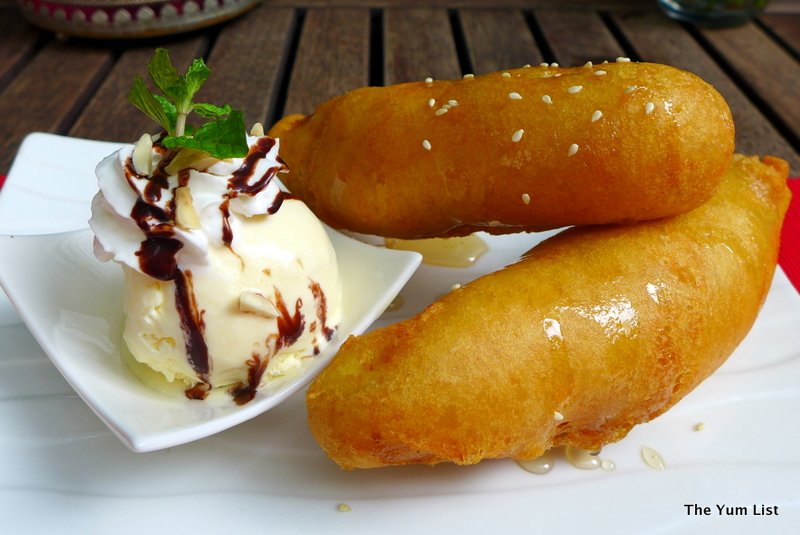 Cardamom Panna Cotta (RM13) is fantastically creamy with a very subtle undertone of the spice. I get in a few fast spoonfuls as I know as soon as hubby gets a taste, it will quickly disappear. And… it is gone.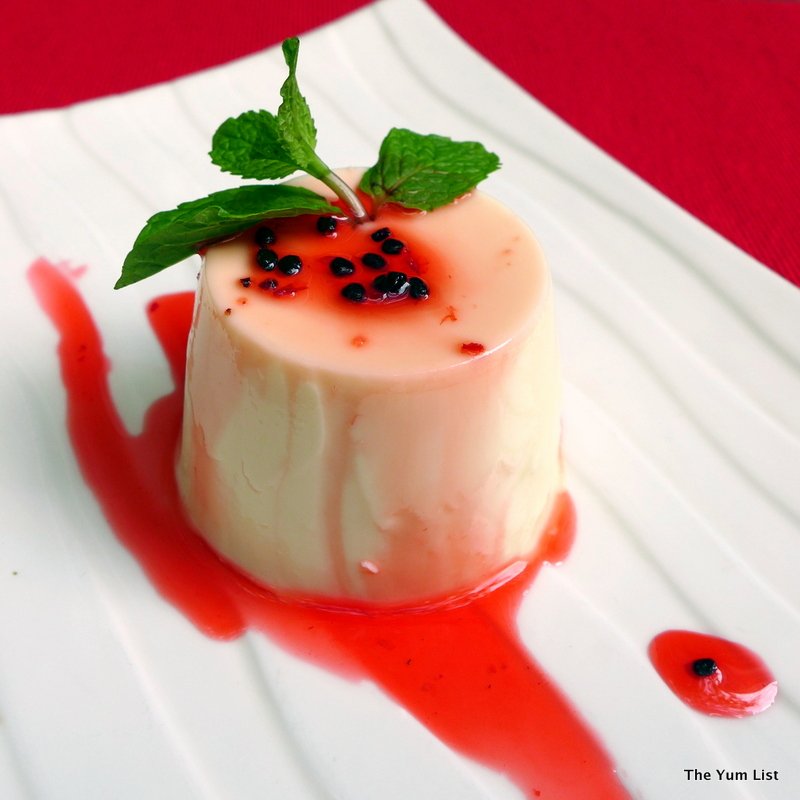 Mojo KL is the type of place where we'd feel comfortable dropping by after work in office attire or rockin' up in thongs and shorts from a nearby backpackers. Both food and drinks are reasonably priced and there's enough variety to satisfy a good market segment. It's reminiscent of an Aussie beer garden, and service is equally friendly.
Reasons to visit: casual vibe, reasonably priced full-flavoured dishes.
Mojo KL, The Row
42 Jalan Doraisamy
50300 Kuala Lumpur
Malaysia
+6 03 2697 7999
[email protected]
www.facebook.com/mojokl
Open:
Mon – Fri 11:45 – 1:00
Saturday 17:00 – 1:00