Words: Shaun Humphries     Photos: Monica Tindall
Hearing the phrase – "the morning after" – conjures up some interesting notions. Some good, some not so good, but always entertaining (and memorable, if not a bit fuzzy).
After a recent Yum List visit to the The Morning After (TMA), I'm happy to say this smartly designed cafe delivers on all of the positive connotations of the catchy phrase.
Sitting down with co-founder Dr. Darren Ng and director Sarah Adnan over a late lunch, we heard all about their vision to create spaces that were fun while offering classic food made in a special way. Starting out with a location at the Penang international airport, what started out as a hobby for Darren, has quickly grown to five locations around Malaysia – most of them in the KL area.
"We want to create an experience for our customers. We pride ourselves in using our own recipes and presenting our dishes in a different way from the other local cafes," said Darren, whose PhD in Corporate Strategy has admittedly only slightly prepared him for the ultra-competitive and tumultuous Malaysian restaurant business. "Your TMA experience will be something unique."
We began our TMA experience with some caffeine.
The Flat White (RM11), Salted Caramel Macchiato (RM13) and Green Tea Latte (RM12) put smiles on all of our faces. The macchiato especially made us squeal the first sip tasted like a dab of cake icing followed by a quick coffee chaser. Also, Darren pointed out that the latte glass is the standard one used in Australia, which is where the inspiration for TMA originated. (Take that Italy!)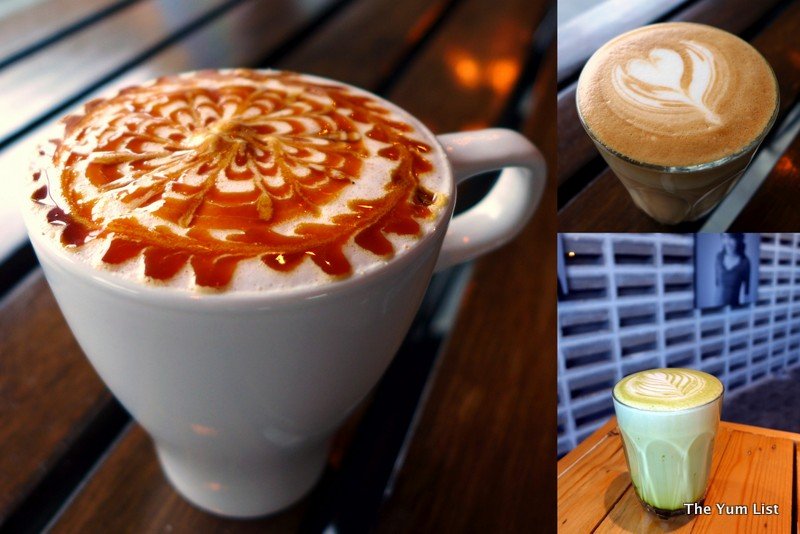 We started our food journey with the newest addition to the menu. The Grilled Chicken Rice Pilaf (RM25), part of TMA's rice pilaf series, offers the Malaysian rice staple with some slight variations.  The rice is a bit longer, the sauce a bit bolder and it's served with a tasty vegetable salad consisting of tomatoes, snow peas, corn, broccoli and mushrooms. This dish definitely takes a rice and chicken meal to the next level – and then some.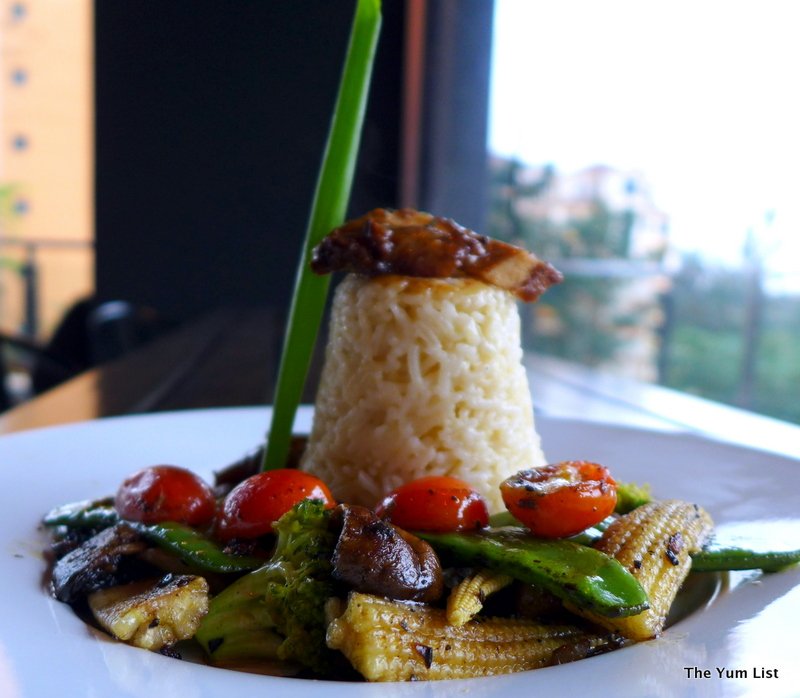 Up next was the Vegetarian Spicy Aglio Olio (RM22) served with grilled zucchini, tomatoes and mushrooms. This classic spaghetti dish was chalked full of vegetables, and along with the oil and garlic, made for a satisfying meal. You can also add some shrimp for an even more substantial meal.
We also sampled a dish from their Brunch for Champs section. The Bangers and Mash (RM19) was definitely my champion for the day. Featuring a generous helping of juicy chicken sausage served over a fluffy bed of delicious mashed potatoes and gravy, this one is a must if you're experiencing a 'morning after' situation. Also containing a piece of beef bacon and a mixture of caramelized onions, balsamic vinegar, tomatoes and green beans, this one will fill the void in your stomach.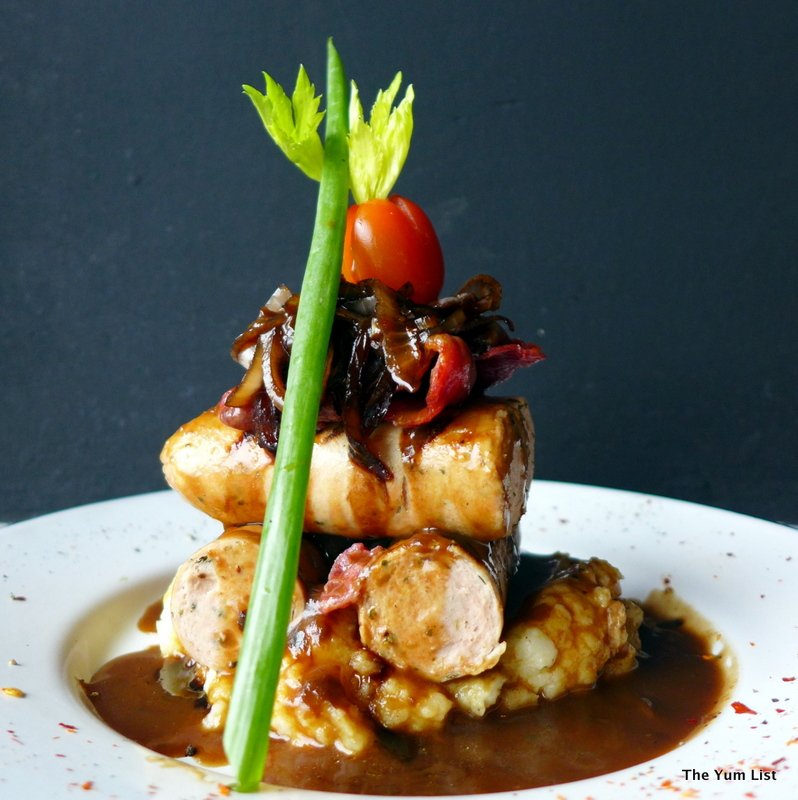 As we attempted to eat something from every culture on the planet, up next was the Mexican Nachos (RM18). With extra sauce served on the side, these nachos come loaded up with guacamole, sour cream, diced tomatoes, chives, jalapeños, and a tangy beef Bolognese sauce. As is always the case with nachos, this is a great item to share with the table.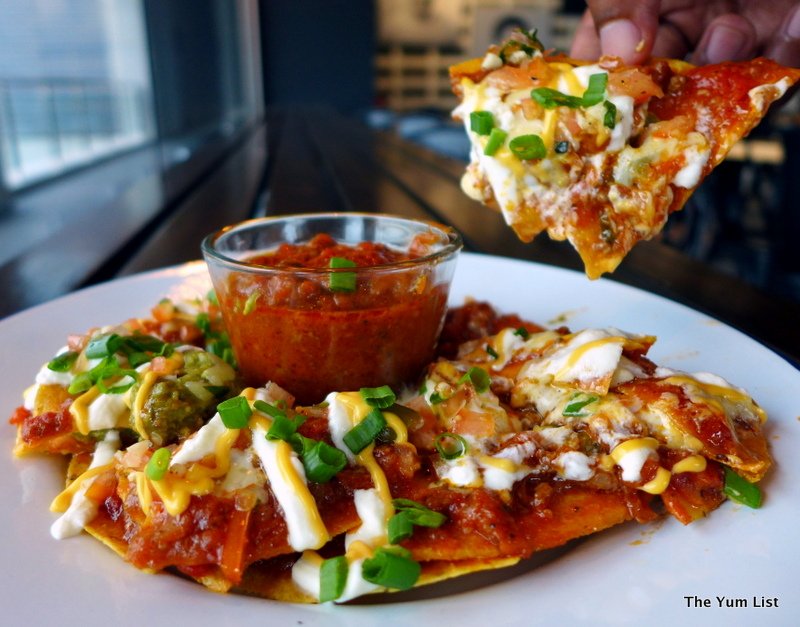 Opting for something a bit more refined, we also selected the Grilled Salmon (RM30) from the Savoury Seductions section. Another great choice! Cooked just right, the large portion of pink salmon flaked away beautifully and tasted great topped with the apple and watercress salad and mild horseradish sauce. Served on top of another tasty bed of mashed potatoes and vegetables (including carrots, peas, tomatoes and broccoli), seafood lovers will enjoy this one.
With all areas of the menu covered, it was time for the desserts, which are mostly homemade by Sarah's sister. And let me tell you, she knows her way around the sweets.
First up was a piece of the Cheesy Does it Cheesecake (RM11), a no-bake, chilled cheesecake that's crust is made with crumbled digestive cookies. On top of the crust is a thin layer of chocolate followed by a subtly sweet and creamy cheesecake topper. Very smooth and very awesome.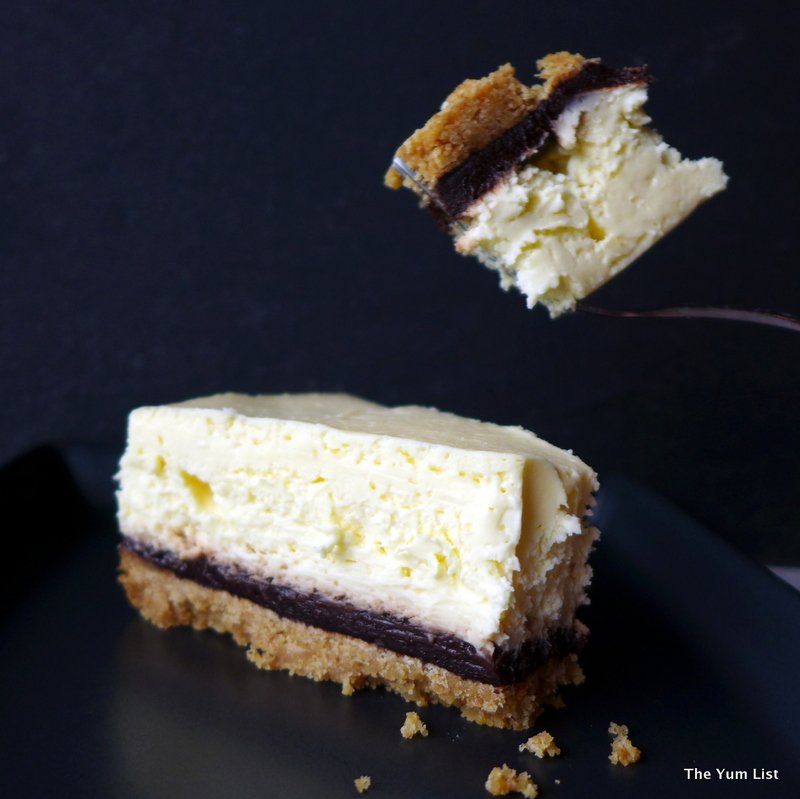 The final dagger for our sweet tooth was the delectable Nutjob (RM14), a moist piece of chocolate cake intertwined with three peanut butter layers and a chocolate icing top. I was so full, but I couldn't stop my fork until this one disappeared completely.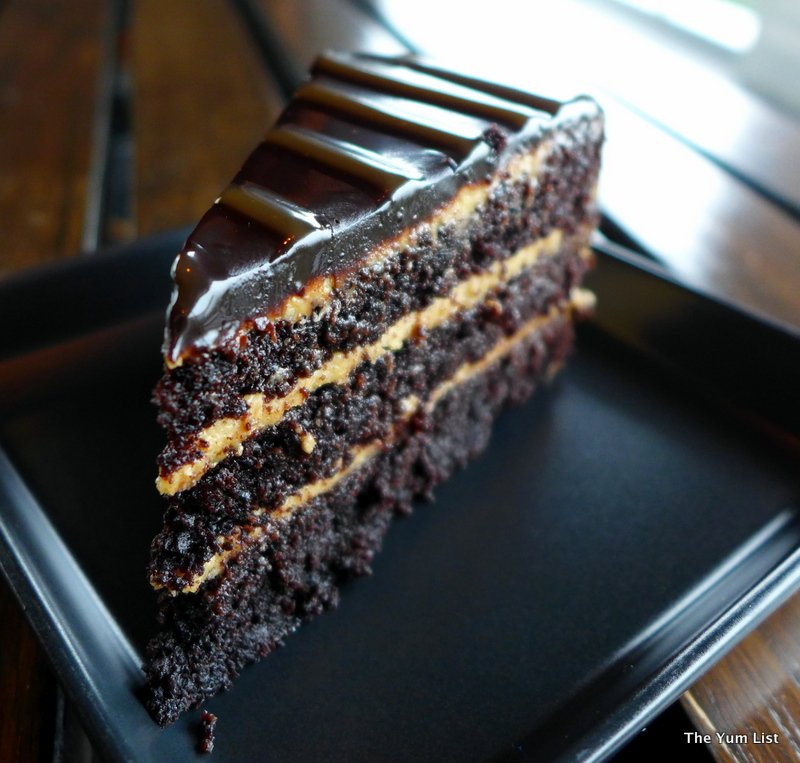 ***
As Darren had promised at the beginning of our visit, while my experience at TMA did feel familiar, it was also unique to other meals I've had throughout Malaysia. And in this extremely competitive food environment, that's a tough thing to achieve.
TMA's Ativo Plaza location is open from 8 a.m. until late everyday. TMA also has three other locations in greater KL as well as a spot in the Penang international airport – and all of them are pork free.
Reasons to visit: a comfortable, open and uniquely designed environment; hearty portions; homemade desserts; good coffee.
The Morning After
A-G-3, Ativo Plaza
Persiaran Perdana
Bandar Sri Damansara
52200 Kuala Lumpur, Malaysia
+60 12-627 6095
www.themorningafter.my