Words: Shaun Humphries    Photos: Monica Tindall
Visiting a Malaysian mall is always an experience – hundreds of stores, thousands of people and never enough parking. For an introvert like me, it's all a bit overwhelming.
Luckily, as a 37-year survivor in an extroverted world, I've become quite adept at finding peace in all sorts of craziness. And Ante restaurant's new location at 1 Utama Shopping Centre is just the kind of oasis I look for – and greatly appreciate.
Walking into the inviting, blue and spacious room on a Saturday afternoon, I immediately left the bustling mall behind and took a deep, relaxing breath. Surrounded by others enjoying the same reprieve (and easy listening music), I perused the menu, which showcases Ante's new logo and menu design. Very classy.
After being joined by Monica, Caning, and Ante's marketer extraordinaire, C.K., it was time to enjoy some of Ante's recently unveiled dishes as well as some old favourites.
We started out with a Cafe Latte (Hot RM11 or Ice RM12) and a Cappuccino (Hot RM11 or Ice RM12). Both are solid choices for coffee lovers and serve as great starters to an afternoon of delicious food and meandering conversation.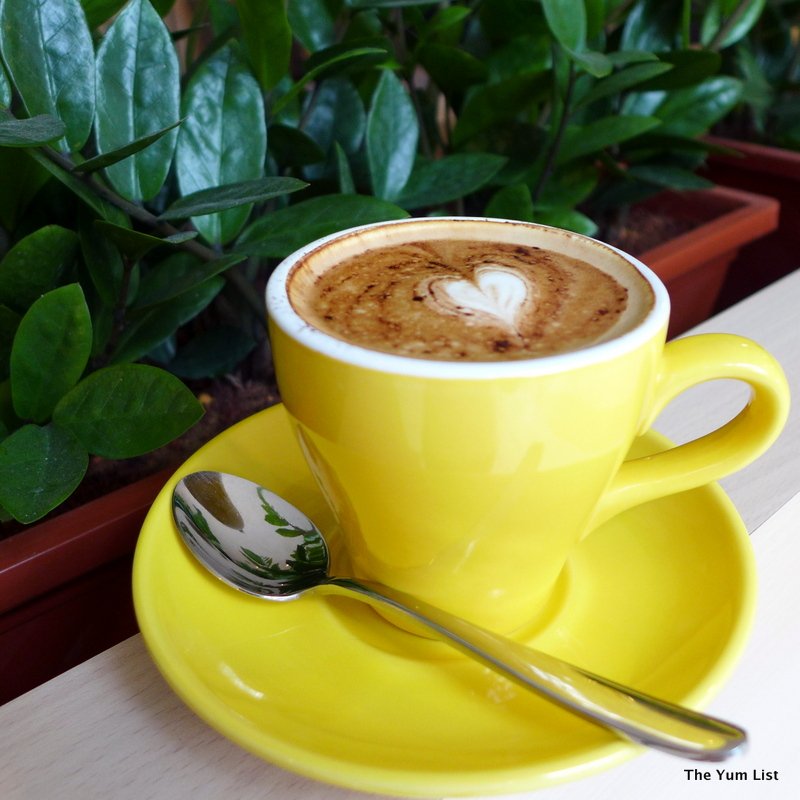 Another great addition to the table talk was the Grant Burge Benchmark Rosé 2013 (RM25/glass or RM119/bottle). While not a huge rosé connoisseur, this is a nice one to start with – light, subtly fruity and mixes great with all types of meat.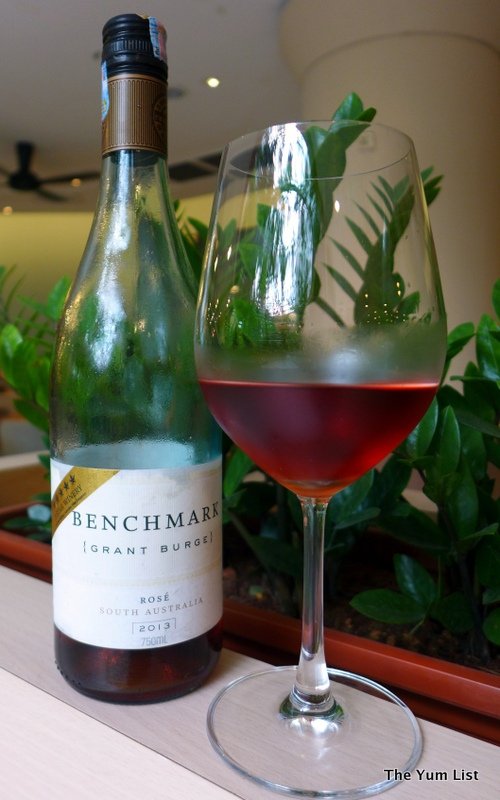 Speaking of meat, our first dish was the popular Tasting Platter (RM38), which contains a wide array of carnivorous delights, including: jamon iberico, house-cured salmon and smoked duck breast. To go along with the meat, we also enjoyed confit onions, candied olives, cherry tomatoes, pickled beetroot, multigrain bread and very soft French butter. Recommended to be shared (I could have devoured the whole thing), this platter works really well as a snack to go with your after-work drink or as a starter with a larger meal.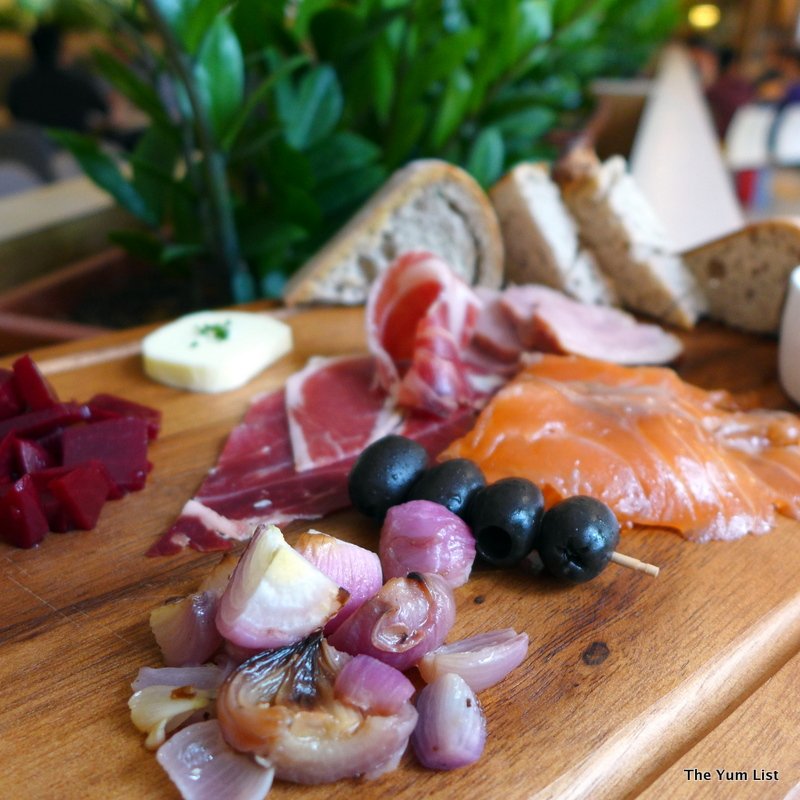 Just to make sure we had enough to satisfy our hunger, we also sampled all the cold meat appetizers on their own.
The Jamon Iberico (RM32), featuring poached and fresh apple slices, shaved radish and chive flowers, is a beautifully presented dish where the light sweetness of the fruit contrasts perfectly with the saltiness of the smoked meat.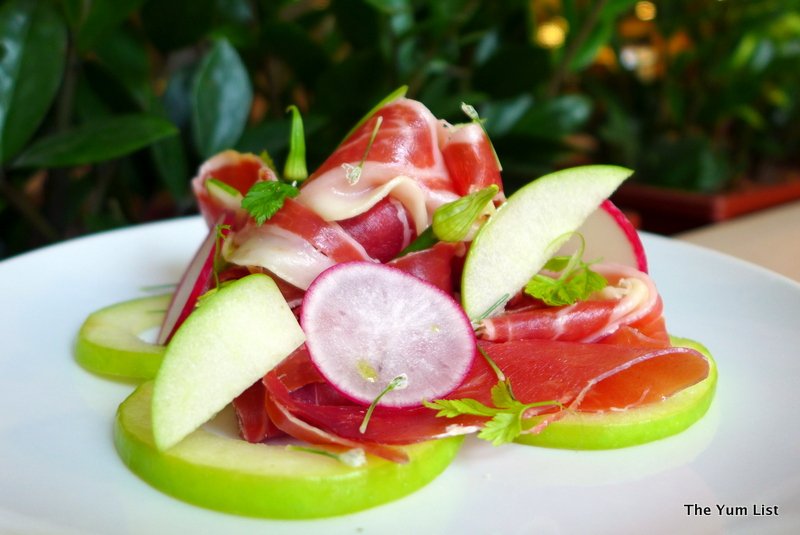 Our second starter was the House-Cured Salmon (RM28) served with fried capers, red radish, chervil, egg cream, dill, spring onion oil and multigrain toast. The various textures and tastes make this item fun to eat and ensure that every bite is slightly different.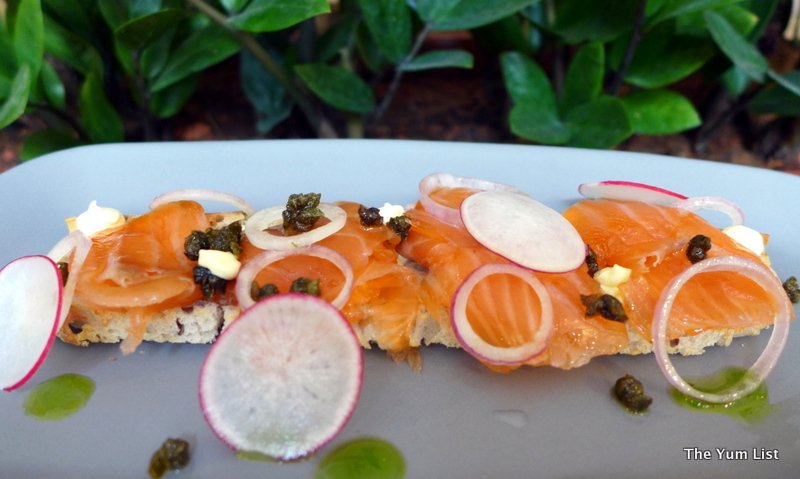 We finished our snacking journey with the Smoked Duck Breast (RM26). Shaved and cubed, the duck breast is offered with cucumber, hazelnuts, tofu, orange segments and garnished with chili oil, chives and spring onion. Again, this one is a trip for the senses thanks to the mild hotness of the chilies, the citrus from the orange and crunchiness of the cucumber.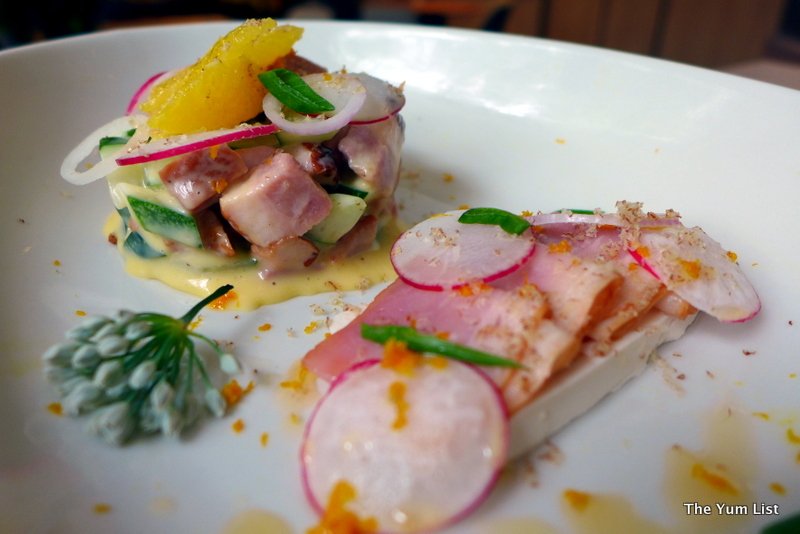 With the cold appetizers tucked safely in our stomachs, Ante's main attraction was up next. The Chargrilled Pork Steak (RM52) is a deliciously tender and juicy piece of hog heaven. Served with russet potatoes, truffle sauce, cherry tomatoes and honey-glazed rocket, Ante's signature dish put a smile on this meat lover's mug. Give this one a try and you'll see why Ante is known as KL's premier pork steak restaurant. So good.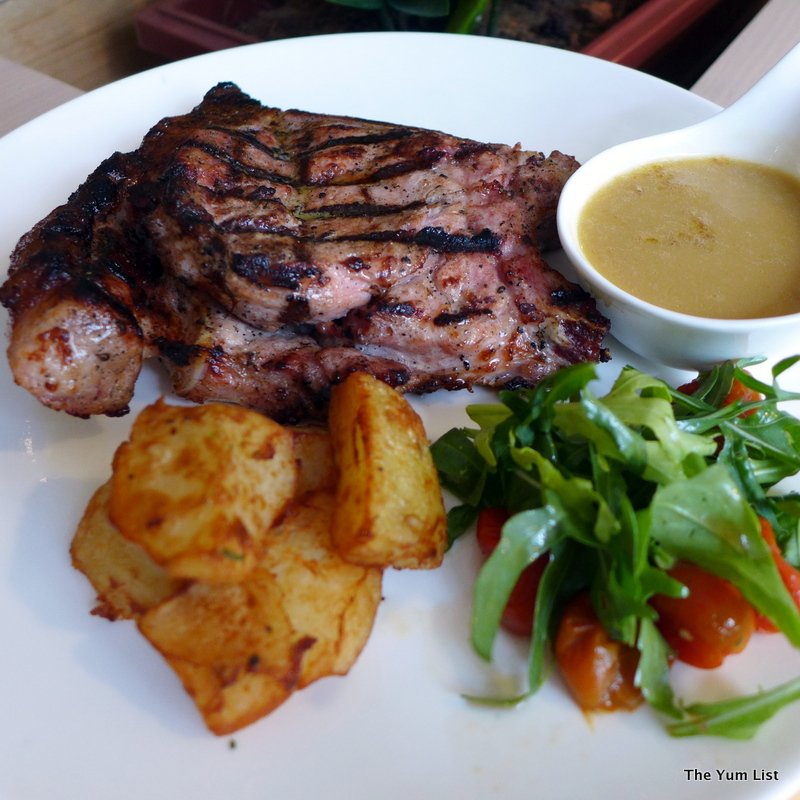 Another table favourite was the Char Siu Curry Cream (RM33), which is a house-made and marinated char siu (roast pork) with shimeji mushrooms and grilled eggplant. The creamy curry sauce is understated and the pork is prepared just so, which makes it a pleasure to eat.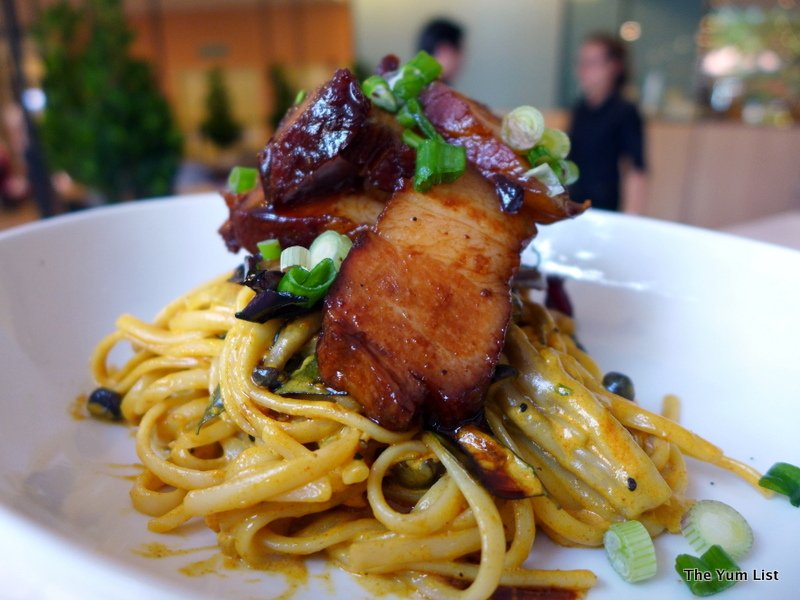 If you're not into pork, Ante still has you covered. The Norwegian Salmon (RM52) is poached and miso honey glazed served with a seaweed crust, braised shitake mushrooms and torched leeks. – a generous and delicious plate of fish.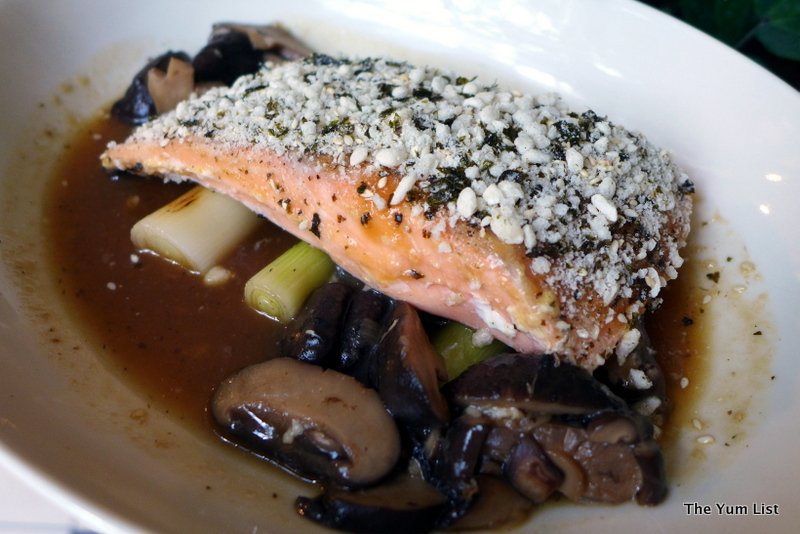 Ante also has some very delectable dishes for herbivores. We tested our vegetarian taste buds with the Gnocchi on Pesto (RM32), which is a house-made potato pasta served with a pesto sauce, spinach ragout, chopped tomatoes and parmesan cheese. This is an excellent choice if you're of the vegetarian persuasion – or not.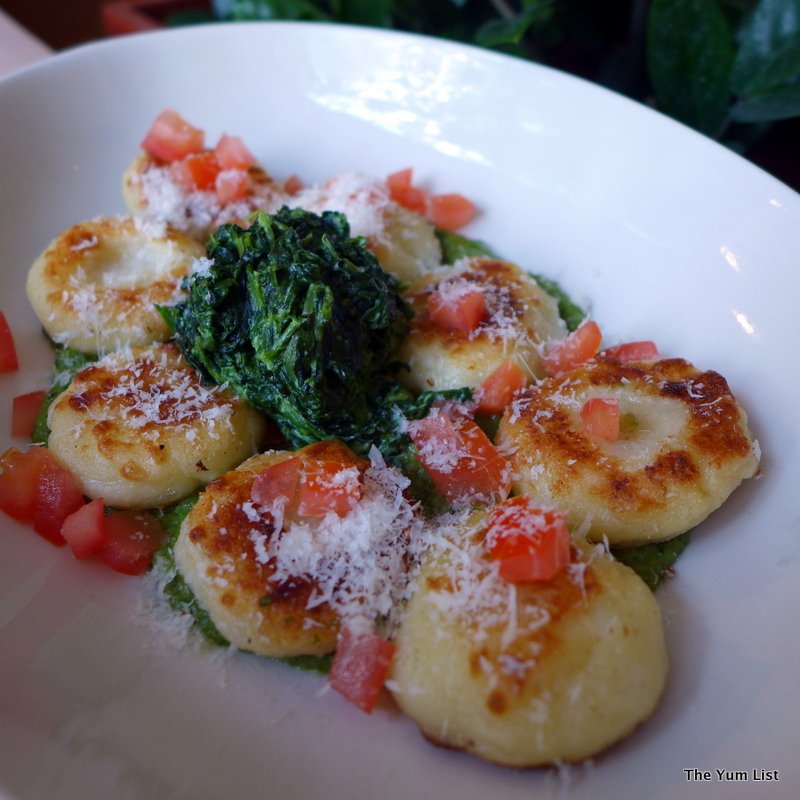 Of course, a Yum List meal isn't complete without eating four desserts.
Always an Ante crowd favourite, the Crème Brulee (RM20) is served with candied olives and chocolate. So subtly sweet and creamy, I could toss back 50 of these, no problem.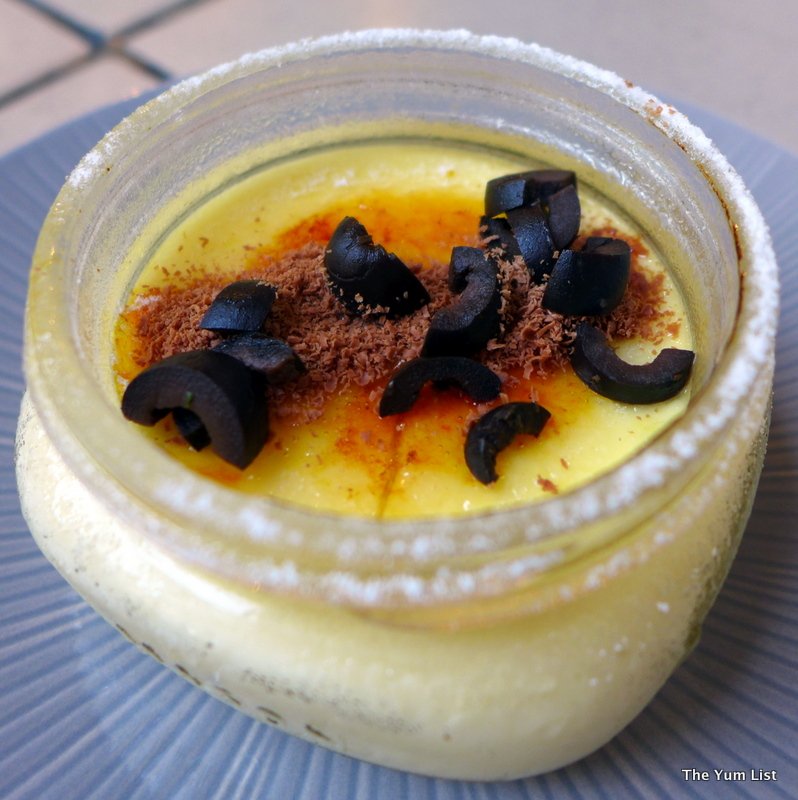 The Valrhona Chocolate Delice (RM23), featuring strawberries, blueberries, hazelnut feuilletine and earl grey tea cream, has a lot going on – and it's all good. The fruit, nuts and chocolate make it a "can't miss."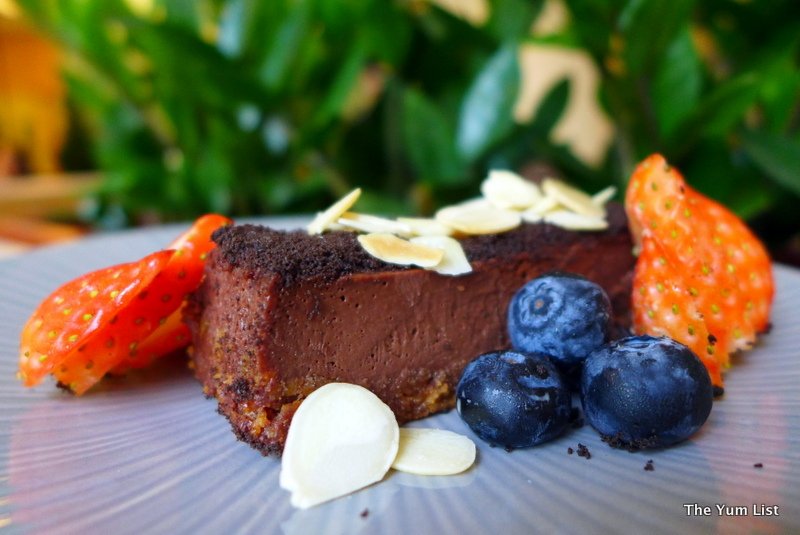 Up next was the Vanilla Mille Crepe (RM14), a multi-layered vanilla cake filled with fresh whipped cream. It's simple, light and still satisfies your dessert craving.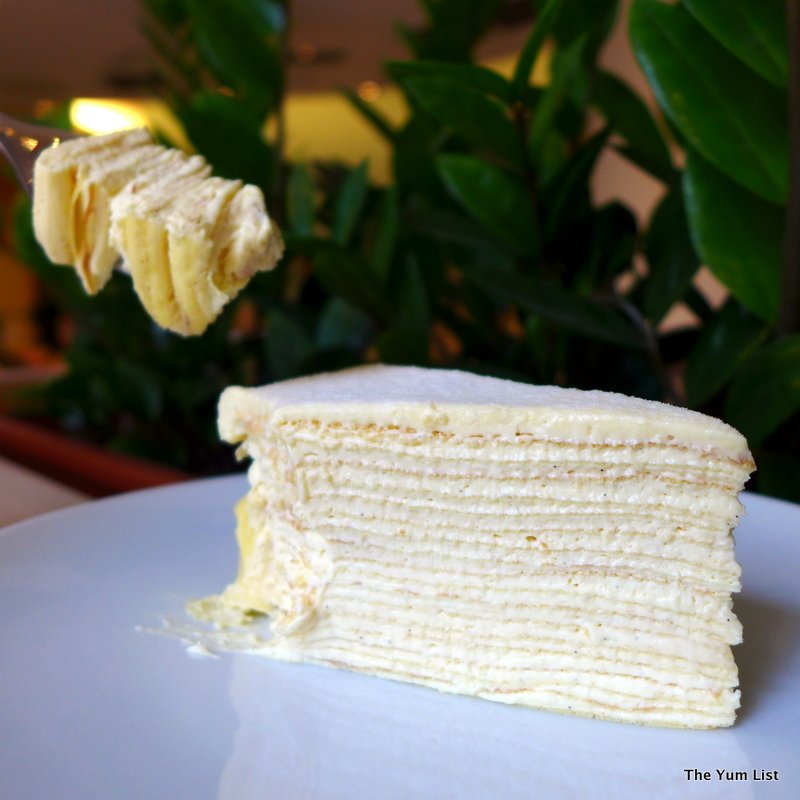 If you're up for something a bit more substantial in the dessert department, the Bailey's Hazelnut Dark Chocolate cake (RM16) will do the trick. It's all you want in a dessert – lots of chocolate, bits of crunchy and hints of booze.
With all the plates and glasses empty, it was time to step back into the madness of the mall. As I took my first step into the fray, I thought back to C.K.'s explanation of the meaning behind Ante's name during our meal.
"We're always trying to be better, to up the ante," he said. "That's what we're all about."
As I looked at the chaos around me and thought about the calmness I had just left, Ante and C.K. couldn't have made more sense.
Ante 1 Utama is open from 10 a.m. until 10 p.m. everyday.
Reasons to visit: A sanctuary for your next visit to the mall. Enjoy a drink, an appetizer and a deep breath. Head there for an after-work drink or a complete night out. You'll leave relaxed and satisfied. The pork steak is fantastic, but don't ignore the char siu cream curry or any of the cold appetizers either.
Ante
1 Utama Shopping Centre, New Wing
Lot F346, First Floor, Rainforest
47800 Petaling Jaya, Malaysia
+6 03 7732 5204
www.facebook.com/ANTE1UTAMA