'Inspired by the flavours of Malaysia,' I was more than curious to try chef Will Meyrick's latest opening in Bali, Tiger Palm. Said to be influenced by Will's love of the wonderfully fragrant dishes from the kitchens of Penang and regional Malaysian cuisine, the menu promises 'rich curries, soft rice noodles and crispy bites of fresh fish.'
Located in Seminyak Village, its accessible location is bound to be a hit with tourists in the area. Opening up to the street, with glass walls dividing a high-ceilinged air-conditioned interior and a plant-rimmed al fresco area, the restaurant is reminiscent of a locale similar to what one might imagine plantation owners once frequented. Stool pulled up to the bar, solid woods framing the structure, splashes of colour in upholstery and paintings, and rich aromas wafting from the kitchen – all complement a thirst-quencher from the barman.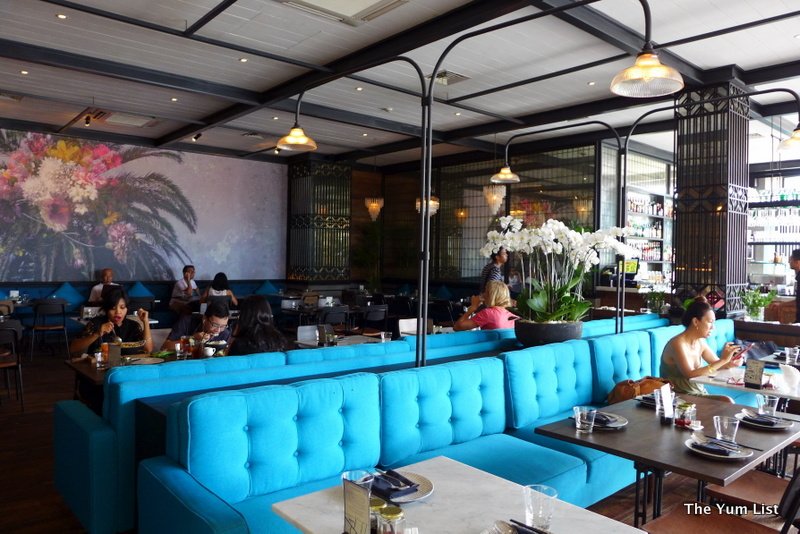 Signature cocktails feature local ingredients with a modern touch. Sehat Lelaki (110) combines Tequila, citrus bitters, honey, coriander and passionfruit foam into a refreshing and mildly herby beverage. Two of my greatest loves, rum and coconut, make fine companions in the Coconut Mojito (110). Poured over ice, it's refreshed with mint and garnished with a good bunch of the same along with candied coconut ribbons and a sugar cane stirring stick.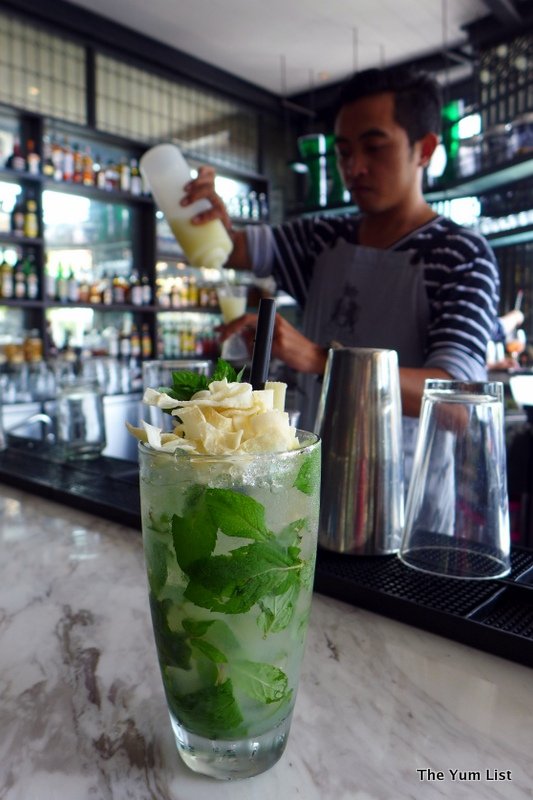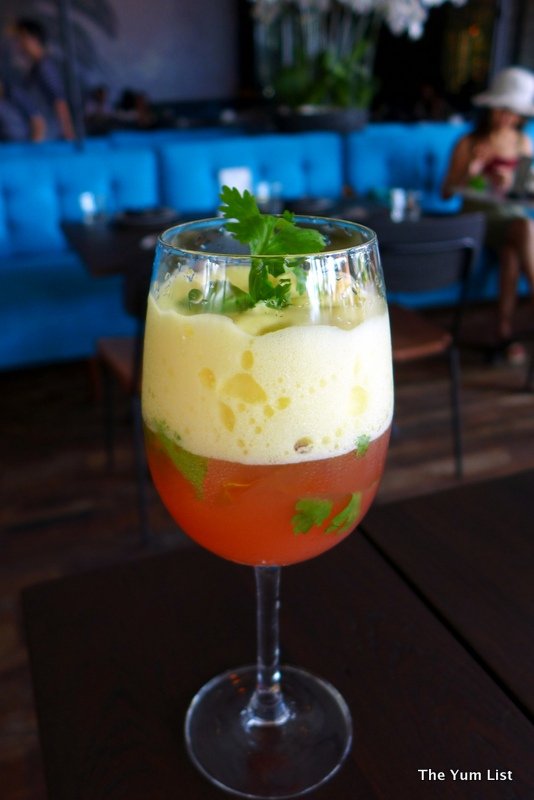 Rojak Salad (65k) with green guava, mango, rose apple, yam bean and haeko paste rivals any I've add in its homeland. A copper bucket holds the mound that bulges precariously over the top. The fruits are extremely fresh and crisp and the sticky dressing balances adeptly sweet and spice. Yum!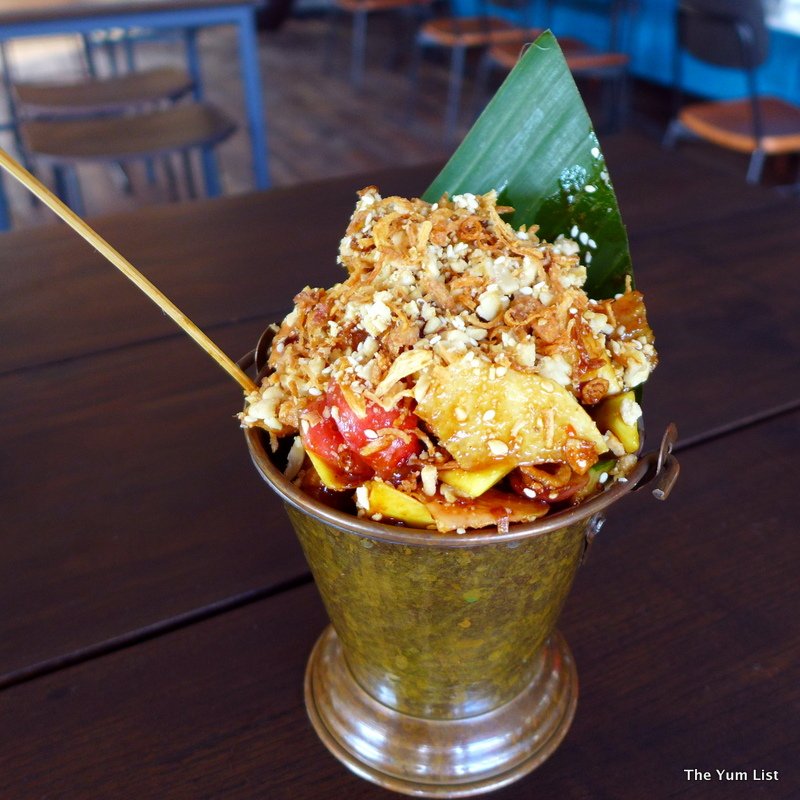 Jalan Alor Smoked Chicken Wings (70k) waft to our noses before we spy them.  Wonderful smokiness entices us and sends images of a haze filled street, exposed bulb lights and a human buzz on the central Kuala Lumpur street. These too are fabulous and hubby declares that they're the best he's ever tasted.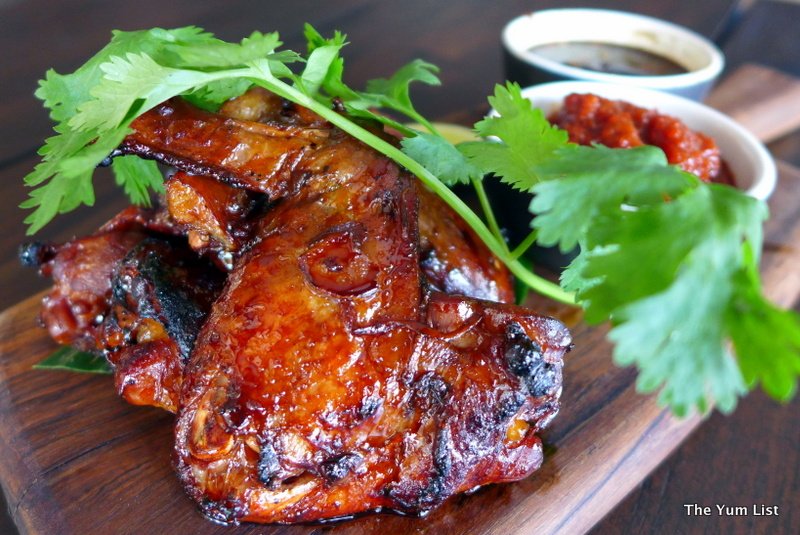 Assam Udang (150k) with garlic, chili, tamarind, mustard seeds and curry leaf forms a cone on a plate with a sketch of a bicycle – much like you might find on a wall mural in Penang. The prawns glisten in the sauce and the sweet tart smell of tamarind tickles the nose.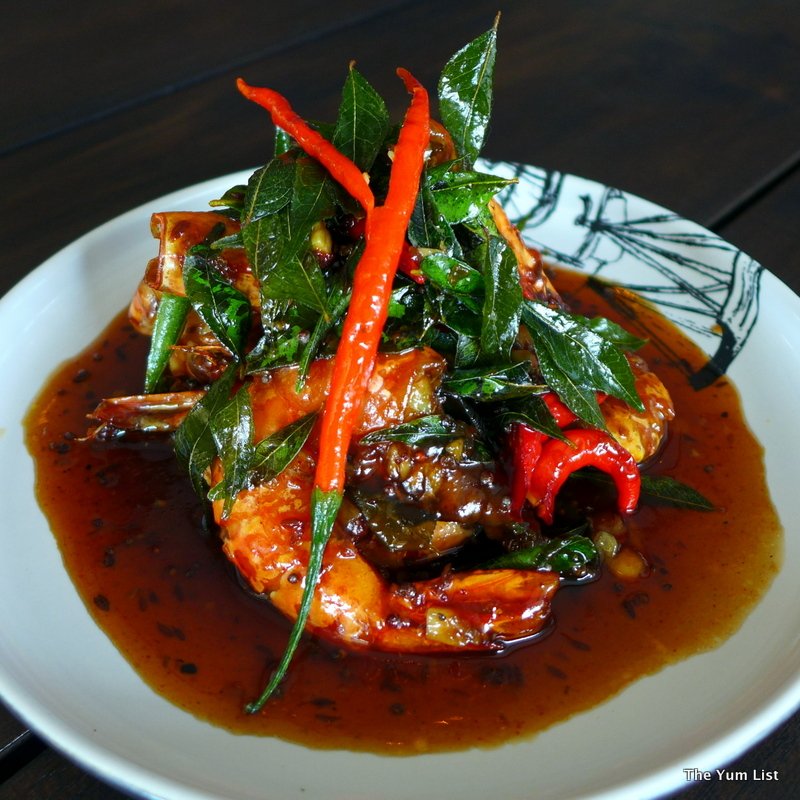 Chili Tandoori Chicken Leg (110k) marinated in yoghurt and garam masala is a rather lush version presented on an extended wooden platter. Raita, mint sauce, and chopped veggies make extra luscious accompaniments, but are by no means needed, as the leg is indeed 'finger lickin' good.'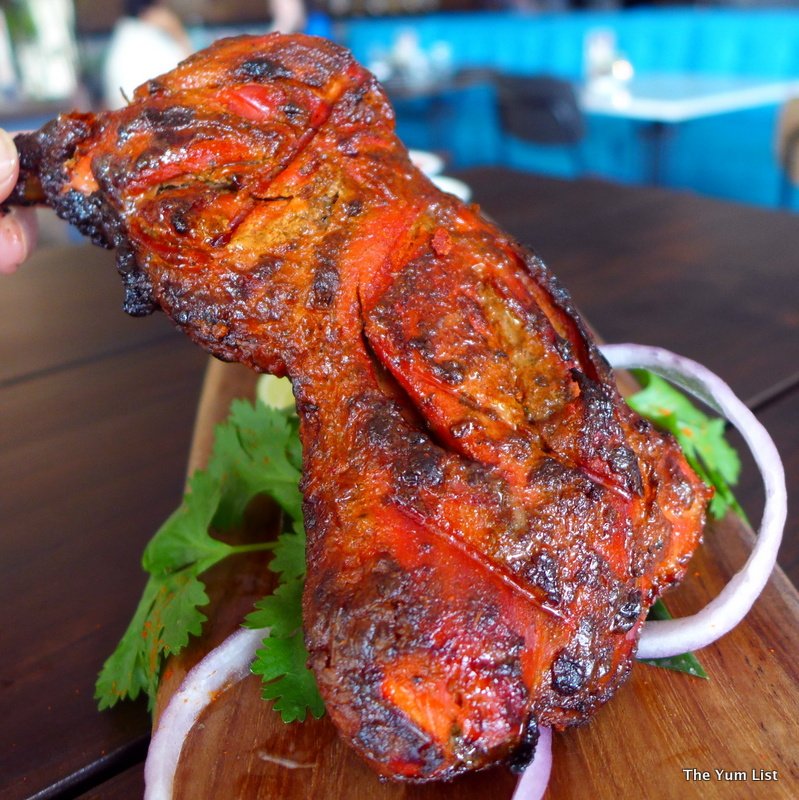 Stir Fried Fish Balado (130K) with chili tamarind and white pepper is another instant hit! A heap of curry leaves green the top furnishing a contrast to the red chili and tomato slices. Chunks of starfruit add sweetness and moisture. The fish is encased as a precious jewel might be in a thin but protective batter. Upon breaking, the moist flaky fish is revealed, and every last drop of the tangy sauce is mopped up with a side of white rice.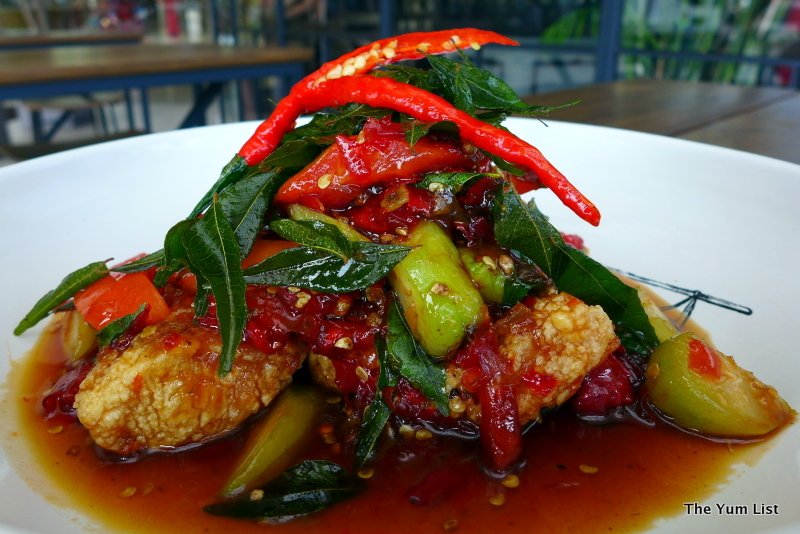 Bubur Madura (70k) looks deceitfully simple in its white coconut bowl. Underneath the milky mass however is a scrumptious composition of black sticky rice lontong and cassava dumplings, cooked in palm sugar and served with coconut, tapioca noodles and coconut ice cream – things sweet sweet dreams are made of.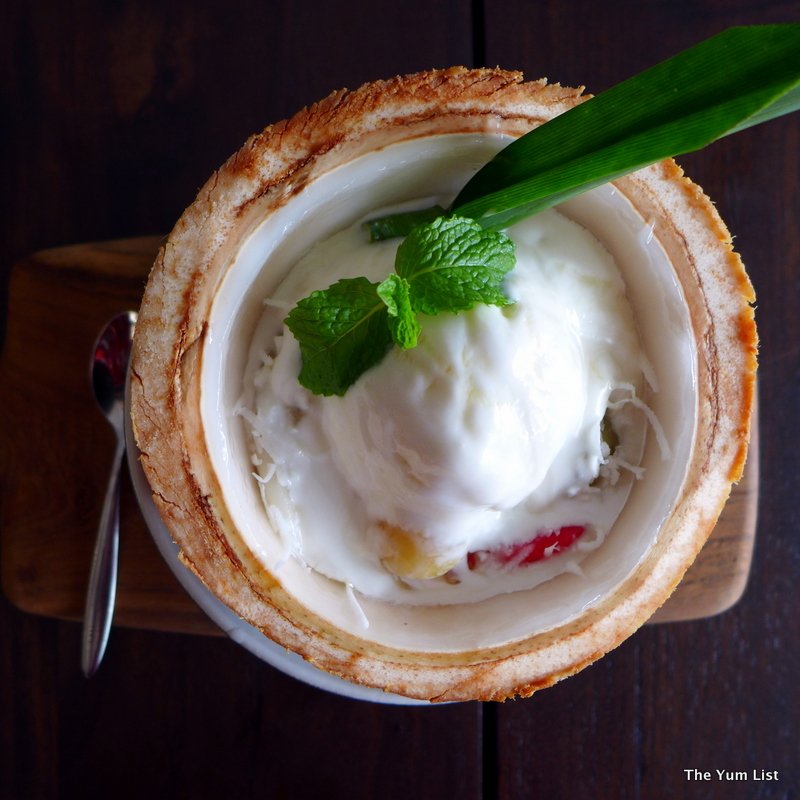 To finish, chilled Raspberry Tea (48k) makes a pretty ruby red beverage served in a tall glass with a bunch of fresh mint as adornment. The Star Anise Orange Latte (48k) ice brew could be dessert on its own. Iced coffee is topped with a generous whirl of whipped cream and candied orange peel. Yet another gratifying order.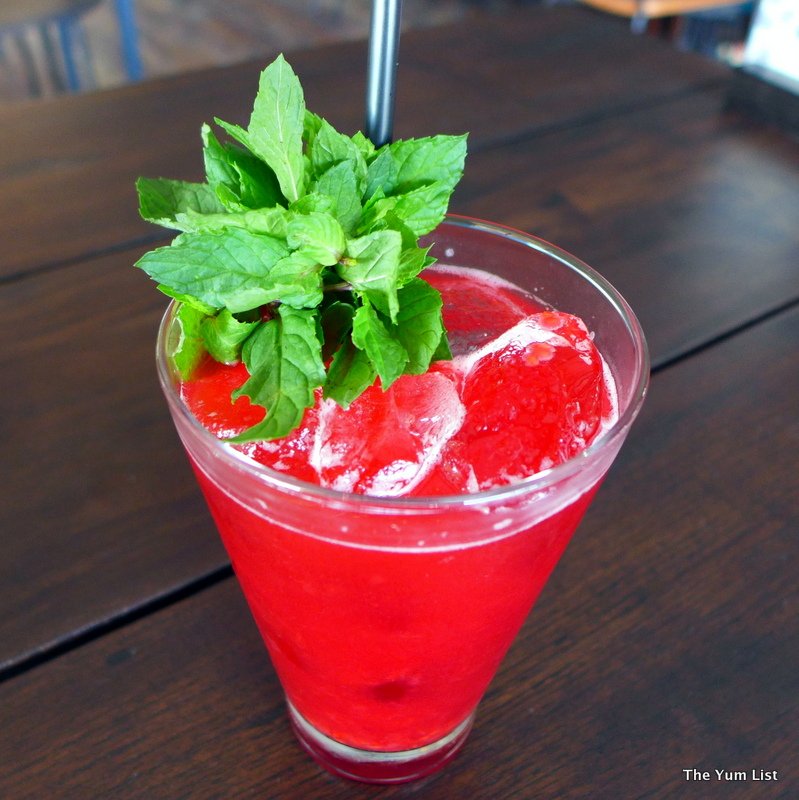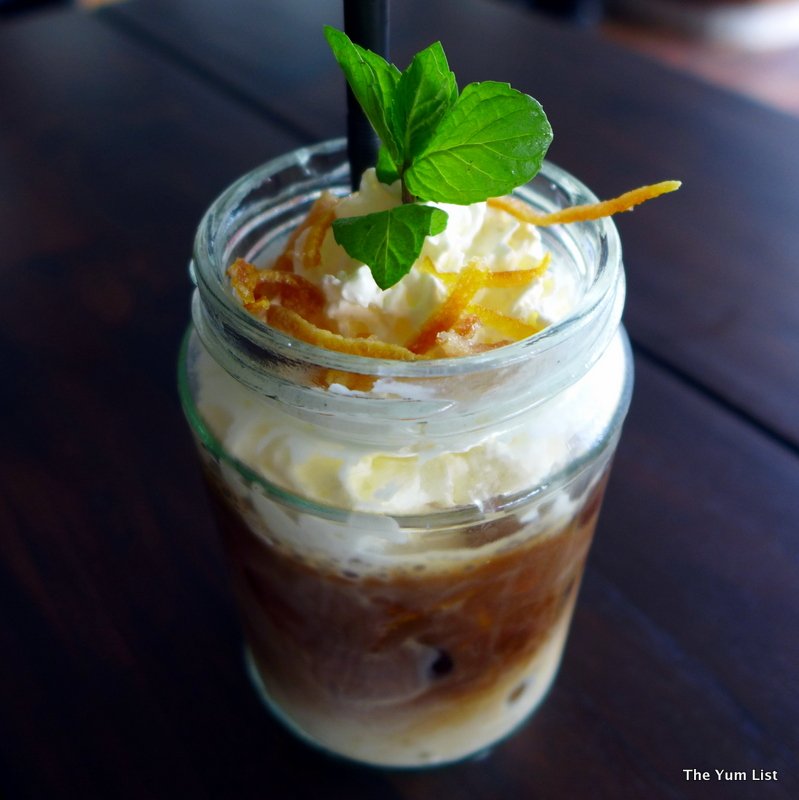 It's been a glorious love affair – one that has been so engaging that I almost feel unfaithful to my Malaysian home in singing its praises, but commendation is given where it is deserved and Tiger Palm gets the highest of merits.
Reasons to visit: rich delicious Malaysian flavours; don't miss the Bubur Madura, Jalan Alor Smoked Chicken Wings and Stir Fried Fish Balado.
Tiger Palm
Seminyak Village
Jl. Kayu Jati No.8, Kuta
80361, Bali, Indonesia
+62 361 474 1824
[email protected]
http://tigerpalmbali.com/
Open daily from 10am until 12am.