Words: Kirsten Durward     Photos: The Yum List
I've always been adventurous when it comes to watersports and there are few things I haven't tried. However, for sure flyboarding is something new for me.  Balancing on a board held up by jets of water? Sounds like something out of the X Men to me. We take a trip down to Putrajaya Marina to visit Malaysia's only flyboard flight centre and see what all the fuss is about. We are given a warm welcome by the entrepreneurs at Flyboard Malaysia, who are full of enthusiasm for this novelty experience.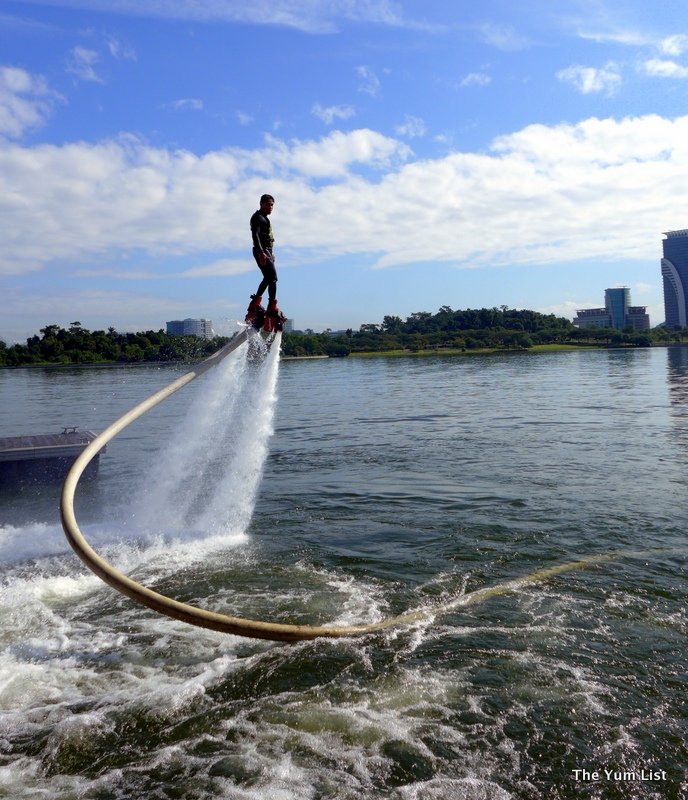 The largest jet ski I've ever seen is on display and we learn that the power of the water thrust out of the back of the machine can be harnessed through a flexible pipe to provide the thrust to propel a person out of the water. We're given a little tutorial on how to 'superman' in the water before standing up and using our heels and toes to maintain balance.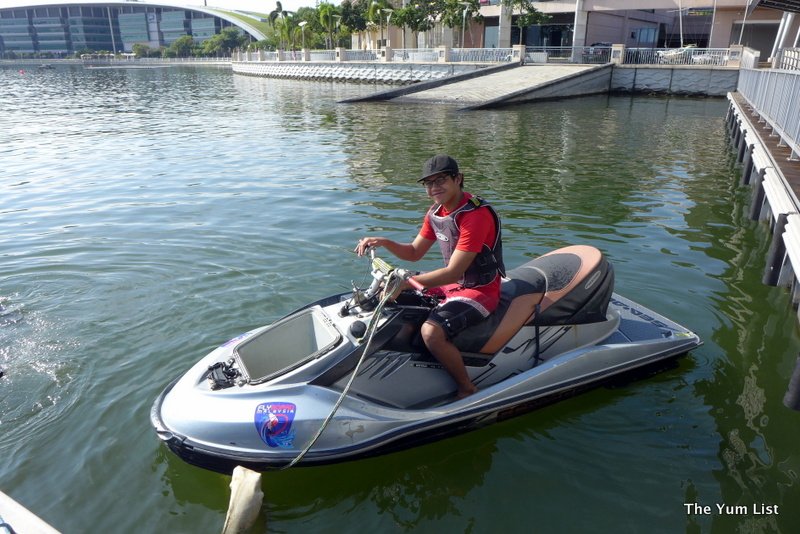 The demonstration we are given is little short of spectacular as he swoops and circles and flies high in the air on water jets. I'm assured that this takes a bit of practice and not to be disappointed as many people find it hard to get up on their first try. In fact I'm even offered the incentive of a free drink should I manage a whole 20 seconds. Right, the challenge is on!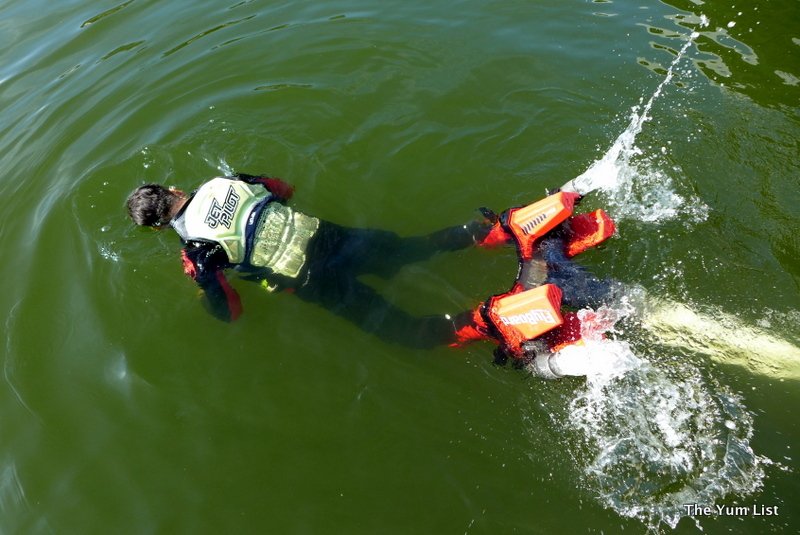 Face down in the water, I'm finding it difficult to hear the instructions over the engine noise so I raise my head and hand to ask for clarification. After a couple of aborted attempts I realize that 'stand up' means raise my upper body like a cobra while gently bringing my legs under me. As I rise up, I press back lightly into my heels and then slightly forward with my toes attempting to maintain balance before another splash! The instructor seems concerned but I think it is all fairly hysterical and demand to go again. This time is better and longer, though from what he is shouting I need to stop waving my arms around for balance.
Strangely enough, holding my arms in, does give a better sense of balance and as a shout goes up, I've passed the 20 second mark! I'm now given further instruction on how to move left and right by pressing on the outside edge of my respective foot. I'm better at going right than left, and the result is an unfortunate loop bringing me too close to the tow ski and another fun splash in the water.
My last loop! I'm given the option of going higher and of course – why not indeed?  Higher is definitely less stable and harder to balance, which lends added impressiveness to the original demonstration. But I think that anyone could master the lower level fun. Particularly if you're a water lover, with a reasonable understanding of body balance, flying over the water is a unique sensation and a really enjoyable one. It takes no particular strength and it puts no pressure on the body. It's a matter of getting up and then managing subtle rebalancing.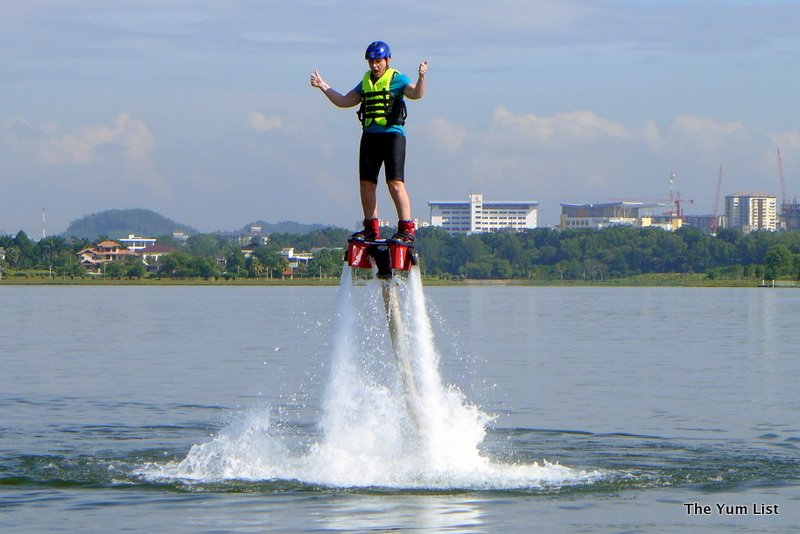 Sadly it's the end of my tryout, and still chuckling with laughter I scramble up on the dock. I'm offered a free drink but on finding it's a Coke not a Mojito, I give it a pass. Have to save the calories for my favourite treats! I'm happy to report that there are good facilities for showering and changing after the experience so I'm able to head for lunch dry and presentable, as well as thoroughly exhilarated from water flying fun!
Flyboarding lessons are offered on weekends only at present; 10 minutes of ground instruction and a 20 minute 'flight'.  Group bookings are welcomed, and a weekday session can be arranged for groups of over four. Independent participation is limited to adults and children over 12.  But we did see a video where a younger child was being held up by the instructor and having a blast, so it's definitely worth asking about for an unforgettable experience for an adrenaline loving youngster.
Reasons to visit: water fun, exhilarating experience, pretending to be an X-man
Flyboard Malaysia
Jalan P5/5, Presint 1,
Putrajaya,
Wilayah Persekutuan Putrajaya
Malaysia
+6 012-2871120