Words: Bob Busk   Photos: Monica Tindall
Valentines Day….
A day of romance, chocolates, roses and romantic dinners at candle-lit tables with soft music, and fine wine. Very traditional.
But what if you want to step away from traditional?
What if you want to add a little Latin vibe to your romantic celebration? What if you want to have a love affair with the food as much as your Valentine?
Qba Bar and Grill has the answer. This Valentine's Day, Qba is offering a hearty-meaty Brazilian Rodizio Grill dinner guaranteed to please your culinary desires as you celebrate this day of love.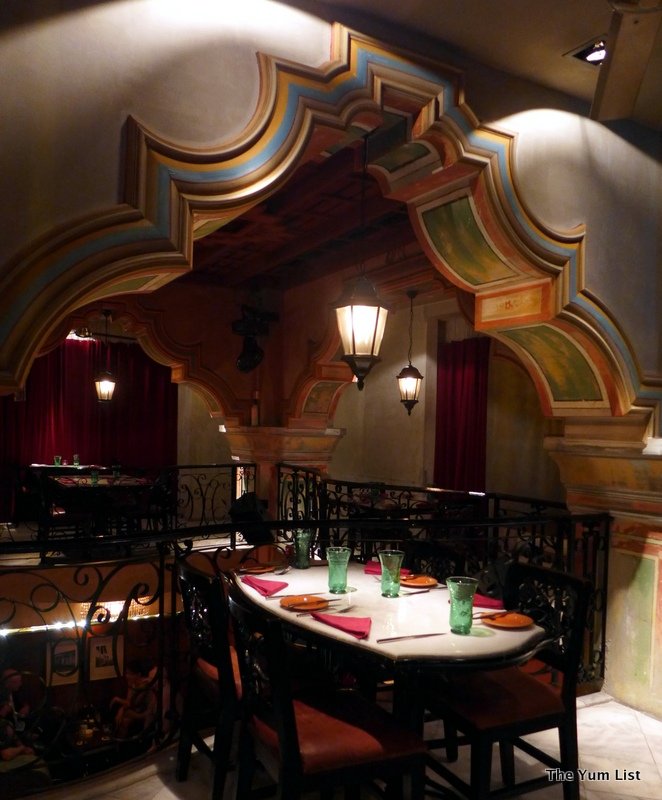 Upon arriving at Qba, you immediately notice the South American charm. The rich woods of mahogany hue add a sophisticated and romantic touch. Curving arches above and artistic metal-work railings frame views from the balcony dining area down to the bar and dance floor below. Tables are situated to afford intimate and private conversation.  The entire dining area has a sophisticated and romantic feel.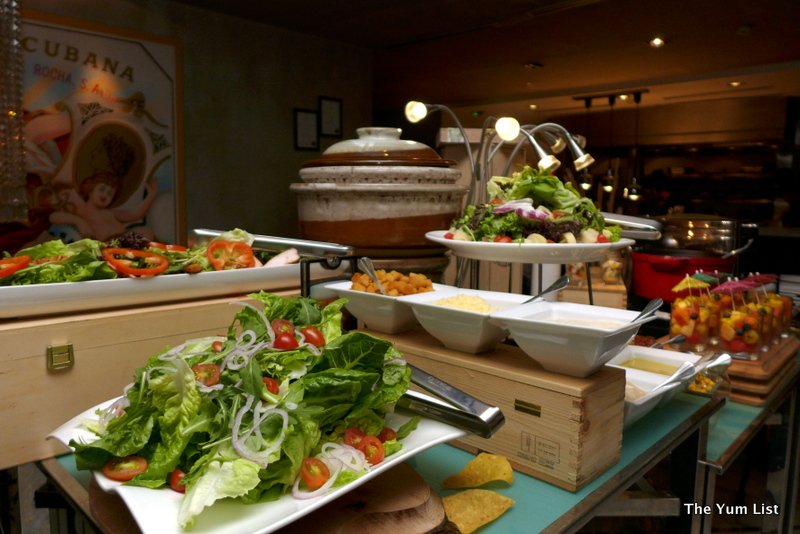 You are seated. You order wine and sparkling San Pellegrino water. It is time to eat.
You begin with an all-you-can eat cornucopia of side dishes. Start with a bowl of Sopa de Feijao (black bean soup) perfectly seasoned with cumin, garlic, beef bacon and garlic cream. For added texture, crumble a few purple sweet potato chips or plantains onto the top. Equally as flavourful but a little heartier is the Feijoada – authentic Brazilian black bean stew with farofa. Both of these bean dishes compliment the Brazilian white rice (arroz branco) and the creamy mashed potatoes (pure de batata).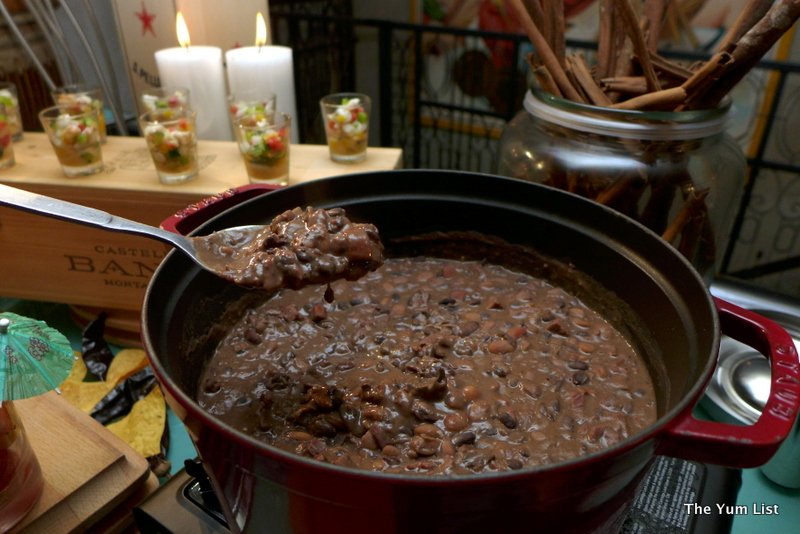 There is a wide array of salads. Salada de casa – the house salad made with heart of palm tossed with mixed greens. A drizzling of passion fruit dressing adds a little zest. A Caesar Salad with Brazilian Croutons, Salada de Frutas, a fruit salad with house vinaigrette, Salada com carne – steak salad, arugula, onions and a house dressing… all made with garden fresh greens and vegetables. In addition, you find quail eggs, roasted peppers, shrimp ceviche, anchovies, olives and assorted breads. If you are not careful, these side dishes could easily become your entire meal.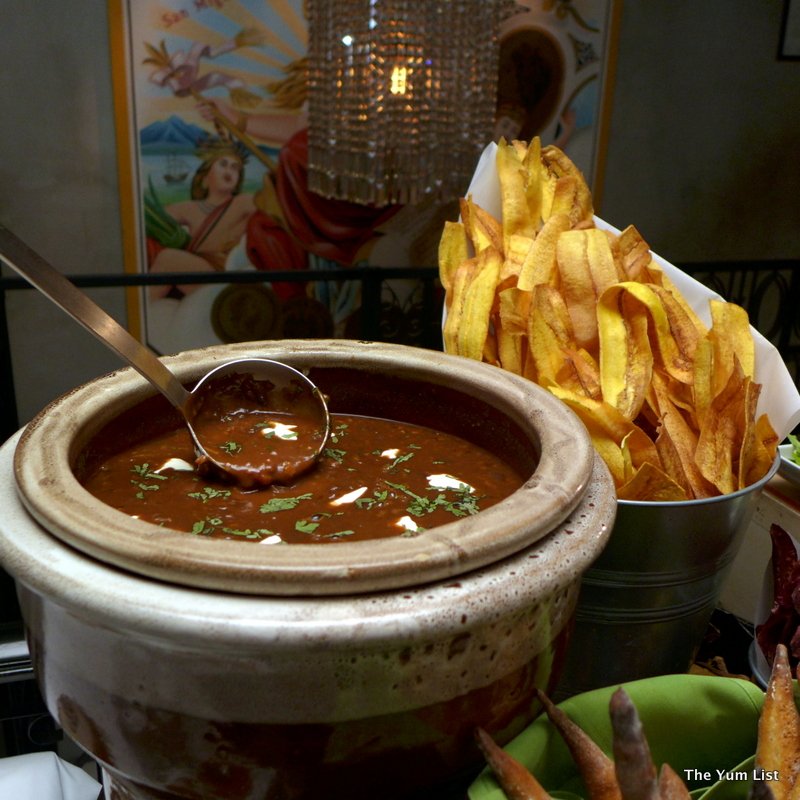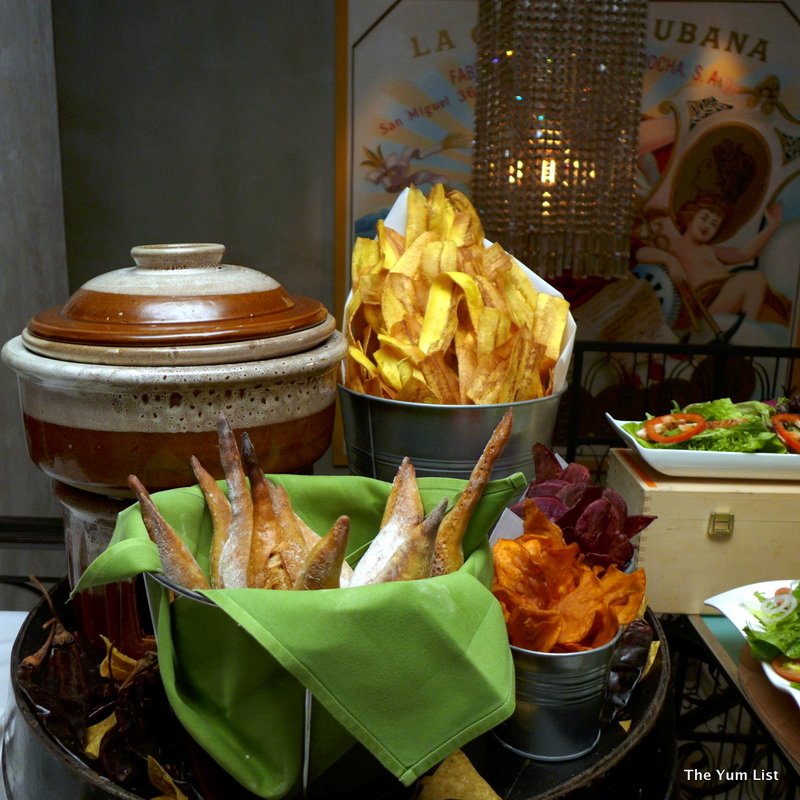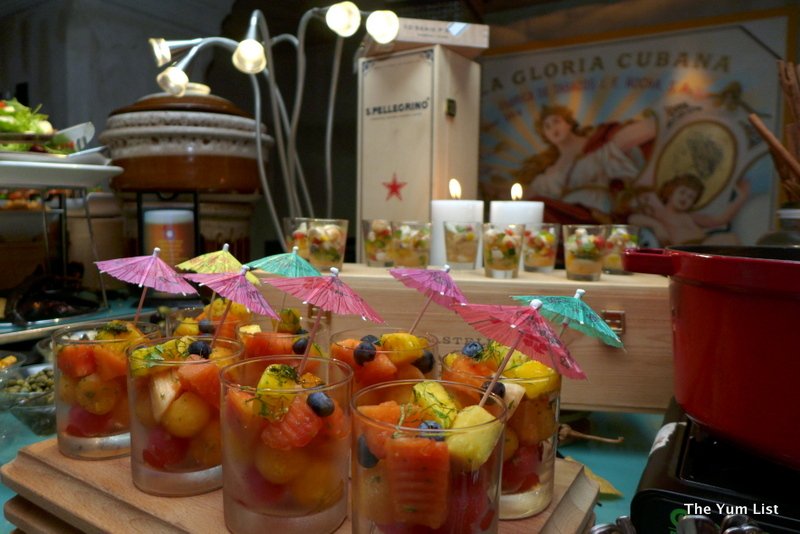 You notice a small block of wood on your table… half of which is painted green, the other half red. Turn the Green Side Up and it says to the waiters, "This table is ready for meat!!!" When you need a breather, flip the block to red. Repeat as often as you please.
You flip the block to green and the fun begins…. a waiter appears with a large skewer of roasted leg of lamb (cordeiro com pebre). He carefully carves while you direct each slice onto a serving dish with a pair of tongs specifically designed for this task. When your eyes feel you have enough, it is time to see if your stomach agrees. The Chilean rub on this lamb, made with garlic, cumin, coriander and cilantro, makes for out-of-this-world flavor.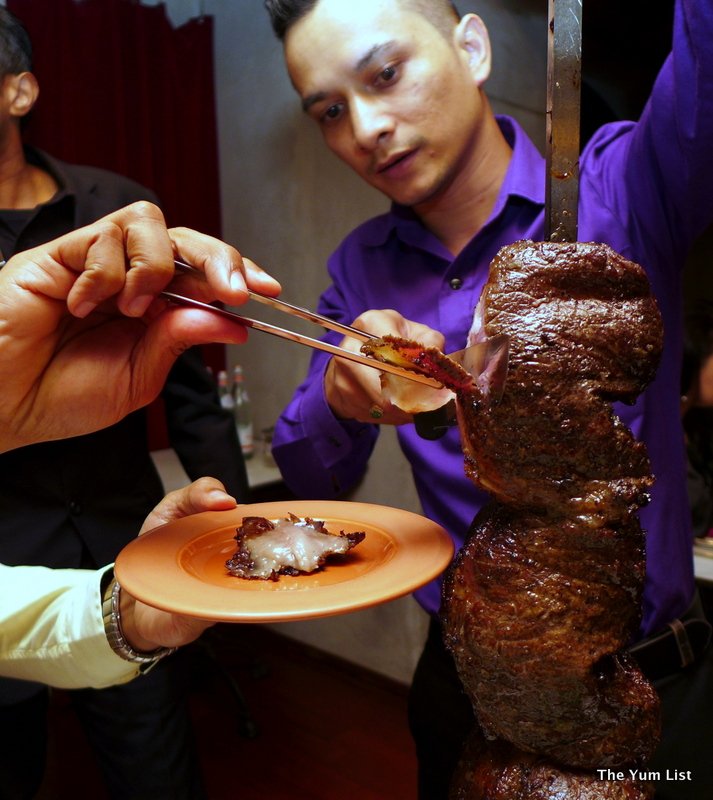 Before you can call for more lamb, another skewer arrives at your table, this time filled with Piri-Piri Chicken wings, soaked in homemade piri-piri sauce and glazed with lemon, herb and chile sauce – just the right amount of fire on these wings.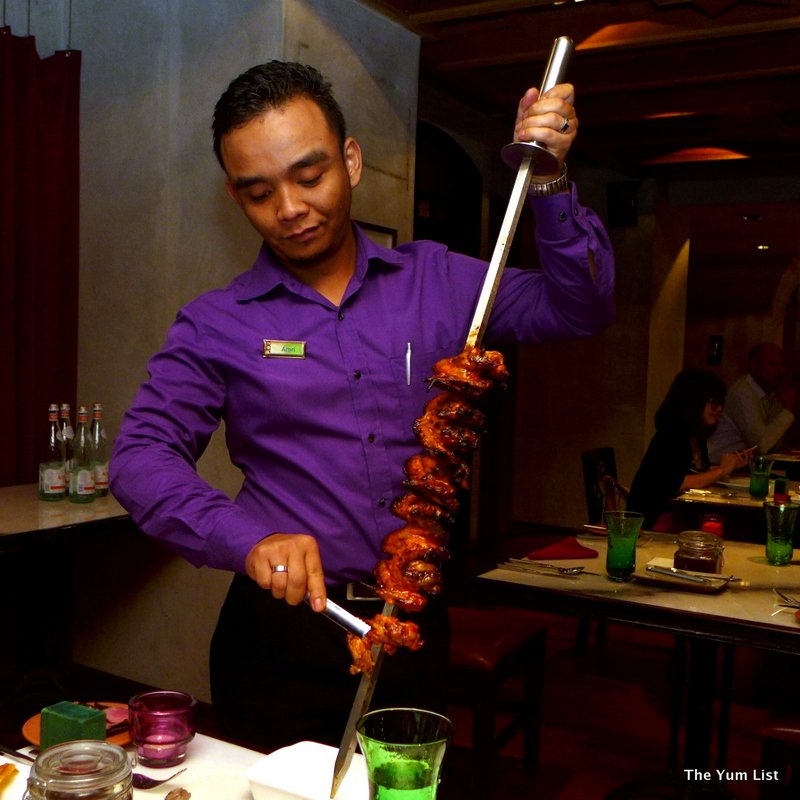 Because you neglected to turn the wood to red, the food continues to arrive. Up next is a skewer of prawns, large, delicious, perfectly cooked. Then Chorizo Lamb Sausages… savory and flavorsome. Picanha (beef) arrived next at the table. A juicy cut of beef with a mild, tangy and garlicky flavor. Grilled pineapple arrives right before you turned the block to red. The caramelized sugar and cinnamon adds a sweet-tooth taste to the exceptional juiciness and vibrant tropical flavor of the pineapple.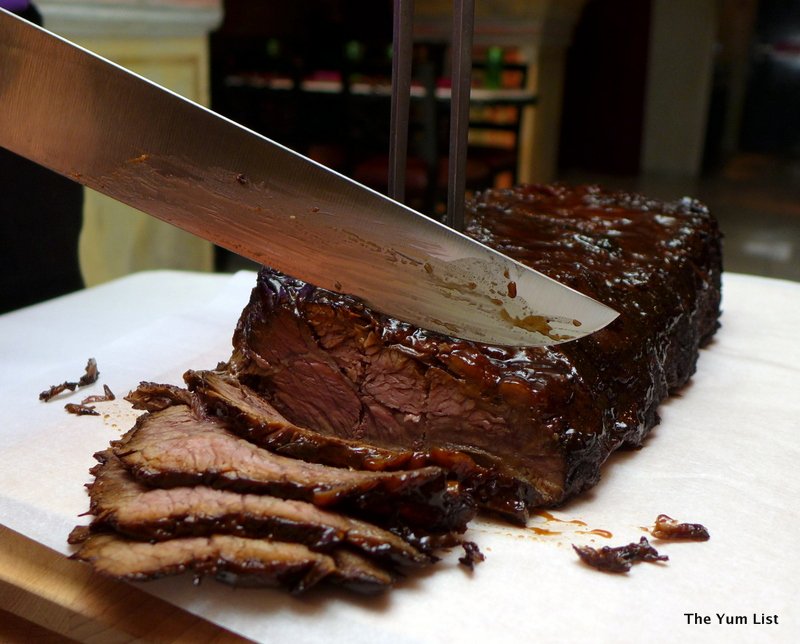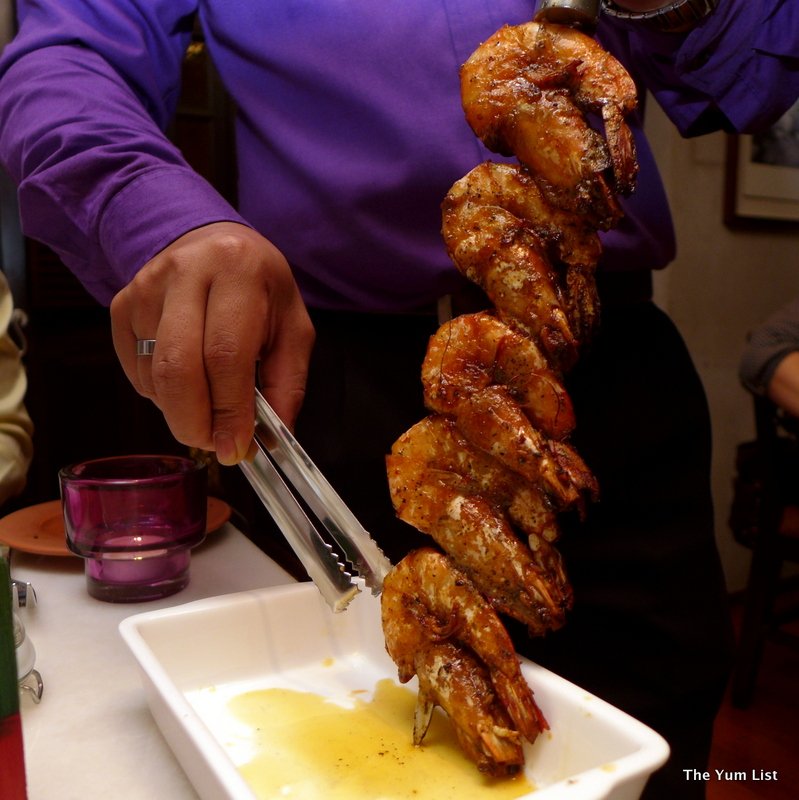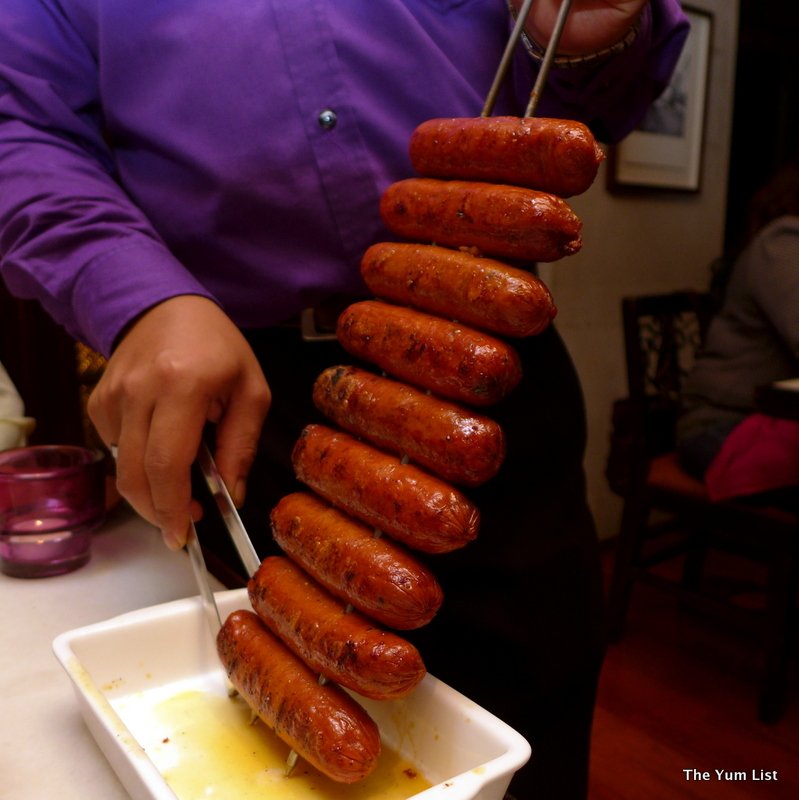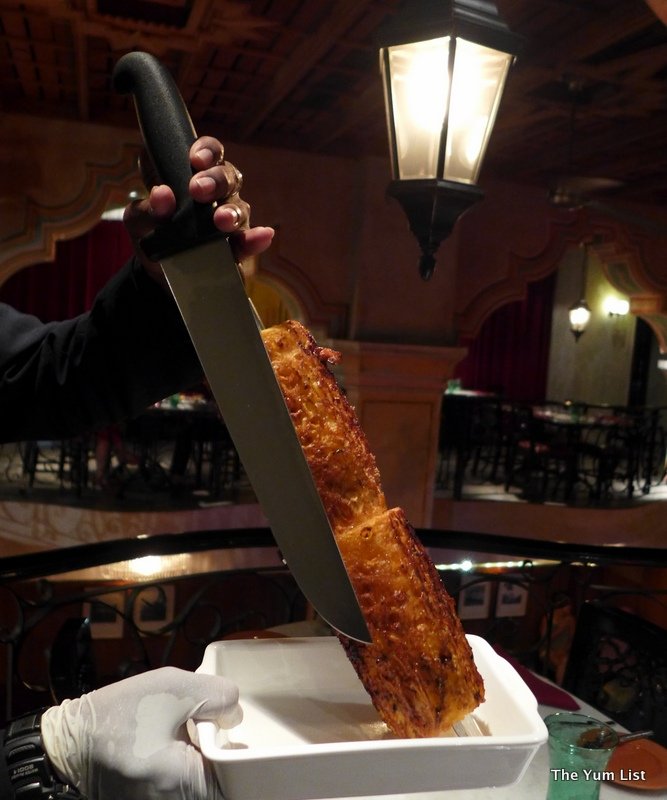 When you finally have had enough and you turn your block permanently to red, it is time for dessert, if you still have room! With the help of a little molecular gastronomy, a perfect three-inch orb of frozen mango and passion fruit sorbet is served. It looks solid but gently tapping it with your spoon cracks the thin shell and reveals a scoop of tangy mango ice cream atop a slice of pistachio sponge cake. It that isn't enough, at the other end of the plate is a love heart shaped cinnamon churro with a miniature pitcher of hot chocolate sauce. You pour some on the churro, and the remainder directly onto your spoon.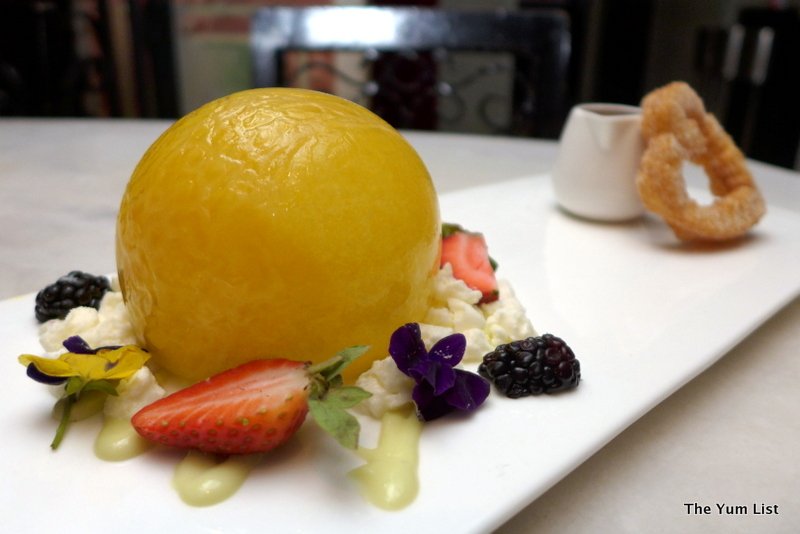 To end the night, a sweet heart praline is brought to the table, one for you and one for your Valentine. The message on the plate, LOVE – BE MINE says it all.
You leave with your Valentine very contented. Definitely not a "traditional" Valentine dinner, but one you will long remember.
Reasons to visit: casual and fun way to celebrate Valentine's; the lamb!
Qba Latin Bar and Grill
Westin Kuala Lumpur
199 Jalan Bukit Bintang
55100 Kuala Lumpur, Malaysia
+60 3 2773 8581
www.westindining.com.my/qba