Words: Monica Larrieu Photos: Monica Tindall
Who knew a revolution was brewing in a sleepy corner of a Petaling Jaya 'burb? Moreover, that it is taking place at a sleek but laidback, unassuming dining joint? Hello! By Kitchen Mafia is ready to rock the foundation of the traditionally exclusive and relatively grandiose (read, sometimes stuffy) world of restaurateurs in Kuala Lumpur.
Hello! was thoughtfully conceived and created by celebrity chefs, Johnny Fua and Sherson Lian. They bring us rebellious winds of change that are shifting the dining experience paradigm. With their newest brainchild, the fantastic duo are democratizing haute cuisine by simplifying its execution, stripping the process of the usual unnecessary decorum, and, ultimately, bringing fine dining closer to the people, in particular to a neighborhood that has been good to them, Happy Mansion in Section 17. Who says you cannot have creativity, innovation, and mastery, combined with a dash of tradition, a dollop of social consciousness, and whipped to an affordable perfection? I say, "Vive la revolution!"
These bad boys of the KL foodie scene are proving to be really good guys, who want a place where they can do what they love; share it with people they care about; bring "good food, good fun" to a wider audience; and further broaden their appeal. Not only are they physically bridging the gap by bringing the restaurant to Section 17, but they are also offering the community fantastic price points to enjoy premium food and beverages in their immediate neighborhood. Not to be forgotten, Johnny and Sherson also embrace a philosophy that socializes the dynamic of the kitchen and management by devolving decision-making and creativity to those manning the kitchen. With a bigger picture in mind, this allows the broader team a sense of ownership and pride that one can actually taste in the food and feel in the service. Case in point is their proud introduction of their charismatic Sous-Chef, Kenny Lor, who has flourished in this cultivating environment.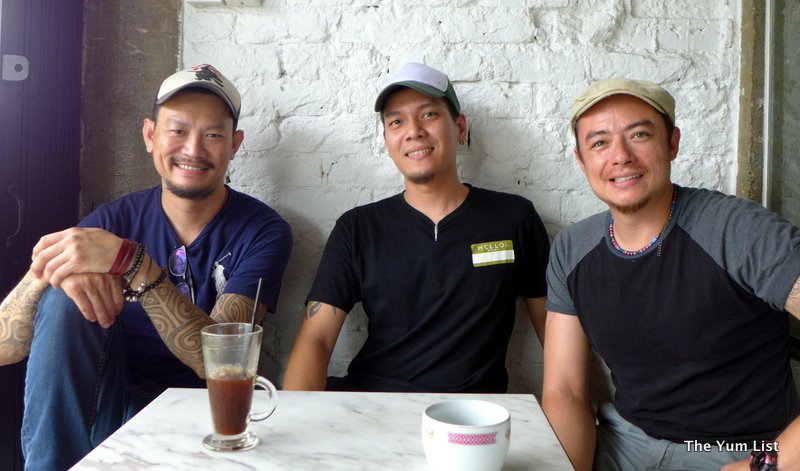 Not afraid to roll up their sleeves and get their celebrity hands dirty, Johnny and Sherson personally deliver their creations to their client's tables, greeting each customer and following-up – an uncommon but very welcome quality assurance touch. That detail leaves an indelible image in our minds of stakeholders who not only devised the restaurant and currently run it, but who personally ensure that that the restaurant's mission is effectually executed and that they touch lives through food and fun. Mission accomplished, gentlemen. The proof to us was in the constant flow of customers that we personally witnessed, never leaving an empty table in the joint, including non-peak dining hours.
First off, HELLO!'s menu is refreshingly short enough – it provides a wide enough range of options, without overwhelming us with too many items. Secondly, we had a hard time wrapping our heads around just how reasonably priced the food and beverage menu was, and even more so after tasting each dish brought to us. The array is eclectic, fusing some innovative twists to iconic Western and Asian fare.
TAPAS
We started with the Duck Jerky (RM 10), a unique, sweeter take on the traditional Caribbean jerk chicken because it was marinated in Chinese rice wine and basted with Hoisin sauce. The next tapa was the Drunken Chicken Liver Pate (RM 12), a buttery indulgence drowned in sherry, and topped with grated Parmesan cheese. We liberally spread the pate on lightly toasted chili-encrusted focaccia bread and inhaled the generous portion in minutes. Next out were the Pulled Beef Sliders (RM 9.50), a sweet, Asian twist on the Cuban ropa vieja, served on focaccia bread slices and topped with thinly julienned Granny Smith apples, escabeched onions, and mixed with the spicy citrus zing of diced ginger torch. Our final tapa was the 100 grams Minute Steak (RM 16), cooked to a perfect medium-rare. Despite using the not-so-prime cuts from the Wagyu beef, I would venture to say that it was still delectable.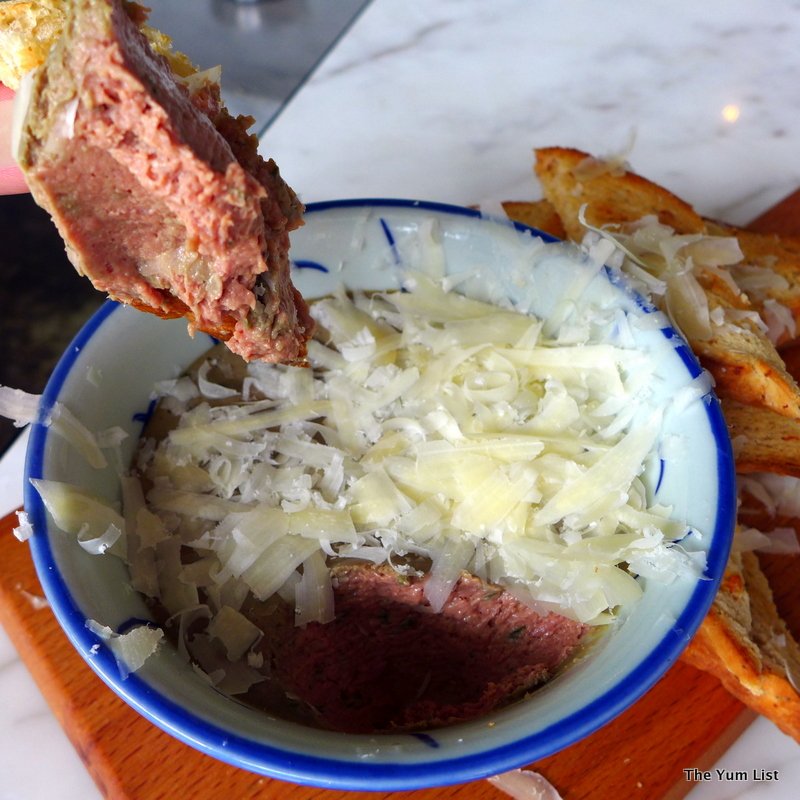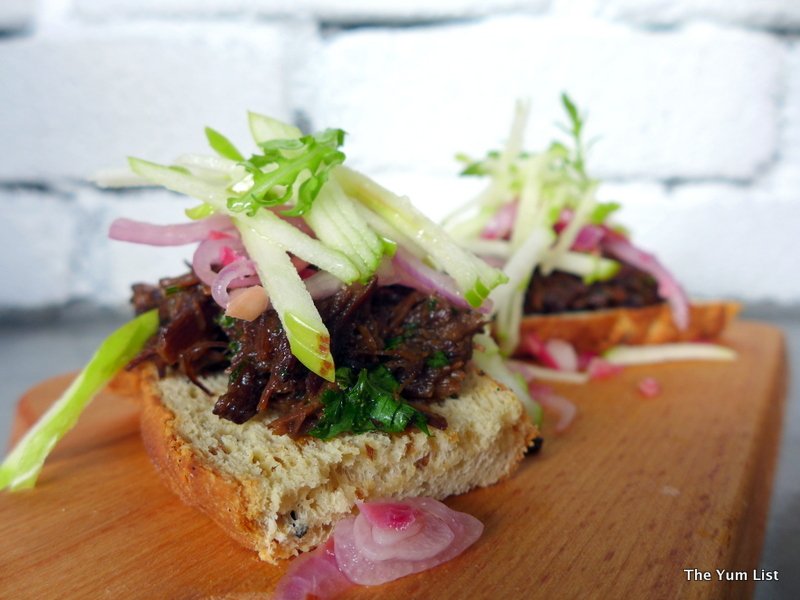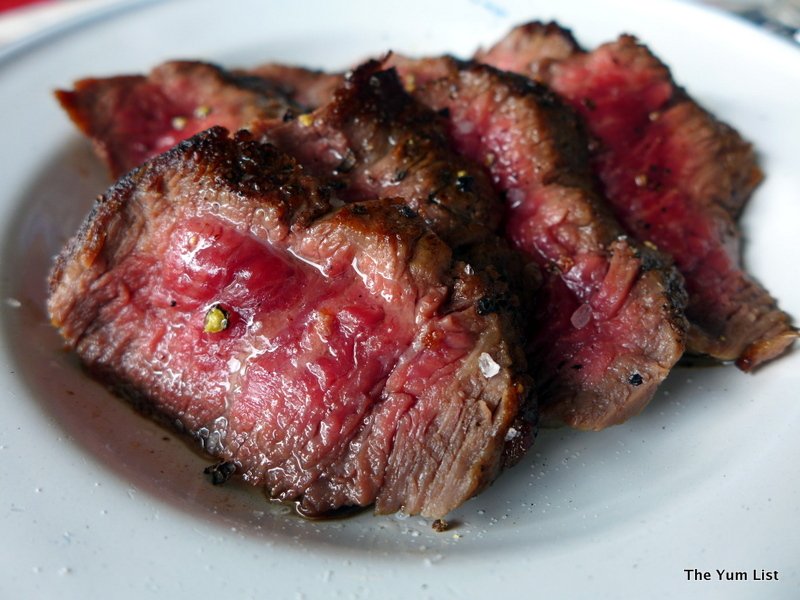 SALAD
In what seemed to be another rebellious attempt to give a branding twist to the ordinary, we were offered a stunning, fresh salad that diverted from the predictable. The Crispy Banana Blossom salad (RM 9) tasted as unique as it looked, leaving a virtual party of tangy and zesty flavors and textures bursting in our mouths. Heavily influenced by the traditional Malay Kerabu salad, a spicy mango sauce was mixed into julienned green papaya, carrots and cucumbers. Topping it was a crown of tempura-fried banana blossom strips.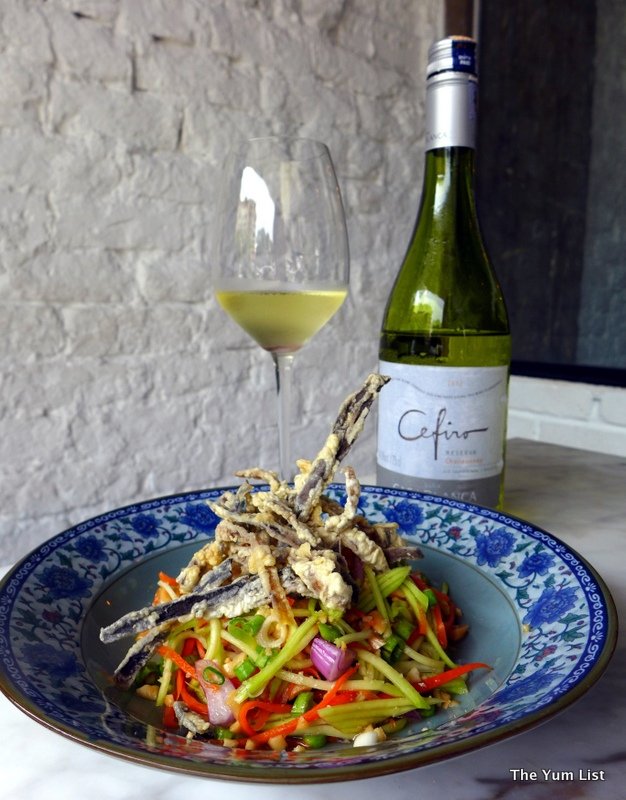 MAIN DISHES
By the time the main dishes arrived, we were teetering on fullness, wondering how we could possibly continue eating. Well, it was easy to find a way once we tried each additional dish. The Pak Johnny Mee Rebus (RM 14) was a tasty take on the traditional mee dishes, replete with homemade angel hair noodles, tofu, egg and dried shrimp floss, as well as a little teapot filled with an accompanying sauce to pour over our dish to our liking. As if saving the best for last, the Home Salted Duck Egg Calamari (RM 12) was the grande finale… and it was sublime. The delicately fried calamari was doused in a creamy, spicy sauce that had a hint of curry and a trace of sweetness, which, to my surprise, I learned was condensed milk.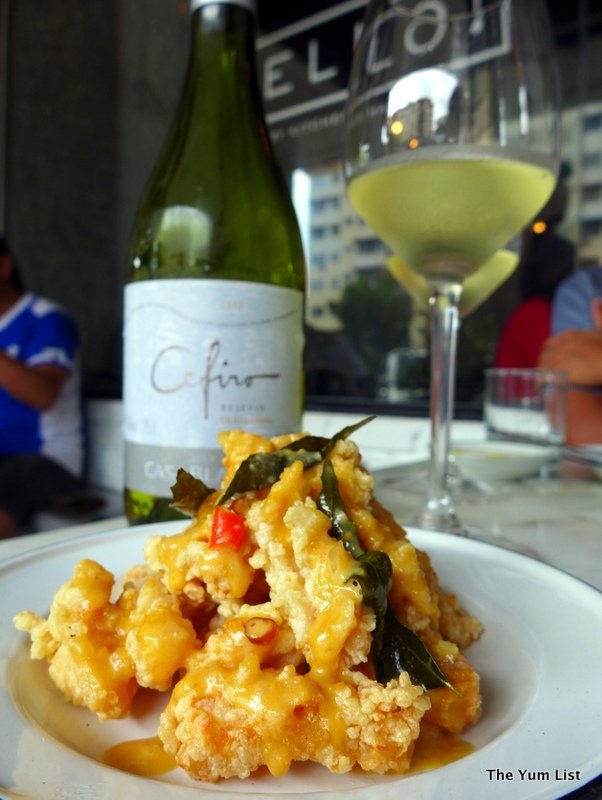 The tasting was paired beautifully with a Viña Casablanca 'Cefiro' Chardonnay (RM 80 per bottle), a citrusy and slightly fruity blend to complement the varied flavors and tastes offered to us.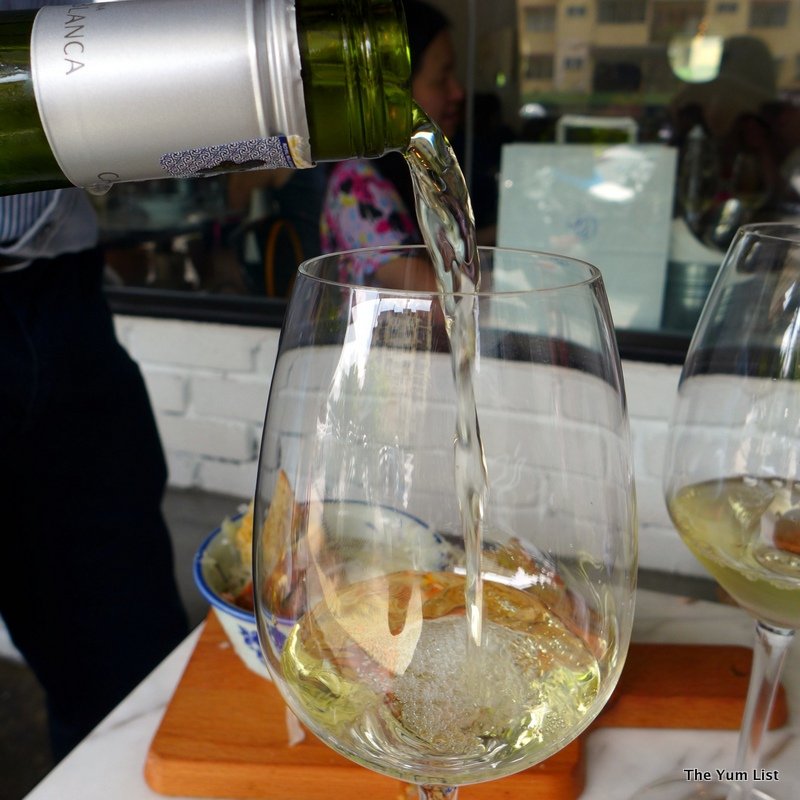 Reasons to visit: The varied and scrumptious offerings on the menu, each dish upping-the-ante for the next; the laidback feel and comfortable vibe; the personalized service offered to all patrons; and the surprising price points throughout the menu.
Hello by Kitchen Mafia
BG7, Jalan 17/13, Happy Mansion, Section 17
Petaling Jaya, Malaysia
+6 03 7932 1929
www.facebook.com/hellobykitchenmafia
Hours: Wednesday to Sunday. 12 – 3pm, lunch; 6 – 11pm, dinner.