Words: Kirsten Durward   Photos: Monica Tindall
Everyone has a different picture in his or her head when it comes to French cuisine. Some will immediately jump to thoughts of Michelin stars, crisp service and high-class wines. Others conjure up images of steaming coffee with meltingly soft croissants, or platters of cheese and cured meats with fresh crusty bread. Yet others dream up bistro style Moules Frites. For me however, the epitome of French food has always been rustic flavourful regional specialties with generous portions and soulful preparation. With that in mind, I'm really happy to be invited to try the menu at Rendez-Vous in Bangsar and meet co-owner Arnaud. Since opening, this charming restaurant has built a reputation for its relaxed French style ambience and delicious honest food.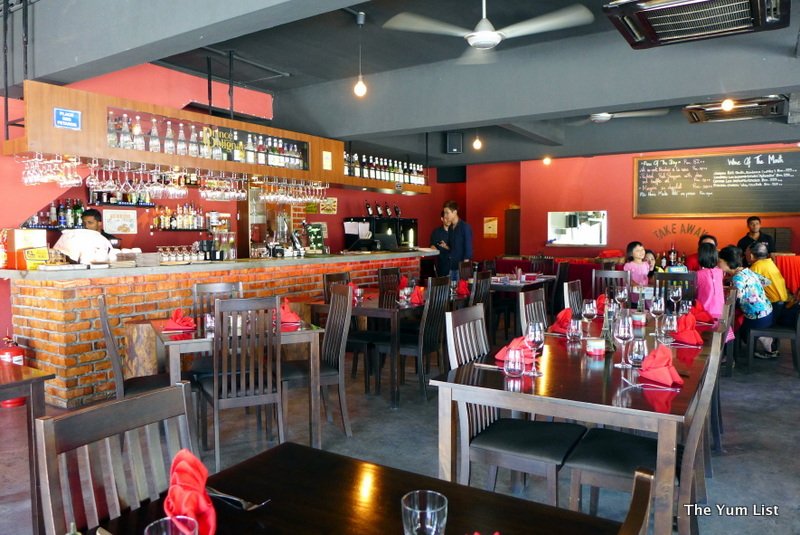 The menu range is pretty impressive. Sunday brunch features both something light and a heavier country French style suggestion – both very reasonably priced. For lunch and dinner there are a trio of set menus at different price points (RM62 ++ to RM149 ++) and a carte du jour. Vegetarians have a whole separate listing. It is also possible to request a wine paired menu. In fact it seems anything is possible at Rendez-Vous.
Why not start with a cocktail? Classic French or International? We are here for a French experience so select Rendez-Vous' version of the Champagne Cup, Sparkling Polignac  (RM49 ++). Polignac is a welcome change to the ubiquitous other-not-to-be-named labels on the scene, and we certainly can taste the cognac in the mix. Le Kir Provencal (RM28 ++) is an elegant blend of rose wine with pink grapefruit with very moreish mellow tones. I loved this twist on the Kir so much I have been making it at home since.  Friends approve.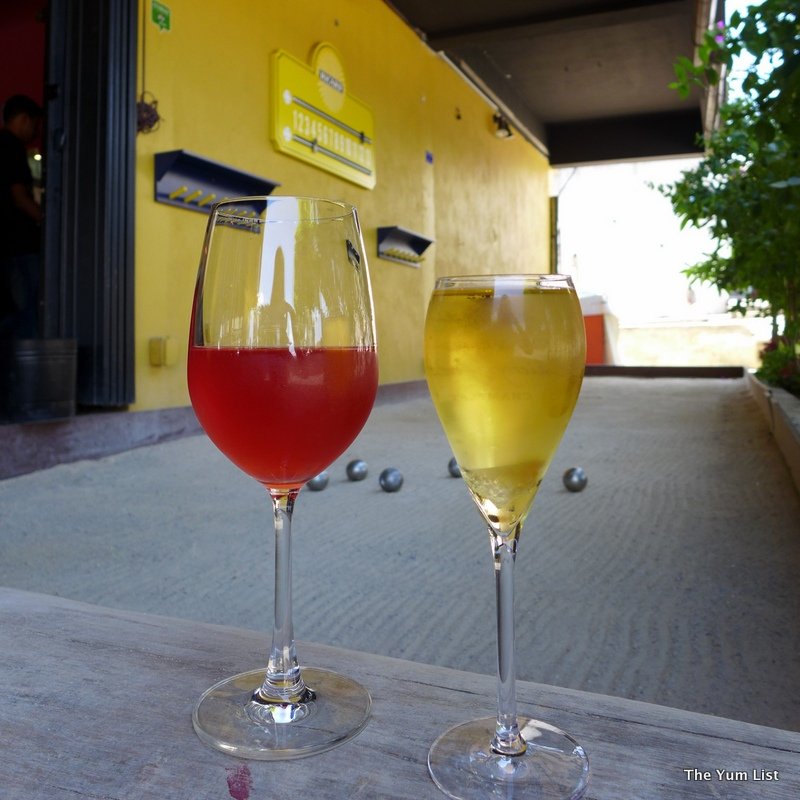 We chuckle as the friendly waiter offers us a morsel of soft bacon covered prune, "For your mouths delight," – the literal translation of amuse bouche. Plenty of 'mouth's delight' to come we are sure!
What better way to try a taste of what's on the menu than with a Sharing Platter (RM 120 ++)? The platter changes due to seasonal availability and ours is packed with homemade terrines, snails, gizzards, smoked duck breast, honey-roast ham, Parma ham, white ham, fat fulsome olives, garlic confit, home style French sausage, fresh salad and a rustic potato salad. We all had our favourite part, but mine was the wild boar terrine with a dab of the caramelized onion pickle. Yum. This is a fond favourite of European customers on lazy afternoons who pair it with a bottle of wine and a game or six of boules. With our platter we taste a glass of the Baron Monbarduc 2014 from Bergerac (RM 28,  a  fruity and full bodied Bordeaux wine, which is poured at just the right temperature.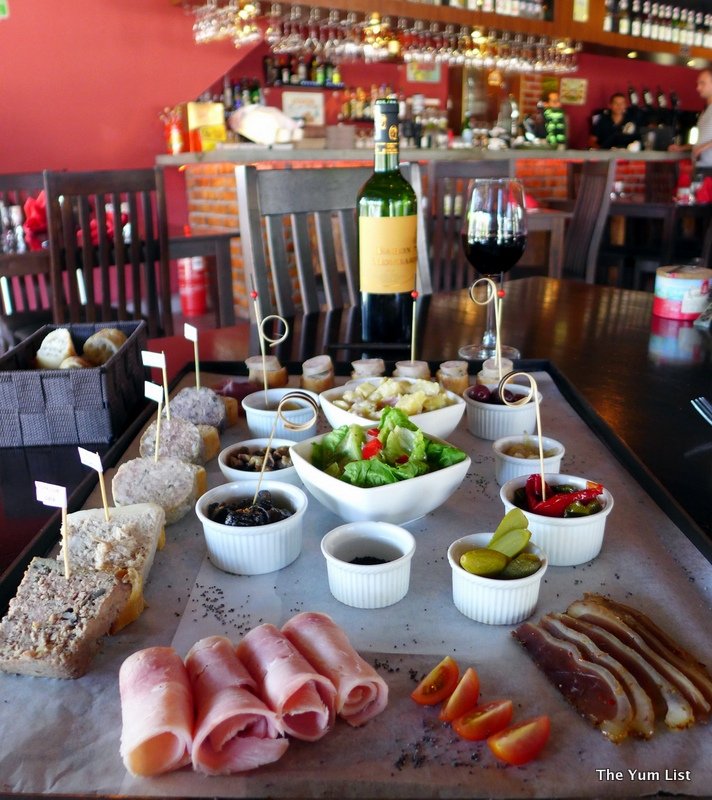 Regular readers will know that one of my tests of a good restaurant is the breadth of the wine list, particularly with respect to wine by the glass for the solo traveller. And Rendez-vous scores on both counts. Le carte du vin offers a range of well chosen wines from around the world and no fewer than 13 choices of wine by the glass ranging through French reds to Spanish sparkling.  Happiness is wine by the glass!
Arnaud is determined to show the range of the menu and what follows is a long languid European style Sunday afternoon of eating, drinking and talking. If you've never had a four-hour, lingering French style lunch, then this is the place to try it. Moules Frites (RM 42++) is a classic favourite in both France and Belgium. Although these come with a choice of creamy or blue cheese sauce, my preference is always for the Marniere (steamed in wine) and the original French fry skinny fry very different from its cross channel cousin, the British chip. I once learned that a neat way of eating mussels is by using half a shell to scoop out the mollusc. Scrape and slurp. These ones are fat and flavourful, but the best is dipping the crusty fresh bread in the sauce. Carb Alert!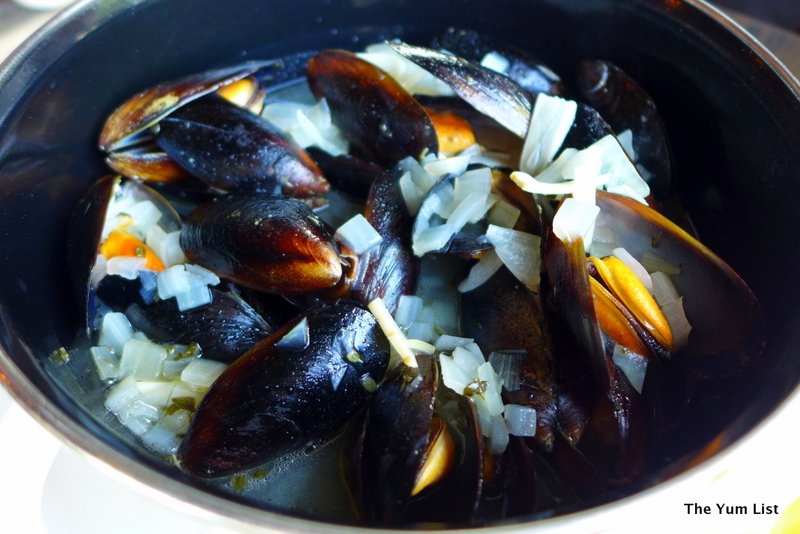 Did I say carbs? Tartiflette (RM 49 ++) a traditional dish from the Savoie region of France consists mainly of potatoes, layered with onions, bacon and Reblochon cheese. It's enormous and looks to me like four portions, but Arnaud assures us he has several customers who enjoy this as part of a three-course meal! We love the warm hearty nature of the dish and the oodles of melting cheese. It tastes even better though after a mouthful or two of Plaisir De Vigne Muscadet (RM 30 ++) a well priced Loire Valley white from Melon de Bourgogne grapes, which cuts perfectly through the decadent heavy dish without a trace of acidity.  It's a dry and fresh tipple with just a hint of white peach, and it also works well with the seafood.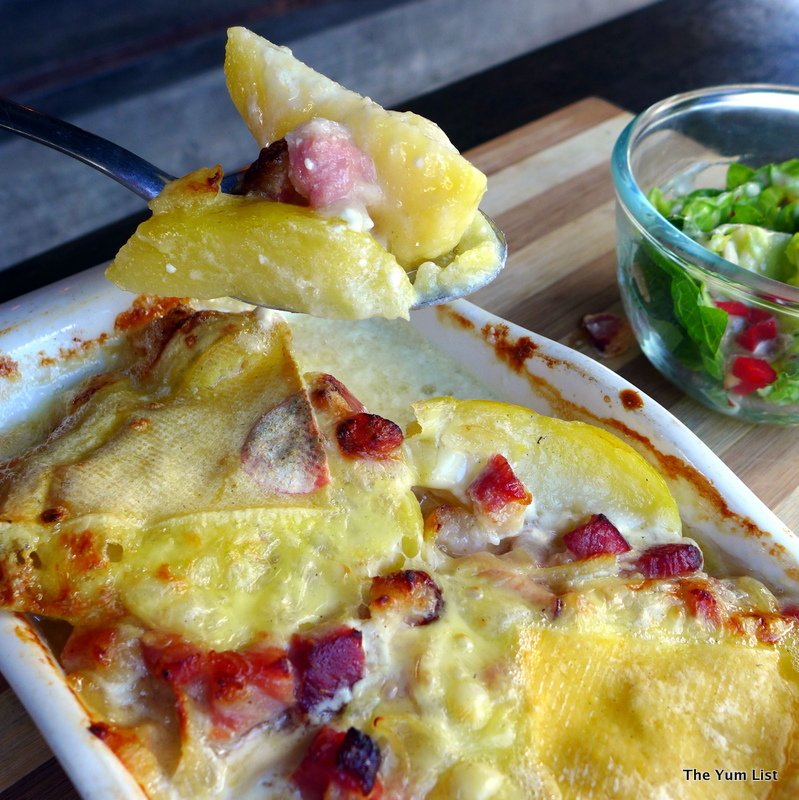 Another regional specialty you won't find elsewhere in KL is Brandade de Morue (RM 44 ++) which hails from Arnaud's home region – the Camargue where salt from the region was traded for fish from Brittany. Salted codfish is soaked heavily to desalinize before being mashed with potato and baked in the oven au gratin. It has a very particular taste and Arnaud emphasizes the need for careful soaking when making this dish.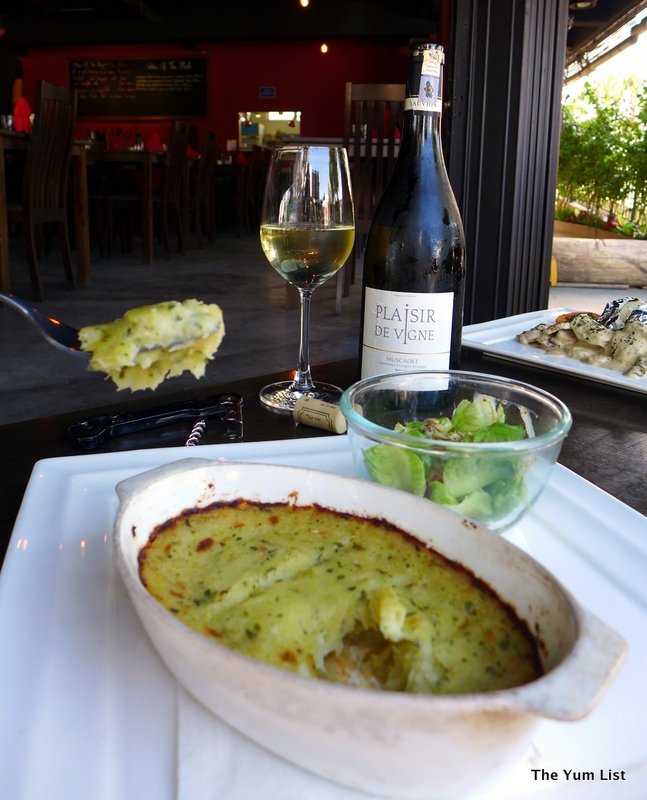 There is plenty on the menu for meat eaters, including pork fans. We taste a beautifully soft and tender Filet Mignon de Porc (RM 49 ++), which is enveloped in oodles of creamy cepes mushroom sauce. We love the celeriac mash which adds a little tang to this dish.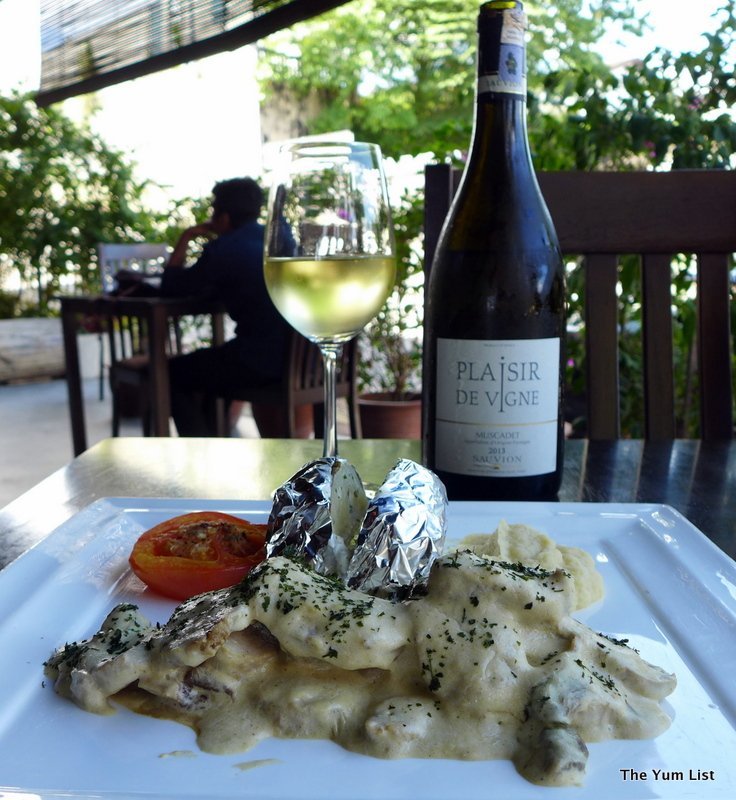 A tasting of French provincial cuisine could not be complete without a Boeuf Bourgignon (RM 56 ++), a classic meaty dish where the meat is caramelised with red wine and slow cooked with onions and oodles of herbs. This one is soft and sticky with deep rich notes, the chunks of beef falling apart easily as befits meat eight hours in the cooking. It is nicely accompanied by a glass of Fat Bastard Syrah (RM 30 ++), which is rich and dense with notes of cherry and shades of herbs. The dry tones cut through the rich stew and creamy potato, bringing the flavours out even more.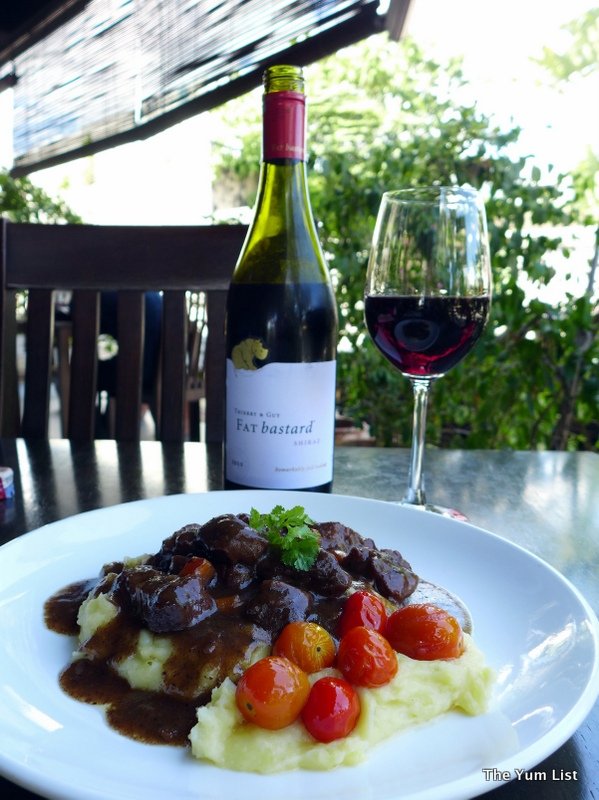 Although we are blatantly stuffed, Arnaud will not take no for an answer and keeps on rolling out food and drinks with jovial hospitality and Gallic shrugs.
The Cheese Platter (RM26 ++) comes in two sizes but of course we must try the larger. Le Roussot vies with St Paulin, Brie and Fourme d'Ambert for our attention, with accompanying home made jam, a sprinkling of nuts and dried fruits and a light fresh salad.
The most decadent dessert is the Marquise au Chocolate. I really advise saving room for this one. The beautifully presented rich dark dense chocolate mousse served with refreshing house mint ice cream has us groaning. Crepe Suzette (RM 26++) is always an impressive experience when it is flamed at your table. The orange sauce with Grand Marnier is certainly slurpable, and more than one spoon creeps back for 'just a little more.'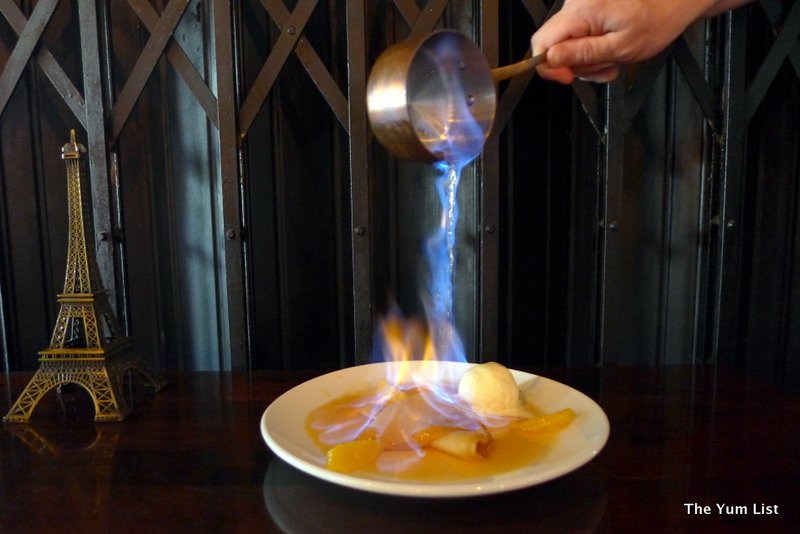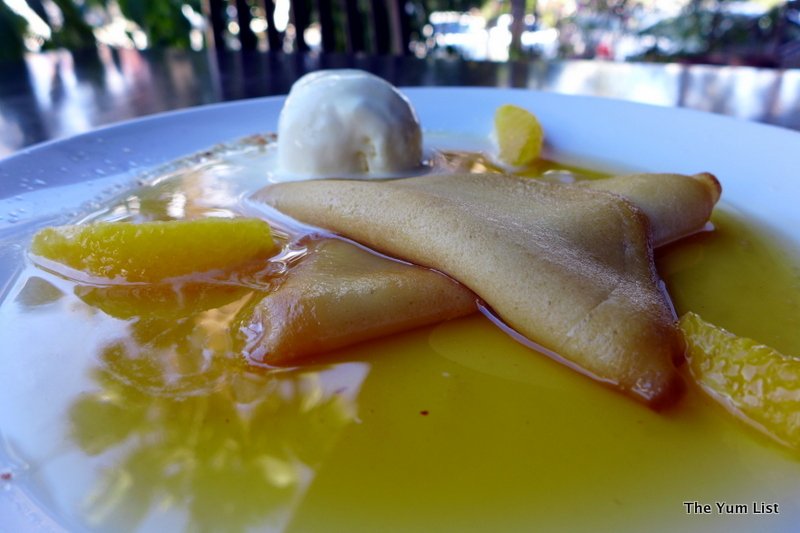 And of course I have to take the opportunity to test out the French Crème Brulee (RM 19++). It has only the lightest of brulee but a very silky cream with a good vanilla flavour. Caning definitely approves as he relieves me of the dish and scrapes it to the end.
It seems alcohol is ever present, as we taste a creamy French Café, loaded up with Kahlua and Cointreau before being topped with thick cream. But if you are feeling full, I can heartily recommend a Cognac as a great digestif. We taste the Cognac Polignac VSOP (RM 19 ++) and the Polignac Reserve  (RM 23++), which I can only describe as a total bargain. The Reserve is made purely from 'grand Champagne' grapes, so named for the chalky soil that they grow in, being similar to the Champagne region of France. In texture it is finer and in taste slightly more caramelized. We joke that it is a more 'feminine' style.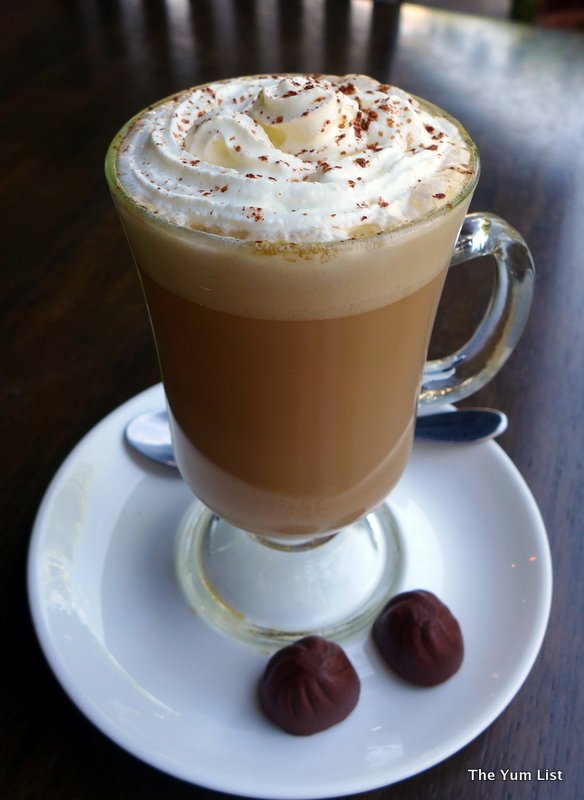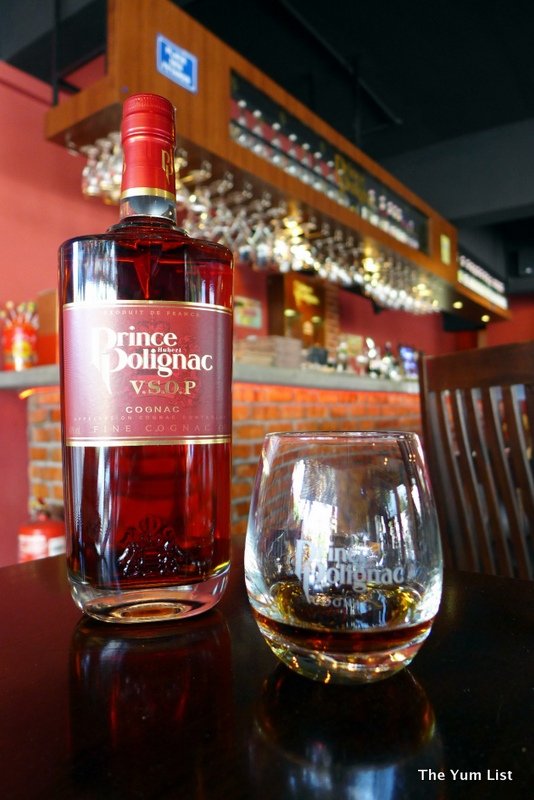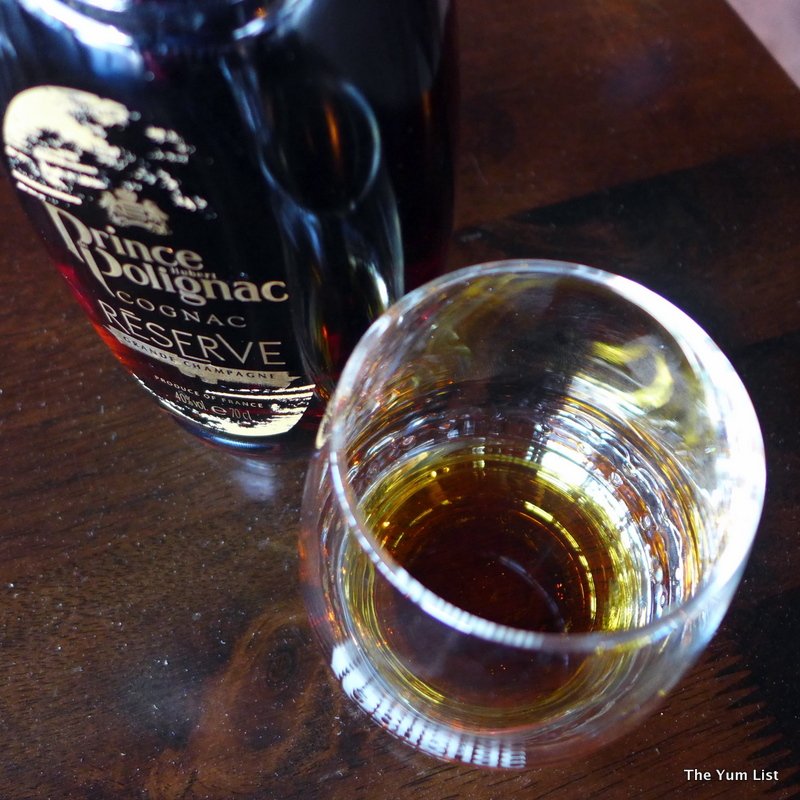 You'd really think that would be enough, but as we stagger over to the 'terrain' for an after lunch game of boules, we are pressed into a Ricard. 'No it's traditional you see!  Ricard and petanque – the one cannot be had without the other.' Monica and I did our best to understand the rolling of the boules and the curving of the terrain, helpfully supported by Polignac representative Anthony, but we had to concede to Caning and Arnaud's superior technique before calling it a day and heading home feeling full and sleepy.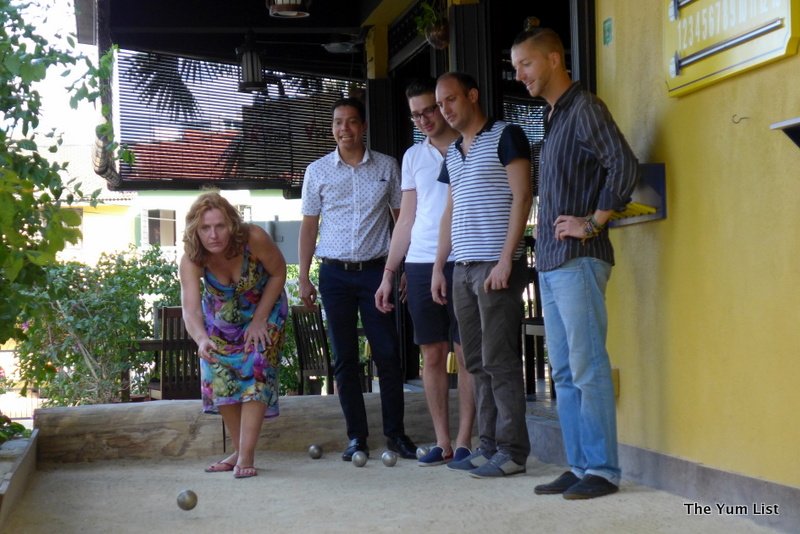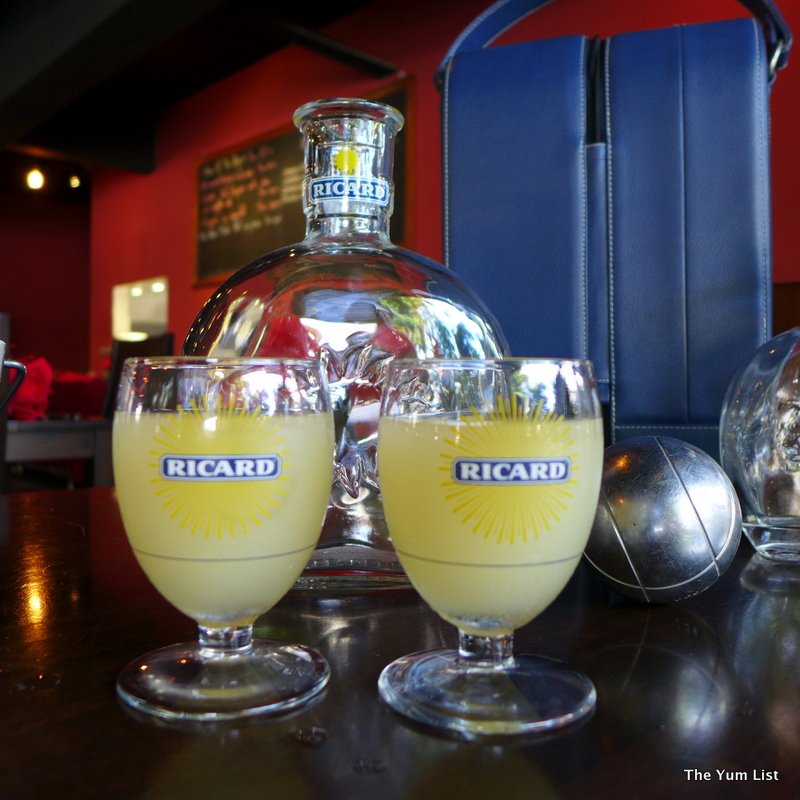 We adore the relaxed and welcoming atmosphere at Rendez-vous. We love the rustic food and hearty portions, and we are impressed by the value of the menu and drinks. The menu changes every two months or so with favourite dishes and best sellers continuing while fresh ideas are added. We are looking forward to hearing more about the plans for the upstairs space, which include jazz evenings, comedy, and film viewings. So as rendez-vous literally means a meeting place with friends, I suggest you call a few of yours and arrange a get together. So much to enjoy here!
Reasons to visit: tasty traditional French cooking; don't miss the Sharing Platter, Tartiflette, Filet Mignon de Porc or the Boeuf Bourgignon; and great value set menus; good range of wine by the glass; friendly service.
Rendez-vous
100 Lorong Maarof
59000 Bangsar
Kuala Lumpur, Malaysia
www.facebook.com/rendez vousbangsar/
+6 03 2202 0206