Words: Louise Miller      Photos: Monica Tindall
Having clearly missed out on the whisky-loving gene so generously endowed on the male members of my family, it was with a little trepidation that I accepted Monica's invitation to review the special whisky tasting event at Bangsar's Jarrod & Rawlins. What eased my apprehension was a glimpse of the menu designed to accompany The Glenlivet's trio of whiskys – a feast of British fare which was bound to produce the 'spoonful of sugar' effect should the single malt not be entirely to my liking.
I realise that The Yum List's write-ups rarely start with such scepticism, but I feel compelled to highlight my reticence here because by the end of the evening I was a convert! Designed to ease the attending aficionados or 'The Glenlivet Guardians' into the evening, we were served the 12 year old on arrival. Served diluted and on the rocks, The Glenlivet's flagship whisky was light and fruity with floral and summer-like fragrance and a sensuous touch of pineapple. These delicate notes did not match my previous experience of whisky at all and I was pleasantly surprised to find how refreshing and drinkable it was.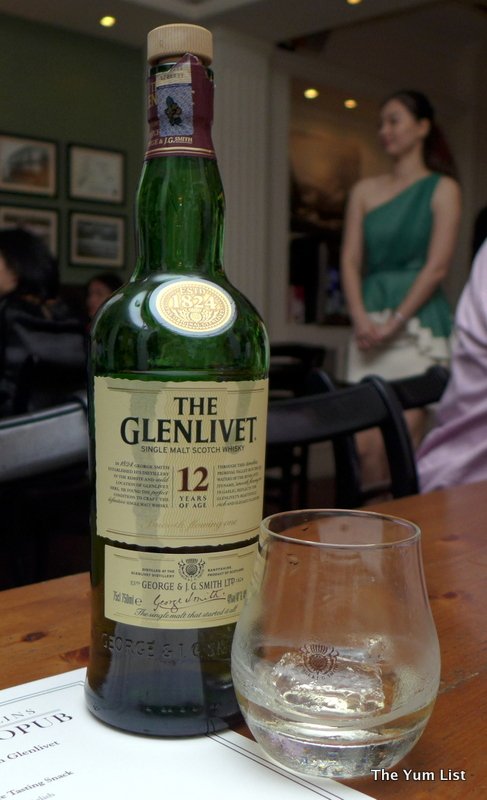 The accompanying canapes had intensified the Britishness of the event with a twist on a couple of classics. Tiny triangles of perfectly crisp toast were topped with The English Breakfast (scrambled eggs and baked beans) and Gentleman's relish (an utterly delicious anchovy paste made with butter and spices).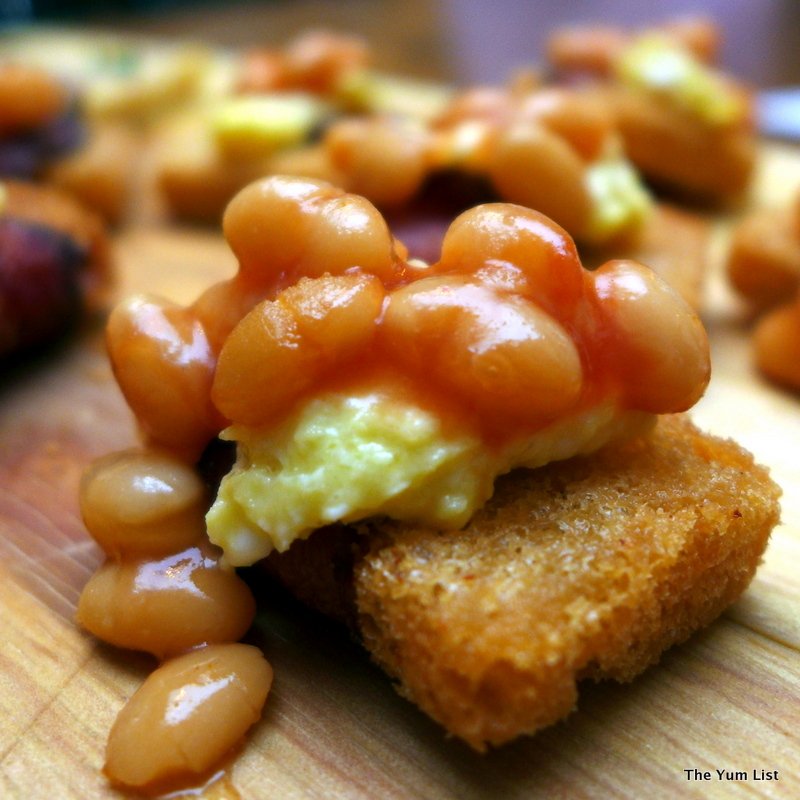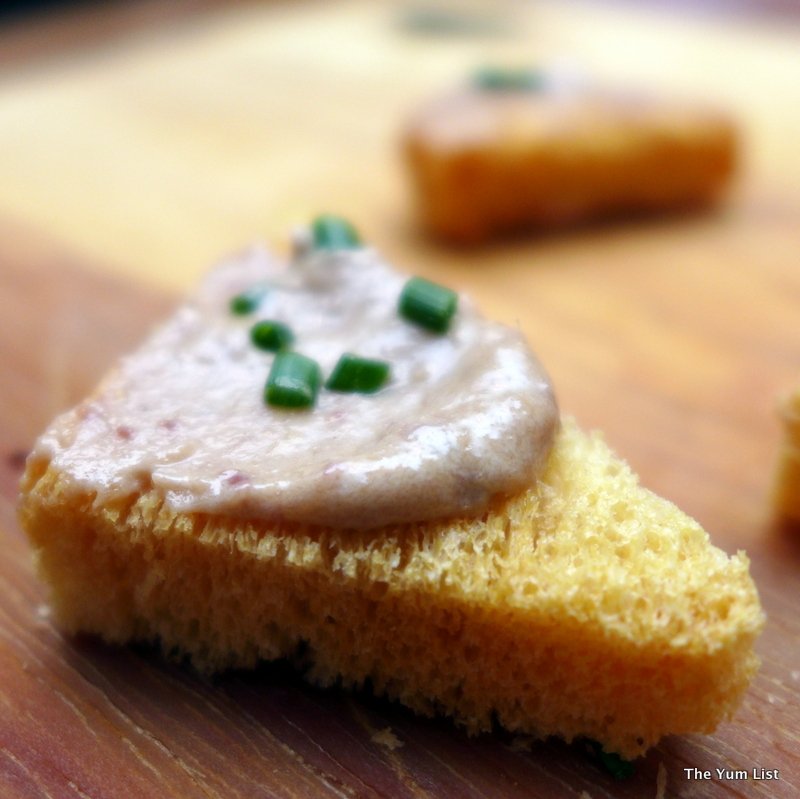 A welcome by Malaysia's charismatic The Glenlivet ambassador, Lionel Lau, officially opened the proceedings as he gave us a potted history of the brand and highlighted that in addition to the flavour and texture, the taste of whisky is enhanced by the environment and with that in mind, scanning the room to see the venue buzzing with a throng of convivial enthusiasm, the evening seemed set to achieve its objectives.
We continued to enjoy the 12 year old as we were served the next items in the English pub feast. Ceramic spoons were handed out laden with zesty smoked salmon tartare which provided tasty mouthfuls with a delicious chilli and ginger fuelled heat. I was also delighted to see Scotch Eggs – far daintier than the classic version, these were made with quails' eggs encased in sausage meat and deep fried in breadcrumbs. They were delicious dipped into the accompanying English mustard, which should be eaten with the same caution one applies to wasabi as it packs a punch (in the nose if you're not careful!)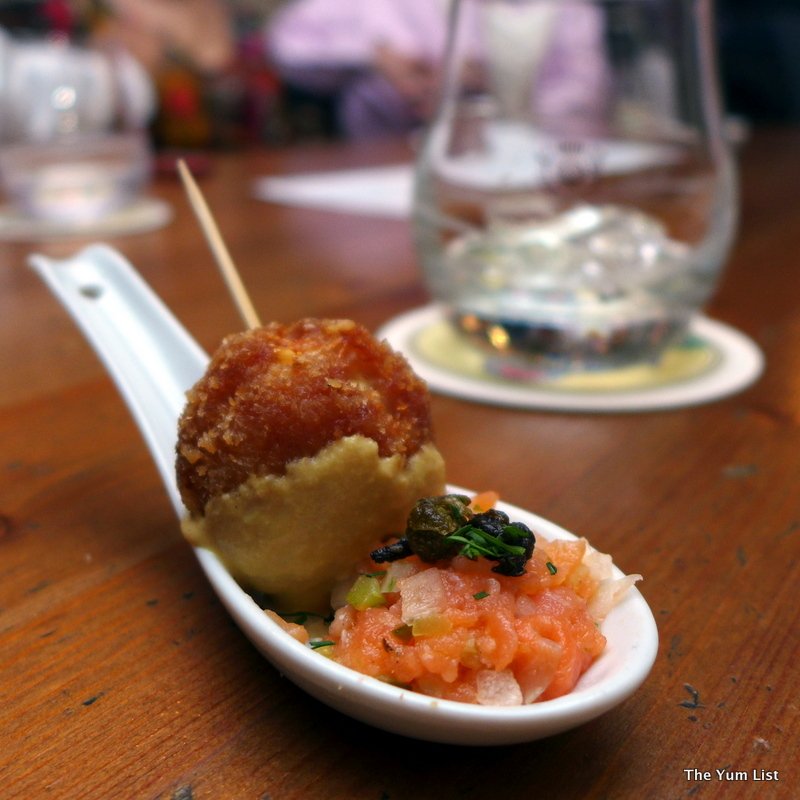 We were now ready for The Glenlivet's 15 year old single malt: deep gold in colour, this whisky had orange peel and candied grapefruit aromas with buttery notes of shortbread, almond brandy snaps and vanilla toffee. Aged in French oak, it's round, smooth and velvety on the palate with woody notes enveloping fruity and nutty flavours in its oaky shell. Served with a splash of water, we were instantly won over at first sip.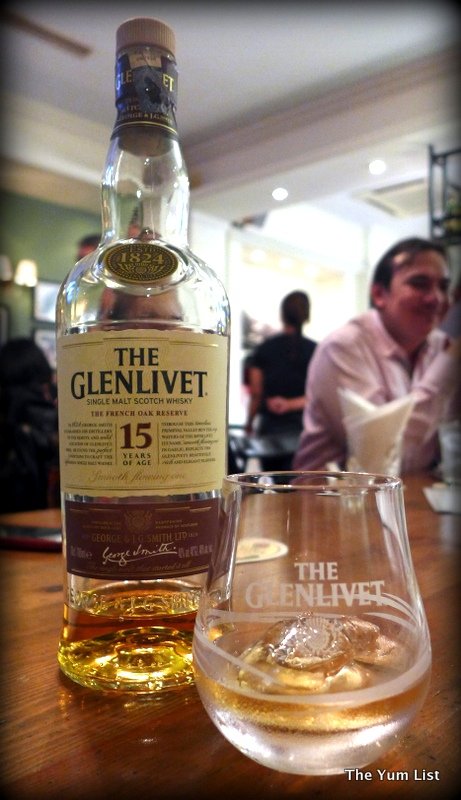 To accompany the second whisky of the evening, we were treated to Pork Confit with Beetroot Relish and Black Pudding. The pork was rich in flavour, incredibly tender and topped with a perfect crunchy layer of fat – mmmm!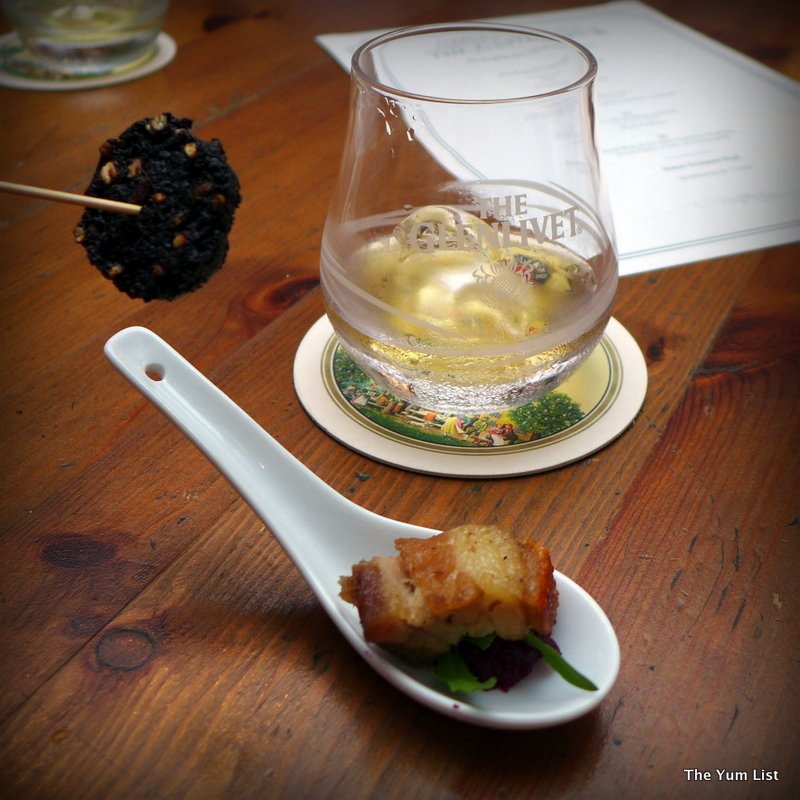 Next up was the evening's show stopper both in terms of the single malt and, in my opinion, the pub feast – a traditional Sunday roast course takes some beating after all. J&R's special version of this was stripped of many of the usual peripherals but was perfect in its simplicity: a slice of beautifully pink, medium rare roast beef accompanied by a crispy roast potato and fluffy Yorkshire pudding. Served with a toothsome meaty gravy and horseradish sauce, this course whet my appetite for a future exploration of J&R's Sunday menu.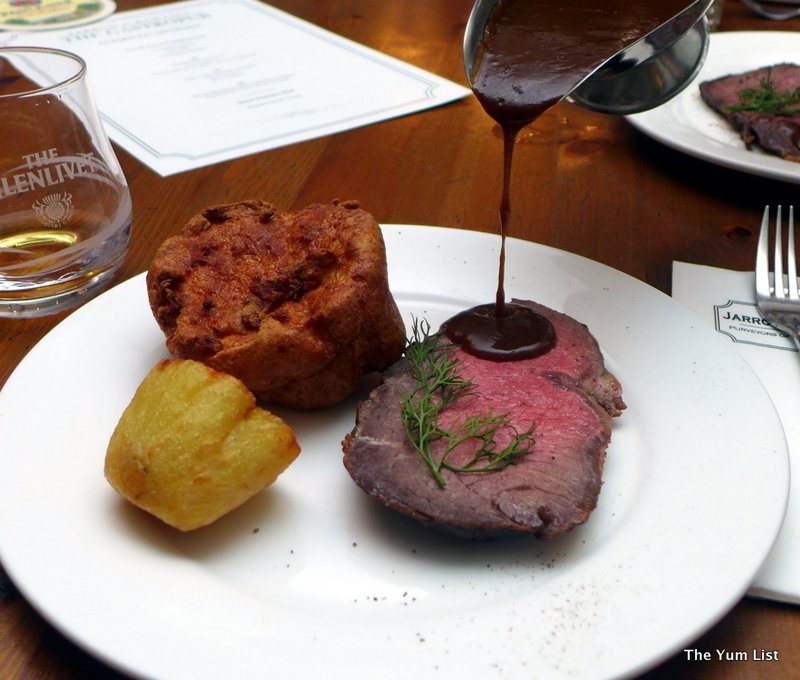 The 18 year old single malt with which this course was served was entirely different from its predecessors. Complex with a sweet oakiness on the nose that leads to floral followed by toffee notes, it was as smooth and velvety as the 15 year old but with syrupy sweetness on the palate immediately followed by a burst of spices and bitter oranges with a lasting, oaky and gingery finish. I loved this and although initially drinking paired with the roast beef, instantly knew it would make an even better partner to dessert. And so, it was with the charming shot glass of strawberries and cream that I quaffed the last drops of this tantalising tipple bringing a delightfully eye-opening evening to its conclusion.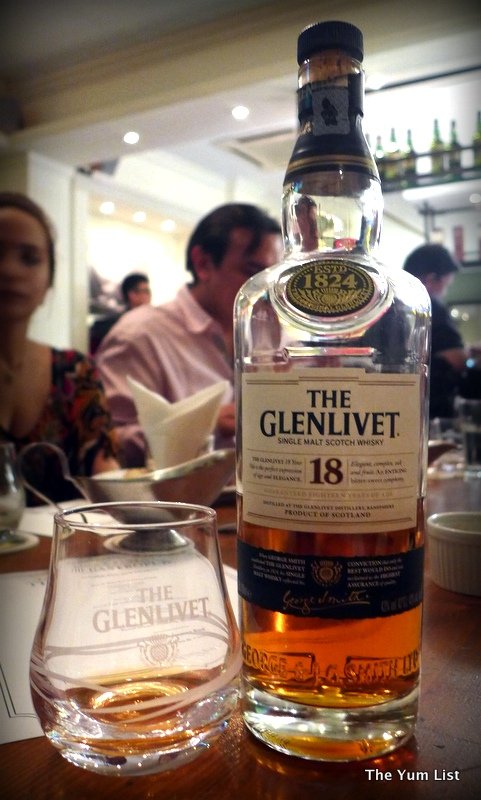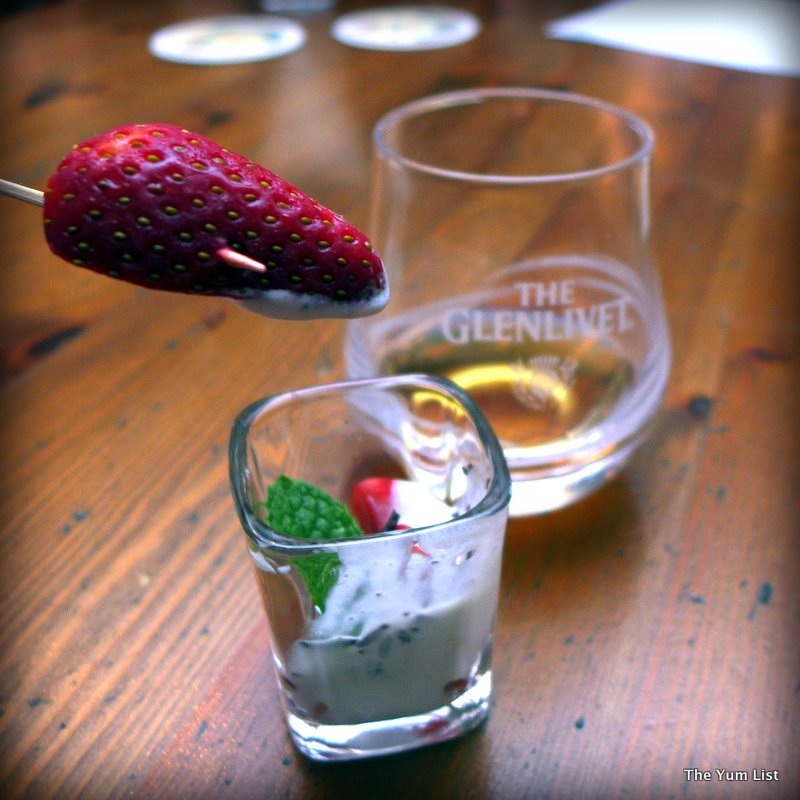 Although The British Pub Feast at Jarrod and Rawlins was, sadly, a one-off event, The Glenlivet host monthly events for the Guardians of The Glenlivet. Signing up to their programme gives you members-only access to private tastings in addition to limited edition releases and invitations to similar unique events. For more information, visit their website: www.theglenlivet.com
The venue for this event, Jarrod & Rawlins is also well worth a visit. Chatting to its owner, Dennis Rawlins revealed that the brand has struggled to define itself due to having undergone several transformations since opening in 2005 as a deli bistro in Hartamas. The Bangsar venue seems to teeter between pub and restaurant and will see further changes in the next few months during which the already extensive wine list is set to triple whilst retaining the incredibly great value house pour price of RM65 per bottle.
More information:    Jarrod & Rawlins    The Glenlivet
Jarrod & Rawlins
63 Jalan Bangkung
Bukit Banadaraya, Bangsar
50480 Kuala Lumpu, Malaysia
+ 6 03 2095 1608