Words: Louise Miller    Photos: Monica Tindall
Entering the downstairs bar of DC Restaurant through the understated, dark chevron panelled entrance is akin to stepping through a wardrobe and discovering Narnia. There is something very magical and luxurious about the atmosphere here. The dark, pewter coloured tunnel-like interior is enhanced by an array of stylish touches such as the little ornamental gold birds perched on rustic branches suspended opposite the bar. The bar itself or 'comptoir' after which the venue is named, was a gleaming white zigzag adorned by a vase of velvety red roses that echoed the plush red curtain draped across the entrance. Everything about the place oozed style and whetted our appetites for the gastronomic adventure that lay ahead.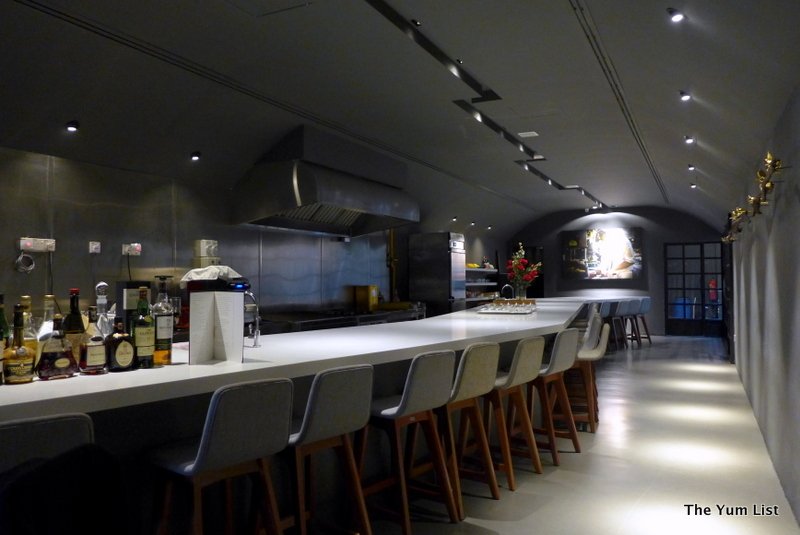 We'd heard that the cuisine at DC Restaurant is much inspired by proprietor and chef Darren Chin's classical training in French kitchens. The menu, however, is infused with heritage influences and is in keeping with the philosophy of a new generation of chefs who strive to strip away the unnecessary and redundant to create unpretentious fare that presents nature's bounty in its purest form.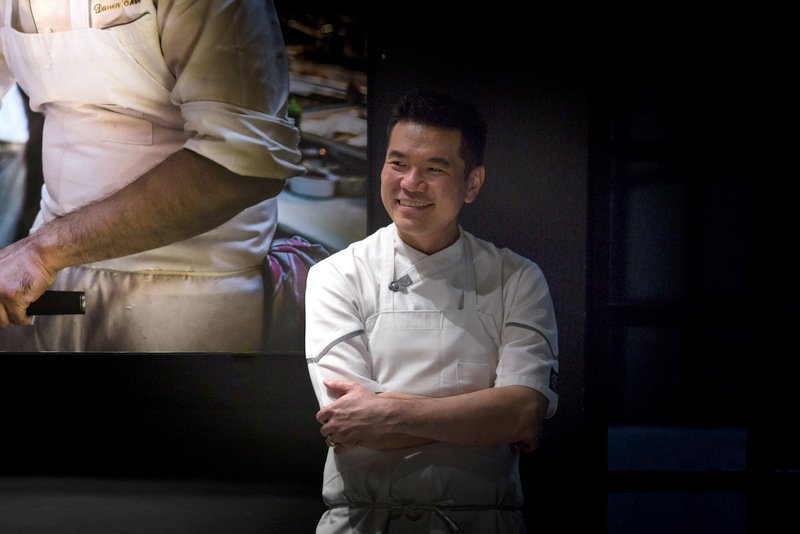 Upstairs in 'La Salle', the atmosphere is lighter. White linen clothed tables accommodate around forty diners in the paler yet warm wooden decor. Sophistication abounds here too, but the style is welcoming and conducive to very leisurely and convivial dining which is just as well given the menu options.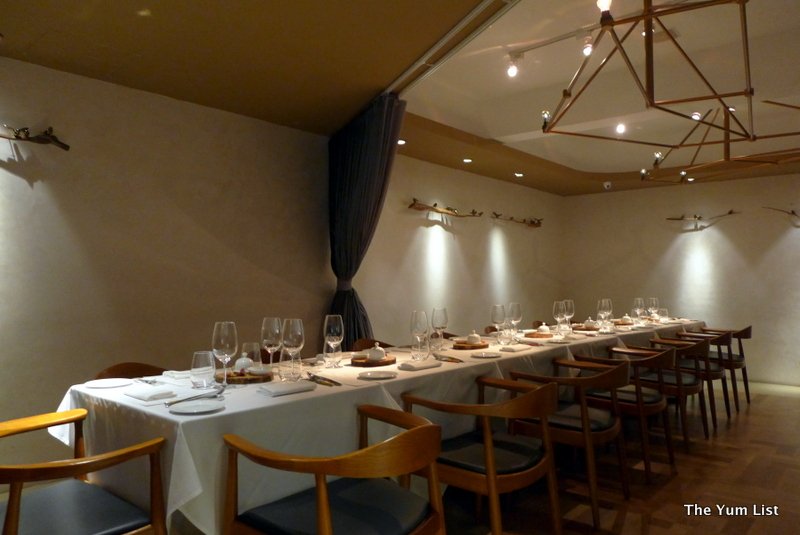 The choices at DC Restaurant are simple since there are no a la carte options, patrons opt for the 3, 5 or 7 course prix fixe menu so in the interest of maximising information to be shared with Yum List readers, we settled in for a 7 course journey to which the overture was little bundles of Japanese pepper wrapped in Bresaola, juicy, green olives and an assortment of house baked bread comprising buttery, flaky croissants, buckwheat and rye bread, and a wholemeal loaf that had been made with French flour and naturally fermented overnight to provide the most flavoursome and airy texture with an irresistibly crunchy crust. Having liberally spread this with unpasteurised Pamplie butter, we were already in foodie raptures and sensed that if the quality of these pre amuse-bouche morsels were an indication of the standard of what lay ahead, we were in for a very memorable feast.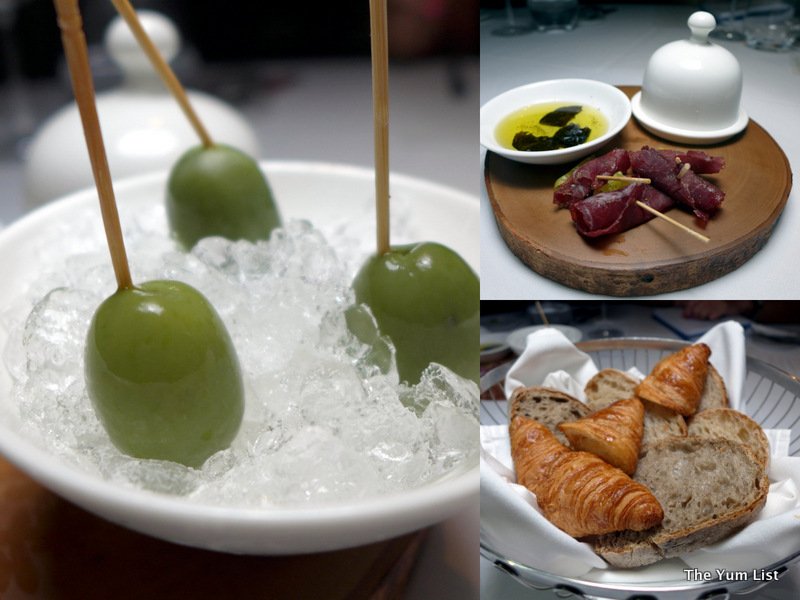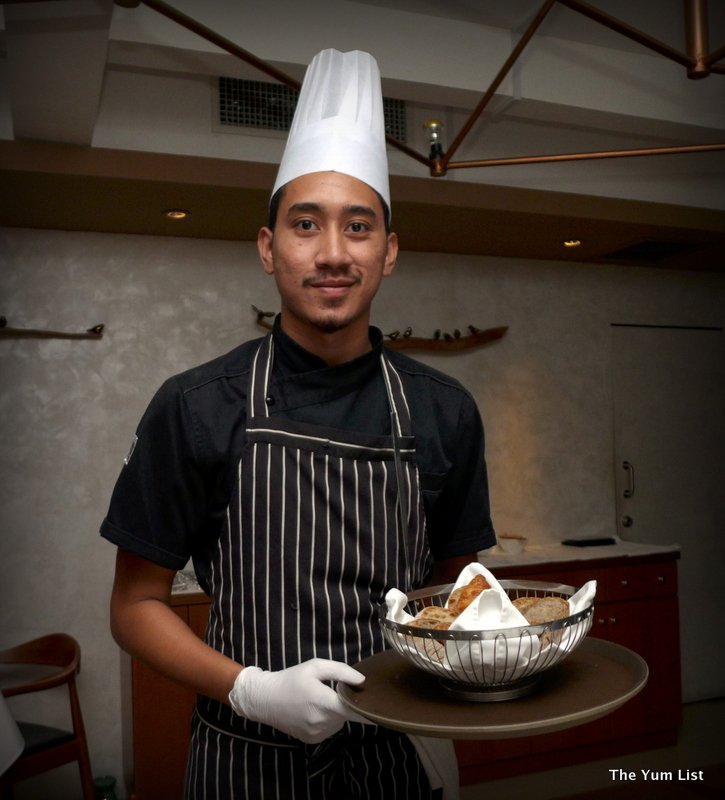 The amuse-bouche went far beyond the usual mouthful or two and seemed more like a course of its own. Four tasty treats beautifully presented upon an elongated oval plate arrived in the form of a delicate slice of rare tuna topped with a dome of foie gras ganache  dotted with a hibiscus syrup; a quenelle of truffle infused celeriac with koshi rice; a coiled slice of cured salmon garnished with creme fraiche and black Cyprus salt atop a rice puff and a rich pigeon and chicken liver mini torte.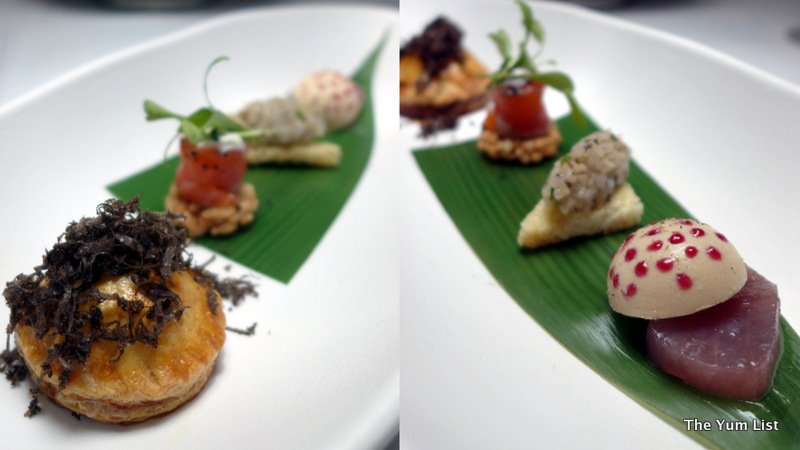 The first of the seven courses was cold capellini with sea urchin doused with a creamy black truffle sauce and crowned by a lightly poached Irish oyster and wisps of pickled beetroot.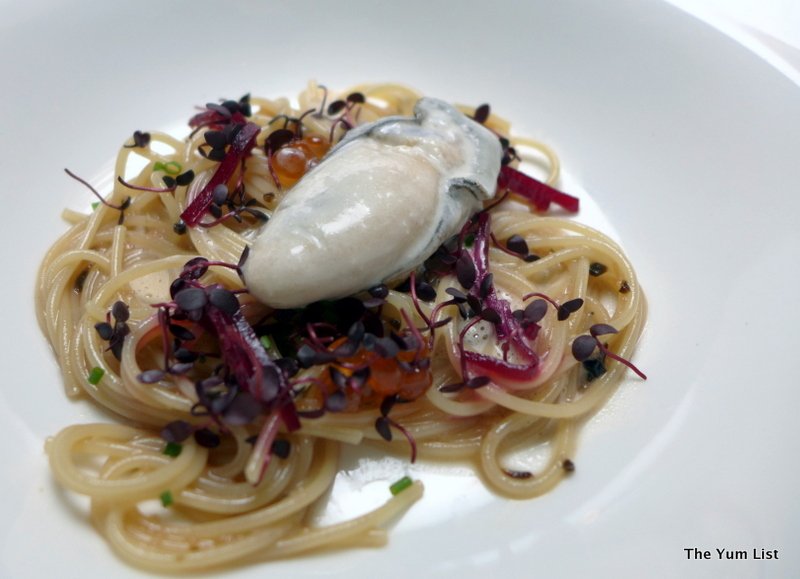 The second course was botan ebi, or shrimp accompanied by a smear of peanut and chilli paste and decorated hanaho flowers. The delicate and creamy flavours and texture of the crustacean was in stark contrast to the robust notes of the paste both of which were nicely offset by a salty fish roe garnish.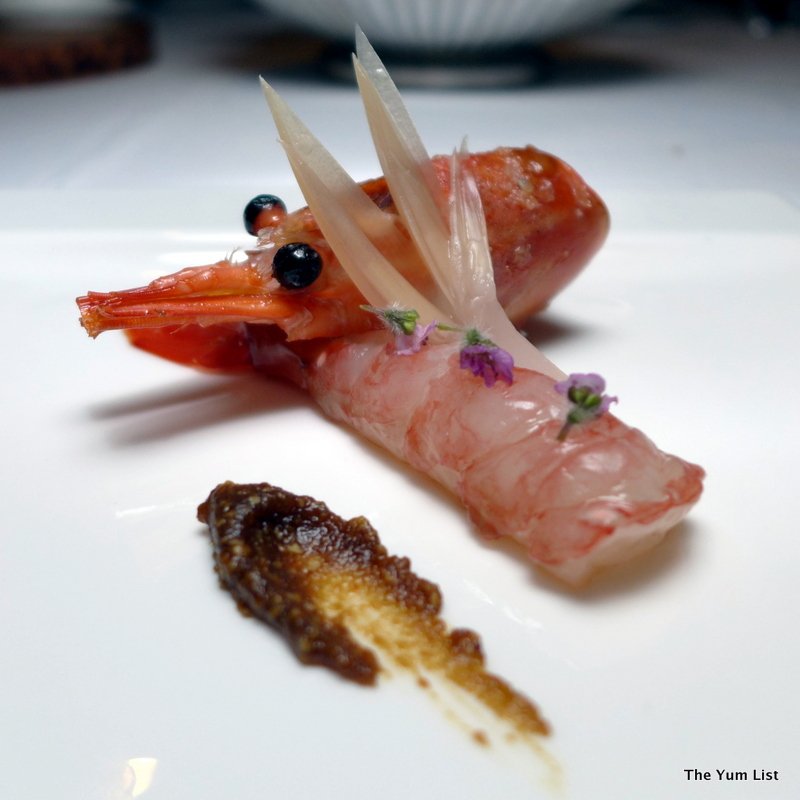 We eagerly anticipated the arrival of course three, enticingly named The Malaysian Terroir due to the ingredients' Cameron Highlands provenance. Another feast for the eyes long before finding our mouths, this tempura of baby courgette flower was stuffed with a lobster, salmon and scallop mousse and topped with a generous scattering of sprouting mini cucumbers, pear with tonka with splashes of vegetable vinaigrettes further decorating the plate. Silence descended on our table as we tucked in and were capable of uttering nothing other than 'oh my goodness' for a fair few minutes.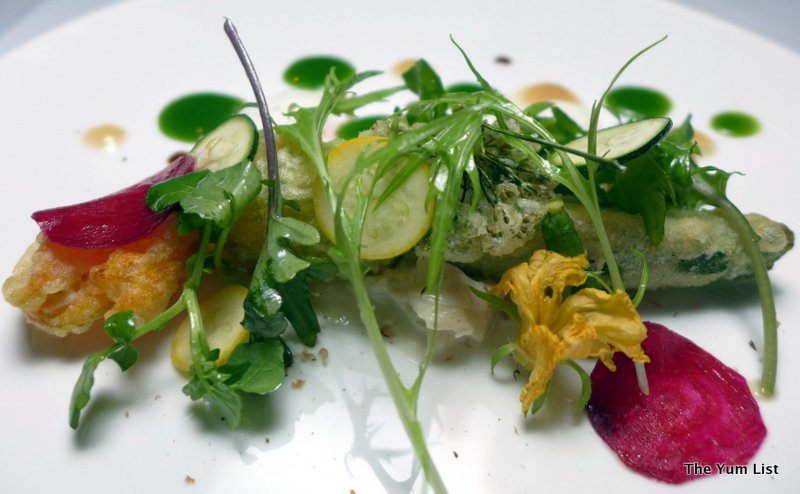 We had paired the first three of the courses with a Dr. Loosen Blue Slate Riesling Kabinett 2013: perfect with the fish and seafood, this was refreshing and fruity with a fine mineral edge. It was now time to switch to red in preparation for the first of the meat dishes so our sommelier poured the M. Charpoutier Luberon 'La Ciboise' 2013, an elegant and refined wine with black fruit aromas. These wines were amongst those selected for the wine pairing options which offer a total of four to choose from at RM100, RM130 and RM175 for 2, 3 or 4 glasses. There is as you would expect from a restaurant of this standing, an ever changing extensive list of wines very carefully sourced and selected by sommelier Arnaud Biseuil whose experience spans over three decades.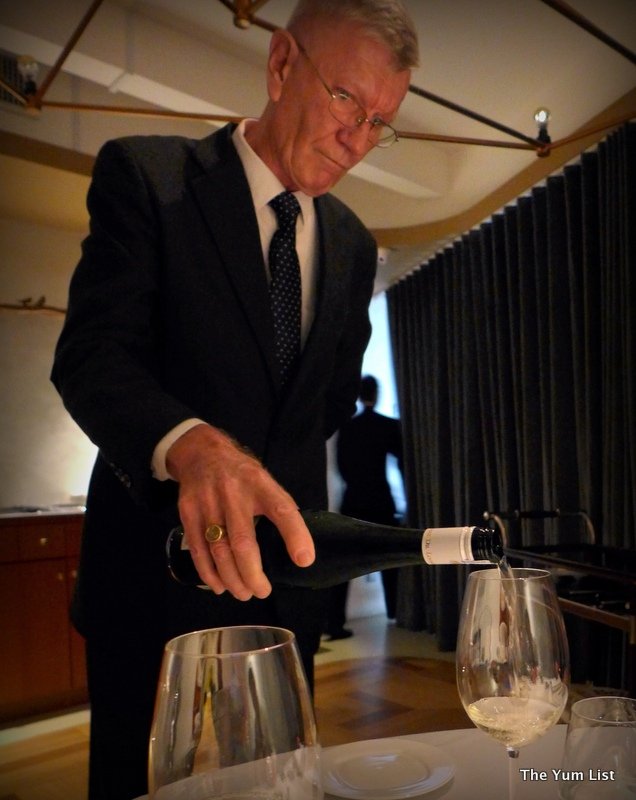 The fourth course, named Terre et Mer (land and sea or 'surf & turf') consisted of Wagyu carpaccio topped with a wafer thin slither of black truffle and accompanied by a poached Australian organic egg yolk perched on a puddle of ponzu jelly. A mound of super tasty burnt garlic cream topped with Japanese bonito flakes decorated the far end of the plate completing this incredible triple featured medley of unusual yet truly wonderful flavour combinations.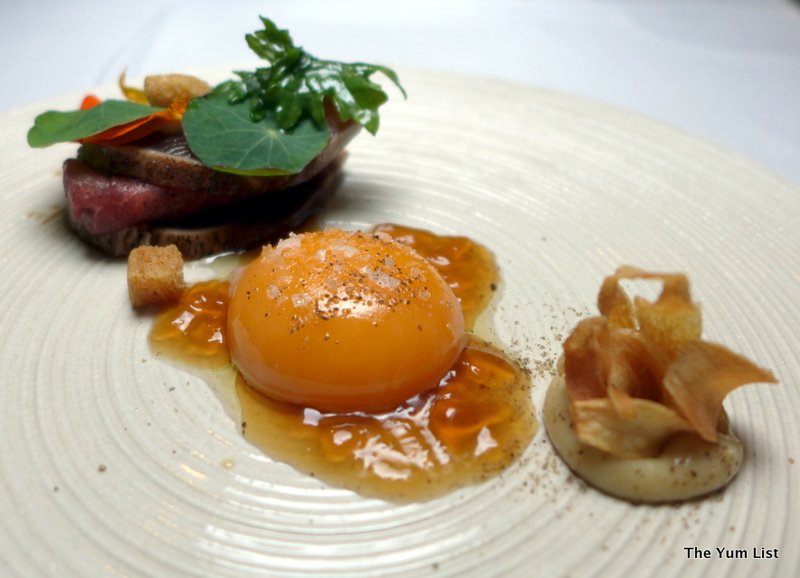 The 5th course presented a choice between Anjou French Wood Pigeon or Fish of Day. In a vain attempt to keep things light (ha!) I opted for the fish: a perfectly cooked fillet of Alfonsino fish was paired with glazed baby turnips and baby beetroot à l'etuver (or braised) with mixed shiso interspersed with dabs of an unctuous miso sabayon and lobster essence. A few segments of grilled clementine added a gentle citrus zing to this incredible dish.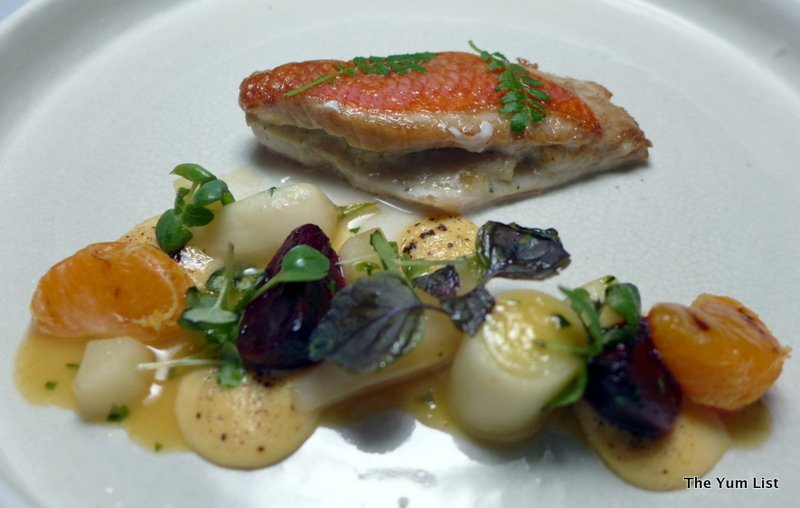 Monica and Caning both opted for the pigeon – slow roasted breast served medium rare  with lamb sweetbreads in a coffee and cardamom glaze accompanied by caramelised shallots, lentils du puy with pigeon essence and whole grain mustard. This was another winner and had my companions smiling at first bight.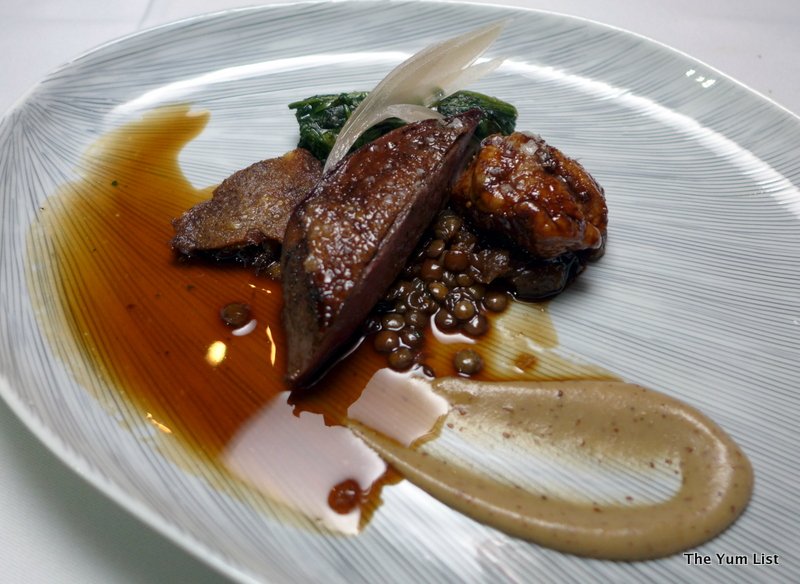 Again, striving to minimise food overload, I chose fish for the sixth course. The dish was DC's Seafood Medley and was comprised of Hokkaido scallops, Australian blue mussels, grilled local slipper lobster with a sea urchin emulsion that had arrived at the table exquisitely presented in the urchin shell. Crispy croutons and chervil added a contrasted light crunch and fresh herbiness to the dish which at the risk of being very repetitive, was absolutely delicious.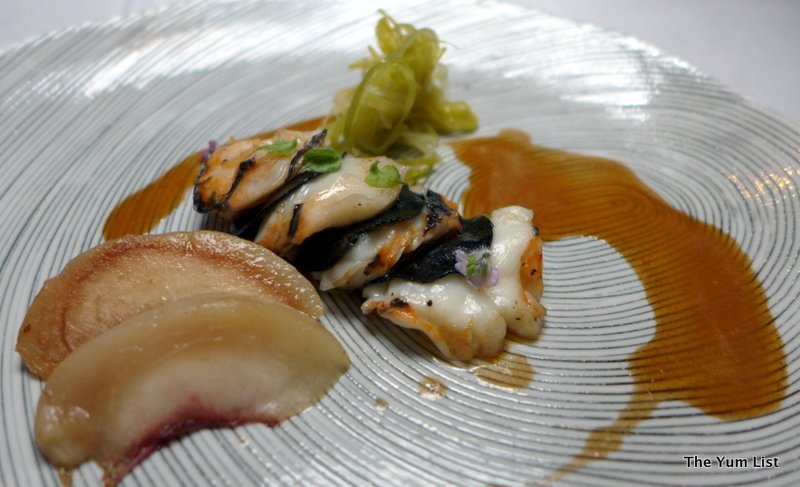 Carnivorous Caning chose the Beef Medley of Wagyu rump cap as his sixth course. The meat was melt-in-the-mouth Margaret river grass fed rib eye and served with carrot velouté with cumin, summer rainbow carrots and baby romaine with mustard sauce, pumpkin seed oil and baby kale.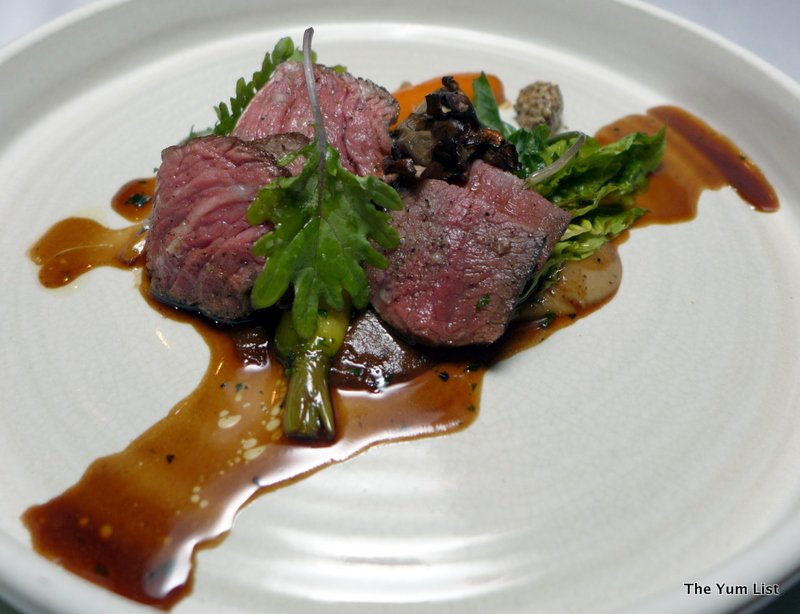 Deserts were as innovative as what had preceded and presented with the same creative flare. Monica and Caning tucked into the a Dulcey chocolate dome with a bitter chocolate gelato and a creation of coconut and soy milk jelly served on a nest of yuba skin shreds. As tempting as these were though, I'd had my eye on the cheese trolley since first glimpsing it as we entered the restaurant. A dazzling collection of offerings farm fresh from France, curated by sommelier Arnaud who expertly served up an assortment of Saint Nectaire, Brie à la Truffe (truffles having been infused in house for five days in one and three weeks in another), a ruffled shaving of Tête du Moine, Morbier and one of France's oldest cheeses, the delicious blue Fourme d'Ambert. Dainty slices of these were plated with yuzu marmalade, dried fruits and the incredible crusty bread with which we'd started. And in addition to the cheese served from the trolley, we were also treated to a serving of raclette, melted with potatoes and gherkins, this pervaded the restaurant with a tantalising aroma and had the flavour to match.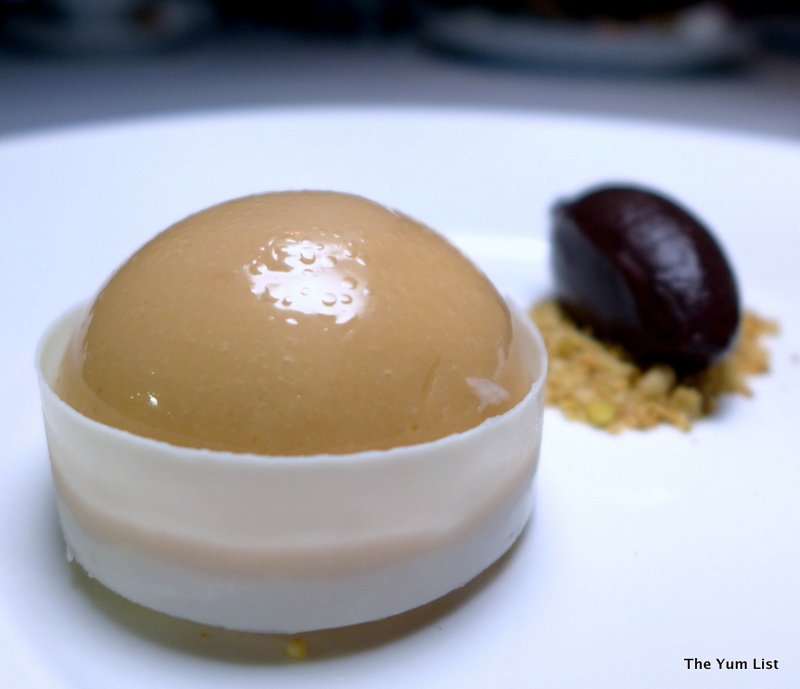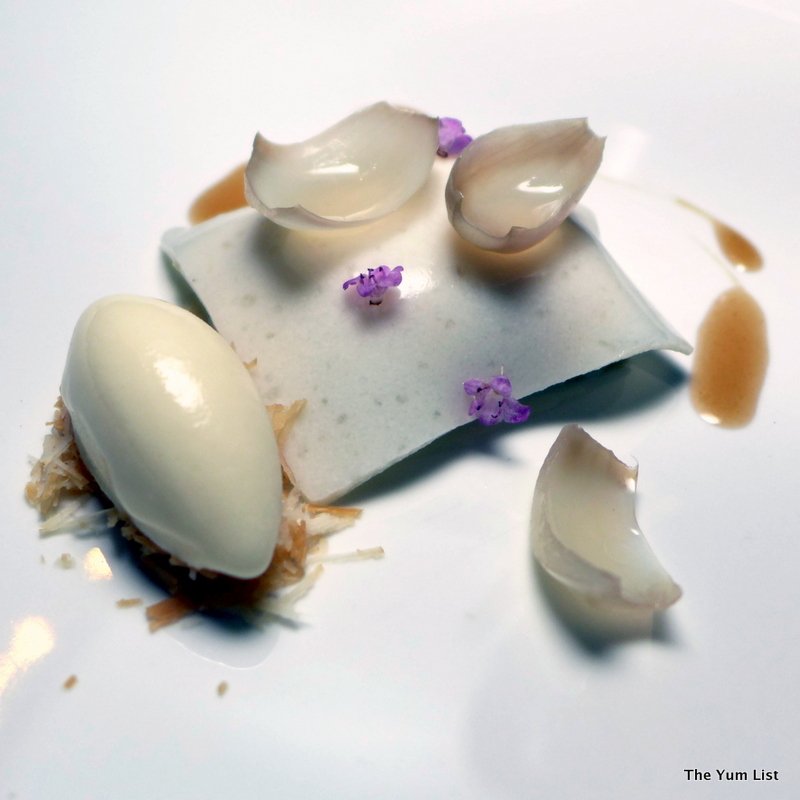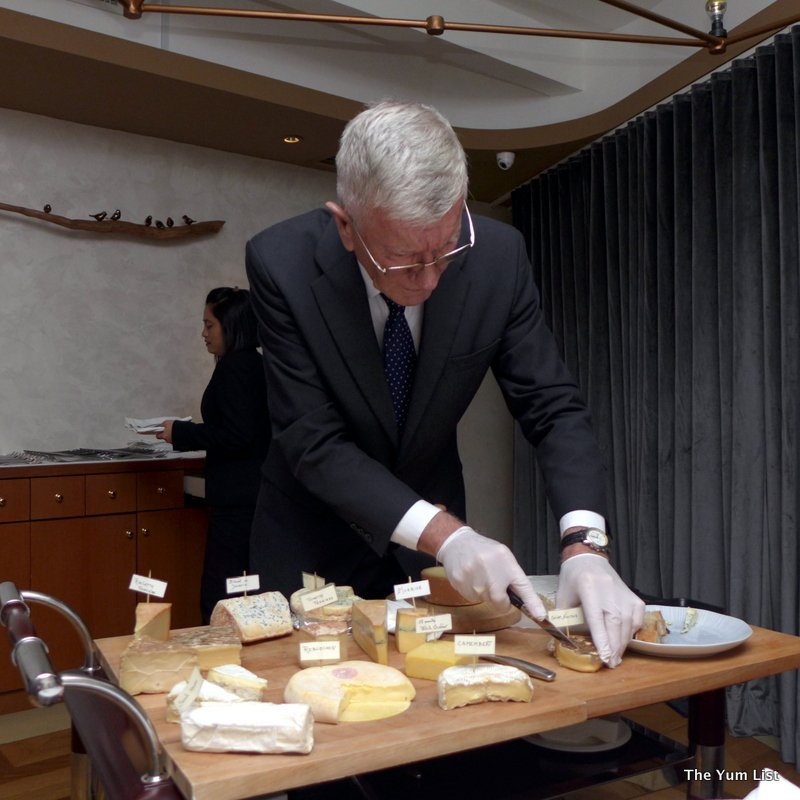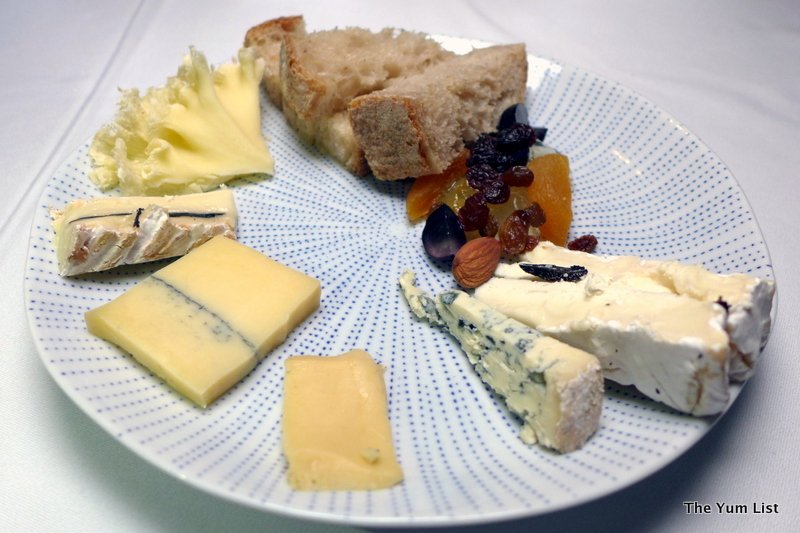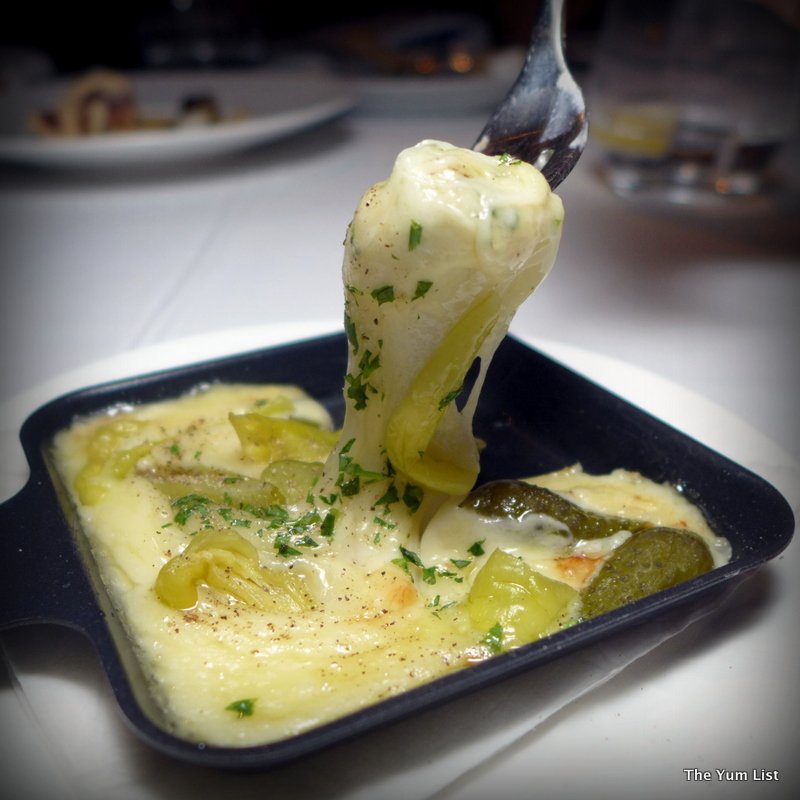 Our evening at DC Restaurant was, as we had expected it would be, a very memorable one. Not simply due to the sensational flavours and presentation of the food but also the exceptionally attentive yet unintrusive service reminiscent of fine dining in a Michelin starred venue. The menu options are priced at RM248++, RM348++ and RM428++ per person for the 3, 5 and 7 course menus so possibly not a weekly meal but definitely one befitting a special occasion or a treat for the deserving foodie!
Reasons to visit: Outstanding, innovative flavours with too many individual highlights to select a few here but given its rarity in KL, I would say that the cheese trolley alone is worth a visit! Excellent service from passionate and knowledgeable staff.
DC Restaurant
44 Persiaran Zaaba
Taman Tun Dr Ismail
60000 Kuala Lumpur
+60 3 7731 0502
http://restaurant-dc.com
DC Restaurant is open daily for dinner only from 7pm.