Words:  Monica R. Clear     Photos:  Monica Tindall
Walking through the door of Savini is, by itself, a transformative experience.  The outside world of blazing hot sun, noisy street life, and dismal fluorescent mall lighting melts away and Savini extends its arms wide to greet you with the double air-kiss of an enthusiastic and slightly formal Italian friend — the kind who wears expensive cologne, in just the right amount.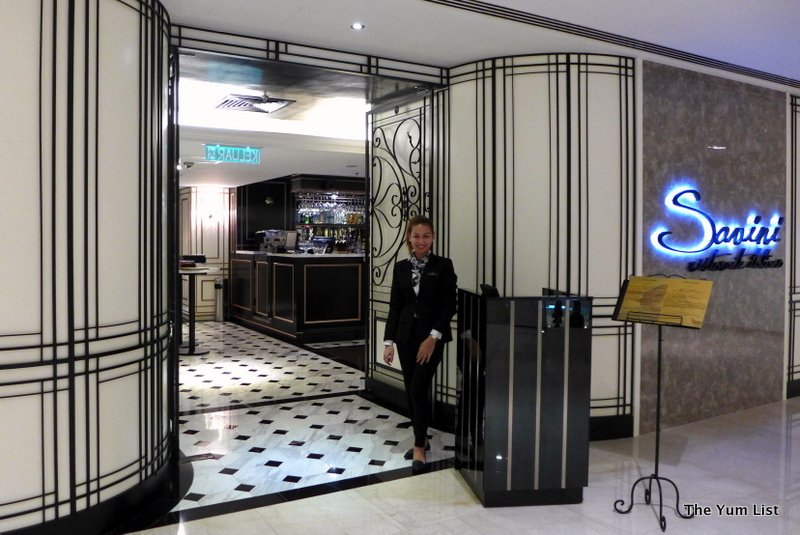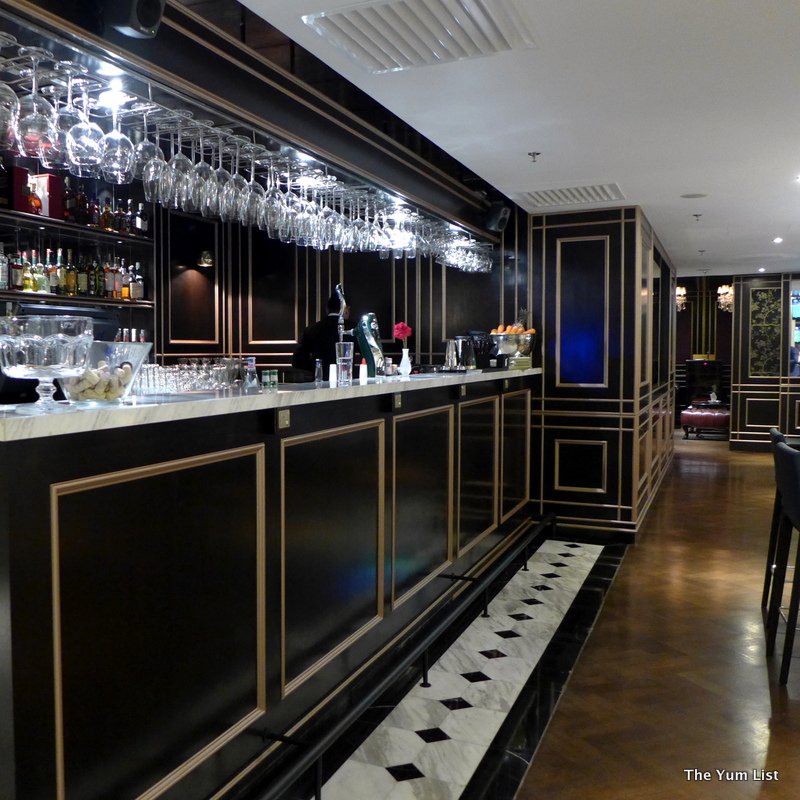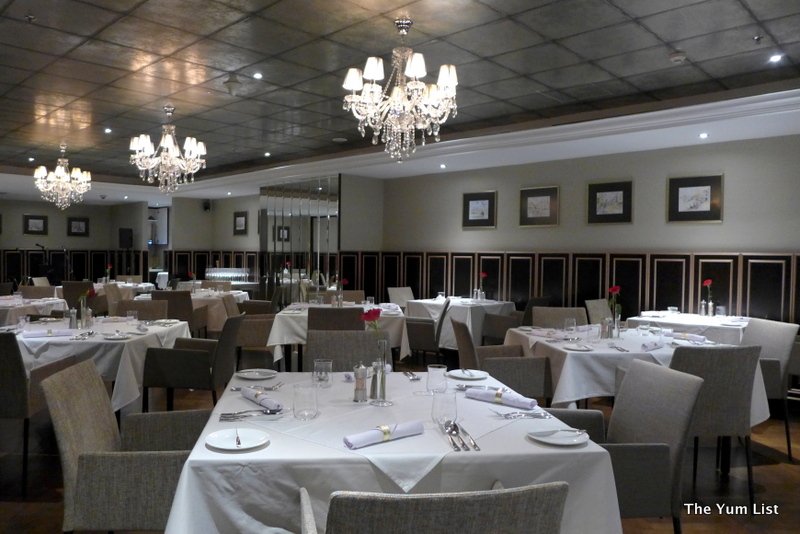 Classy design details are everywhere, chosen to appeal to all five senses:  soothing instrumental Italian music pipes softly over the sophisticated sound system; there is an ever-so-slight floral vanilla scent in the air; and the lighting is chosen to evoke the appropriate ambiance whether you are lazing in the cigar lounge, entertaining work colleagues in one of three private dining rooms, or listening to the nightly jazz band in the intimate dining room.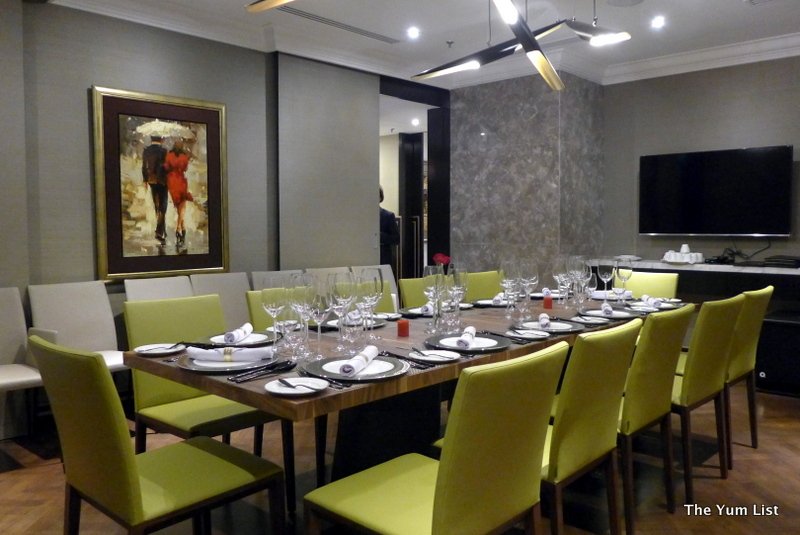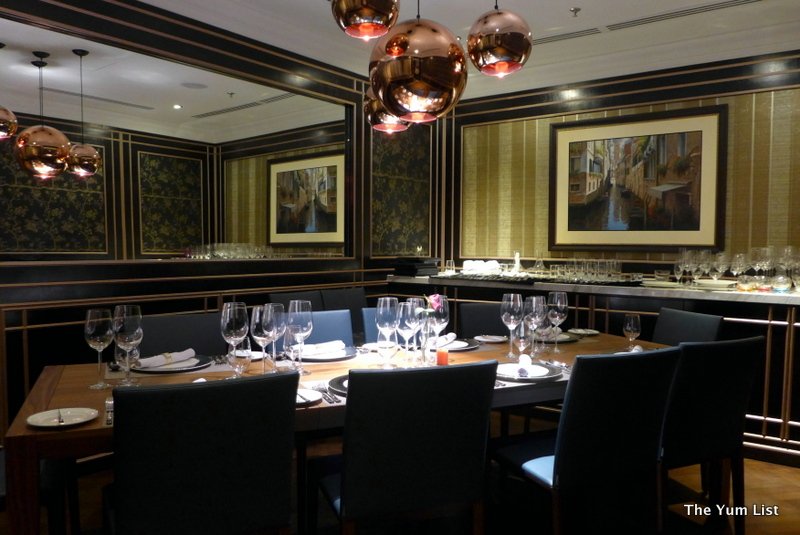 As the Italians would say, this place has bella figura.  You'll want to stay for hours.
Start the evening at the bar with Rocco, Savini's own mixologist, who will serve you his signature Savini Martini (RM35) with a dazzling welcome grin.  A refreshingly green apple cocktail with the perfect mix of sweet and sour, and a cocktail umbrella for fun, this aperitivo will awaken your taste buds and provide a crisp antidote to that world outside that is now starting to feel far away.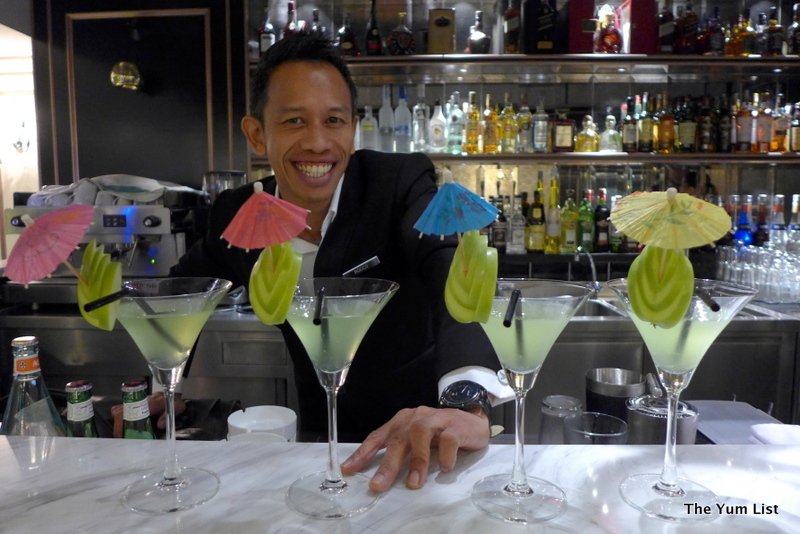 After a cocktail or two, you might wander over to the humidor to admire some of Cuban's finest and decide which smoke to choose for later, or pause at the wine cellar for a pairing choice with dinner. You'll then be shown to the main dining room (unless it's a special occasion and you've booked a private room, in which case be prepared to delight in a smaller venue with specialized service).
Chef Azizen Shukri has created a dinner menu that can be ordered a la carte or set, with two Degustation Menus made for sampling (RM398-RM505) and one Gourmet Menu (RM298).  During the day, high tea and tapas are offered, as well as an executive set lunch at reasonable prices.
We began our Italian journey of cuisine and wine with a tasting of the Tuscany region house Chardonnay & Pinot Grigio and house Cabernet (ranging from RM25-RM32/glass).  Wine is vetted well at Savini, and the result was good quality, yet easy pairing Italian wines.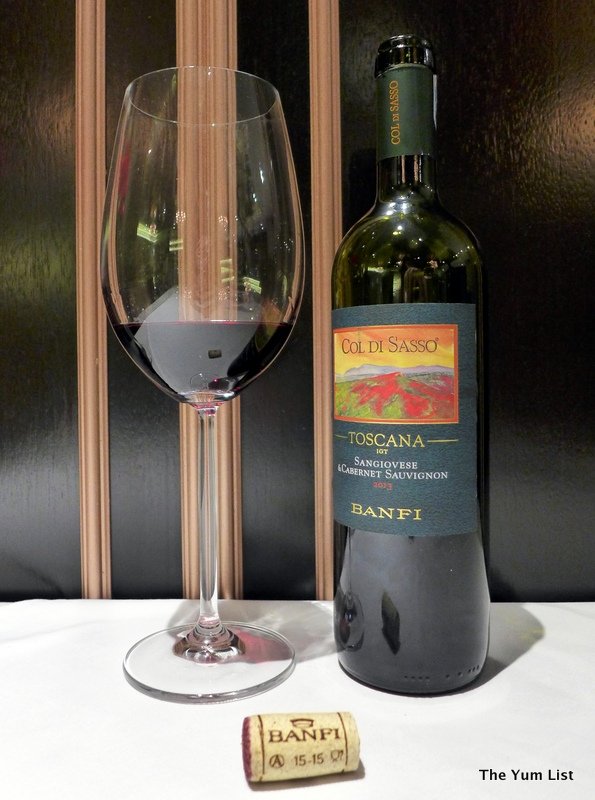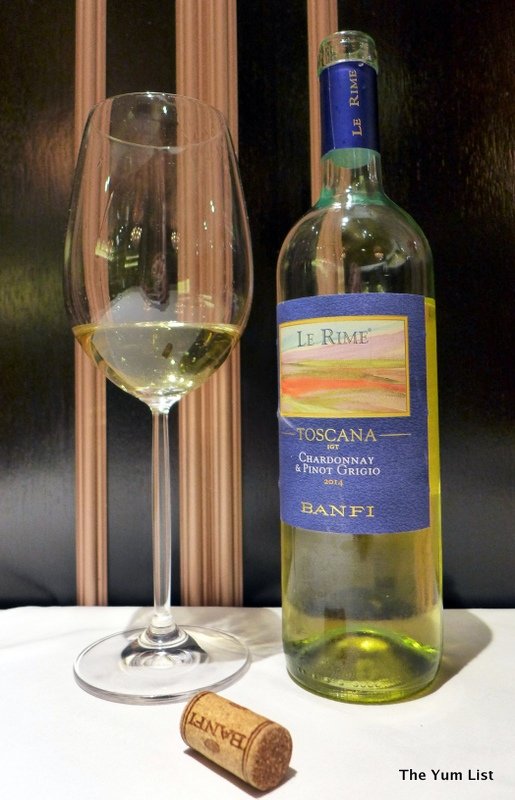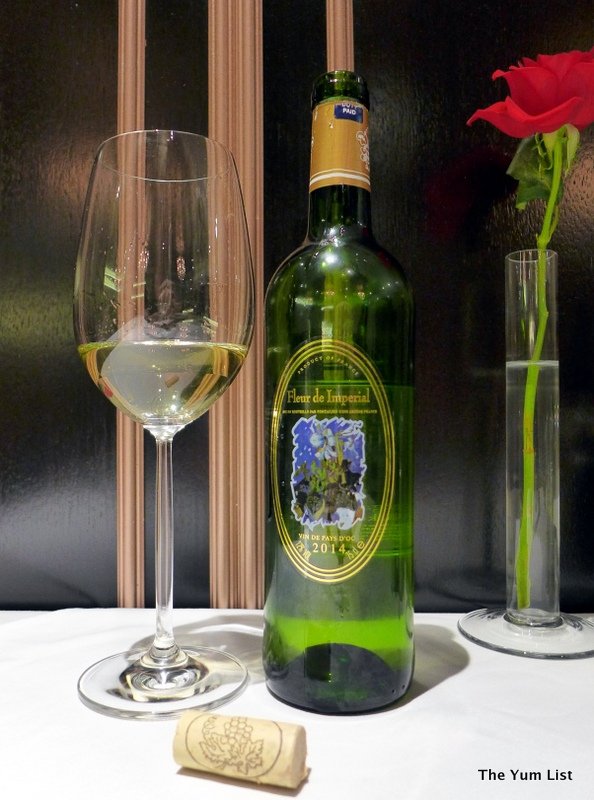 For the meal, we began with Foie Gras (RM75). Served atop grilled pineapple with a drizzle of vanilla and honey butter, and topped with a spoonful of fresh salsa, the goose liver had a perfect crispy exterior and velvet texture inside.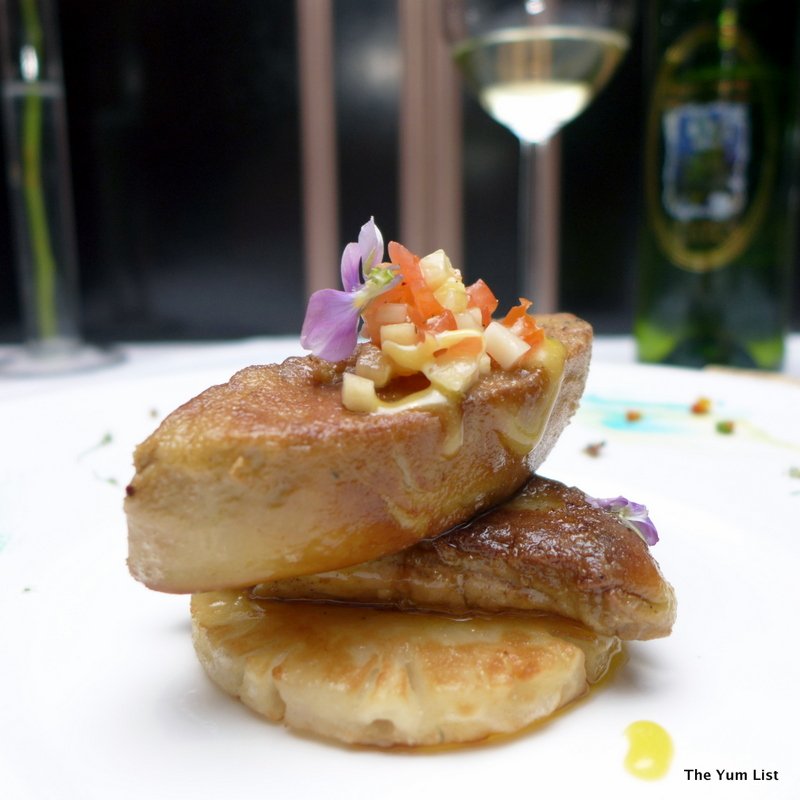 This was served with the colorful Misticanza e Frutta Salad (RM40) with berries and edible flowers, and a savory and creamy Lobster Bisque (RM 65) with black charcoal cheese bread and caviar.  Both dishes were fresh, high quality taste and complemented one another wonderfully.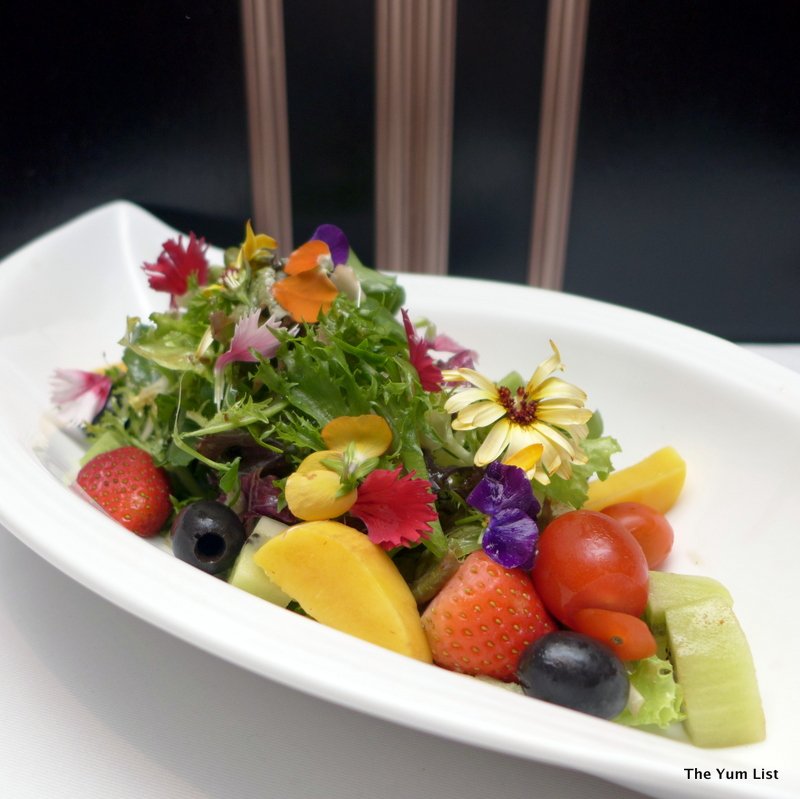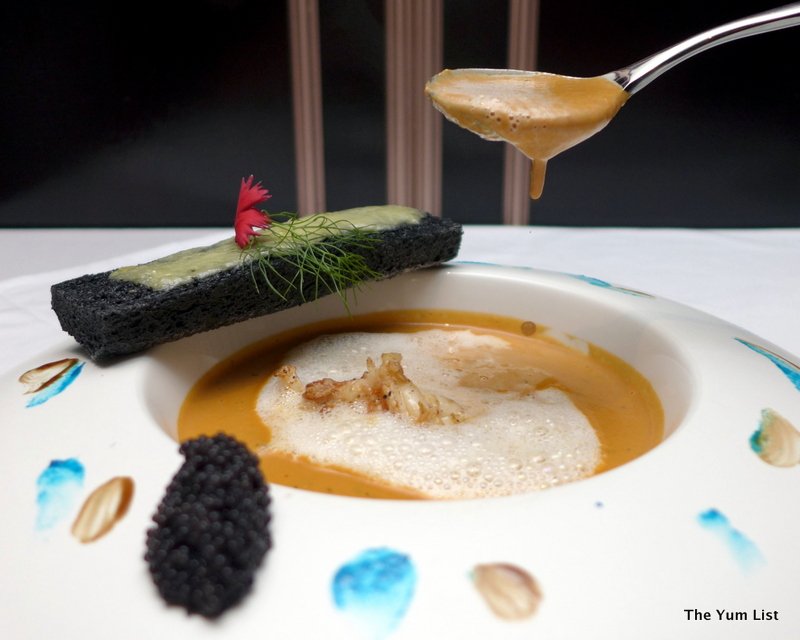 We then moved on to sample the Spinach Rigotta Ravioli (RM40), a generous portion of homemade al dente pillows with a bursting pocket of delicious cheese and herbs.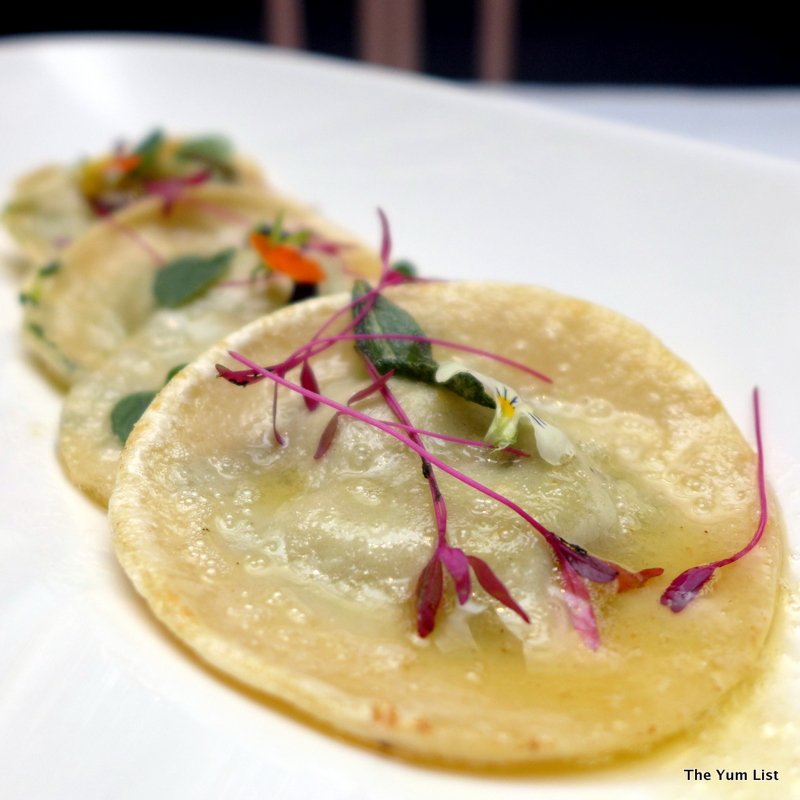 An impressive Alaskan King Crab shell with spaghetti aglio e olio (RM298) – chock full of fleshy crab pieces and roasted garlic, with a kick of spicy chilies infused in the pasta, gave us our first sample of seafood.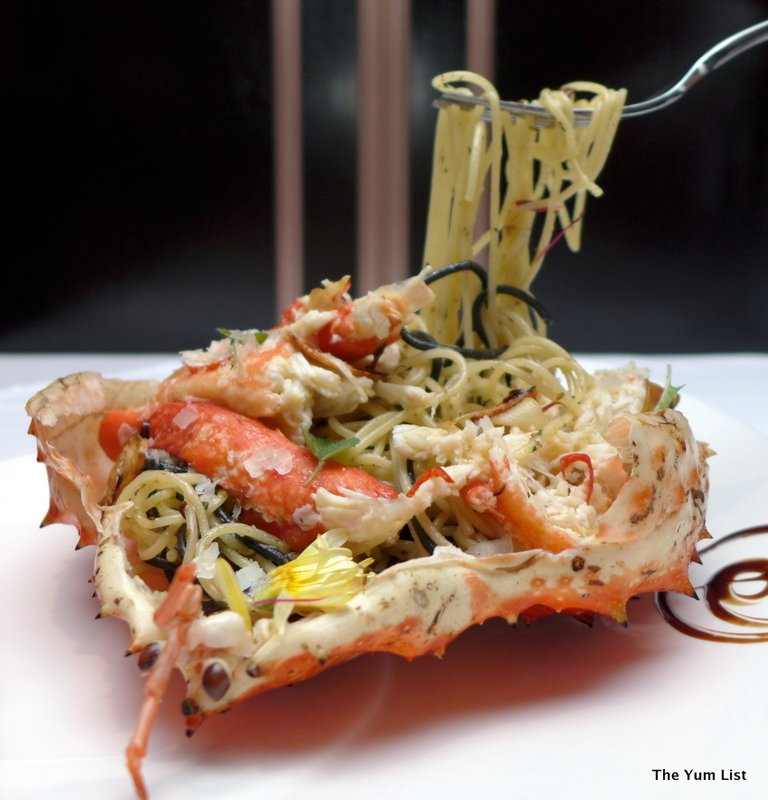 Second were the Seared Hokkaido Scallops (RM95) with watermelon and passion fruit, and a dollop of mango salsa, the sweet fruit and flowers enhancing the fresh and juicy scallops.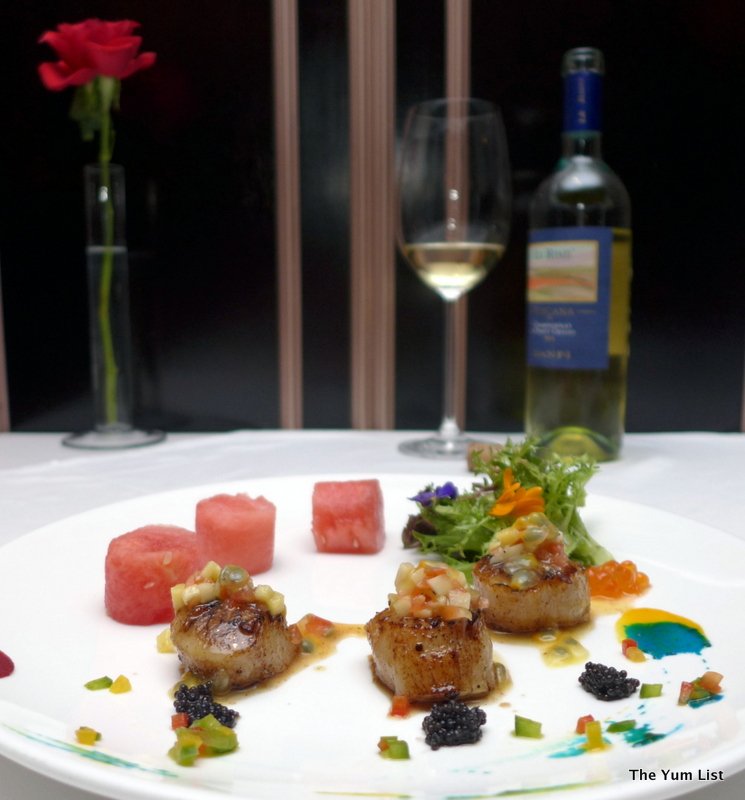 Frutti de mare — Savini-style — is a clear strength of Chef Azizen.
Moving on to meat, we sampled a Wagyu Marbling 9 (RM288), a rich and tender rib eye cut with big flavor, served with a side of aglio olio. Similar to other main course dishes at Savini, the portion was significant and the quality top notch.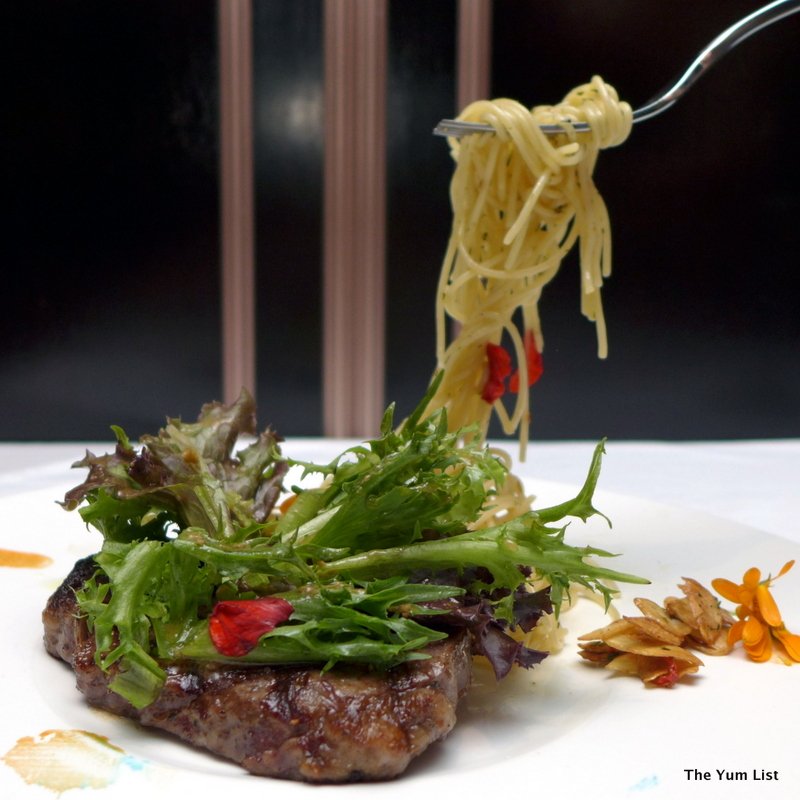 We finished off the evening with two of the chef's recommendations: Cod Fish a la Savini (RM90), a Cajun-roasted codfish with cherry tomatoes and mango salsa, and the Risotto Funghi and Black Truffle (RM59).  Both were served with typical Savini attention to a savory taste and fresh ingredients, in just the right amount, and therefore were favorites of the evening.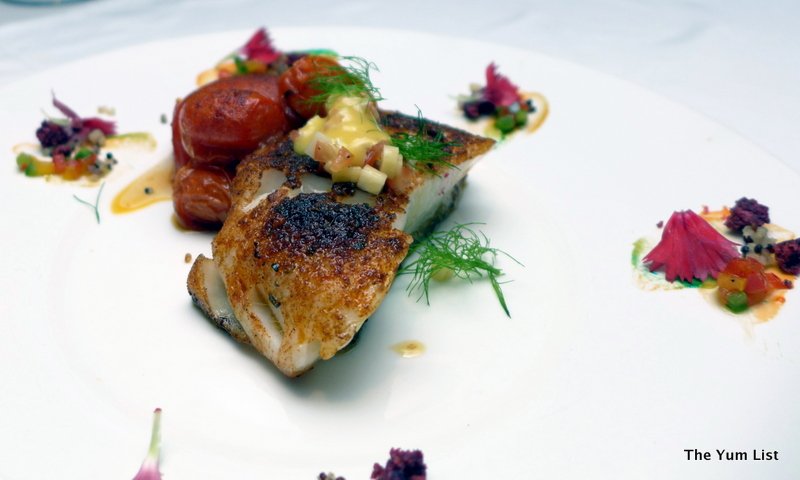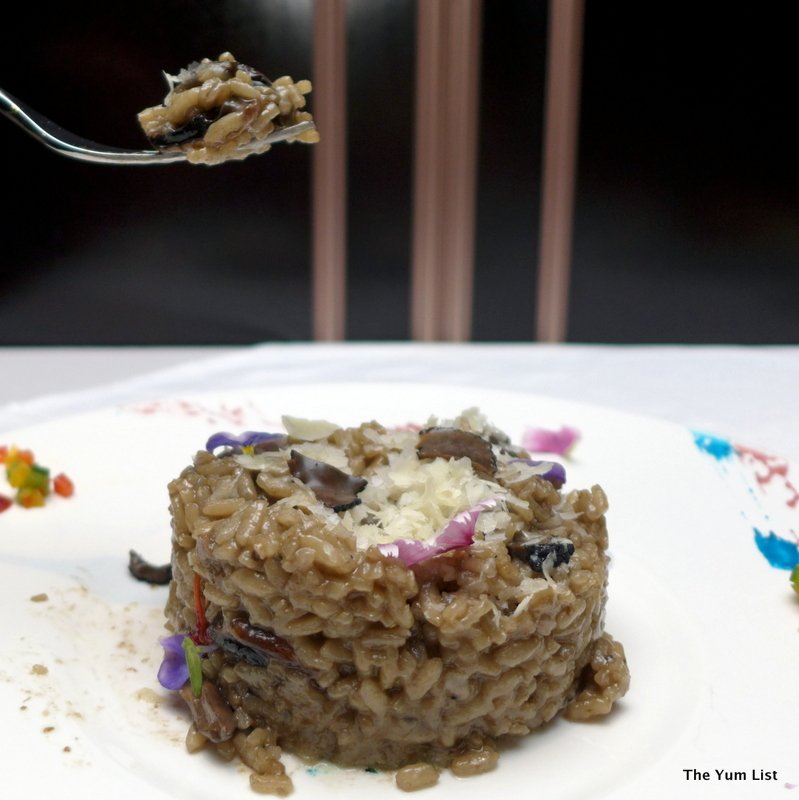 Without much time to digest, the pastry chef began to send out his creations of playful dessert palettes, bursting with color, animation, and creativity. The choices ranged from a rich crème brulee with a homemade mango macaroon, to a red velvet cake with caramel sauce, and tiramisu in between. The delicate candied ribbons and light merengue drops that accented the plates made each dish a canvas of its own, and yet the flavor was rich and pleasing as well.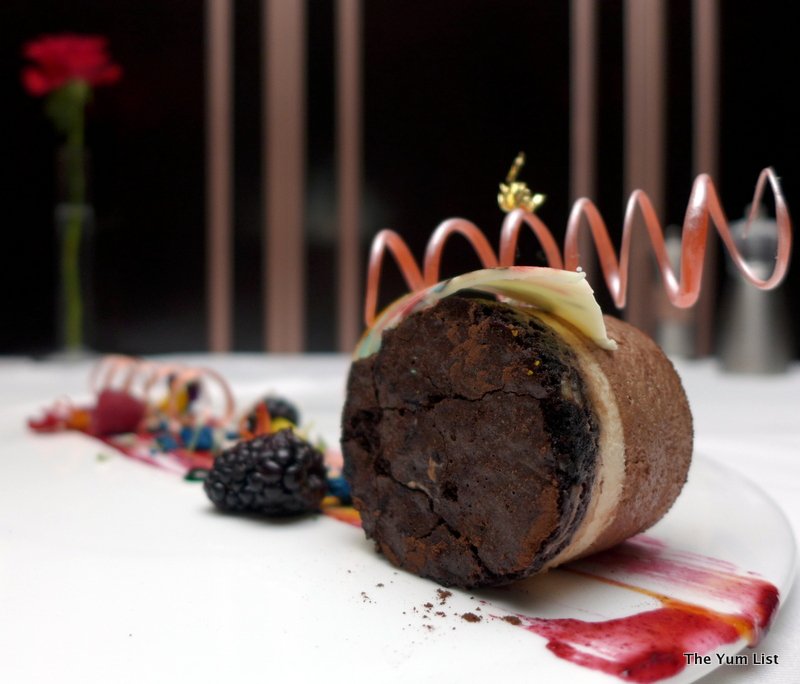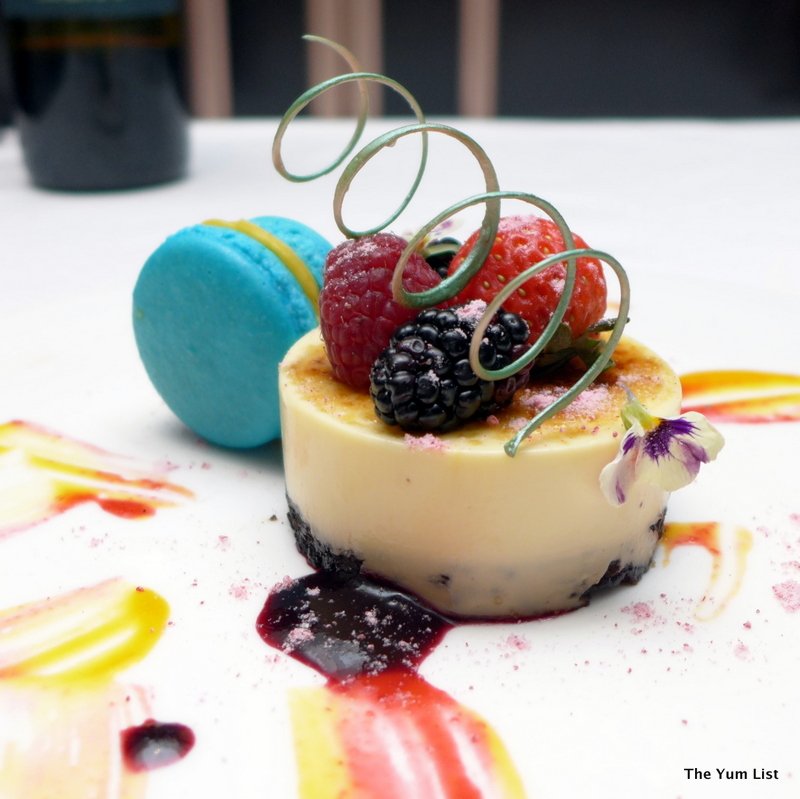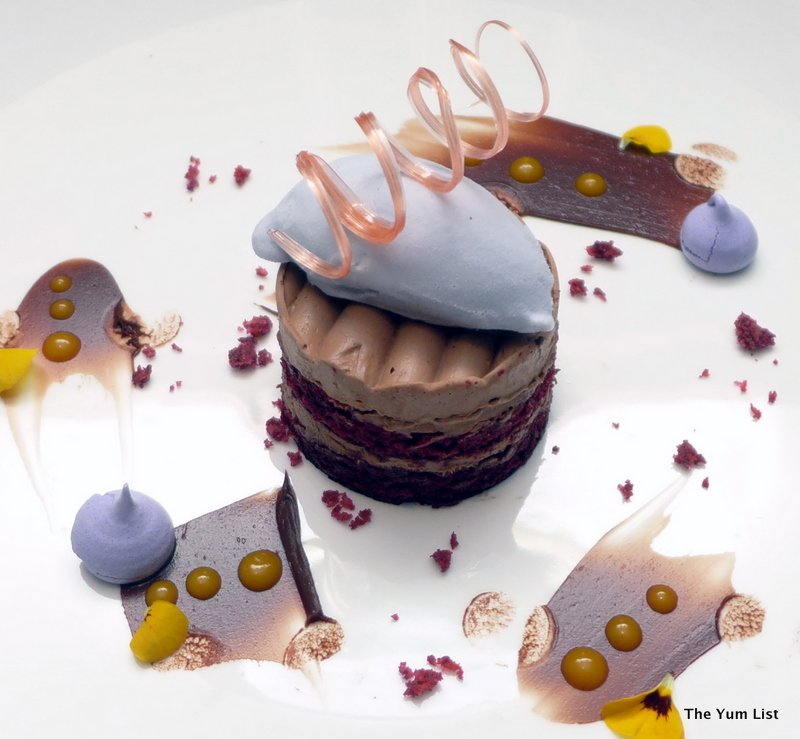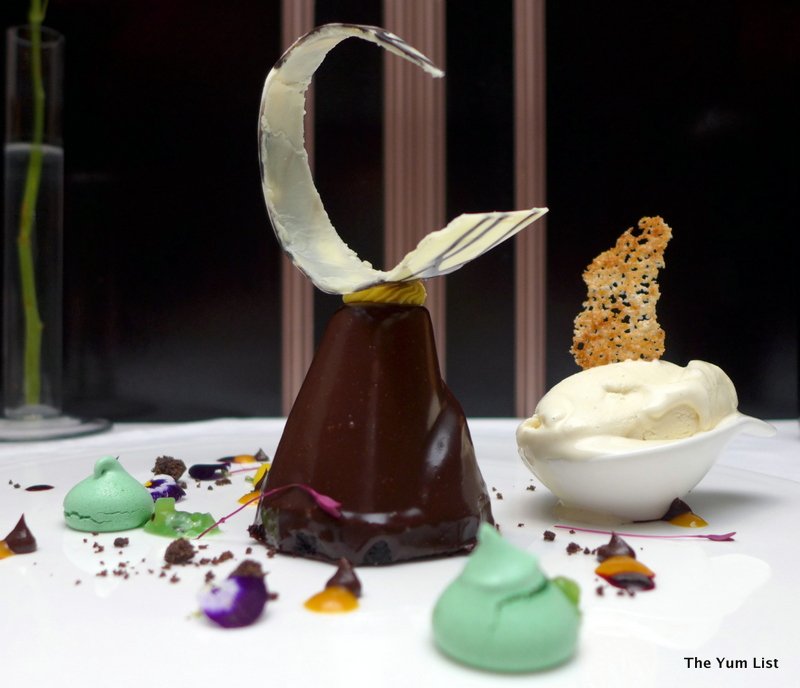 Skipping dessert is not a good option here, as Savini also offers homemade gelato (RM19-RM31) and unique sorbet flavors, such as olive oil and balsamic vinegar (RM17), although we did not have enough room to sample these.
After dessert, take a stretch and a slow meander to the cigar lounge for a digestivo of your choice.  Settle yourself into one of the classic leather sofas and admire the coffee paintings of famous cigar aficionados around the room, while Rocco ends the culinary journey he helped to begin.  We can recommend the Limoncello, a sweet, cold and intensely lemon liqueur, and a chocolate espresso martini—cold, sweet, frothy and delicious.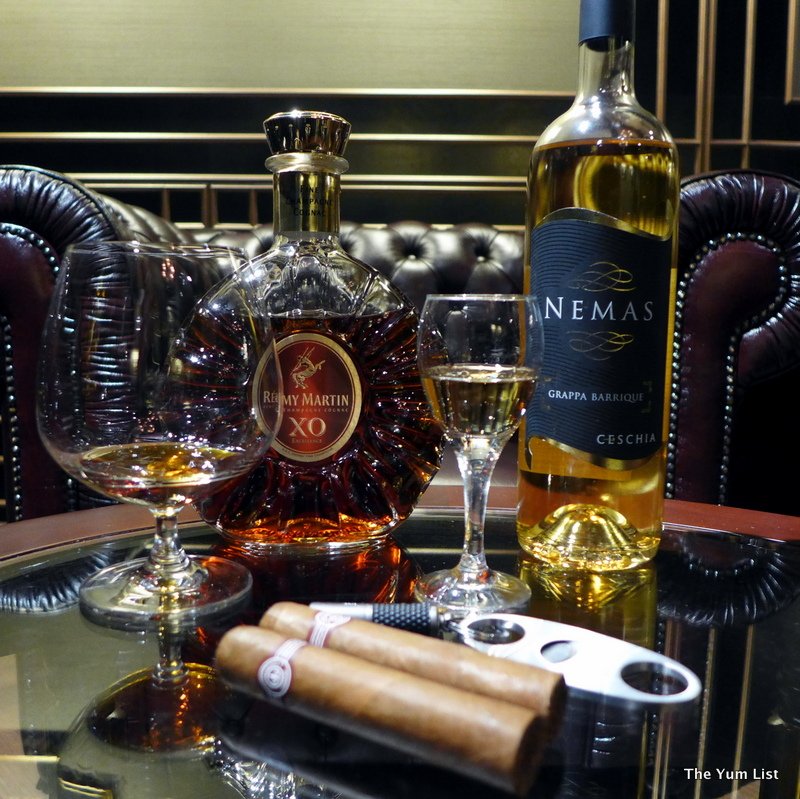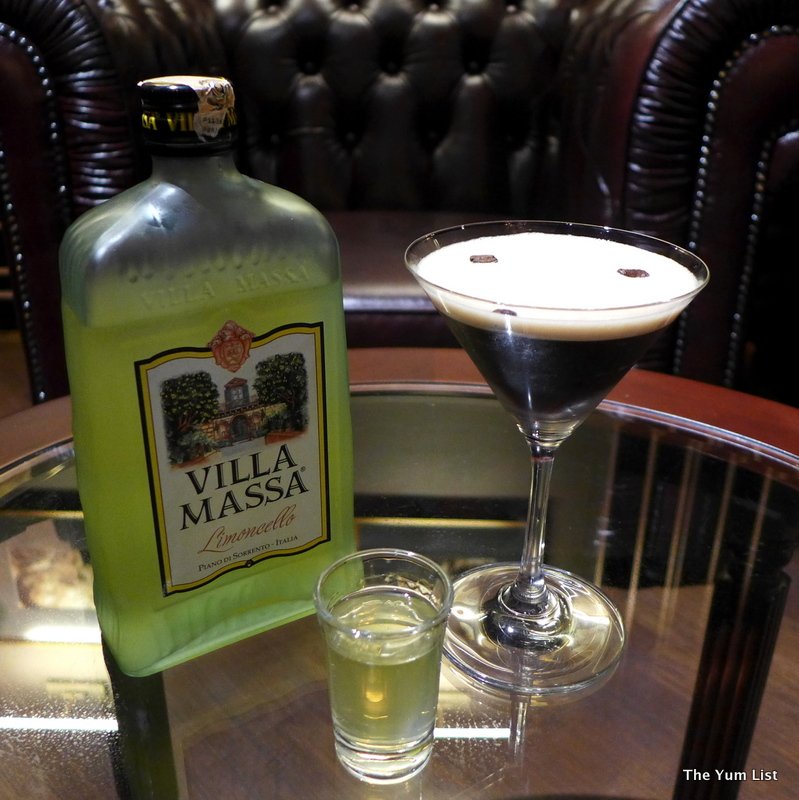 Traditional Italian digestivi such as Grappa are also offered.
A visit to Savini is an investment in an evening transported; one where senses are awakened and indulged with impressive cuisine and attention to detail, minus the pretension and posturing. The owners and staff have created a high-end restaurant where the finer things in life are understood, and they are right there with you to share in the fun.
Buon Appetito!
Reasons to Visit:  high quality cuisine, atmosphere and service, artistic pastry menu, cigar lounge experience.
Savini
Ristorante Italiano
Level 2, Lot 2-05, The Intermark
Jalan Tun Razak, 50400, Kuala Lumpur
www.savini.my
www.facebook.com/SaviniItalian
Hours:  Mon-Sun, 12:00pm – Till Late