Words: Kirsten Durward    Photos: The Yum List
Aman group hosts a range of exclusive upmarket boutique style resorts across Asia. The concept is strongly simplicity: simplicity of design, simplicity of experience, and simplicity of cuisine.  Here in the breezy location of Amanwella Beach at Tangalle in the deep south of Sri Lanka, guests can relax in the spacious and light environs, slow the pace of life, and enjoy reconnecting with nature. As we sit on the elevated terrace above the deep blue infinity pool, the Indian Ocean whispers through the shady coconut trees and the light breeze soothes any residual worries away. The soft sound of the sea lapping below as the sun goes down creates an immeasurably mellow evening atmosphere.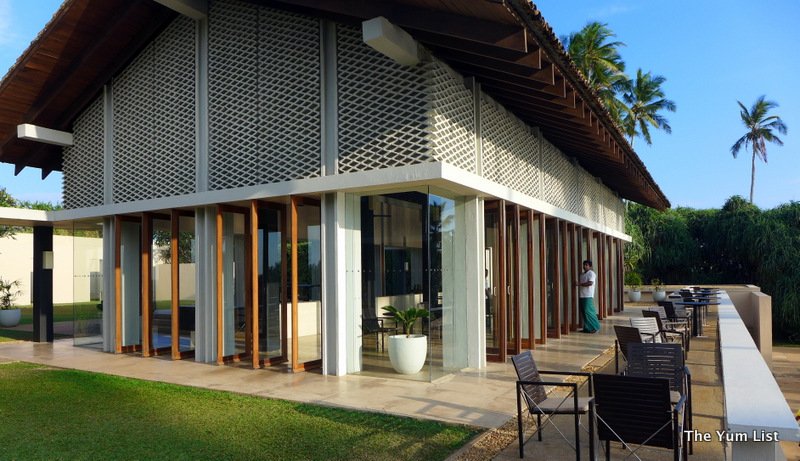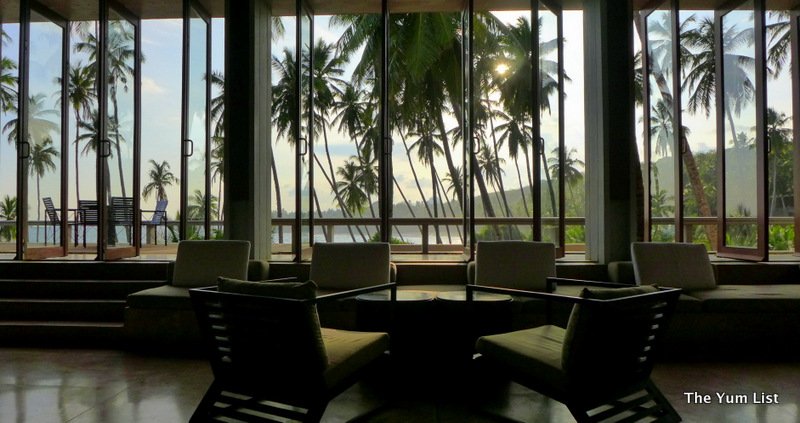 Although the resort is highly secluded for resident guests, it is possible to book a table for lunch or dinner at Amanwella's two F&B outlets: The Beach Club where grilled food is served up under the sky; or The Restaurant, which offers a range of Sri Lankan curries and simply cooked European dishes. We are hosted by genial Portuguese GM Fillipe, and begin with a taste of aromatic iced tea in the spacious bar lounge as we chit chat over travel experiences and common acquaintances. As the sun starts to sink behind the lofty palms, we relax in the soft light that drifts through the floor to ceiling windows and revel in the sense of space and simple comfort that the soft sandy tones and clean wood lines deliver, reflecting the outdoors indoors.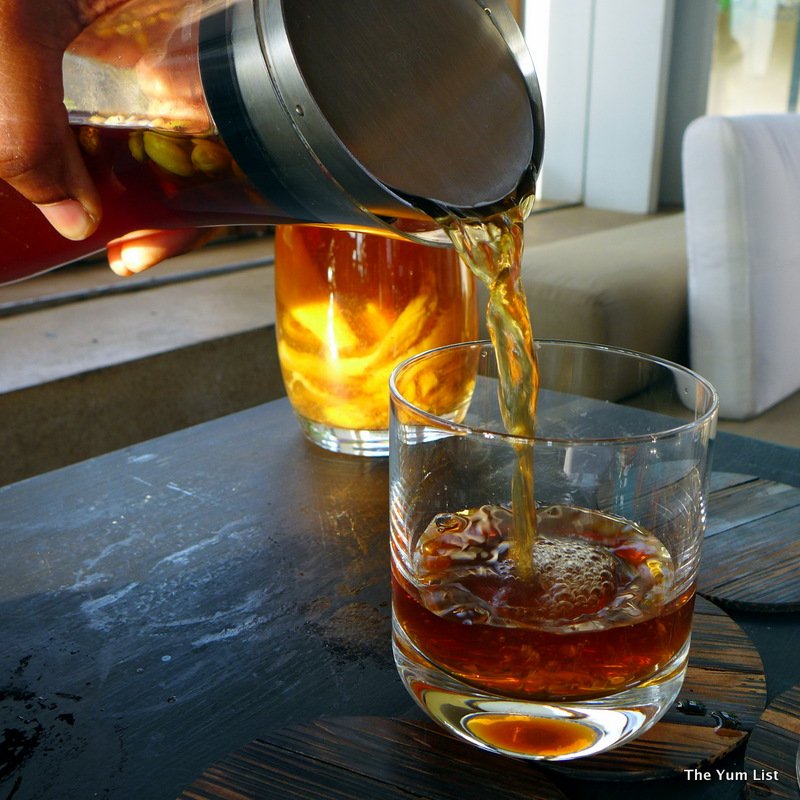 Monica and I are well known for loving a cocktail, particularly if it is on the strong and sour side. We are delighted to see that the Amanwella cocktail list does not contain a great deal of recipes involving sugar syrup or other sticky sweeteners. As the light begins to fade, we sip on a sharp tasting Arrack Sour (Rs1500) one of the Amanwella signature cocktails. It's crisp and refreshing, a perfect sundowner. Our only desire is for the glasses to be bigger.
On a spice island why not take advantage of what nature has to offer? The Spice of Life (Rs1400) is just perfect. I hold it in my hand, smell it, breathe it all in, and revel in the blend of scents that promise a delightfully fragrant sipping experience. With fresh ginger, cardamom local lime and a hint of lemongrass this clean concoction delivers with panache. Mmmmm! This could become a favourite yum!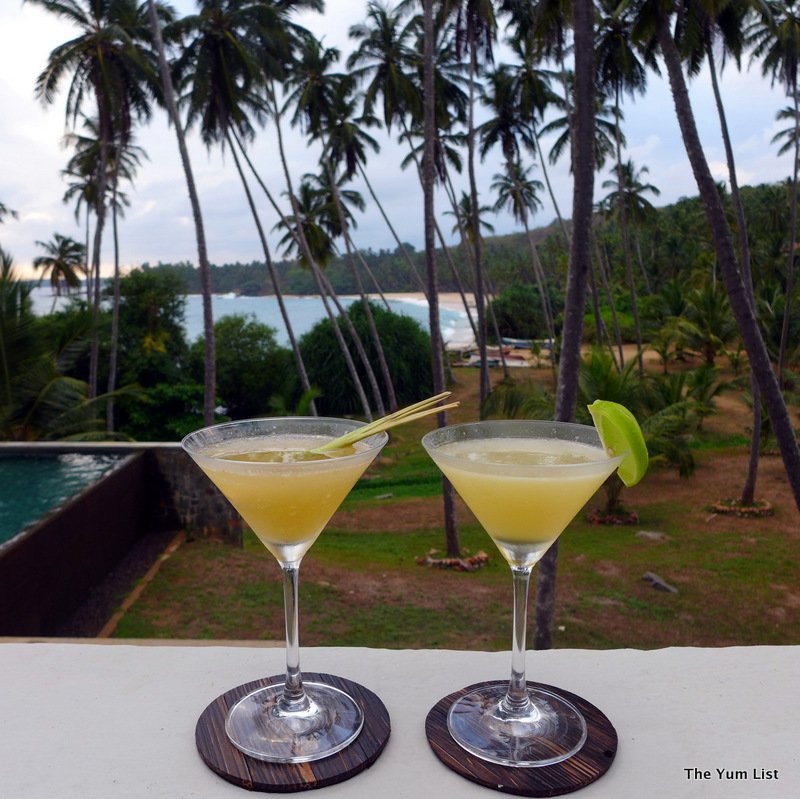 Amanwella offers quite a few wine choices by the glass including some nice sparkling selections, but as some friends have arrived we begin with a bottle of Pinot Grigio Elfo Sacchetto from Italy (Rs6000). It's crisp and light with slightly greenish overtones that complement the delicate spicing of the curry dishes to come.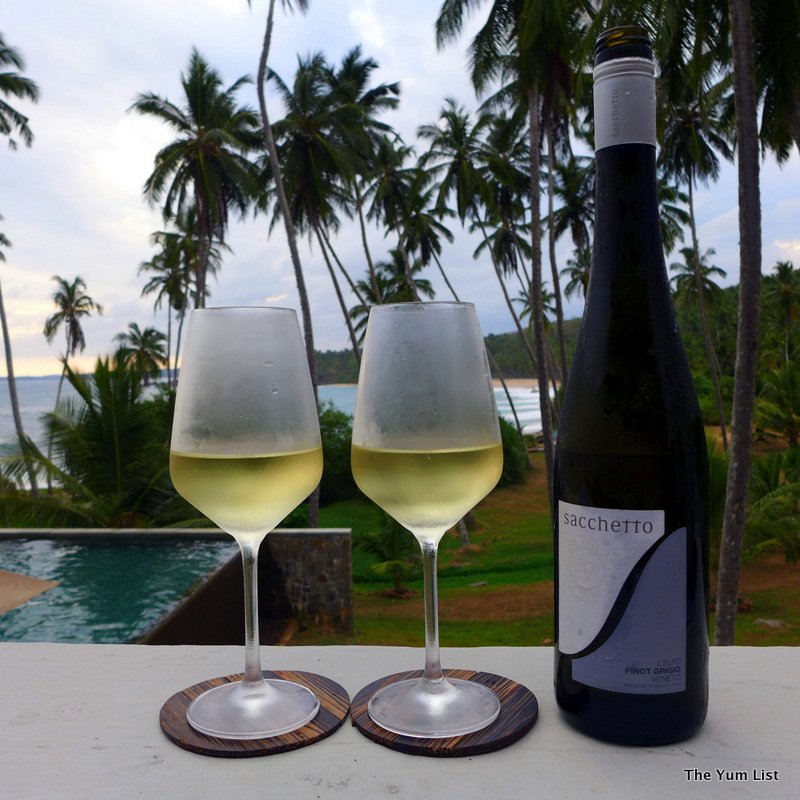 Drinks have been delightful, company has been sparkling, the views and sounds of the ocean relax the spirit, but now it is time to taste dinner. I do love Beef Carpaccio (Rs 3200), and I've been so spoiled by it that many Asian versions leave me cold. It is a simple dish that can be done well or totally messed up. I always say, please don't mess with the simplicity. And here at Amanwella, chef is of the same persuasion. Thin slices of raw beef are topped by slivers of Parmesan, plenty of rocket and a good drizzle of olive oil. There's nothing startling here, but it's all of good quality and clean natural taste.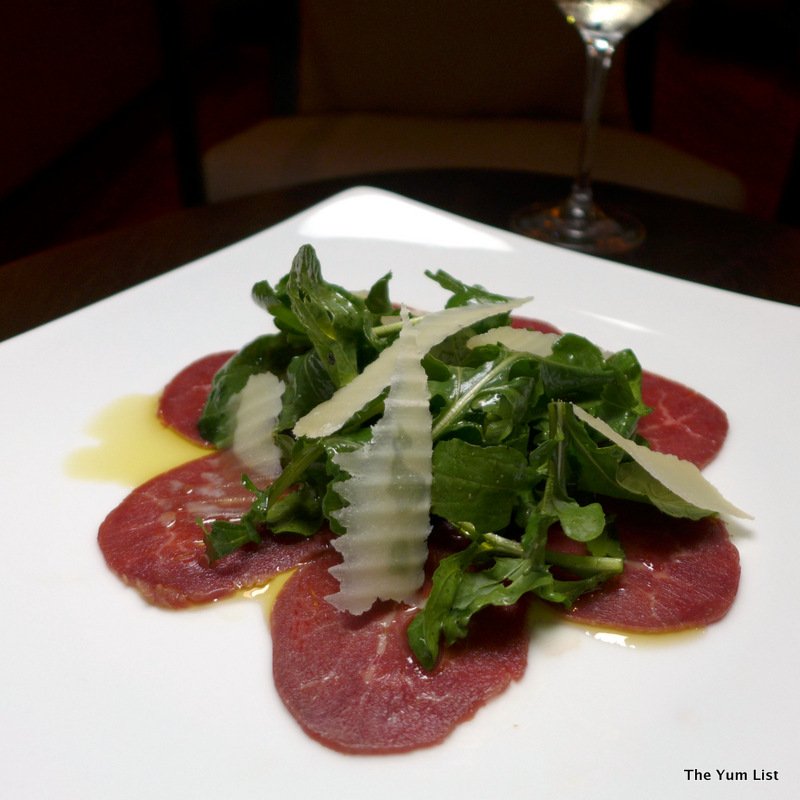 Roasted Tomato Soup (Rs 1400) is an instant hit with both of us. No messing around with creamy tastes but rather a crispy basil pesto and fried garlic prettily tops this fresh flavourful bowlful. Digging into the deep dish reveals freshness of flavour, and good texture and taste boosts from the basil and garlic on each spoonful.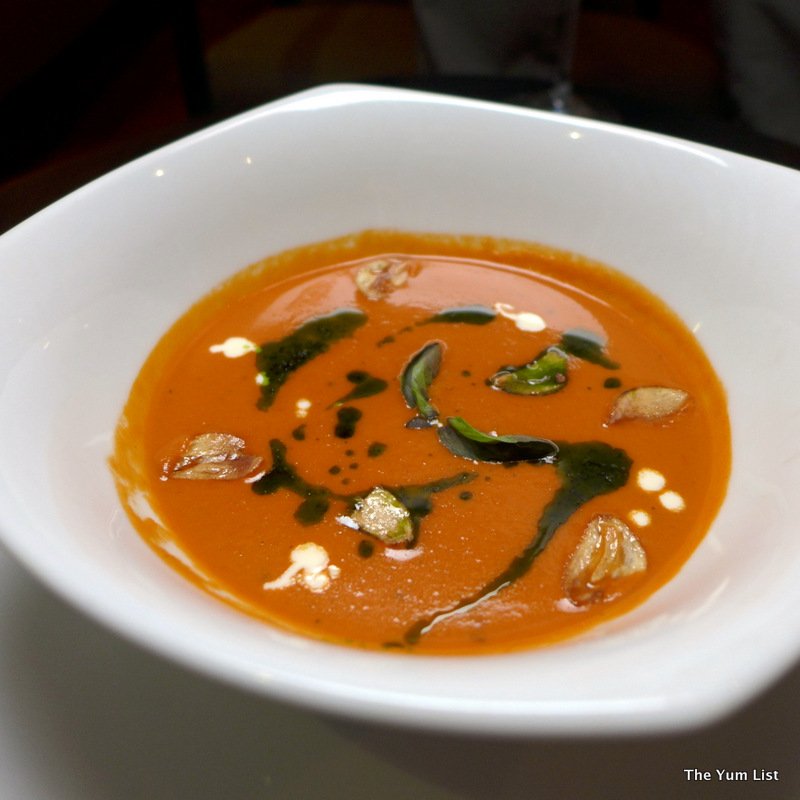 A fat juicy prawn sits atop our Seafood Risotto (Rs 3500) with plenty of other nuggets inside the tomato-y rice. I prefer the Parmesan to be laced through the rice making it nice and sticky but this one is layered on top. It is a filling and plentiful dish.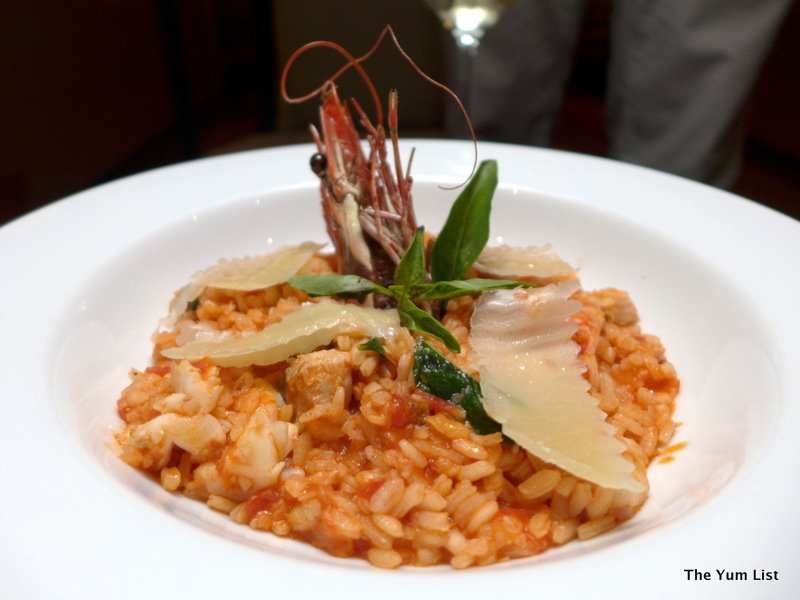 Monica and I both love crunchy fresh veggies so are happy to see plenty of these accompanying our Pan Fried Chicken Breast, (Rs3500). I love the hints of spinach particularly on the crisp carrots. Pumpkin puree is lightly spiced and slightly sweet, a welcome softness to accompany the dense chicken breast.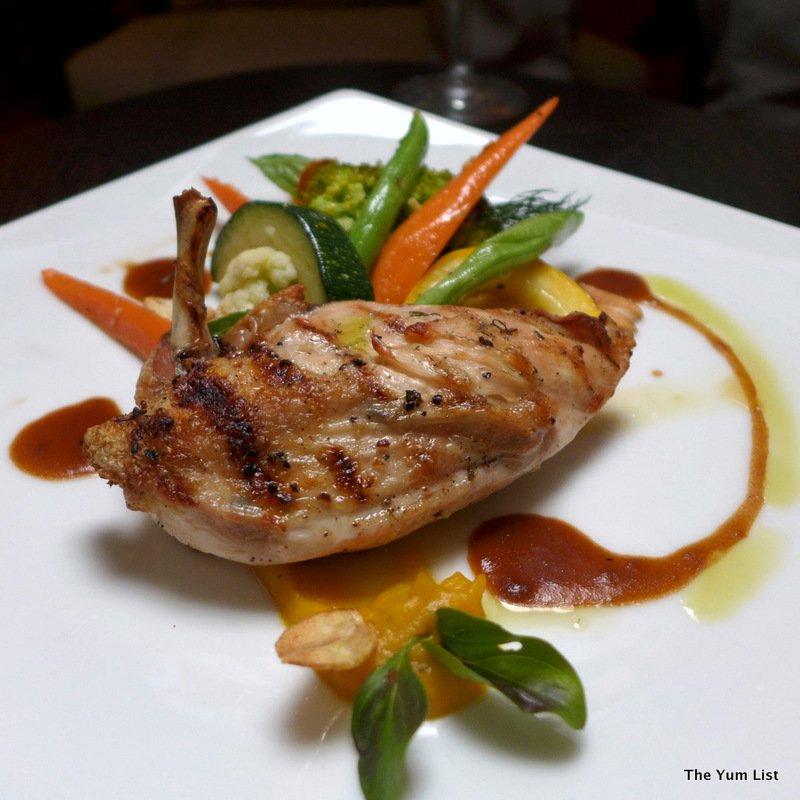 One of the features of Sri Lanka as we are learning, is that every establishment wants to serve up their interpretation of the traditional rice and curry. At Amanwella this usually comes impressively served on a tray with a full portion of each dish, but as we have a lot to consume, chef kindly sets us up a tasting dish. Rice and Curry with Condiments (Rs 5000) at Amanwella offers the gamut of curry tastes, spices and ingredients. Happily, guests can request the style of spicing that they prefer; Monica prefers the light side where as I go for hot, so we end up with a lovely mix. Curries range from sweet and sour to spicy hot and mild. We're spoiled with a soft dahl, a zingy tomato onion sambal, a spicy wingbean, sweet pineapple curry (a first for me, though I use pineapple in curry, have never come across one that is solely pineapple). The highlight however is the mild creamy prawn curry, with plentiful plump prawns, banana flower and the brinjal pahi, though my chutney loving tongue has to give a mention to the mango chutney and lime pickle as well. I promise you, if you have been eating curry without pickle, change your habits as it raises the experience tremendously.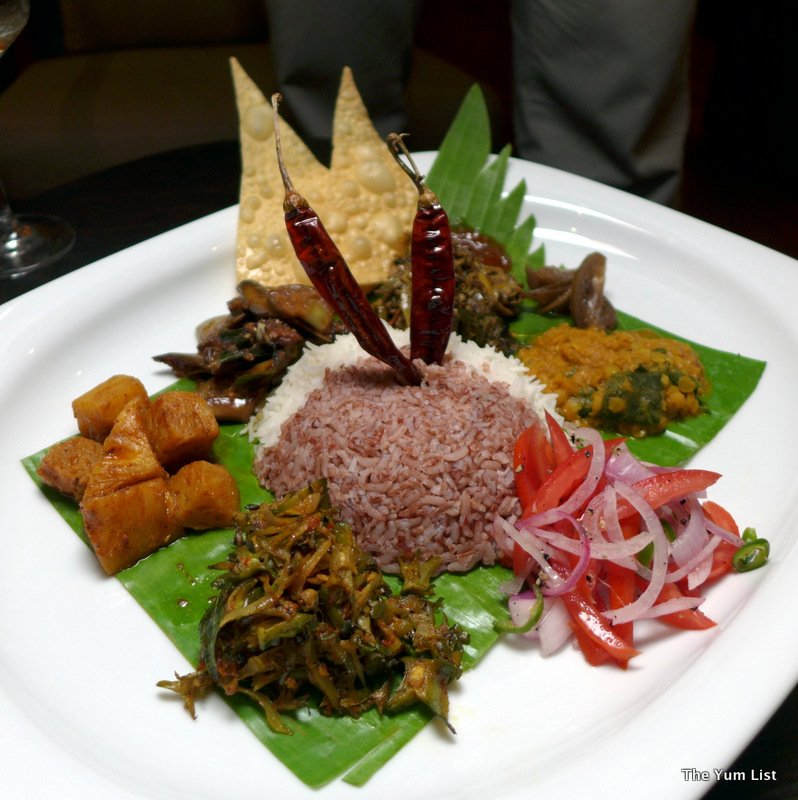 Like the curry experience, each property we've visited on this trip has their own interpretation of the traditional Sri Lanka dessert watalappan, that we are pressed to try. Soon I will become a watalappan expert! This one is less sweet, with strong cardamom hints and a thick creamy texture.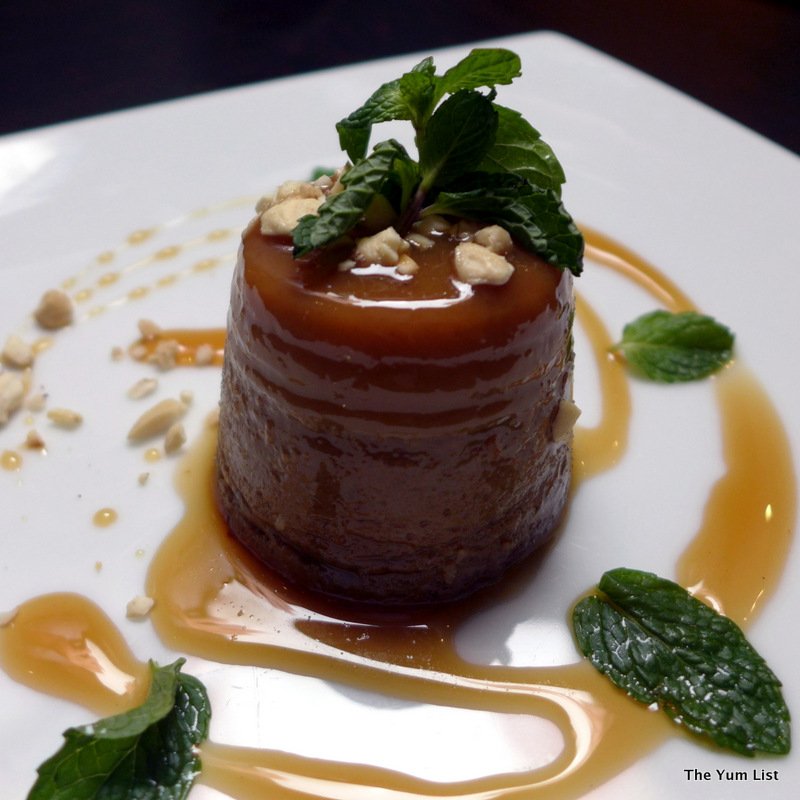 Passionfruit cheesecake has a very moussey and light texture, easy to eat with a good crunch and zing of the fresh passionfruit on top.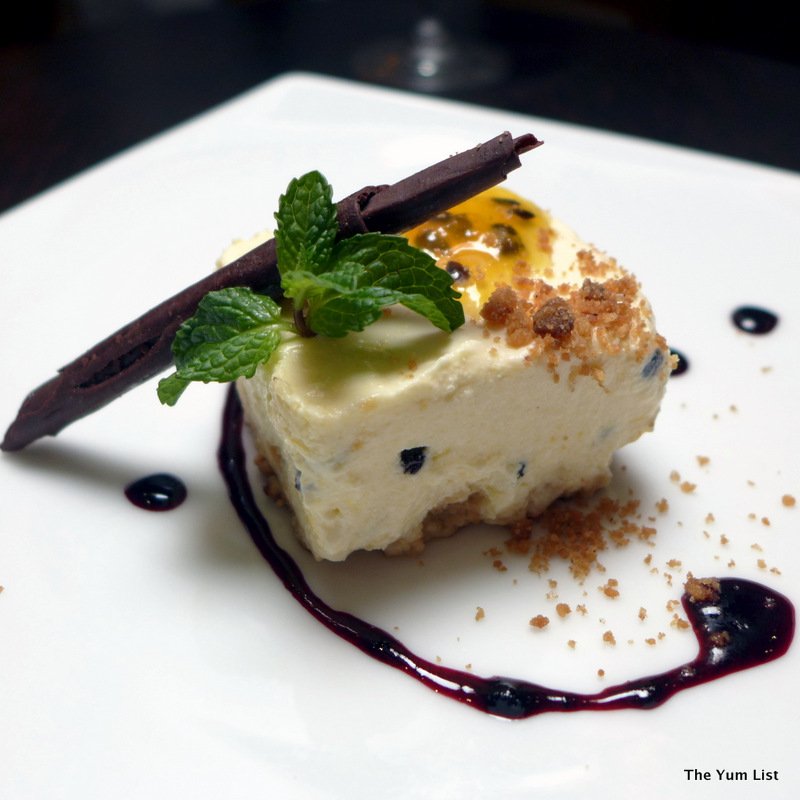 The gentle rhythm of the sea below is echoed in the relaxed pace of the Amanwella experience. Be sure to stop by and enjoy the splendid views and cool sea breeze, which whisks the sultry air and causes the palm tree fronds to sway delightfully.  Cocktails on the elevated terrace are a must do, these are the best we've tasted in Sri Lanka so far.
Reasons to visit: spectacular ocean views; clean light cocktails with strong fresh flavours; freshly prepared simple dishes; Sri Lankan curry tray.
Amanwella
Boddhi Mawatha
Wella Wathuara
Godellawela, Tangalle
Sri Lanka
+94 47 224 1222
[email protected]
www.aman.com/resorts/amanwella