That Bar Upstairs
Words: Han Sen Hau    Photos: Monica Tindall
So many bars these days are becoming better at concealing their locations, bewildering you at their entrances to the point of self-doubt, though I'd say Lou Shang Bar & Café takes it up a notch. From the sidewalk below, you know the stairwell right in front of you will lead you to the bar, what with the very obvious signage right outside spelling its name out for you. As you come up though, you are greeted with a very heavy, very "stolid" wooden sliding door that misleads you into thinking you're actually here to sign legal papers at a law firm because your tenant is three months overdue on his rent. I had to double back and confirm that the signage I saw had a lady reclining in a cocktail glass, not "Lou & Shang, LLP". By the time I convinced myself to just get on with it, I actually knocked at the door and mouthed an embarrassing "hello?"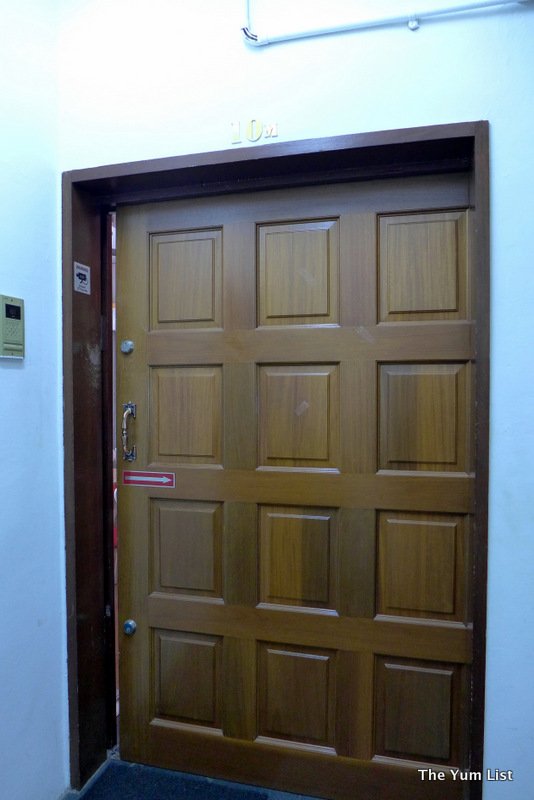 The fine people on the other side must've wondered if they've accidentally locked it.
So moving past my awkward entry, the ice broken by my hosts Manfred and Ai Peng who assured me I probably wasn't the only one to freeze at their door, I assessed my immediate surroundings and found myself in awe, firstly with their beautifully illustrated Specials Chalkboard, then their haphazard mix of furnishings that strangely work well together, and finally with a row of white, rattan chairs by the bar that I wish I had in my own home. I occasionally conflate my food reviews with shopping trips to IKEA if you haven't noticed already. But really, what's not to love about a place that manages to make an antler lamp à la mode, greets you with an array of cool posters (including a tongue-in-cheek "Welcome to the Party" poster featuring Lenin, Marx, and Castro), and whose owner promises a tasting flight of exquisite bourbons at the end of the review.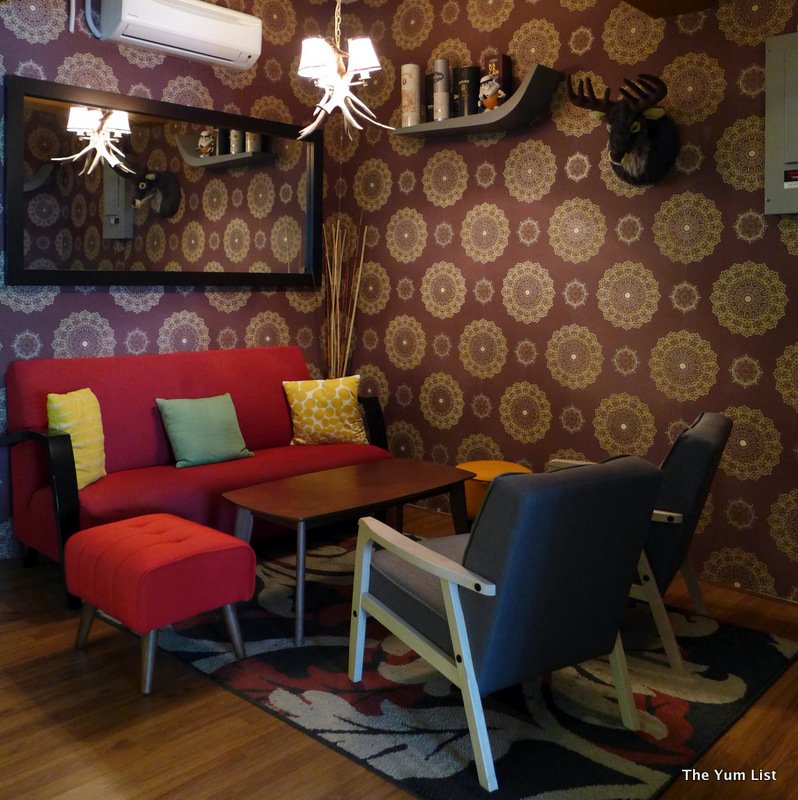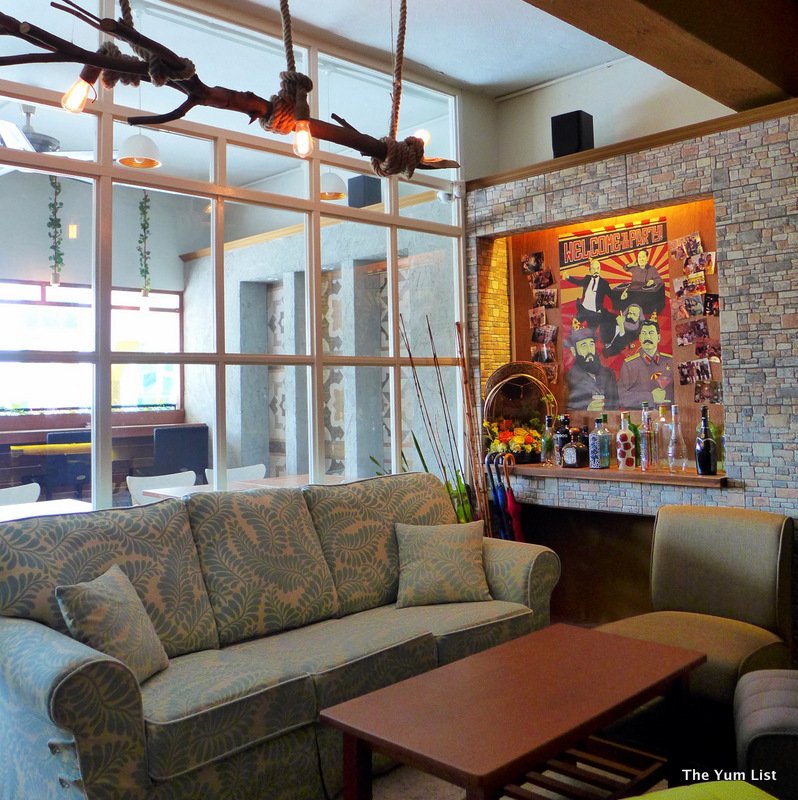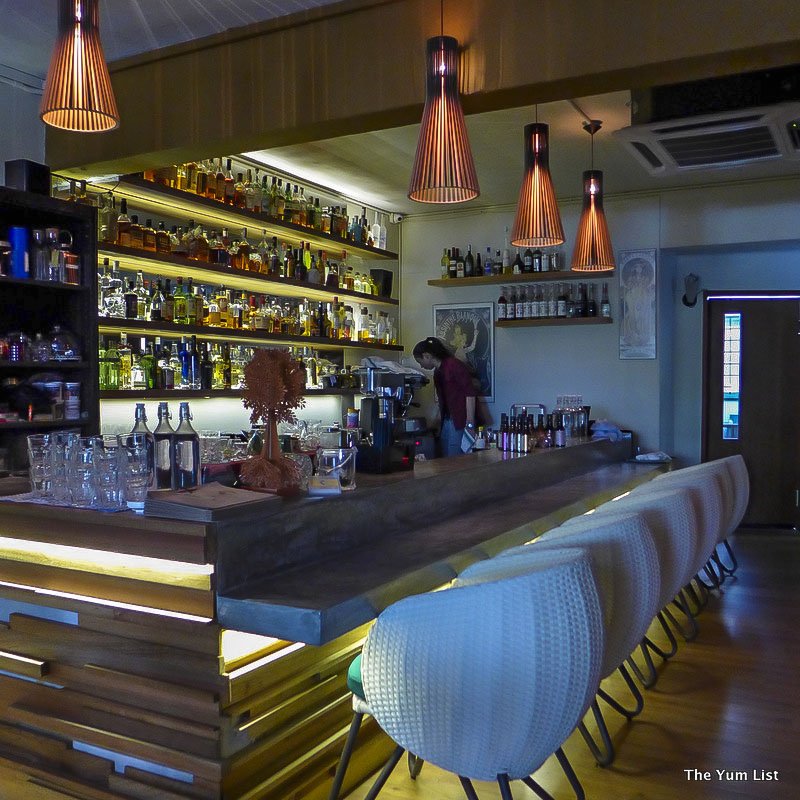 Oh did they prepare for this… so onward with the first drink!
I started with the Uptown Monk, a ridiculously refreshing mix of Cruzan Dark Rum, yuzu liqueur, umeshu, Grand Marnier, plum, calamansi, and lemonade. While it immediately brings to mind Mark Ronson's highly successful hit single, Uptown Monk actually pays homage to the shady monks who roam around Damansara Uptown, possibly with a gourd concealed in their auburn kasayas. This alcoholic teh limau ais (or iced lemon tea), as Manfred and Ai Peng affectionately calls it, is so light to the tongue, you can easily finish it one go and order up another. Perfect for a hot day, you'll be positively glowing when you're done with this.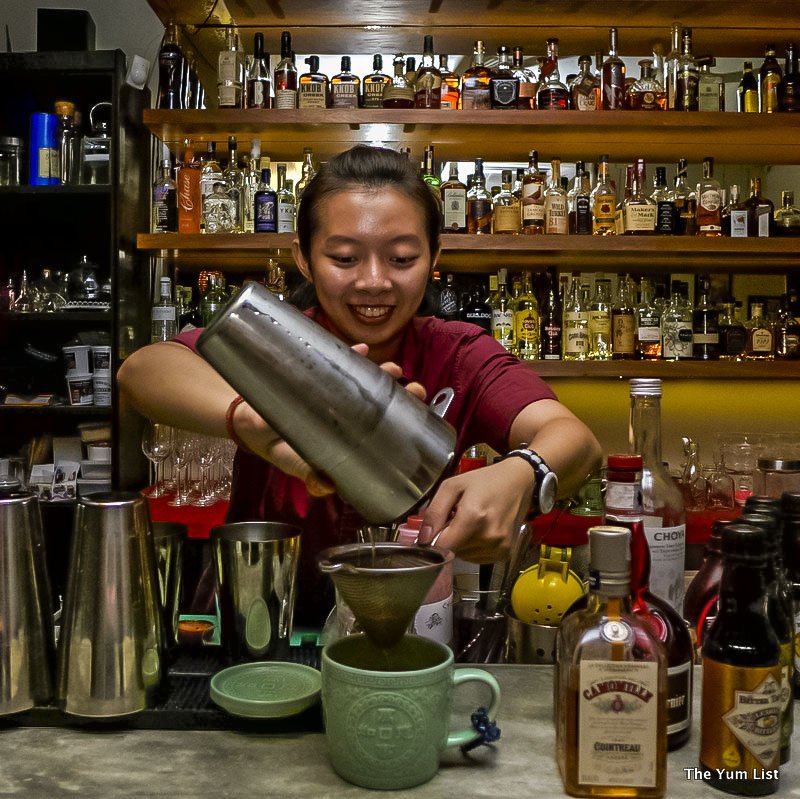 The description for the following My Sassy Bini on the menu says that the drink is an ode to local lasses who are as sweet as they are sharp with their wit, so even though local comedienne Angeline Tan popped up in my mind to throw some sass, it was Joan Collins who I thought embodied everything the drink stood for. Perhaps it's the shade of red from the dragonfruit that reminded me of a dress she once wore. Regardless, I never thought I'd enjoy Bombay Sapphire the way I did with this crowd favourite, which also contains strawberry, pomegranate liqueur, lime juice, and kaffir lime leaf. With that much fruit thrown into the mix, you'll be wincing with joy at every sip.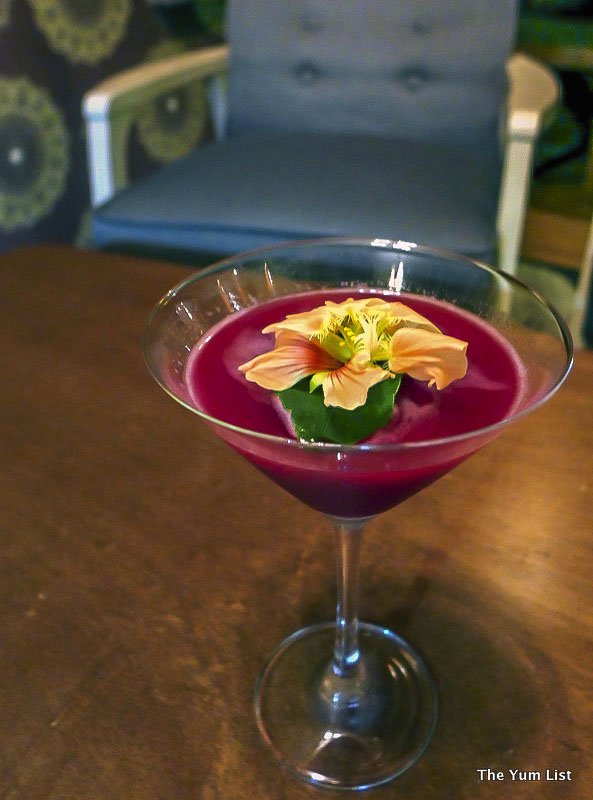 Next up, we have the award-winning La Maison, the drink that secured head bartender, Demi's success at the La Maison Cointreau Cocktail Competition where she emerged as second runner-up. Comprised of Botanist Gin, Chamomile Cointreau, Chamomile tea, thyme, honey syrup, and egg white, the La Maison smells like a garden and tastes like one. No really, the concoction was redolent of flowers glistening with dew at the crack of dawn… you'd think there was a bouquet of flowers right in front of you every time you tip the glass for a sip. Alas, I can only describe the La Maison by comparing it to reformulated vintage perfumes: volatile, exotic, and an unforgettable classic (in the making).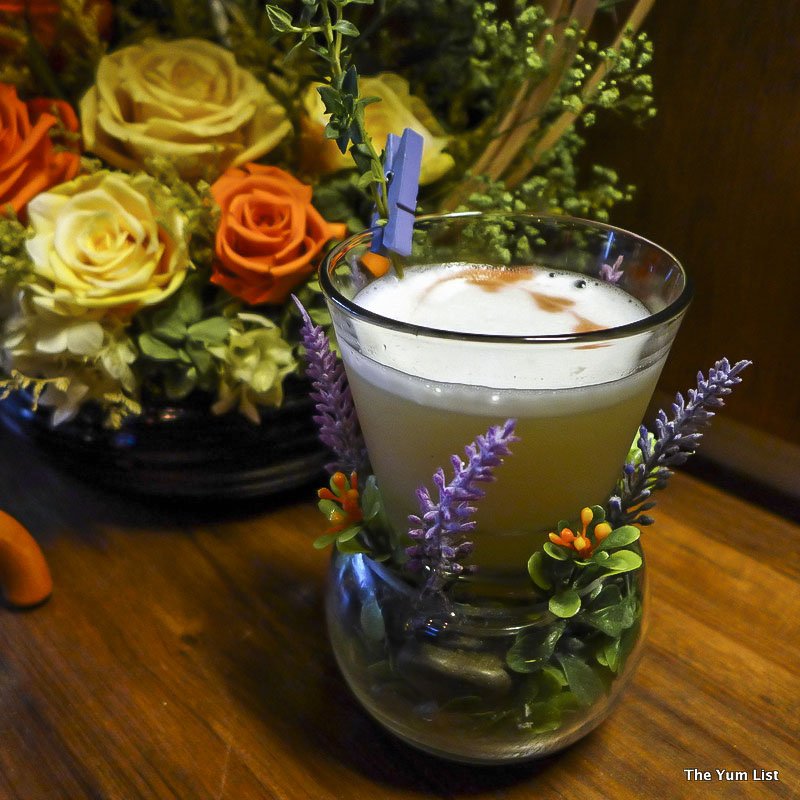 Our final cocktail for the day was the adorable looking Bonsai Kitten that can be enjoyed hot or cold. Made up of 3-year-old Havana Club, Crème de Cacao, Bailey's, green tea, and milk, this cocktail is perfect as a rich dessert drink as you slouch on a couch to end your day, or as an alcoholic perk-me-up to help you get through a rough day (just tell your bosses it's Milo). I thoroughly enjoy the Bailey's in this, and I recommend drinking it the instant it's served so you'll get a good hit of the green tea before they're overwhelmed by the other flavours. I prefer having this cold because it's easier to detect the individual flavours, though you might enjoy it hot if you simply want a rush of blood to the head.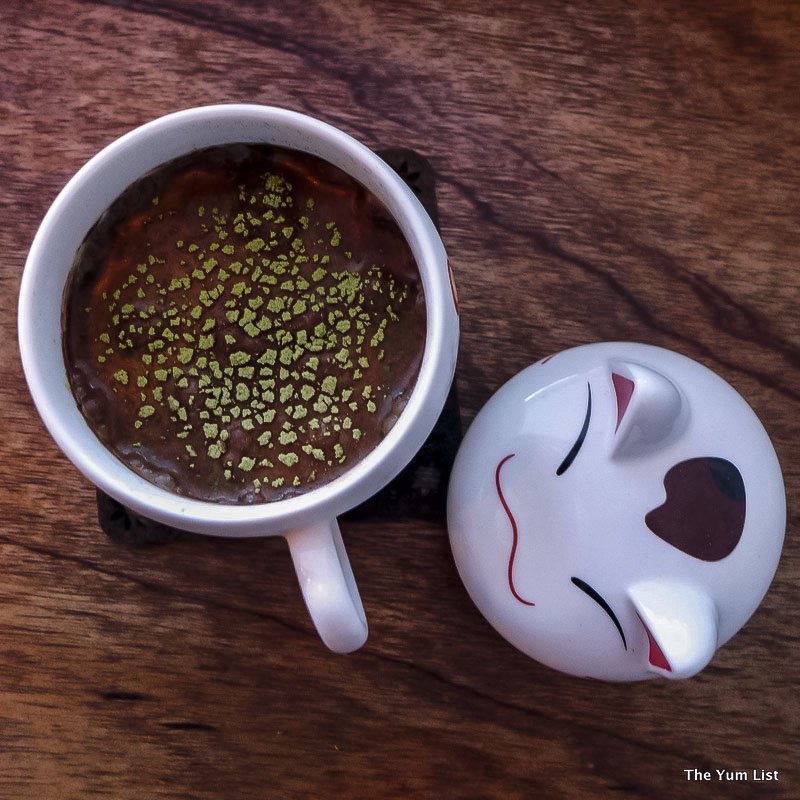 I had to take a short break between Demi's cocktails and Manfred's bourbons, so I did the most sensible thing: sampling some of Demi's experiments behind the bar, including a really weird yet wonderful liquid "bakkwa" (pork jerky), while trying to maintain a coherent conversation with her and Cyril, the bar manager who's also chiefly responsible for the beautiful artworks on the Specials Chalkboard. My face was probably as red as My Sassy Bini, so I was glad when I heard we would be tasting some of the light snacks offered here to help dilute the alcohol content in my bloodstream.
The first of these was I Have a Date with Bacon, which basically describes what it is, bacon-wrapped dates served with a small cube of cream cheese for each skewer. These were really addictive and would go perfectly with the cocktails. Unfortunately, these aren't great for groups as all it takes is a hog like me to devour them all within minutes.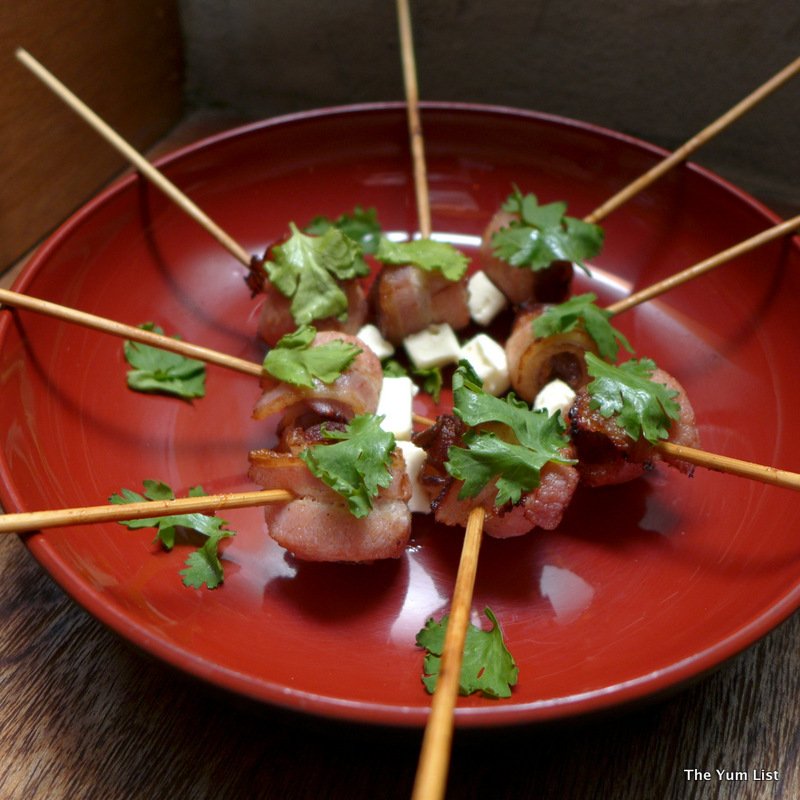 Arriving to replace the pillaged bacon-wrapped dates were two different tacos, K-Pop Style and Canto-Pop Style, served in bamboo steamers. Both had high visual appeal from their presentation, but while I really enjoyed K-Pop Style's beef striploin drenched in Bulgogi marinade, my vote goes to the Canto-Pop Style that's described as being "sweet and harmonious like an Alan Tam and Hacken Lee concert". The char siew's (barbecued pork) performance was exhilarating, while the cabbage slaw worked well with the pickled apple and kewpie mayo to deliver a stimulating act that drove my taste buds into a frenzy. Rarely do light bites at a bar compare to the ingenuity that shines through in cocktails, so I'm thrilled (and fortunate) that the team behind Lou Shang Bar & Café affords their food with as much attention as they do their drinks.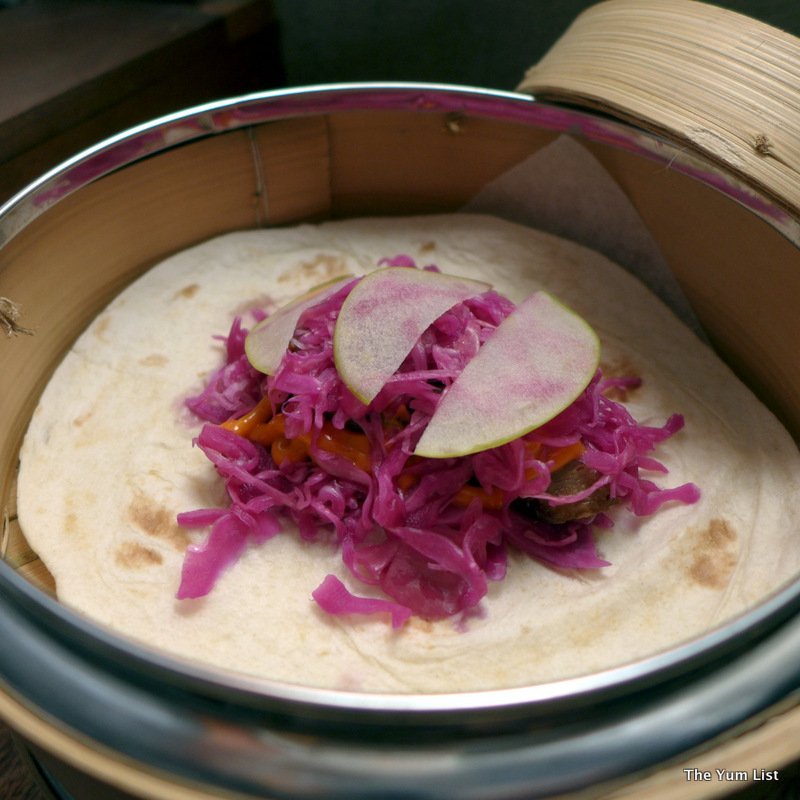 Once I've had my fill, it was then Manfred's time to showcase some of the bourbon he's had stashed in the bar. Like a schoolboy excited to reveal his most prized collection only for special occasions, Manfred laid out the Buffalo Trace, Basil Hayden's, Woodford Reserve, and Rittenhouse on the table. For a moment, I felt like I was in a dusty saloon with a cowboy. Up till that moment, my only experience with bourbon was limited to an adventure in Singapore, where I explored shady watering holes with a friend who shared the same passion for liquid gold as Manfred.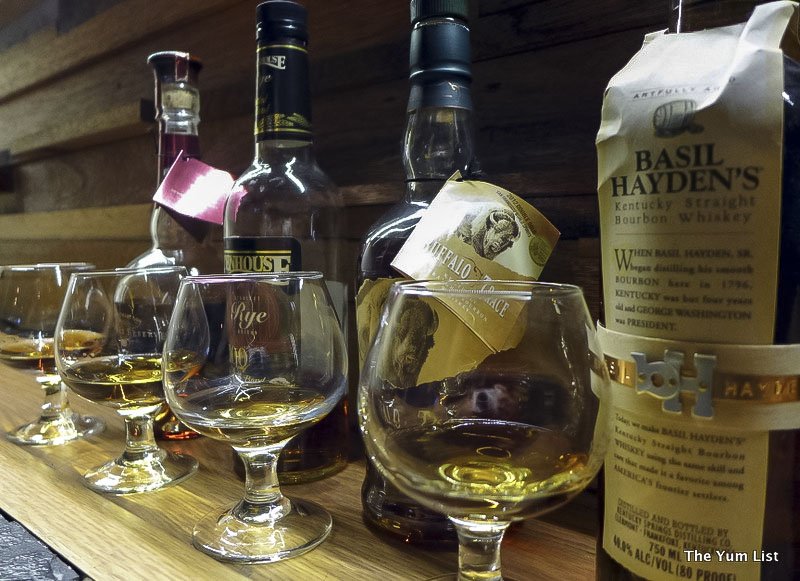 While the trend for bourbons hasn't quite hit Malaysia just yet, I've begun to understand their appeal a little better thanks to the tasting flight I've had with Manfred. My favourite was the Buffalo Trace that's just pure bourbon whiskey, though the Woodford Reserve was great contender for top spot with its smooth texture and sophisticated flavour. The Rittenhouse will make you breathe fire after each sip, and has a really strong bouquet that clogs your nose. If you're just starting out with bourbons, don't dive straight for the Rittenhouse—this rye whisky shoots up your nose faster than wasabi.
All in all, the bar upstairs (incidentally, what "Lou Shang" translates to) is a great place to be. I always feel great whenever I visit a place to enjoy fabulous drinks, good food, great company, then leave having learnt or discovered a thing or two. For starters, I have found my new favourite snack to enjoy with cocktails (I Have a Date with Bacon), and I've also found out that just four sips from four different kinds of bourbon makes the surface of my skin hotter than a steaming kettle. So yes, I've had a good time with the team at Lou Shang Bar & Café, and of course I will return to visit their quirky establishment.
… if only to steal the adorable mug they've used for their Bonsai Kitten.
Reasons to visit: the variety of fun, staple cocktails on the menu; I Have a Date with Bacon; the this-feels-like-home atmosphere; the amicable team; if you're nice to Demi, she might entice you with her stash of liqueurs she's been experimenting with, which are all awesome.
Lou Shang Bar & Café
10M, First Floor, Jalan SS21/58
Damansara Utama, Petaling Jaya,
Selangor, Malaysia.
+603 7731 8870
www.facebook.com/loushangbar/