Words: Katrina de Laszlo  Photos: Monica Tindall
Before reading any further, answer this question:
What are the first five words that come to mind when you think of 'Australian coffee culture'?  Go…
These were my answers: Melbourne. Trendy. Innovative. Aromas. Deliciousness.
And the list could go on.  I think of cafes serving the most fabulous coffee, made by people who truly care about what they are offering their customers. I imagine a place where you could easily get stuck talking to the barista for half an hour about the aroma of their coffee beans. I envisage eclectic clientele, unique décor, tables full of groups of friends sharing jokes over a flat white, solitary customers absorbed by their books and accompanied by a cappuccino. To top it all off, there is an enticing food menu, which primarily offers honest and healthy food, and often has its own take on a well-known dish or two. Homemade cakes are almost always on offer and as much you know you shouldn't, it is virtually impossible to resist ordering a slice.
Swap Melbourne for Kuala Lumpur and you have The Red Beanbag. It fulfills every characteristic mentioned above and more. Tucked into a corner of level 1 at Publika, overlooking the Square and with views of the Istana Negara from the back window, it is an ideal spot to take a break from the shops.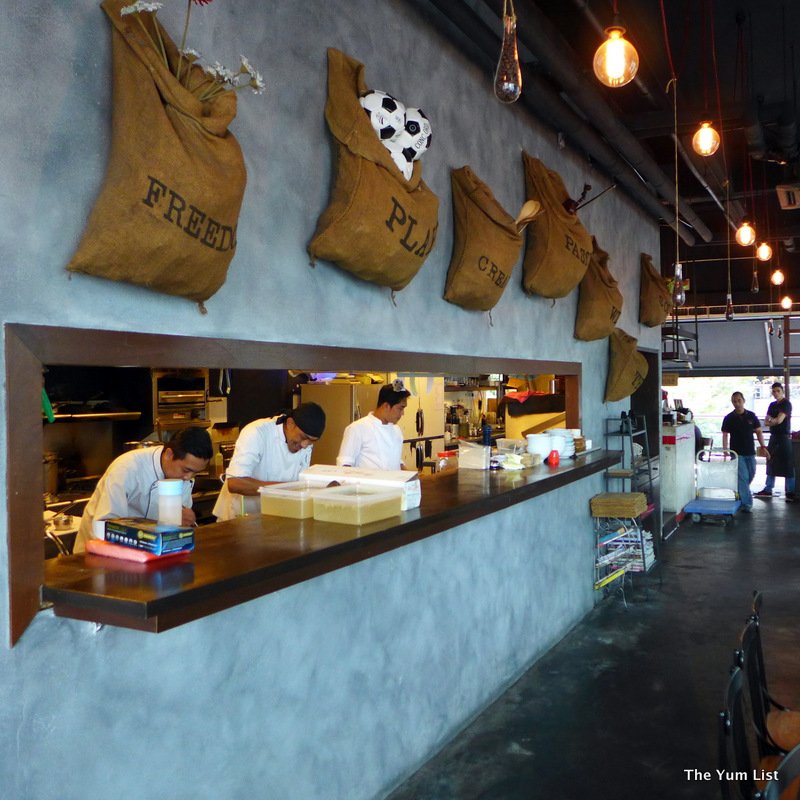 I meet Monica at the outdoor terrace and we head inside. We are met with a concrete-grey backdrop, which perfectly showcases the authentic coffee bean bags hanging from the walls. The lighting is contemporary and helps create a refreshing and relaxed feel to the place. As far as the menu is concerned, the team behind The Red Beanbag have put together a fabulously appealing offering. We were fortunate enough to try a large selection of their signature dishes, in addition to a newly created genius of a meal, added to the menu that very day.
From the extensive drinks list, which in addition to the usual hot and cold drinks includes wine, beer and cocktails, we chose a Tai Chi Lai Chi 'Quencher' (RM 11) to cool us down. Aside from its name, which is utterly satisfying to say out loud, the blend of lychees, mint, lime and soda made it impossible not to order. The sweetness of the lychees and the sourness of the limes blend together to make an unbelievably refreshing drink. The Red Apple and Red Dragonfruit Smooshie Juice (RM 8) is an interesting and delicious combination and I'm impressed by the full flavor produced by this brand of 100% pure juice in a bottle with no added sugar or preservatives.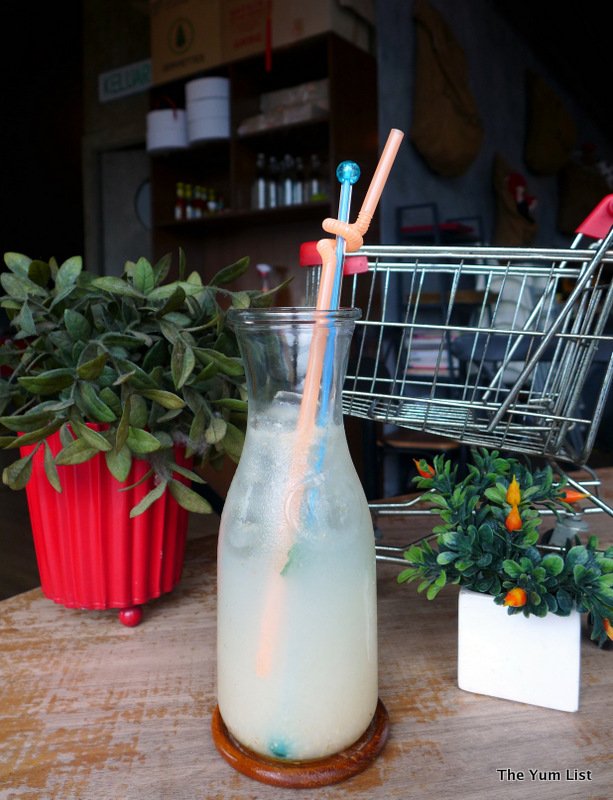 If I hadn't been at risk of a caffeine overdose, I would have loved to try all of the options on the coffee menu.  I settled on a Flat White (RM 10) and was not disappointed with just the right balance of the milk and coffee flavor coming through. The Red Beanbag has created its own unique blend named 'Skywalker', with the help of their friends at Grand Central Coffee. Jason, the head barista, is so skillful he has been crowned Malaysian Barista Champion. The Red Beanbag certainly impresses on the coffee front.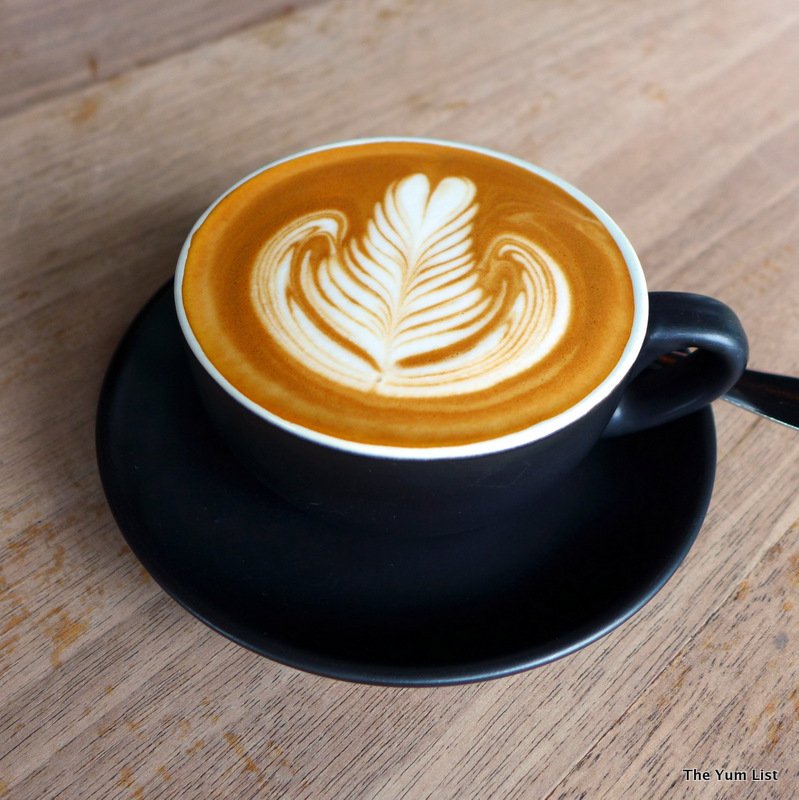 My first impression of the food was just how beautifully colourful it was. Gone Bananas! (RM 20) is a party on a plate: brioche French toast served with banana brulee, popcorn, Nutella caramel and vanilla ice cream. The colour comes in the form of beautiful bright pink, purple and yellow flowers scattered over the food, tempting you to dive right in. Featuring on 'The Light Side' of the menu, this is certainly not a light meal, and could happily be shared between two people, if not more. Or it could be the perfect brunch dessert if you still have a little room left!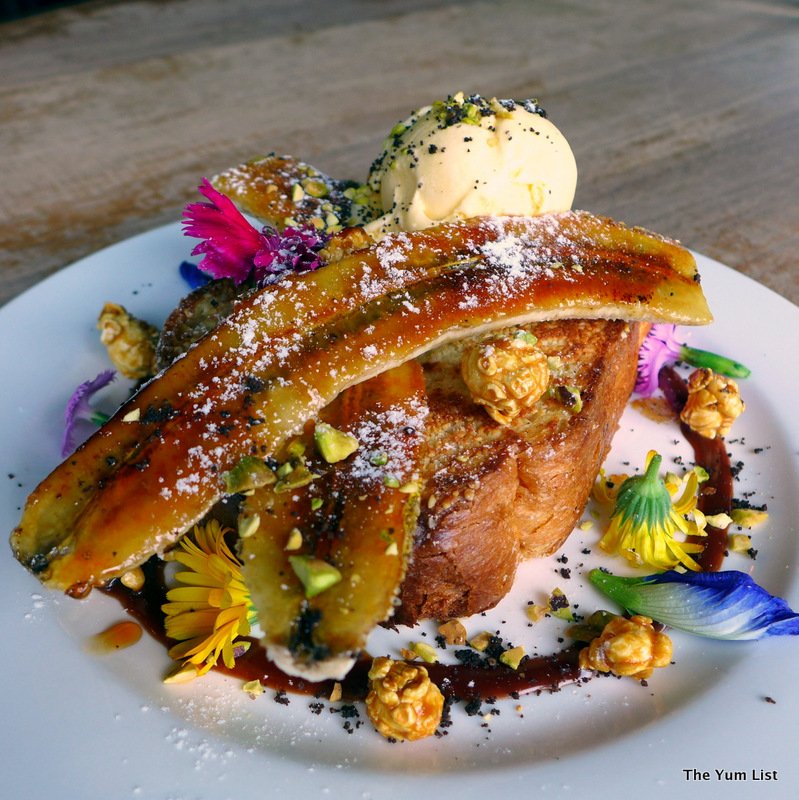 The Signature Baked Eggs (RM 22) has been around since The Red Beanbag's inauguration and I can see why. A rich mélange of two eggs, chicken and beef bratwurst topped with mozzarella cheese and accompanied by sourdough toast could keep you fuelled for the rest of the day.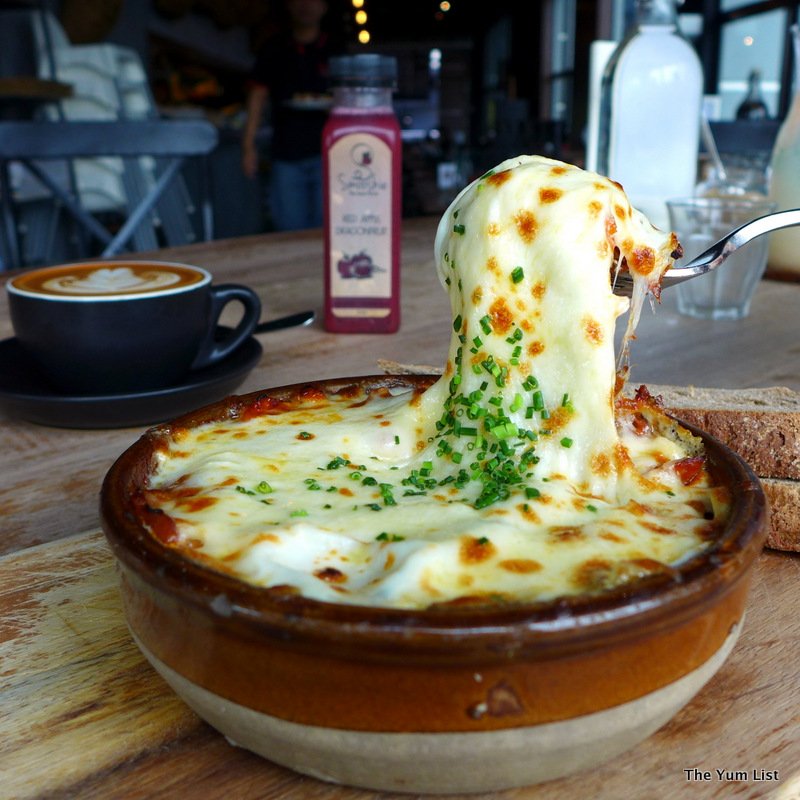 The Red Beanbag prides itself on its seriously fluffy pancakes. Baconia (RM 24) does not leave you wanting. Another colourful creation, I found it difficult to know whether to dig into the pancakes first or take a bite of banana, strawberry, blueberry or beef bacon which also adorned the plate. The sweet and savoury elements satisfy every taste requirement.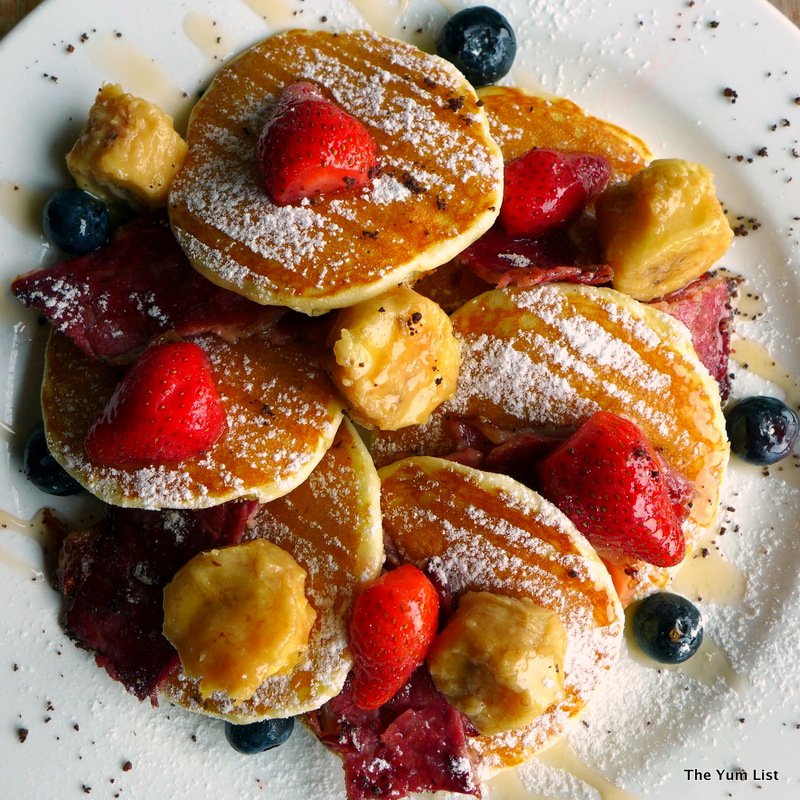 The Red Beanbag ticks the 'innovative' characteristic in my list above and this is proven by how it constantly strives for improvement. They are already on their third version of eggs benedict, aptly named Benedict III (RM 26). Having not tasted the first and second version, I could not comment on any improvements, but eggs benedict is one of my favourite dishes and I would consider myself a bit of a connoisseur. As dubious as I was about the kale element of the dish, I do however think it works. Served on a bed of fluffy French toast, the eggs are almost lost in the mix of sautéed mushrooms, kale, turkey ham (or beef bacon) and hollandaise sauce.  The kale certainly adds a bitterness to the dish and I can imagine it might not be to everyone's taste, but I enjoyed trying the take on such a classic dish and would order it again.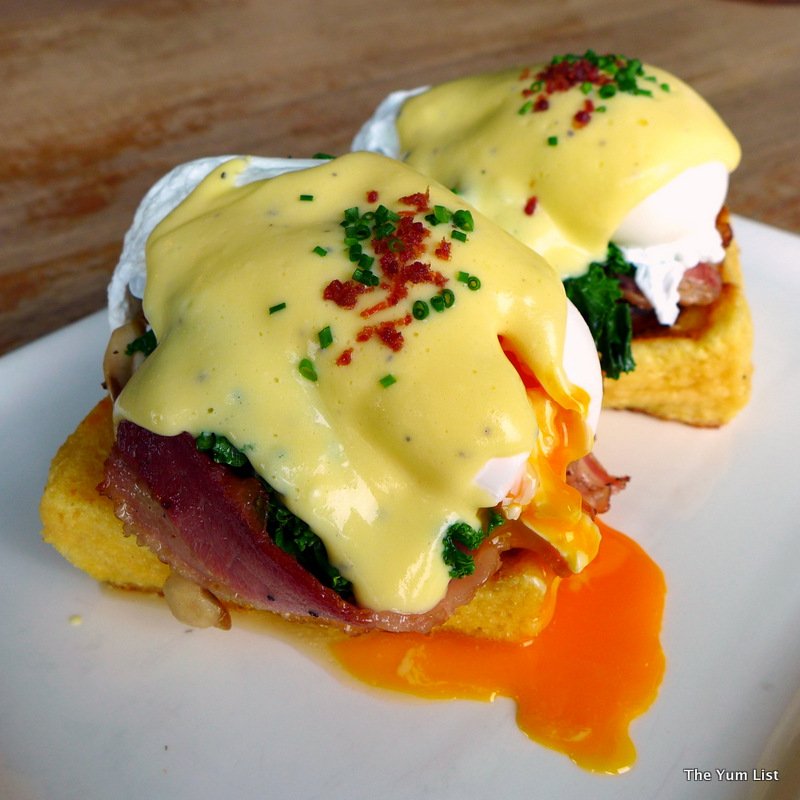 And now I come to the pièce de résistance. The final dish was so new that it didn't even have a name or price at the time of tasting. The head chef's current toy is a smoke gun and he has used it brilliantly with this dish. Served in a glass pot, the dish exudes drama as well as delicious aromas and fabulous flavours. We opened the pot and inhaled the smokiness. Inside the pot we discovered a poached egg, pea and mint ricotta, mushrooms, and beetroot cured salmon. You may choose to eat this dish in any way you want. Mix it all up together and dip in the accompanying sourdough or sample each flavor separately. The smokiness infuses into each element beautifully. This was a real winner in my eyes.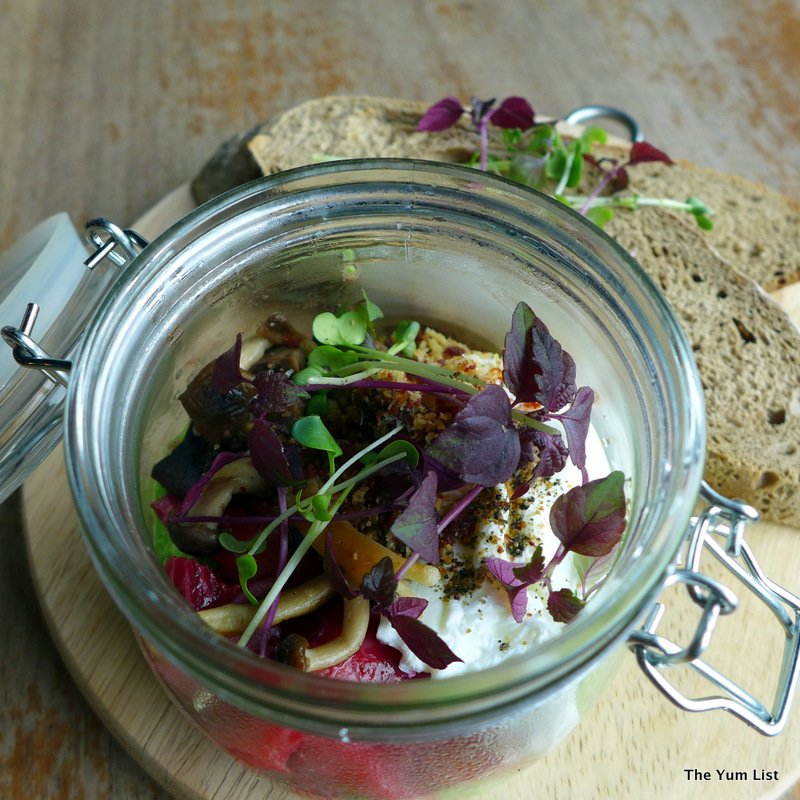 Just when we thought we couldn't fit another mouthful in, we were presented with the Nutella Mille Crepe (RM 12). It must take forever to make this beauty, with layer upon layer of pancake interspersed with Nutella, but it took only seconds to disappear!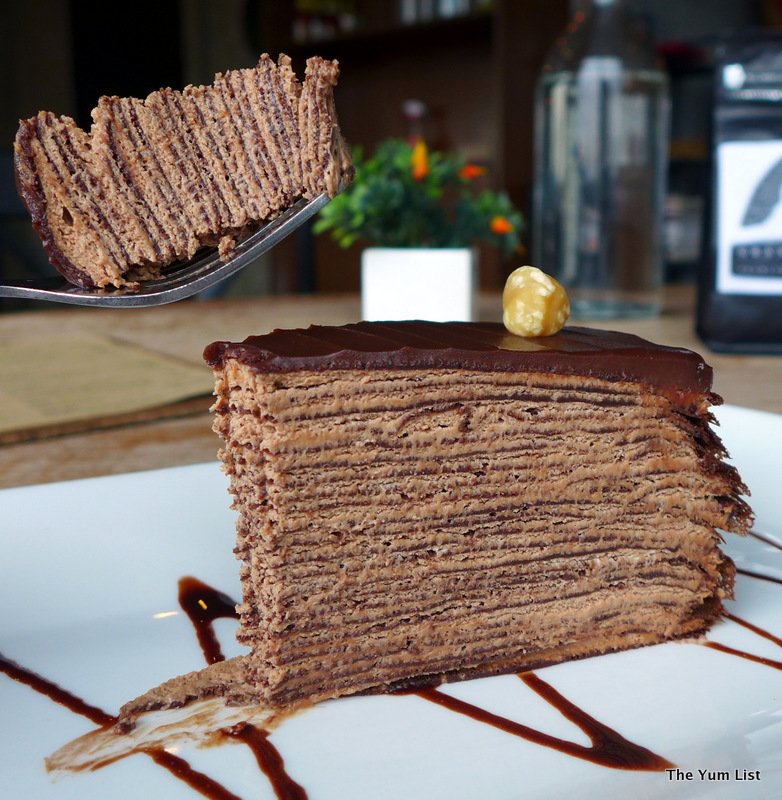 Open from 10am to 10pm, The Red Beanbag is suitable for any food and drink related occasion. I would just as happily come here with a group or friends or family as hang out by myself with a good book or magazine. I can imagine wiling away the hours over a coffee or two and spending quite a lot of energy deliberating over which dish to choose. My recommendation would be to visit with a group of friends and share as many of the options as possible!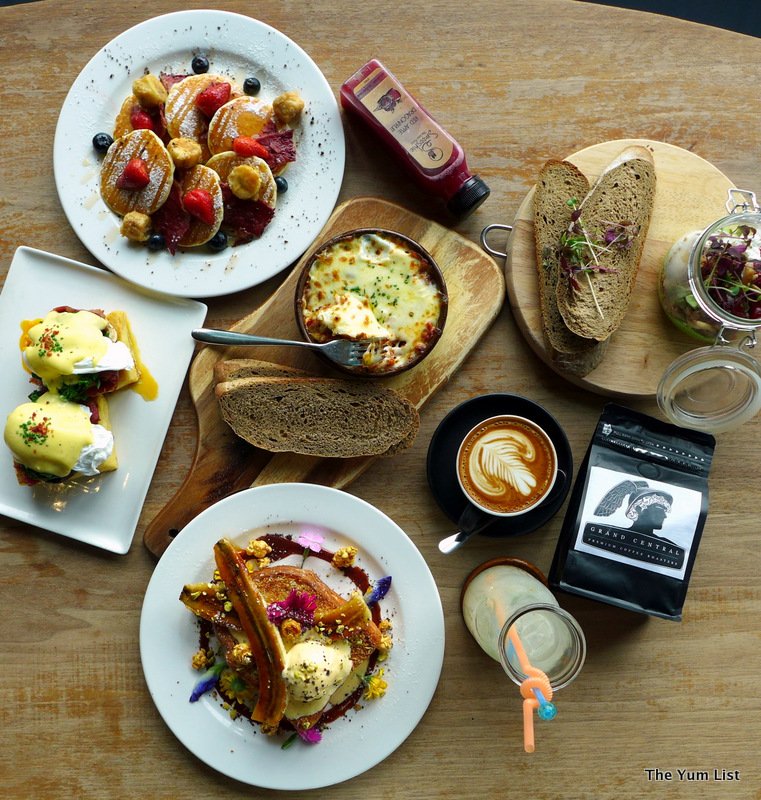 Reasons to visit: You can be sure you will be getting a delicious coffee prepared by someone who really cares; the unnamed smoky delight of a dish; the relaxed atmosphere – invaluable in such a busy and hectic city.
The Red Beanbag
Lot A4-1-8, Solaris Dutamas,
Jalan Dutamas 1,
50480 Kuala Lumpur
www.theredbeanbag.com
+6 03 6211 5116
[email protected]