A Symphony of Slow and Low at The Point
Words: Claire Matheson      Photos: Monica Tindall
To me, slow cooked food is joyful. When food is described to me using the number of hours taken to cook it, I start to involuntarily salivate. Meat so flavoursome and tender, it eagerly parts for your fork, practically begging to be eaten, will always have this effect. You cannot help but smile while you eat it.
Better still is the joy that comes from sharing a slow cooked meal with those you love. There is something utterly delightful in watching the sheer enjoyment spread around the table. These are the dishes that reduce tables of people to a chorus of groans of ecstasy punctuated by exclamations of 'you have to taste this!' The result is licked-clean plates and satisfied grins.
At The Point Restaurant and Bar, head chef Jin Kua, trained at Le Cordon Bleu in Sydney, has become a master at sous vide, the traditional French art of vacuum sealing meat and cooking it low and slow through immersion in water. The process protects the meat as it cooks it, retaining all the juices and flavours. Kua uses this method to bring out the fullness, depth and aroma of each of his ingredients, allowing them to speak for themselves.
Upon arriving at The Point Dining Room at Damansara Heights, with its intimate 38 person seating capacity, I am gently asked by the attentive wait staff if I would care for an initial drink as I'm shown to my table.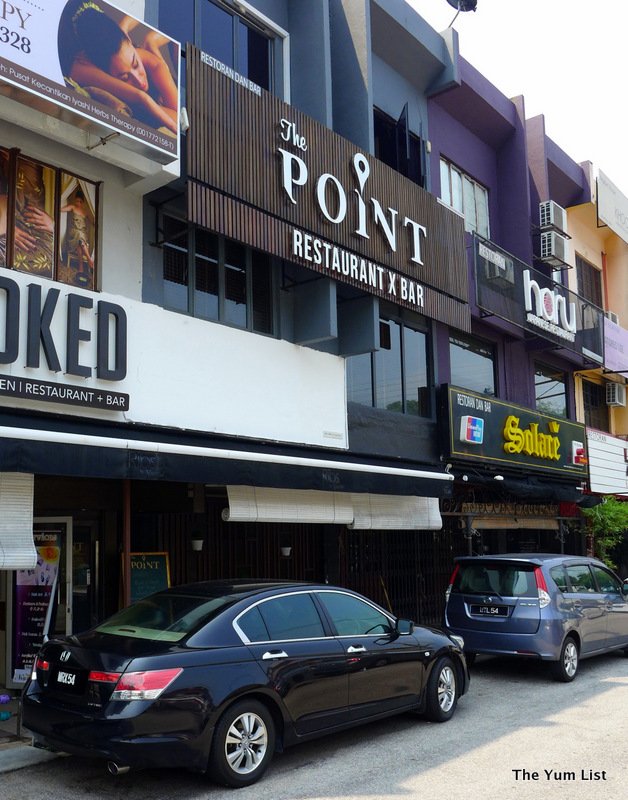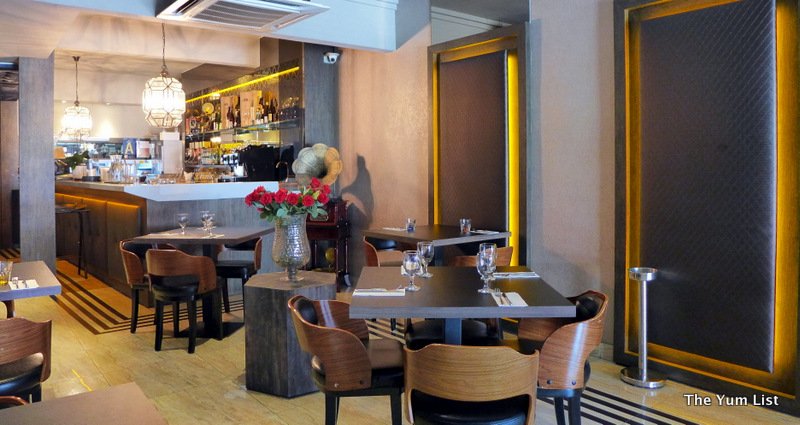 Moments later I am presented with my caffeine concoction of choice – the Flat White – perfectly presented in an art deco style gold plated cup and saucer set, rendering me speechless. I have become so used to take away cups and mass produced, thick rimmed, chip-proof china I have completely forgotten what it is like to sip delicately from an elegantly crafted piece of porcelain. It is intoxicating. And I happily admit that the smoothly brewed coffee within tasted all the better for its sophisticated wrapping.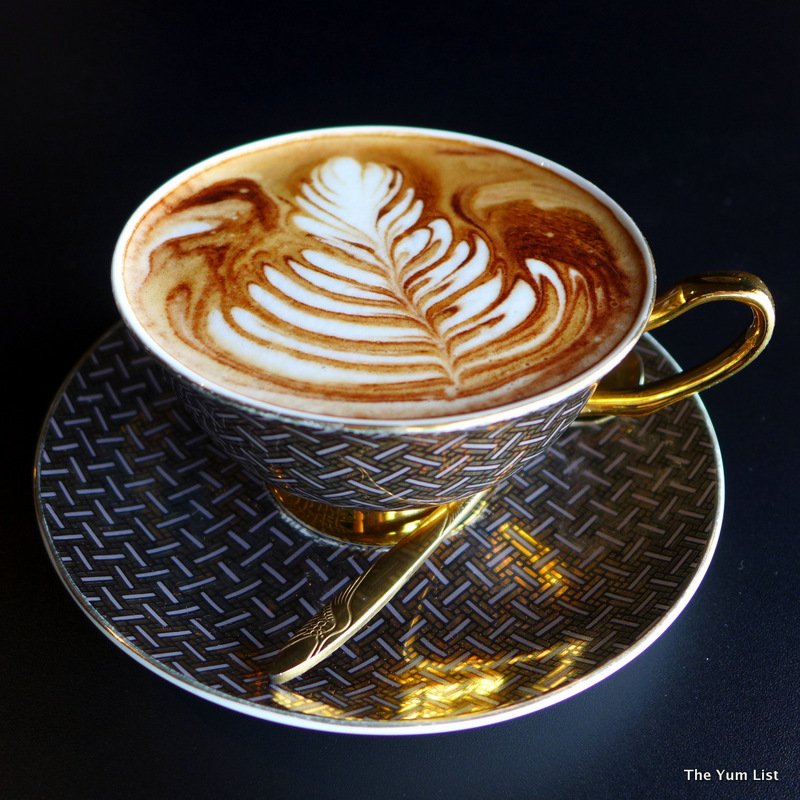 Our entrees are quick to follow and we start with the Ohayou Hokkaido Scallops (RM48). The perfectly tender scallops are gently caramelised around the edges, served on a bed of cauliflower puree with a faint mushroom and garlic sauce and topped with a wafer of lightly battered bacon. A peanut and Japanese kelp crumble adds saltiness and crunch and fresh, crisp asparagus shoots lend a touch of green to the plate. Each of the flavours are subtle, sitting harmoniously together while not overpowering the scallop's leading role.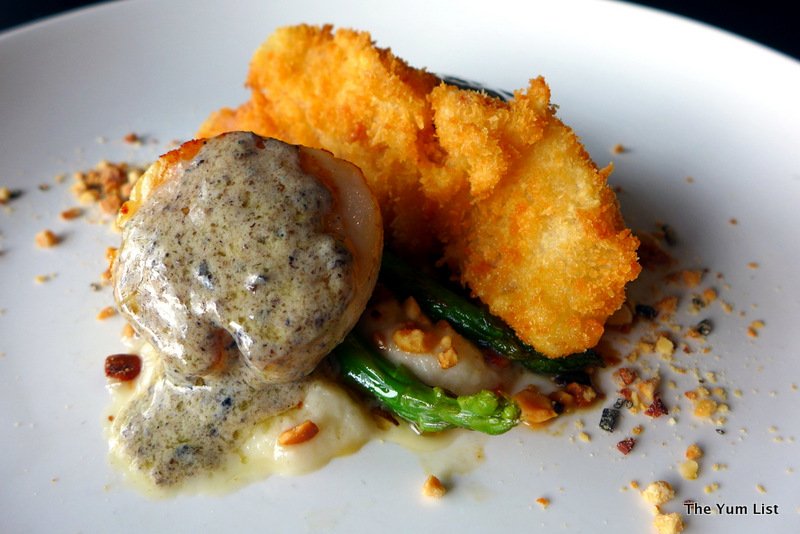 Next up is the Truffled Angel (RM30). Finely cooked al dente angel hair pasta is cooled and fused with a slightly sweet Japanese soy sauce jelly, finely balanced with the saltiness of Avruga Caviar. PR Manager Thrishie Thavabalan declares this her favourite starter on the menu, and we agree. The luxuriousness and elegance of this dish alone make a visit to The Point a very worthwhile experience.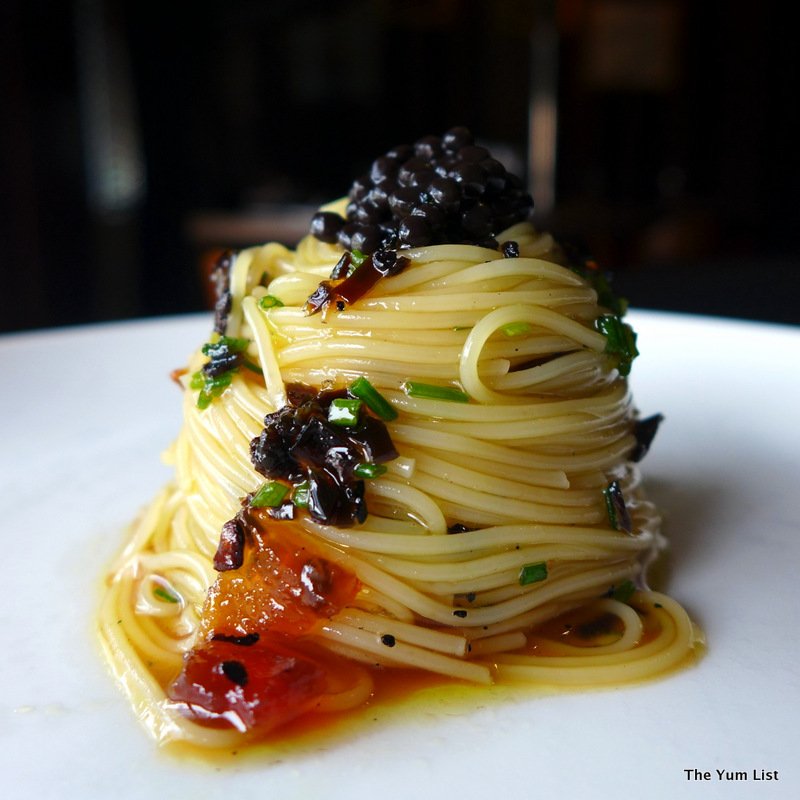 The Suckling Pleasure (RM52) arrives and on first bite it disintegrates on the tongue. Kua's sous vide talent has created an incredible softness in the meat. The top layer is sealed with a slight crispness and the addition of a balsamic and plum glaze creates a lingering sweetness. If you are a fan of pork belly, this dish is a must.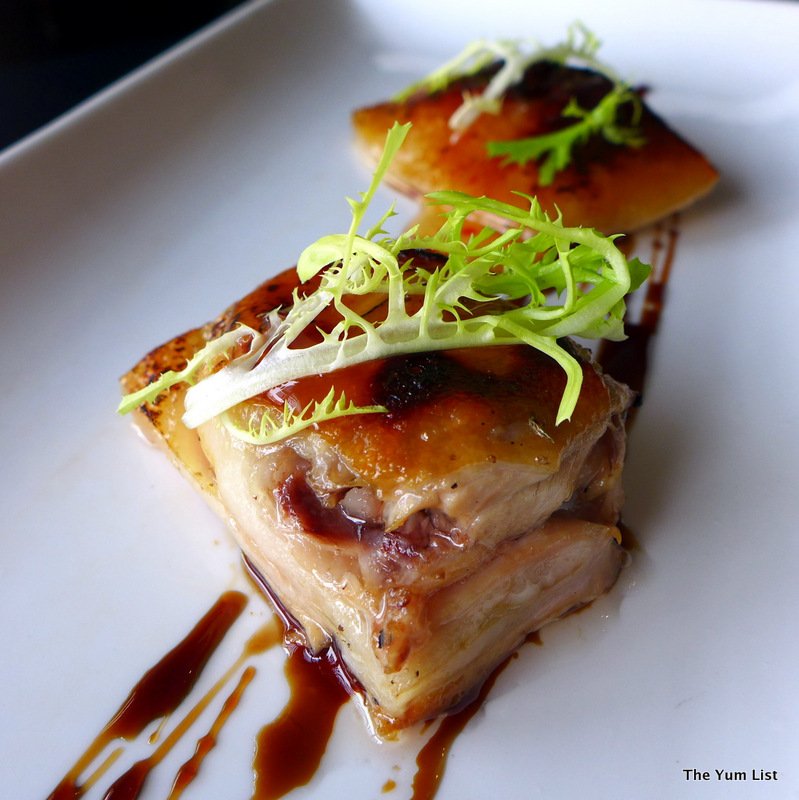 For mains, the Reconstructed Bak Kut Teh (RM65) is General Manager David Lieu's recommendation and is a deconstructed version of the traditional Malaysian soup. The Point's own secret combination of herbs is reduced and served as a separate broth next to a stacked layering of textures. Twelve hour sous vide Iberico pork, imported from Spain, flakes apart at the lightest touch, topped with tempura enoki and shimeji mushrooms for crunch, and a serving of quinoa and bok choy are a healthier alternative to the common rice accompaniment.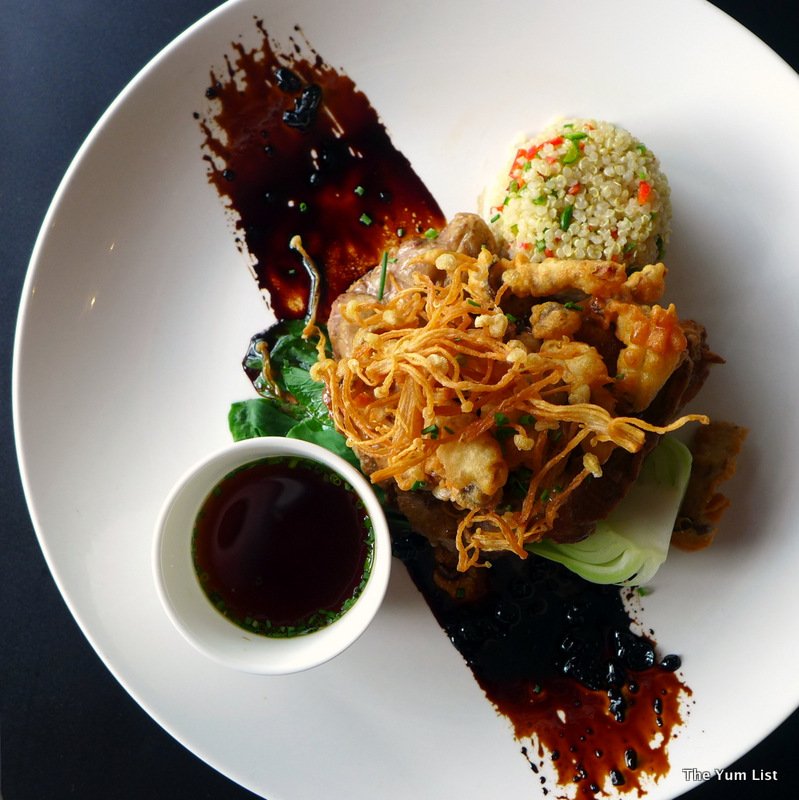 The Per 'Chick' (RM42) is also sous vide after marinating for a day, before being lightly sealed with a hot lamp. Served on a bed of mash and asparagus, the percik sauce is a flavoursome blend of ground chilli, garlic, lemongrass, ginger and coconut milk and is a far superior version than some of the traditional curries which can overpower the taste of the meat. A sprinkling of crispy quinoa provides the metaphorical icing on the cake.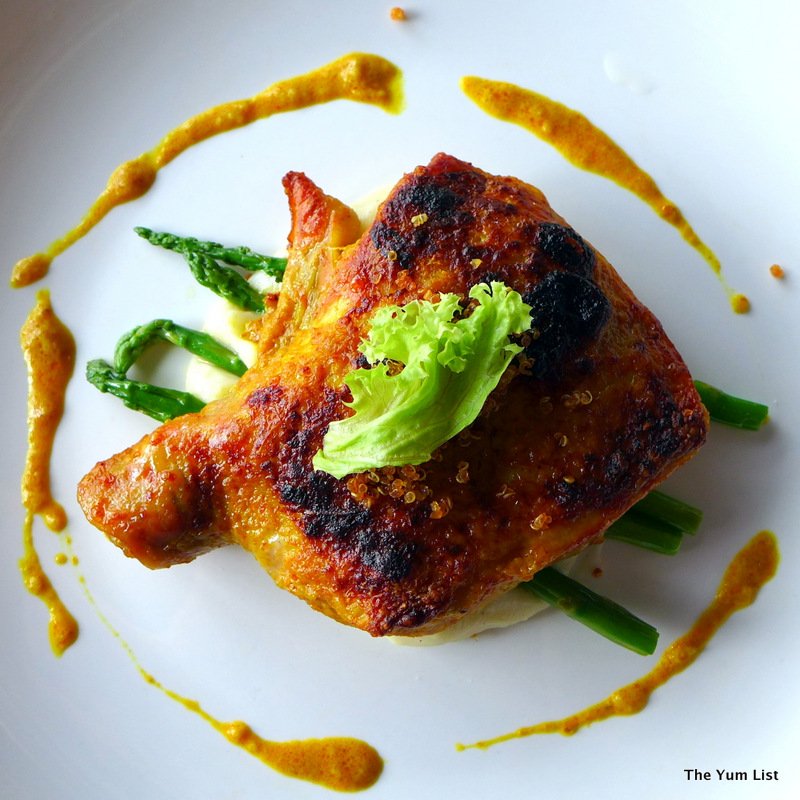 Our third main selection is one that instantly transports us all back to Rome, and stories of favourite Italian meal experiences start flying around the table. When the Italians serve pasta they use very few ingredients, combining pure and wholesome flavours simply and allowing them to sing. The Prawn Lingo (RM32) replicates this with a rustic pesto of shredded basil, parsley and pine nuts stirred through fresh pasta with a touch of cream and Parmigiana Reggiano cheese to bind. Topped with a single juicy jumbo prawn, this dish is the opposite of over-complicated pretention. It is abbiocco inducing.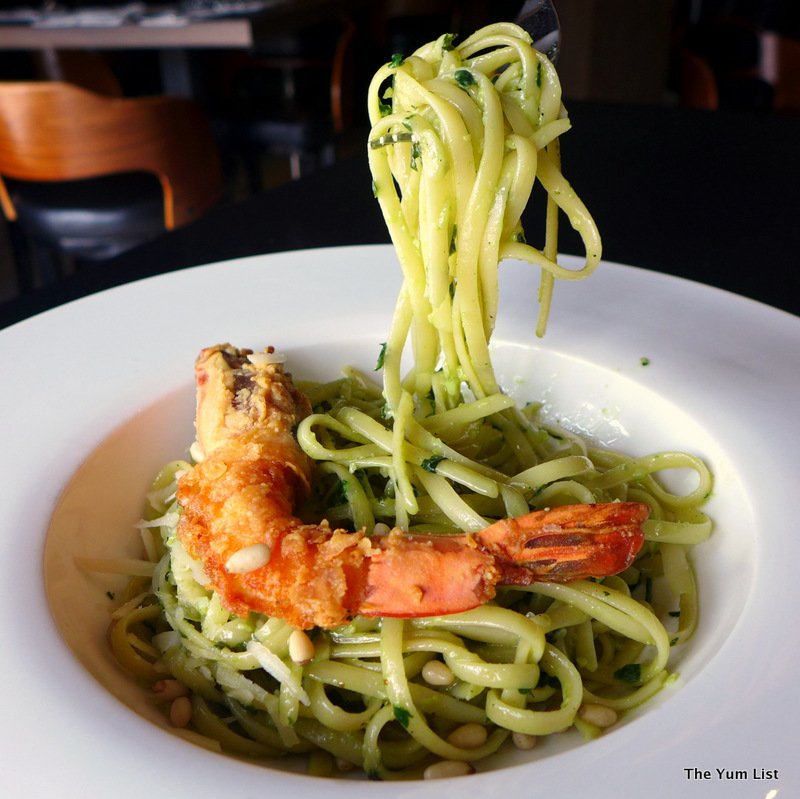 While letting our spectacular meal settle we decide to try some cocktails, and Lieu's creations do not disappoint. His Spice Up (RM35) delivers a mouthful of sweet fruit melody to start before a fabulous heat spreads down the back of your throat owing to the generous dash of Tabasco.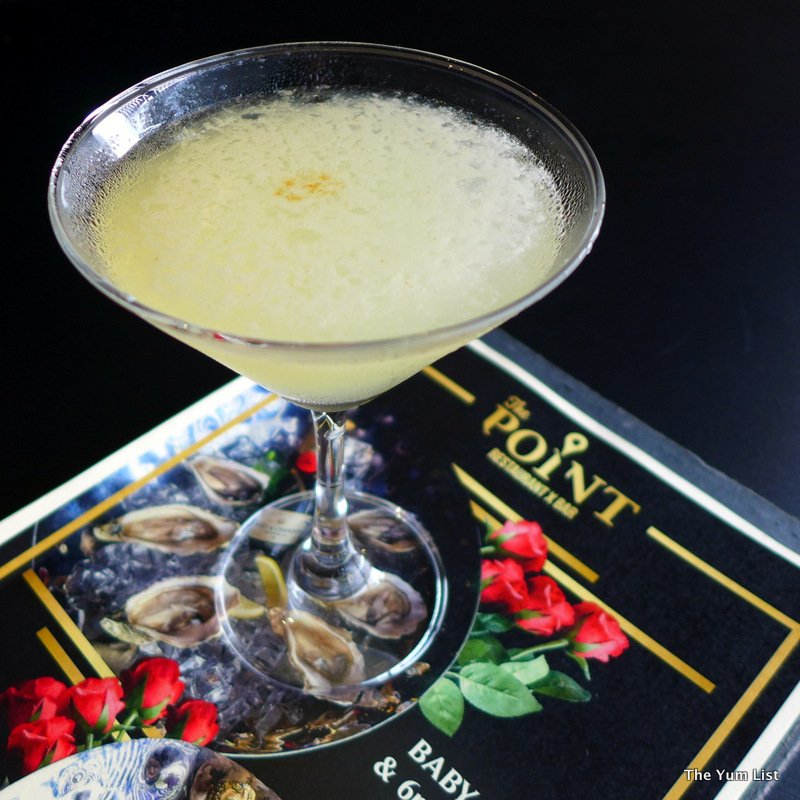 Equally fabulous, the Point Warrior (RM45) adds a sense of dramatic flair as Lieu swirls cinnamon smoke into a decanter holding a cognac and brandy mixture. The golden liquid is infused with smoke and continues to emit faint wisps long after being poured into the waiting brandy balloon. For those who love the idea of brandy and cigars after dinner but cannot stomach the bitter pall and health risks, why not drink the smoke in your brandy? This particular treat has us all leaning back in our chairs, twirling imaginary moustaches and rolling our vowels. How devilishly divine!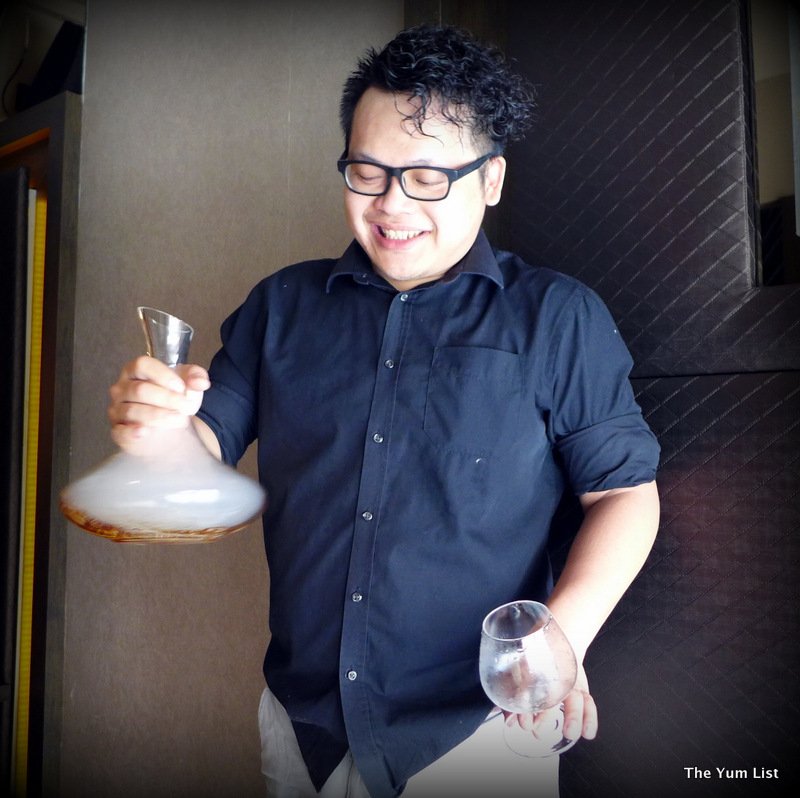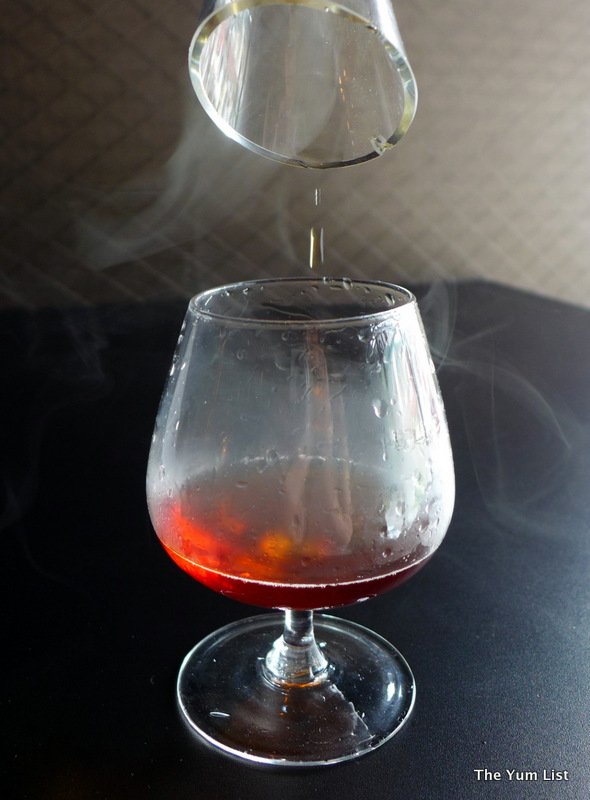 Served with a trio of desserts we embark on our final degustation.
The Kahlua and Bailey's infused crème brulee in Sweet Surrender (RM25) delivers a satisfying crack when tapped with the back of a spoon, revealing a silky smooth layer beneath that effortlessly hugs the underside of the same spoon when inverted. The delicious liqueurs are offset by a side of nut crumble and seasonal berries.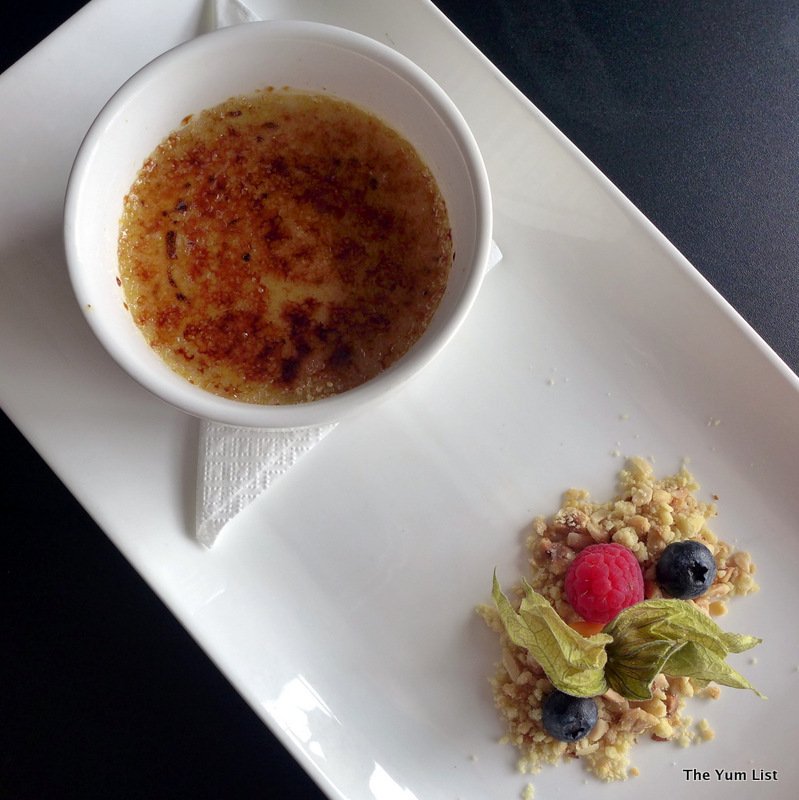 A super dense, rich and downright decadent brownie earns the name Fudge-ing Good (RM25), its melody of sweet and bitter chocolate underpinned by tones of tart raspberry, pistachio and seriously creamy vanilla sorbet.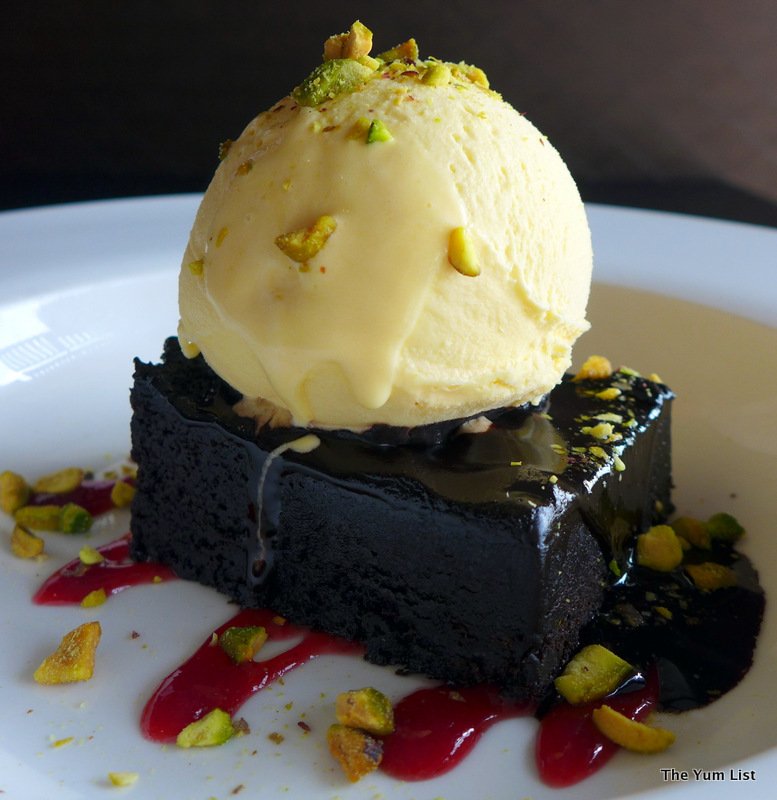 The Kahlua Affogato (RM25) provides the ideal finishing notes to our indulgence. The aforementioned vanilla sorbet tops off a strong espresso made velvety smooth with coffee liqueur.
Feeling sated and relaxed we take the time to appreciate our surrounds. Soft, sparkling shadows are painted on the ceiling from the led lit chandeliers hanging over the bar. Dark luxurious textures of velvet, linen and leather mingle with the sheen of wood and shine of cream marble. Highlights of brass from a gramophone sitting in the corner are echoed in an eye-catching light fixture made from the bells of brass instruments. The setting reflects the taste scheme of the menu – beautiful whole ingredients layered in a play on texture to create pleasure and music.
The Point is open for dinner and drinks from Monday to Sunday, and for brunch also Wednesday to Sunday. The upstairs bar also has many drawcards with gin and jazz on Mondays, Oyster night on Tuesday, Ladies night on Wednesday (with free flow of drinks for those of the fairer sex), Men's night on Friday (with whiskey specials), regular live bands, and a private room available for more exclusive gatherings. For those not wishing to limit their excess, hangover pills are also on offer.
Reasons to visit: Sous vide slow cooking at its best, the Truffled Angel, Bak Kuh Teh rediscovered and reimagined, the utterly decadent Sweet Surrender, and smoke and brandy in style with The Point Warrior.
The Point Restaurant and Bar
First and Second Floor
122 Jalan Kasah,
Damansara Heights, 50490 Kuala Lumpur, Malaysia
[email protected]
www.thepointkl.com.my
www.facebook.com/thepointKL
+6 03 2011 8008