The advantage of staying on Pantai Cenang in Langkawi is that there are many food and beverage outlets within walking distance from most hotels. We find much delight in reaching our destination barefoot on a beach path, ocean lapping the shore in the foreground with the sun setting as the backdrop. And… this is just how we reached Thirstday Bar and Restaurant from our home by the sea, Casa del Mar.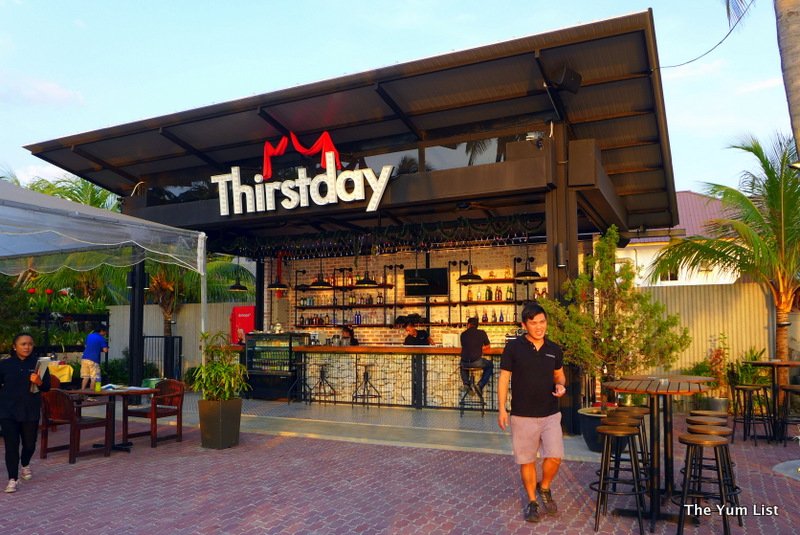 Thirstday Bar and Restaurant is run by two enthusiastic, yet very humble brothers. The Low boys convinced their dad (who owns the famous seafood restaurant in Langkawi, Orchid Ria) to allow them to take over the property's beach frontage to set up a bar. The restaurant is highly successful and it took them some persistent pestering to persuade their father, but the boys' insistence and desire to do something a little more modern paid off, and they now have what we consider one of the most attractive bars on Pantai Cenang. Foregoing the 'rustic' look that the majority of beach bars claim on the strip, they've created a unique space with a contemporary feel, while maintaining the relaxed island mood the shore is known for.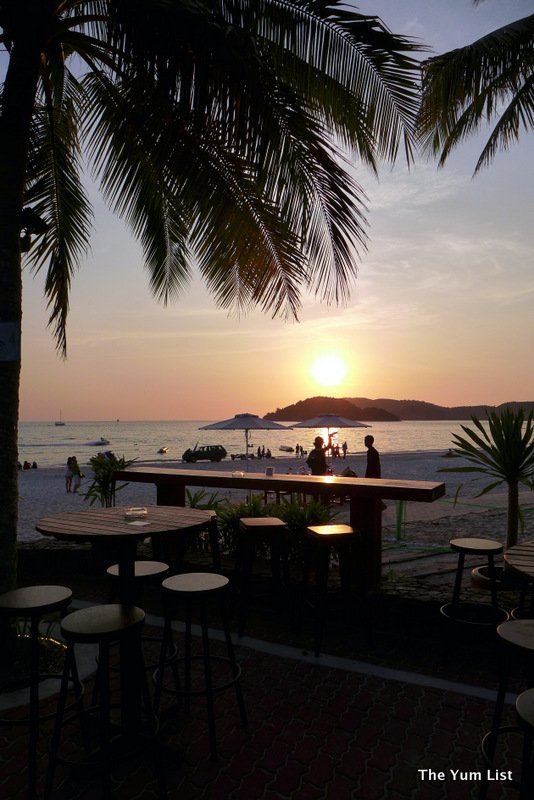 Sunset and cocktails form a harmonious marriage and the spacious open-walled bar gifts prime views. Beverages here are an extraordinarily good deal when we compare to KL prices, but they are a couple of ringgit above the average along the strip. The excellent service, furniture that is not plastic, and smart setting easily justify those couple of rinngit. Most cocktails hover around RM20 and it's with a Campari, Gin and Tonic, and Tequila Sunrise that we salute the sun's fading rays.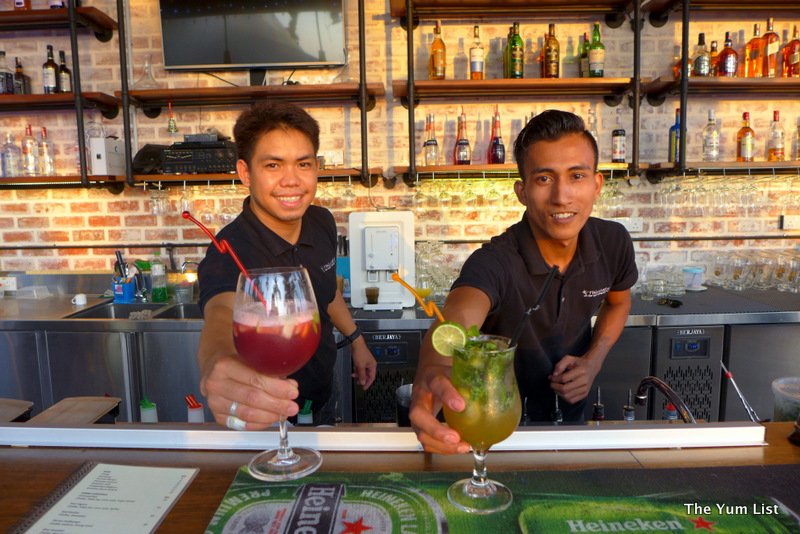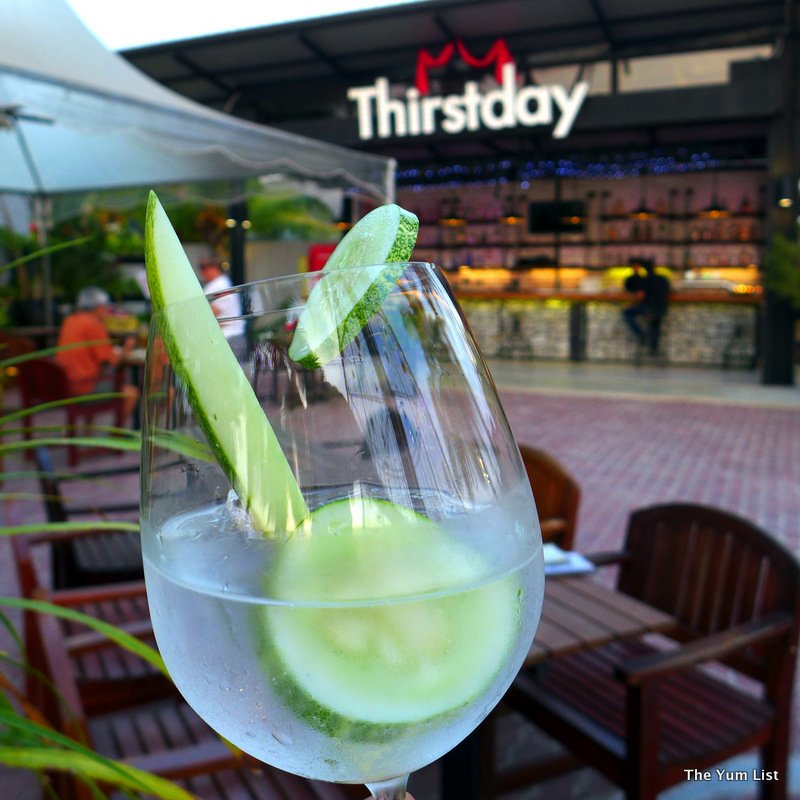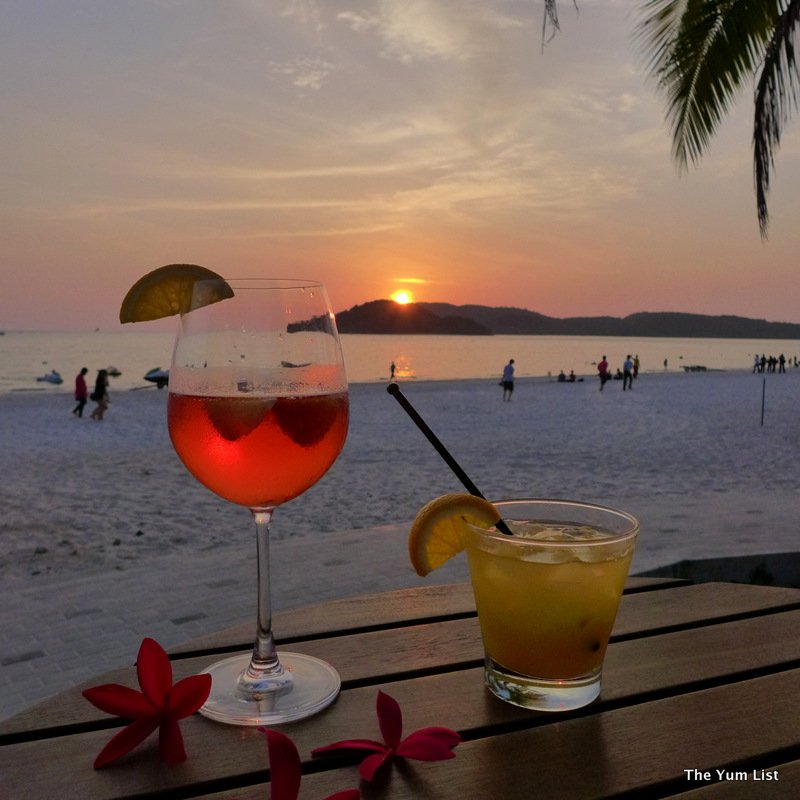 Currently the food menu comes from Orchid Ria, but the Low brothers have dreams to bring the family into more hip times with a yearning for a modern line-up with creative plating and international flavours. Dad is certainly onto a winning formula though and we're happy to have a little of the old school while the bar menu is in transition.
* Please note: most of the photos below show a half portion, not the full size that prices are quoted for.
Steamed Garlic Oyster (RM38 for two pieces) is presented in a giant shell with a pile of fresh garlic and herbs blanketing the top. Glass noodles are in a side spoon. "It's Chinese cooking with western presentation, tradition meets new generation," says Low. Before I've finished photographing, hubby is singing the praises of the freshness and flavour of the entrant, "It's gorgeous. Oh wow. Unbelievable. I haven't tried this for some time." We don't plan on talking to anyone that hasn't eaten with us this evening though, as the wonderful tang of the garlic will force us into social selectiveness.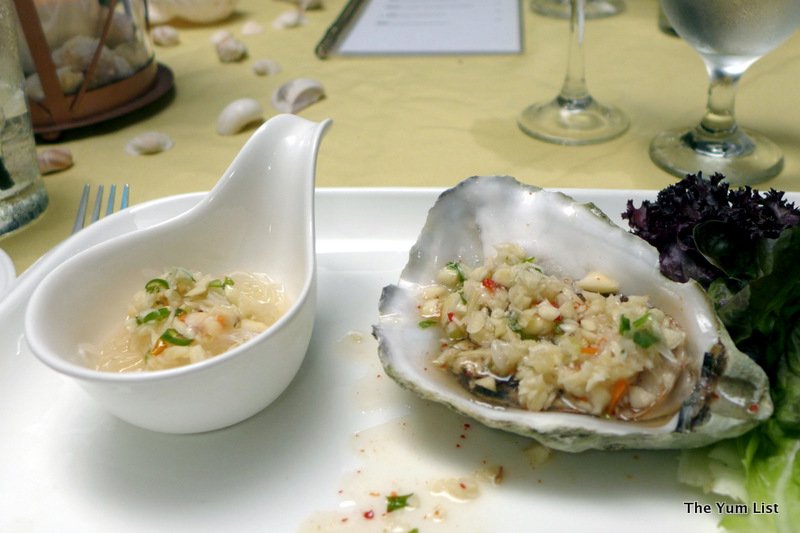 Customers choose the Tiger Grouper, a farmed fish, from the aquarium. It's weighed and the price given before it's cooked to your liking. Being experts in seafood the staff recommend the best cooking method for each fish, and for this one the staff say Chinese customers usually prefer it to be steamed, while westerners favour it grilled. Seasoned with salt and pepper and grilled till white and flaky, the fish is delightfully moist. Sided with a colourful pile of stir-fried veggies, and a delicious homemade barbecue sauce, it's a very satisfying plate.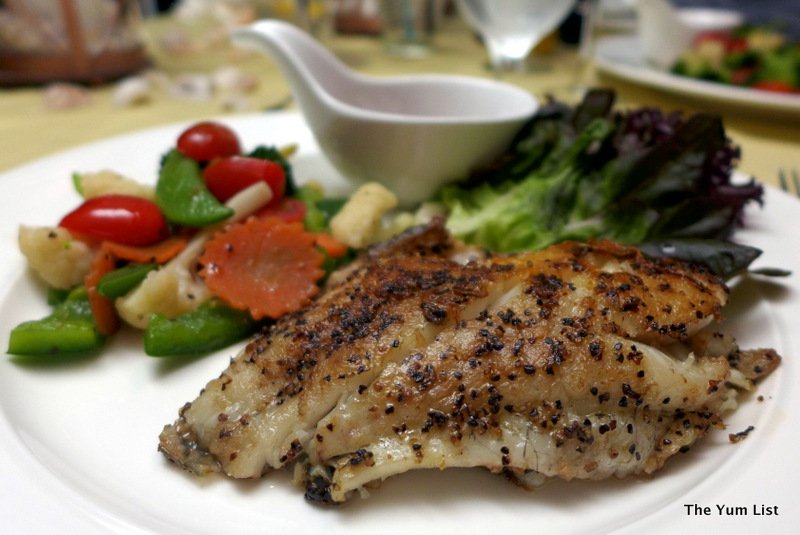 We've heard rumours of the enormity of the jumbo Tiger Prawns (2 pieces 400 gram, RM80) here and the one that's on my plate is surely a meal in itself – Low tells me however that it's only considered medium size! It's deep fried in a garlic batter, and accompanied by a mound of French fries and assorted greens with house made tartar sauce for dipping.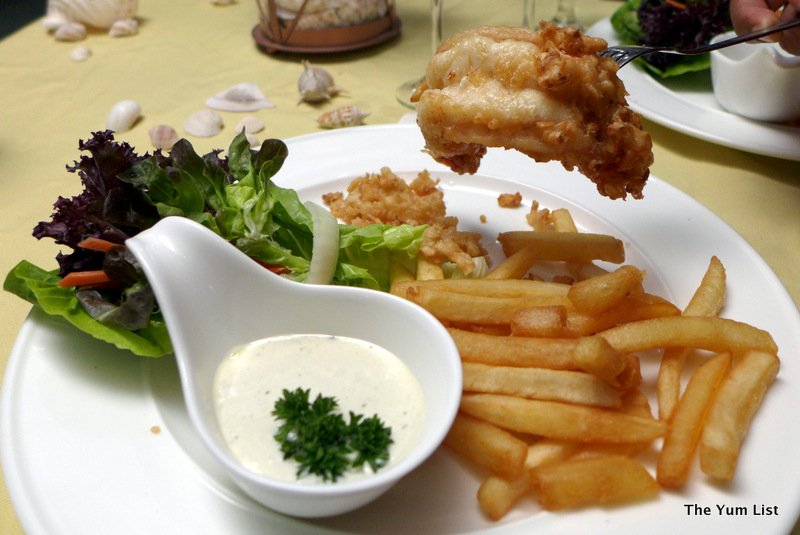 We're sharing the Signature Butter Lobster so have a half portion, but they're usually served as a whole, which is about 600 grams (RM158). We cheerfully discover that the shell is purely for decoration. The meat has been removed from the carapace and fried with butter and egg yolk – this is the pile of golden brown that centres the plate. It's tasty on its own, but a few drops of the lemon wedge serves to elevate the flavours. As we all commend its deliciousness, younger brother Low informs that recipe hasn't changed in 30 years. Senior Low chimes in, "We want to keep your heart in Langkawi. The way to keep a man's heart is through his stomach."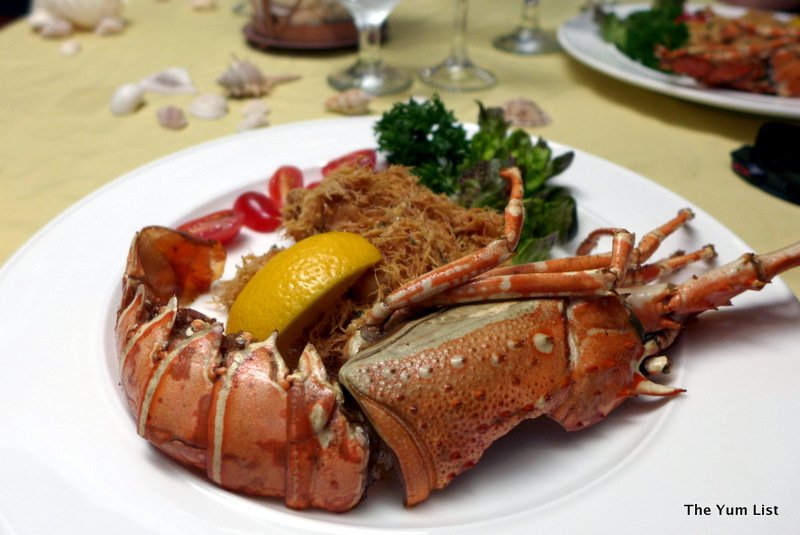 Desserts are simple: fruit or ice cream. And after such a decadent meal we only desire a spoonful of sweet to end. Three creamy scoops of coconut ice cream brim over the top of a halved coconut shell in their Signature Coconut Ice-Cream (RM15). Red beans, peanuts and corn kernels supply texture and colour on the top. Demonstrating just how fresh this dessert is, the water from the coconut is served in a glass alongside. Wow! This is a must order.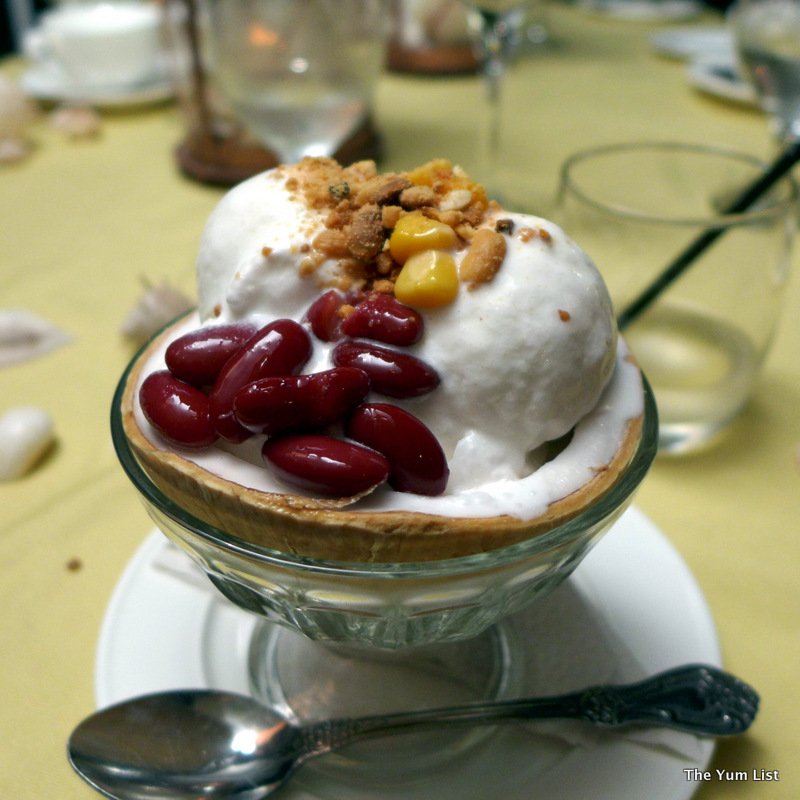 A traditional coffee conclusion could easily be replaced with an Espresso Martini. Thirstday's version with Kahlua and vodka promises to even out the caffeine buzz allowing us to lull into a peaceful night's rest. Foregoing caffeine altogether, the Green Island cocktail could just as easily replace tea or dessert with its ambrosial profile.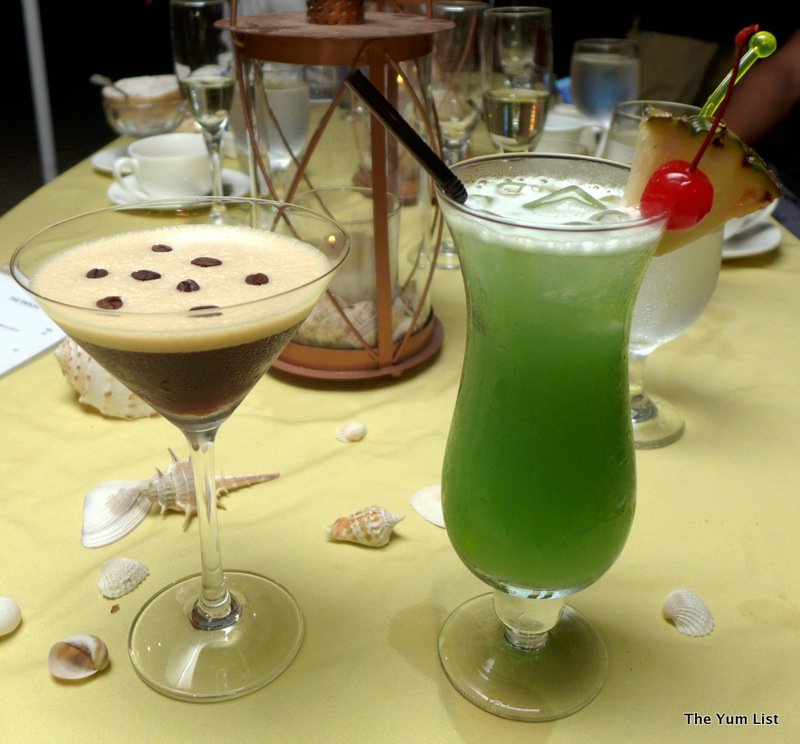 Reasons to visit: Signature Coconut Ice-Cream (don't miss it – yum!); smart casual setting on the beach; charming owners humbly working towards their dream; currently some of the best seafood on the island and with the promise of more contemporary dishes to come.
Thirstday Bar and Restaurant
1225 Pantai Cenang
07000 Langkawi, Malaysia
+6 012 205 9912
www.facebook.com/Thirstday-BAR-Restaurant