Words: Craig J Selby   Photos: Monica Tindall
KomPassion II in TTDI is new to my list of pork-free favourites. Guided by Chef Kom (Kom-Passion, logical really), this restaurant doesn't fail to deliver on some spectacular, wallet-friendly Thai fusion tastes.
Popping by for a light lunch on a typically hot Sunday KL afternoon, we were delighted with the cool comfort that the restaurant offered. Exhibiting a quirky interior which makes strong use of recycled materials for décor highlights, KomPassion II is a great place to relax with friends, chit chat, and enjoy some very tasty cuisine. The space utilises a deconstructed theme – recycle, upcycle, or simply peel back to unveil interesting textures in what is left behind.The eclectic approach works well – it's a little bit funky, hipster(ish); certainly warm and welcoming.
Since we came in a small party, I had the opportunity to sample several of their unique drink options. I ordered Pineapple Passionfruit Juice, a fresh juice, which combined the obvious. With the unmistakable and intense passionfruit flavour, it was clearly evident from the "legs" that several fresh passionfruit were used in the preparation. A real blast for passionfruit lovers, such as myself, as it's not only taste, but texture too, which makes for a great drink.
My friends tried a variety of others – the "Blue Flower Sparkling", a not-so-subtle mix of soda with the flowers from the bunga telang plant to colour the beverage, but a tad too sweet for me. However, I do love the incorporation of such a beautiful, simple flower into a drink – bonus points from me. Miss M had an iced coffee – good rich flavour; the added advantage was the coffee-infused ice cube; ensuring that deep, luxurious coffee flavour and aroma lingered until the final sip. My other partner in crime opted for the Coconut Smoothie – this too received a big thumbs up for its freshness and bold taste.
With KomPassion II being a Thai-fusion restaurant, I was certainly looking forward to seeing how they take the essence of Thai cuisine, and embed other cultural techniques into the dishes. We were certainly rewarded with an apt selection of interesting dishes: distinctively Thai, but discerningly international.
For starters we had the Avocado Bean Sprout Salad, the Vietnamese Spring Roll with Smoked Duck, and Pucuk Paku Salad with Young Coconut. The three were delicious, with generous portions on each serve.
I am a huge fan of Paku, an East Malaysian vegetable, which is typically found stir-fried with garlic or belacan at Chinese restaurants. Here, crunchy paku was combined with fresh tomato, fresh coconut, and a dry coconut on the side to add further texture. Sweet, spicy, and tangy; this dish raised its hero, paku, beyond anything I have tried before. Note for beginners though: Paku IS an acquired taste, so go easy on your first serving!
Topped with fresh mint to pop the palette, our Avocado Bean Sprout Salad came bursting with the flavour of beet, pomelo, avocado and sprouts (naturally), and assorted edible seeds. Not at all spicy, this dish offered loads of distinctive fresh flavour and texture, and with a nice acidic balance.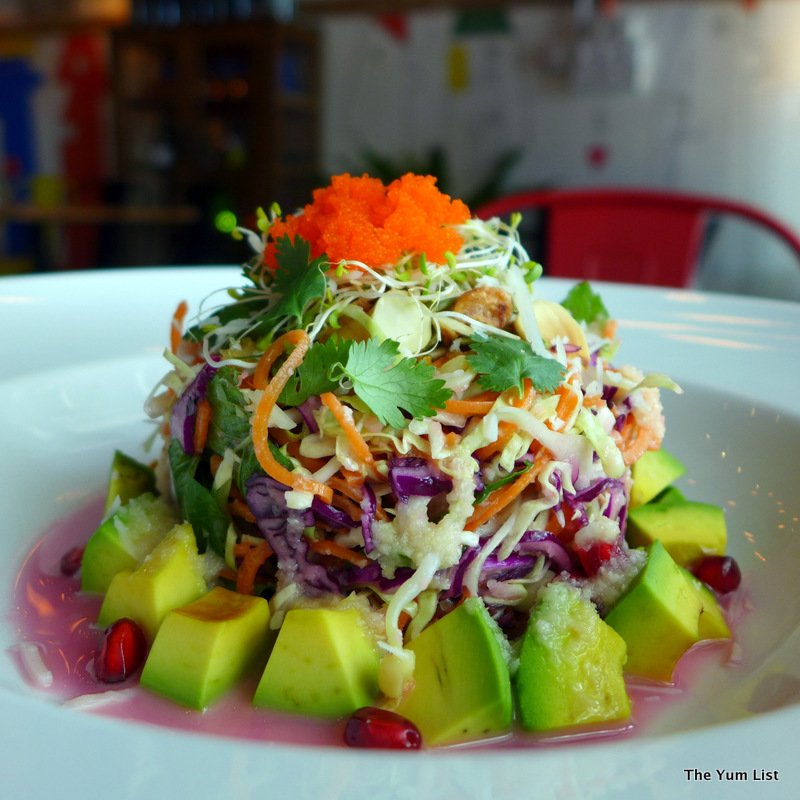 My favourite however, and something that I had been waiting for ever since I first laid eyes on KomPassion II's menu, was the Vietnamese Spring Rolls with Smoked Duck. Duck is an excellent substitute for what would have traditionally been pork or prawn. Bountiful slices of tender smoked duck breast, julienned vegetable, wrapped in translucent spring roll wrap atop of a bright and lively tomato salsa, and a sprinkling of assorted seeds – oozing great flavour with every bite. This dish was very clean, and certainly puts your taste buds in the right frame for a heartier main dish.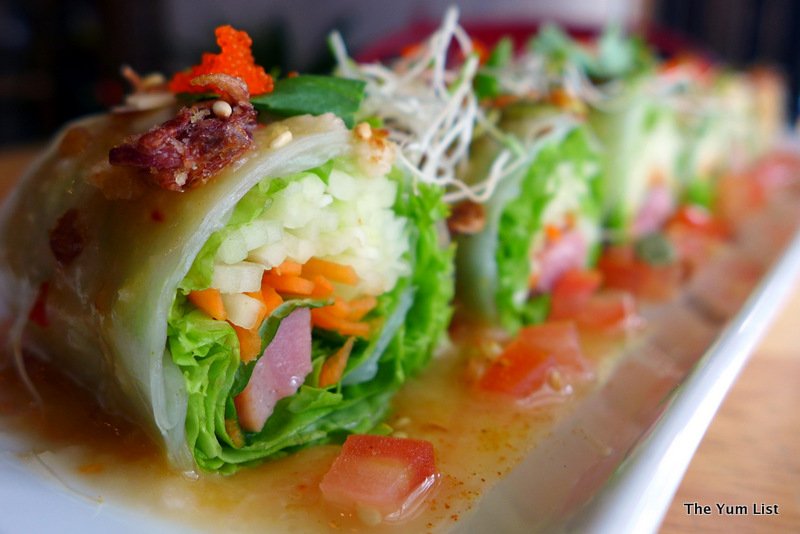 Speaking of mains, the one I'm writing home about was the Hang Laey Curry Duck – with lychee. Forget everything else on the menu – this one pushed all the right buttons for me and left me in my own state of bliss. Pity my dining companions also enjoyed it – and ate their fair share. A delicious dish best described as a combination of red and yellow curry, it exudes a slightly grainy texture. I love that, as I enjoy texture when I'm eating, even if it is from a curry. The lychee added a great sweetness to the dish, which helped to maintain a really good balance. I have to say, I didn't expect the poultry and the fruit to taste this good together – but it was a match made in heaven.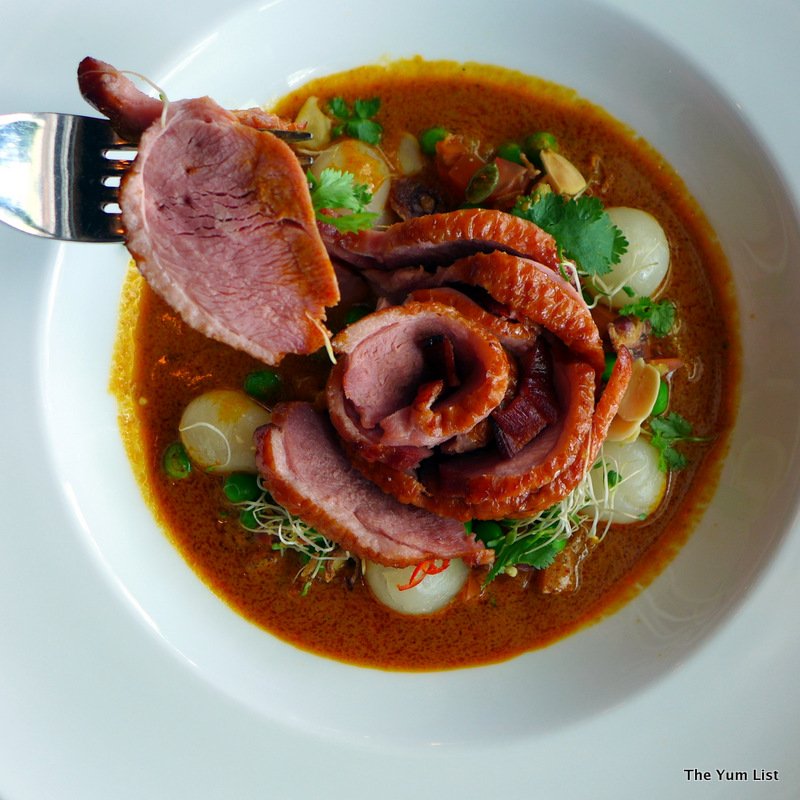 Also notable was the Green Curry Lobster and Avocado. Tomato, cauliflower, avocado, spring onions, eggplant, and lobster of course, all partying together in a thickened green curry. Lobster was cooked nicely, and didn't overpower the melting pot of flavours that this dish offered. With plump succulent chunks of tender lobster, this is certainly a 'seafoodie's' dream.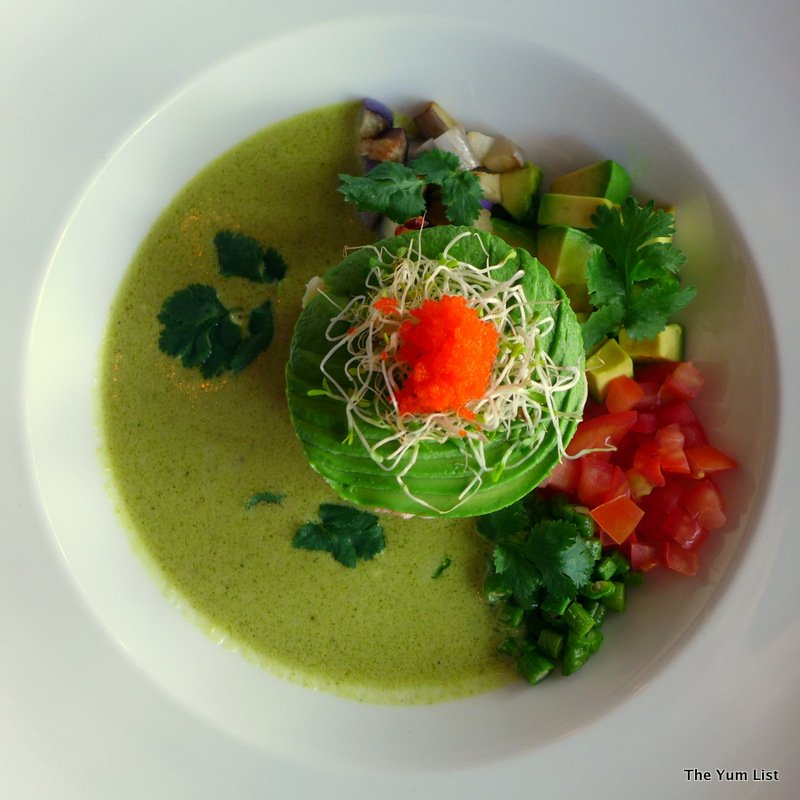 Given KomPassion II's fusion nature, I was really pleased to experience their Korean-inspired Bulgogi Beef with Jom Kha sauce. Not many Chef's can pull off a Korean-infused dish, but Kom did a great job. New to the menu (hint: watch this space in May), this was a special try out for us. And, it passed with flying colours. Grilled beef slices (this is what added oomph to the dish) were smothered in KomPassion II's delightful sauce, with a hint of ginger, and plentiful coconut.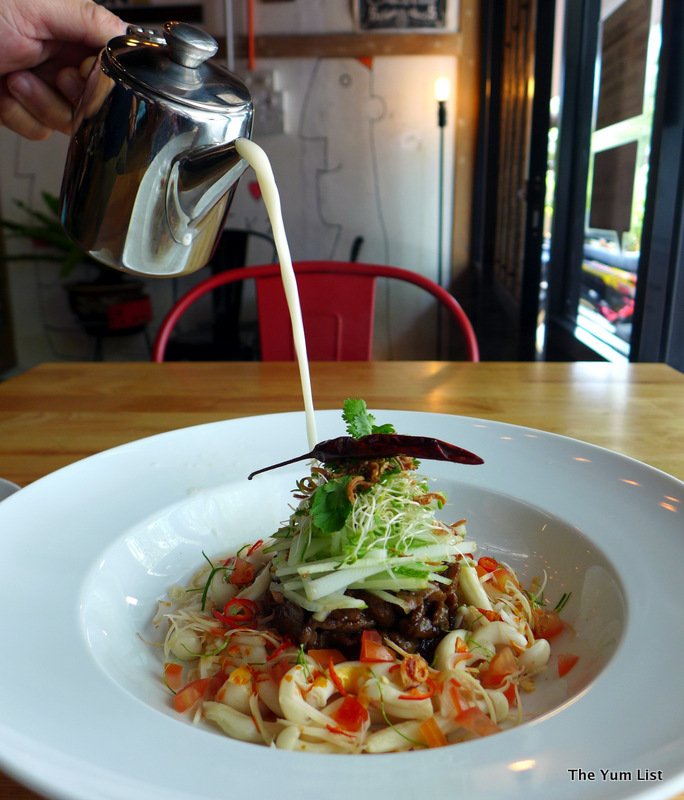 Despite being rather full by this time, we did manage to share a couple of desserts. A soft, fluffy, and quite decadent Mango Lime Cheese Cake grabbed my attention. Not to sweet (good for the diabetics among us), but abundant in flavour, this was the perfect ending for lunch. My assailants enjoyed the Mango Sticky Rice – equally as delicious, but somehow cheesecake appeals more to this ones' senses.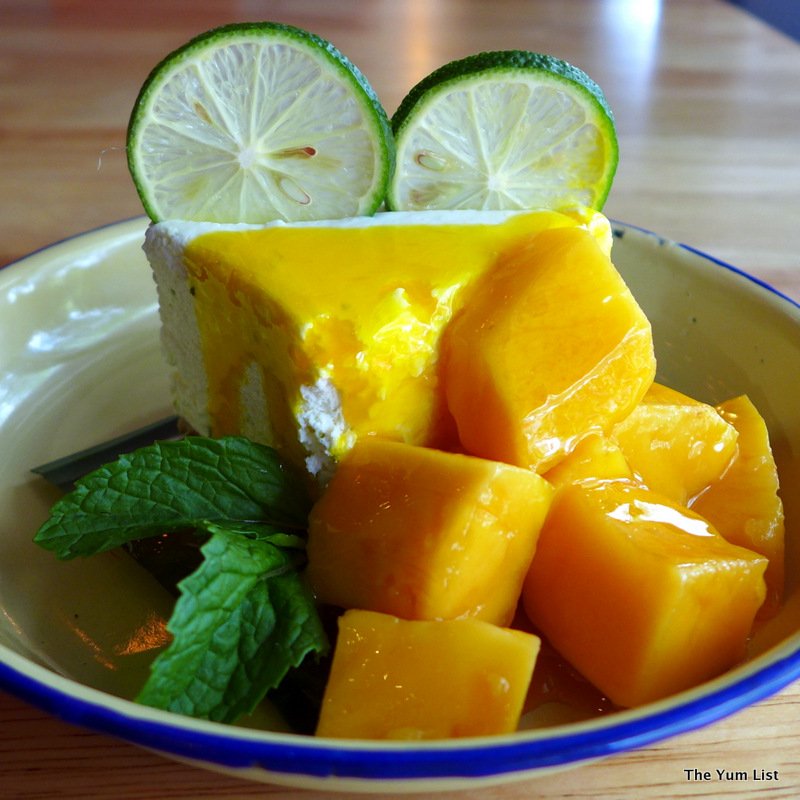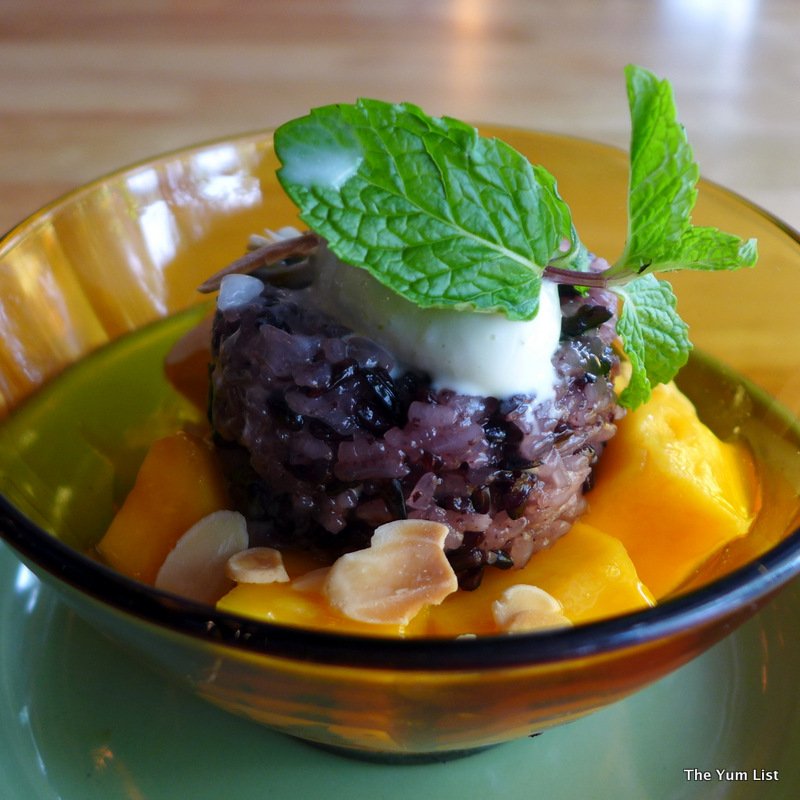 Our first visit to KomPassion II was definitely a winner. With new menu items being added from May onwards, we look forward to some more seriously good Thai fusion cuisine, and I for one, will be back. Now, bring on more of that duck …
Reasons to visit: quirky atmosphere; ALL of the salads mentioned above; we each had a favourite main – Craig – Hang Laey Curry Duck, Caning – Bulgogi beef, and Mon – Green Curry Lobster; choice of white or multi-grain rice.
KomPassion II Taman Tun
15 Lorong Datuk Sulaiman 7
Taman Tun Dr. Ismail
60 000 Kuala Lumpur, Malaysia
+6 03-7731 7016
www.facebook.com/KompassionII.TamanTun/
Tues – Sun 11:30 – 14:30
18:00 – 22:30