Words: Shaun Humphries     Photos: Monica Tindall
As someone who's currently floating through life, meeting a guy like Eddie Ng is a bit of an inspiration. As owner and head chef of REI Contemporary Sushi, Eddie knows exactly what he's meant to do on this planet – create wonderful food and share it with others.
"I'm still young and I have nothing to lose. As a young Malaysian chef, it's my duty to go out of bounds and do new things," said Eddie, during our recent Sunday evening visit to his new and stylish pop-up sushi bar, REI, on the ground floor of DC Restaurant in TTDI. "And, I love to share what I come up with."
Luckily, I love to eat what anybody comes up with – and I just happened to be sitting right in front of Eddie and a whole lot of fish.
Along with his cooking partner Barcspain (named after his parent's favourite football team Barcelona), Eddie's latest creation is a Sushi Omakase (RM180), which includes nine handmade specialty pieces of sushi, a hand roll and a homemade dessert (complete with a 'doggy' bag).
Watching these two young guys work and talk about food is worth the price of admission. As The Yum List's Caning put it, "It's like seeing a maestro conduct an orchestra."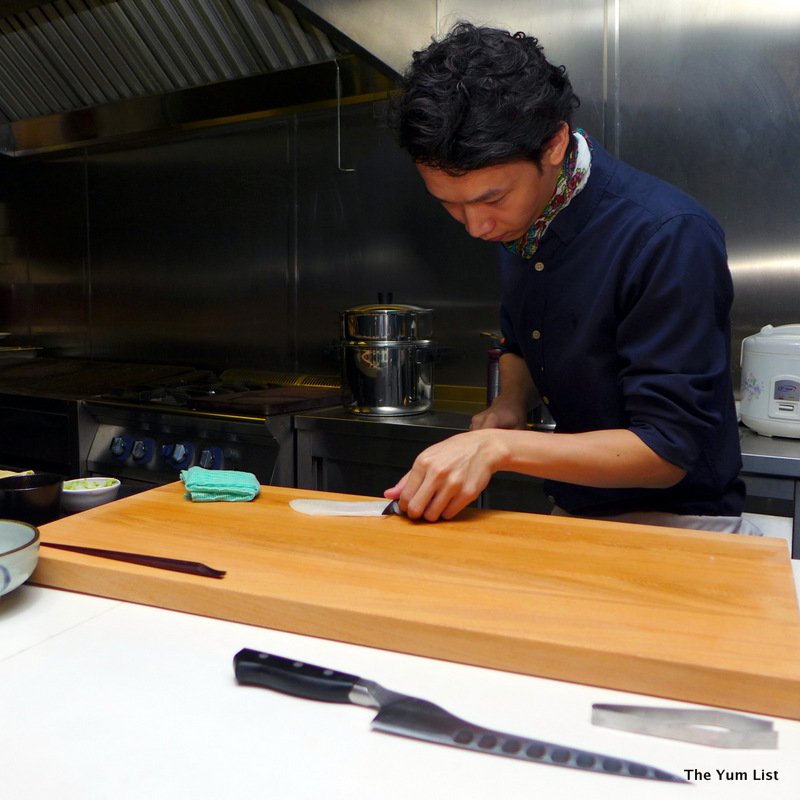 Completely in his element at the 8-seat sushi counter, Eddie's eyes light up as he shares his unique style of preparing sushi. Drawing from the Edo period in Japan and his training in Tokyo and London, he ages the fish for a week wrapped in a special type of paper and placed in a simple wooden box.
"The aging process brings out the full flavours of the seafood and makes for a richer, more complex taste," added Eddie. But, we didn't just take his word for it. It was time to sample the maestros' edible opus.
We began the meal with a Green Tea (hot or cold – RM2.30) and shared a bottle of Mio Sparkling Sake (RM24 per glass or RM68 per bottle). The sake was light, sweet and perfect to sip on in between bites. The trick was to try and keep enough in my glass to finish the meal. Either that, or just have multiple glasses. That seems easier.
The first piece from chef Eddie's fast-moving, elegant-looking hands was a generous piece of very soft squid served with Australian red seaweed flakes, a hint of lime and Sapporo sesame seeds lightly brushed with his daily house-made soy blend. Every bite brought out a unique taste and texture, and set the stage for what was to come.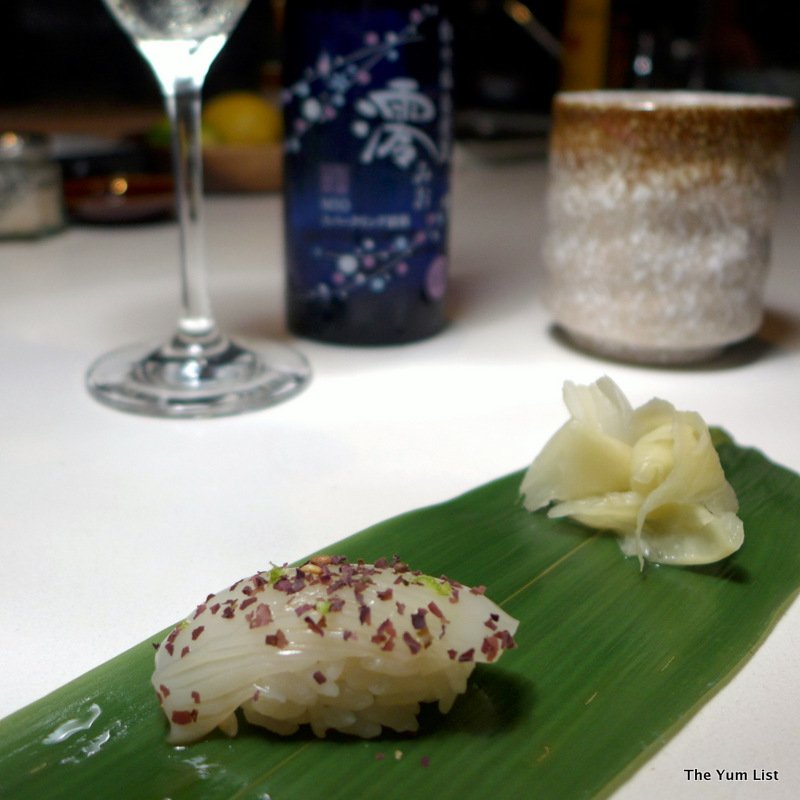 The torch came out next as the French-trained Barcspain expertly put a flame to three large prawns before adding lemon zest, braising them with the house blend and topping it off with koji-fermented shrimp paste. By mixing in a mouthful of sake, I was able to really bring out the citrusy sweetness of this creation.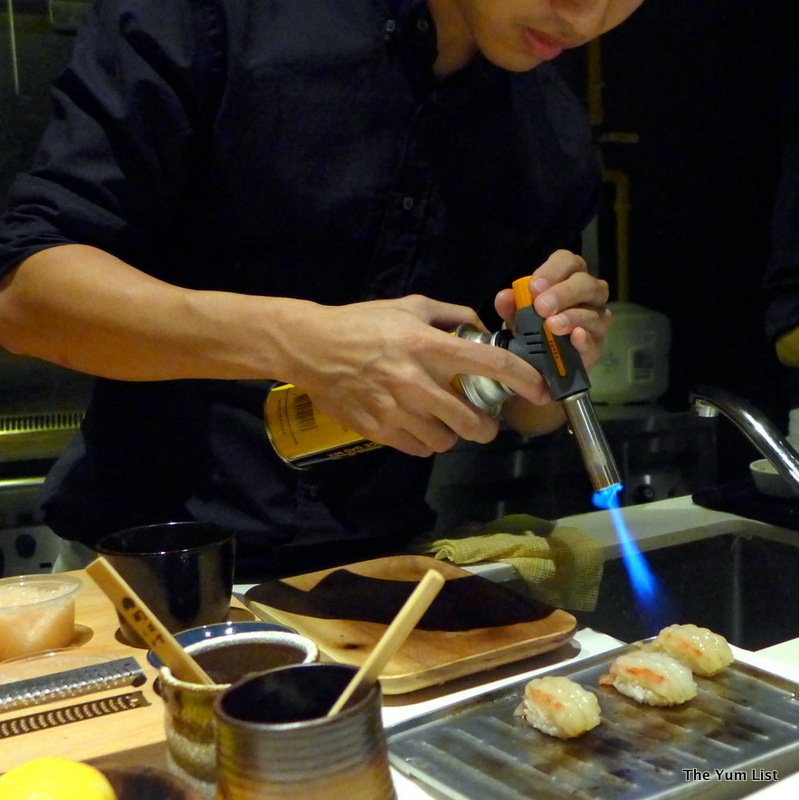 Next up was a juicy piece of skip-jack mackerel that was marinating in the house blend and deliciously exploded when I took the first bite. As quickly as that was devoured, out came a thinly sliced piece of Japanese snapper garnished with salted chili peppers from Kyoto, which produced an enjoyable pickled taste.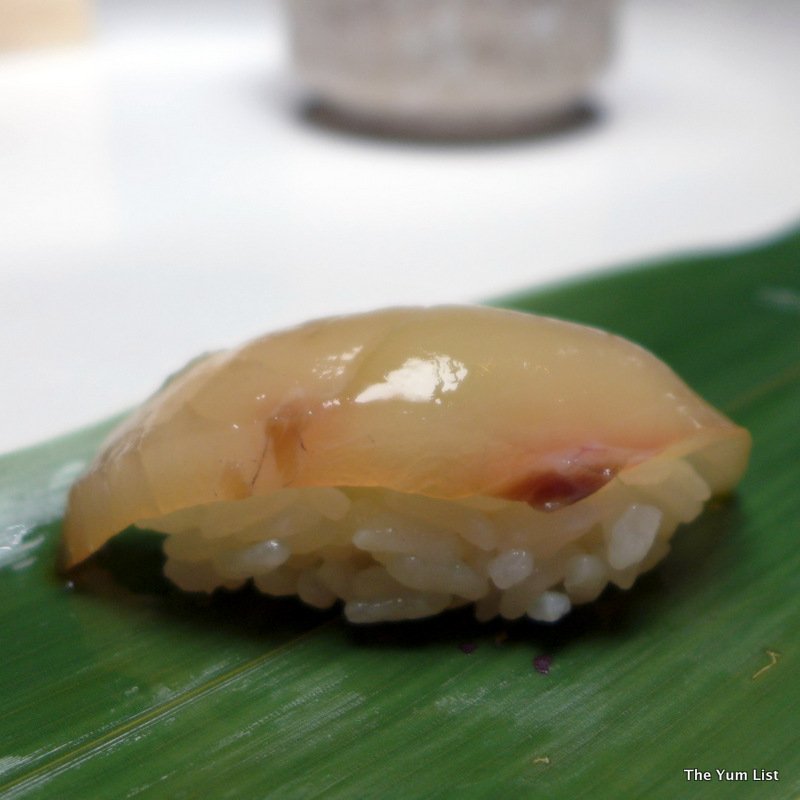 The flame was sparked up again for the Atlantic cutlassfish, which was served with Kyoto chili peppers and a splash of lime. The quick zap of heat mixing with the spice and citrus created a five-second adventure for my taste buds.
A piece of salmon roe sushi was served up next wrapped in a perfectly crunchy piece of seaweed imported from Japan. Every bite brought out a different taste and texture. Amazingly, each ingredient maintained its integrity throughout.
Our seventh creation was delicate scallop strips, which were marinated in a scallop stock and then were garnished with a sansho pepper (ground daily) and wrapped with the crunchy seaweed – a very satisfying way to end the first act of our meal.
Up next was a deep breath and a palate cleanser. Using local red and green apples mixed with ginger and calamansi juice served over ice, these two quick mouthfuls did the trick. We were ready for Eddie's signature pieces.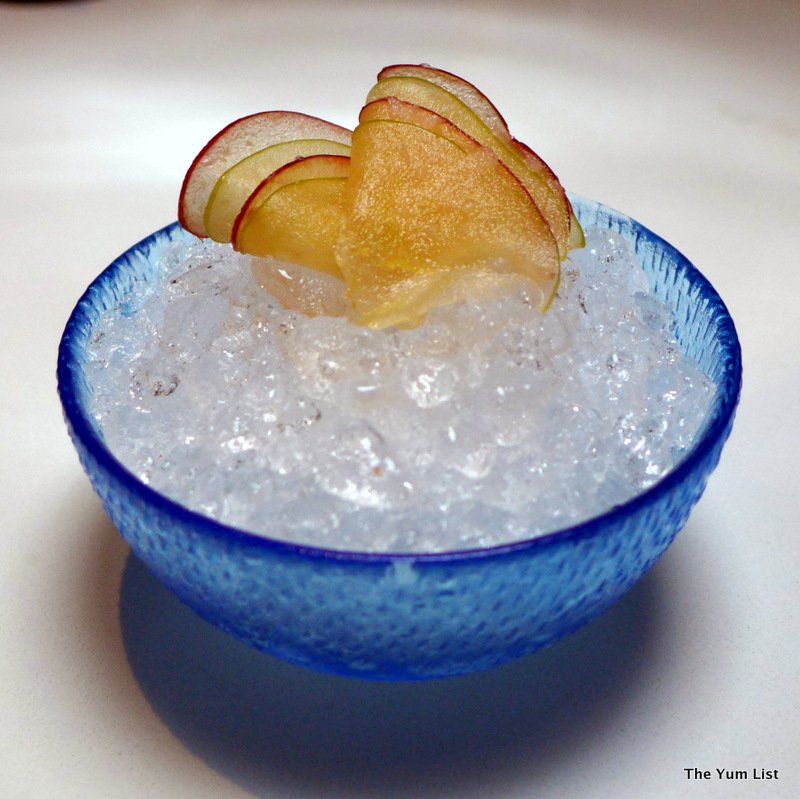 First up was a generous piece of tuna that was deep red, aged and melt-in-your-mouth tender. Marinating in the house blend for a week, I've never tasted tuna like this before: simple and delicious.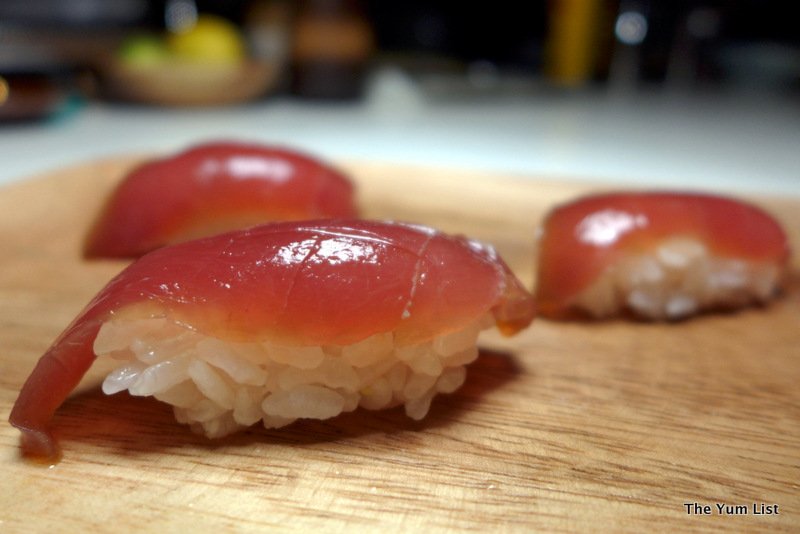 Our final offering was a piece of the week-aged fatty tuna (the most delicious part), which was seared and served with Australian river salt and one drop of truffle oil. The flavour from the tuna and oil was mouthwatering and made me quickly forget about the extra 'fatty' calories.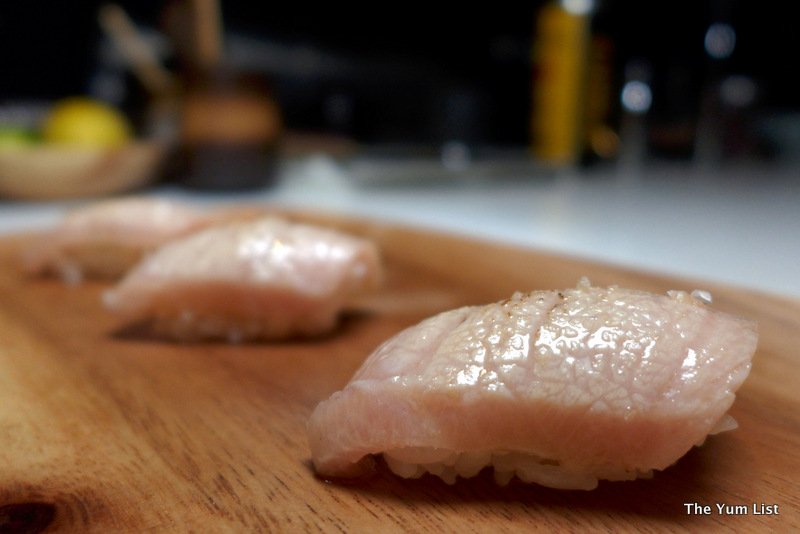 Before our food journey was complete, we were served a generous hand roll made with a couple pieces of yellowtail, pickled white radish and wrapped in the fancy Japanese seaweed. The roll tasted so good that we started chewing more slowly to make the experience last as long as possible.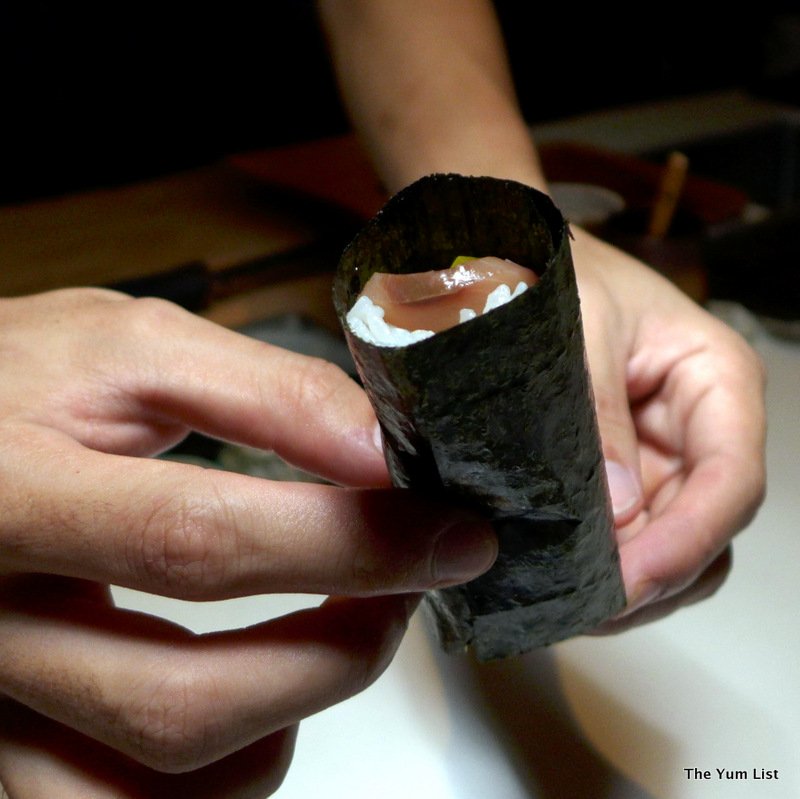 In grand culmination, served on a piece of nicely varnished wood, came dessert. The attention to detail was commendable – and the flavours and textures even better. The roasted soybean mousse topped with Malacca sugar, raspberries, green tea powder and cocoa sticks served over a couple nice chunks of homemade peanut brittle was simply outstanding. Add that to the Earl Grey tea muffin (delivered in a paper 'doggy' bag as we got ready to leave), and REI offers a completely unique and creative experience from start to finish.
REI is open Tuesday to Sunday with two seatings nightly at 7 and 9 p.m. Reservations are required by calling +6012 279 4188 from 10 a.m. to 5 p.m. or by sending Eddie a WhatsApp message. But make your appointment fast as Eddie plans to move on to his next food endeavour in a few months.
Reasons to visit: An intimate, creative food experience that will leave you feeling inspired. Every piece of sushi is unique, satisfying and delicious – unlike anything else you will find in KL. The soybean mousse is also an unexpected (and triumphant) finish to the meal.
REI Contemporary Sushi
Ground Floor DC Restaurant
44 Persiaran Zaaba
Taman Tun Dr Ismail (TTDI)
60000 Kuala Lumpur
Malaysia
+6012 279 4188

www.facebook.com/reipopup/