The Patisserie is an easy choice for a light meal when in the Bukit Bintang area. Escaping the frenzied city centre, The Ritz-Carlton, Kuala Lumpur provides a peaceful haven, brandishing attentive service, fresh dishes, and a stylish setting.
Mosaic floors are reflected in the mirror ceiling, and strong geometrical designs are repeated in oversized lamps and cushioned wall seating. A mouth-watering wall display of cakes and desserts plays an important role in decoration, just as do the gourmet products that line the shelves above the coffee bar.
I do love a compact menu, and The Patisserie's menu is ideal – enough variety to please both hubby and myself, but not too much to make choosing a chore.
Salads
Hubby begins with a Nicoise Salad (RM65) parading plentiful fresh greens, pink slices of tuna tataki, fingerling potatoes, cherry tomatoes, green beans and halved quail eggs. The dressing is served on the side, which we highly appreciate and a barbecued half lemon is lovely given a little squeeze on the fish.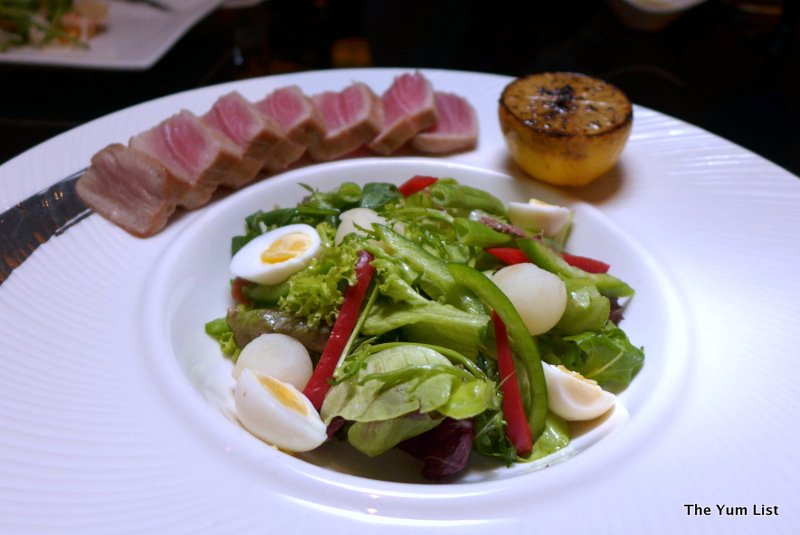 Healthy Ocean Trout Salad (RM65) is my pick and is excellent! Sous-vide trout is wonderfully moist and flaky, seasoned with a gentle lime dressing and well complemented with fennel, warmed orange slices, arugula and dill. Thin shavings of pecorino contribute a hint of saltiness to the top.
Soups
A thick pale soup is found in the Green Pea Soup (RM35). Textured pureed veggie is supplemented with a poached duck egg and truffle sabayon. It's mild in taste and makes a good in-between-courses dish if sharing, or a substantial plate if desiring something gentle as a main.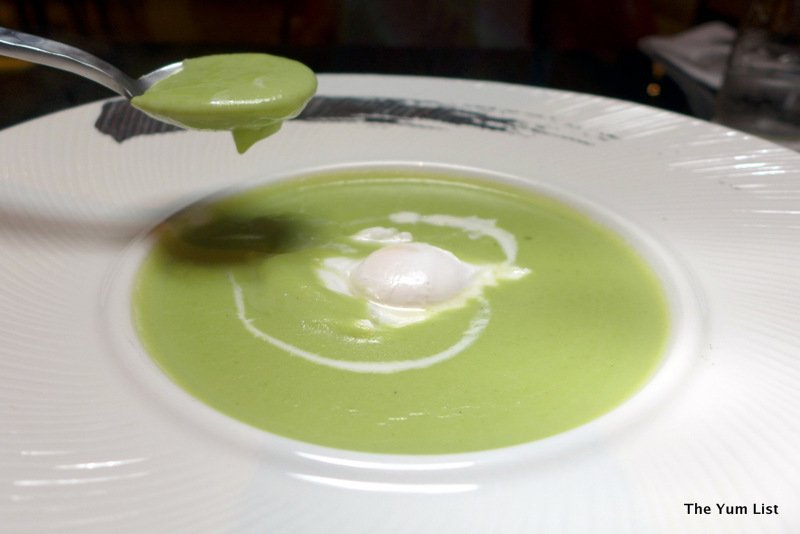 Hubby's Lobster Chowder (RM35) proves a creamy spooning with tiny cubes of carrot and celery, and a couple of pieces of meaty lobster in the centre. Again, it's a good texture, but mild in flavour. A little more chive jus and lemon zest might provide a welcome boost.
Pasta
There are a handful of pies, quiches and sandwiches on the menu too, but we decide to share a signature pasta dish, created by the General Manager of The Ritz-Carlton, Kuala Lumpur himself. Spaghetti Wagyu Bolognese (RM70) is made with a generous portion (250gm) of Margaret River beef. It looks impressive with a giant meatball balanced atop fresh tomato sauce and a mound of firm-to-the-bite spaghetti. Vibrant arugula leaves and shavings of fennel brighten the dish and lift the heaviness of the carbs and rich protein.
Dessert
Pastry chef, Tony Hoyle is responsible no doubt for countless waistlines expanding more than desired. His range of sumptuous handcrafted cakes, macarons and chocolate pralines are hard to resist, and on seductive display tempting even the strongest of willed with their alluring presentation. Despite our best intentions we give in and order the Carrot Cake (RM20). Layered with rich velvety cream cheese, the cake itself is superbly moist and edged with caramelized walnuts. It is indeed the 'icing on the cake' to a pleasant meal at The Patisserie.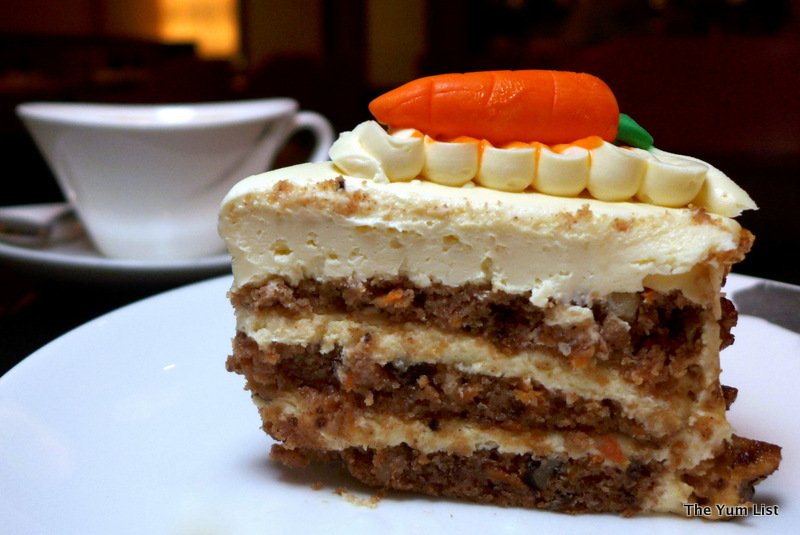 Reasons to visit: Healthy Ocean Trout Salad; Spaghetti Wagyu Bolognese; Carrot Cake.
The Patisserie
The Ritz-Carlton Kuala Lumpur
168 Jalan Imbi
55100 Kuala Lumpur
Malaysia
+ 03 2142 8000
www.facebook.com/RitzCarltonKL
www.ritzcarlton.com/en/hotels/malaysia/kuala-lumpur