Framed with floor to ceiling bookshelves, humming with the soft strokes of a skilled pianist, and warmly lit with muted wall lamps, The Library is the latest food and beverage concept to be unveiled following The Ritz-Carlton, Kuala Lumpur's recent revamp.
The dining experience revolves around a menu of the day based on fresh ingredients sourced that very morning. Chef's inspirations of three or four course menus are recommended with wine pairing.
Before moving to our cosy nook in The Library though, we begin the evening with an aperitif whipped up by Naresh the barman in the lounge. Oversized wing-backed chairs make us feel like royalty, and we're so swept up with Naresh's enthusiasm for bartending that we leave the drinks' selection in his hands.
As a result, our first beverage is a Tanq Stream. It's a layered drink, based with mixed berry compote and strawberry syrup, followed by a wallop of fresh lime juice, Tanqueray gin, and topped off with tonic water and ginger ale. Garnished with strawberries, blueberries, lime wedges and mint leaves, it's recommended you give it a good stir before sipping. Slightly effervescent and very refreshing, it's a great entrance to the evening.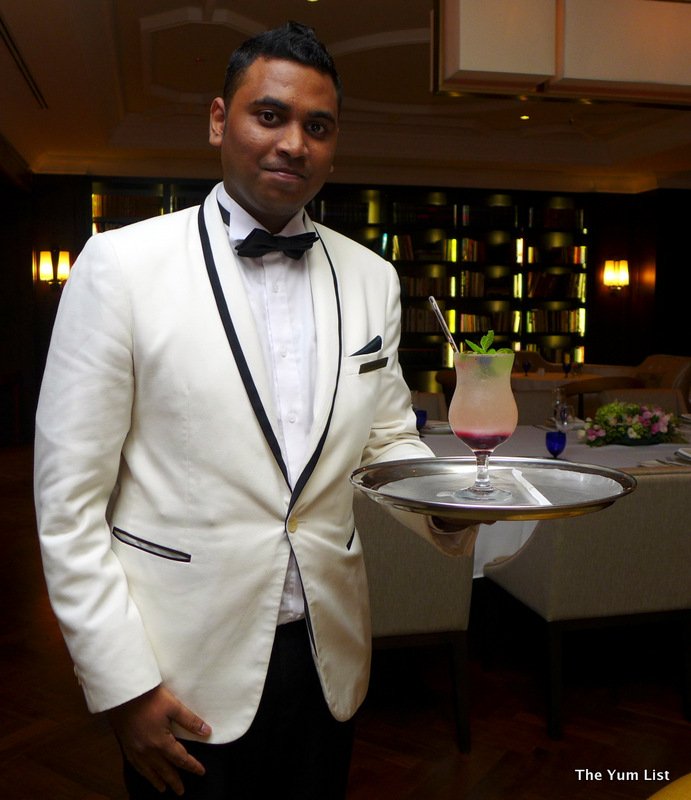 Hubby is so enthusiastic about the first mixed drink that he quickly accepts the offer for a second. Strawberry Mojito is made of white rum, fresh strawberries, mint, brown sugar, crushed ice, lime juice and topped with fresh lime wedges and an additional mint leaf garnish. It too hits the spot – thirst-quenching and not overly sweet.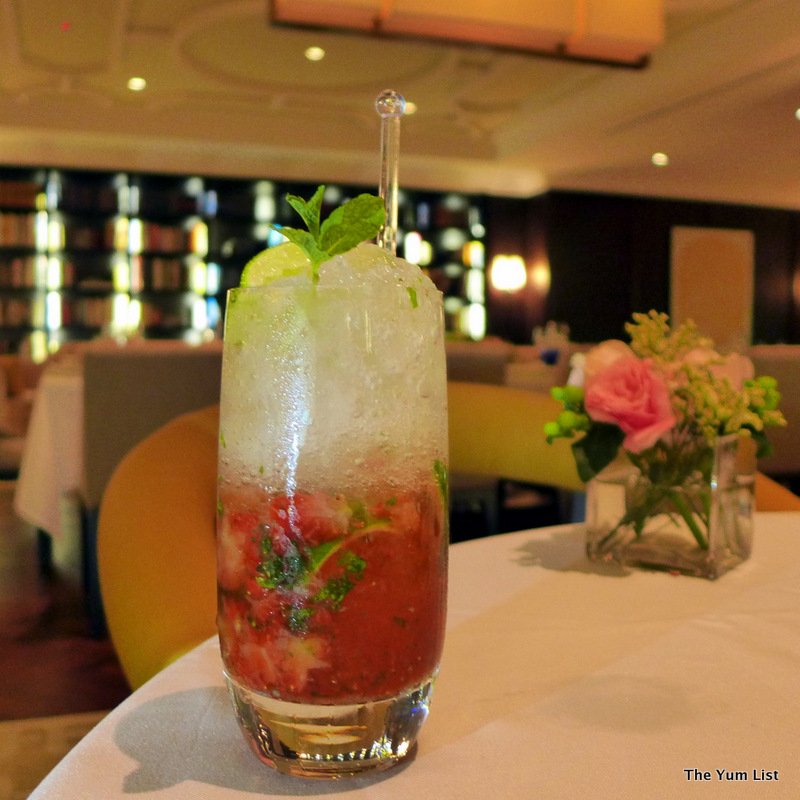 When we move to our table, a basket of fresh bread rolls awaits with a delicious tomato butter for spreading.  Water too is served within moments and we appreciate the efficient service as we're browsing the options from the set menu.
As soon as our order is taken, an amuse bouche arrives. Air-dried beef encases a ball of melon and is drizzled with olive oil that has been given a hint of sweetness with a drop of honey.
Appetizers
Hubby has chosen the Oyster Kilpatrick for his starter. A trio of Fine de Claire oysters is wrapped in nutmeg-seasoned spinach and beef bacon. Baked in the oven, they're finished off with a dribble of tomato butter and garnished with a cherry tomato that has been steamed with olive oil. They're pretty good. Hubby's only desire for improvement would be a pork bacon substitute.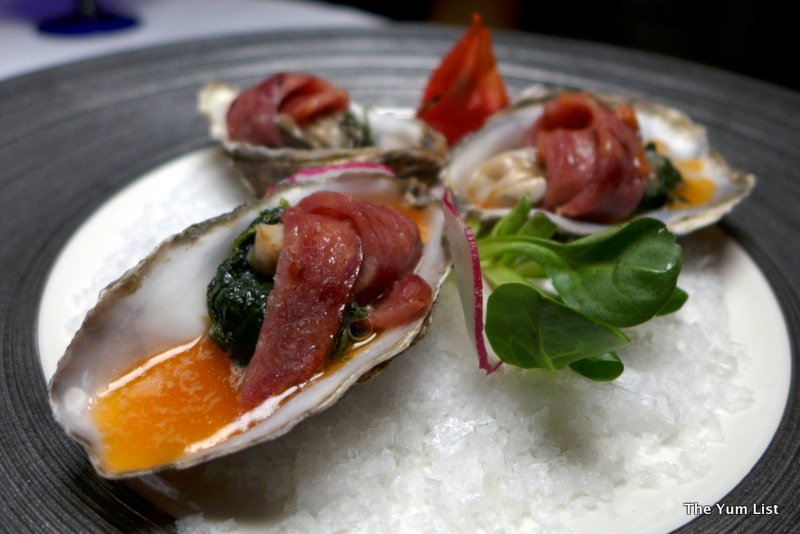 We didn't order the Foie Gras, but chef has sent it out for us to try anyway. It's a gorgeous display of colour. Caramelized apple fruit chutney, drops of beetroot sauce, tomato sauce, grape compote, arugula, berries, avocado rolls and shaved radish break up the rich intensity of the pâté.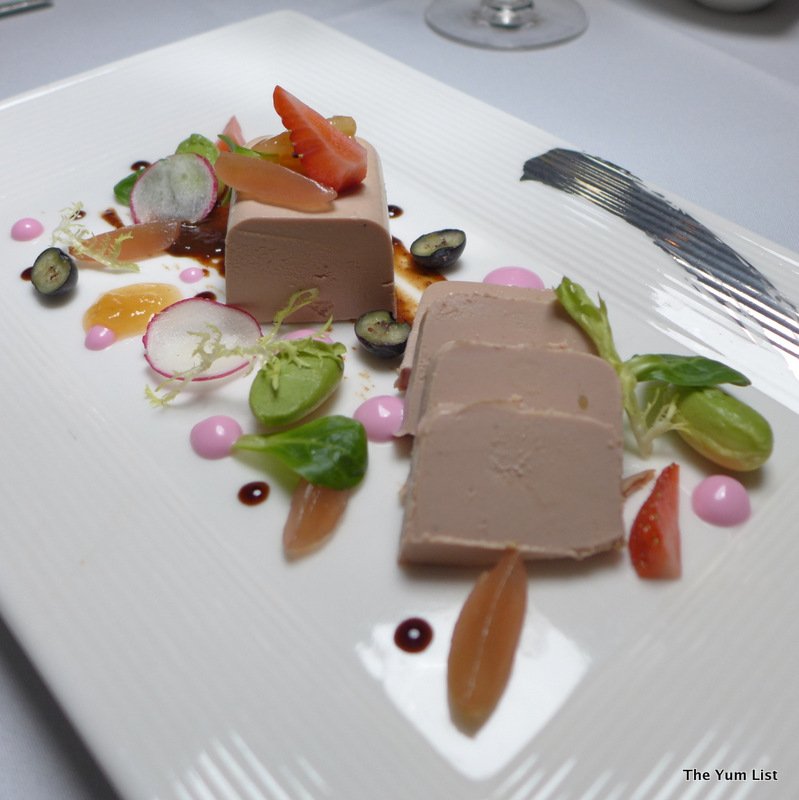 My Symphony of Garden Salad resembles a spring plot. Petite veggies and micro-greens are further brightened with baby carrots, mozzarella cheese and beetroot. Droplets of lemon sauce, tomato sauce and tomato powder, supply complexity of flavour, and blueberries and sliced strawberries balance out the bitter greens with some sweetness. Woodridge Riesling is a suitable pal for the appetizers with its floral nose, citrus flavours and lengthy crisp finish.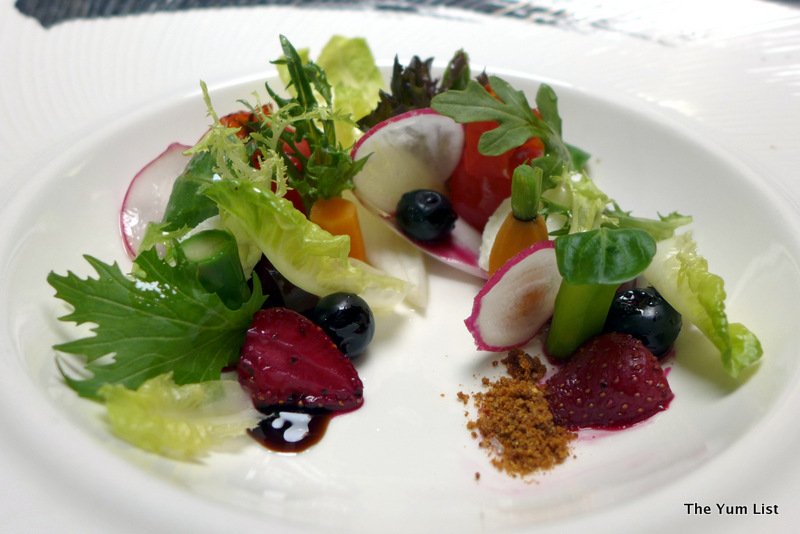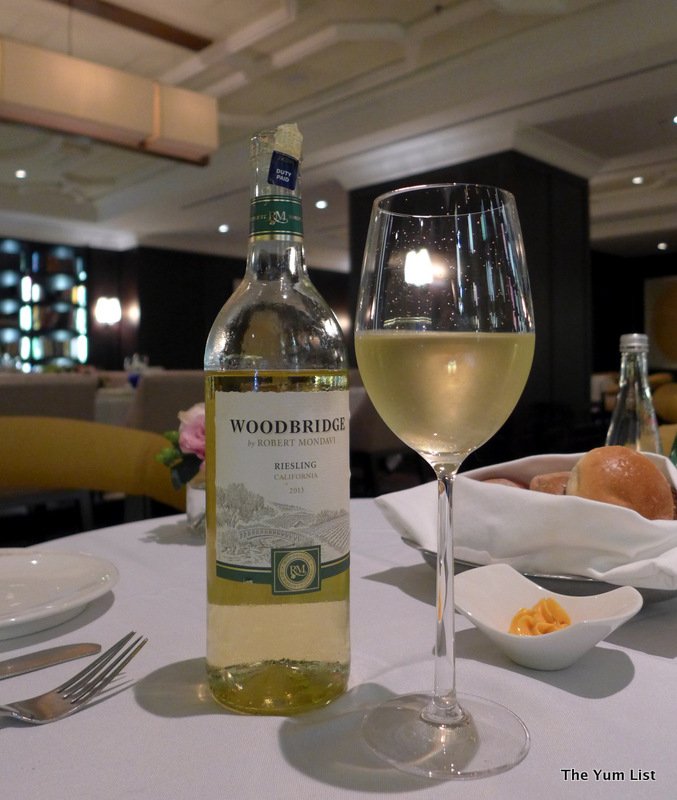 Soup
Lobster Bisque is presented in the most interesting manner. A thick broth surrounds a mound of white lobster crowned with a vibrant round slice of watermelon, topped again with more lobster, and peaked with caviar. On the rim of the bowl is a white stroke of scallop ceviche sprinkled with a spice mix. The bisque is potent, but the fresh crustacean, sweet juicy fruit and light mollusc, balance the strength of flavour. Hubby declares it one of the best he's eaten.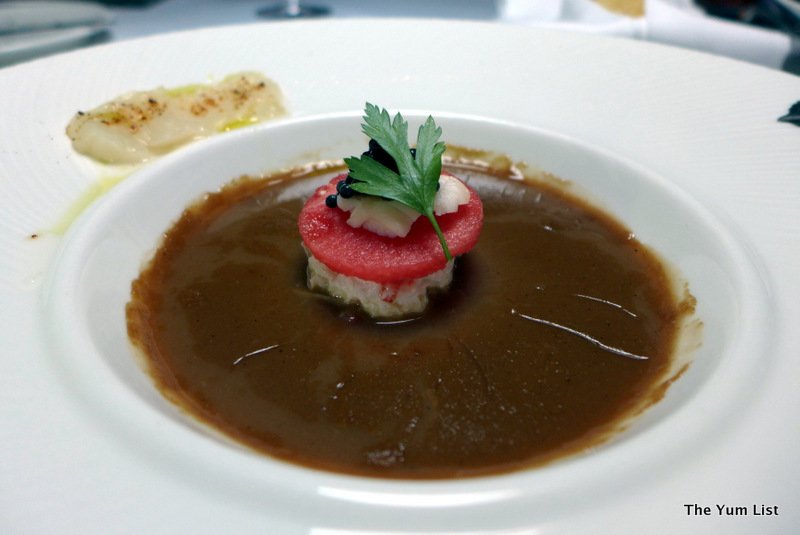 Pumpkin Veloute is a well-executed version of a classic. Thick and creamy, it needs not much more than the splash of truffle oil and dollop of sour cream that centre it. Triangles of white toast on the side make for a fine mop to clean the bowl of the very last drops.
Main Courses
Cod is a tricky fish to cook, and I consider it a test of a skilled chef if done well. The figure behind the pan passes with flying colours with the perfectly moist and flaky Pan Fried Cod Fillet. A celeriac puree, spring carrots, steamed asparagus and arugula surround the white mass, and droplets of beetroot sauce, truffle oil and balsamic vinegar boost further in relish and hue. The Perrin Cotes du Rhone White wafts ripe stone fruit aromas, with a full round body, and bold ending. It's strong enough to match the cod, but elegantly balanced enough not to overpower it.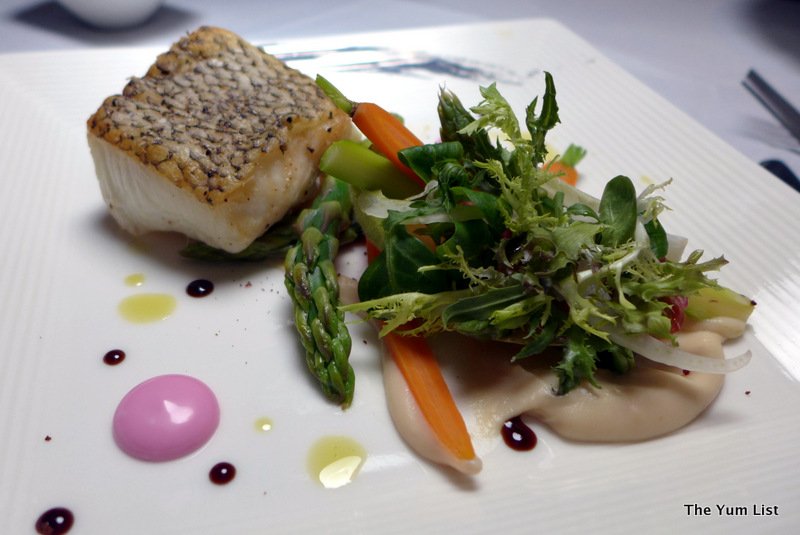 Hubby's Seafood Casserole sports plentiful pieces of cod, prawns and scallops, in a rich tomato base. It's simple and clean: just what hubby was looking for after an over-indulgent weekend.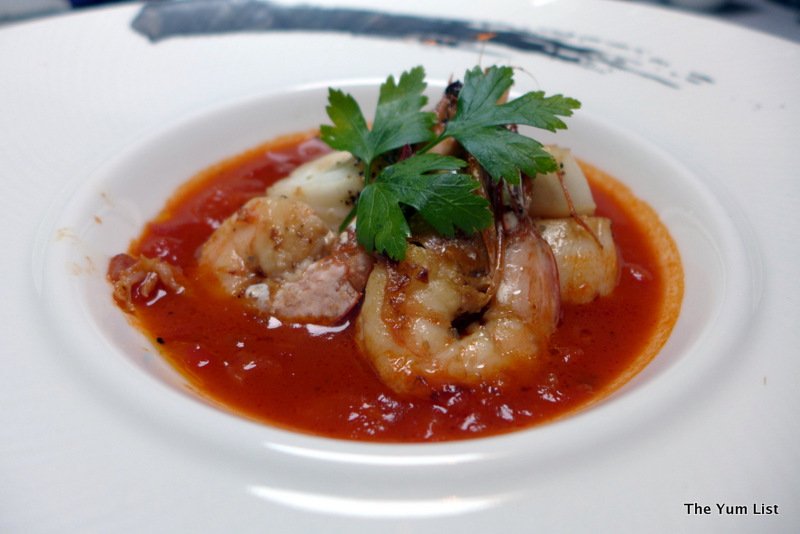 Dessert
We have the best intentions to avoid dessert today. Our waiters come out armed (literally) with temptation though and we find it hard to refuse. If ordering the four course set, guests can choose from either a selection of cheeses from the cheese trolley, or pick from a collection of desserts of the day.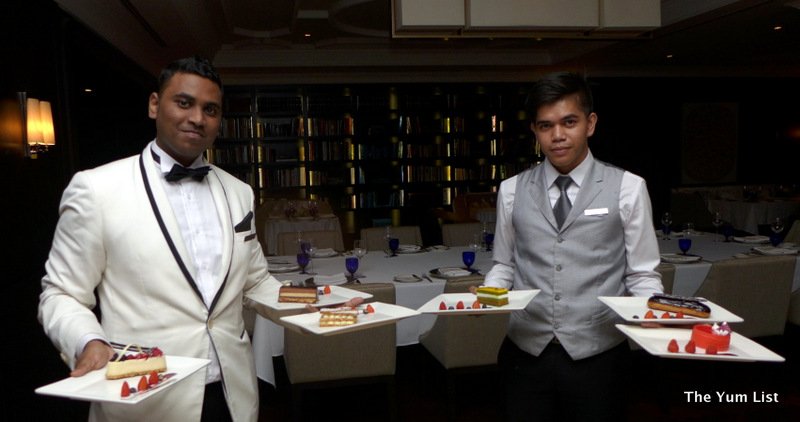 Mille Feuille comes highly recommended. Crisp pastry layers are alternated with vanilla velvety sweet cream. A surprise tube of blueberry jelly is hidden in the middle and adds a complexity and delight to the palate. Hubby oohs and aahs as he polishes off every last crumb.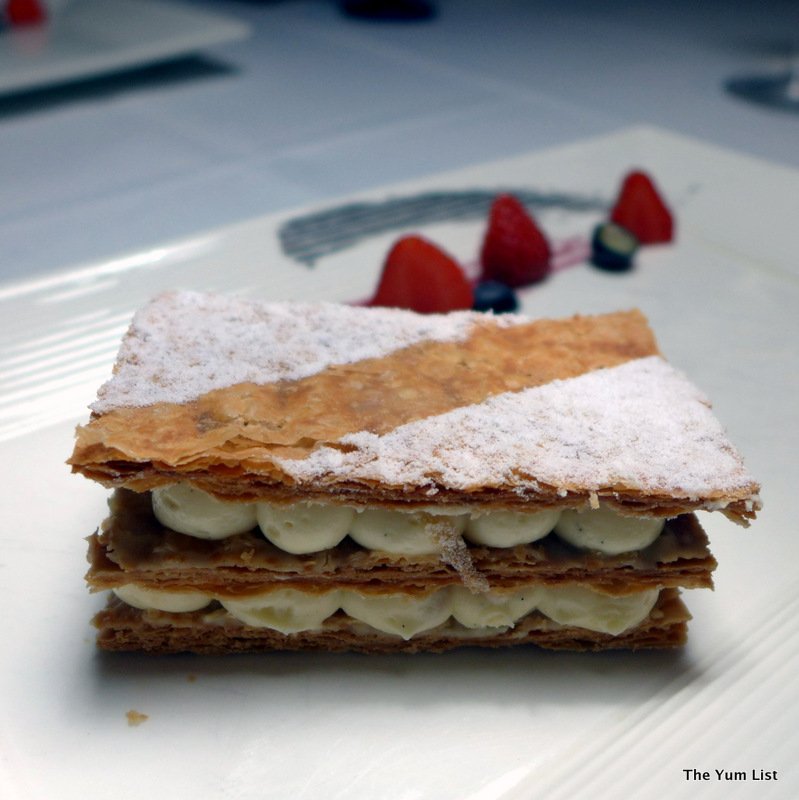 The simple named, Chocolate, is five layers of chocolate divinity. A crisp nutty biscuit base supports alternating sheets of milk, white and dark chocolate creams, which are finally coated in a silky dark chocolate. It too is an excellent choice with a wonderful contrast of textures and varying levels of cacao intensity.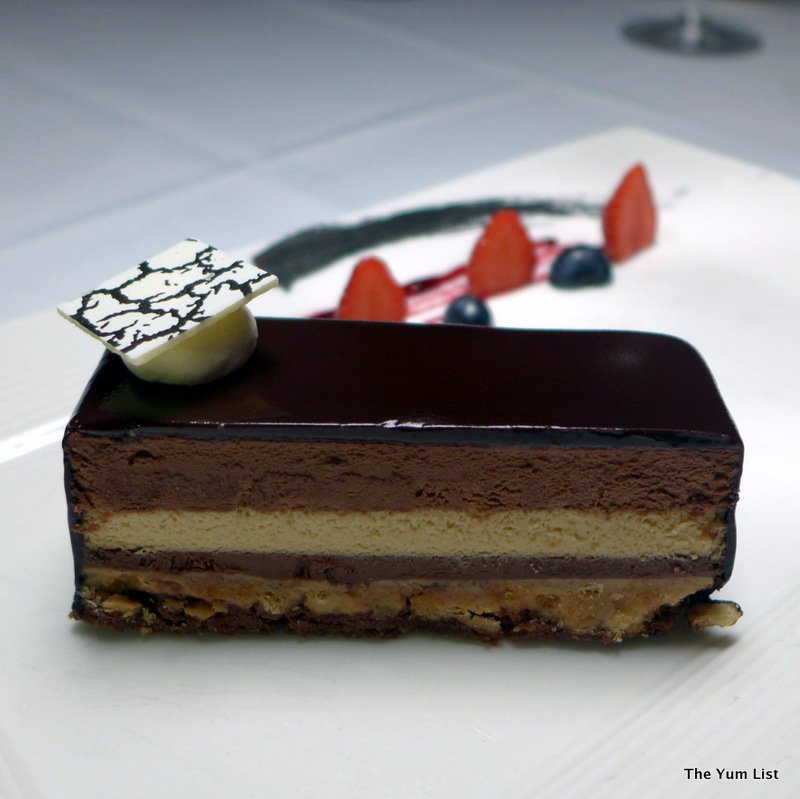 Tea and coffee are included in the set, or you could easily extend the evening with a nightcap in the lounge, ending where we began.
A three-course menu is priced at RM250 for food alone and RM375 with wine pairing. Four courses will set you back RM300 and RM450 with wine.
Reasons to visit: stylish ambience – especially if you're a lover of books; menus based on the freshest of ingredients; superb service.
The Library
The Ritz-Carlton, Kuala Lumpur
168 Jalan Imbi
55100 Kuala Lumpur
Malaysia
+6 03 2142 8000
www.facebook.com/RitzCarltonKL
www.ritzcarlton.com/en/hotels/malaysia/kuala-lumpur